We recently tried Amazon Prime Wardrobe. We read the website, but still had a lot of questions about it – so you probably do, too. We thought we'd give you a quick Amazon Prime Wardrobe Review and the pros and cons.
Amazon Prime Wardrobe Review: What is Amazon Prime Wardrobe?
It's a chance to try clothes from Amazon before you pay for the clothes. Amazon ships you clothes and doesn't charge your card. Amazon ships the clothes to and you have 7 days to decide if you want to keep them. If you return all of the clothes within 7 days, your card is not charged.
If you do not return the clothes within 7 days, your card will be charged.
What's the difference between Amazon Prime Wardrobe and Amazon Prime?
Besides not having to pay for the items before they are shipped, there are a couple of main differences:
Amazon Prime Wardrobe items are shipped at a SLOWER speed than Amazon Prime. We think it's to help offset the cost of this feature. Regular ol' Amazon Prime ships in two days, Amazon Prime Wardrobe took a couple of extra days (5 total days for this shipment).
Amazon Prime Wardrobe provides a return label, so you don't have to print and tape a return label, like you normally do with Amazon Prime.
You have 7 Days to ship the clothes back (that is, 7 days to put the box in the mail – NOT 7 days for Amazon to get the package).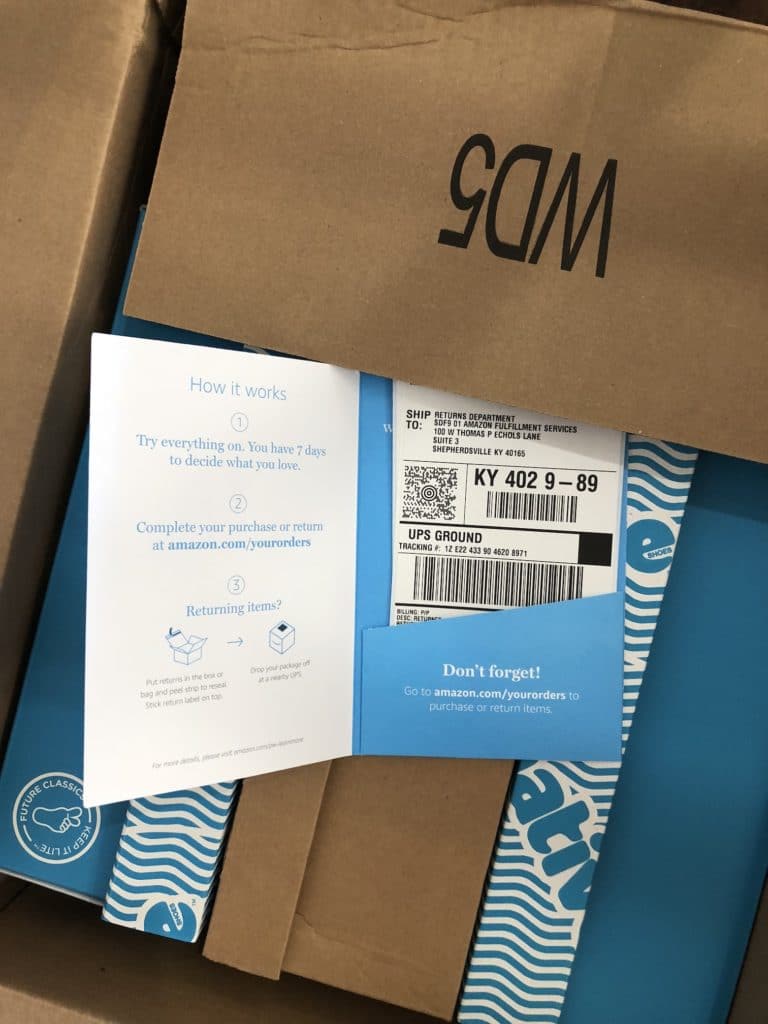 Can you still return items after the 7 days with Amazon Prime Wardrobe?
This was the biggest question that we had trying out Amazon Prime Wardrobe. It turns out you can still return the Amazon Prime Wardrobe products AFTER the 7 days.
When we tried out the Native Water Shoes, we decided after about 12 days that they were not the right product. We were able to return the product (it appears that you have 30 days to return the product from when it was received). We simply had to find a different box, since we already shipped out the box that all the other Amazon Prime Wardrobe items came in.
What products are available on Amazon Prime Wardrobe?
There are a ton of products on Amazon Prime Wardrobe! They have a great selection on Men, Women's, and Kid's Clothes (the giant kid's selection is pretty new).
They now even have Sunglasses that you can try on Amazon Prime Wardrobe. We think that's pretty cool, too! Instead of having to order one pair at a time, you can order several without having to worry about being charged for the ones you don't like!
Anything else you should know about Amazon Prime Wardrobe?
Amazon Prime Wardrobe is a good option if you want to try out something new and don't need it super quick.

A quick example: my wife needed maternity clothes for our upcoming vacation. She would typically use Amazon Prime Wardrobe, but it would take too long. So, she ordered it via regular Amazon Prime to make sure it got home in time for the trip.
She can still return the items like she normally does, but it will be charged to our credit card until the items are returned.

You need to be an Amazon Prime member to use Amazon Prime Wardrobe.
It appeared that the Amazon Prime Wardrobe Items did not have the best prices. Items that were not on Amazon Prime Wardrobe appeared to be priced better.
You need to be careful looking at some items in Amazon Prime Wardrobe as a single listing will have some Wardrobe items and some non-wardrobe items. For example, look at this sunglasses listing:
You'll see below, it says, "Try before you buy on some sizes colors." You have to be careful when you click into the product to make sure the size you are ordering is part of Amazon Prime Wardrobe.
Amazon Prime Wardrobe Review: the final verdict
Overall, if you're looking for some new clothes and want to try out the clothes without any risk – we recommend you check out Amazon Prime Wardrobe, especially if you don't need the clothes in 2 days. It's a great way to find clothes that you aren't sure at, but don't want to charge your card.
Do you have any questions about our Amazon Prime Wardrobe Review? If so, let us know in the comments below. We hope you found our Amazon Prime Wardrobe Review helpful!
How quick does Prime Wardrobe Ship?
Amazon's Prime Wardrobe typically ships in about 5 days. This is, obviously, a couple of days slower than Amazon Prime (which ships in 1-2 days, typically).