Meet the brand, stinkin' new Aventon Soltera – a sleek, single-speed electric bike (also available in a 7 speed) that is nimble and powerful enough to weave through the jungles of the city yet lightweight enough to carry up a flight of stairs after a day's work.
Read our full Aventon Soltera Review for the full scoop on this new ebike.
Meet the Aventon Soltera
Lightweight, but packed with features
Super lightweight
Available in single-speed or 7-speed options
Available in multiple colors
Throttle
Pedal-assist
Available in step-through or step-over design
The elegant and minimalist design is reminiscent of Aventon's performance cycling roots, but with an electric charge. The performance-inspired geometric frame allows for a more aggressive riding style with room to still enjoy a relaxing ride.
Maneuver your way through the city with the help of the stealthy yet powerful motor, equipped with both a throttle and pedal assist. Or, if you're looking for a bit of a challenge, ride the Soltera using your own force and will. The choice is yours.
The Aventon Soltera is a powerful, elegant single-speed e-bike that can weave through the jungles of your city yet still be lightweight enough to carry up stairs after work. The minimalist design and performance-inspired geometric frame allow for an aggressive riding style without compromising comfort on long-distance journeys or leisurely bike paths alike!
Aventon's new electric bike, the Soltera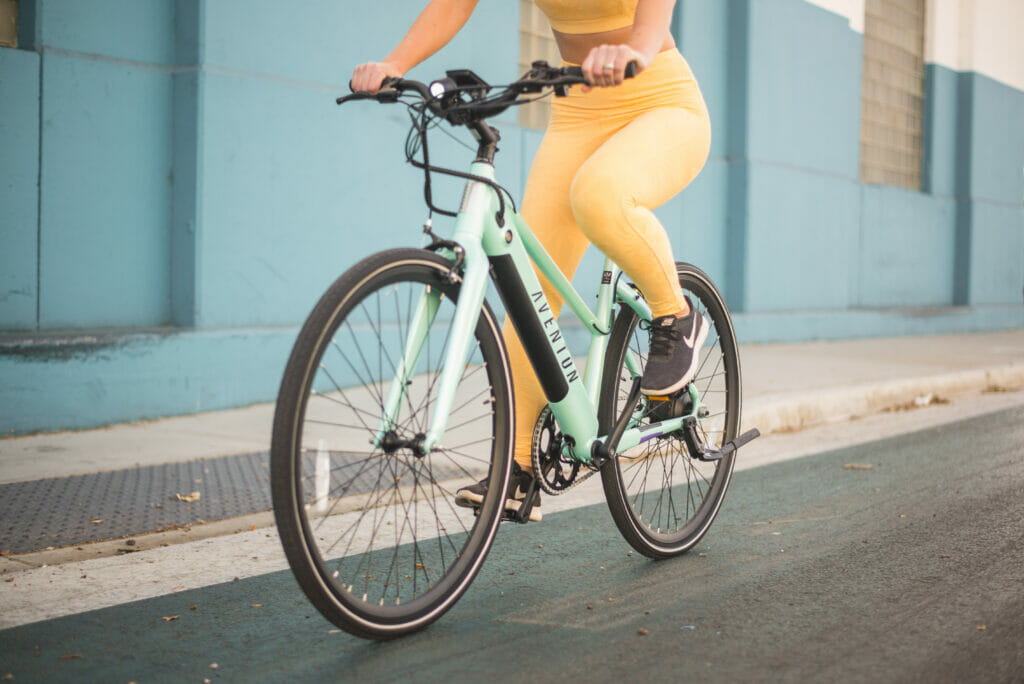 Single Speed bikes are great, especially for city riding, but Aventon has just taken it up a notch with their new electric bike – the Soltera. This bike is perfect for anyone looking for an easy way to zip around town or commute to work without breaking a sweat. It's available in both single and seven-speed models, so you can choose what's best for your needs.
The Soltera comes equipped with a stealthy and powerful motor that makes short work of hills and headwinds, as well as a throttle and pedal assist mode so you can take things at your own pace. The frame is designed for riders who want a more aggressive cycling experience, while still being able to enjoy a relaxing ride when they need it.
The benefits of a single speed e-bike
Powered by Aventon's cutting-edge technology, the new Soltera electric bike offers many benefits over traditional multi-geared bicycles. Priced cheaper than most other e-bikes on the market, it is also lighter and requires less maintenance. The drivetrain efficiency is greater on single speed bikes due to their lack of derailleurs and other gearing systems, making this electric bike perfect for city commuters who need a reliable mode of transportation that's easy to maintain.
How the Soltera can help you get around town quickly and easily
The beauty of this bike lies in its versatility. Take control with throttle on demand and pedal-assist functions! Throttle gets you where you want to be without sweating, while 5 levels of pedal assist let you control your energy expenditure without missing out on speed. You have the freedom to choose whether or not to use force; it's all up to you.
We're going to review the Soltera shortly, and we'll see how the Soltera stands up to other eBikes we've reviewed.
To be honest, we typically only use a higher gear and don't change it a lot if using pedal assist. We'll see how finely tuned the Soltera is!
The minimalist design of the Aventon Soltera
One of the things we love about the Soltera is the minimalist design. From classy features like the integrated tail lights, to the low-profile but powerful headlight, this bike is designed to make you look good – whether you're commuting to work or hitting the bike path for a leisurely ride.
The Aventon Soltera is an electric bike that seamlessly integrates lights into its design, allowing you to see and be seen while riding. The streamlined taillights operate much like a brake light, while the headlight is low profile yet illuminative! This allows you to navigate your way through busy city streets safely
Lightweight Design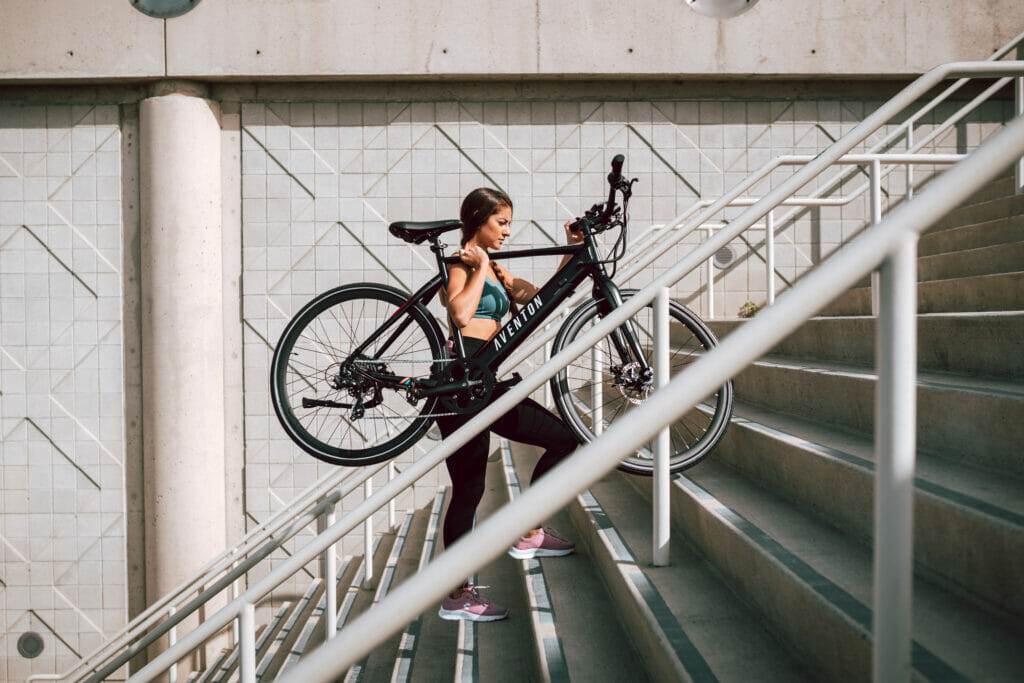 Ebikes can be heavy. From the Himiway Escape to the RadRover 5, these eBikes clock in to close to 100 pounds! Yikes!
The single speed version of the Aventon Soltera is only 40 pounds. This makes it incredibly easy to pick up and carry. It's less than half the weight of other eBikes we've reviewed.
It is just a couple more pounds than the KBO Hurricane, but it's got a lot more features (like Throttle) that make it a much better value.
Packed with Tech
Not only is this eBike lightweight, but it's also full of technology. Aventon's state-of-the-art backlit display gives you the all-important metrics needed, right at your fingertips: speed, distance traveled, pedal assist level, and more! Quickly activate your bike's integrated lights and sync to the Aventon app to share your rides with friends and family!
Finals Thoughts on the Aventon Soltera
We will be getting our hands on the Aventon Soltera very soon and look forward to giving your our honest review.
The Aventon Soltera is a lightweight, single-speed electric bike packed with features. Its minimalist design and integrated lights make it perfect for city commuters, while its powerful motor makes short work of hills and headwinds. With 5 levels of pedal assist and a throttle mode, the Soltera is versatile enough to meet the needs of any rider. Stay tuned for our full review!