Want to save even more on a Cyrusher electric bike? Then use our exclusive promo code to save big bucks on this new eBike Brand.
Cyrusher eBikes
A unique eBike brand that features fat tires and full suspensions on most of their eBikes.
Buy Now
We might earn a commission if you make a purchase, at no additional cost to you.
We've got our hands on one of the Cyrusher bikes – the XF900 – which we can't wait to give you our honest review of the Cyrusher XF900, but wanted to get this Cyrusher coupon code in your hands sooner rather than later. But enough chit-chat, here's how to use our Cyrusher Discount Code.
The Cyrusher Coupon Code
It's super easy to save $$ on Cyrusher. Just click the coupon link below and it will send you to the page and reveal the Cyrusher coupon code. Just enter that at checkout and you'll be riding in style in no time at all!
About Cyrusher eBikes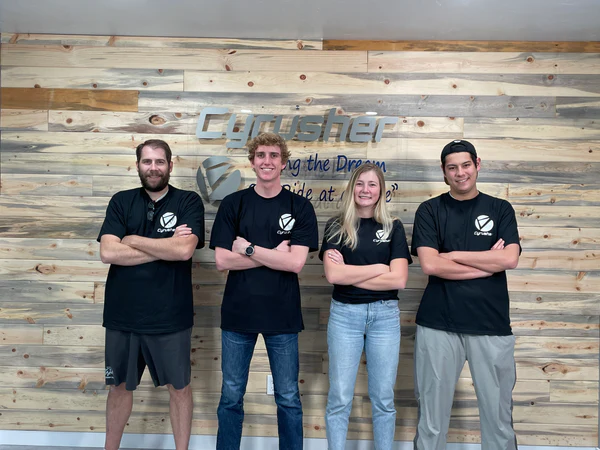 Cyrusher is a company that was founded in 2014. The company name is derived from combining two words ─ Rusher and Cycling ─ meaning that they are driven to be a pioneer in cycling sports.
As the company has evolved, they have expanded their mission beyond cycling, to create personal mobility products that empower people to live healthier and more active lifestyles. Cyrusher's flagship product is the XF900, an electric mountain bike that has been designed for both on-road and off-road riding.
What ebikes is the Cyrusher Coupon Code Good For?
The Cyrusher discount code is good for all the Cyrusher eBikes: the XF900 (the flagship bike), the XF800 (the bike that started it all), the XF650 (The entry-level bike) and the Kommoda (the foldable fat-tire bike).
What makes Cyrusher Unique?
Cryusher makes some of the best-looking and most capable e-bikes on the market today. Their fat-tired, full-suspension bikes are perfect for all kinds of terrain, whether you're riding through literal mountains or just trying to get around an urban jungle.
And with color rims and a variety of other customization options, Cryusher bikes are sure to turn heads no matter where you go. So if you're looking for an e-bike that's both fun to ride and amazing to look at, Cryusher is definitely the way to go. You won't be disappointed.
Be sure to check out our guide to the best Fat tire eBikes and our best eBike accessories.
Meet the different eBike Models
Cryusher has 4 main styles of eBikes, as of the publication of this Cryusher promo code post. Let's quickly touch on each one.
The XF900 – The Flagship
The XF900 is among the best electric bikes for sale. It's a great match for the Kommoda ebike model for couples. The XF900 comes with full suspension, fat tires, and a higher capacity battery for more range. Its motorcycle-style front forks will make you the center of attention wherever you go. Plus, the Cryusher ebikes are top-of-the-line in our ebike series. So riding an XF900 is like getting a motorcycle without the gas! Whether you're looking for an all-terrain ebike or just a unique ride, the XF900 is worth checking out.
The XF800 – The Bike that Started It All
The Cryusher XF800 is a full suspension, fat tire electric bicycle. This model rides very smoothly, and with its fat tires, it's the choice or preference among many mountain electric bikers.
Perfect for the trails, and the best seller in their ebike catalog. So whether you're looking for a capable electric bike for challenging terrain or just want an ebike that's fun to ride, the Cryusher XF800 should definitely be at the top of your list.
The XF650 – The Entry Level Bike
Cryusher's XF650 is their entry-level priced electric bicycle. It's a fat tire, hardtail electric bike with front suspension. Although Cryusher is sporting a low price with this ebike model, it still features all the main functions you would expect out of an ebike.
These functions include pedal assist and throttle-only operations. The XF650's aluminum frame and fat tires make it a solid ebike to ride with confidence. This makes the XF650 great for commuting. Currently, the XF650 is the best value ebike Cryusher offers.
The NEW Cyrusher Kommoda
The Cryusher Kommoda is the latest electric bike model from Cryusher. This step-through electric bicycle is ideal for shorter riders and those with mobility limitations to get on and off the bike easier. Its massive fat tires and quality components make it the perfect pair for the XF900 ebike. They go incredibly well together if one rider wants a step-thru bike.
The Kommoda has a powerful motor that helps riders power up hills and maintain speed on flat terrain. It also has a comfortable seat and plenty of room for riders to put their feet down when stopped. The XF900 is a great choice for those who want an electric bike that can handle all types of terrain, and the Kommoda is the perfect complement to it. With these two bikes, Cryusher has everything covered when it comes to electric bikes.
The bikes, in conclusion
As you can see, Cryusher has an electric bike for every rider. We'll be posting our full Cryusher review shortly, but in the meantime – if you just can't wait, use our Cryusher promo code now to get the very best deals.
What about free shipping?
Every ebike from cyrusher ships free! That's good news for us all. My cyrusher bike arrived only a couple after days after ordering.
Cyusher Promo Codes and other Cyusher Coupons
We'll update this post with the latest coupon codes to help you save money. Also, please let us know if you find other cyrusher coupon codes that are better. This is the best of the cyrusher coupon codes we've found.
Current Huge Savings Available
Cryusher is currently having a massive sale where you can save $700 when you buy two XF900 bikes. These bikes are perfect for anyone looking for a fast and efficient way to get around. They offer 3-7 days free delivery, so don't miss this chance to get your hands on one of the best Cryusher coupons I've seen. Order now and you'll be enjoy Cryusher's incredible savings in no time. Thanks for reading!
Exclusive Cyrusher Discount Code
As a thank you for reading our Cyrusher review, use this Cyrusher coupon code to save an additional $50 off your purchase:
Visit Cyrusher.com now and enjoy free shipping on all orders! Plus, don't forget to use our exclusive Cyrusher coupon code to get an additional $50 off your total purchase.
How to Use a Cyrusher Promo Code
To use a Cyrusher promo code code, simply add the desired items to your cart on the Cyrusher website and then enter the code during checkout. The Cyrusher website will automatically apply the cyrusher coupons to your order total.
If you're looking for a great deal on a Cyrusher electric bike, be sure to check out our exclusive promo codes and much more!
Cyrusher eBikes
A unique eBike brand that features fat tires and full suspensions on most of their eBikes.
Buy Now
We might earn a commission if you make a purchase, at no additional cost to you.
See more great deals and promo codes from We Tried It! Also, check out the best Rad Power Bike Promo Codes we've found!