Read our 100% honest SleepMe review to find out if it's the missing piece of your sleep puzzle.
You've got a comfortable mattress. Check. You've got the best pillows. Check. You may have even purchased a weighted blanket. But do you still wake up sweating or freezing cool? Then check out our honest SleepMe Review to find out how it finally settled the battle of the thermostat in the bedroom.
BEST. SLEEP. EVER.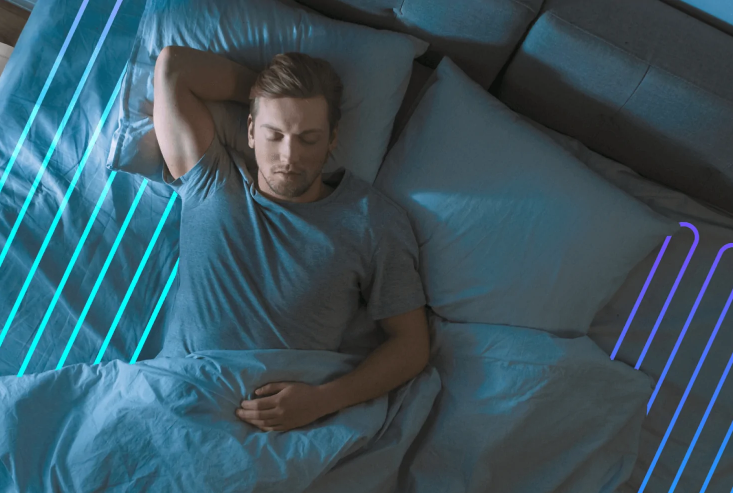 SleepMe Chilipad
Ready for the best night of sleep, ever? Especially if you are a hot sleeper, you'll love the SleepMe Chilipad. Never wake up to night sweats again.
Buy Now
👍🏻Pros
👎🏻Cons
– Keeps you cool all night long
– Saves money on air conditioning
– More night sweats!
– Wake up refreshed
– Cube doesn't have timers
– Not silent (but close)
– Powers 1 pad at a time
Wait a second… is this SleepMe or Chilisleep?
If you've been paying attention, congrats. But you may be a bit confused on the differences between Chilisleep and SleepMe. They are actually the same company. They recently rebranded under SleepMe to full embody what their products do (as you will read in my Review, they don't just "chill" they can also warm you up!
Why did we want to look at SleepMe – Our Sleep Setup
My wife always runs cold, and I always run hot.
She hated the A/C on super high, and I was never cool enough. We were always either too hot or too cold. Then we heard about SleepMe. They make bedding particularly designed to cool – or heat – the bed.
How we sleep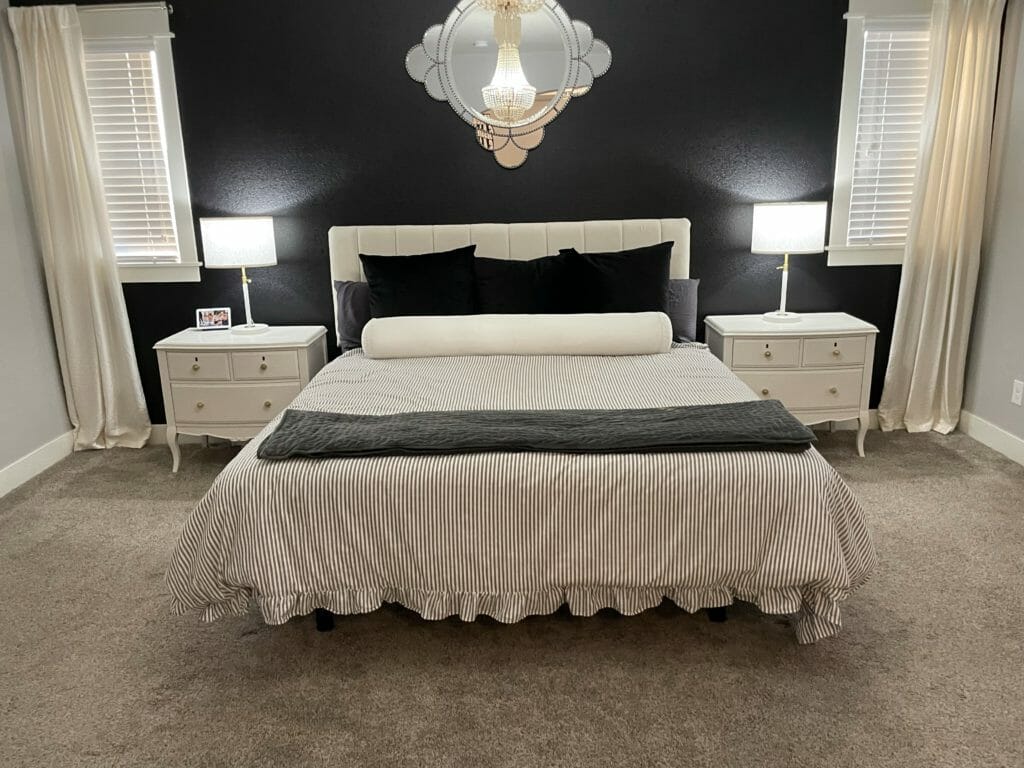 We sleep on a Gravity Ice Mattress (read our Gravity Blanket Review and Gravity Blanket Promo Code), that sits on an adjustable base.
We sleep with Sijo Home Sheets (read our Sijo Sheet Review and get our Sijo Promo Code).
Mrs. We Tried it Sleeps with a Gravity Weighted Blanket just for her. I (Mr. We Tried It) sleeps with a sheet and standard comforter.
I tried a weighted blanket but would end up in night sweats and hate being a very hot sleeper. But I always run a bit hot.
I tried to convince Mrs. We Tried It to test one of these units for years but she thought it would be noisy or make it more difficult to make the bed.
Why SleepMe? Why did I need to (secretly) try it out?
We decided to try SleepMe because nothing else had worked for us (and by us, I mean, me).
I ended up secretly getting a cooling unit to test out while my wife was out of town on a girls weekend. I thought it would be the perfect chance to test it out without her knowing.
Better yet, I could see if she even noticed the cooling mattress topper when she got home.
SleepMe promises to be the solution to all of your sleep problems. But does it work? This comprehensive SleepME review will look at all the pros and cons of SleepMe's revolutionary sleep devices.
What Is SleepMe?
First, SleepMe is the new brand name for Chilisleep.
The company provides various products, including cooling mattress pads, blankets, and much more! These products use advanced materials, technology, and fabrics to regulate the right temperature and provide a comfortable sleeping environment.
In addition, SleepMe also offers a variety of sleep-tracking devices and apps to help users monitor their sleep schedules and identify potential problems.
Their technology has been presented in many publications like Forbes, Time, Huffington Post, and Fast Company.
The story behind SleepMe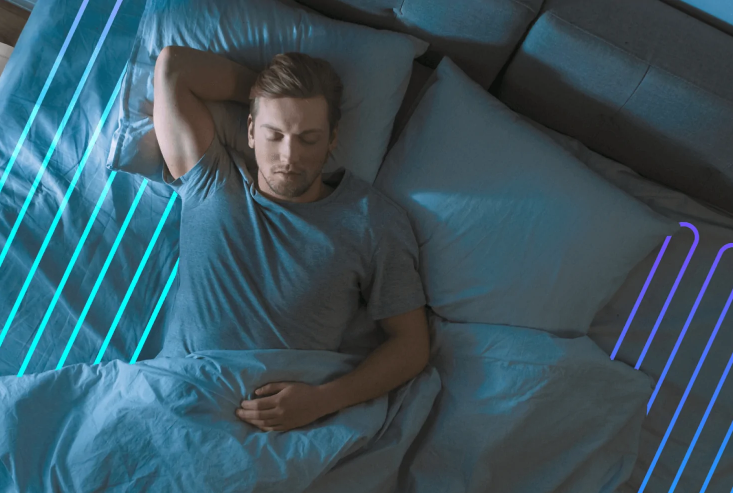 Tara and Todd, the founders of SleepMe, were exhausted from being sleep-deprived (talk about a redundant statement). They both decided to look for an answer as they had interesting backgrounds–Tara had a background in science, while Todd brought on board his experience with sales & product development.
This led them down the path towards designing their own bedding technology company by combining temperature-controlled sleep into SleepMe products.
It was only after hundreds of books and two thousand journal articles had been published that it became apparent that temperature control would be the answer.
So, they build a company on the basis of temperature control to get the best sleep possible.
How Does SleepMe Work?
Simply put: most of the SleepMe products work by cooling or heating the bed to the perfect temperature.
SleepMe sleep systems work with two main components:
A control unit (the Cube, Ooler or Dock Pro)
A mattress topper and/or blanket attached to the control unit
The control unit either heats (or cools) water and sends it through a tube to the mattress topper and/or blanket. This helps get a hot or cold sleeper the perfect temperature.
You can mix and match the different blankets and mesh pads, to some extent, but let's tell you about the system we tested – the Cube – first and how it works.
SleepMe Cube Sleep System With Chili Cool Mesh Pad
A great pick for better sleep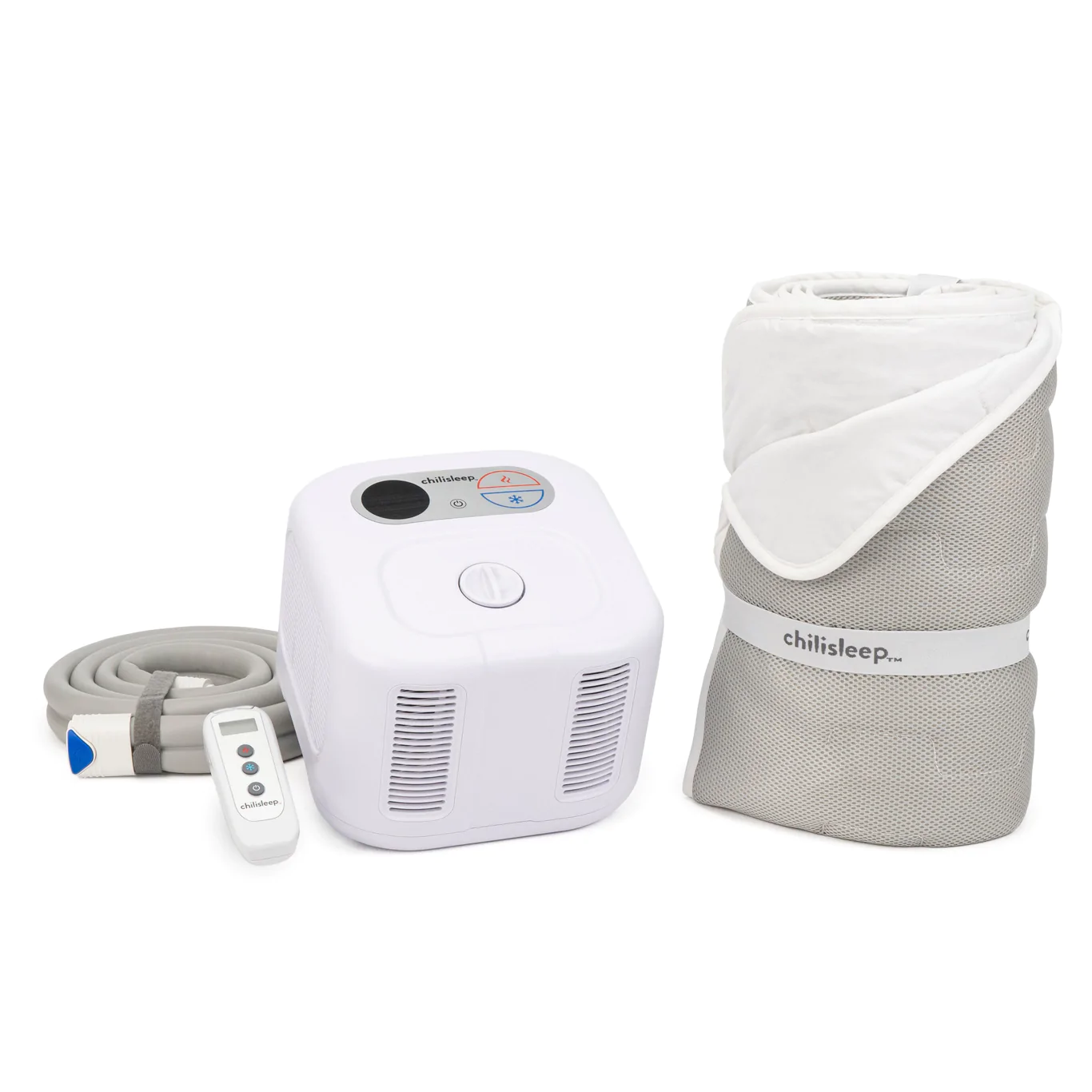 We tested the SleepMe Cube Sleep System – which is also one of the original designs. It consists of:
A control unit that fits under the bed
Tubing that attached to a water-cooled mattress pad
A remote
To be honest, at first, I felt like I was testing a previous generation iPhone – since there were two (technically) newer models for SleepMe – but I'm glad I didn't let me early-adopter status get in the way of trying out a new product.
Assembly for the Cube System
Getting ready for your first night of deep sleep is easy. Simply unpack the box, put the mattress topper (the "chilipad cool mesh") on top of the bed (don't worry, it comes with easy elastic straps that even a dude like me can install) and attach the hose from the control unit to the mattress topper. Add water to the control unit and plug it in.
Then use the remote, or on-unit controls, to the desired temperature.
It's that easy. The only pro tip I have is: if you are using an adjustable bed, put the hose connector of the chilipad at the bottom of the bed instead of the top. That's because the top of the bed will move more than the bottom of the bed, if you bed is adjustable.
Otherwise, it doesn't matter what end the hose connects to the mattress pad.
The Mesh Pad
This was the part of the system I was most worried about, frankly, for a couple of reasons:
I was worried that it would be cumbersome and get in the way of changing the sheets.
I was worried that it would make my super-comfortable bed a lot less comfortable.
But I can tell you with 100% confidence you don't have to worry about either of those issues.
Changing the Sheets
The SleepME Mesh Pad fits – and says – on the bed super easily. I got the half-king size and the mesh pad is on my side of the bed (I'm in the hot sleeper). You can easily change the sheets without having to mess with the Mesh Pad.
It just sits there and does its thing. You don't have to worry about accidentally getting some cords tangled or anything like that. It even works with a Bed Scrunchie (read our full Bed Scrunchie Review).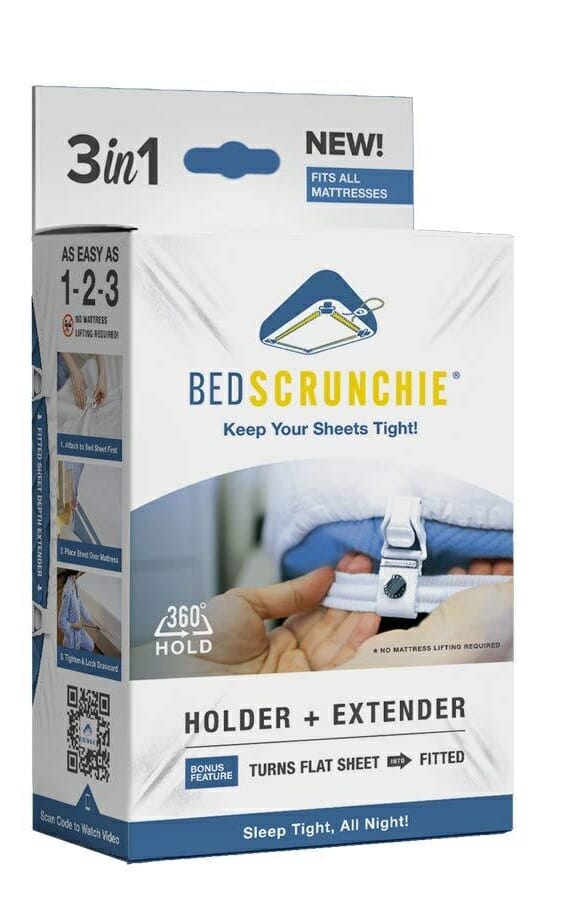 The Mesh Pad: Comfort
The website says that the Cube Sleep System and the OOLER Sleep system use "micro-tubes" as the surface for the pads.
This made it sound like I was going to be sleeping on rubber tubing all night long. I can tell you that is simply not the case at all.
Can you "feel" the tubing? Sure – but it's not noticeable when you lay on it. If you really concentrated you might be able to feel them as you lay down, but it's not really noticeable at all. It didn't take away from the comfort one bit.
You can feel the micro-tubes in the chilispad cool mesh more when you rub your hand across the surface, but it was the #1 thing I was worried about with the Cube Sleep System – and honestly the last thing you should worry about it because it really didn't bother me at all.
What about noise?
We sleep with a white noise machine all the time – the white noise just helps even out the sounds of living in a neighborhood.
The Cube Sleep System is about half as loud as the white noise machine. In other words, you can't tell a difference when it is turned on or off, if the sound machine is running.
When I was shooting the SleepMe Review, I did turn off my sound (and A/C) because microphones can be a bit sensitive. That's the only time I could even tell it was turned on – when the house was completely silent otherwise.
How to set your temperature on the SleepMe Cube Sleep system and control unit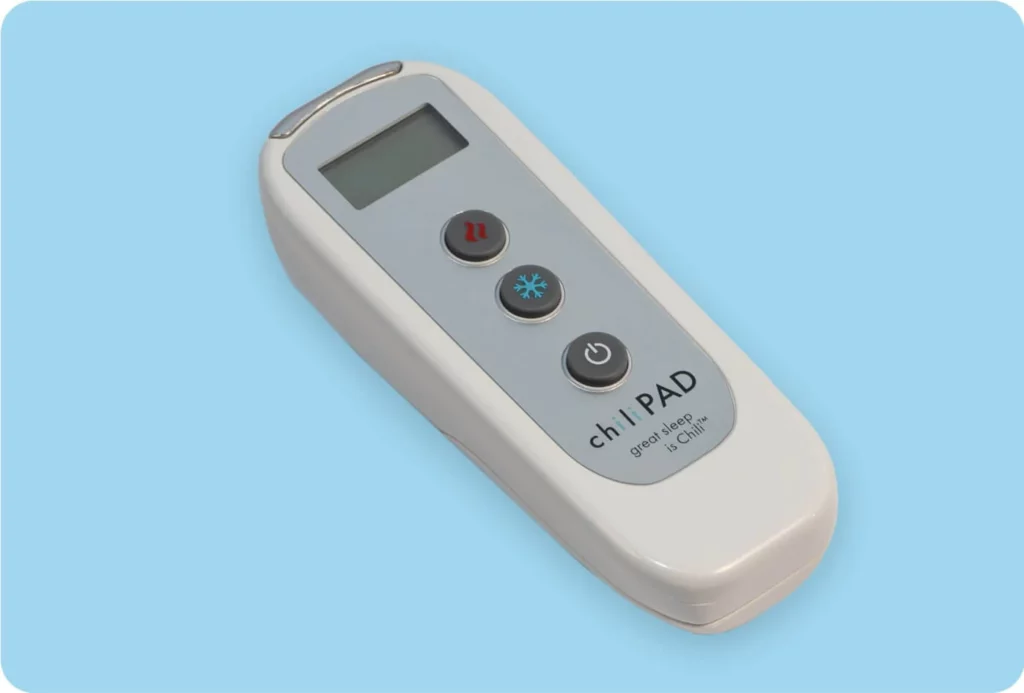 All you have to do is find your ideal sleep temperature – either via the remote control or on the cube device itself. The Cube Control Unit will cool (or heat) the pad to that temperature all night long.
I simply have my temperature settings set to low. The Cube system goes down to 65 degrees and then "low" (which just means it cools all night long).
Did it work?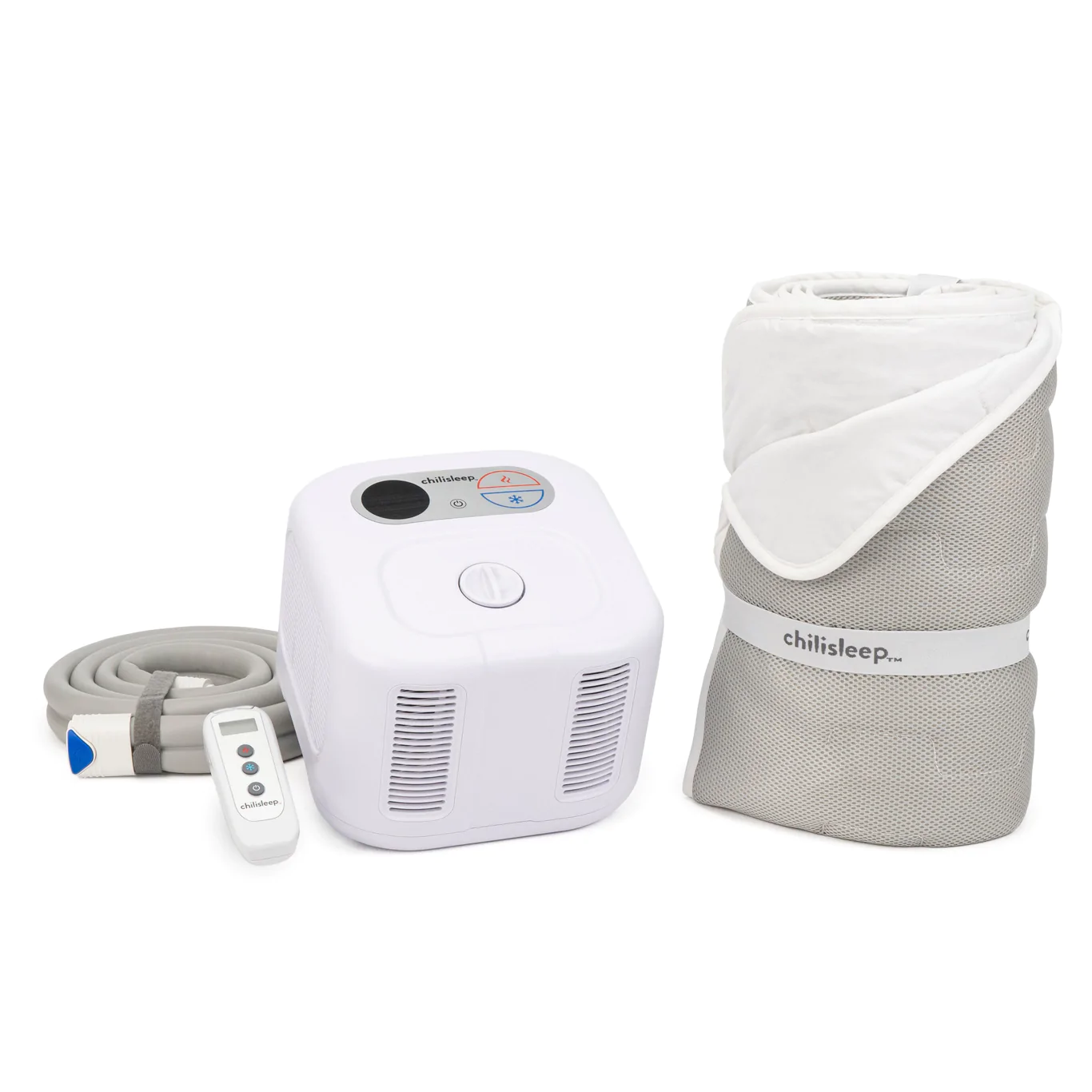 Yes! I was amazed at the difference it made to sleep cool again. I got the half-king size pad to cool my side of the bed.
My wife joked that we were going to switch sides in the Winter – and she would use the heating function. I'm currently writing this in the middle of summer, so we haven't had a chance to test this out, yet.
Chilipad + Weighted Blanket = A Match Made in Heaven?'
However, I was able to use my weighted blanket again in conjunction with the Chilipad because I don't get too hot with the temperature regulation set to full blast on the lowest part of the temperature range.
I sleep even better with a weighted blanket AND cooling chilipad.
But it's almost like SleepMe read my mind – because they also have the SleepMe Weighted Blanket.
SleepMe ChiliBlanket
Weighted Blanket + Cooling Tech
As I mentioned, I use a Chilipad + conventional weighted blanket (technically, I use the Hush Ice Weighted Blanket).
However, SleepME thought about everything and offers a weighted blanket that can connect to the Cube Sleep System OR the Ooler Sleep System.
One control unit can operate one chiliBLANKET or one Chili Cool Mesh Pad at a time. A second device is required to run both the Cool Mesh pad and weighted blanket at the same time. But honestly, I think that would be overkill.
If you already have a weighted blanket, but just run hot, I'd recommend buying the Cool Mesh Pad and using your traditional weighted blanket. If you don't have a traditional weighted blanket, but want to be cooler, you could check out the combo ChiliBlanket + Cube (or Ooler) Sleep System.
OOLER Sleep System With ChiliCool Mesh
A good upgrade
That brings us to the next generation system – the SleepMe ooler Sleep System.
Classy and sleek, the OOLER Sleep Set up is a high-end sleeping solution for those looking to take their relaxation (and temperature) seriously.
The Ooler system takes up the Cube a notch and ads several notable features:
Mobile App Control (no Remote Control needed)
Programmable Bed Temperature Adjustments
Warm Awake Feature – no more waking up cold
Basically, the Ooler system take the only real complaints I have with the Cube and solves them. I wish the Cube wouldn't depend on being controlled manually and would autmatically turn on and off. That's about my only complaint.
However, at $200 more – I can use the remote on the Cube to reach my preferred temperatures. I don't need an app to do that.
The Dock Pro Sleep System with SleepMe Pro
For super-serious sleepers
If you are super serious about your sleep – like wear blue light-blocking glasses after 4 pm serious – then you might want the Dock Pro System.
Sure, if money wasn't an object, I would probably get this device, but it starts – yes starts – at about $899 and goes up to almost $1,900 bucks. Yes, your read that correctly.
Why is the Dock Pro so much more expensive?
It's because this is the Tesla of sleep machines. It's quieter, as a tubeless design that sends cool air 5x faster than the others and tracks your sleep with the Sleepme app.
Once again, if money is no object, then get this bad boy. But if it is, then the Cube will honestly suffice.
SleepMe Popular Bundles
There's something special about getting a great deal. SleepMe offers a ton of bundles ranging from the super, dead-simple Cube with the Chilipad available in half queen ($494, half king and half california king to the decked-out Deck Pro "We" (which just means two control units) for a California King AND a ChiliBLANKET (with the Ooler Control Unit) for the low price of $2,208.10 (insert sarcasm here).
We've also got an exclusive SleepMe Promo Code you can use to save $$$ on this awesome product. Use it, seriously!
Take your sleep seriously, please
I wouldn't recommend spending $2,200 bucks on a cooling sleep unit for your bed. But I do think, in general, people skimp on buying a great mattress and other sleeping products. Just think about, you spend 1/3 of your life sleeping. You should make the investment in a great mattress and cooling system to get the best sleep possible.
What Are Others Saying About SleepMe?
Don't just take our glowing review, what do other SleepMe and ChiliSleep reviews say?
We found a mostly positive response during our research on SleepMe. Their website has an average rating of 4.5 stars per customer review for both the OOLER system as well as the chilipad system.
Here's one review* from the SleepMe website that resonated with us:
"Chilipad has definitely improved our sleep quality and it was very easy to set up. My husband stay cool throughout the night, while I like to start out warm and then cool down as I sleep. The small Velcro dots on the remote keep it secured to the bed frame, so we never lose them. Overall, I'm excited to see our electric bill go down now that we don't have to cool over 2000 square feet down to below 70 degrees in order to get a decent night's sleep.

I expect our Chilipad to pay for itself very quickly. When I compared Chilipad to the other "name brand" air system, I found that half of a queen was $250 more expensive. So, if you're looking for an affordable option that will improve your sleep quality, Chilipad is definitely worth considering."
Few said the products were too expensive, which is understandable. But here's where SleepMe shines: a 30 day sleep trial.
Free Shipping + Returns + 30 Day Trial
If you are on the fence about any of SleepMe's systems, fear not. They have great customer service and offer a 30-day trial. If you don't like it, return it. They also offer free returns and free shipping in the contiguous United States.
The Science Behind SleepMe
The science is clear: we sleep deeper with increased recovery at a cooler body temperature. Our core body temperature should naturally drop every night, but for lots of people + lots of reasons it doesn't. SleepMe products ensure that whatever your sleep temperature, you can get there. They have a temperature range from 55-115°F (13-46°C), so you can find the perfect setting for you.
I've been using the SleepMe Cube System for a few months now and I'm really happy with it. It's helped me to get a deeper, more restful sleep, and I wake up feeling refreshed and ready to start my day. If you're looking for a way to improve your sleep, I recommend giving SleepME a try.
Scientifically-Validated
SleepMe, a popular sleep system, recently completed a study on the effectiveness of its product. 75 current customers were recruited for the four-week study. The participants were 97% healthy individuals/
The participants were randomized into one of two arms in which they were instructed to use their sleep system during one week, and not another. Throughout the four-week period, data was recorded through the OURA ring sleep system.
Participants also self-reported results via a modified version of the Jenkins Sleep Scale. The study design was validated by an institutional review board (IRB) panel for ethics in research.
The results found that those who used SleepME products were 25% less likely to wake up with night sweats, 40% less likely to have trouble going back to sleep if they woke up prior to their normal wake time, 11% less likely to wake up due to worry or anxiety, 15% less likely to wake up feeling tired and worn out, and 36% less likely to wake up due to discomfort or pain.
SleepMe Review: Final Thoughts
A great pick for better sleep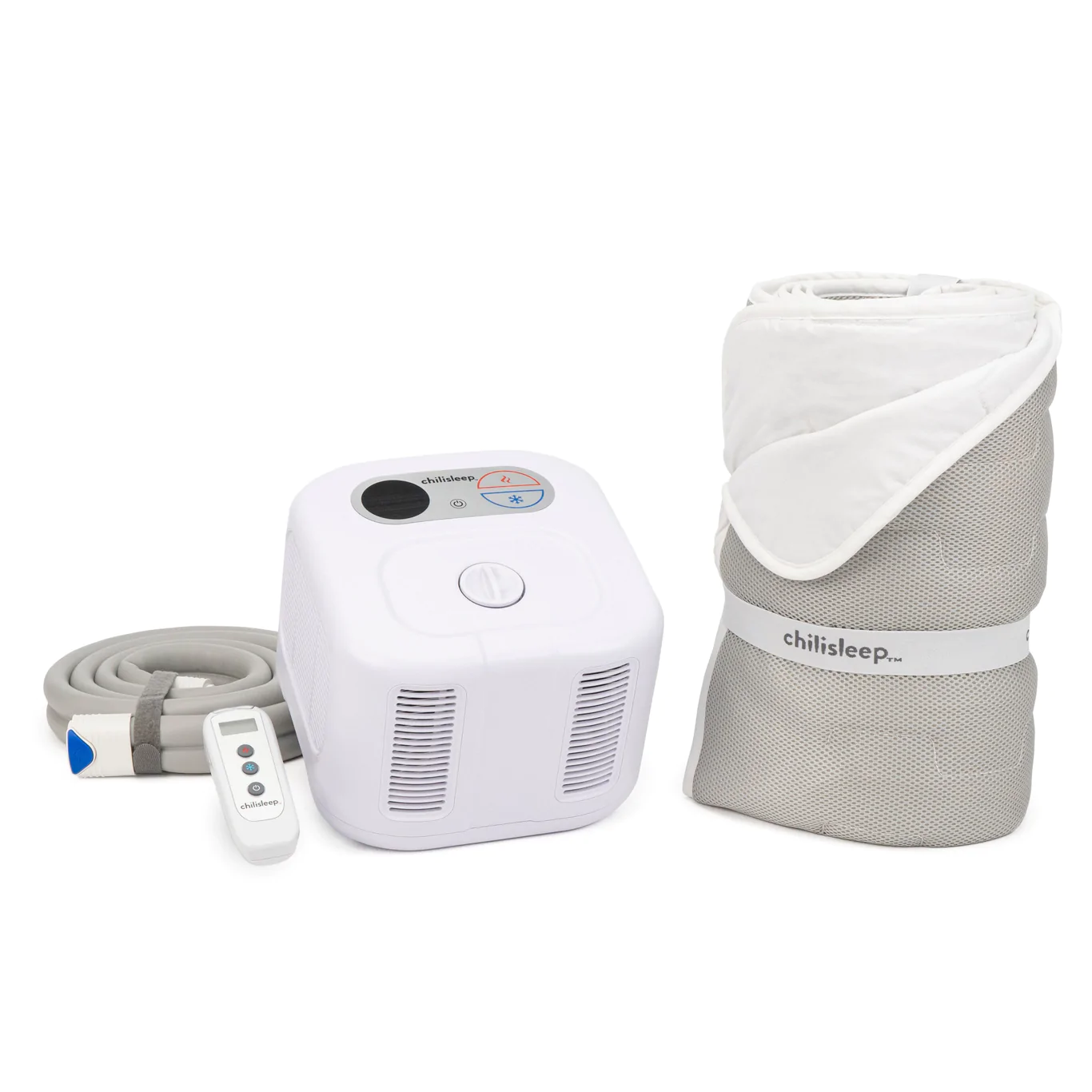 We can't believe we waited this long to try Chilisleep and the Chilipad system. If you are worried that it will be a hassle or too difficult or not comfortable, you have nothing to worry about. This unique chilipad sleep system seriously takes sleeping to another level.
If you want better sleep from the very first night, check out the chilpad sleep system or ooler sleep system.
The only reason I'd recommend the ooler sleep system over the cube + chilipad sleep system is the programable features (like the warm awake feature – no more alarms, just a subtle raise of the temperature).
But once again, you can't go wrong with the Cube System, either. We're glad to finally give you a Chilisleep Review – since we've been waiting so long to test it out, too.
How does SleepMe System work?
The SleepMe Cube Control Unit is a small, sleek rectangular device that sits under your bed and runs your ChiliPad, a mattress topper with micro-tubes for water. The Control Unit cools (or heats) water that it sends to the Chilipad. It keeps recycling the water, too.
*Review Re-written for uniqueness