We backed the NexFan Ultra on Indiegogo back in May and have been using it in our home office while working from home. Is it the best small, portable AC? Read our honest NexFan Review to find out more!
A great pick
Nexfan A/C
While you won't confuse this for a $5,000 air conditioner, this little unit does a great job cooling smaller spaces.
Buy Now
We might earn a commission if you make a purchase, at no additional cost to you.
06/09/2023 05:51 pm GMT
👍🏻What We Love
👎🏻What We Don't Love
– Great size and price.
– Can be used as a swamp cooler AND diffuser.
– Cools a small area.
– A little loud.
– Not super clear instructions.
– Will never mistake it for a full air conditioner.
What is the NexFan A/C?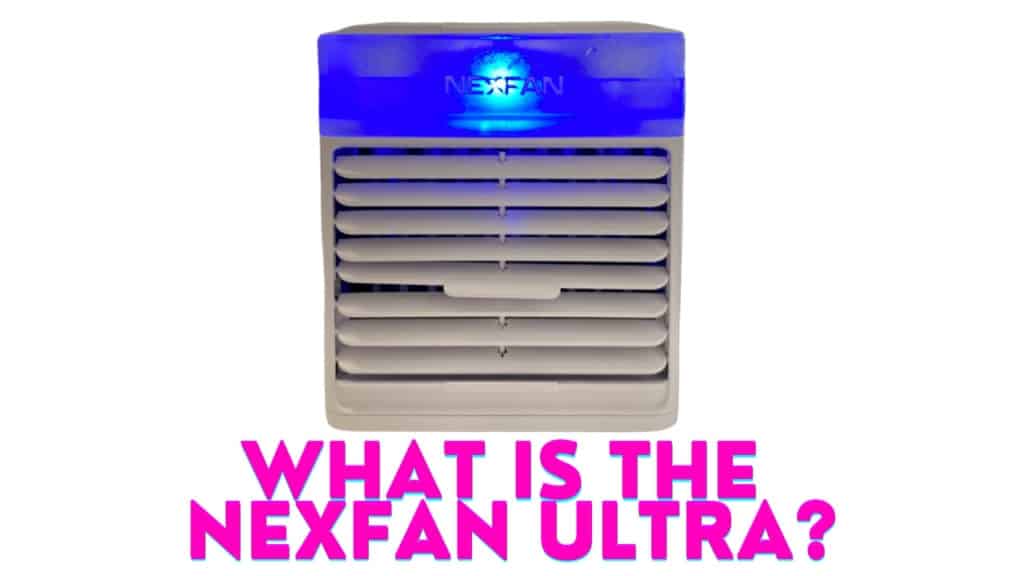 NexFan Air Cooler is basically a swamp cooler on steroids. If you ever want to go down a rabbit hole, do some research on swamp coolers. Swamp coolers are different than traditional air conditioners because they evaporate water to cool the air instead of simply cooling the air.
The idea is pretty simple: water absorbs a relatively large amount of heat to evaporate. More water in the air makes it cooler. This really only works in locations where it is more arid than humid. However, the NexFan CAN help in humid situations, too. More on that in a second.
How does a Swamp Cooler work? Pretty simple: water absorbs a relatively large amount of heat to evaporate and produce cold air. It's a thermoelectric cooling principle, but that's all you need to know.
On top of a portable desktop cooler, it's a fan and diffuser, too.
Are you a guy that always runs hot? Check out our best cooling clothes guide.
NexFan Review: How does it work?
As we mentioned earlier, it basically works like a swamp cooler. You pour water into the top of the unit and slowly drops it below. That water then evaporates in the air and cools it.
The bonus feature that the NexFan has that most swamp coolers do not have is that the NexFan Ultra Portable air Cooler can also handle putting ice cubes AND water in the reservoir on top.
The colder the water, the cooler the air feels. I typically put a cup of water filled with ice in the reservoir after our A/C turns off at 2 p.m. for variable rate pricing. It doesn't work as well as the air conditioner, but it does a pretty good job overall. More on that in a second, too.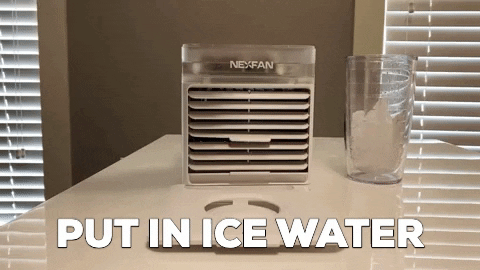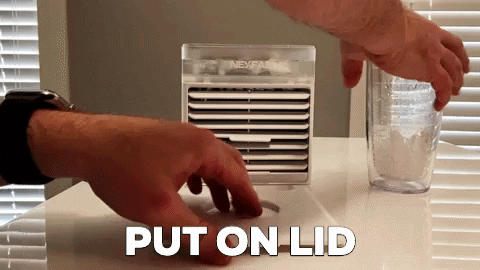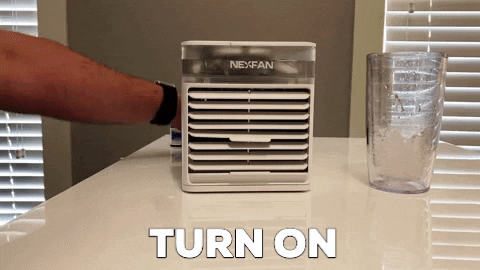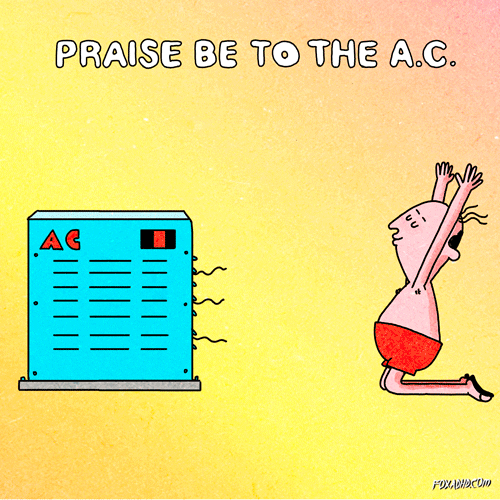 But even if the air is relatively humid, the NexFan Portable Air Cooler still cools the area.
The NexFan also uses very little power and is powered by a standard USB cord. I use the NexFan Evo connected to a small portable battery, so I don't have to plug another thing into the wall.
Portable Mini Cooler: Can You Use It As A Diffuser?
This was, frankly, the part that I was most confused about: How do you use NexFan as a diffuser? I read the directions (the directions aren't written incredibly well, you can tell they were written by someone who's native language was NOT English, but that's ok).
I even searched on YouTube to see how to make the NexFan Ultra a diffuser. I couldn't find anything. It's almost too simple that I tried to make it more complicated.
All you need to do is put a couple drops of essential oil on top of the lid – NOT in the water itself. If you put the essential oil in the water compartment, it will get funky and I don't recommend it. Luckily, it's easy to clean out.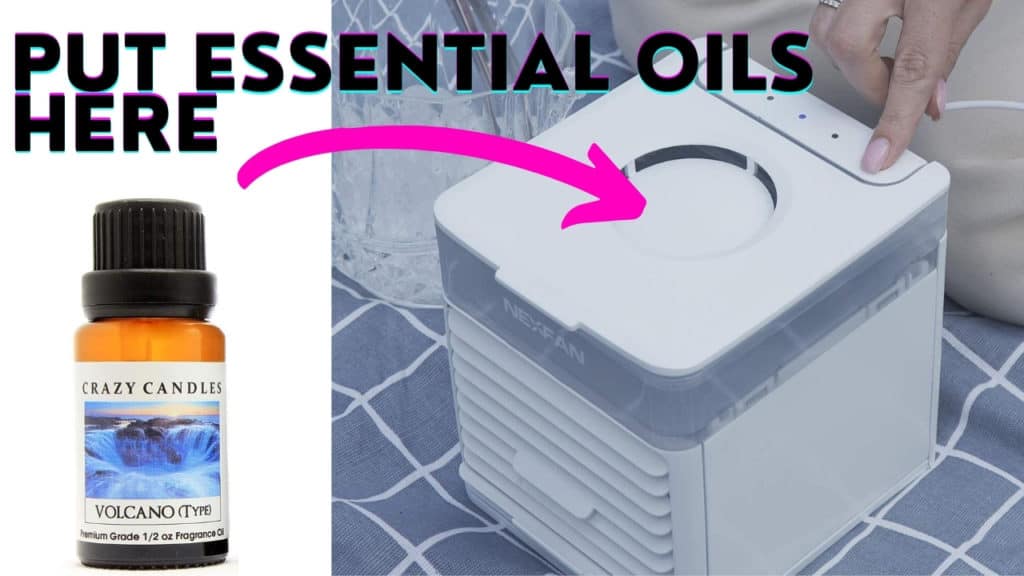 Bonus tip: I found THIS essential oil on Amazon that smells exactly like the Capri Blue Candles (see more in our Pura vs. Aera Comparison and our best Capri Blue Volcano Dupes Dupes).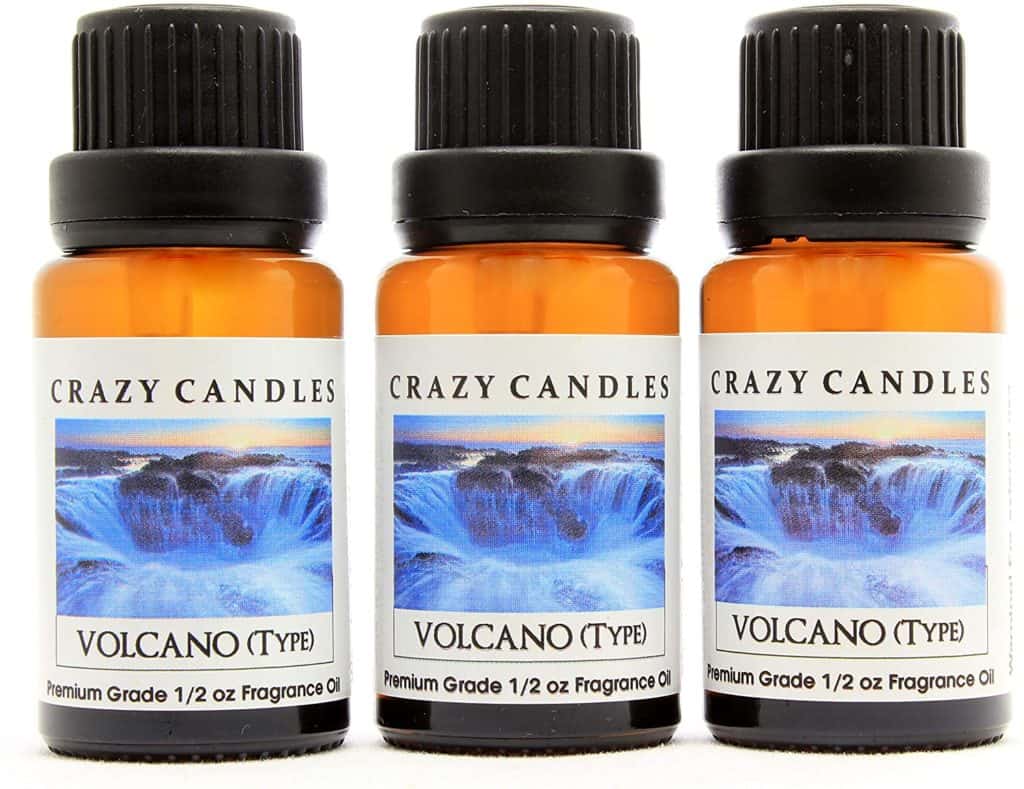 NexFan Ultra Air Cooler: Does it actually cool down a small space?
As I mentioned, we bought the NexFan to use in our home office. It's probably a little less than 200 square feet. I place the cool air-generating device about 3 feet away on the desk next to me.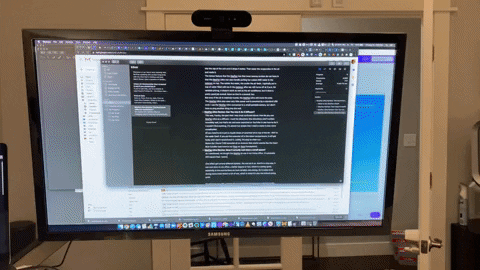 In Colorado, where we live, we have what is called variable rate energy. That basically means that when a lot of people are using energy, it's more expensive – we have on-peak and off-peak hours. The off-peak hours are – literally – 3x less than on-peak hours. The prices are VERY different and it makes sense to have your Nest Thermostat set to help with the variable rate pricing (turning off when the power is 3x more).
I'm rather hot-blooded, so I hate being warm. I bought the NexFan to cool my 200 or so square feet in my office – since it the heat doesn't bother my wife or kids. It's also silly to turn the A/C on for the whole house when all that needs to be cool is a smaller space.
Here's what I have to say about using the NexFan Ultra to cool a small space:
You'll never confuse the NexFan (or any portable air cooler) for REAL, conventional air coolers (AKA "real" air conditioning). Sure, it can be a compliment or a stand-in for a short period of time, but you will never get the same cooling power as an A/C unit in the portable cooler. .
It's PERFECT for when you have to cool down – or keep cool – a small space for a couple of hours. My home office is a good example. I can REALLY tell when the A/C goes off at 2 pm. Within minutes of it turning off, I can feel it. I just poor some ice and water into the reservoir and I feel comfortable all over again.
In doing some very unscientific measurements, I saw that WITHOUT the NexFan, my office temperature rose by about 4 degrees by 5 pm, when the A/C turned off at 2 pm. That's actually a pretty big swing!
The temperature at 2 pm was approximately 71 Degrees.
How does it really work at cooling air?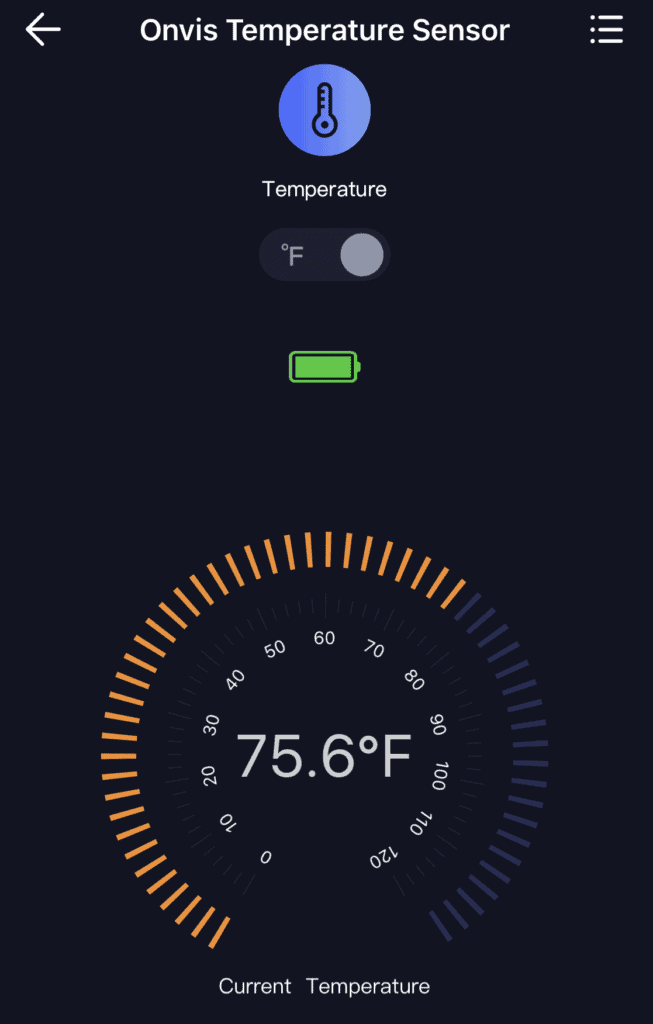 With the NexFan and A/C off, the temperature increased about 4 degrees.
The impact of the cool air and cold wind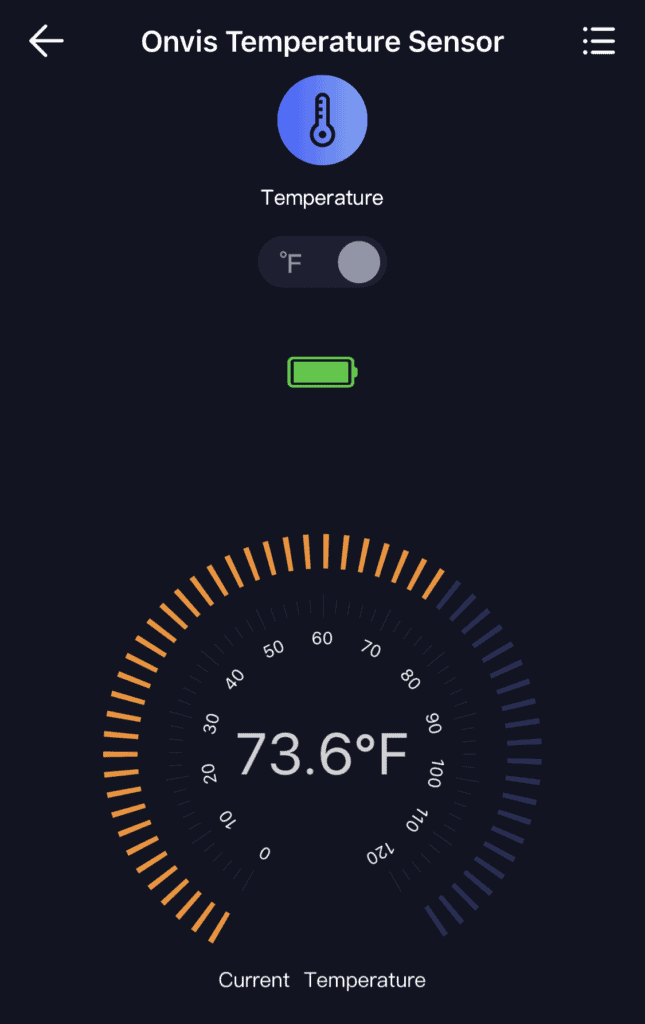 When I had the NexFan Ultra turned on at 2 pm, my office only increased by 2 degrees! That's 50% better. While a degree or two doesn't sound like a lot, on a hot day it can make all the difference.
Note: my office is in the front of the house, with sun hitting the windows of the office.
NexFan Air Conditioning System: What else would it be good for?
Thankfully, Colorado doesn't get as hot as Texas, where we used to live. However, I can see bringing this outdoors or to events like Drive-in movies where it is still hot outside, even at night. This would provide just enough relief to make sure you aren't sweating your you-know-what off.
The fact that it's portable is great, too. Being able to power it off a small portable battery for hours, is a great plus!
What don't we like about the NexFan Ultra?
There are a couple of small things we don't like about the NexFan Ultra:
It's not 100 percent silent. While that's probably unrealistic, it could be a little more quiet. How loud is it? I have a dohm sound machine in my office and it's about that loud. Not crazy, but not quiet.
The LED lights look cool, but I wish they were turned OFF by default. It's a little distracting, but I know they were going for the cool factor here.
As mentioned earlier, the instructions were not the most clear. It was hard to understand how to use it as a diffuser and what "double tap" meant. But it wasn't a deal-killer at all.
NexFan Ultra Portable Review: What else do I need to know
Those are the basics, but a couple of other nice things to know about the NexFan Ultra Review:
The NexFan claims to use UV light to kill the bacteria in the water before using it to evaporate in the air. This serves as an air filtration technology.
Behind the grates there is a foam pad (a moisture pad) that needs to be cleaned about twice a week, or else it can smell musty. I've cleaned with warm water 1x a week and soaked in warm water and vinegar about 1x month.
It's also easy to dump out the left over water and clean the water reservoir.
The LED lights can be cycled or turned off. Unfortunately, turning off the LED light is the very last option, so I usually just leave it on.
If the water reservoir is filled, I've found it lasts about 6 hours of running until it runs dry – at least in Colorado.
The cooling effect is real, and it is much more energy efficient than traditional swamp coolers.
NexFan Ultra Review: The final verdict
If you are looking for a great little swamp cooler for a small space in your home, don't look any further than the NexFan. It's available on Amazon now for about $50, you no longer have to wait on an indiegogo campaign.
If you look on Amazon, you'll find mixed reviews, to be honest. I'm not sure if people's expectations were just too high or if they really had a bad experience. However, we recommend the NexFan Ultra if you want a cheap solution to cooling a small space.
Also, if you like this product, you'll love our Chilisleep Review and our Chilisleep Promo Code – it's the same idea… but for your bed!
A great pick
NexFan Portable Air Conditioning
While you won't confuse this for a $5,000 air conditioner, this little unit does a great job cooling smaller spaces.
Buy Now
We might earn a commission if you make a purchase, at no additional cost to you.
06/09/2023 05:51 pm GMT
If you have any questions or comments about this NexFan Review (besides "Why isn't it called the NextFan Ultra Review?), please let us know in the comments below.
Also, pair this with a Pura (And our Pura Promo Code) for a super fresh room or an Aera Mini Diffuser
How does the Nexfan work?
The Nexfan works by acting like a really small swamp cooler – adding moisture to the air, which in effect, cools the air.
Is the NexFan Evo good?
As long as you aren't expecting the performance of a $5,000 A/C unit, the NexFan Evo works great in smaller rooms to help keep them cool – or better yet, to keep them from getting too hot.