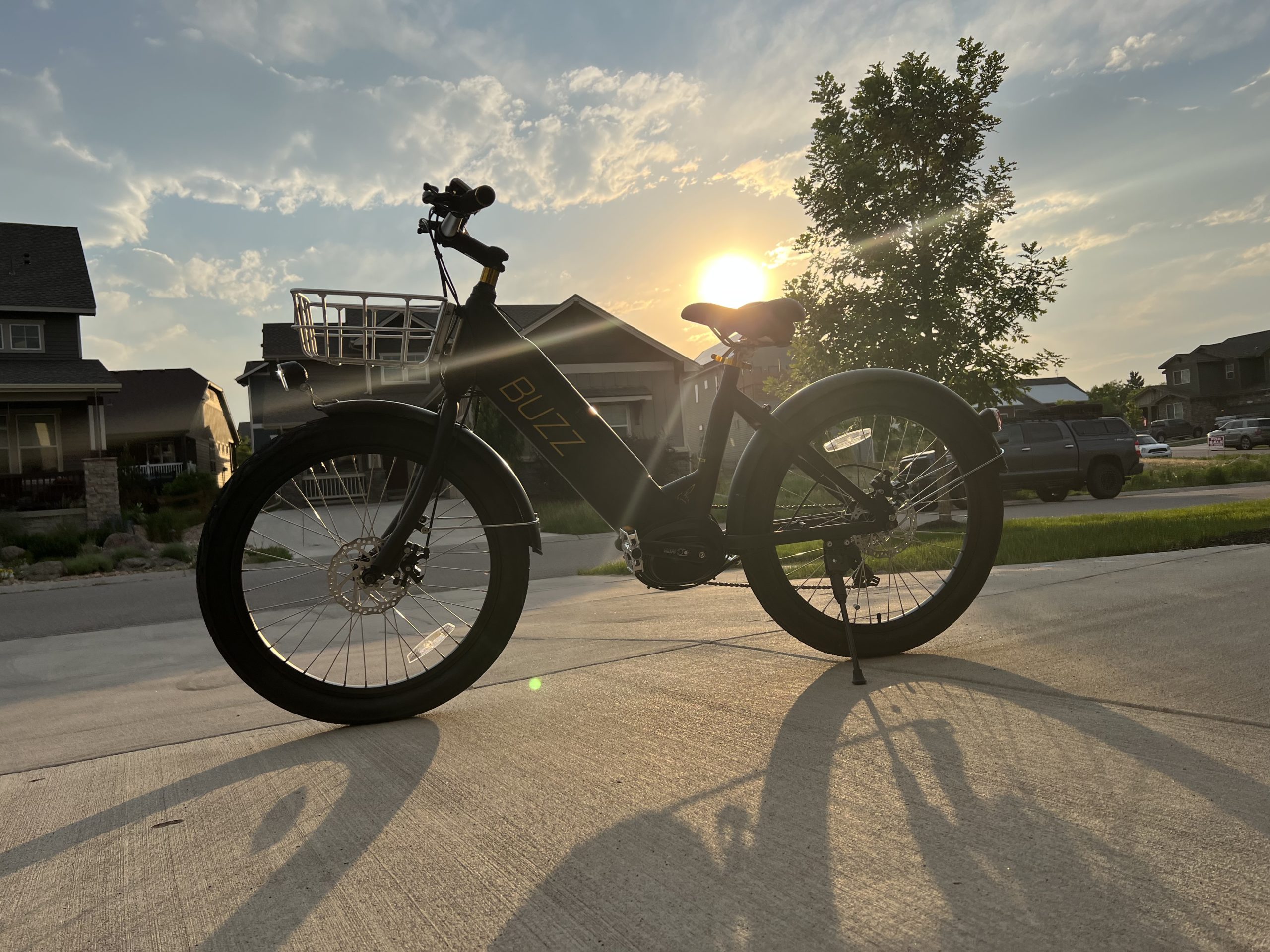 Buzz Bicycles Cerana Review: This unique combination of features is unlike any other eBike that we've ever tested. For the right person, this could be a perfect e-bike. But is this Buzz Ebike the perfect eBike for you? Keep reading our honest Cerana Review to find out!
Buzz Cerana Review: Quick Version
Perfect for the easy-going riding
Cerana Buzz eBike
Talk about a bike that knows its audience. This eBike is the perfect mild-manner eBike for the person that wants to be 100% in control and take it easy.
Buy Now
We might earn a commission if you make a purchase, at no additional cost to you.
The Cerana is marketed to an older demographic – and that's OK! This is the first eBike where I haven't found myself second-guessing what the bike was going to do next. It's lightweight, easy to ride, quick to assemble and isn't full of any surprises. And I mean that in the best way possible.
If you are looking for a dependable eBike that won't take off if you set the pedal assist too high, then this eBike could be a great option for you.
Bug or Feature? The Features we love
Have you ever heard the term that the "bug" is actually a "feature?"
Back in the 1800s, inventors and engineers used the word "bug" to describe a mechanical malfunction. This was always seen as bad news. It wasn't until the word entered the vocabulary of coders that it became ambiguous. "It's not a bug, it's a feature" means that what one person sees as an error may actually be by design.
The Cerana Features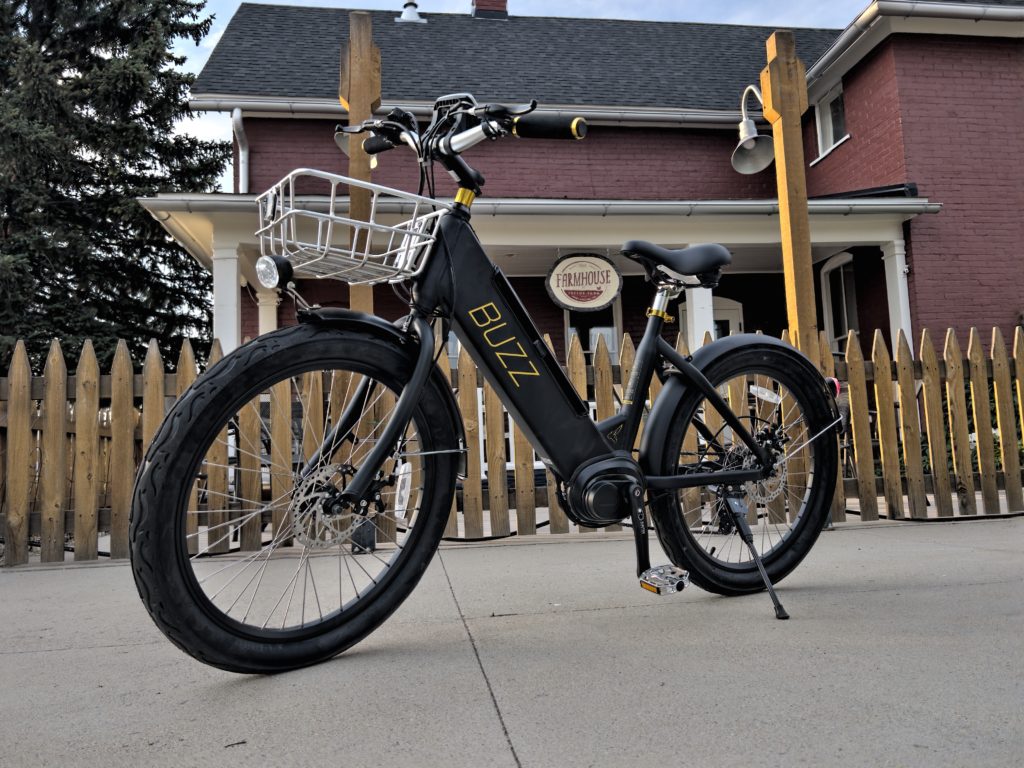 A couple of the basics you should know about, don't worry – we'll expand below:
Frame Integrated Battery
Step Through Frame
Included Front Basket
Medium Fat Tires
Top Speed 20 MPH
Class 1 eBike (Read about different ebike classifications)
No Throttle (Thumb Throttle or otherwise)
Lightweight Aluminum Frame
Tail light
Battery Range – About 40 Miles in Eco Mode
Metal Fenders (front and back metal fenders)
Mid-Drive Motor (350-Watt Mid-Drive Motor)
No front suspension
Rear Mounted Kickstand – no annoying "pedal lock"
7 Speed Shimano Tourney Shifter
Comes about 90% assembled
What "Bugs" are actually Features of this bike?
There are many "features" of the Buzz Bicycles Cerana that may be viewed as a bug to some. But the features are 100% on purpose. For example, there isn't a throttle. That's not an oversight. It was a very intentional design choice.
The team behind the Cerana Bike wanted to create an eBike that would be simple to use and easy to understand. They also wanted it to feel natural – like you are just riding a regular bike, but with a little help.
No Throttle
With that in mind, they decided to ditch the throttle and instead rely on pedal assist. This means that you get power only when you are pedaling. And it's easy to control how much assistance you get with a simple knob on the handlebars.
This feature (or bug, depending on your perspective) makes the Cerana one of the safest eBikes on the market. You can't accidentally give yourself too much power and fly off the handlebars (or more likely, run into something or fall).
Lighter Weight
Another "feature," is the overall power and range. This is another intentional feature and not a bug. Lower overall power and a smaller battery make this eBike considerably lighter than many other eBikes we've tested that look similar – thanks to the aluminum frame (aluminum alloy, technically). Being lighter makes it easier to maneuver, control and ride.
This design also makes the Cerana a great choice for casual rides. The battery will last long enough to give you a good boost without being so big and heavy that it becomes a burden. Being lighter also helps you not depend on pedal-assist nearly as much.
You won't need the throttle as much
I used the throttle and pedal-assist a lot more on a 75+ pound ebike like the Rad Rover 6 (read our RadRover 6 Review) than I do on the Cerana. The light weight is perfect for someone who wants to extend their range but doesn't want the added weight and complexity of a larger battery and motor.
Mechanical Disc Brakes
Even the mechanical disc brakes are by design. Sure, they are not as good as hydraulic disc brakes, but they are a lot less expensive.
Plus, with the lower speed, range and power, you probably won't need the best brakes available. The Cerana's brakes work well and will give you plenty of stopping power when you need it.
Step-Through Design
The Step-Through design on this eBike is perfect. I really like the way this ebike looks, to be honest with you. The step-thru design also makes it easy to get on and off the bike. No more worrying about swinging your leg over a high bar.
Great for Older Riders
All of these design choices make the Cerana one of the best eBikes for older riders. It's lightweight, easy to control and has plenty of power for casual rides.
Integrated cell phone charging – USB Charge port
This one is a straight-up feature: a USB port to charge your phone. The Cerana even has a nice little graphic to show you exactly where to plug it in. I've always wondered why more eBikes don't have this feature. It's not a game-changer, but it is a very thoughtful addition.
The bike also has integrated front and rear lights AND the front racks are included. The front light is a nice, bright integrated LED head light. Note: there is no rear rack included. It's one of our top e-bike accessories.
Riding the Cerana
The Cerana rides like a dream. I felt comfortable and in control the entire time. It's one of those bikes that you can just get on and go – no muss, no fuss.
The first thing you'll notice is how easy it is to ride. If you've never ridden an eBike before, you'll be surprised at how natural it feels. If you have ridden an eBike before, you'll be pleasantly surprised at how much better the Cerana is in comparison. The smooth pedal assistance is perfectly tuned, combined on a mid drive e-bike, that really seals the deal.
This may be an odd way to describe the ride – but it feels like you are riding more on a "rail" than on roller skates. The whole thing just feels sturdier and safer due to the lower center of gravity and tuned controls that don't take off.
Torque Sensor vs. Cadence Sensor
The Torque sensing pedal assist is key to the smooth ride. Other eBikes use a magnet to track the spinning of the pedals – that's why you'll fell a "boost" at certain points in turning the cranks on other e bikes.
Most mid drive e bikes has this feature and some rear hub motors do.
What else you should know about a mid drive e-bike
Mid-drive motors offer a more natural feel when pedaling, and they last longer than rear-hub motors. However, they are more expensive than rear-hub motors. It's rare to find a mid-drive motor eBike for less than $2,000 – frankly.
While rear-hub motors are cheaper and more fun, but they don't last as long as mid-drive motors. So which one should you choose? If price and speed is your main concern, then rear-hub motors are the way to go. But if you value longevity above all else, then mid-drive motors may be the better option. Ultimately, the decision is up to you!
Assembling the Cerana
One of the best things about the Cerana is that it comes 90% assembled. That means all you have to do is put on the pedals, front wheel, handlebars, and front rack (ironically, the part that took the longest) and you're ready to go! This was really helpful if you're mechanically inclined and hate dealing with bikes that need a lot of adjustments.
The only thing I had to fiddle with was the seat height. But even that was easy because the seat post has a quick-release lever.
One quick note: if you like to take your bikes for a test ride the moment they are put together, make sure to charge the battery when you first get it. Mine arrived with about 11% battery and I wanted to take it for a ride right away.
Also, if you aren't comfortable putting together a bike – many companies, like Velofix, can come directly to you and assemble an eBike for about $100.
What we didn't love about the Cerana
While many of the features some would describe as bugs in the Cerana, there are a couple of small items that I didn't care for.
The Pedals
I know this seems like a very small thing, but the pedals were almost plastic. Obviously, that helps keep the weight down on a bike like this, but I was surprised at how unimpressive the pedals were. I don't think they would stand up to a lot of use and abuse.
However, Pedals are also fairly easy to replace and upgrade.
The Display
The display on the Cerana is a basic, but big LCD Display. The LCD Display shows all the information you'd expect – like speed, pedal assist level, battery level, etc.
I know, given the other features of the bike, this may be interpreted as something by design. However, the display is a bit basic AND crowded. If they are shooting for an older demographic, there is a lot of information on the display – but it could be tweaked to make it a bit more user-friendly.
Who is the Cerana Buzz e-bike for?
The Buzz Bicycles Cerana is a great eBike for anyone who wants to feel in control all the time. This bike is perfect for someone that wants to extend their range and still feel like they are riding a regular bike.
The Cerana would also be a great choice for anyone who is new to eBikes. It's easy to ride and easy to understand. You won't have to worry about accidentally going too fast or anything like that.
I also used the Cerena from Buzz Bikes to go get the mail in my neighborhood. The front basket was the perfect size for several boxes and my regular mail.
It would be perfect for my mother-in-law
There is no perfect eBike for every single person, you have to find EXACTLY what works for you. If you're looking for a casual electric bike where you will feel 100% in control, all the time, then this bike might be for you.
The Buzz eBike Cerana is marketed to an older demographic and it'd be perfect for someone that wants to extend their range and still feel like they are in control all the time. My mother-in-law has an eBike with a rear hub motor and she has to be extra cautious with it – it seems to have mind of it's own, and probably too much power for someone who doesn't want it. The Cerana, on the other hand, would be perfect for her.
The center of gravity
It has a mid-drive motor which means the motor is in the center of the bike so it has better weight distribution and it's also easier to control. Plus, it's a lot less powerful than a rear hub motor so she wouldn't have to worry about it taking off on her. So if you're looking for an eBike that you can really feel in control of, then the Cerana might be the one for you.
Who is the Cerana NOT for?
The Cerana might not be the best choice for someone who wants a powerful eBike that can go off-road. This bike is designed for city riding and casual riding only.
If you're looking for an eBike to race with or take on rough terrain, you'll want to look at something else. The Cerana just isn't designed for anything beyond city riding and light, paved trails.
Buzz e-Bikes: Powered by a proven brand
I didn't actually know this before trying out the Buzz electric bike, but the same company owns some other brands you have probably heard of: like Huffy.
We always say that you can look at brands that will be around for a while and this brand is backed by a global leader in bikes. Buzz products are unique – they even have a cool Buzz E Trike that we hope to test out very soon (it has a rear and front basket!). E-trikes look really cool!
Final Thoughts on the Cerana Buzz eBike
Perfect for the easy-going riding
Cerana Buzz eBike
Talk about a bike that knows its audience. This eBike is the perfect mild-manner eBike for the person that wants to be 100% in control and take it easy.
Buy Now
We might earn a commission if you make a purchase, at no additional cost to you.
The Cerana is a great eBike for someone looking for an electric bike that they can feel confident and in control of. It's perfect for casual rides, longer commutes, or even light trail riding. It's one of the few electric bikes I've ridden where I didn't feel like I needed to be extra careful – it just feels solid and predictable.
It's like riding on a rail – everything just feels so solid and safe.
The Cerana eBike is the perfect electric bike for those who want a relaxed and comfortable ride. With its smooth, predictable performance, you can just sit back and enjoy the ride – without having to worry about any sudden surprises. Whether you're commuting to work or taking a leisurely spin around the neighborhood, the Cerana will make your short trips easier… and fun.