If you're looking for an eBike that can take whatever you dish out, the QuietKat Apex is the perfect choice. This bike is over-engineered to handle even the most rugged terrain, making it perfect for off-road enthusiasts and people that just need their eBike to straight up do some work. With its mid-drive motor design and durable construction, this bike is sure to last for years to come. But is it overkill for the average cyclist? Keep reading our full review to find out more about this amazing eBike!
Serious eBike. Incredibly Well-Made.
QuietKat Apex
Imagine you want to sneak up on an animal. You don't want a noisy ATV or offroad motorcycle, you need something quiet - like the QuietKat. Incredibly over-engineered to take whatever you can throw at it. Great, if that's something you need - but overkill if you want some light off-roading.
Buy Now
We might earn a commission if you make a purchase, at no additional cost to you.
Meet the QuietKat Apex
The QuietKat Apex electric bike is one of QuietKat's most popular hardtail models, and it's easy to see why. The Apex is equipped with top-of-the-line components like an adjustable air suspension, 4-piston Tektro hydraulic disc brakes, and a wide-range 9-speed SRAM drivetrain. But what really sets the Apex apart is its powerful mid-drive motor.
With up to 1000W of power, the Apex can tackle even the most challenging mountain trails with ease.
A quick note about mid-drive motors:
This eBike comes equipped with a beastly 100W Motor (in the version we tested). It's VERY different than the rear hub motors that we've tested in many other eBikes.
Other Mid-Drive eBikes we've tested
The only other eBike we've fully tested with a mid-drive motor is the Vvolt Sirius (read our Vvolt Sirius Review), but the Apex eBike takes this to another level with a throttle + rear hub motor + 9 gears.
That makes driving the QuietKat Apex feel more like a car switching gears than an electric car that just goes. The ultimate result is a more versatile ride, but also a more complicated one. That's OK, but just another indication this bike was designed to handle a lot more than what the average consumer needs.
What else you should know about mid-drive
Mid-drive motors offer a more natural feel when pedaling, and they last longer than rear-hub motors. However, they are more expensive than rear-hub motors. Rear-hub motors are cheaper and more fun, but they don't last as long as mid-drive motors. Ultimately, the decision comes down to one simple question
Mid-drive motors are more expensive, but last longer and offer a more natural feel. Rear-hub motors don't last as long, but are cheaper and more fun.
What we love about the QuietKat Apex
The QuietKat Apex is a workhorse of an eBike, and we absolutely love it for that. This bike was designed to take whatever you throw at it, and it does not disappoint. We love the mid-drive motor for its natural feel and long-lasting power, as well as the adjustable air suspension and hydraulic disc brakes.
This bike is perfect for off-road enthusiasts that need an eBike that can keep up with them, and we think it's definitely worth the price tag – if that's what you need.
The design is great, for the right person. If you own anything Mossy Oak, this is right up your alley.
Even components like the hydraulic disc brakes are top-notch. The key to going fast is having great breaks, and these don't disappoint.
If hunting is what you want to use this bike for, there are a ton of offroad accessories available, like trailers to tow cargo (like deer) to match the bike.
You can purchase the bike at local retail stores (which can help you avoid assembly issues, more on that in just a second).
The Fat Tires on this ebike make the bike perfect for mountain biking. We love Fat Bikes (see our best Fat Bikes roundup)
The integrated rear rack comes pre-installed (unlike other rear racks)
QuietKat is a trusted brand (so much so there is a Jeep e Bike from QuietKat)
The powerful motor + 9 gears flattens hills – even steep hills. Combined with the fat tire design makes this bike borderline-unstopablle.
What we don't love about QuietKat Apex
Price, which we actually think is fair, given the high-quality components and overall design. But most people simply don't need this much of an eBike.
The QuietKat Apex is incredibley complexity. This bike has a lot of features, which is great for people that need them. But for the average cyclist, this bike might be a little too much.
A couple of very nit-picky things:

For the price, I'd expect front headlights and fenders, especially for an offroad eBike.
It would also be nice to be able to visually see what gear you are in, which the Apex doesn't offer.
Don't miss our must-have best electric bike accessories, too.
Assembly: What you need to know
Our initial assembly process was actually super easy and straightforward. But as I got to test the bike the first couple of times, I noticed something very odd. As I switched gears it was incredibly clunky. I watched all the Quietkat tutorials (which they have some great ones, by the way) and still couldn't figure out what was going on with my gears.
There was one small issue that I ran into. It turns out one of the links in my chain was busted and also my chain was too long.
I took it to a professional bike mechanic (actually he came to me directly – it's a great thing about many bike mechanics these days, they will come to you) and he quickly fixed it, but this is something you might want to keep in mind if you purchase the bike and assemble yourself.
It's always a good idea to have a professional review your assembly anyway. It's a small price to pay for peace of mind and cheap insurance on your life (you don't want to be going 28 MPH on an eBike that could easily crash).
Great option: buy locally
If this isn't something you want to deal with, the good news is that you can buy the Quietkat Apex at a local retailer and they will tune and assemble the ebike to get started. This is perfect to someone new to the e bike work and not offered by all other bikes.
It may cost you a little more, but if you really value your time (and don't trust your ability to put together an electric bike), then take this route.
My honest suggestion is to purchase the bike online (this is where we've found the best deal) and pay a bike mechanic $50 or so to take a look at it.
Features: Apex highlights
Sometimes I feel silly writing all of the highlights of an e bike. It feels like I'm explaining that a car has 4 tires and windows – but of course it does, right?
Here are some of the most important e bike highlights of this bike that are different, or at least important to highlight, compared to other bikes (obviously, this e bike has 2 tires – but they are on the fat tire spectrum).
Hydraulic Disc Brakes that REALLY work
Yes, these bad boys are incredibly well-tuned for this eBike. We loved how quickly they worked.
Thumb-Throttle
We prefer a half-twist throttle, but the Quietkat e Bikes come with a thumb throttle on the left-hand side. We always like to have a half-twist throttle, because it seems higher quality, but not a deal-killer here.
Air Suspension Fork
This Air Suspension Fork is simply amazing.
An air suspension fork is a type of fork on a bike that helps make the bike more comfortable to ride, absorbing the bumps in the road. This helps make for a more enjoyable ride, especially on rougher terrain.
The Quietkat Apex comes with an air suspension fork that can be adjusted to your liking. We found this fork to be one of the best we've tested in our own niche and #1 in the best electric bikes we've tested.
Speed
No joke, I got this bike going a top speed of almost 29 MPH…. uphill. Yes. That speed is correct. I was incredibly impressed I was able to do that without pedaling.
Of course, you have to use the gears to reach that speed in the great outdoors, but it was simply awesome.
The Motor
The Bafang Ultra Motor, available up to 1000w on the Apex is just impressive. Compared with the ultimate attitude of all the quietkat bikes, this motor fits perfectly with the quietkat bikes and make sure an awesome riding experience among quietkat e bikes.
Battery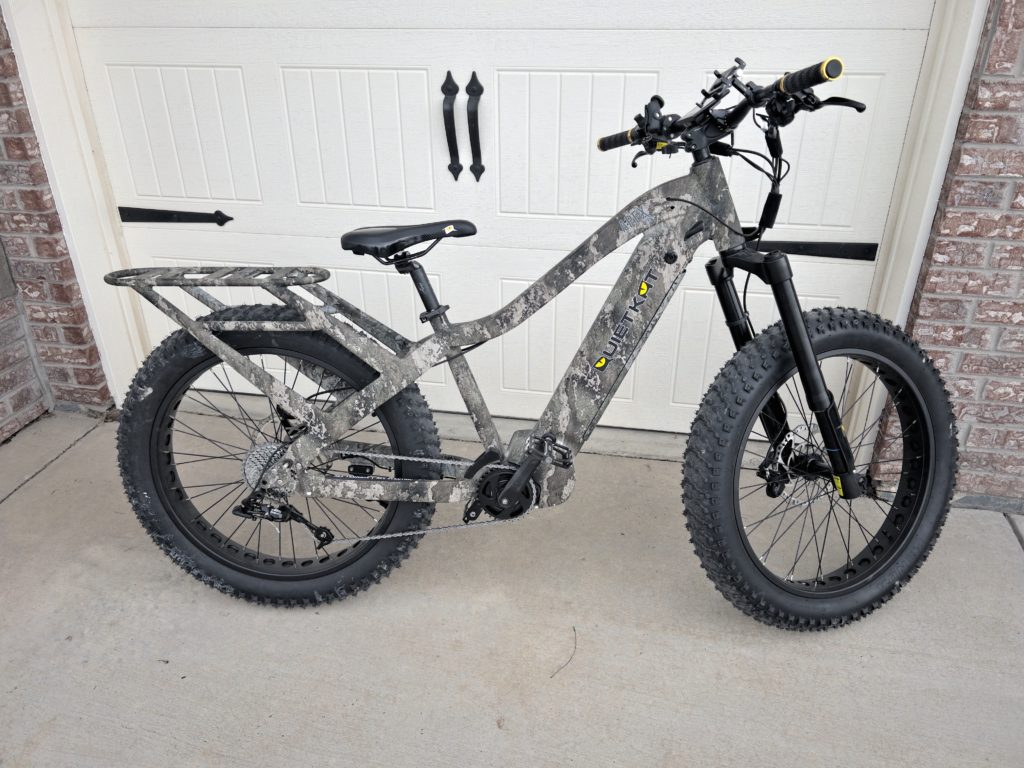 The integrated battery is awesome for a simple reason in the world of e bikes: you can't see it and it still offers great battery life, like other QuietKat Bikes.
Quietkat bikes say this particular battery goes 24-48 Miles – it all depends on a multitude of variables (your weight, what's on the rear rack, your average speed, if you are using the 750w motor or the 1000w motor, the natural habitat, harsh conditions, how you're riding, wind, etc).
This falls squarely in line with other electric bikes we've tested.
The Ride Experience: Everything you need to know
In all honesty, I didn't take this eBike super-offroading, but enough to get a really good feel for how this bike would peform.
As you'll see in our YouTube Review of this eBike, there is a varied-terrain mound (for lack of better terminology) near our home. It features dirt, rocks, mixed soil, all kinds of stuff – and at a pretty steep incline, too.
All I have to say is: wow. That was a blast to ride on and where this eBike shines.
I would say it is analogous to taking a Land Rover on a designed off-road course. It's where it shines.
Sure, you can use it to pick up the kids from school and it does a great job. You're paying for the off-road ability and you truly can't appreciate it until you take it off-road.
Navigating it in off-road conditions is a little trickier because it has a powerful motor with different levels of pedal assist AND different gears, so it's actually not for the novice rider.
But, if you pay attention to what you are doing, this electric bike will take you places you never thought possible – and have a ton of fun doing it.
What would you pick this bike over less expensive options
I'll shoot it to you straight: if you are buying your very first electric bike, skip this eBike. Seriously.
Think about a kid…
It's like giving a teenager a manual transmission Porsche Boxster.
Would it be fun for them? Of course!
Do they need it? Not at all!
Is it a bit reckless? You bet.
The only people I would recommend buy this eBike – as a first eBike or otherwise – are people that are incredibly rough on their Bikes.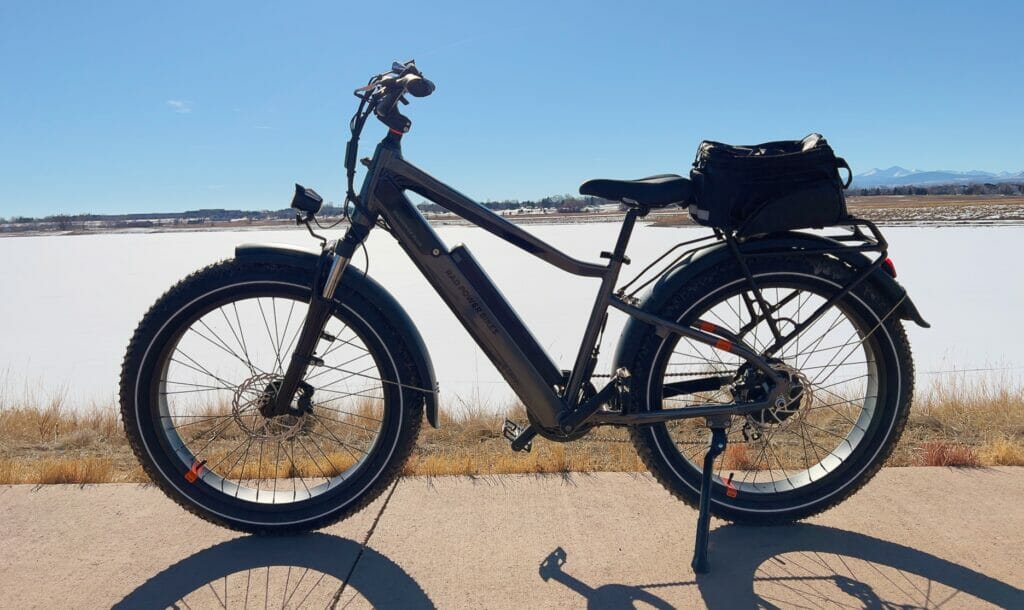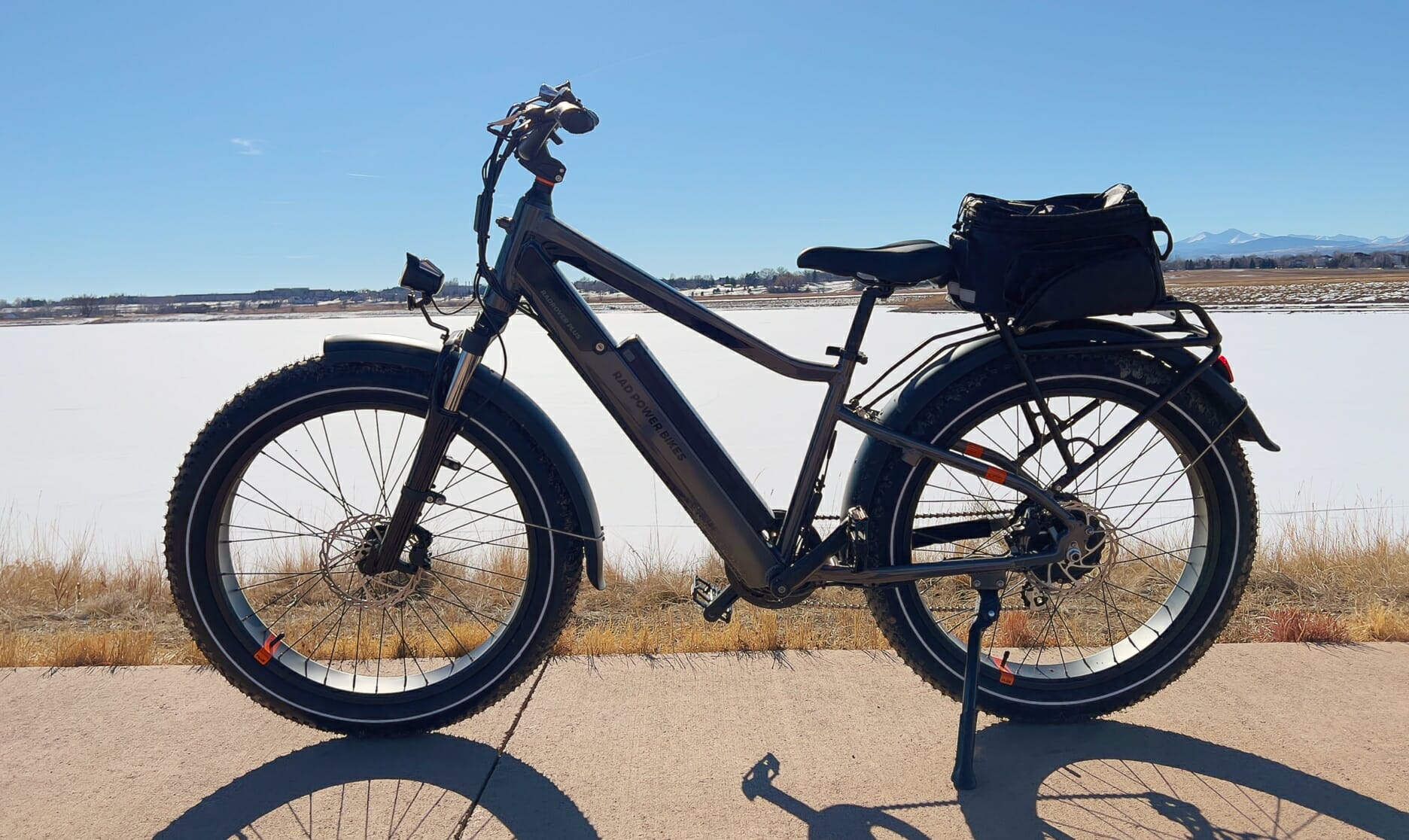 If you want a cool-looking eBike to head to the breweries on the weekends, skip this bike. If you want something cool-looking and long-lasting, check out something like the RadRover 6 Plus (and read our full RadRover 6 Plus Review).
Who the bike is REALLY designed for
I'm talking to the hardcore, want-to-sit-in-a-dear-blind-20-miles-from-the-road dudes that want to not make any noise doing it.
That's who needs the QuietKat Apex. If that's you, congrats – you've found your dream electric bike. Quietkat's Electric Bikes also have ton of accessories not available in the average electric fat bike – not to mention the average mountain bike – like trailers for hauling gear (or animals)
If you need to work on the farm, rounding up sheep – congrats again. This eBike might be for you.
This ebike is designed for people that want to go off-roading – hard core, no holds barred, off-roading. And it excels in that arena.
If you're looking at this eBike and thinking "I just want a cool electric bike to get around town", I would urge you to look elsewhere because there are better (and cheaper) options out there for you.
If you want a casual eBike, get something else.
What I tell people getting into Electric Bikes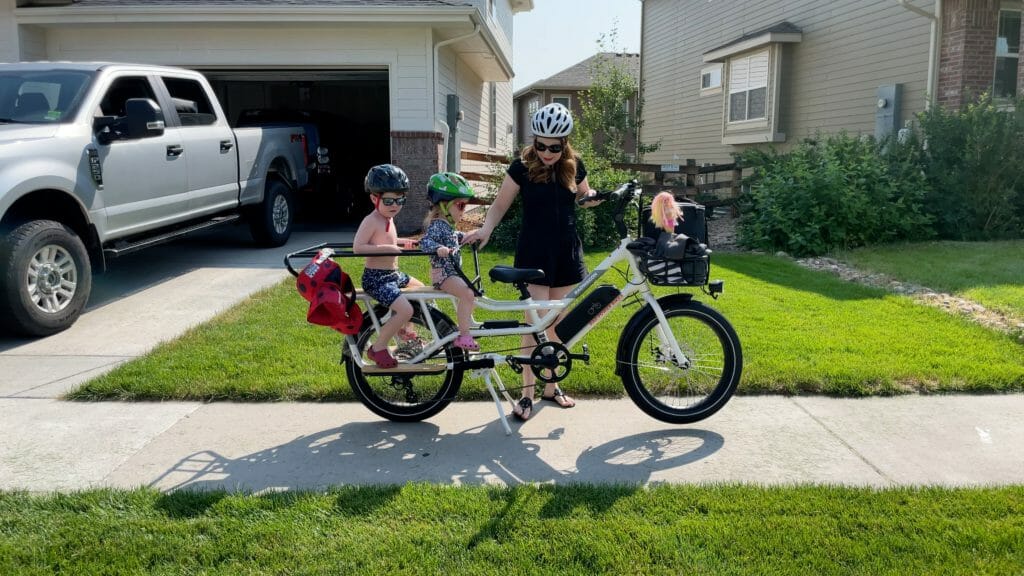 Everyone always has grand ambitions when they purchase an electric bike. They think, "I'm going to ride this thing every day to work!" or "I'm going to take this on all my weekend adventures!" And that's great.
But, in all honesty, most people only ride their electric bikes a few times per week.
And that's perfectly fine!
How will you REALLY use it?
An electric bike is a big purchase and if you only use it a few times per week, it'll still pay for itself in no time.
So, if you're thinking about getting an electric bike, my suggestion is to buy one that appeals to your sense of style AND your budget.
If you want something cheap and cheerful, go for the RadRover 6 Plus (read our full RadRover Review).
Then, and this is super important, trade up for an eBike to get EXACTLY what you want in a year. Keep track of what you love and don't love about the first bike you bought.
If you're anything like me, you get into eBikes and think it will be one thing, but realize that it's something completely different – and not in a bad way. The thing you THOUGHT were important (a cool design, for example), end up not meaning anything to you.
But, the things you thought were unimportant (like range or off-road ability), become incredibly important.
Keep this in mind when you're thinking about buying your first eBike – and your second eBike.
You can easily upgrade your 1-year-old eBike to another after you figure out EXACTLY how you'll use it.
The Verdict: not your average electric fat bike… or mountain bike
Serious eBike. Incredibly Well-Made.
QuietKat Apex
Imagine you want to sneak up on an animal. You don't want a noisy ATV or offroad motorcycle, you need something quiet - like the QuietKat. Incredibly over-engineered to take whatever you can throw at it. Great, if that's something you need - but overkill if you want some light off-roading.
Buy Now
We might earn a commission if you make a purchase, at no additional cost to you.
If you are looking for a hardcore, off-roading eBike that can take a beating and keep going – then yes, the Quietkat Apex is worth the price.
If you are looking for one of the more casual bikes to zip around town on the weekends – I would urge you to look at other options, and save some serious dough.
The Quietkat Apex starts at $2,499 and goes up depending on the options you choose.
The Bottom Line
off-road eBike, there is simply no better option on the market (that we've seen). The design, components, and ride experience are top-notch.
Now, that doesn't mean this is the right bike for everyone. If you don't plan on ever taking this bike off-road, then there are other options that might be better suited for your needs – and save you some money in the process.
But if you want an electric mountain bike that will take you anywhere your heart desires (and then some!).