Have you purchased an electric bike? If so, then you're probably wondering what accessories are out there to make your life easier. We have compiled a list of 13 must-have eBike accessories that will help you get the most out of your new purchase!
Keep reading to see our full list of 13+ best eBike Accessories today!
Why you need accessories for your eBike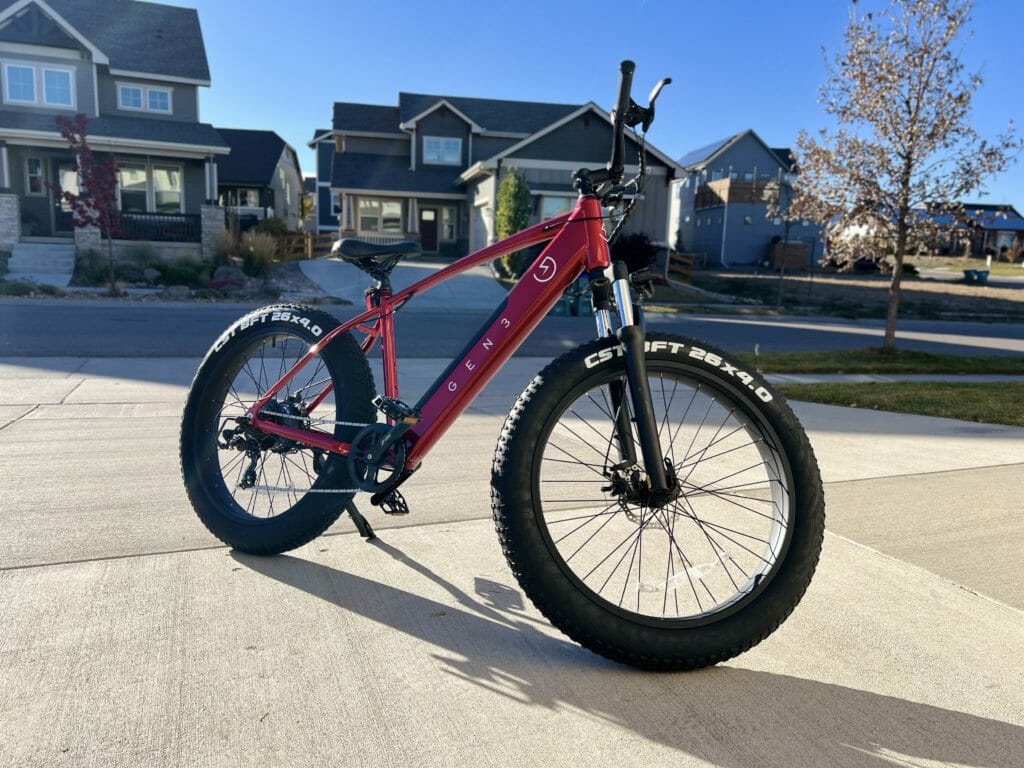 Let's be 100% honest, we've tested out a ton of eBikes (read our Rad Power Bikes Review and KBO Breeze Review for a good sample) but one thing is always true: you always need an accessory (or 2 or 29).
That's because no electric Bike is perfect off the shelf. If there is a perfect eBike we've never seen it. There are a couple of accessories that you should get with any new eBike.
#1 Bike Accessory: A Rear Bike Rack
A rear rack opens up the possibilities for more accessories (like a child carrier, accessory bag, etc). It's a must-have if you want to carry any cargo.
They also allow you to add Pannier bags or even just an equipment bag.
What ones do we recommend?
You can buy an eBike with a rear Rack (the KBO Breeze and Charge City, for example – check out our KBO Breeze Review and Charge City eBike Review), which is a great option.
Manufacturer's rear rack: we usually recommend you go with the manufacturer's rear rack. You won't save a bunch of money on a third-party rear rack and you have to worry about it actually fitting. Plus the color will match exactly.
Our Top Bike Rack Recommendation: the Manufacturer's Rack – that fit on the bike frame perfectly
I know this sounds like a bit of a cop-out answer, but the best eBike rack is the one designed for your exact eBike.
Other great Rear Racks for your eBike options with great reviews.
The Topeak Racks
The Topeak Racks have a great quick-release system(dubbed QuickTrack) that allows you to slide on and off different bags, etc.
If I didn't have a bike rack from the manufacturer, I wish I had a system like this to quickly and easily remove different accessories. In general, the most important thing is to make sure that the rear rack fits your bike and can hold the weight you need to transport.
If you need to transport large items, make sure your rack is rated for what you want to transport – even if it's just a few things.
#2 Electric Bike Accessory: An Awesome Helmet
Before you hop on an eBike, it's important to make sure your noggin is protected. eBikes go a lot faster than you expect and you want to stay safe. That's what makes this one of our top bike accessories (e bike or not!)
On top of that, you don't want a dorky helmet, right? No more sci-fi-inspired $20 helmets from Wal-Mart.
What helmet do we recommend? Check out Thousand Helmets and read our full Thousand Helmet Review.
Our Recommendation: Thousand Helmets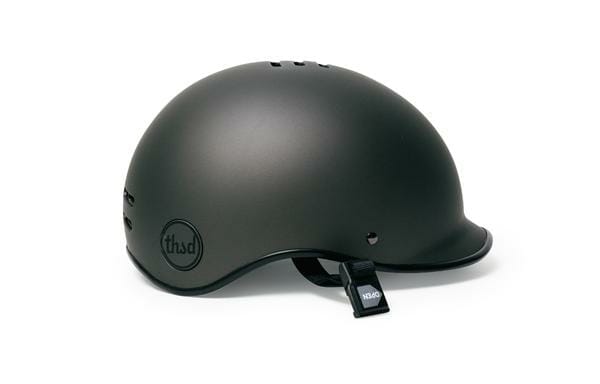 Finally, a stylish bike helmet. These retro-inspired helmets not only look fantastic, but they also include features that make the helmet easier to wear, such as the revolutionary magnetic clasp (no more pinched skin!).
These eBike helmets just look great and are filled with great features. Read our full thousand helmets review.
Other great eBike Helmets
Retrospec makes some other great eBike helmets, we just didn't like the giant logo on the front. They are much cheaper on Amazon, about $25.
#3 eBike Accessory: A great Allen wrench
An Allen Wrench, seriously? Yes. Serious.
Once you have to put together an electric bike, you'll finally realize the difference a great Allen Wrench makes.
Our Allen Wrench for eBike Pick
What's the best one? There are tons of options, but we got this MARQUE Torque Wrench. It has a built-in click-out mechanism to prevent overtightening. This Prevent damaging your high-end bike parts from over-tightening a bolt. The tool will click out once the torque exceeds torque settings
Pro Tip: Keep it in your seat bag of your e bikes so you always have it with you on rides. It weighs about next to nothing and this one offers several different-sized heads.
#4 e Bikes Accessory: A great bike bag
We're recommending a couple of things that need to go in a bike bag, what it only makes sense that we'd recommend a bike bag, right?
Most bike bags will fit on almost any rear rack. They are typically held by a couple of vertical and horizontal straps that will keep the e bike bag firmly on the back of the bike.
You really can't go wrong with a bike bag, as long as it holds what you want and fits it on your bike rack.
What bike bag do we recommend?
This is the particular bike bag we use, which has some side bags we don't use, but we just like all the different pockets. Get what works best for your e bikes.
What I don't like: Panniers / Pannier Bags
Some people swear by these bags that hang over each side of the rear wheel, but it's just not my cup of tea. If you can fit everything you want in a small bag, there's no need to get these bags.
#5 eBike Accessory: Portable Air Compressor
What is this? It's a Portable Compressor to inflate your tires on the go!
This is one of the must-have electric bike accessories for a couple of reasons:
It fits in your bike bag easily. It's not very large at all.
It's great to carry with you in case you get a flat and aren't near a pump (this happened to us a couple of weeks ago and we didn't have the compressor packed)
Allows you to get the exact air pressure you want, with the built-in sensor air pressor sensor.
I was super hesitant to get this for a while, but it would have saved me from forcing me to get picked up on a random trip.
This happened when riding on my RadRover 5 (read our RadRover 5 Review and RadRover 6 Review) – I'm just glad that it didn't happen with my RadWagon (read our fully RadWagon Review), there's no way I could have fit the RadWagon in our car. I was barely able to fit the RadRover in my SUV, I had to take off the front tire.
#6 Best e Bike Accessories: Slime!
Slime… what's slime? Only the greatest invention ever. It helps fix flats when you get them AND helps you avoid getting them in the first place.
How Slime Works
Slime is an interesting concept.
Here's how it works:
Empty a little tire pressure from the tire (with the built-in tool),
insert Slime tube sealant (follow the instructions for how much slime and more details)
Te-inflate the tire
Ride to spread the slime
Off you go!
What does Slime do?
Slime will find punctures in your tubes up to 1/8″ (3mm) using Fibro-Seal Technology. It can also repair/seal punctures and slow leaks on all Bicycles, dirt bikes, wheelbarrows, and strollers.
Pretty cool, isn't it? When my RadRover 5 have the flat tire, I brought it home, plugged that infernal hole, and went back on my way. It worked just as promised.
This is another great thing to keep in your bike bag in case you get stranded. Use it with the portable pump and you are in a really good spot!
You can also add this to tires BEFORE you get a flat to help keep it inflated. It's a super cheap investment at only $10 bucks.
#7 Best Accessory for e Bike Riders: A great lock
This could easily be #1. But this is a must-have if you are going to leave your bike anywhere.
You can spend over $300 on a lock, but you can spend a lot less, too.
Most hardcore eBike riders swear by U Locks, especially this one.
One big reason is their Anti-Theft Protection Offer; Up to $1,750 Reimbursement. Of course, you have to jump through several hoops to get this approved, but it's a great bonus. This eBike U Lock is super hard to break.
I, personally use this lock, because it is tough, but also a folding lock. Folding Locks don't have to be the most secure – but they are super easy to transport.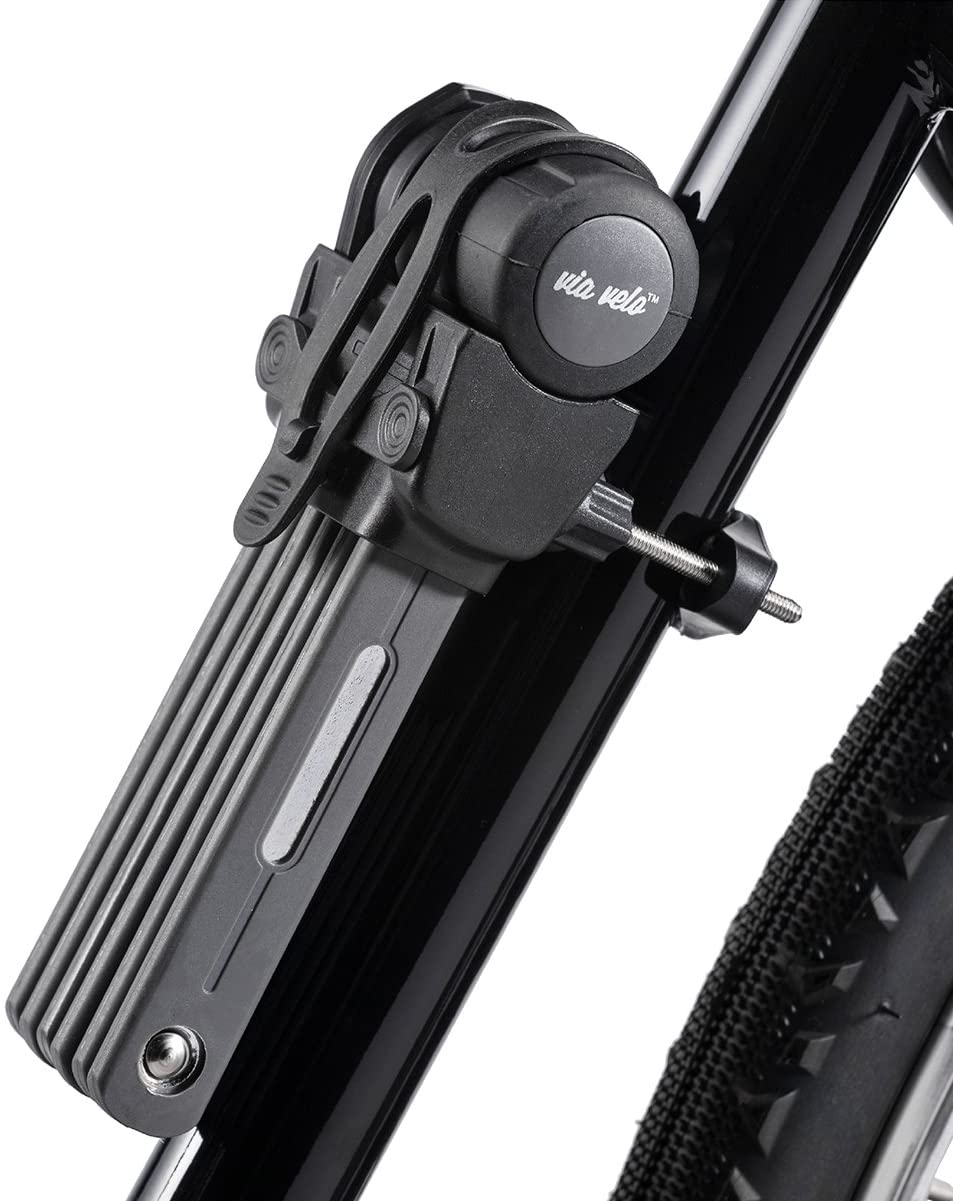 As my father-in-law, a retired cop always says: criminals are pretty lazy. If they really want to steal something, they'll do it. But if you just make it a little harder to steal than the other bikes, they won't do it.
Some people also U Locks when parking their bike somewhere they can't attach to a stationary rack because it would be really hard to transport without the use of the wheel. Most eBikes are pretty heavy!
You can even take a lock a step farther and get a full anti-theft system. This can include an alarm or even a GPS tracker.
I think the best route it a good lock and using an Apple AirTag placed in a hidden spot on the bike. This will help secure your bike.
#9 Best Accesory: Rearview Mirrors
You can get a couple of types of rearview mirrors on eBikes. The kind I recommend are the rearview mirrors that attach to your handlebars.
These are great because it's an easy way to glance in the rearview mirror and see if someone is coming up behind you. I don't care for the mirrors that attach to bike helmets, they throw off my vision for some reason.
#10 Best eBike Accessory: an cell phone mount
I, seriously, can't believe this doesn't come standard on most eBikes, but you need a cell phone mount. You really don't want to keep your cell phone in your pocket, you want it on a cell phone mount for a couple of reasons:
In case someone calls you, you don't want to have to find the cell phone in your pocket.
Use it for directions when you are biking
It won't fall easily from a mount but could easily fall from your pocket.
Some eBikes and controllers allow you to connect your eBike to your smart phone to collect information like speed, distance, etc.
Bonus: some eBikes (like the Rad Power Bikes) have a USB port to run a cord from the trip computer to the cell phone to charge it. The only trick with the Rad Power Bikes is you need to plug in the cell phone BEFORE you start the eBike to charge it.
Bonus Accessories for your eBike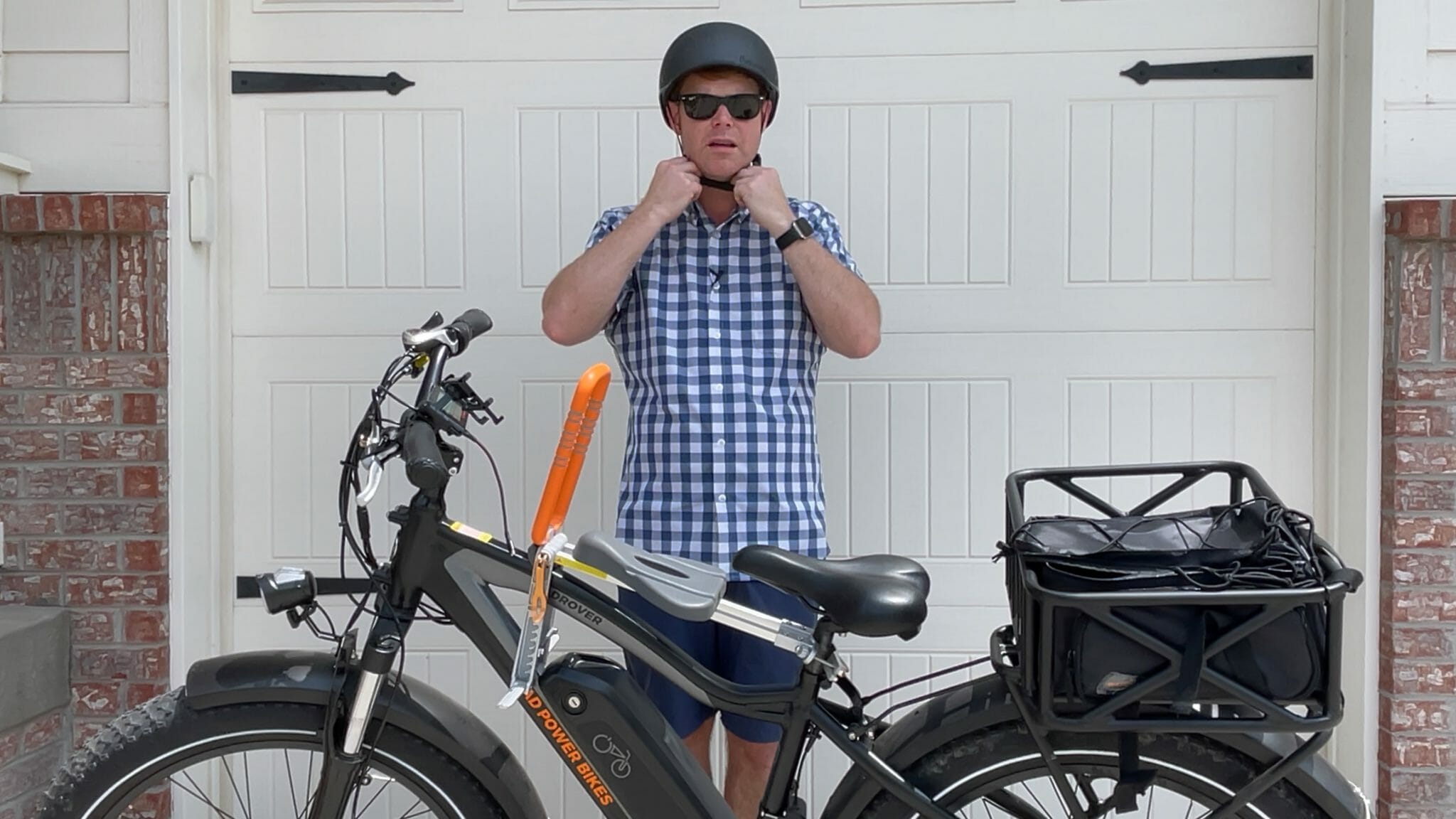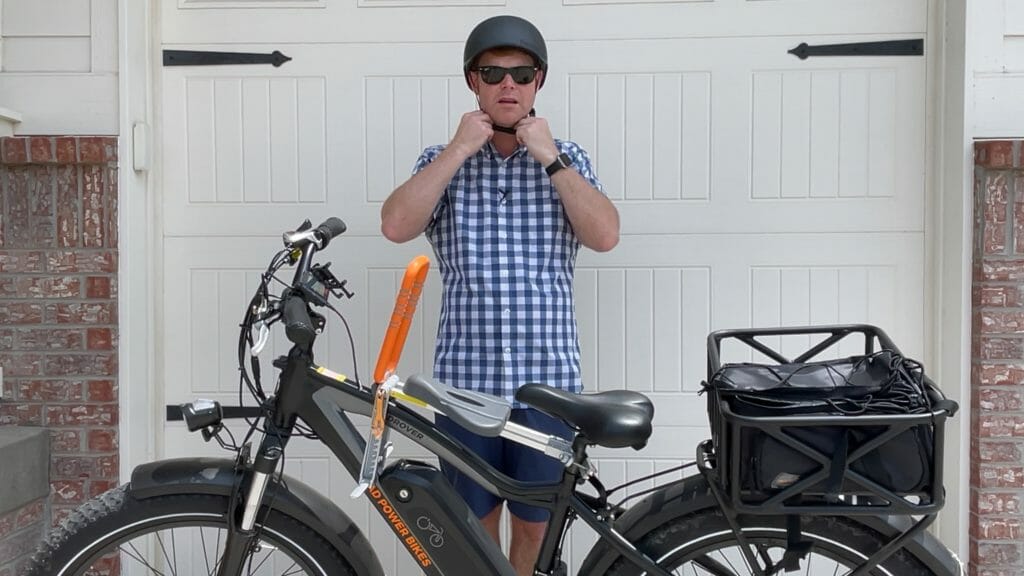 As I mentioned, there will never be a perfect eBike. On the other hand, some eBikes will have features that others don't. The rest of the accessories here are items that were included in many of the bikes we've tested and a bit of personal preference.
For example, you may not need lights for riding at night. But you may need lights – so, keep reading to see more great gear that can make your ride more comfortable and take the convenience level up a notch or two.
#11 Best eBike Accessory – Lights
Most eBikes these days come with lights – after all, the eBikes have a battery pack, it makes sense to attach them to the battery. Not only does this help you see in the night, it's also a safety issue.
Some rear lights even get brighter when you use the brake – acting like a real brake light.
There are a ton of options for front-facing lights, ranging from battery powered to rechargeable to attaching to the handlebars to plugging directly into the battery. Find the right light for you.
The main point is that you are visible to cars and you arrive safely wherever you're going.
#12 Best Accessory for eBikes – A Comfortable Seat
Once again, some eBikes don't come with a super comfortable seat. This really just depends on what you are looking for and how far you are riding. Most eBike seats are plenty comfortable for almost any rider.
Just make sure that your bike seat will fit on your eBike. Who doesn't want a super comfortable ride?
#13 Best eBike Accessories – A front basket
Even if you have an awesome rear rack or rear basket, it's awesome to have a front basket, too.
We love the front basket on our RadWagon 4 (read the full Radwagon 4 Review). The kids sit on the caboose area and we put our pool toys in the front basket.
Also, check out our best Fat Tire eBikes roundup.
Other accessories that make some electric bike accessories lists, but not ours
There are a ton of accessories that some people swear by for e bikes, but we simply don't care for.
A water bottle holder – these tend to always get in the way, even if water bottle holders are easily removable. These easily attach to the bike frame, typically, but we typically store our water in the bike bag on the back.
Car Hitch – we don't take our ebikes on trips, at least not yet. So, we don't have a car hit to carry the bike on the hitch of your car. Obviously, if you take your car on trips, this is a no brainer. Check out the best fat tire bike hitch we've found.
Garage Racks – our garage is simply big enough where we don't need to store our bikes int he garage in a unique way.
Bike Trailer – we simply don't need one, especially with the RadWagon in our garage.
What else should you check out? Read our best Rad Power Bike Accessories Roundup.