We've tried everything from Dress Shirts to Smart Ovens on We Tried It, but we tried the seemingly impossible: going to Disneyland with a Toddler. Little We Tried It was 22 months when we went to the Happiest Place on Earth. Since then, we've had people ask: is it worth it? What should we know before we go? So, we decided to answer those questions on our little site.
Disneyland with a Toddler: Is it worth it?
This is a tough one. For us, it was worth it. Disneyland is stupid expensive. As in, we paid $64 for 3.5 of us to eat at Pizza Planet. Slices of pieces. No booze or anything fancy. It's stupid expensive. So, think carefully before committing.
It was worth it for us. However, we're not sure if it would be worth it for other kids around the same age.
Let us explain: Little We Tried It loves his characters. He loves Mickey, Minnie (both are "Mimmie!" in his world), Donald, Goofy, Buzz Lightyear, Woody (AKA "Hat"), Monsters, Inc. ("Baby!") and the like. He's obsessed with them. So much so, that on the first day, he woke up at 4:00 am and said "Buzz, Mimmie, Go Go!" It's tough to explain to a little one that it's not open yet.
Most kids are not that obsessed with the characters at that age (at least the kiddos we know). Our little one also loves to look at picture books and the video "Moments" in the Apple Photos app. We knew the trip wouldn't be a one-time event source of enjoyment for our little guy.
He's watched the Video of our trip dozens of times (and we've only been back for a couple of weeks. So, it's a big maybe for most kids. We'd bet most kids would like Disneyland better around the age of four or five.
Tip: Take tons of pictures and and use MaxPass to get the professional pictures for your little one to relive the Magic.
Amazon
has prints for as cheap as 7 cents with free shipping if you are a Prime Customer. Check out
Amazon Prints
.
Disneyland with a Toddler: Planning your trip and where to stay
This is where things get even more complicated. We planned our trip when it was easy to get away from work and when the crowds were not at their peak. We also used a Disney Travel Agent. If you're anything like us, you probably just wondered: Is ANYONE still a travel agent? The answer is YES.
And we recommend using a Disney Travel Agent, especially if you are new to visiting Disney. We were told that it wouldn't cost anything additional to use the agent, but we were skeptical. We looked up the same days/accommodations the travel agent gave us and the prices were literally within 13 cents - yes cents - of each other. Our agent was also able to give us helpful hints, help us with transportation and make dinner reservations. Use our travel agent, Taylor, she will help you out!
Where to stay in Disneyland with a Toddler
If you have a little one, we recommend staying at the Grand Californian Hotel. Yes, it is the most expensive. But it is also the closest to the park.
This was crucial when it came to naptime. We tried to stick as close to our normal nap/sleep times as possible because we wanted to avoid a meltdown. We heard horror stories of how long the shuttles took to the other hotels and decided to stay at the Grand Californian Hotel. You'll see tons of kiddos who are obviously being wheeled around in their stroller for their nap.
There's no way the little one sleeps as well in the hot California afternoon as in a dark, quiet and air-conditioned hotel room minutes away. We also decided to arrive on a Monday but not go to the park until Tuesday. We'd recommend you do something similar.
We always try and do too much with the little one and decided to take it easy on the first day. The Grand Californian (and the other Disney Resorts) has a great, relaxing pool. We then did a Character Dinner in the evening to start the trip off slow. We could have tried to go to the park that day, but we're glad we didn't.
We went to Disneyland on Tuesday and Disney California Adventure on Wednesday (more details below). We left Thursday afternoon, spending Thursday morning in the pool again. It was a great pace for the little one.
Before You Go to Disneyland with a Toddler
Before you go to Disneyland, I recommend getting two applications put on your phone: The Disneyland App and The MagicMins app. Set up your Disneyland App BEFORE you go. Familiarize yourself with it (it can be a little wonky at times). Add a Credit Card to the app because you'll want it for a MaxPass (more on that in a second) and for mobile ordering. Use the Disneyland App to check wait times on rides around the time you think you'd like go on the ride - is it worth the wait?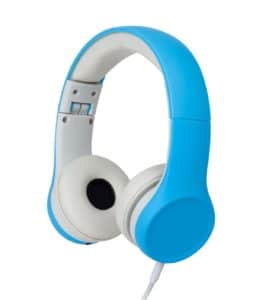 We also recommend buying some toddler-friendly headphones, like these, to wear on the plane. Don't be those people listening to something full blast on the plane. We really like the Disney Appisodes App for the plane, because you can download the videos to the device before you take off. It costs $2.99/month, but there is a week-long free trial available.
Another helpful tip before you go: Watch clips of what you are going to be doing before you leave. The first ride we recommend for Disneyland, for example, is Dumbo. Watch this clip with your kiddo before you go and ride the ride. They will be that much more excited when they get there.
Toddler in Disneyland: Sample Itinerary + Tips
Another reason to stay in the Grand Californian Hotel: you get to go inside the parks an hour early. Check the website for the most recent schedule, but it alternates every-other-day for each park (alternating between Disneyland and Disney California Adventure). Tuesday was Disneyland, Wednesday was California Adventure when we were at the park.
Our number one tip for visiting Disneyland with a toddler: arrive early. Chances are your little one will be awake early, so get to the park early. The park gets considerably busier as the day goes on. Not slightly busier, but much busier. Disneyland went from, literally, an enjoyable experience in the morning to mayhem in the afternoon.
When you get inside the park, buy a MaxPass. If you have a toddler, you probably won't be going on any of the rides that require a FastPass (the FastPass allows you to cut the line in a ride if you show up at a particular time to ride the ride) except for Small World and Buzz Lightyear, but you will want the photos.
The photographers at Disney take THE BEST photos. For $10/day, they will take unlimited photos and you get to keep the digital copy for yourself. Yes - $10 a day! Totally worth it. Another pro tip: take a screenshot of the PhotoPass Code (that's part of the MaxPass - too many passes, I know) and make it your home screen photo for the trip. It makes it way easier for the photographer to scan. You'll get your photos delivered to the app in just a couple of minutes.
The photographers were GREAT at getting the little one to look up for photos (something we REALLY struggled with). Our best photos from the trip were from these photographers - it's totally worth $10 a day.
Another tip: bring food into the park with you. You can bring anything that isn't glass (or booze) into the park. Disneyland advertises that you can bring in water bottles to fill. However, we never found any fountains that didn't taste like toilet water. Next time we would buy bottled water and bring it into the park. Keep feeding and hydrating your kid throughout the day. The last thing you want is a meltdown. Lines and transportation to the next ride/show are a great opportunity to snack/hydrate up!
Rides (and Order) for Toddlers at Disneyland:
Assuming you have the early entrance staying at a Disneyland Resort hotel, here are the rides we recommend. For the first hour, only Fantasyland and Tomorrowland are open early:
Dumbo: We recommend making a B-Line to Dumbo. It's a great first ride for toddlers. It's outside (nothing scary inside), pretty easy ride and the wait is too long later in the day (around 45 minutes). This was probably our kiddo's favorite ride.
Finding Nemo: Another ride that would be too long of a wait later in the day (it tends to hover around 30 - 45 minutes). It's another easy ride.
Autopia: If your kid is over 32 inches, this is a good ride that has a longer wait later in the day.
Astro Orbitor: Another outside ride that is pretty easy for little ones. The wait isn't too bad later in the day, but not worth anything more than a 5-minute wait.
You can easily ride all of those rides in the first hour or two. The waits are non-existent during this time. Our little one loves Toy Story, so we also rode the Buzz Lightyear Ride several times. The next stop should be Toontown, as it opens about an hour after the regular park hours (so two hours after you entered the park). Let your little one run free and explore. Everything there is open to play with. That's where we also got our matching Mickie Mouse Hats.
The Gag Reel Store in ToonTown was much more subdued than the Mad Hatter shop in Fantasyland. After the first rides and Toon Town, it might be time for an early lunch. We ate at Pizza Planet (remember the warning about food: it's EXPENSIVE). After Pizza Planet, we headed back to the hotel for a nap.
Afternoon Itinerary for Disneyland with a toddler
Wake up from nap and get a little snack. Check and see if you need a FastPass for Small World. If you do, get a FastPass for Small World in a couple hours.
Catch the early afternoon parade. During our trip, they had Pixar Fest and we watched the 1 PM parade.
Venture over to Adventure Land and watch the Tikki Room.
Head over to see Winnie The Pooh (or "Winnie Boo Boo," as our guy calls it). This turned out to be our toddler's second-favorite ride (next to Dumbo).
Get another little snack/drink.
Since our guy was so obsessed with Pixar Characters, we watched the 3 PM Pixar Parade again, too.
Catch the Carousel - it's a lame ride, I know, but our little guy loved it!
Go on the Small World Ride
We went back to Ride Winnie the Pooh several times - it actually broke down and we used the MagicMins app to alert us when it would be back online.
Went back to Toon Town to see Mickie
Eat Dinner
Go to fireworks (our little guy made it about 2 minutes into the fireworks and passed out!)
Sleep!!!
Toddler in Disney California Adventure: Sample Itinerary + Tips
Day two we did it all over again. The same tips apply: arrive early and bring snacks. Our original plan for the day was the hit Toy Story Mania (which frequently has 60+ min waits), however, it didn't open until 11 am the day we were there. Here's what we did instead:
WE bought the MaxPass and used to reserve Guardians of the Galaxy: Mission Breakout (Daddy wants to ride some rides, too!)
Ride Luigi's Rollickin' Roaders - I wouldn't really recommend for a kid. This ride was ROUGH!
Ride Mater's Junkyard Jamboree - this ride was just OK. Not our favorite, but a good ride in the Cars Land Area.
Take a ton of pictures with "Buzz Car" and "Hat Car" (see above).
Ready for Daddy to get a new FastPass, this time for Radiator Springs (the big, new Car ride)
Ride Monster's Inc. Our little one loves this movie and there was no wait - we rode this 6 times (not a joke!).
Ride Ariel/Little Mermaid Ride (this ride always has about a 10-15 minute wait)
Go to Disney Junior Dance Party - a fun, 30-minute show that ends with Mickey and the Roadster Racers in Real Life
Go to Toy Story Mania as soon as it opens. Our little one didn't understand that it was a game, but loved wearing the 3D glasses and watching his favorite characters
Order food from Flo's using the Mobile App - A serious lifesaver in this situation!
NAP - Our kiddo took a 4 hour nap this day, he was exhausted! While he napped, we relaxed by the fire at the Grand Californian (grandma stayed in the room and napped, too!).
Dad rides Guardians of the Galaxy and Radiator Springs Racers
Ride all the kiddie rides in Bugs Land (our kid didn't care for these rides, either)
Monster's Inc. went down and we set an alert for when it was back up and headed there for no wait
Go to Animation Academy - a hidden jewel in the park. This huge, air-conditioned space places clips from classic Disney animated movies. Kids can just run around and there is a lot to explore, including Crush the Turtle. This is a great place to just get away from being outside and relax.
Ride Little Mermaid again
Eat Dinner and listen to some of the live performances on Buena Vista Street. See some characters.
Scope out a place for the Night Parade (they weren't doing World of Color when we were there)
Watch the Parade
SLEEP!
Final Tips for traveling to Disneyland with a toddler
If you've made it this far, congrats! Hopefully this was helpful. A couple more things to remember:
Being polite and nice to Cast Members (Disney employees) gets you very far. We got VIP access to the Disney Dance Party (just getting in early, nothing fancy) by simply talking to one of the Cast Members. We also got late entry to one of our FastPasses by simply being honest to the Cast Member.
Have a rough idea of what you want to do, but be flexible. Don't force anything at Disneyland.
Allow yourself to go off script. Two of our favorite moments weren't planned: listening to some music in California Adventure and meeting Goofy.
Don't wait in lines, whenever possible. Use the Disneyland App to get FastPasses and order food. Waiting in line is not magical.
Remember why you went: most likely to see your kid smile - not to experience everything.
Anything we should add to our guide?