Bluffworks Review: The relatively new clothing company promises to offer the best clothes for travel – low maintenance, comfortable, and dry clean optional. Now that the world is starting to travel again, we thought we'd dust-up this review (that frankly, we never finished) and post it for everyone to enjoy.
Servicee
Main Features
Score

1

Top Pick!

Top Pick!

Bluffworks Suit

Machine Washable
Wrinkle Resistant
Comfortable
Looks like a real suit.

Get the Suit

2

Great shirts

Great shirts

Bluffworks Dress Shirt

Gives Mizzen + Main a run for their money
Soft
Wrinkle resistant
Only thing lacking is the number of styles

Look good, feel good

3

Great design

Great design

Bluffworks Shorts

Great, chino-style shorts
Hidden Pockets that don't look like cargo shorts
Great value

Get the shorts

4

Great looking

Great looking

Bluffworks Polo

A great polo
Lasts a long time
Holds up incredible well
Just avoid the darker colors

Polo Season!

5

Secure your stuff

Secure your stuff

Bluffworks Jeans

Hidden pockets galore!
Great for traveling (and securing items like passports)
Runs just a little hot

Travel is these bad boys
What is Bluffworks?
Bluffworks started in 2012 with a passion to make the perfect pair of pants, and as they've grown it seems they have developed clothes that solve tough problems. The roots of their company originated from travel – which was why they made products that allowed you to experience the wonders of the world.
While the past couple of years haven't been very conducive to travel, Bluffworks realized they just made better products – period.
While Bluffworks was centered around travel, they also just make great clothes for both men and women.
What makes Bluffworks better?
Bluffworks is a clothing company that creates clothes for both men and women. Their commitment is to make versatile, durable clothes so you can look good, feel good, and focus on what matters most.
All of their clothes focus on three important features:
Wrinkle Resistant
Moisture Wicking
Machine Washable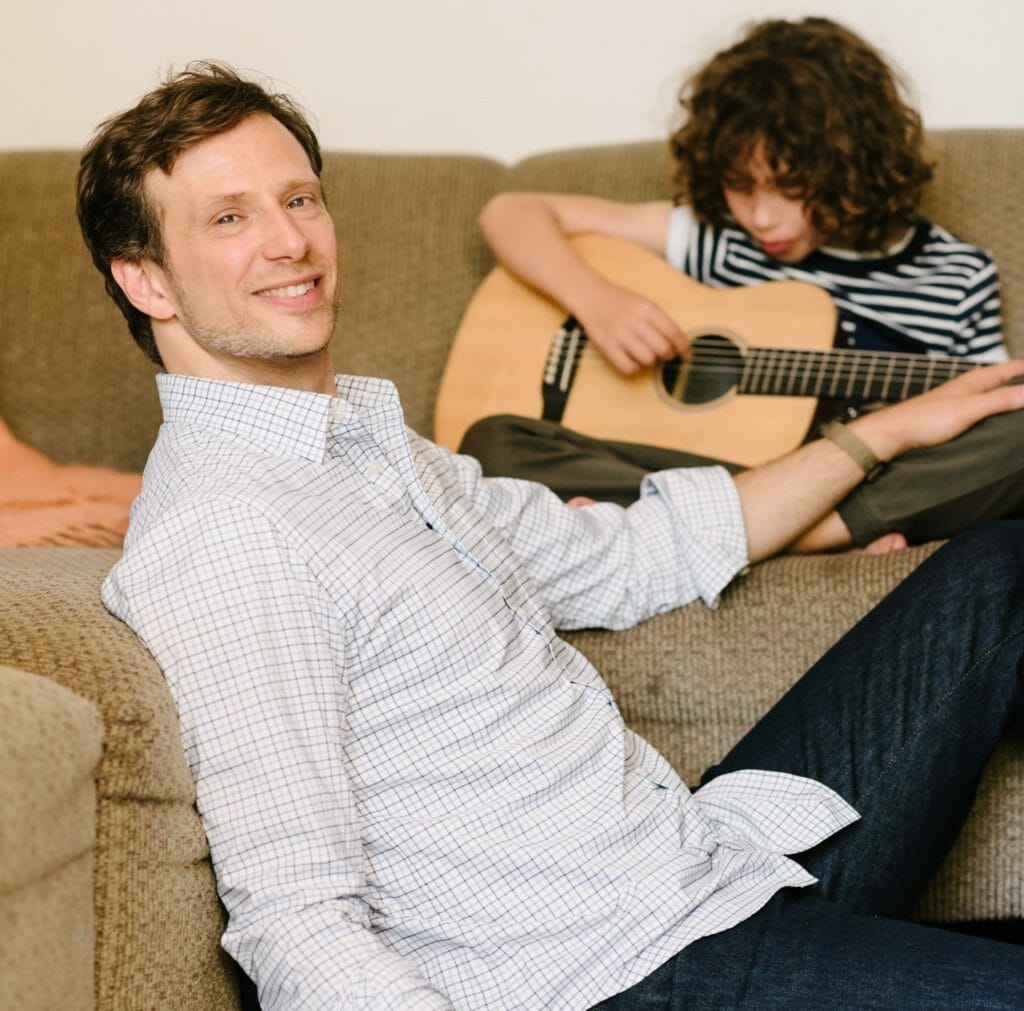 These are important because Bluffworks wants you to be able to go from the office to a business dinner, onto an excursion with ease.
Bluffworks solves the problem that many travelers face (and frankly everyone!). I don't have the patience to Launder any clothes and take them to the dry cleaner.
I don't want to spend money to have a dry cleaner clean my clothes.
Bluffworks Review: The big problem Bluffworks solves
I don't want to spend time ironing clothes – at home or when I'm on the road.
It's actually the reason I got into testing out Mizzen + Main Shirts. I would hate the intricate ritual I'd have to do when traveling:
As soon as you get to the hotel, hang up your shirt.
Take a nice hot shower (or just run the shower) before putting it on.
Attempt to iron out any wrinkles and hope you wouldn't get a rust stain on the shirt.
Still, maybe have a wrinkled shirt or jacket you'd be self-conscious about.
I was done with the no-wrinkle ritual. Bluffworks clothes are wrinkle-resistant, moisture-wicking and machine washable so you don't have to deal with any of that anymore. Bluffworks' mission is to harness their core values in every product they make – which includes those three features I mentioned above.
Bluffworks Products: What we've personally tried
Don't you hate it when you can obviously tell that a website hasn't REALLY tried the product? They just put together a random mix is other reviews they've seen and hope to pass it off as their own work?
We REALLY hate that. But we've personally tried many of their products
We personally have tried Bluffworks Suit (the Gramercy – both the blazer and the dress pants/travel pants. The Bluffworks dress shirts. The Bluffworks Polo and the Bluffworks Chino Shorts (which are made from the same material as their Chino Pants).
I almost forgot we've also tried their jeans (which have a super interesting back zippered pocket that I'll dive into a little bit more here).
What's so great about their products beyond being wrinkle free?
Besides the obvious comfort and wrinkle-free features, we really like Bluffworks for several other reasons: the fit and the number of pockets.
First, the fit: Bluffworks knows its target audience. They know they are NOT selling to bodybuilders and 22 year-olds. They are selling to people like me: a 30-something with 2 kids. No super tight or super slim fit clothes to be found here – but they aren't baggy and "dad" or "mom looking either. They just fit.
The other thing I love about Bluffworks is the incredible number of pockets they fit into their clothes. I never considered myself a pocket-obsessed person but Bluffworks changed my mind.
And, if you are like me, you think of pockets as "cargo pants" style pockets.
That's the exact OPPOSITE of what we're talking about here. These are hidden, subtle and well-designed pockets. Not some JNCO Jeans from back in the day.
More on the pockets as we continue!
Let's dive into the products we tried and our quick Bluffworks reviews on each product.
Bluffworks Products: Rapid Bluffworks Review
#1. Let's talk about the product that started it all for me (and for Bluffworks): the Gramercy Suit.
Bluffwork's suit takes the classic look and combines it with technical performance. The fabric is buttery soft, wrinkle-free, anti-odor, all without dry cleaning or irons. You'll find yourself in a relaxed state after wearing one of their suits because they are easy to wear (and care for).
I know what you're thinking… it's hard to get excited about a suit. But Bluffworks manages to make that experience special, making you look and feel better than you ever have in a suit.
The old adage is true: look good, feel good.
While this suit gets natural (and warranted) comparisons to the Ministry of Supply Suits (read our Ministry of Supply Suit Review): this Bluffworks Suit has one giant leg up on Ministry of Supply – PRICE.
For about $300 you can get the blazer and slacks from Bluffworks. While I believe that the Ministry of Supply Suit is slightly better – the blazer alone costs $495. The total package costs $680 from MoS.
For $680, you could buy two Bluffworks suits… and have some money left over to buy some dress shirts. The Bluffworks suit is an incredible value – and I believe the Ministry of Supply Suits are only marginally better – not 2x better.
We should probably break this rapid Bluffworks review into two parts: the blazer review and the Bluffworks pants review.
The Bluffworks Pants (in this case the Bluffworks Gramercy pants) are incredibly comfortable and don't look like an athletic pair of pants or even an athleisure pair of pants.
They have a "tailored fit" (but we recommend that you get every suit tailored by a professional to make it look even more expensive. Some people would call these travel pants, but I wouldn't. I would much rather travel in something a little more comfortable.
That doesn't mean you can't use the Gramercy Bluffworks pants as travel pants, that just wouldn't be my first choice. Like everything else, the Gramercy pants are wrinkle free and machine washable.
The Gramercy Blazer is another amazing product with a ton of pockets, super comfortable design and… you guessed it: wrinkle free and machine washable.
If you are going to travel in a suit, this is probably the best travel outfit you can wear.
That's why we are pumped to give the Bluffworks Suits our "Best Value" in our Men's Best Clothing Guide.
2. Bluffworks Dress Shirt Review – Bluffworks Zenith Review
I've said it once and I'll say it again, the whole reason we started We Tried It was because of a handful of products. One of them was Mizzen + Main (read our full Mizzen + Main Review) and the other was Tovala (read our full Tovala Review).
The Bluffworks Dress Shirt (the Bluffworks dress shirts are technically called "Zenith") are great. I actually didn't expect them to be anywhere close to Mizzen + Main Dress shirts, but they were actually REALLY close.
In fact, I believe they felt a bit more like cotton than Mizzen + Main Shirt.
The only thing I did not like about the Bluffworks Dress Shirts (technically called the Zenith Dress Shirts): is the styles (or really lack thereof). I thought the quality of hand feel of the shirts was on par, if not slightly better than Mizzen + Main.
The lack of styles just left a lot to be desired from the Bluffworks Dress Shirts, but I was overall super impressed!
3. The Bluffworks Shorts Review – Technically, the Ascender Shorts Review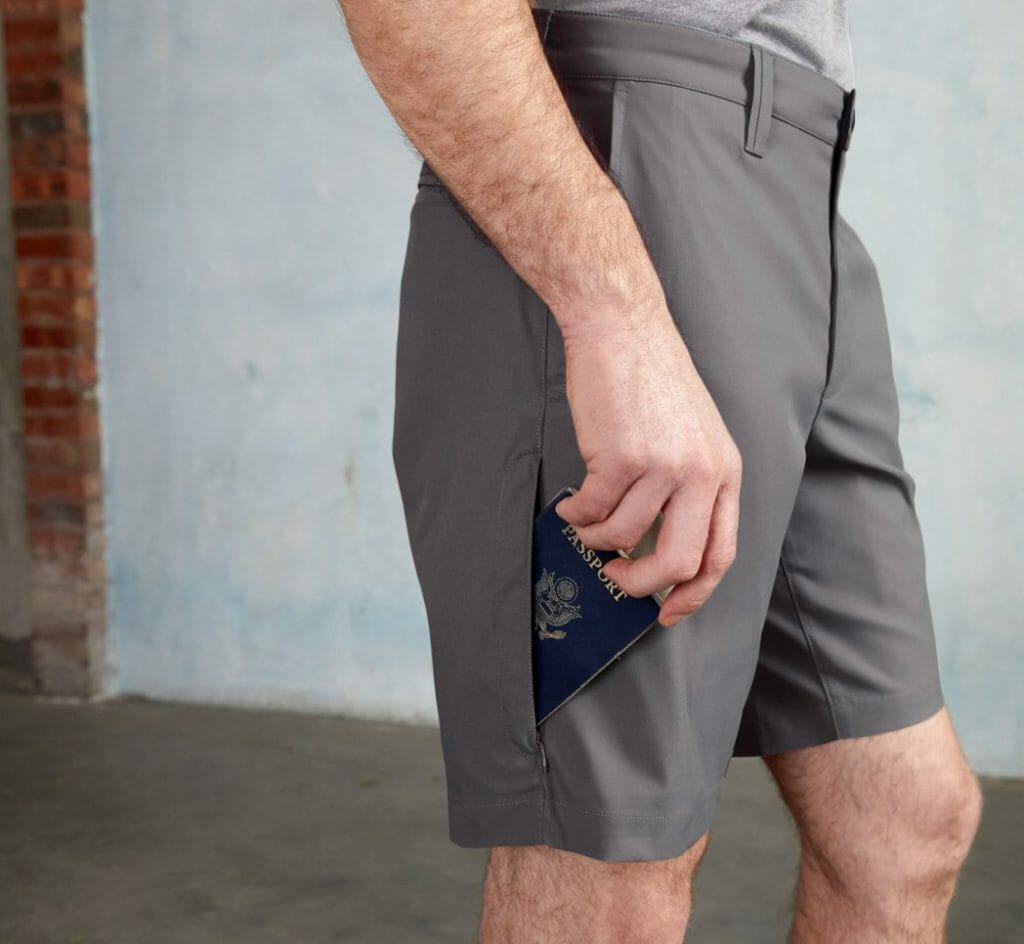 I also didn't have very high expectations for the Ascender Shorts – but they quickly became one of my favorite shorts.
I put these on par with the lululemon ABC Shorts – or as they've been called more recently the Commission Shorts. I think the Bluffworks Ascender Shorts are more comfortable and have more features than the lululemon shorts.
Note: these aren't true hybrid shorts like my recently discovered Faherty All Day Shorts (read our Faherty All Day Shorts Review to learn why they are the Best Hybrid Shorts, but they are still amazing Chino-style shorts.
I love the hidden pockets that you can't even see when looking at these shorts. They are awesome!
They are made from the same fabric as their chinos, so we can also give you our quick review of their chinos, too.
Bluffworks makes quality clothing and their shorts are no exception.
These chino-style shorts are made with high-quality fabric and offer plenty of features to make them comfortable for any occasion.
The hidden pockets on Bluffworks Ascenders come in handy more than you might think – they can hold your phone or wallet securely without being seen!
4. The Bluffworks Polo Review – Finally, a pique polo that lasts?
I've done a full Bluffworks Piton Polo Review and really like it. The pique knit really threw me off at first, because pique knit is typically cotton – and quite frankly, pique cotton does not hold up very well.
However, Bluffworks has created a Bluffworks Piton Polo that is comfortable, looks great, and stands up to the test of time.
This is my favorite pique polo that I own and it stands up to the test incredibly well. It is one of the first polos I wear (as I mentioned in the best work from home shorts review, doesn't everyone wear shorts and a polo these days?!) simply because it has some nice contrasting stitching and fits well.
My only complaint is to get a darker color vs. a lighter color if you have any chest hair. It can be seen in lighter colors.
Just like all the other clothes: these are wrinkle-free and incredibly quick-drying, too.
That makes these polos perfect for traveling as well (nice for the airport). Bluffworks is certainly a great option to check out if you are looking for some high-quality clothing that will stand up to travel and it'll still look amazing.
5. Departure Jeans – Don't leave home without 'em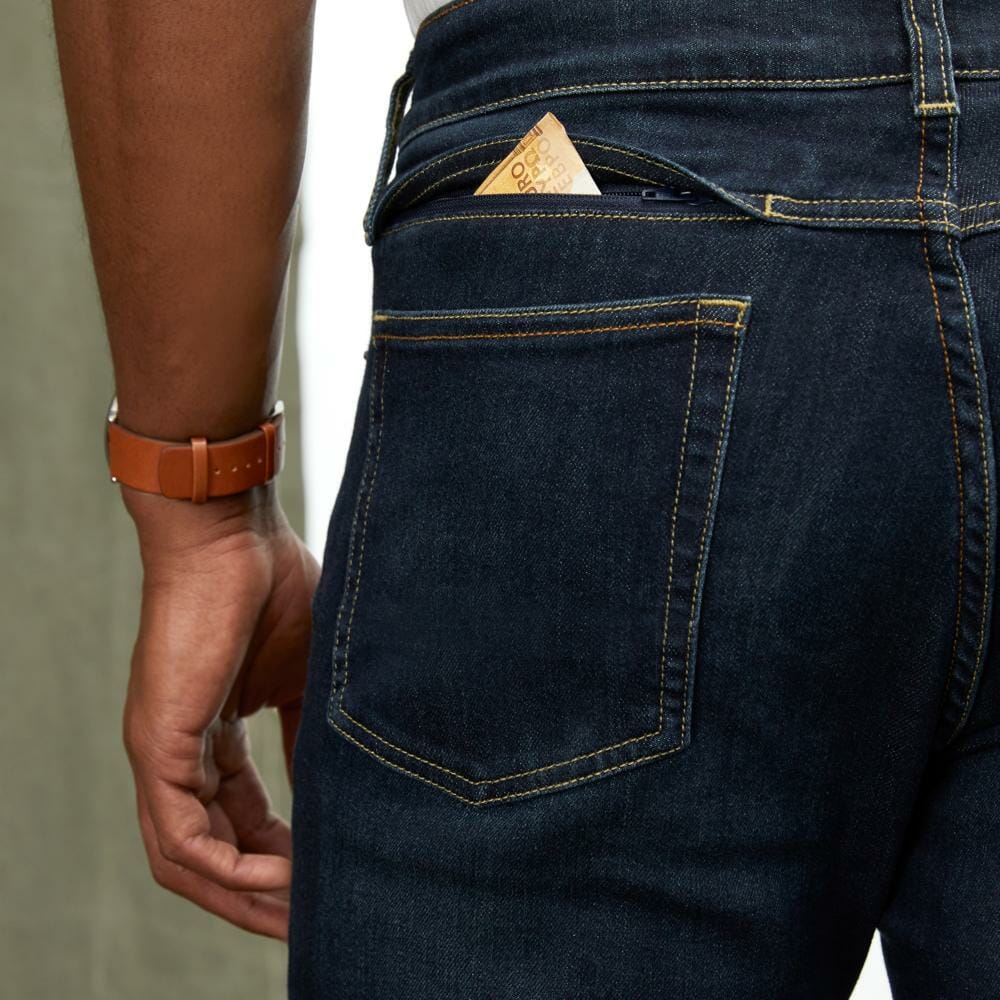 These have travel clothing written all over them. They've slightly upgraded their jeans with a newer version (I love that they are always updating their clothes, even if it makes it harder on folks like me to give you reviews).
This pair of jeans is really interesting. I wore these on a trip to Mexico for one very distinct reason: the super-hidden zippered pocket feature. Both rear pockets have a unique zipper design that is built into the back of the jeans pocket. I loved the zippered pockets for my passport. I also hid my cash in the zippered pockets!
I hate traveling to Mexico and feeling like I will get my pockets picked (or even worse, my backpack). So I attempted to use these as my "best travel pants." Well, they worked – however, they were a little hot for Cabo San Lucas.
Our room wasn't ready when we arrived, so I was stuck in some hot jeans that… WHOA, in retrospect, I should have switched with the Ascender Shorts.
These are available in slim fit and regular fit. The slim fit isn't too slim – and both pairs contain many pockets to hide your treasures (or just your passports) in.
Their denim is full of features, but all denim will just run a little hot. I find Bluffworks Departure Jeans are the best travel jeans you can buy right now – I love that Bluffworks continues to upgrade their clothes and make them even better.
See Bluffworks in our Best Mens Jeans roundup.
What else does Bluffworks Make? A Women's Line!
Bluffworks now also makes women's clothing! In all transparency, we haven't had a chance to try the Bluffworks women clothing, but when we do, we'll be sure to give you our full Bluffworks Women's Review, too.
There's no reason to believe their women's clothing wouldn't be just as amazing as their men's. Their women's products are described as low stress, effortless, easy to wear essentials combine comfort & class in one easy care wardrobe.
Their women's clothes are made using ultra-soft performance fabrics that look and feel amazing – plus, plenty of pockets! Who doesn't love lots of pockets? Doesn't it seem like you always need one more pocket?
We simply didn't see any of the women's styles that we wanted to try. That's OK – women tend to be pickier than guys.
Bluffworks has a very thorough process of creating clothing for women's line (and their men's line, too) and we're confident Bluffworks will deliver amazing Bluffworks women clothing that we want to try soon.
Who should buy Bluffworks?
My wife and I debated about this a lot: Who is Bluffworks made for? I really wanted to like Bluffworks. It's a little secret, but sometimes I even root for products before I try them.
I wanted to like Bluffworks. However, I really don't wear a Blazer, let alone a suite very often. It's even more rare that I need to wear it while traveling.
This brings us to the final part of our Bluffworks Review:
Bluffworks: Worth the price?
Bluffworks Review: The Final Verdict
Designed for lifehackers
Not the cheapest clothes, but an incredible value
Machine washable, wrinkle resistant, easy to own clothes
Comfortable
Breathable
Incredibly well designed
These clothes are a Lifehacker's dream. They're comfortable, durable and affordable so they'll work well for people who want more by doing less – and can pay a little premium for the pleasure of doing so.
It's like Mizzen + Main Dress Shirts – saving on the dry cleaning alone will make up for the extra cost of the garment.
The same can be true for Bluffworks: saving on dry cleaning alone allows for your to spend a little extra on a brand like Bluffworks. Take into account how valuable your time is and that's a different story!
Bluffworks is always looking for ways to make the everyday tasks of life easier. Bluffworks clothes are designed with features that help you be more comfortable and look better while saving money on dry cleaning bills, too.
The Bluffworks clothing line includes many types of apparel including a women's line now! Bluffworks has become an easy go-to choice for those who want quality without breaking the bank or spending big bucks at the dry cleaner.