Ministry of Supply Review: Everything you need to know about the amazing clothing brand. Ministry of Supply believes that science can make you more comfortable and productive…everywhere.
Top Pick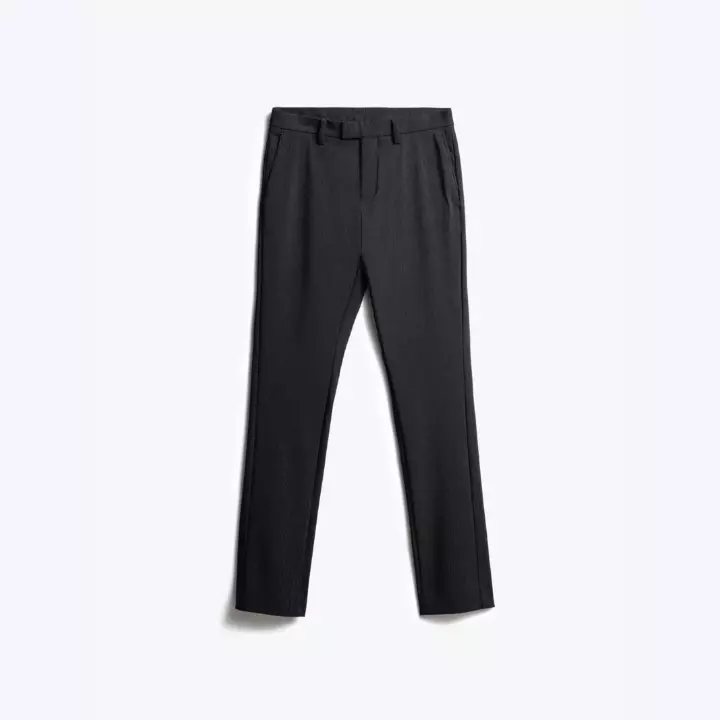 A can't-miss brand
Technology and comfort that doesn't look like athleisure wear
We'll shoot it to you straight: you need to check out Ministry of Supply. While slightly more expensive, their high-quality, high-tech clothes look great and are extremely comfortable.

On top of that, they are incredibly low maintenance (no ironing or dry cleaning).
What is Ministry of Supply?
Ministry of Supply was formed by a group of MIT graduates who desired to make workwear as comfortable and low-maintenance as workout gear, aiming to bring technological innovation to $125 dress shirts and $495 blazers.
MoS sells a machine-washable suit the brand's president and co-founder, wore to run a half-marathon. (The brilliant gimmick also set a Guinness World Record.)
They started with shirts that could easily be worn while riding a bike – but wouldn't wrinkle and would also be breathable and comfortable.
Ministry of Supply started the journey with their Apollo line of button-up dress shirts. Since then, they've blown up amongst folks like myself that aren't afraid to pay for high-quality clothing that doesn't need dry cleaning, doesn't wrinkle, or looks like athleisure wear, even while being comfortable!
All of the clothes we looked didn't even require ironing – just was delicate and tumble dry. We typically hang dry our delicates, but you can also tumble dry.
2020 Didn't turn go according to plan
They believed 2020 would be their breakout year, unfortunately, we all know what 2020 turned out to be.
Right before the COVD-19 Pandemic their investors pumped in a bunch of cash and double-downed on the plans to open up additional Ministry of Supply stores.
Obviously, the worldwide shutdown doesn't bode well for a company that depends on white-collar workers to drive their business. So they decided to change everything, starting at the store and their website.
What Ministry of Supply Changed
In the startup world, we call this a "pivot."
Ministry of Supply changed its focus from dress clothing – to clothing that was both comfortable and looked good. They even removed the word "dress" from "dress" shirts.
And they pivoted HARD, starting with their website.
Ministry of Supply retouched all 200 goods on its website, replacing the descriptions, with an aim to "get rid of every pair of high heels," "every mention of office or work-friendly," and so on, according to Aman Advani, CEO of Ministry of Supply.
They changed the names for around 25% of its products in order to make them more casual. They even tweaked products that were already finished to include more elastic waistbands and different features.
The way we dress has changed
It's true. Since last year, I've rarely worn pants – I'm almost wearing a polo (sometimes a button-up shirt) and shorts (read our best work from home shorts review).
I'm not the only one. Almost everyone who works from home doesn't put on a pair of tailored chinos or a button-up shirt. Instead, we wear something like the Apollo Polo Shirt and a pair of Olivers Athletic Shorts (read our full Olivers All Over Short Review)
The Science behind Ministry of Supply
One giant part of the business MoS did not change was their focus on technology.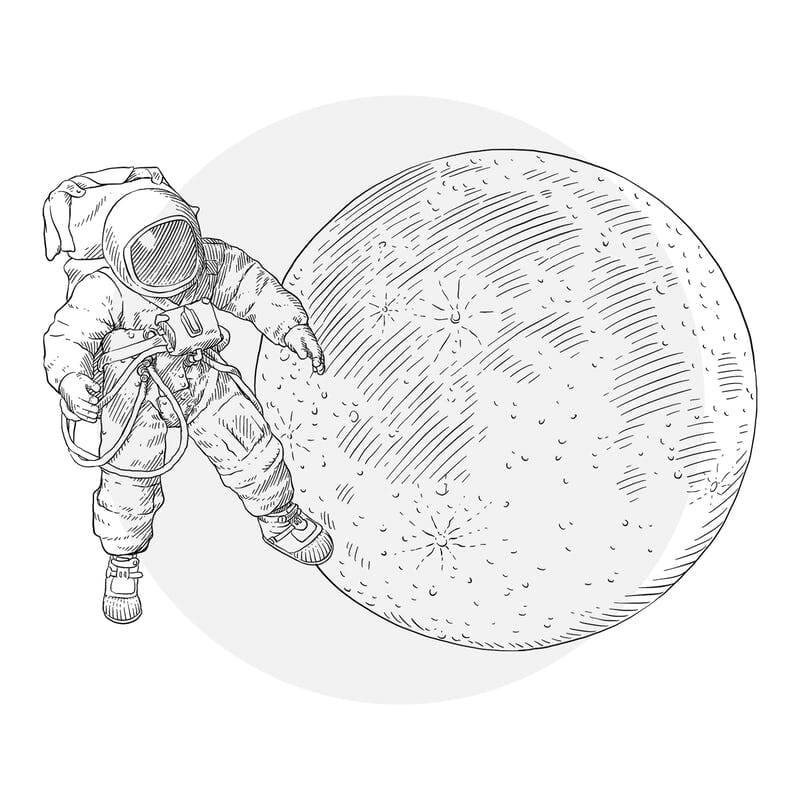 The design for part of the fabric was based on a technology developed by NASA to regulate body temperatures during temperature changes of up to 200 degrees Fahrenheit.
The material is licensed by Ministry of Supply to utilize the technology. This fabric keeps the body cool, preventing sweat from forming in the first place, while still allowing perspiration to evaporate away.
Most other fabrics, by comparison, try to simply wick sweat away. Their fabric helps you stop sweating in the first place.
We'll dive more into Ministry of Supply's technology in the product reviews, but the main point is that MoS is obsessed with technology in all their products – and they are obsessed with not only making them high-tech by also incredibly comfortable.
What we tried
We've tried a lot of different clothing from Ministry of Supply over the years. Let's dive into our favorites.
The Ministry of Supply Velocity Suit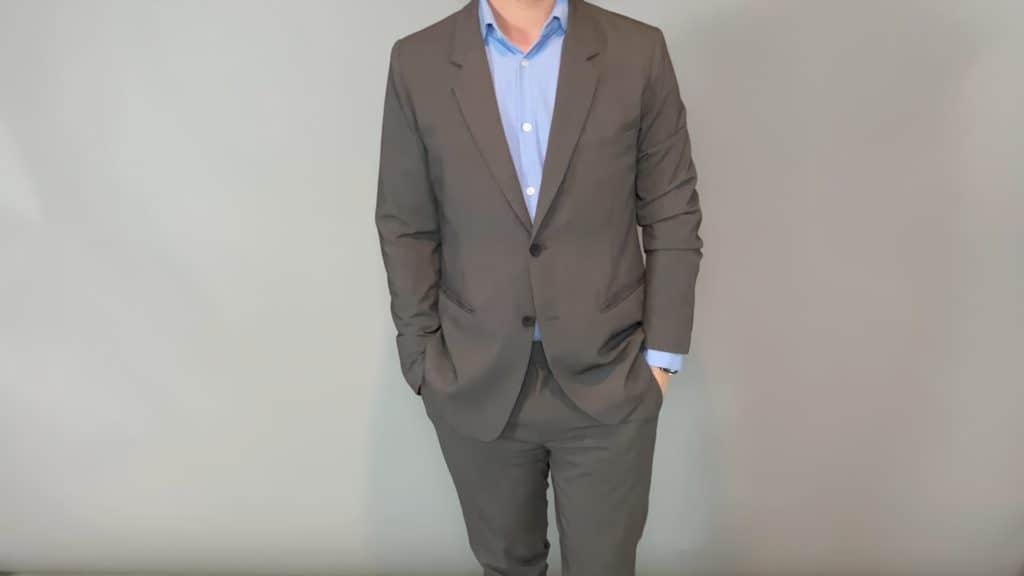 We wrote extensively about their suits in our Ministry of Supply Suit Review. The best thing that could be said about the Ministry of Supply Velocity Suit is that is a high-tech suit is that looks like a traditional suit. Our first impressions were simply, "wow."
Don't you hate it when you buy a piece of "performance" clothing that isn't supposed to look like athletic clothes, but the second you put them on – something just seems off?
That's not the case with MoS. They look like a traditional suit, but they are engineered with features you won't find in any suit at Brooks Brothers.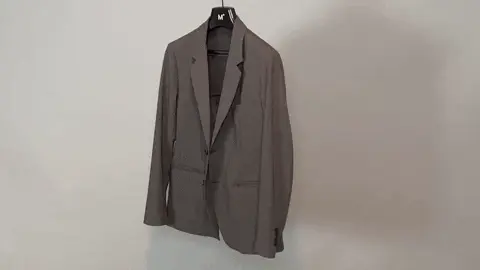 They now offer a variety of suit styles: the Velocity Suit (technically the Velocity Blazer and Velocity Pants) and the Kinetic Suit (technically the Kinetic Blazer and Kinetic Pants)
Features of the Ministry of Supply Suits:
Super Soft
Look like a high-end wool suit
Breathable
Stretchy
Wrinkle Free
Machine Washable
Have you ever see a machine-washable suit… that doesn't wrinkle. This is seriously a game-changer. Have you ever washed a suit in a washing machine?!?
If you are only going to buy 1 suit, get the Ministry of Supply Suit. It is more expensive than the Bluffworks Suits, but it is slightly better.
Sidenote: always get your suits tailored. No matter how expensive a suit is, a suit will always look better after it is tailored.
The Ministry of Supply Blazers
The Velocity Blazer deserves to be called out on its own, even though it's technically part of the MoS Suits. The pajama-soft fabric captures the crisp, classic look and feel of wool while being easy care for your suit needs!
We mean that in a good way. There's no way anyone that sees you wearing this suit will know your secret: it's full of technology to keep you more comfortable.
You simply can't go wrong with this suit jacket. Sure, it is a bit more expensive than other suit jackets, but it simply brings high performance, combines it with more stretch and it still looks amazing. Even better: no more trips to the dry cleaners!
I frequently will wear a suit jacket with jeans and a button up shirt.
Ministry of Supply Button-Up Shirts
As we mentioned at the beginning, they technically changed the name of their flagship Apollo Shirt from the "Apollo Dress Shirt" – but any button-up shirt will be a "dress" shirt in my book.
Apollo Button-Up Shirt
This is the shirt that started it all for MoS.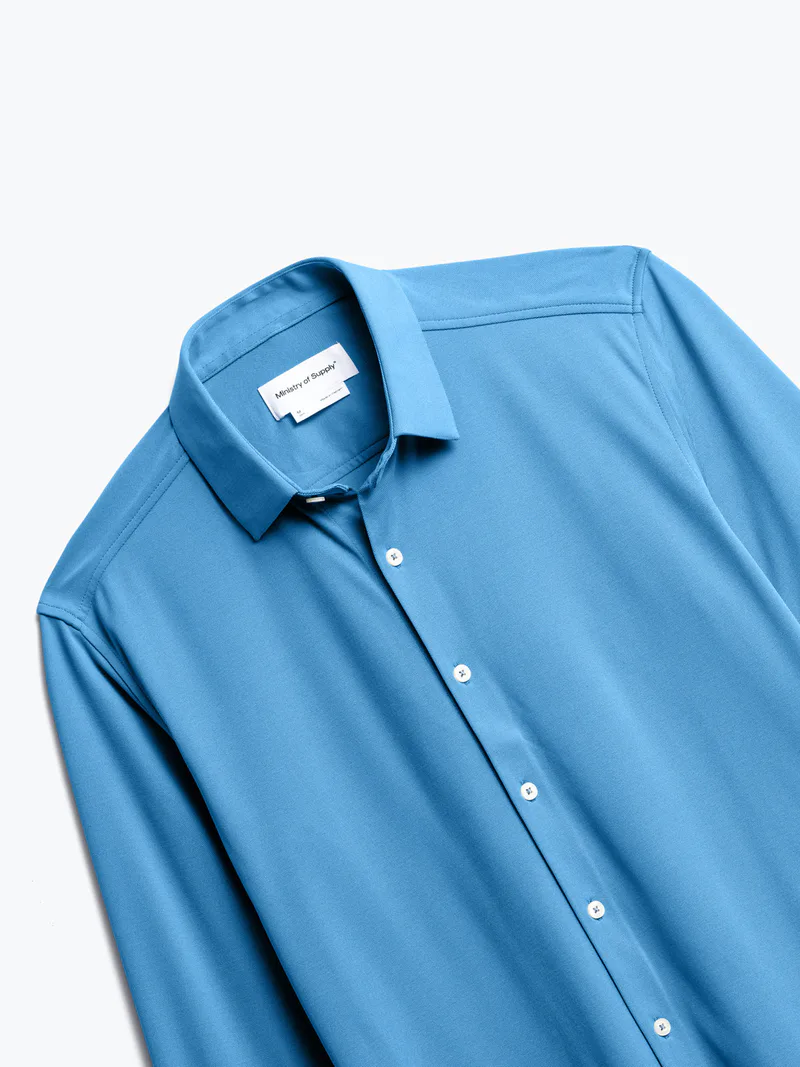 This shirt has a ton of features ranging from "NASA-grade temperature regulation and a 19x more breathable than cotton pique knit" to "phase change material." All of this is great, however, I didn't care for this shirt for a very simple reason.
This shirt has a bit of a shininess to it that I don't care for. It's not as bad as the old silk shirts you would see, but I simply don't like my button-up dress shirts to have a shine to them at all.
Thankfully, this isn't the only dress shirt… excuse me, button-up shirt, that MoS makes.
Aero Button-Up Dress Shirts
Top Button-Up
The Aero Zero
From laser perforated under holes in the "pits" to super stretch, this awesome shirt is awesome.

It pairs well with any of the Ministry of Supply Chinos.
The Aero Zero is my favorite Button-up in MoS clothing.
It's 100% recycled and milled under solar power, their Aero Zero° fabric is incredibly soft, light, and coiled for comfortable everyday stretch.
While it's not as stretchy as Mizzen + Main Shirt (read our full Mizzen + Main Shirt Review), it is a great-looking button up shirt.
One really cool feature: it has laser perforation in the underarms for ventilation. How awesome is that? No more sweaty pits. Or maybe I should say, "less sweaty pits."
Just like everything else in the MoS line-up, both the Apollo Button Up Shirt and the Aero Zero Button Up shirt are machine washable. Simply wash on delicate and hang dry. Another bonus is they are wrinkle-resistant, too.
Not a dress shirt – Polos shirts and more
I tried their Apollo Polo. It features the same NASA-grade temperature regulation. They claim that it is 19x more breathable than cotton pique knit combine to make the most comfortable polo on the planet.
While I didn't care for the Apollo Button-up Shirt – this shirt was not shiny at all.
I live in Polos and shorts whole working from home – and I was excited to try their polos. In all honesty, most of my Polos are black. I got the Grey polo for a bit of change of pace.
To be honest, I was pleasantly surprised. This Apollo Polo has a lot more texture than I expected, in the best way possible.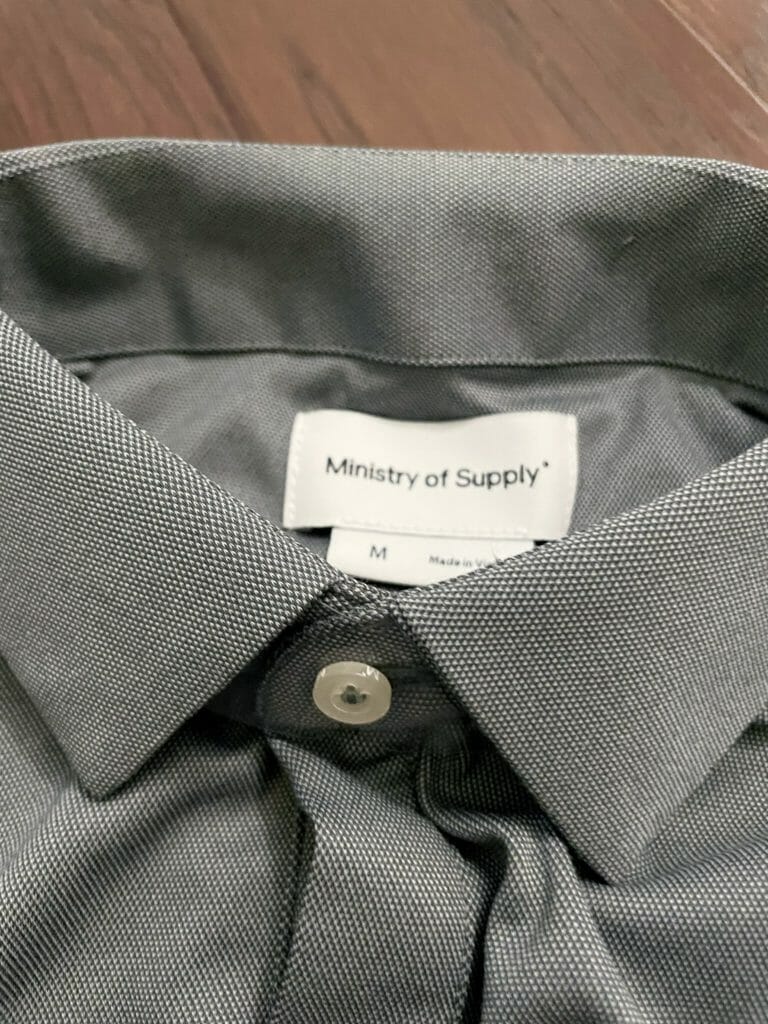 It's really sharp looking, thanks to the fabric being brushed. It definitely has a softer hand feel than other polyester shirts.
Definitely go for the brushed options on the Apollo Polo. You won't be disappointed!
The other thing I hate about so many different polos is the dreaded "bacon collar." It's called bacon collar because it looks like… wait for it… bacon. MoS polos avoid the dreaded "bacon collar" look, thanks to their stay-stitched collars. MoS polos are available in a variety of colors – brushed and non-brushed.
Other MoS Shirts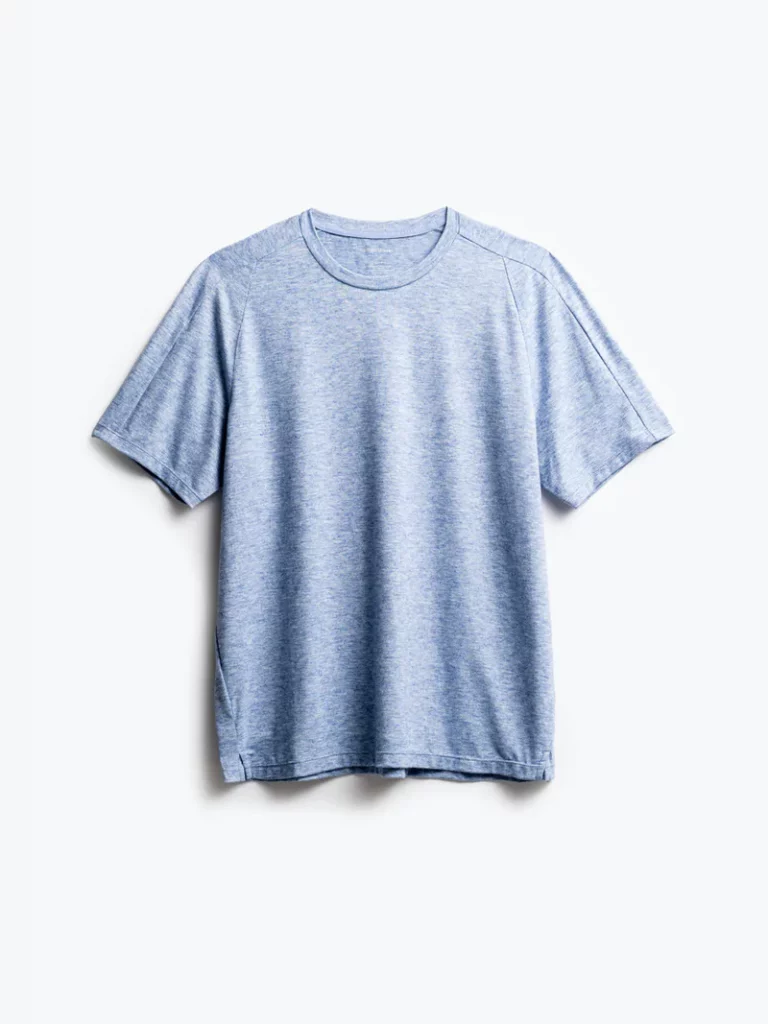 Ministry of Supply does offer some other t-shirts, like the Composite Merino Active Tee ($58) and even some henley t-shirts.
Frankly, I have way too many "regular" t-shirts in my closet, I haven't been looking for a traditional new shirt in a long, long time.
Kinetic Twill Pants
The ultimate jean alternative
WHOA!
As we said in our Ministry of Supply Kinetic Twill Review, these pants are so good, they should be illegal.
They are the best jean alternative we've ever tried and one of the best men's pants we've ever tried, too.
What makes them so great? The Kinetic Twill Pants are the perfect blend of style and comfort. They are made from lightweight, stretchy fabric that resist fading and are super comfortable. They look and feel great, and they're a full, bonafide alternative to jeans.
They also have a drawstring built into the waist, so no more wearing a belt (if you don't want to).
You'll ask yourself, "How come I ever owned any other pair of pants?!" Yes, they are that good. Kinetic Twill Pants are the perfect pants for any occasion.
Ministry of Supply Dress Pants
There is a lot to chose from here – ranging from dress pants like the Velocity Dress Pant and the Kinetic Dress pants to much more casual pants like the Pace Jogger and Pace Chino (formerly known as the Momentum Chino, but had to change due to trademark claims) to jeans like the Chroma Denim Pant and jean alternatives like the Kinetic Twill.
No matter what you are looking for, there is a good chance that MoS has pants that fit your need. Now that I think of it, there are no cargo pants, but that shouldn't be on anyone's list.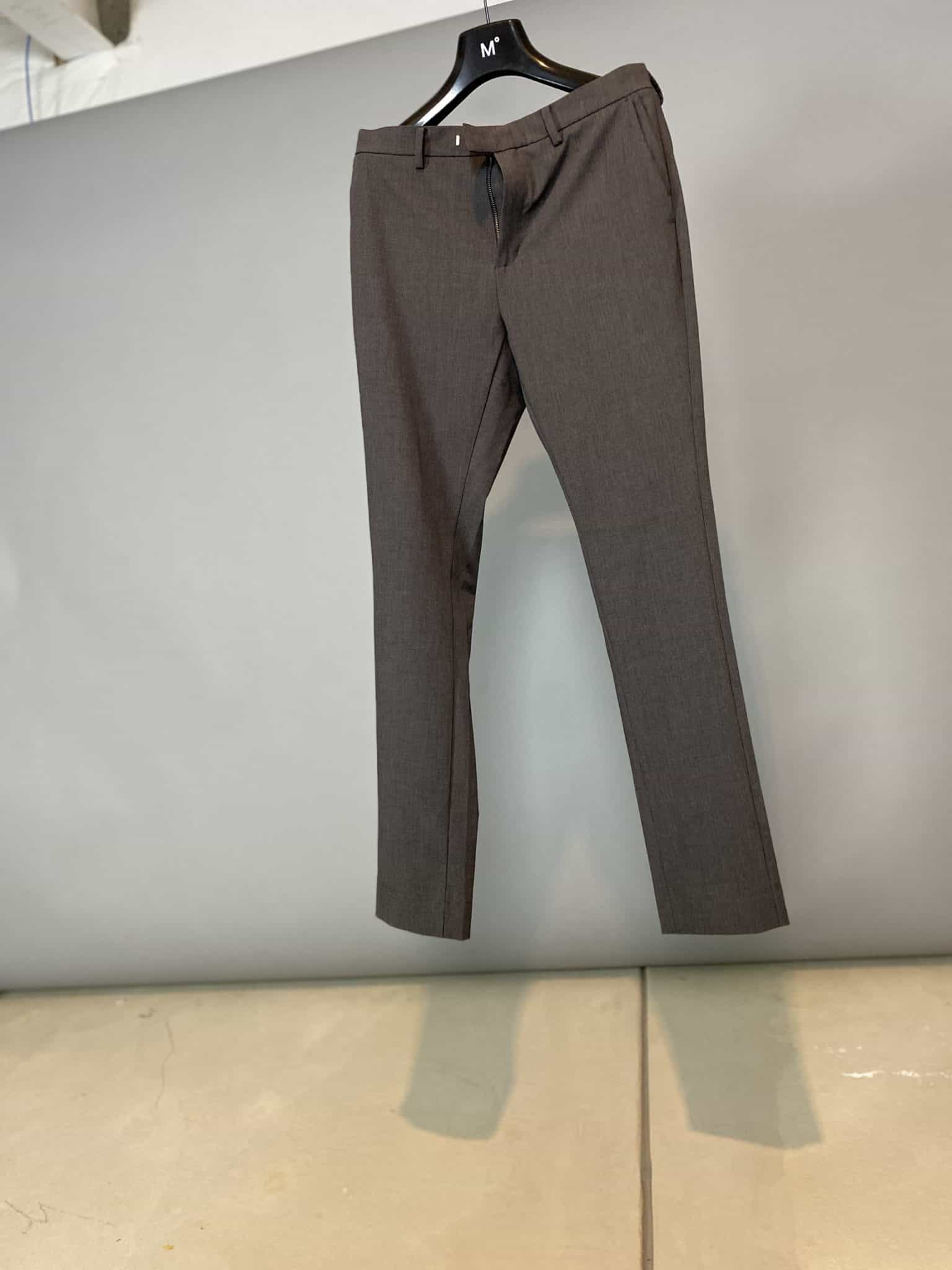 I've personally tried the Pace Chino, the Kinetic Jogger and the Velocity Dress Pants.
Frankly, they all have their pluses and minuses, let me quickly talk about them.
The Ministry of Supply Pace Chino
Look for a great lululemon ABC pant alternative? This is it. It's not cheaper (looking for a good, cheaper alternative? Check out this cheaper ABC pant alternative) but it does have some incredible features like:
Wrinkle & abrasion resistant – ABC pants are not abrasion resistant (unless you look at utilitech – see our full utilitech review)
4-way stretch woven
Temperature regulating hollow-core fiber
Stretch waistband w/hidden drawcord – which is super stretchy and amazing!
2 rear welt pockets, one with zippered closure
Hidden on-seam earbud pocket – not super helpful for wireless headphone
Environmentally friendly Durable Water Repellent finish
Bar tacks on all key strain points for durability
All of these points mean that this is a great pant, but it's not without some downfalls.
The Pace Chino is not the cheapest, so you get what you pay for – so I would treat them like a nice pair of jeans, and being abrasion-resistant is going to save you a lot of money in the long run.
These Ministry of Supply Chinos were previously called the Momentum Chino – but they had a lawsuit.
They probably aren't nice enough to wear as suit pants, but they do pass as some high-quality chinos you could easily wear with a dressier shirt.
The Ministry of Supply Kinetic Jogger
These are amazing sweatpants that don't look like sweatpants. You can do anything in this pair of Joggers. These bad boys were also featured in our Best Men's Pants.
These joggers feature:
4-way stretch woven
Moisture-wicking & quick dry – this means that it is great for doing just about anything in this pant.
Stretch waistband w/hidden drawcord – even stretchier than the Pace Chino, which is amazing.
2 rear welt pockets, one with zippered closure
I love everything about these pants except for the Faux front fly. I don't know why but I don't care for it. The pants even have an awesome hidden drawcord (or drawstring as I call it) that lets you give a bit of leeway after a trip to the gym (or all-you-can-eat buffet).
The Kinetic Pants also come in a couple of different varieties. There is the classic Kinetic Pants, the Kinetic Pants Twill (the jean alternative) and the Knitetic Pants Jogger (which is what we tried). By the way, they also have Kinetic Pants in their women's line, too.
MoS: Women's Line
Ministry of Supply also has expanded into women's clothing. We haven't had the chance to check out the women's line yet, but it features clothes with all the great aspects as the men's line.
Their clothes for women just haven't been our style. Nothing wrong with them at all. But it just didn't go with our typical style.
We promise these clothes won' be uncomfortable.
What else do we love about Ministry of Suppy?
There is so much to love about MoS, but a couple of highlights about Ministry of Supply products we don't need to spend a bunch of time on:
In 2019, MoS began their Zeroº climate action initiative—a commitment to reducing our ecological footprint and eliminating emissions. That includes being carbon neutral.
Theyu are also 100% transparent about this process with a full page dedicated to all of their carbon natural and sustainability measures.
They offer returns for 30 days and exchanges within 100 days. That's a pretty great way to make sure that you have happy customers. While their clothes do carry a heavier price, the value is incredible high for the price.
Their technology is really amazing
Their clothes are naturally wrinkle free – or at least wrinkle resistant
Their clothes don't require dry cleaning: read the care instructions but most of our items are machine wash cold (and delicate cycle) and hang dry
What about the overall fit and sizing of Ministry of Supply?
Overall, we found their clothes ran true to size. Most items we tried were a bit stretcier than most clothes we wear. That means no more uncomfortable clothes and clothes that feel good all the time.
The added drawstrings make their pants extra flexible. The stretchy fabric makes it even more comfortable.
Ministry of Supply Review: The final verdict
Some quick final thoughts about this brand. You can't go wrong with Ministry of Supply. They're one of the best companies out there when it comes to clothes that are comfortable, wrinkle-resistant, and fit well.
Top Pick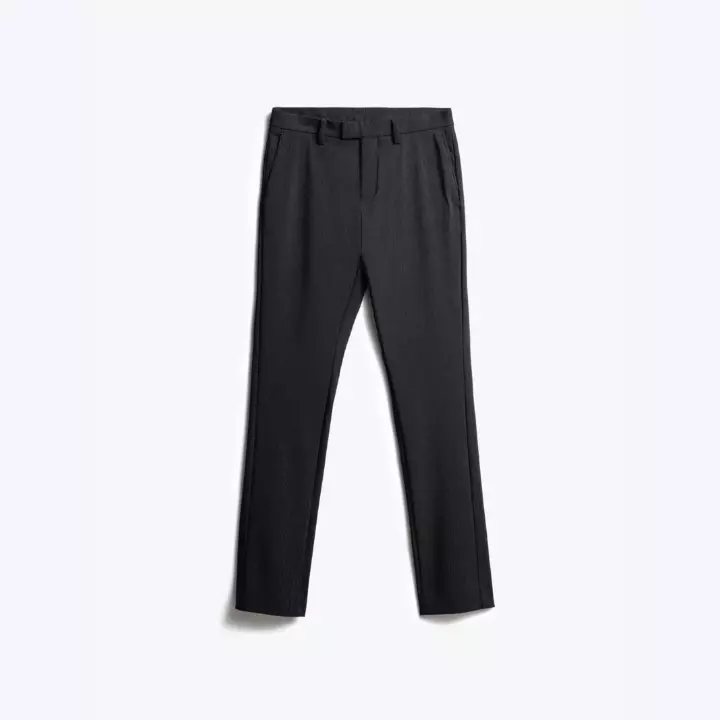 A can't-miss brand
Technology and comfort that doesn't look like athleisure wear
We'll shoot it to you straight: you need to check out Ministry of Supply. While slightly more expensive, their high-quality, high-tech clothes look great and are extremely comfortable.

On top of that, they are incredibly low maintenance (no ironing or dry cleaning).
If you want a company that is environmentally conscious and committed to sustainability, this is your brand! The only downside is the price – but it is worth it. You really do get what you pay for. It's worth checking them out if you haven't already – they may be just what you need for your wardrobe.