Myles Apparel Review: it's important to know about the brand if you are going to buy from it a lot. And I have. Before we started We Tried It, we were avid customers of Myles. We loved the Everyday Short and have followed them from the beginning. What was the beginning?
IT STARTED WITH A BETTER PAIR OF SHORTS…
Myles was founded by a group of friends who never understood why athletic apparel always seemed to fall into two categories: old sweats and tees that have been relegated to "gym clothes" status because they're too tattered or ugly to wear anywhere else, or overpriced "high-performance" gear you're almost afraid to sweat in and looks ridiculous outside of the playing field.
Myles wanted to change that, starting with the dream of creating the perfect athletic shorts—a pair versatile and stylish enough for workouts, the outdoors, and around town.
The Myles Crew went to work collecting fabric samples and visited a garment manufacturer down the road from their home in San Francisco to get prototypes made.
After many tweaks and test runs, they were ready to launch their four-way stretch Everyday Short. They asked experts from the likes of Esquire, Gear Patrol, and Men's Health to put them to the test, and soon learned that we weren't the only ones ready for more from Myles's clothes. A few years and a whole helluva lot of shorts later, Myles has grown into a full line of activewear made for making moves anytime, anywhere.
As a brand that puts comfort and style front-and-center from the get-go—culminating in their new high-performance Tour Line of clothes — the fact is they've got all the bases covered. They may have started with the Everyday Short, but they're ready to take you on a whole range of athletic adventures. Myles makes it easy to stay cool while showing people how "athleisure" really looks.
Brand new: check out our Myles Everyday Pant Review, too.
What makes Myles better?
Myles is a clothing company that creates clothes for men. Their commitment is to make versatile, durable clothes so you can look good, feel good, and focus on what matters most.
Myles Apparel is an activewear brand that is wearable for all lifestyles. They design all their clothes in their San Francisco office and test them on their morning bike commutes. All of their styles are timeless and have no graphics or colors except for the functional details. They are a lifestyle brand that focuses on fitness, work, travel, and everything in between.
There are a couple of key differences in Myles that we really love.
#1 The Myles 5 Year Guarantee
Every piece of Myles gear is made for the long run, which means it's built to last.
The Myles 5 Year Guarantee promises to replace or give store credit for any item purchased through the Myles website with defects that are not the result of expected wear and tear. The important thing is, they'll make sure all Myles gear stays out of landfills- because poorly made gear turns into waste.
I've experienced this first-hand several times with their products. I don't what it is about the way I wear socks (read our best wool socks review) but they would continually wear in one spot of the heel.
I simply emailed them and they make sure it went to The Renewal Workshop to either repair, refurbish or upcycle it. That's awesome because they could have easily told me to go get lost… especially 2 years+ after buying the product.
Sidenote: they are now even upgrading the sock design, I recently noticed, because I may have not been the only one. This is one of those things you read about but never actually experience, this is a first for me and I have to say… I'm impressed.
Continual Product Improvement
Myles is obsessed with continuing to improve their products. They are constantly listening to their customers about what they like and don't like. They take customer feedback very seriously and try to come up with solutions as quickly as possible.
This is also part of why they have now upgraded their sock design (added anti-abrasion nylon to reinforce the heal & toe, and provide a little extra cushion) because many people were having issues. I've personally experienced this first hand now: they are upgrading the sock design and have continued to improve the product that made them famous: the Everyday Short.
Myles Products: What we've personally tried
Don't you hate it when a website doesn't try the product themselves, but just puts together other reviews they've seen to make theirs? We REALLY hate that. But we've personally tried many of the Myles Products and we're not a afraid to give you our honest opinion of their functional clothing.
We personally have tried Myles Everyday Short (both the new and previous version), The Tour Pants, The Tour Shorts, The Weekend Sweat Short, The Tour Blazer, The Fleece, Hoodie, Their Merino Socks and Everyday Tee.
Myles Apparel Review: Who are Myles Products made for?
Myles products are made for the person that likes to work out, but doesn't like to wear bright-colored workout gear.
You won't find bright or obnoxious colors or even much branding. In short: they are workout clothes that don't LOOK like workout clothes.
I've personally found Myles products to be great for working from home, running errands and even working out.
As Myles says: The gym is no longer the last frontier of style.
Myles Apparel introduces a fresh look into gym gear driven by intelligent design and an inspiring active team. The Everyday short sports a minimalist design with clean lines and a perfect fit so they will not only take up a workout but can look good if taken seriously.
Myles products are also for the person that isn't afraid to spend a little more, to get a lot more! These are not the cheapest clothes you will find, but as I mentioned, they stand behind their products. If you are looking for great value, I would recommend checking out Myles Apparel.
Note: I'm not a huge runner (in fact, I hate running), but a ton of actual runners swear Myles makes the best running shorts.
Let's dive into the products we tried and our quick reviews on them.
Myles Apparel Products: Rapid Reviews!
The product that started it all: The Everday Shorts
The Myles Everyday Shorts are the shorts that started it all for Myles… and for me. The shorts are designed to be versatile and fit most use cases.
Our Top Versatile Short Pick
These aren't the dressiest shorts. Or the most athletic shorts (check out their Switchback Short for that!). Or have the most features.
But it does have exactly what you want for everyday wear: comfortable, lightweight, breathable and looks great!
I first got these shorts in Khaki (to replace far inferior khaki shorts). They are fine, but I recommend getting the short in their "Coal" (AKA Almost Dark Black).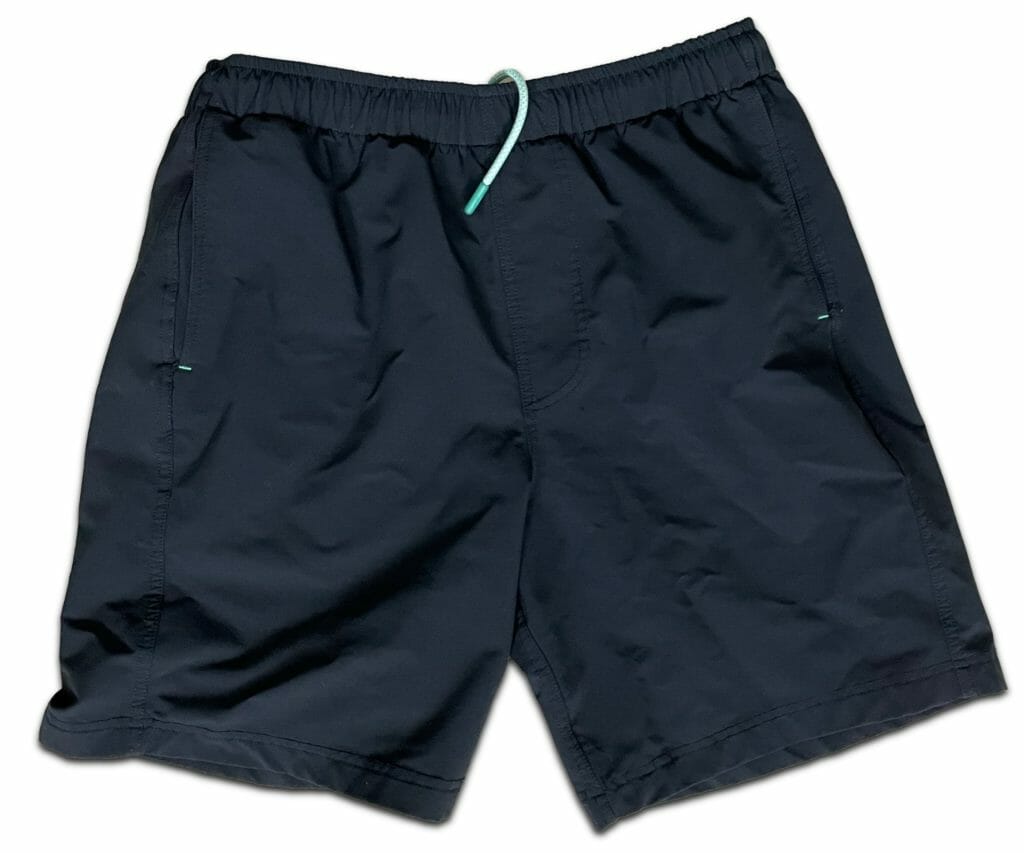 The shorts have minimal branding and look very plain (which I actually like).
The Myles Everyday Shorts are most affordable, but not cheap. They retail for $58 – which is a lot to spend on a pair of shorts. But I'd also ask you: how many shorts do you have that cost around $25 that you can still wear today?
As I mentioned earlier, they even upgraded the design about a year ago to add a back pocket and make the shorts less "noisy." They keep on improving their products!
We just updated our pick for the best all-around shorts in our Myles vs. Olivers Shorts Challenge. Why? The Myles Apparel shorts can't be dressed up with a button-down shirt (well, maybe a causal one), but they would pair well with at least a polo.
The new Olivers Shorts now have some hideous branding on the front (yes, you ready that correctly – the front) leg. No branding here, except for some stitching that is the Myles Apparel Blue.
Read our full Myles Everyday Short Review to get the whole story.
The Myles Everday Tee
The Myles Everyday Tee is made with a breathable blend of drirelease® Recycled Polyester and Organic Cotton for the perfect balance of quick-drying performance and unbelievably-soft comfort. They added a Polygiene® odor control finish that lasts the lifetime of the garment so you can wear it more and wash it less—better for both you and the environment.
Myles Everyday Tee
The perfect shirt to compliment the Myles Everyday Shorts. Also, features great odor protection, but runs a little small.
Buy Now
We might earn a commission if you make a purchase, at no additional cost to you.
The  Polygiene® odor control finish is actually WHY I bought the Everyday Tee in the first place. Have you ever worn a shirt outside and get home and it smells? Or you wash a shirt and for some reason you can still slightly smell it (I do have an incredibly strong sense of smell for some reason).
Slight sidebar here, but I was curious how it all works:
Polygiene is a revolutionary silver salt treatment that stops the growth of odor-causing bacteria in clothing. As several treatments can be simultaneously applied at the finish stages of fabric production, no additional water or energy is needed and Polygiene has an environmental impact as small as possible.

Polygiene is based on silver salt (silver chloride). Silver chloride is naturally present in water and soil. Its particles have a large number of silver ions per surface area. Due to the structure of the particles, very small amounts of silver salt are needed.
Pretty cool, isn't it?
The Myles Everday Tee is great for working out, running errands, or anytime you're going to be outside and don't want to SMELL like outside when you get back in.
Note: the Everyday Tee is a little more slim-fitting than some other tees (see our Buck Mason Tee Review or Fresh Clean Tees Review). I typically do NOT wear the Everyday Tee around the house – but you definitely can.
A Tour Around the World – Myles Tour Pants and Tour Shorts
If you are looking for a BETTER (notice how I didn't say CHEAPER) take on the lululemon ABC Pants, check out the Myles Tour Pants (and the Myles Tour Shorts).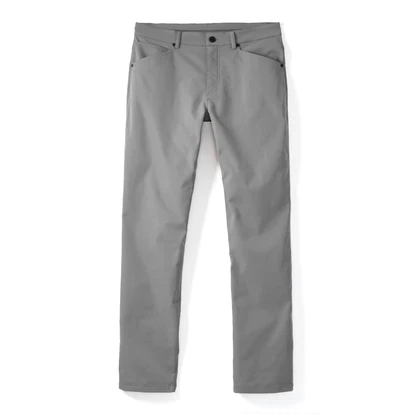 Myles Tour Pants
These are our favorite pair of pants and the only pants we say are better than lululemon ABC Pants.
Buy Now
We might earn a commission if you make a purchase, at no additional cost to you.
These pants seriously give lululemon a run for their money!
The Tour underwear and pants are better than lululemon's because they're durable, breathable, and lightweight – and can still be worn in an array of settings.
The best news of all: they don't have the hideous seam behind the knee! I believe, overall, the Myles Tour Pants are the best competitor to the ABC Pants (read our guide to ABC Pant Alternatives). They aren't too dressy and aren't too athletic.
Sadly, Myles Apparel no longer makes the Chino-style Tour Pants, but Myles Apparel does make the regular, 5-pocket version still. I have one pair of each and love them. You'll want your second pair quickly after trying these out! The 3-way stretch is just incredible, too.
But they are incredibly high performance.
Read our Full Tour Pants Review to find out more!
The Weekend Sweat Short
Update: Myles no longer makes the weekend short, sadly. Check out our Fabletics Review for some good alternatives.
I'm actually wearing these shorts right now. These were the Best Work From Home Shorts we've tested.
Why is the weekend sweat short so amazing?
The Myles fan-favorite line of premium French terry Storm Cotton™ is back and better than ever, with sleeker, stretchier fabric that's fresh in color.
The new Storm Cotton Sweat Short has 50% more stretch to keep up with all your movement during the day as it adds a modern look and feel while drawing from what everyone loved about the original (the first time I experienced Storm Cotton was when wearing my their Myles hoodie).
Even better? It's water repellent! Spill a little something on you? Just wipe it off!
The shorts also look about as nice as cotton shorts can look.
Just like all their other clothes – the Weekend Sweat Short Features very minimal branding, which we love!
The Myles Tour Jacket
Once again, Myles Apparel no longer makes this jacket, but it's a great item. Want a good alternative that's a little fancier? Check out our Bluffworks Review or Ministry of Supply Review.
The Myles Tour Blazer is probably the most interesting item we own from Myles – but also one of the items we wear the least.
The perfect jacket for the adventurer at heart, Myles spent a lot of time designing this unique creation. The result is part tailored jacket and 100% performance worthy—capable of taking you stylishly through both urban jungle or far off the grid with its durable water repellent treatment that makes it quick-drying, stain resistant, nearly wrinkle free.
We don't wear it a whole lot because the question is always, "what do you wear it with?" It's almost a little too dressy to wear with a t-shirt but not dressy enough to wear with a dress shirt.
I think, personally, this would be a great jacket to take to the beach (we just happen to live in Colorado, where there is no beach!) – that way it could protect you from the rain and moisture and still look good!
The Myles Hoodie
We named the Myles Hoodie one of the Best Men's Hoodies because let's face it. In Colorado, everyone needs a good hoodie. Especially in the winter. You may not even need a hoodie to go outside, just to warm up inside while you work!
The Myles Hoodie is upgraded from the previous generation (there they go again!), but it features Storm Cotton, the same type of cotton found on the Weekend Sweat Short.
This is one of the best products that Myles makes. Seriously. You need this in your life.
The Myles Fleece
Yet another items that isn't around any more, sadly.
We're still working on the full review of this fleece (I'm writing this in the summer) but it's incredibly soft, versatile, and comfortable! This looks like the perfect fleece to wear to a Football Game evening Tailgate.
The Myles Merino Socks
We've talked a lot about the Myles Merino Socks before (read all about the Best Merino Socks). Myles claims they will be the first pair of socks you get after the laundry is done. We have to agree! We simply find ourselves gravitating to these socks over and over again. However, we don't wear socks all that often (see our Allbirds Review for more information).
Our go-to socks
Myles Socks
We love these socks (when we actually wear socks).
Buy Now
We might earn a commission if you make a purchase, at no additional cost to you.
These Merino socks have experienced some issues with the heel running, but Myles has sent a replacement – free of charge – every time that has happened. But that's probably because we wear them so often!
Myles Apparel Everyday Pants and Everyday Terrain Pants
Honestly, we thought we'd hate these pants. As you can see in our YouTube Review, we actually loved them!
In a category of its own
Myles Everyday Pant
We thought we'd hate the Everyday Pant - but we LOVED IT! Full review coming soon, but these pants are made from the same amazing fabric as the Everyday Short from Myles. It's seriously amazing.
Buy Now
We might earn a commission if you make a purchase, at no additional cost to you.
We didn't care the Myles Apparel Everyday Terrain pants, which are pretty much the same – just with added pockets, but even those weren't as offensive as we thought they would be.
These Myles Apparel Pants are a great pair to take your kids to the park. With mesh pockets (and a ton of mesh pockets on the Terrain pants), these super lightweight pants are super durable (and even feature a secure back pocket, too).
Read our full review of the Myles Apparel Everyday Pants to learn more about the great versatility of these awesome, functional pants.
What other clothing does Myles Apparel Make? Tons!
In our recent Bluffworks Review, we talked about a brand that started with Men's clothing and expanded into women's. That's not the case here… at least not yet.
Myles started with the Everyday Short and has slowly expanded into other lines of clothing, too.
We haven't had the chance to try some of their other products: like their swim line – but I'm sure it's just as amazing as their other stuff, too.
Myles also makes polos, we just don't care for the logo on the side.
As we get and try more products, we'll update this honest Myles Apparel Review with the latest items.
Who should buy Myles Apparel?
It really goes back to the whole reason Myles was even created in the first place: they wanted to make high-quality Workout Gear that didn't scream workout gear. No crazy patterns. No colors. Minimal branding.
If you are the person that is tired of super-expensive or super tacky athletic gear, then look into Myles.
Myles Apparel Review: Worth the price?
You might be wondering, "who should buy Myles Apparel?" It's a good question. If you are the type of person that is looking for high-quality and minimalist workout gear without crazy patterns or colors, then this may just be your brand!
The prices aren't too bad either considering how well made these clothes are. You can finally invest in some quality athletic wear without breaking the bank – and it's not a "yoga" brand either (while you certainly could do Yoga in these clothes, too).
We're extremely happy to be able to give Myles the We Tried It Seal of Approval.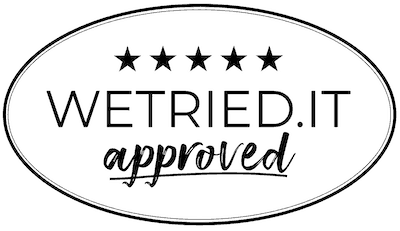 Their great products, combined with their great customer service and return policy make this a brand that is incredibly tough to beat!
Is Myles Apparel good quality?
Yes, it's so good, they stand behind their products for AT LEAST 5 years. I've had several pairs of their socks that wore our in the heel and they replaced them quickly. They provided return labels to the Renewal Workshop. The Renewal Workshop takes used clothing and repurposes and recycles it, where possible.