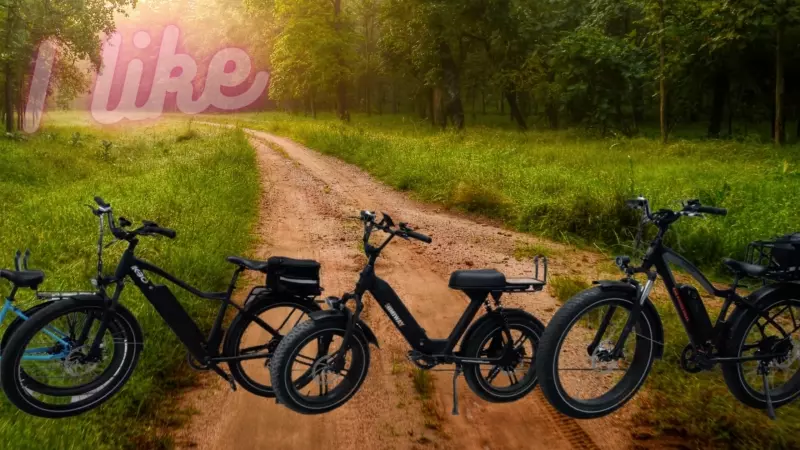 Do you want to ride your bike all year round, even when the weather isn't ideal? If so, you'll want to invest in a fat tire ebike. These bikes are perfect for riding on snow, sand, and other difficult terrain.
They're also great for people who live in hilly areas, because they help you conquer hills that would normally be too tough to climb. In this blog post, we will compare the best fat tire ebikes on the market today. We'll explain what a fat tire ebike is and why they make for awesome rides. Then, we'll tell you which one is right for you!
Best Fat Tire eBike: Our Pick
Best Fat Tire Electric Bike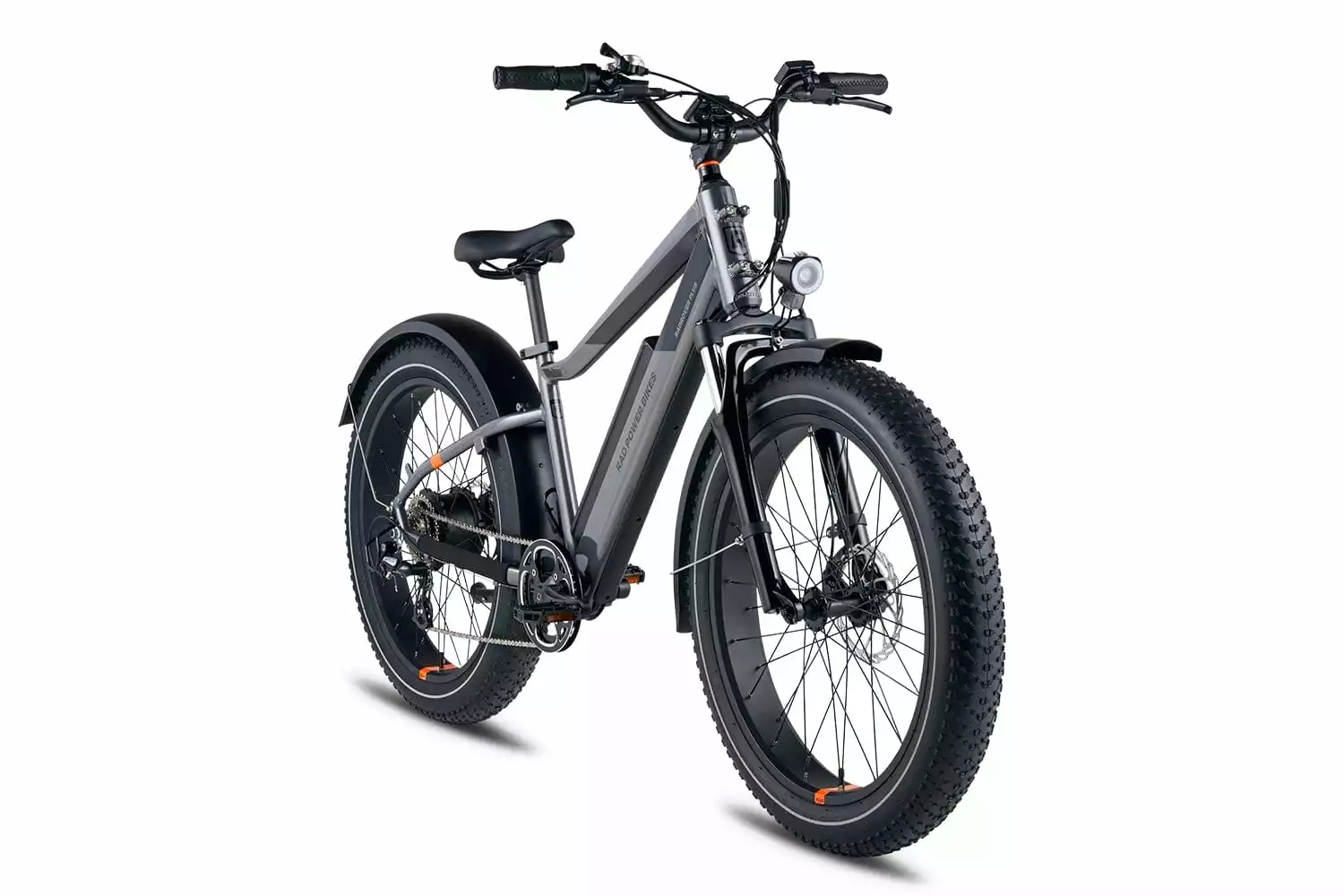 RadRover 6 Plus
The flagship RadRover gets a massive upgrade. From a brand new frame to the dual-screen Rad User Interface, this bike keeps the spirit of previous RadRovers and but innovates in all the right places.
Buy Now
RadRover 6 Review
We might earn a commission if you make a purchase, at no additional cost to you.
We recommend the RadRover 6 Plus (read our full RadRover 6 Review) as the best all-around fat tire eBike. It's the 6th iteration of the world's best-selling fat tire eBike – that doesn't happen by accident. It's simply a more refined eBike than the other on the list. It's not the cheapest, but it also comes with the experience of Rad Power Bikes and their network of local dealers to help service and troubleshoot any issues.
Sure, you can have just as much fun with some of the other eBikes on this list (and save more than $500), but this is the best fat tire eBike we've tested.
Keep reading about other electric fat bikes we recommend that may be better for you.
A Worthy Rival
The Aventure by Aventon is a super-capable rival (Aventon is also one of our best eBikes of 2023).
We recently got our hands on an Aventure and love it, too. You can't go wrong with either bike.
Another great fat bike
Best Electric Fat Tire Bike: The Most Capable
Serious eBike. Incredibly Well-Made.
QuietKat Apex
Imagine you want to sneak up on an animal. You don't want a noisy ATV or offroad motorcycle, you need something quiet - like the QuietKat. Incredibly over-engineered to take whatever you can throw at it. Great, if that's something you need - but overkill if you want some light off-roading.
Buy Now
We might earn a commission if you make a purchase, at no additional cost to you.
The QuietKat Apex is, by far, the most capable electric fat tire bike we've tested – but it's also about 3 times as expensive as the RadRover 6 Plus (and it doesn't even include standard features like fenders).
In our QuietKat Review, we said the same thing: this is the most capable eBike we've ever tested AND the most expensive. It's designed for incredible difficult terrain and it will stand up to any abuse you throw at it.
It also features a mid-drive motor (read more about mid drive vs. rear hub motors) and is the only mid-drive fat tire electric bike we've tested. The QuietKat Apex is a beast, but we simply don't think it's worth the price for a vast majority of riders.
Best Fat Tire Electric Bikes: What we tested
Why you should trust us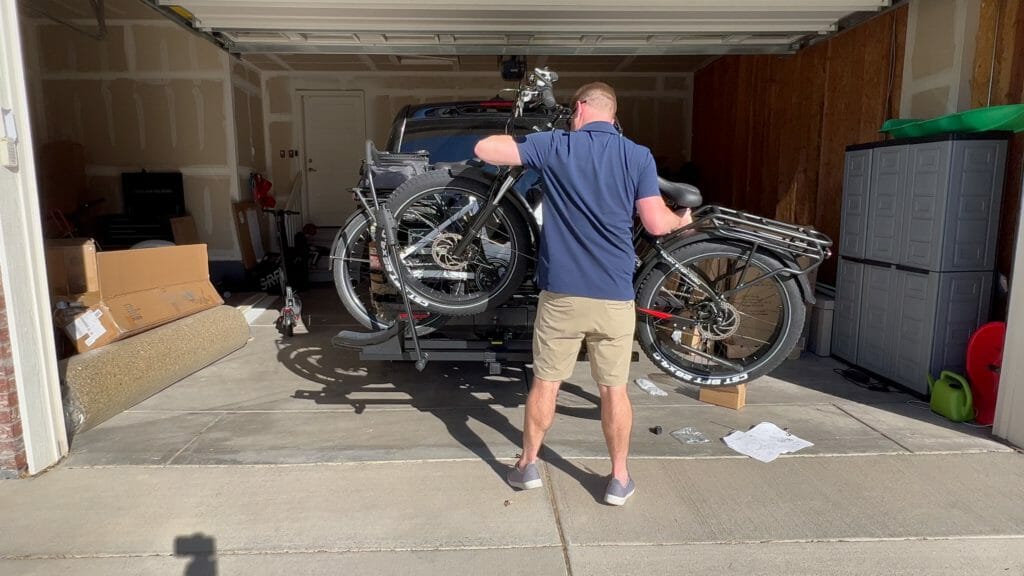 We've reviewed 10+ Fat Tire eBikes from all the major direct-to-consumer brands. None of them are perfect, but we've put them all to the test. From assembly to off-roading, we've tried to throw everything we can at these fat tire ebikes.
How and where we tested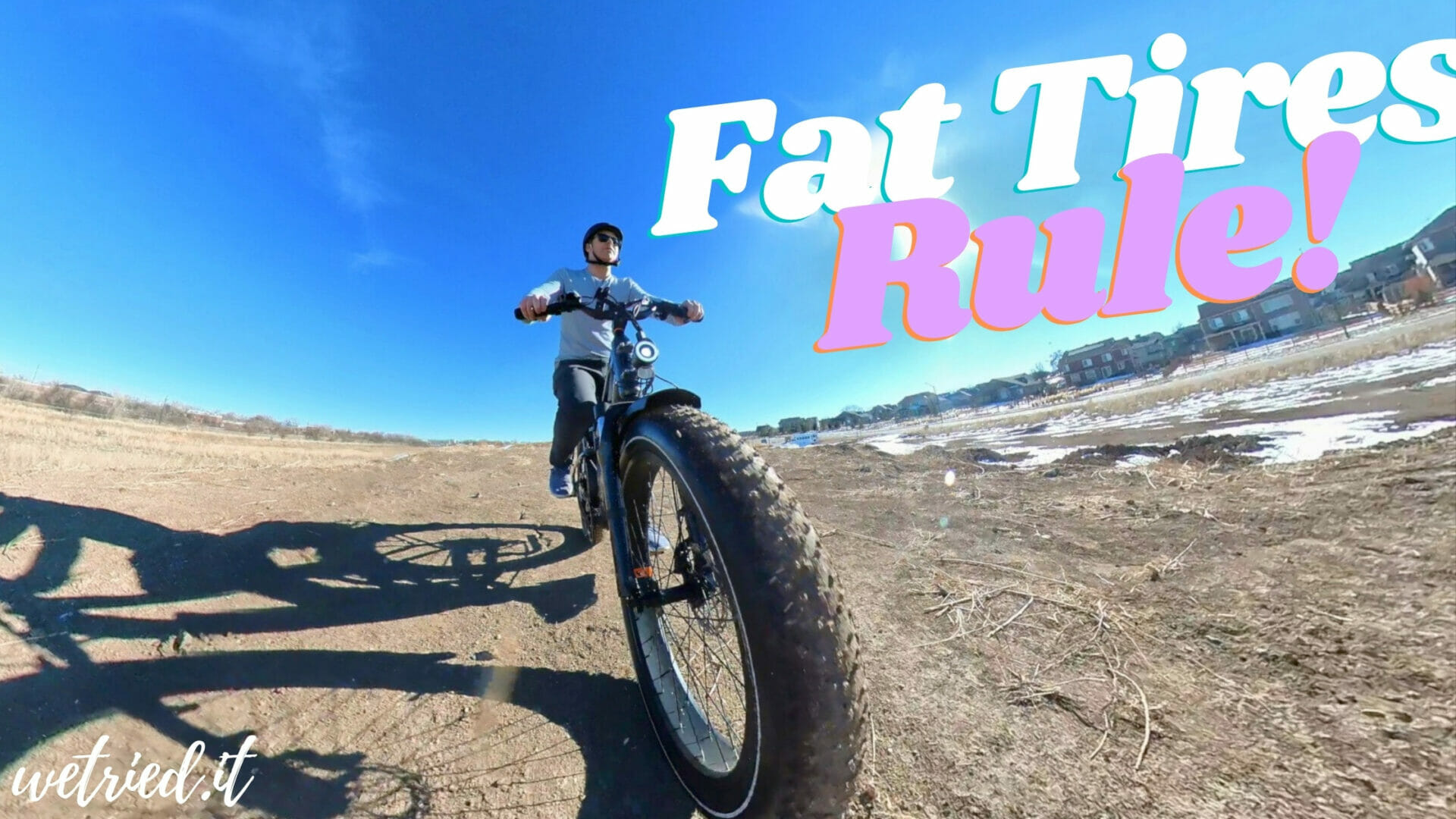 We are lucky enough to live in one of the most bike-friendly cities, Fort Collins, Colorado. Fort Collins has more than 200 miles of dedicated bike lanes and 50 named routes for enjoying your bike (electric or old school), which makes this city an amazing place to be if you love riding your two-wheeled beast.
We've tested all of these fat e bike options on trails, the streets and in our neighborhood.
No matter what fat tire eBike you select, make sure you always wear a helmet. Read our XNITO Review for a great option.
What's the best eBike?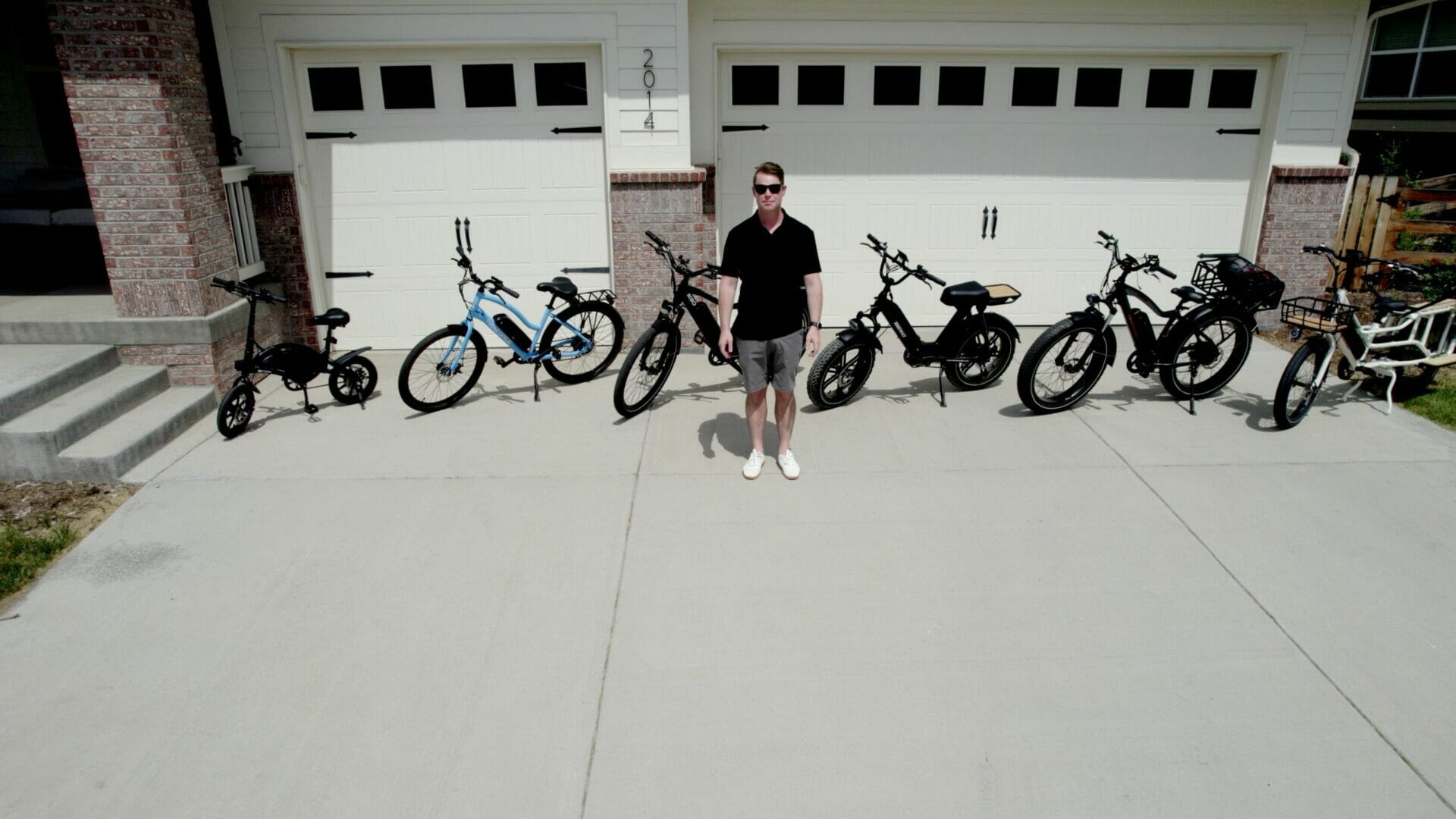 The good news is that no matter what you are looking for in fat tire e bikes there is probably the perfect fit for you. People also ask us, "What is the best eBike?" and it all depends. Honestly, it does. Read our eBike Guide or best electric bikes 2023 for more information.
The best eBike is the best eBike for you. For some you may value an aluminum frame or a fancy suspension. For others, you may want range, or something lightweight – or even a fat tire electric bike that is foldable (yes, they make those). There are a mind-numbing number of options out there, so it's best to do your research.
Why fat tires?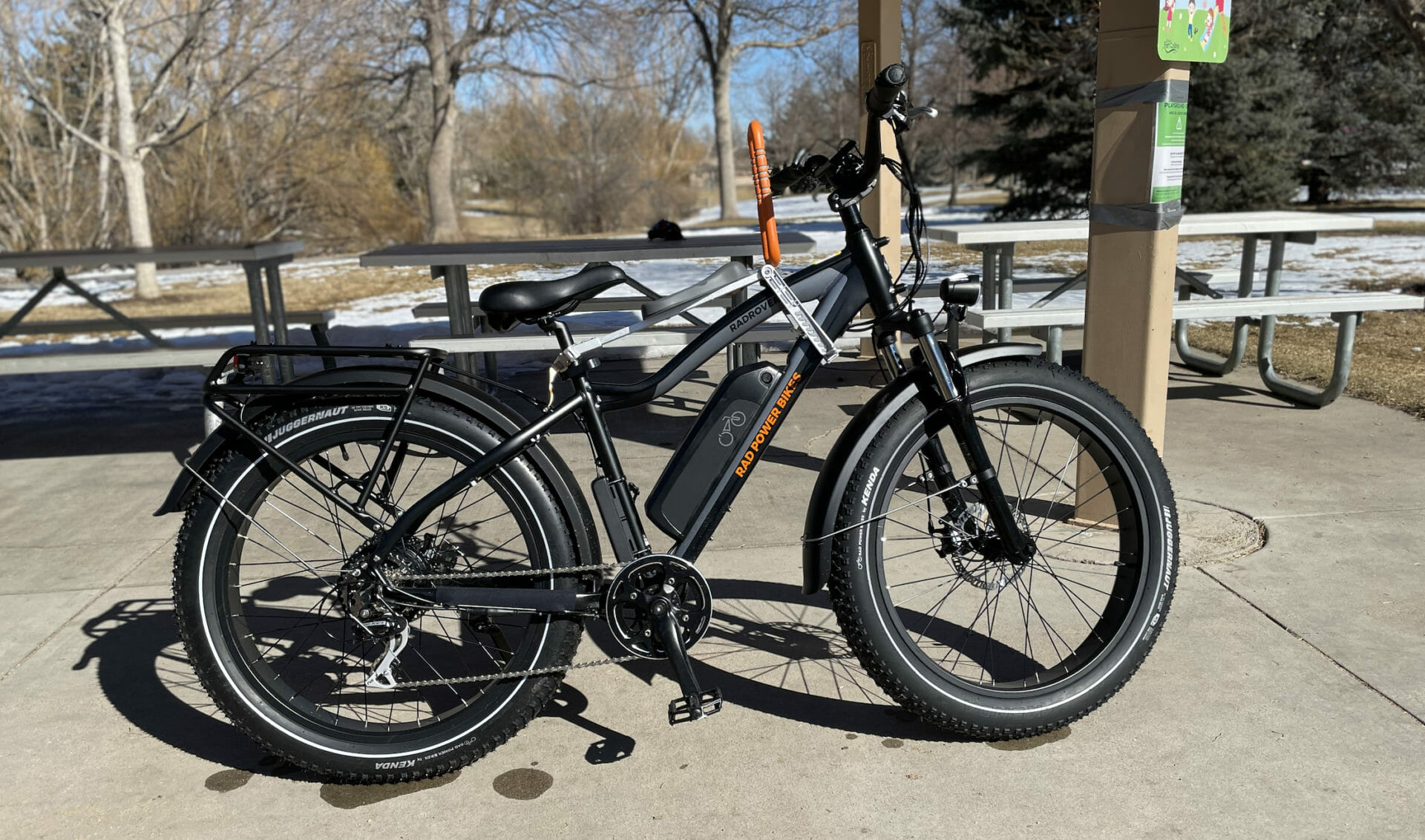 The RadRover 5 was the first eBike I ever tested. I anxiously got the eBike and drove it around in -0 degree weather (yes, you read that correctly – evidently it is temperate reported when the actual temperature is between -1 and -.05, which rarely happens).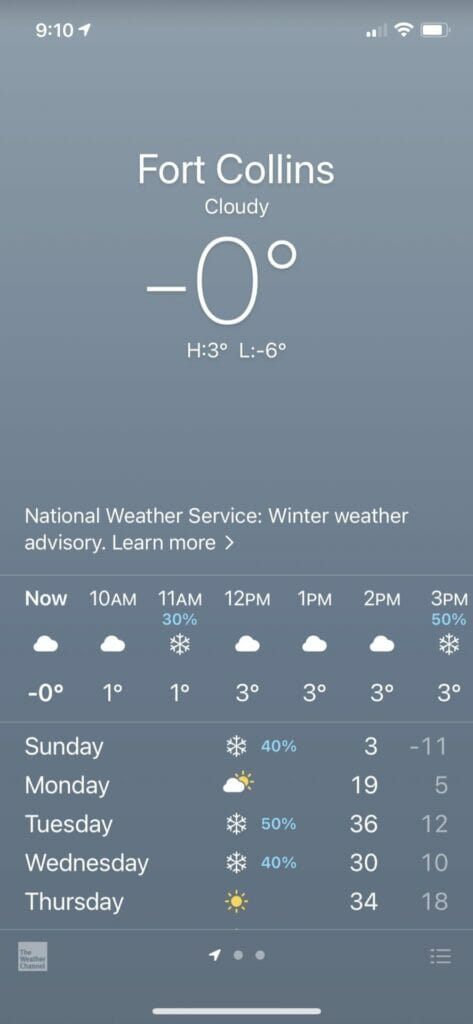 To be honest, I had no idea what Fat Tires were used for (except for looking cool) until I tested the RadRover 5. Why do so many bikes have fat tires these days?
The answer is simple. The fat tires make the bike more stable and much easier to ride over rough terrain like sand or snow. But the fat tires make them even more stable on concrete, too.
Why do so many bikes have fat tires these days? The answer is simple. The fat tires make the bike more stable and much easier to ride over rough terrain like sand or snow. But the fat tires make them even more stable on concrete, too.
The massive volume of the tires allows you to run air pressures so low they barely register on a normal pump's gauge. The resulting floatation enables them to roll over snow, sand, mud, wet roots, rocks, and other terrain that would otherwise be impassable.
Fat bikes are extremely appealing to cycling addicts that do not allow anything to confine them to indoor activity. Fat tire bikes provide improved grip and traction on the most troublesome terrain. Regardless if it's wet stone, muddy paths or snowy hills, these bikes will take you anywhere.
The electric fat tire bikes, why?
To be 100% honest an e bike makes you feel almost superhuman. A fat tire e bike makes you feel even more superhuman.
I've test a ton of fat tire and non fat tire electric bikes and there's no doubt in my mind what my favorite daily driver e bike is: the RadRover 6. This fat tire e bike has giant 4 inch chunky tires that take anything that I throw at it. From dirt trails to urban riding, there's no doubt that these fat tires just make riding a lot more fun.
Combine the fat tires with an electric motor and a front suspension fork and you just have a really fun ride. It doesn't matter if it's offroad or on concrete, you're going to have a giant smile on your face. That's 100% guaranteed.
There has to be downfalls to fat bikes, right?
The downfalls for a fat tire bike, especially electric, are small.
The overall size
Fat Tire Electric bikes are heavy. They just are. There's no getting around how heavy a fat tire electric bikes can be. In fact, all electric bikes are heavy.
The good news is that you won't notice it as much when it is electric.
The riding noise
When I'm riding fat tire electric bikes the noise is slightly hire than non-fat tire eBikes, that's for sure. Off road, you won't notice a difference at all. However, in concrete enviroments, you might notice it a bit. Emphasis on a bit.
This is not a deal killer by any stretch of the imagination, but it isn't perfect.
Sizing issues with fat tire electric bikes
My wife, at 5'2″, has not been able to ride any of the fat tire eBikes we've test (although we haven't tested any step-through version that would be appropriate).
In all fairness, she has no desire to go beyond rough pavement, even though she does want a smooth ride. The Rad Power Bikes RadWagon 4 (read our RadWagon 4 Review) is her daily driver and she has no issues with that electric bike.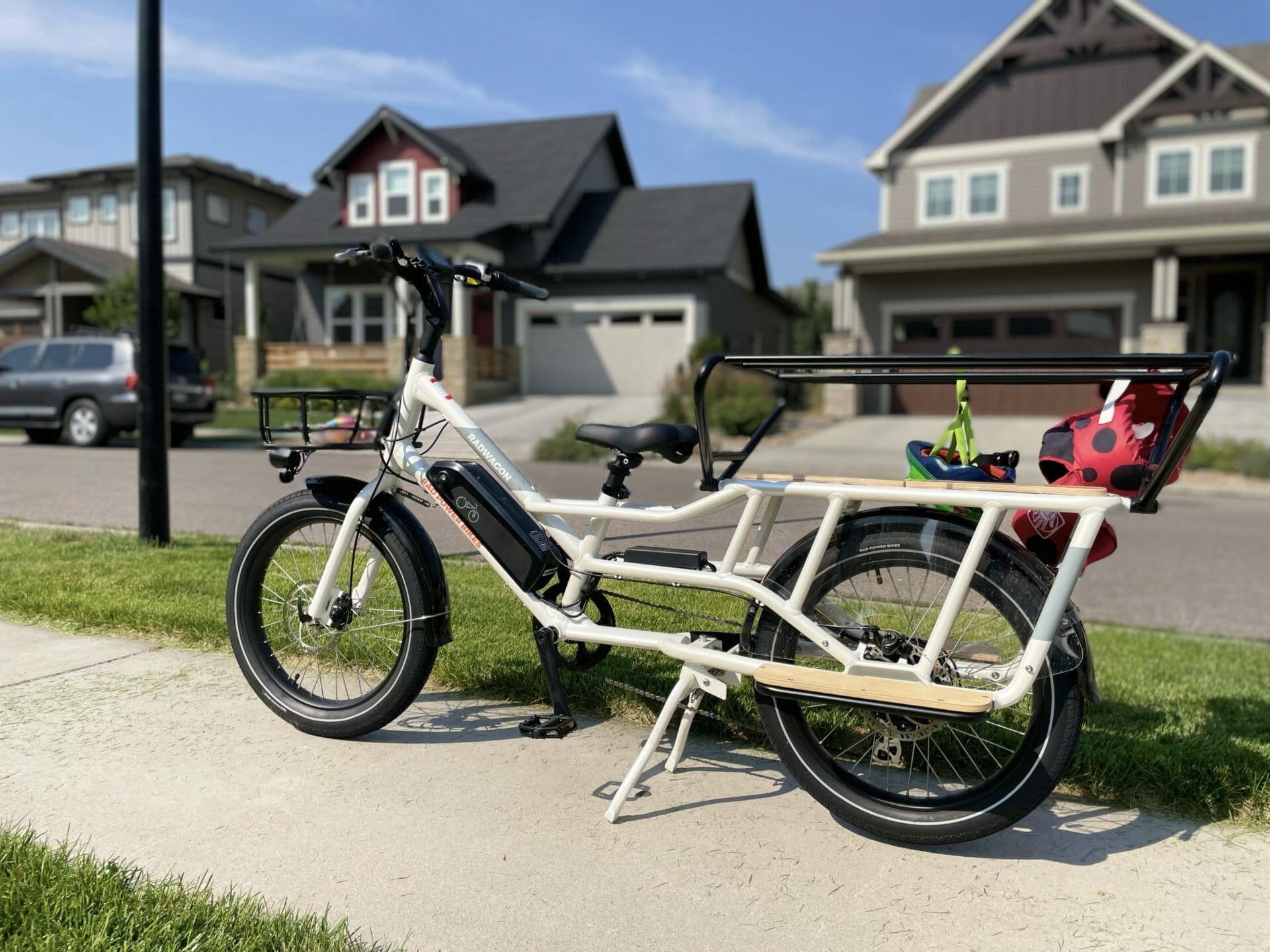 If you are shorter, then, you might have some problems with a fat tire electric bike, simply because the tire szie makes each bike larger, almost to comical proportions.
Which fat tire eBike is right for you?
To decide what fat tire eBike is right for you, you need to take a couple of things into consideration. The first is probably the most important.
Your Height (and weight)
Simply put: no matter which aluminum frame you select, you need to make sure that your eBike is suitable for your height (and weight).
There's no way that my wife, at 5'2″, could ride the RadRover 6 (read our RadRover 6 Review) or even the RadRover 5 (read our RadRover 5 Review).
Some of the step thru models come closer, like the KBO Breeze Step Thru (not technically a fat tire eBike) and the RadRover 6 Plus Step Thru – but frankly those bikes are simply too big for my wife.
My wife does ride the RadWagon 4 (read our RadWagon 4 Review), but that's more out of necessity.
It's just no fun having an ebike that is too big (or too small) for you. Find an eBike that works for your height and weight.
How you're going to use your eBike
All of the bikes on this list have a front suspension fork. Some even have a rear suspension.
Some bike nerds (not me… yet) will tell you that fat tires AND a front suspension fork are overkill on a mountain bike, especially an electric mountain bike.
But I'd have to disagree. If you are trail riding, sure, you'll see the difference between a rigid fork and suspension fork – but I even see a difference riding in the neighborhood. Long story short, look at suspension forks.
You are also probably going to need a rear rack for your bike. Rear Racks aren't just for hauling stuff, I use it to put a gear bag in case I need to inflate tires, adjust the brakes or just to hold a lock. A rear rack is our number 1, on our list of must-have eBike Accessories.
Rear Racks just give you the flexibility to use your bike the way you want to. You won't be sad if you have one.
Max Speed and Classification
Almost every eBike we tested here is a Class 2 eBike. That means it has a maximum speed of 20 mph assisted by the motor – either pedal assist mode or pure throttle. The motor does not provide power beyond 20 mph, but physics (going downhill or pedaling harder) will not prevent the bike from traveling faster than 20 MPH.
Most of these eBike can also be programmed to be a Class 3 eBike, which is an eBike that can reach a maximum speed 28 MPH in pedal assist mode or using the throttle. Read more about different eBike Classifications.
We wouldn't recommend adjusting this, however, because it can void the warranty and make the eBike illegal in many cases and municipalities.
What class of fat tire ebike should you get?
I recommend that you get at least a Class 2 eBike. Class 2 eBikes have a motor (either mid-drive or rear hub motor) that powers the eBike up to 20 MPH – either through pedal-assist or a throttle. Most bikes reviewed have a half-twist throttle, but others have a thumb throttle.
I, personally, prefer a half twist throttle, but it's not a deal killer either way when looking at one of these electric fat bike options.
The Motor: Rear Hub or Mid Drive
This might be the only controversial opinion on here.
Many folks swear by their mid drive motors and will argue that a rear hub motor won't last as long. While I haven't used any of these fat e bikes (or even non electric fat tire bikes for that matter) thousands of miles to climb hills or light trails, a mid drive motor fat tire e bike is typically usually more expensive and harder to find.
You will find some folks say that mid-drive motors are more natural (they just add extra "oomph" to the pedaling you are already doing), but I think that a rear hub motor is just fine for most people.
In all honesty, our top for the best fat tire electric bike feels more like a mid-drive motor than other options because the rear hub motor is so well-tuned to the riding style of the RadRover 6. The torque sensor is perfect. No sudden jolts of power.
That's a lot of fun when on the sidewalk, but not so fun going down steep hills or in off road performance.
When to get a mid-drive motor
There's a reason the Fort Collins Police Department uses mid-drive TREK eBikes: it's because they last a long time. We'll be reviewing more fat tire mid drive motor bikes in the near future to give you our true take.
The long story short is this: if you are going to be riding your eBike for 20+ miles a day, it might be worthwhile to spend the extra dough on a mid-drive eBike.
If you are looking for a bike to take out on the weekends, then a rear hub motor will work just fine.
Service-ability
Let me tell you a dirty secret about most electric bikes (and most non electric fat bikes, too) – they all are made up of very similar components, if not exactly the same components.
Yes, most mountain bikes are almost exactly the same – down to the mechanical disc brakes – how many companies make mechanical disc brakes? Not many!
Same thing with e bike motors. How many people make e bike motors, or rear hub motors… or fat tires? Not many.
Most electric bikes are made from the same components. That's a good thing and a bad thing.
It's a good thing because most eBikes can be serviced by any local bike shop.
It's a bad thing because most of the eBike batteries are slight different. While the RadWagon 4 and this cruiser look like they have a similar battery, they aren't interchangeable.
If you are super worried about battery life, then stick with a reputable brand like Rad Power Bikes – they've raised a ton of money from reputable investors. So, if you want to make sure that your $1,000+ investment stays serviceable, then check out someone more like Rad power bikes.
Fat Tire Electric Bike: How fat?
Almost every fat tire electric bike we've tested has 4 inch wide tires. The KBO Breeze has slightly less-wide tires and aren't considered a fat tire bike for this best fat bike roundup.
Most had incredibly similar tires to the RadRover 5 and 6 –  Kenda Juggernaut 26″ x 4″ tires.
The Snapcycle fat tire e bike we reviewed were still the same 4 inches wide, but were only 20 inches around. Most fat bike tires are 26″ around and 4″ wide.
Our Pick for Best Fat Tire e Bike: RadRover 6
Best fat tire eBike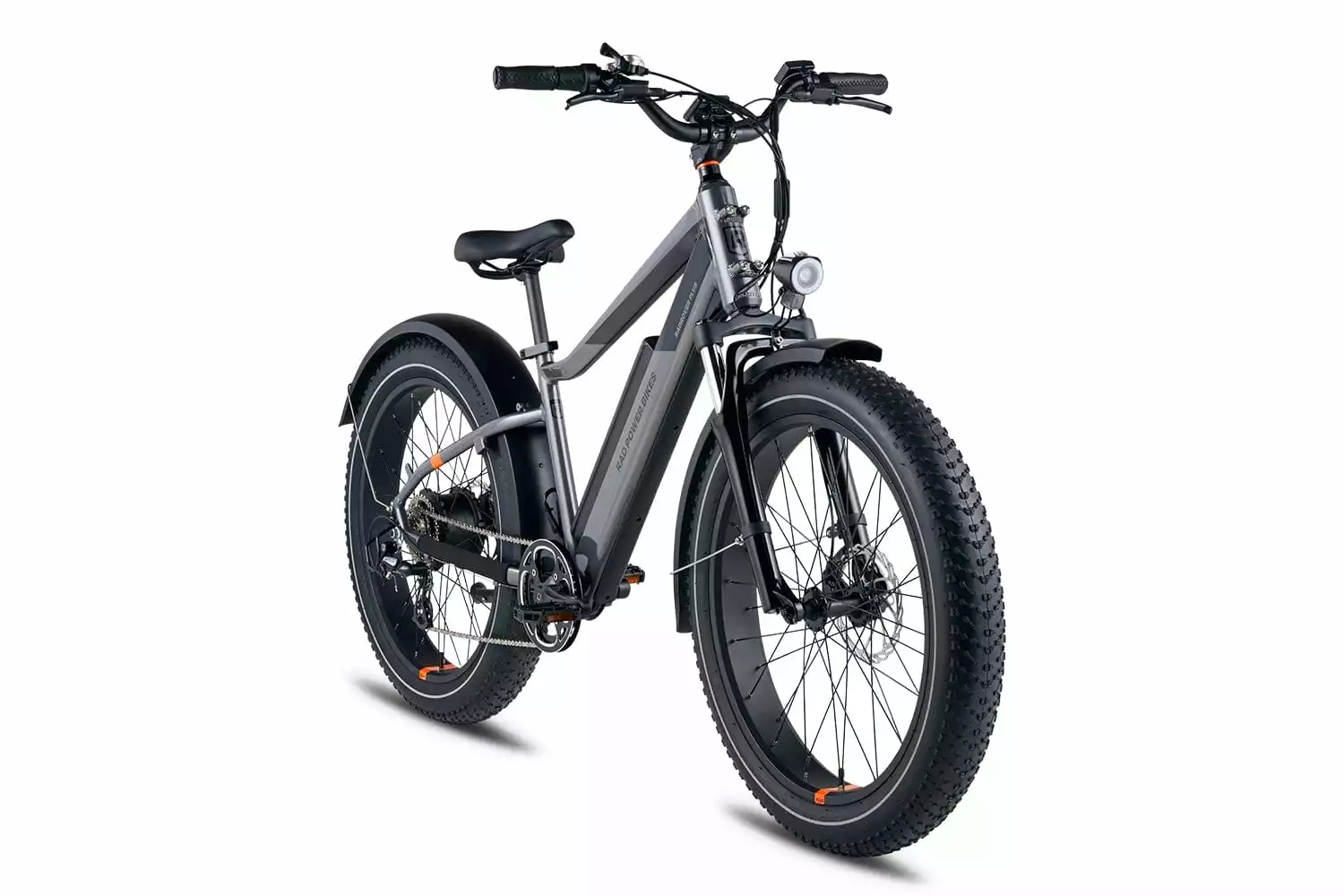 RadRover 6 Plus
The flagship RadRover gets a massive upgrade. From a brand new frame to the dual-screen Rad User Interface, this bike keeps the spirit of previous RadRovers and but innovates in all the right places.
Buy Now
We might earn a commission if you make a purchase, at no additional cost to you.
As we mentioned, the best electric bike we've test to date is the RadRover 6, but Rad Power Bikes (read Are Rad Power Bikes Any Good?) is our most trusted direct-to-consumer ebike brand on the market. Why?
They've raised a lot of money and are dedicated to more than just making great eBikes – they want to change the way people think about transportation.
But what about the RadRover 6 makes it our number 1 pick of the best fat tire e bikes?
A couple of key points make this the best:
It is the only eBike we've reviewed that features Hydraulic Disc Brakes. Most other brands come with mechanical disc brakes. The later is cheaper but also doesn't last as long. Hydraulic Disc Brakes are more expensive, are more difficult to service, but also last a lot longer. I didn't know much about Mechanical Disc Brakes until testing mountain bikes, but they make a huge difference.
They offer a range of assembly options from do-it-yourself (which is fairly easy) to picking it up at a store (if one is nearby) to arranging for a Rad-certified dealer to assemble (and deliver) the eBike to you.
This range of dealers offers the best of both worlds: direct-to-consumer pricing with a network of repair options. You can also speak to friendly, US-Based support of you run into any problems.
Even though it has a rear hub motor, it is the most finely tuned rear hub motor we've tested. No more sudden jerks, even with your pedal assist mode set to the highest level. The 750w rear hub motor also handles hills like a champion.
The newest model also just looks great – they've refined the look and more evenly distributed the weight for a much better product.
Small Flaws, but not deal killers
Nothing is perfect, right? The same is true for this fat tire electric bike.
At $1,999, it's the most expensive electric bike on the list.
Even at that price, it doesn't include a rear rack for that price.
Some have complained the aluminum frame has some flex to it. I haven't experienced this issue, but others have.
Best Folding Fat Tire eBike: HeyBike Tyson

The Heybike Tyson shines in the foldable fat tire ebike category, distinguished by its potent combination of performance, comfort, and convenience. Its powerful 750W motor ensures exhilarating rides across diverse terrains, while the impressive 48V 15Ah battery offers an extensive range of up to 55 miles on a single charge, perfect for long journeys or daily commutes.
The Jolly (GREEN) Giant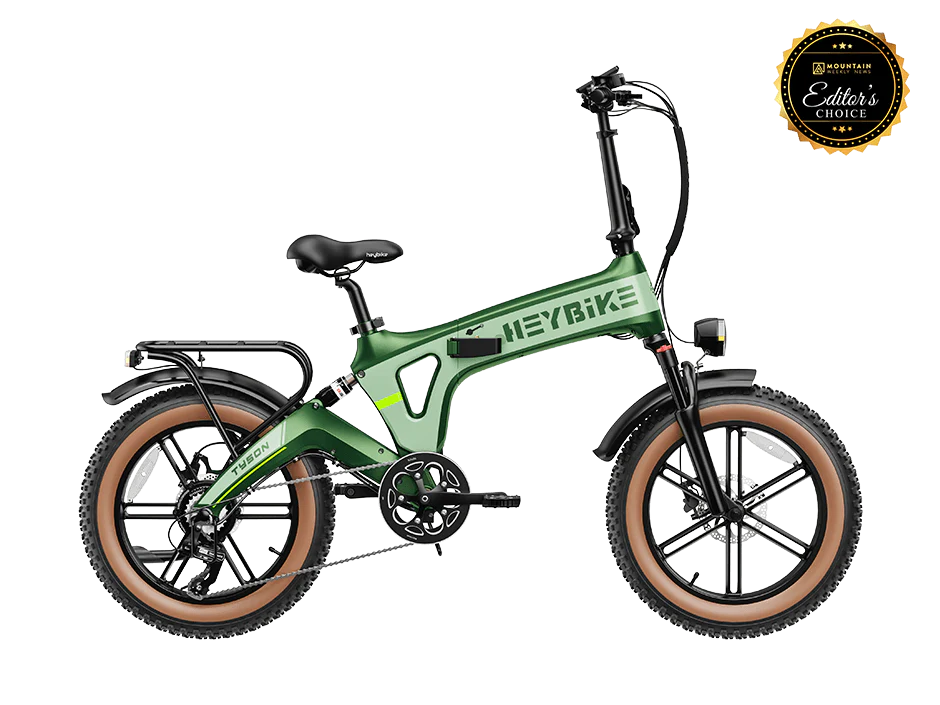 Heybike Tyson
A great eBike at an even better price.
Buy Now
We might earn a commission if you make a purchase, at no additional cost to you.
A key feature of the Tyson is its folding design, which offers significant advantages for urban riders facing storage constraints. The bike's comfort is enhanced by its dual suspension and fat tires, ensuring a smooth and stable ride on various terrains.
Safety and quality are paramount in the Heybike Tyson's design. It is equipped with hydraulic disc brakes for reliable stopping power and auto-on headlights for improved visibility, enhancing overall rider safety. The inclusion of a high-quality TFT 4G display with Heybike app connectivity introduces advanced features like anti-theft alerts, remote locking, and GPS tracking.
Additionally, the bike's use of eco-friendly magnesium alloy in its frame adds durability while emphasizing environmental consciousness. Despite its weight and premium price, the Tyson's blend of features makes it a highly attractive option in its category.
Best Budget Pick: HJM Toury Fat Tire Electric Bikes
Great Value
HJM All Terrain eBike
An incredible value of an eBike - includes a powerful motor, a turn signal, great front suspension, and a lot more!
Buy Now
We might earn a commission if you make a purchase, at no additional cost to you.
To be honest, we didn't know if the HJM Toury eBikes were any good when we first got our hands on them.
What we like about the HJM Toury:
It's got the same tires as other fat tire electric bikes – exactly the same
It's a great value at $1,599 – includes a color LCD display AND a rear rack at no additional charge
Super easy to put together – featuring some of the easies disc brakes (mechanical) we've been able to align with an eBike
It features everything you want to go off road (with an electric motor on a fat bike) and then some: a 750w rear hub motor, big tires, different levels of pedal assist and a twist throttle
Small Flaws, but not deal killers
A couple of small flaws come to mind with the HJM Toury electric bike
It is a newer brand, so you always run the risk of it not being around for a long time
You want your eBike from a company that can provide certified service
As we mentioned in our HJM Toury Review, we have no reason NOT to trust HJM.
And for only $1,599 – it's about $600 cheaper than the RadRover 6 Plus – equipped the same way, a BIG savings!
Best Electric Folding Fat Tire eBike (Runner-Up): Snapcycle
You could easily call this the best fat tire electric mini bike, as it folds up!
Best Folding Fat Tire eBike
Snapcycle S1
A decent fat tire eBike that's... FOLDABLE? Yes! Meet the Snapcycle S1. Lightweight and foldable, the S1 is a great way to get around town and not take up a ton of space.
Buy Now
We might earn a commission if you make a purchase, at no additional cost to you.
We're working on our full Snapcylce Review and we'll post the link shortly, but this is an incredibly fun folding fat tire bike. Yes, you read that correctly: it folds! The Snapcycle S1 is a crazy combo of a folding fat tire eBike with just pure, unadulterated fun. It's like the best parts of a moped, scooter and eBike made into one.
Ironically, this eBike is best for someone that wants to use it with a camper or trailer (like my parents). It's small enough to fit in the back of pickup truck (folded) or a trailer, all without messing with clunky bike hitches.
That means you can take this electric bike with you on your next camping or road trip and not have to worry about it taking up as much space as a small car.
Weighing in at only 66 lbs, it's one of the lightest folding electric fat tire bikes on the market that you can properly take off-roading – perfect for bringing with you wherever you go.
You don't have to worry about leaving your Snapcycle at home because it won't fit in your car.
Plus, there are a TON of accessories available for this e-bike (a first for us). That means if you want to customize it or just make it more fun, you can really do that!
Small Flaws, but not deal killers
There were only two things we didn't like about the Snapcycle S-Series:
The handlebars are a bit of an awkward height for super long treks.
The battery is hard to remove and the keys are in an awkward spot
The LCD display isn't at the most optimal position
As I mentioned, these aren't deal killers but they are small issues that can be improved upon. If you want an electric folding fat tire bike, there really is no competition for the Snapcycle.
We'll post our full review of this e-bike shortly, but it's a best seller and we're excited to share more soon!
Electric Fat Bikes: Other Great Options
We've tested so many eBikes. They all have the standard features like pedal assist and decent brakes (although the RadRover 6 is the only with hydraulic brakes we've tested).
There are a couple of other great options of eBikes that might be right for you.
The great value KBO Tornado
A great value ebike
This bike is beautiful. It's got a big 750W Motor and giant, fat tires.
The funny thing is, we added the KBO Tornado and removed the Gen3 Outcross.
Why?
It turns out that Gen3 went out of business.
That makes our #1 point in the best eBikes of 2023, the most important: make sure you buy from a brand you trust and will be in business next year.
The over-the-top Himiway Escape
Over-the-top fat tire eBike
Himiway Escape
Over the top in the best way possible. More moped, less mountain bike, the Himiway Escape is great for short trips where you don't need (or want) to pedal.
Buy Now
Our Review
We might earn a commission if you make a purchase, at no additional cost to you.
For some reason the Himiway Escape gets compared to the RadRover a lot. In many ways, they could not be more different. But they both stand out from the pack. They both demand attention.
Read our full Himiway Escape Review for more information and use our exclusive Himiway Promo Code.
Himiway Escape vs. RadRover
The main difference between the RadRover and Himiway Escape is the overall frame. The Escape is more a moped and the RadRover is more of a mountain bike.
The Escape doesn't have an adjustable seat, which makes it tough to pedal (but easy to ride when using the throttle). They both have fat tires and are incredible fun to ride. The Escape is simply more moped and the RadRover (both the RadRover 5 and RadRover 6 Plus) are more mountain bikes. The Escape also has a rear suspension in addition to the front suspension forks.
But the overall nature of the Escape lends it to be more for recreational rides (although it does look cool – with wider tires, electric power and a great battery life). You would call both a "big bike" but the Escape still looks REALLY cool.
In fact, my father-in-law has both the Himiway Escape and the KBO Breeze (a smaller-tire bike). He usually rides the Himiway Escape to zip back and forth to our house (just a couple of blocks away).
However, he doesn't depend on pedal assist – he just uses throttle most of the time. For him, it's the best fat tire electric bike he's tried – at least for how he uses it.
We've also took off the limiter, so he can reach a top speed of 28 MPH very quickly. The Himiway is delivered with a Top Speed of 20 MPH, but the instructions tell you how to remove the limiter if you want more speed.
The best thing about the Himiway Escape is its overall coolness and moped feel. It's a great bike to just zip around on, especially if you don't want to pedal very hard (or at all).
You're sure to turn heads when riding this electric bike!
It's way more power and way more suspension than you need. The only thing we didn't care for it was the disc brakes squealed for far too long after trying them. Don't get me wrong, it's still a fun bike!
Himiway bike vs Rad Rover: final thoughts
This is a super common question: which one would we prefer? himiway bike vs rad rover? We'd pick the Rad Rover, simply because it's easier to pedal. That's it.
The Super-Insane Haoqi Antelope Fat Tire Electric Bike
The most insane, dual-battery eBike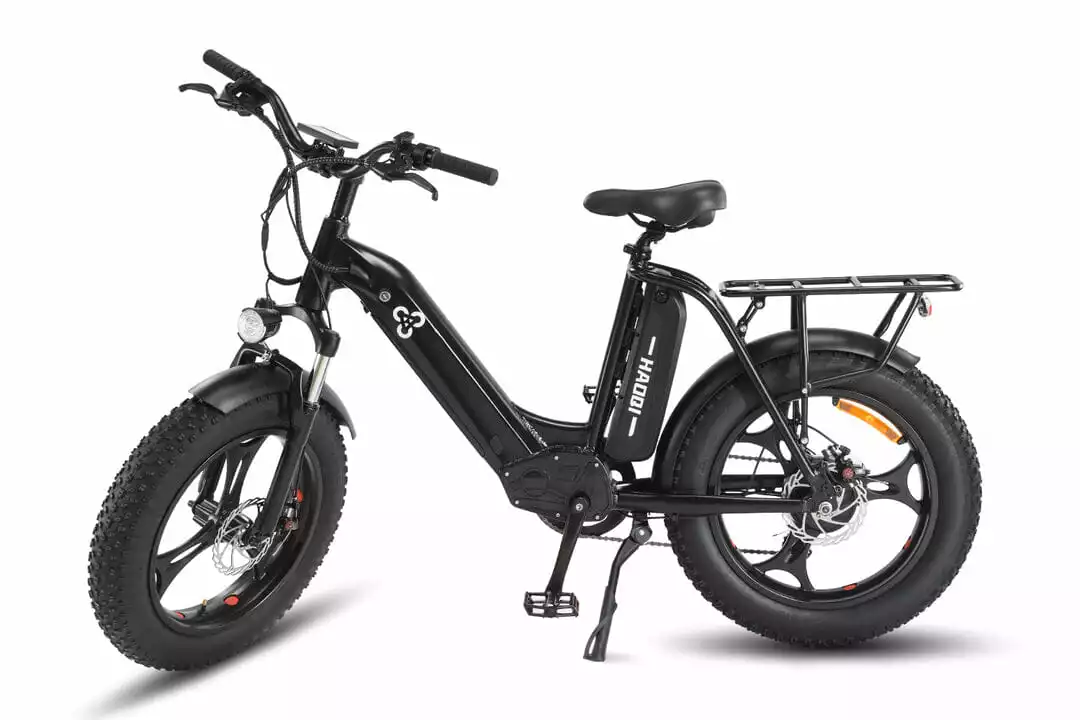 HAOQI Antelope
Looking for the ultimate fat tire eBike? Check out the HAOQI Antelope. Dual batteries = ultimate range.
Buy Now
Our Review
We might earn a commission if you make a purchase, at no additional cost to you.
Whoa. That's about all I have to say about this bike.
It's not only a beast of a mountain bike at around 100 pounds, this eBike also includes 2… yes, you read that correctly, 2 batteries to take off road.
Why on earth would an eBike need 2 batteries? Pretty simple: range.
While most other eBikes have a similar top speed and range, the Antelope has a range of 90-120 miles. Pretty impressive!
This electric bike does feature fat tires, however, they are the smaller 20 x 4 tires, not the larger 24 x 4 tires on the RadRover.
Overall, this fat tire e bike is more than capable to handle anything you throw at it. We'd recommend the Haoqi Antelope for:
Someone that needs to ride on a lot of steep hills. And we mean a LOT of steep hills. The dual battery design is great for range. Range is drastically impacted by steeps hills and the top speed you are using the eBike for.
Like other Class 2 eBikes, the Antelope comes shipped with a top speed of 20 MPH, however, it can be increased to a top speed of 28 MPH (making it a class three fat tire electric bike) fairly easily. However, removing the limiter reduces the range of this fat tire electric bike drastically.
This is great if you want to explore everything possible and want the longest range. We love that the Antelope comes with 2 chargers. The batteries are what drives the motor power and you need to make sure they are charged at all times.
The Aventon Aventure
Another great fat bike
This is another fat tire e bike with a lot of buzz. We personally haven't tested the Aventon Aventure, but we've talked to several people that own the Aventon Aventure and simply love it.
The Aventure beat the RadRover 6 to the punch with hydraulic disc brakes (although the RadRover 6 Plus now includes hydraulic disc brakes) and features a snazzier LCD Display.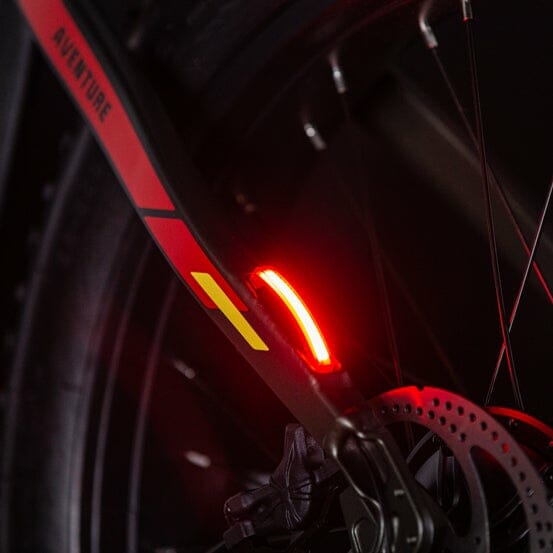 I also like the integrated lights, like the Aventon Soltera eBike that we are currently testing (not for use off road at all!). The Aventure also comes in small, medium and large sizes – so even smaller people can enjoy riding off road, too.
The one thing I didn't care for when looking at the Aventon was the thumb throttle (via the twist throttle found on Rad Power bikes). For some reason, the thumb throttle just seems cheap to me.
It is also priced very similar to the other bikes on this list and has rave review.
Other eBikes with semi-fat tires
If you don't want a super fat tire electric bike, there are so more middle of the road (no pun intended) with the tire size. While they might not be the best fat tire ebike you are looking for, they are still great options.
The KBO Breeze and KBO Breeze Step Thru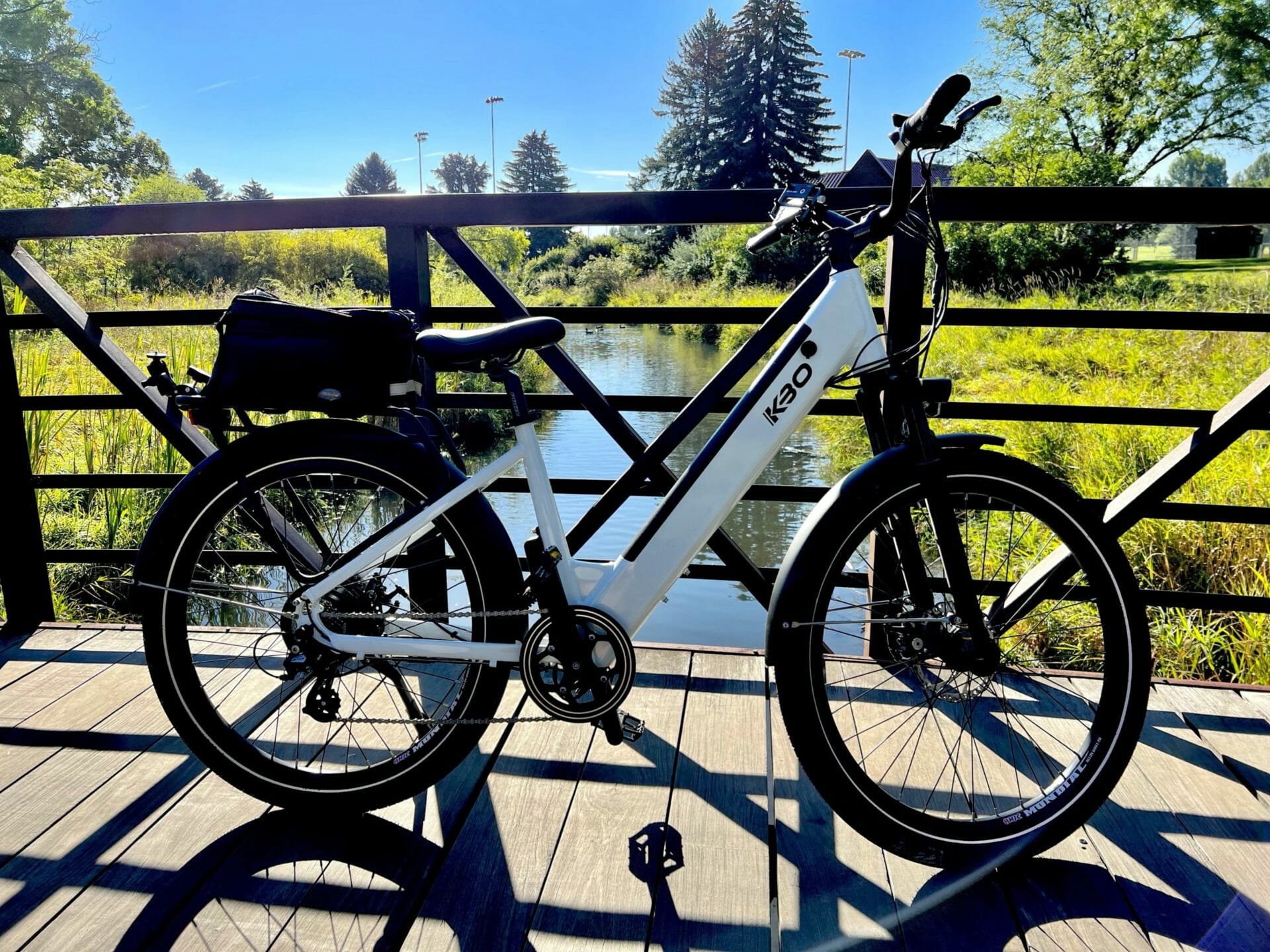 Best Fat Tire eBike: Final Thoughts
Bikes like the KBO Breeze (read our full KBO Breeze Review and KBO Breeze Step Thru Review to learn more) are good examples of mid-size semi fat tire electric bikes that also have a front suspension – so they can be taken off road – just not extreme mountain biking.
It's really easy to recommend an eBike like the RadRover 6 or the Aventon Aventure – they are both incredibly high-quality eBikes by manufacturers obsessed with creating a great riding experience.
I'd recommend making sure your bike has a bare minimum of the following:
You can physically ride it (many fat tire bikes are very large)
At least a 500w Motor
Both Pedal Assist AND a Throttle
Can be serviced easily (either through something like Rad Power Bikes Certified Dealers or Velofix – if a bike manufacturer has partnered with Velofix, there's a good chance it can be serviced).
Best Fat Tire eBike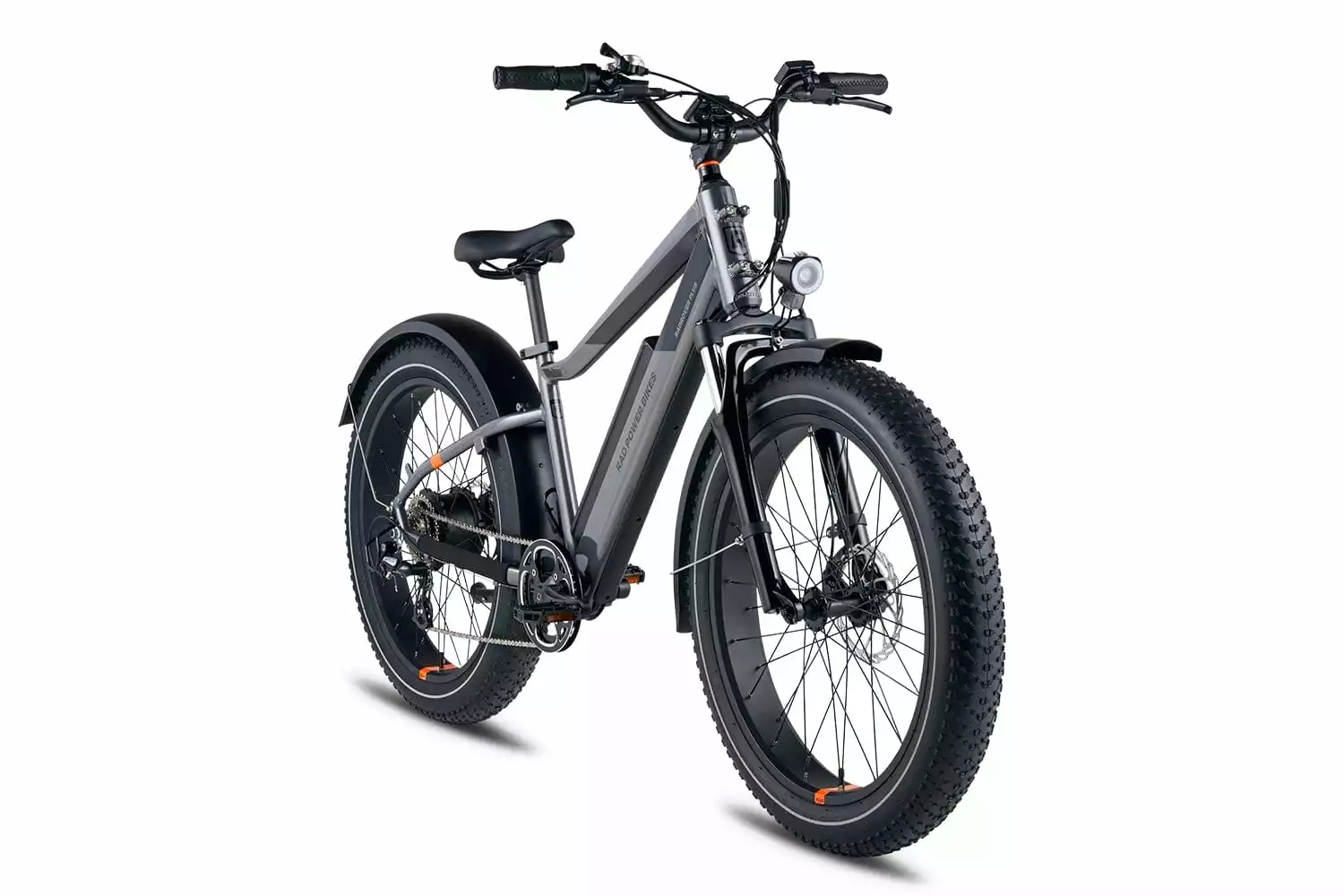 RadRover 6 Plus
The flagship RadRover gets a massive upgrade. From a brand new frame to the dual-screen Rad User Interface, this bike keeps the spirit of previous RadRovers and but innovates in all the right places.
Buy Now
Our Review
We might earn a commission if you make a purchase, at no additional cost to you.
If you want to save some money, the HJM Toury is a good option – so is the Gen 3 Outcross.
Have any questions or comments? Let us know in the comments below! Also, be sure to check out the best electric bike accessories for your new bike!