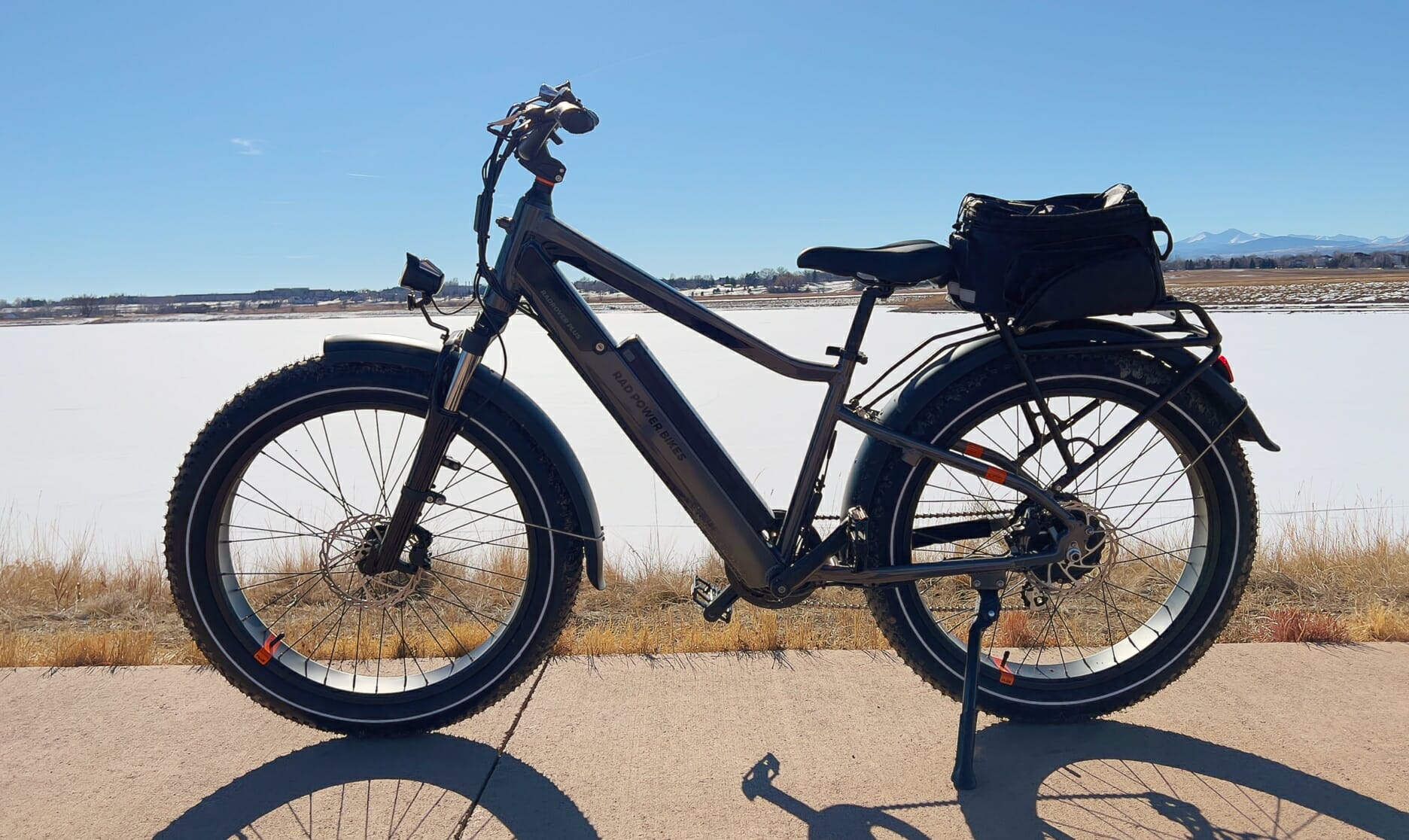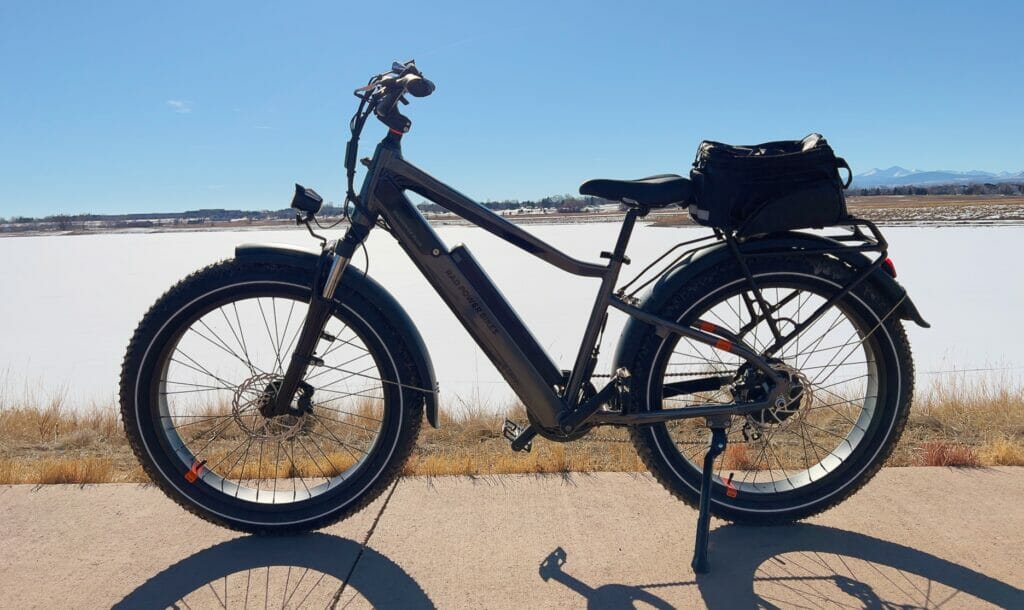 Rad Power Bikes have become synonymous with Electric eBikes – and for good reason. They sold over $100 million in eBikes in 2019. That's a ton of electric bikes on the road – in fact, Rad Power Bikes has over 350,000 Rad Power Bikes on the road today.
That's probably why the second you start looking at Rad Power Bikes, you start to see them everywhere.  
Our #1 eBike Brand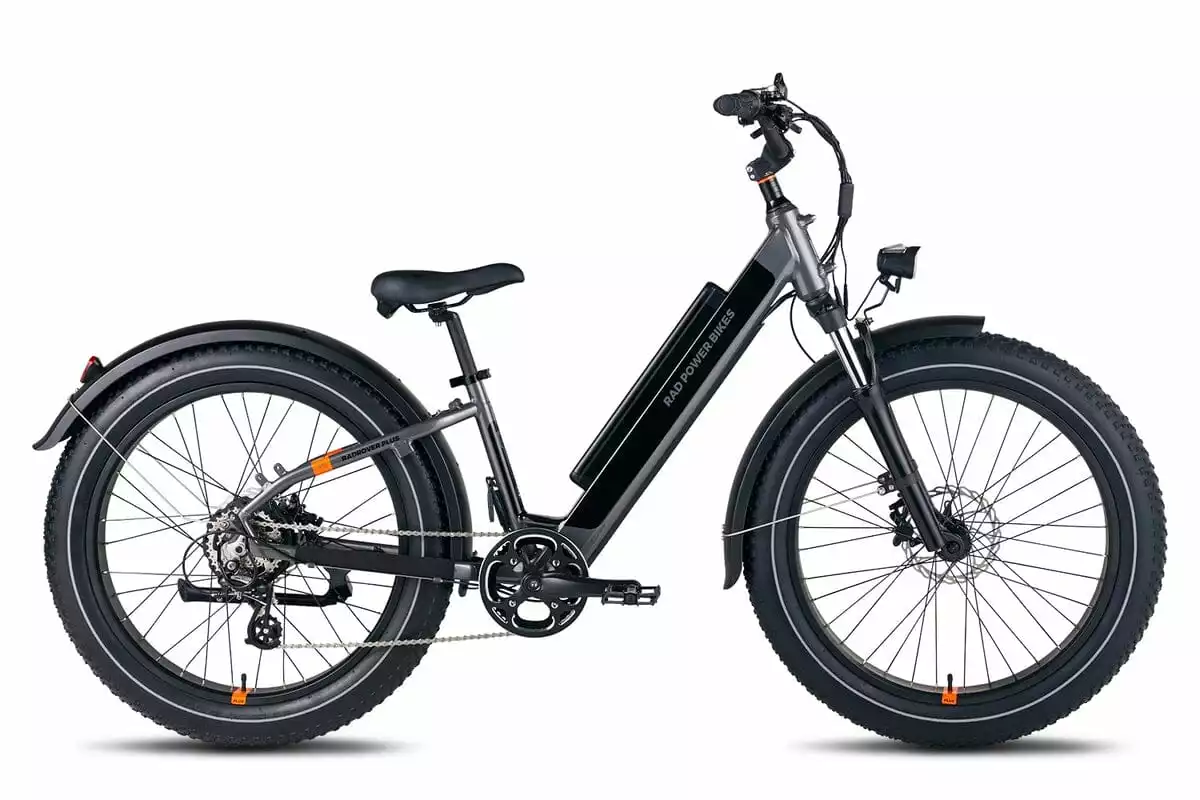 Rad Power Bikes
Pros:
Unique designs, proprietary to Rad

Backed by institutional investors

Can talk to a real-live human for support

Owns their own stores
Cons:
Not many models with hydraulic disc brakes
Buy Now
We might earn a commission if you make a purchase, at no additional cost to you.
In 2020, America (and really the world) rediscovered its love for the classic bicycle. But today, you can face an overwhelming number of options when it comes to bicycles and even more when it comes to electric bikes.
However, one of the most common questions I get asked is: I want an electric bike, but what brand can I trust? Keep reading our ultimate Rad Power Bikes Review and check out our best Rad Power Bike Promo Codes.
In this Rad Power bikes Review, we'll explain the difference between their different electric bike models to help you find your perfect e-bike. You'll find a true electric cargo bike to a lightweight city bike, and everything in between.
Rad power Bikes Review: What your really need to look for in an electric bike
I'll shoot it to you straight: many bicycles AND electric bikes use many of the same parts. The shifter you see on 80% of bikes is probably the same. The batteries all come from Samsung or LG. Shoot: most of the batteries on eBikes even look the same.
Also, check out our Aventon eBike Review and our guide to best ebikes in 2023.
I think one of the most important things to consider when buying an eBike is getting the bike from a reputable brand that is going to be around for some time.
A eBike company with staying power

There's no guarantee that Rad Power Bikes will be around forever, however, they raised $150 million to keep more bikes coming and the business growing.
Note: this isn't a love letter to Rad Power Bikes, they aren't perfect (as I'll outline later in our Rad Power Bike Review). However, you'll be hard-pressed to find a better value from a company that stands behind their product and provides customer service you can actually talk to on the phone.
Check out our full eBike Guide for everything you could possibly want to know about eBikes.
Why should you trust us?
We aren't bike mechanics, we are just some people who fell in love with eBikes on accident.
It all started with the RadRover 5 and we've tested almost a dozen different bikes in the process.

While we didn't start out as experts, we've learned a lot in the process. We're just a suburban family in Northern Colorado that is trying to give you our honest advice.
The Most Important Graphic to Review Before Buying a Rad Power Bike
It's this graphic:
What are you looking at here?
Well, it's the sizing guide for Rad Power Bikes. This is the single most important piece of information you'll look at when comparing the Rad Power Bikes. Why?
It shows you if you can ride the eBike you are thinking about.
Your inside leg length is the distance between your body where it sits on your bike saddle and the ground. This will typically be an inch or two longer than the length of your trousers, but you'll want to measure to make sure.
This graphic shows your true inseam heights that fit comfortably on each Rad Power Bike.
Are you 5'2″? Well, you probably can't buy the RadRover 5. 6'2″? You are probably too tall for the RadMini.
What to Measure to find the Right Bike Height – Measuring between the legs
‍How to Measure The Right Bike Height
Gather the tools needed:
Tape Measure
Medium-width hardcover book
A wall
A trusted friend or relative – make sure they are TRUSTED this will get a bit weird.! 🙂
To measure how tall the bike seat should be, you will stand with your back to a wall and have your feet shoulder-width apart (about 7 inches)
Now, take a hardcover book and place it against the wall with the spine of the book facing upward. Slide the book upwards towards your groin until it is solidly against your body. We told you this was going to get a bit weird.
This may be a bit awkward, but is way more comfortable — and safer! — than trying to ride a bike that is too big.
If you have a buddy helping you, get them to measure from the floor to the top of the book spine while you hold the book in place. If you're going it alone, then simply hold the book in place and measure from the ground to the top of the book spine.
The buddy will help you get a more accurate measurement, but not required!
That length is the number you should look at when comparing to the chart. Make sure you fit within the ranges, or else the bike will not be the right size for you.
The good news is that Rad Power Bikes has multiple frame sizes, so there's a good chance there is the perfect frame size for you!
Overall Rad Power Bikes Review: What we love
There is a lot to love about Rad Power Bikes, in general. Many will call these bikes the best electric bicycles on the market. But keep reading to find out why we love our Rad Power Bikes.
The Riding Experience
All Rad Power Bikes are incredibly fun to ride from day 1. I got my RadRover 5 (read the full RadRover 5 Review) on a day that it was negative 0. How is that possible? Longer story… but it was flipping cold.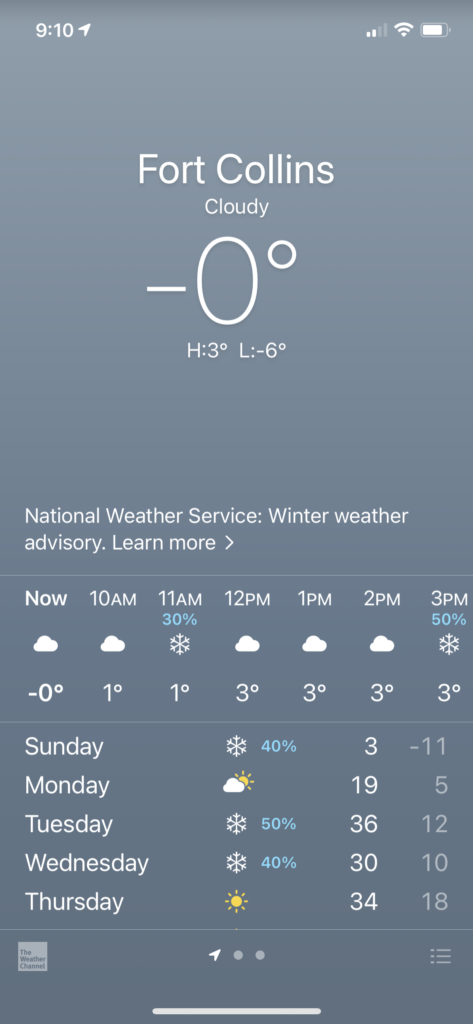 I think I had a smile frozen to my face that day. The experience was so fun, even in negative temps. I could only imagine how much more fun it was when the weather was nice!
Well-thought out design
Rad Power Bikes does a great job really thinking about how people use their electric bike – you'll notice that there are several models (like the RadRover 5, RadRover 6, etc) – because they are always improving based on customer feedback. They are never happy with the status quo. Read our RadRover 6 Plus Review.
This is key because it means that they're always improving their products and the customer experience.
Great Range and Battery
Batteries are one of the most expensive parts of any e bike. A brand new one can cost about $500 (MSRP), in fact.
Almost all Rad Power Bikes come with a similar battery. The most common is a 672 wh battery. This allows most of the Rad Power Bikes to have a range of about 45 miles.
Rad Support
Rad Power Bikes simply has the best support. Not only can you talk to a US-based person on the phone, they are actually really helpful.
Their assembly videos are incredibly well-done and very throughout. Honestly, they are a lot longer than some other eBike assembly videos, but they are the most in-depth.
Assembly – quasi do-it-yourself
Rad Power Bikes are shipped directly to you through Free Shipping.
While you CAN put together any of the Rad Power Bikes by yourself, we'd recommend having a friend to help AND getting a bike mechanic to check your work.
The hardest part is taking the main frame and attaching it to the front tire – aligning the brake pads with the mechanical disc brakes.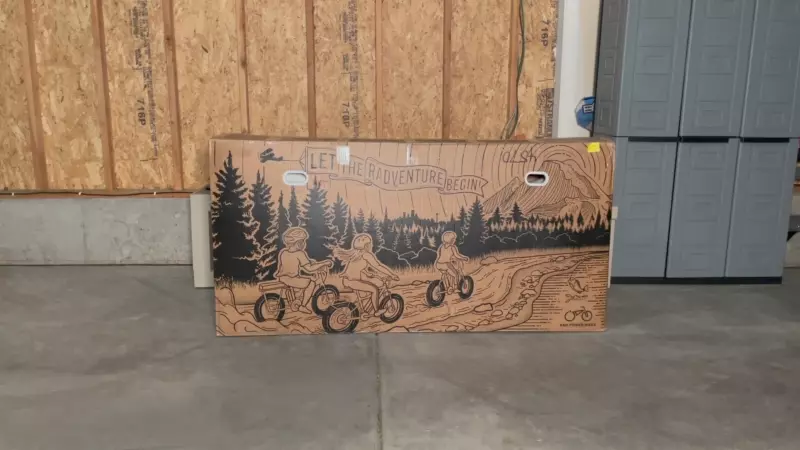 I don't know about you, but if you're going to be cruising 20+ MPH on something you put together, I'd get a mechanic to check your work.
Seriously.
There are many bike shops that have mobile units that will come to you.
In fact, Rad Power Bikes is planning on having 75% of its U.S. customers be within reach of their very own Rad Service available to them by the end of 2021.
Sweet.
New option: Rad Power Bikes Certified Shops
Another reason we love Rad Power Bikes and it is our pick for best electric fat bike and so much more, is the service options.
Not only do they have their own service centers, but they have certified local bike shops AND they've partnered with Velofix AND they have their own mobile service units, too.
All this to say: if you are worried about the longevity and service-ability of your Rad Power Bike, don't be. They've got support out the wazoo.
Affordability – How good of a value are Rad Power Bikes?
Sure, you can get a cheaper bike somewhere else.
You may save a couple hundred bucks, but I wouldn't risk it.
You can also spend a lot more on an eBike, too. Like $9,000 if you want. But that's just silly.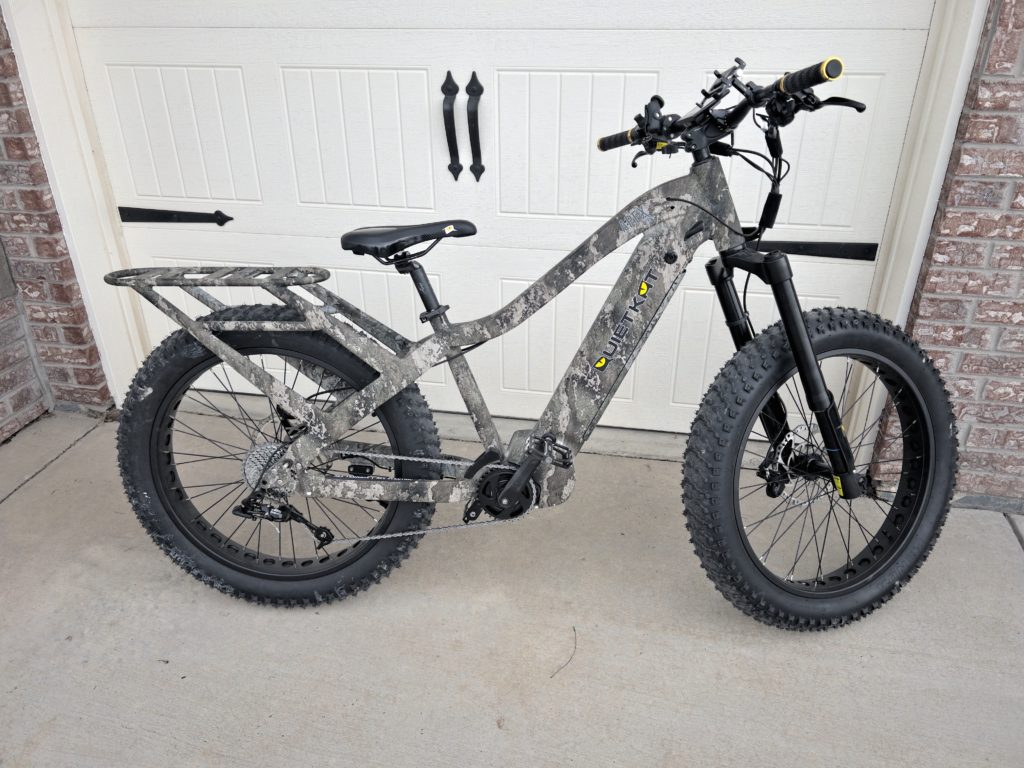 The most expensive Rad Power Bike is the new RadRover 6 Plus – at just under $1,999 (read our full RadRover 6 Plus Preview) or as little as $999.
On top of that, you can finance any of the eBikes with Affirm. With great credit, you can get the eBike for 0% interest.
Direct-to-consumer models like Rad Power Bikes save you a bunch of money by taking out a lot of the middlemen (I'm looking at you Bike Shops and REI – who also typically have to go through wholesalers to get the product, then finally get it in front of the customer).
All Class 2 eBikes
All of Rad Power Bikes are what is called a Class 2 e Bike. What does that mean? They have a 20 mph top motor-assisted speed – both pedal assist and throttle allowed.
The laws of physics won't stop you from going any faster but the motor won't work past the top speed of 20 MPH. That's OK because it's plenty fast enough.
In most places, Class 2 eBike are treated the same as bicycles. You don't need a license or insurance, you can ride on the sidewalk if you like, it's all good. But check your local laws first.
Read more about the difference in our post about the difference between Classes of eBikes.
Rad Power Bikes: The downsides (but not deal-killers)
If I'm being honest with our Rad Power Bike Review, there are some things I think Rad Power Bikes could do better… which actually makes them more human. 🙂
Shipping times
Honestly, the only negative comments we get on our YouTube Videos are from people irritated about shipping times and delays.
Honestly, I wouldn't want to be in a complicated supply chain business right now with all of the issues related to shipping and Chinese parts, etc.
Rad Power Bikes, at least in communication with me, has told been very upfront and honest about their shipping issues. However, I wouldn't plan your world around their shipping times.
We're all a bit spoiled by Amazon Prime's 2-Day (or even next day) shipping these days and shipping an almost 100 pound bike from China is pretty complicated.
With bikes that are in-stock, Rad Power Bike's free shipping option is still pretty fast. It takes about 5-7 days from it shipping to arrive at your door.
No Mid-Drive Motors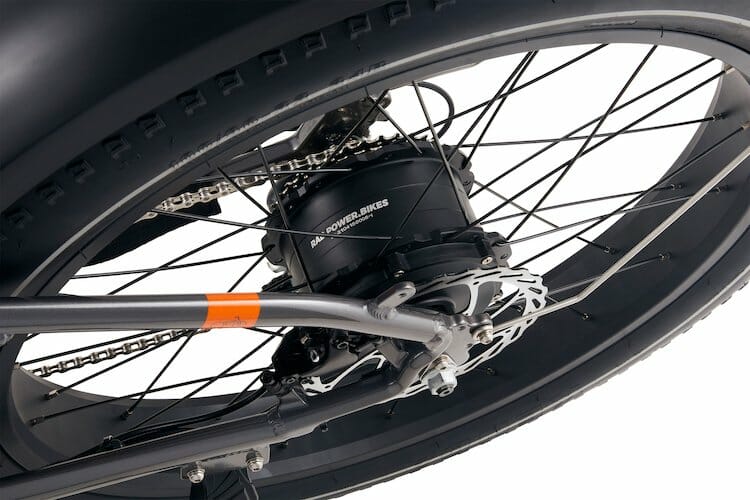 To be 100% honest, I haven't had a test to fully test out a mid-drive motor, but it's a common complaint we get on our YouTube Channel.
All of Rad Power Bikes current bikes feature a rear hub motor. Most of their newer models are a geared hub motor, but the RadCity 4 is a Direct Drive Motor (which allows for regenerative braking and a longer overall range).
With Rad Power Bikes constantly innovating, I wouldn't be surprised if they introduce a mid-drive motor sometime in the future.
Current Models – Pick your Rad Ride
There are 8 current models of Rad Power Bikes (not counting step-thru models as different models), each serving a slightly different purpose. Let's run through the different models and I'll highlight what they are great for and not so great for.
Unless you are looking for a mid-drive motor, there is a bike model for you on this list. I promise.
RadRover 6 Plus
The Flagship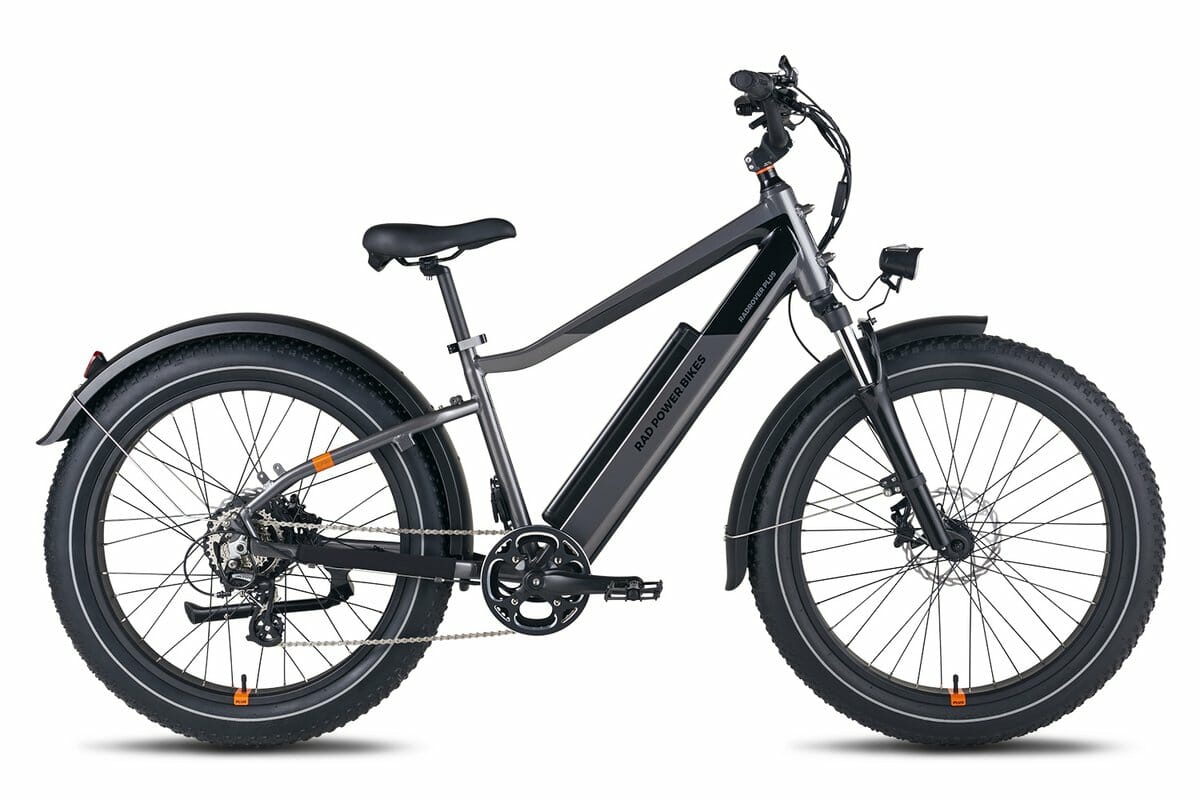 $1,999
750 W Custom-Designed Motor
Designed for offroading
Hydraulic Brakes
New semi-integrated battery
New ergonomic frame
Same fat tires
Rad Power Bikes improves on the classic design of the RadRover 5 with the brand new RadRover6 Plus. This eBike is sightly heavier but is full of new features from their new Rad User Interface, if you want to be on the cutting edge of eBike design check out the RadRover 6 Plus.
The newest eBike of them all is a beast. Literally. Read our full RadRover 6 Review.
It's a beast (at 73.4 pounds) but also super fun and capable.
The RadRover 6 Plus is the next evolution of the best-selling fat tire eBike, with giant fat tires.
This thing is built to go through anything you can find, even snow in the winter time. All other Rad Power Bikes come with mechanical disc brakes – however, the new RadRover 6 Plus has hydraulic disc brakes for the first time.
It also features an upgraded LCD Display and more streamlined, semi-integrated battery.
Who the RadRover 6 is Perfect For
Anyone that fits the 5'4″ – 6'2″ rider heights
Wants a versatile eBike that can take (almost) anything you throw at it
Wants an eBike to take offroading
Doesn't mind the extra size
Wants to stand out from the crowd
Who the RadRover 6 is NOT For
Someone too short or too tall
Wants a bike that blends in
Needing to carry up and down stairs or move around a lot
Overall, the RadRover 6 is a great eBike. I, personally, ride the RadRover 5 as my typical eBike (when I don't have both kids).
It's the perfect blend of function and versatility to me. I simply love riding it and have a smile on my face whenever I do.
It's easily our go-to rider for a lot of different reasons, but the main reason is that is the most capable, easy-to-use eBike in the whole aerosol.
The upgraded motor has the most finely-tuned pedal assist we've ever experienced. It really doesn't even feel like pedal assist, it feels like you almost magical powers. There's no jerk when starting to pedal.
Combine that with the perfect front suspension fork and you've got an eBike that is next to perfect.
RadRunner 2 – Recently Updated
The Versatile One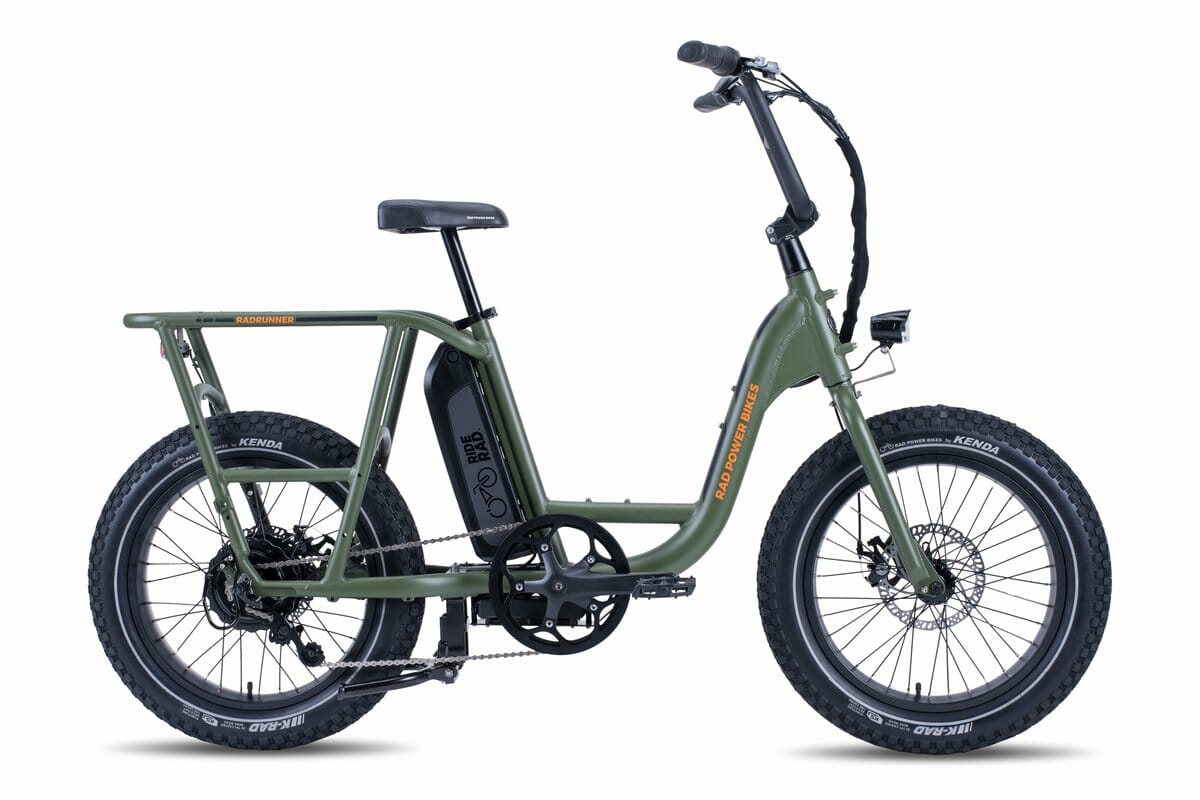 $1,299
750 W Motor
Designed to handle cargo – or people with optional passenger package
1 Gear for easy maintence
Simple eBike with a cult-like following
Meet the eBike with a cult-like following. Its unique look allows for ultimate customization. It's bare-bones – no LCD display and only 1 speed make this simple, but maybe too simple for some. Rad calls this the RadRunner Electric Utility Bike. That's pretty accurate!
If you want versatility and a much lower price, check out the RadRunner 2. This eBike is super customizable and a lot of fun to drive (and ride). At $1,299 – it's a great bargain.
Rad Power Bikes claims the RadRunner is the very first ebike or scooter to have an adjustable driver's seat that can either be completely flush with the passenger's seat or adjusted higher like a standard bike. Keep the seat low so your passenger can snuggle up close (like a moped) or raise the seat up to get the exact right leg extension while pedaling. You should be able to ride rad the way you want to!
The bike comes with a built-in rear rack (that you can customize with a passenger seat, too) and tons of options.
The RadRunner also features puncture-resistant tires, which is an added bonus on an affordable eBike.
Who the RadRunner is best for
Someone looking for an inexpensive, versatile bike – that can haul cargo or people
Someone who primarily is riding around a city
Looking for a unique eBike with a ton of customizations available
The RadRunner is NOT great for
Someone looking for more than 1 gear on an eBike – the RadRunner only has one great
The person looking to take the bike offroad
Using the bike on lots of hills
The biggest downside of the RadRunner, at least to me – is that it only has one gear for shifting. That means if you are going up a hill, you're not able to shift down. However, you will have the throttle and pedal assist.
If I was a betting man, which I'm not, I would bet that the RadRunner will come out with an update soon.
If you do like the idea of the RadRunner, but want just a couple more features, check out the RadRunner Plus…
RadRunner Plus
Upgraded Versatility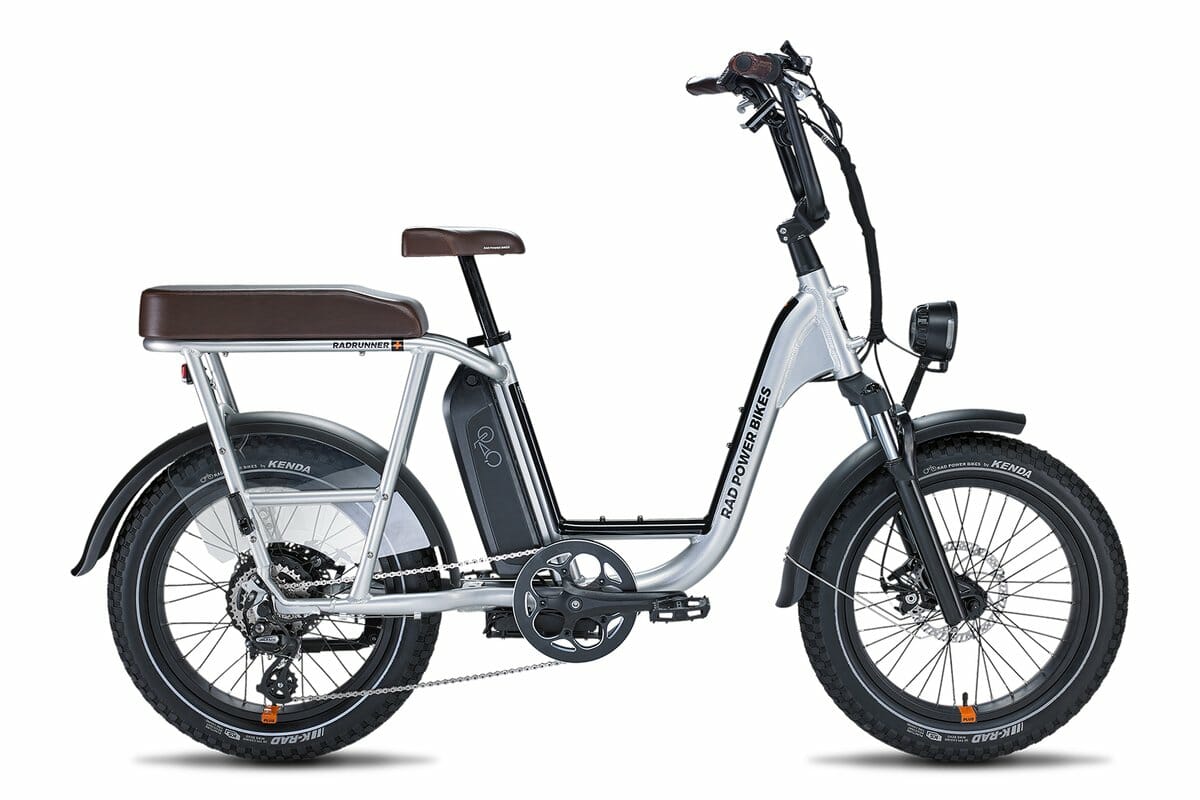 $1,799
All the great features of the RadRunner
PLUS: Passenger Package
Front and Rear Fenders
Upgraded Lighting
Front suspension fork
LCD Display
7-Speed Drivetrain
If I was choosing between the RadRunner and RadRunner Plus. I would pick the RadRunner Plus in a heartbeat. While it's $400 more – it includes upgrades like the passenger package that I would buy in the first place. Plus, it's really hard to upgrade the drivetrain and I really need more than one gear…
The RadRunner Plus picks up where the RadRunner left oft.
The RadRunner Plus adds a couple of features to the RadRunner, are worth it (at least in my opinion).
The RadRunner Plus includes a couple of features that the RadRover does not.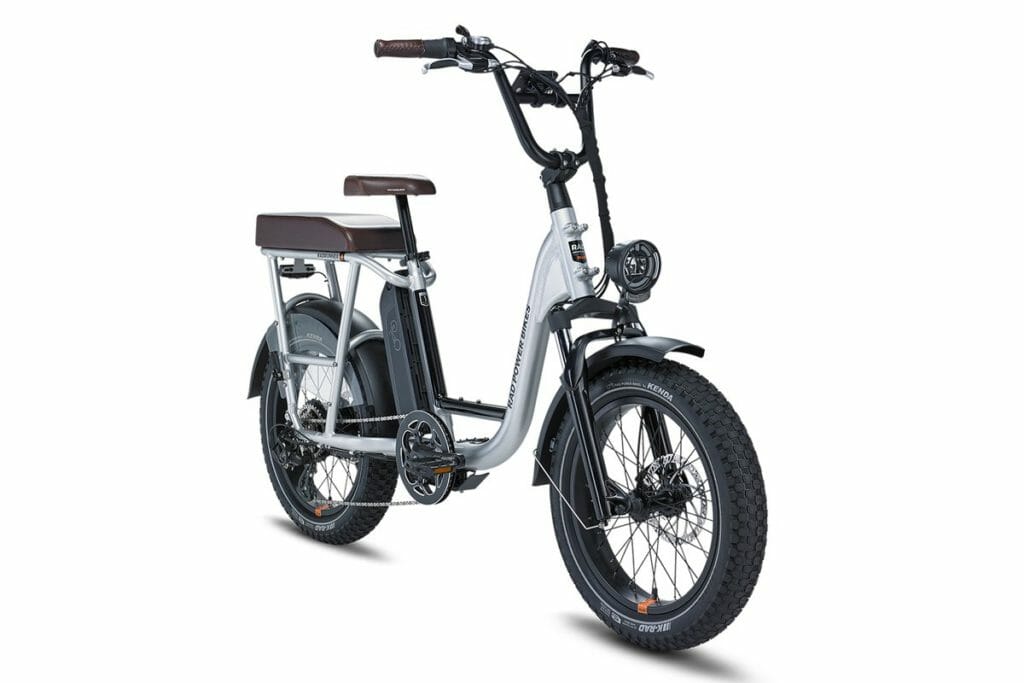 Where the RadRunner Plus is better than the RadRunner
A 7 speed drive train
Built-in passenger package (no additional charge)
Suspension fork for taking the bike on trails (although I wouldn't consider this a mountain bike)
Included front and rear fenders (at no additional charge)
Premium headlight
LCD Display
It's also about 10 pounds heavier
I'll write a full RadRunner Plus vs. RadRunner comparison shortly, but if you think you need more than one gear – check out the RadRunner Plus
RadRover 5
Great all around bike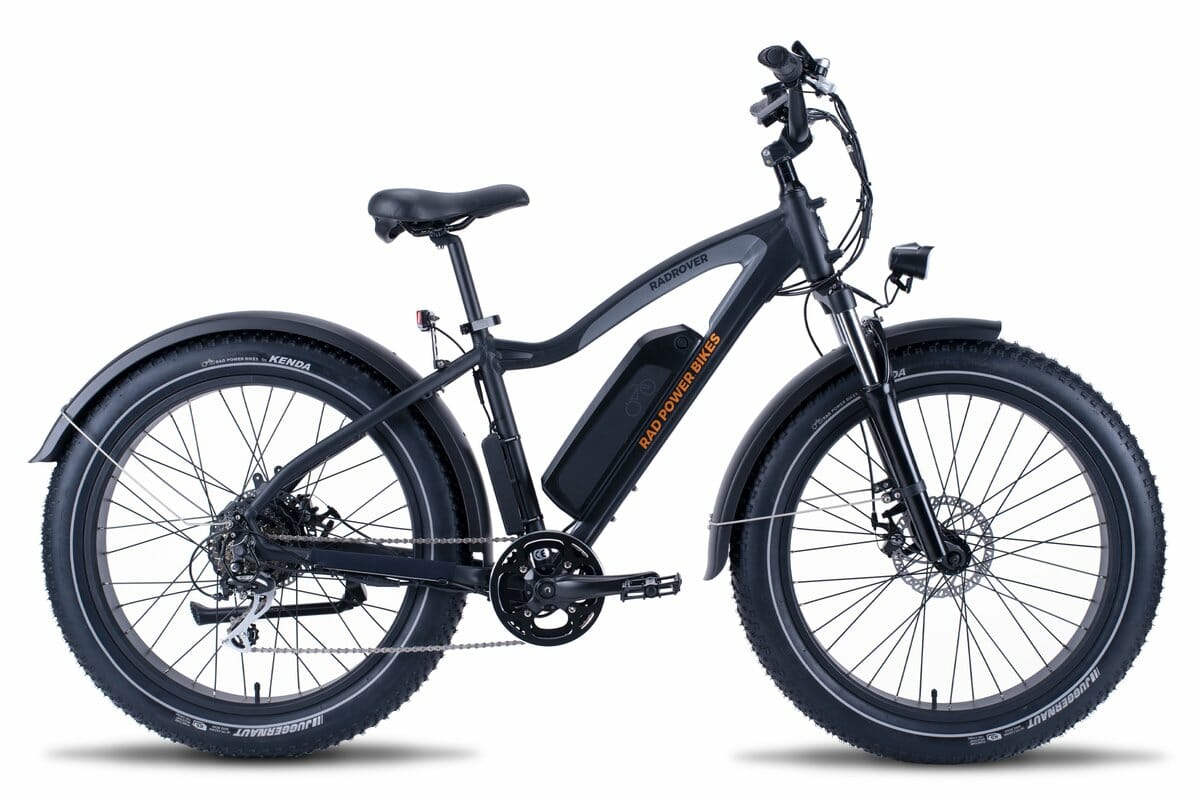 $1,699
Very versatile offroad (and city) eBike
Huge Fat Tires
#1 Selling Fat Tire eBike in the USA
Super fun to ride
If you want to save a couple of hundred bucks, consider getting the RadRover 5 – just because it's the previous generation doesn't mean there is anything wrong with it. It's my daily rider and a blast!
I ride the Rad Power Bikes RadRover 5 (read my full review Rad Power Bikes RadRover 5), but it appears this will be replaced by the RadRover 6 Plus (read the full RadRover 6 Plus Preview).
The 5th Generation is a great electric Fat Tire Bike. You may even find a great deal on this Electric Fat Bike used, now that the RadRover 6 is coming out.
The biggest tip: get a rear rack.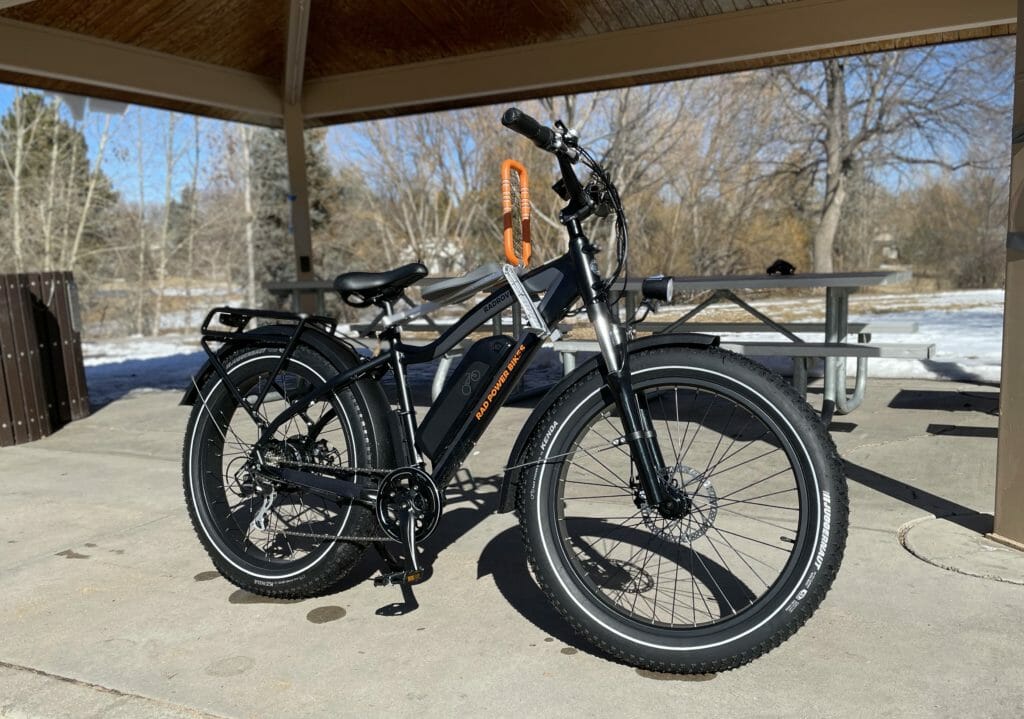 It looks like Rad Power Bike WILL be getting more of the best-selling Fat Tire Bike in stock, and if you don't want the extra features, you can save an easy $300 – making this an even more affordable option than the RadRover 6 Plus.
Reasons to look at the RadRover 5 vs. RadRover 6 Plus?
$300 is a big one!
It comes with front and rear fenders included
The RadRover 6 Plus looks like it was more finely tuned for mountain biking, but if you just need to ride on an occasional trail, the RadRover 5 would probably be fine.
You wouldn't benefit from the updated frame size – allowing about another inch of variance in height.
RadMission
An incredible value!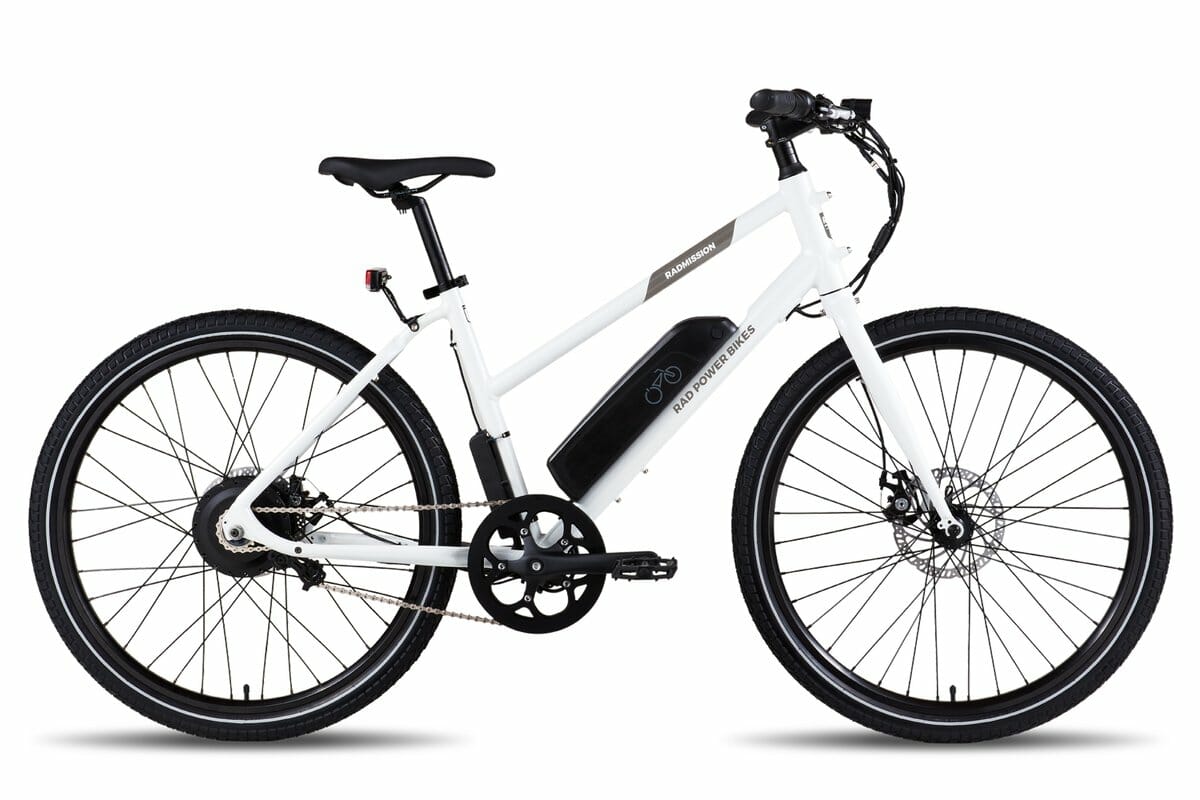 $999
The cheapest Rad Power Bike to date
Lightweight – less than 50 pounds
A fixie on steroids
If moving your bike (a lot) is the number 1 priority, check out the RadMission eBike. It's got 45 miles of range but only weighs 48 pounds. Perfect for city life.
At only $999 – this is the cheapest eBike available from Rad Power Bikes. It features a slightly smaller motor than most of the other electric bikes from Rad Power (the RadMission only has a 500 watt rear hub motor – most of the other electric bikes have a 750 watt rear hub more).
However, the RadMission weighs less than 50 Pounds. That truly is incredible for an electric bike. However, the eBike had to make tradeoffs to get the weight down.
Besides the smaller motor, the RadMission also only has a single-speed drivetrain. That means you can't shift gears (although you do have pedal assist via a torque sensor) and going up hills might be tough.
Who the RadMission is perfect for
The perfect eBike for someone that needs a lightweight bike to carry up and down stairs/elevators, etc.
Perfect for the city with not a ton of hills or offroading.
Someone looking for a super casual, affordable electric bike with no frills.
Who the RadMission is NOT for
Anyone that wants to carry anything more than a backpack
Has to go up hills and varied terrain
This is a single-speed city bike designed for someone that lives in the city and needs a lightweight bike. That's about it.
RadMini
🤷🏼‍♂️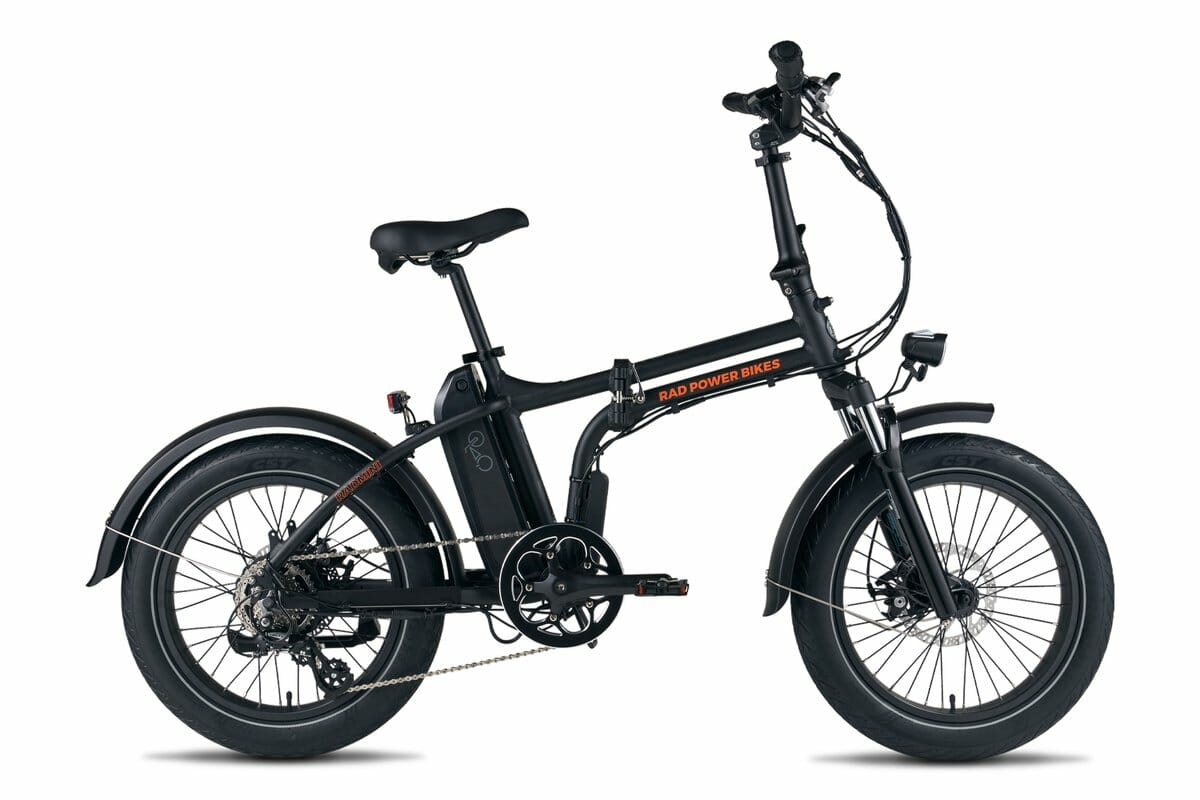 $1,499
Think RadRover meets foldable ebike.
Large (but not fat) tires
Front suspension fork.
This is the only eBike that I'm not sure who it is for. My only guess is it is for someone that wants to go offroading but can't put it on a hitch. It's still super heavy and not more portable, it just takes less space when folded up.
To be honest, this is the most confusing Raad Power Bike in the whole lineup. Honesty. It's just odd.
Sure, it's a foldable eBike – but it also weighs 67 pounds. That's pretty darn heavy. To make things even more confusing, there is also a RadMini Step Thru.
It does feature a 750 Watt Motor and the same 48V battery as some of the other, larger models.
Who the RadMini is perfect for
Someone that wants a fairly high-powered eBike but short on space (this could easily fit in the back of a large trunk or an SUV).
Looking for a RadRover "light" – this bike has large tires (but not fat tires), built in front and rear fenders and even a suspension fork for handling offroad.
Who the RadMini is NOT for
Anyone that can't lift almost 70 pounds
People that want to customize their bike
Folks that do not need a folding electric bike
The market for this one is pretty narrow, to be honest.
RadCity – Recently updated!
The Perfect Commuter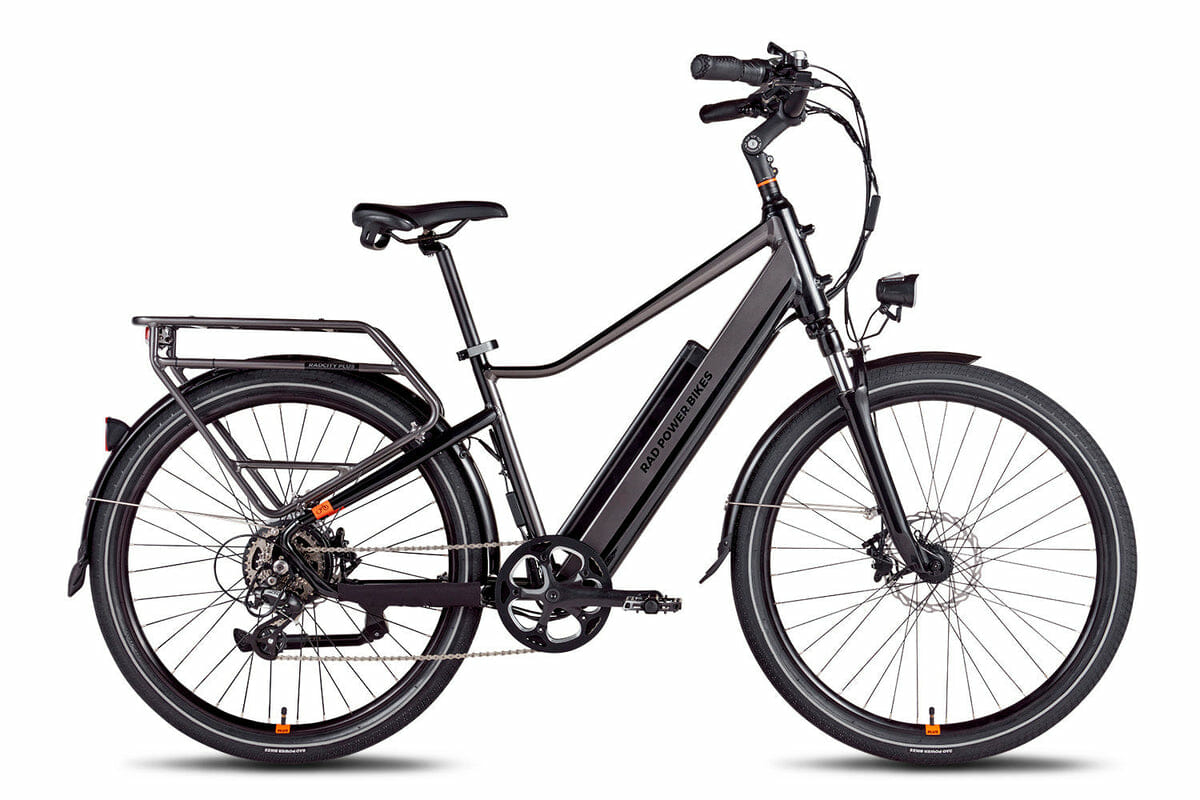 $1,999
A slimmer, lighter RadRover
Increased range

Perfect for longer-distance commuting
This Rad Power Bikes RadCity eBike is the perfect eBike for long-distance commuters. We're not talking a mile or two, we're talking 10-15 miles… each way. This eBike is one of the only to feature a direct-drive hub motor, that recharge your battery whenever you brake!
The RadCity is another interesting option for Rad Power Bikes. It looks more like a classic bicycle but has a 750-watt motor.
They've updated the Rad City 5 to get the RadRover Plus treatment: improved range, hydraulic disc brakes, the new Rad User Interface, and a more ergonomic design.
If you've ever been on any electric bicycles before, you know much you have to use the brake. This will extend your overall range with the folding electric bike.
This eBike also has a built-in rear rack.
To me, the RadCity Bike is a unique mix of the RadMission and RadRunner. It has the extra gears (7 Speed Drivetrain), extra horsepower (well, not technically horsepower – but extra motor power) but looks more like a proper bike than the RadRunner.
Who the RadCity is perfect for
This eBike is for the ultimate commuter. If you are a regular commuter, even longer distances (it does have a 45 miles plus range). It's handlebars are even designed to be more comfortable for longer rides.
If you are going to be traveling long distances in varied terrain, this would be perfect.
Who the RadCity is NOT for
This bike has a lot going for it – but if you don't need the extra features (extra gears, etc), you could save about $600 with the RadMission electric Bike
Check out this eBike if you are going to do a lot of commuting and need the extra power and gears to do it.
RadWagon 4
The Minivan of Ebike
$1,899
The most versatile Rad Power Bike for Gauling (people, pets, or just stuff) – a true electric Cargo Bike
Great for kids – can grow with your kids, too
Incredibly versatile built-in rear rack
Great for short trips or just to get your family outdoors
This is the minivan of eBikes because it can haul your kids around but you won't look like you're driving a Porce, by any stretch of the imagination. This bike is fun for the whole family and holds up to 2 kids and a whole lot more.
This is the most recent eBike we've tested. Read our full RadWagon 4 Review, the ultimate electro cargo bike.
This Cargo eBike is the minivan of eBikes – but in the best way possible. With Radwagon 4 you can carry everything from groceries and children with its cargo capacity of 350 pounds.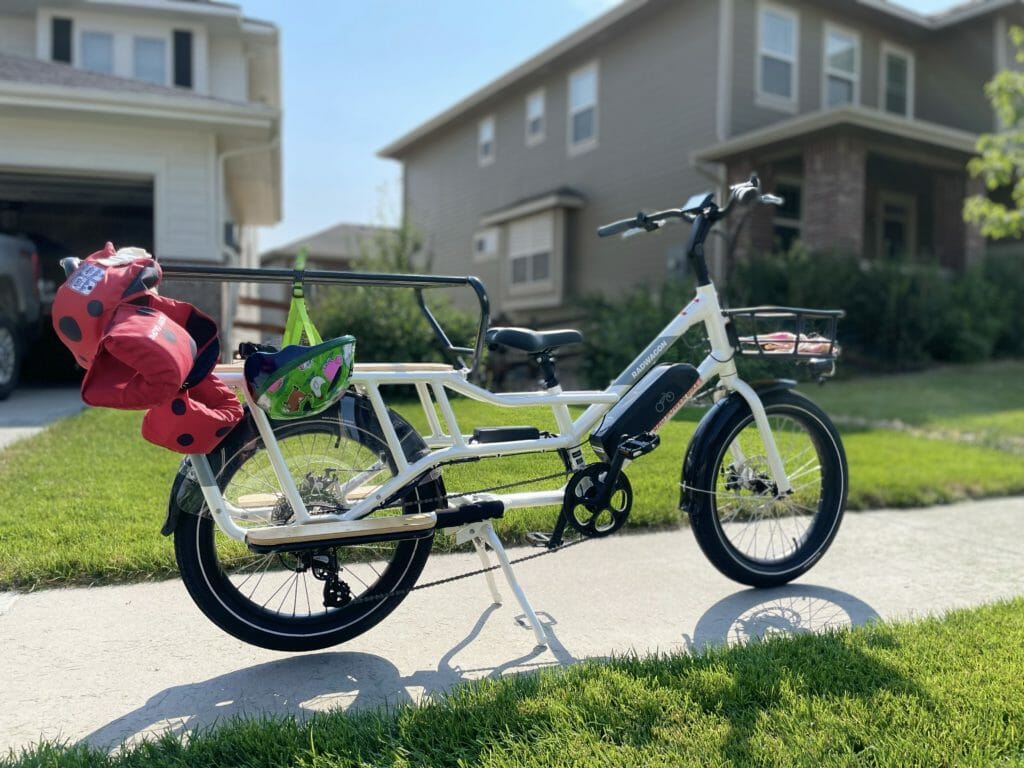 Let's face it, you don't buy a Minivan because it is the sexiest beast in the world. You buy it because it's practical.
A minivan has automatic doors and a built-in vacuum cleaner – not because you're going to win the next Tokyo Drift contest (although that would be a brilliant idea for a movie!), but because it makes your life easier.
Why being a minivan is OK
The RagWagon is what happens when you take a "normal" electric bike and add several inches to the frame, add a unique built-in rack and design it to haul (haul stuff, that is). The lower center of gravity gives it a unique look but also is what allows you to haul more!
There's no easy way to put this: the RadWagon definitely goes for function over form (it ain't the prettiest looking eBike). But that's OK.
Just like the Minivan, if you are even considering purchasing a RadWagon, it's because of the special features that it offers (like automatic doors and a built-in vacuum cleaner). You don't buy a minivan for it's looks. You a buy a minivan for what it can do for you: make your life easier.
The same is true with the RadWagon 4. It's designed to make your life easier (if you need to haul anything).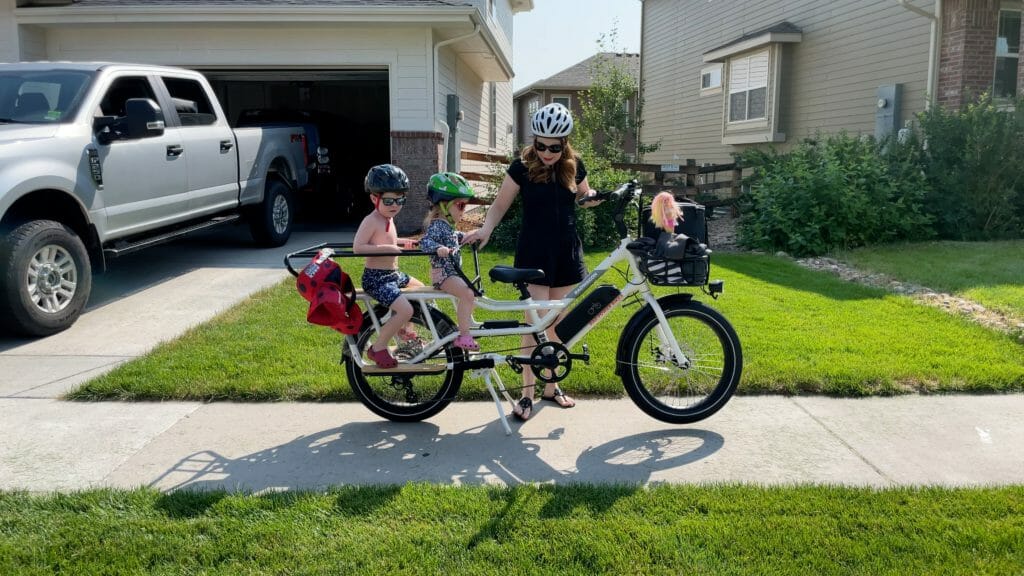 The RadWagon 4 is another bike that is continually upgraded. The newest version has more power and torque through the rear hub motor.
And you really need the upgraded torque to get going on this eBike. Starting from a cold stop is incredibly hard with kids moving on the back of the electric bike.
Who the RadWagon 4 is perfect for
If you have kids or stuff that you need to haul places.
Need a versatile eBike that can handle multiple kids (and even bike seats) AND grow with the kids as they get bigger (they tend to do that).
You want to take your kids places without taking the car.
Who the RadWagon is NOT for
If you are looking for the fastest or prettiest electric bike, pass on this one.
Also, if you don't have the need to haul anything there's really no point in getting one of these electric bikes.
You want to take this off roading.
My wife and I love this eBike for so many reasons: it makes the .2 mile trip the community pool way easier, the stable kickstand is basically magic and it allows us to get outdoors fast. No more strapping the kids into their car seats – just put them on the caboose (and put on their helmets) and off they go!
What this bike lacks in style, it makes up for in functionality – by a long shot!
How can Rad Power Bikes be so cheap?
I thought the same thing. If you go into REI, you'll see bikes that go for $4,000 – $9,000. Why is that?
As I mentioned earlier, many of the bikes on the market (even old school, non-electric bikes) use the same parts. There are only so many tire manufacturers (even fewer fat tire manufacturers), only a couple of companies that make mechanical DiSC brakes and almost all batteries are either Panasonic or Samsung Cells.
Rad Power Bikes even claims that many of their bikes have 10,000+ miles on them – that's a lot.
The Rad Power Bikes Chief Product Officer, Redwood Stephens, said in a recent interview with TechCrunch, that he speculates that the biggest differentiator between Rad Power and many other e-bike providers is the supply chain. Rad Power designs its bikes from the ground up, so it doesn't buy off-the-shelf products, like motors, displays, and batteries, from a company like Bosch."
Because they are direct to consumers, they also save a lot of money from mark-ups from wholesalers to distributors to retail.
Rad Power has manufacturing locations in China, Taiwan and Thailand that make all of the components for the bikes. The company also designs and sends the bike part at a large scale to help keep costs down.
Can I test ride a Rad Power Bike?
The best way to figure out if a Rad Power Bike is right for you (or even what Rad Power Bike is right for you) is to test drive one.
And to be 100% honest, there's only 1 eBike that we haven't enjoyed riding (and it wasn't a Rad Power Bike) – it's more about finding the right eBike that is right for how you are going to use it.
But there are a lot of options to test ride a Rad Power Bike, including having someone come to you!
The company has four retail stores (in Seattle, San Diego, Vancouver and Europe). Rad Power Bikes also has also set up a partner network with local bike shops that are certified to work on its bikes and even assemble them from the box at customers' homes.
They now even have mobile test rides, that's pretty cool!
Find out where you can test ride a Rad Power Bike here.
Which eBike Brand is better?
It's easy to draw some comparisons to other e-bike brands, so let's quickly do that.
Aventon vs Rad Power Power Bikes
Rad Power and Aventon have a very similar assortment of electric bikes. Aventon has some more unique designs, while Rad is clearly the front-runner when it comes to sheer number of bikes, support and overall marketshare.
Both have some very similar (the Aventon Aventure and the Rad Power Bikes RadRover 6 are very close in almost every specification). The Rad Power Bikes RadRover 6, for example, was just upgraded to the Hydraulic Disc Brakes (over the previous mechanical disc brakes) to match the Aventon Aventure.
I actually met a guy at a local park with an Aventure and he said the only reason he chose the Aventure of the RadRover was the brakes (this was 2 years ago, when only the RR 5 was available).
Rad Power Bikes also has a larger cargo bike, the RadWagon – and Aventon does not.
Honestly, you can't go wrong with Aventon e-bikes, its more of a personal preference. We had the chance to give you our honest Aventon Soltera eBike Review and really enjoyed it – for the right person.
Final Thoughts: Our Rad Power Bike Review
Rad Power Bikes is a true pioneer in electric bicycles.
They've created a wide variety of eBikes at an extremely affordable price because of their direct-to-consumer business model. Ranging from the RadRover 6 (extremely offroad capable) to the RadWagon 4 (the minivan of e-bikes), they have an eBike for you.
The only downside is: you may have to wait a little longer for your electric bike to arrive. But if you want a dependable, long-lasting eBike that will last and serve you well as time goes on – it's Rad Power Bikes!
We have no problem giving Rad Power Bikes the coveted We Tried It Seal Of Approval.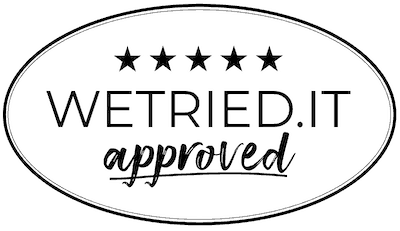 Do you have any questions or comments about our Rad Power Bikes Review? Let us know in the comments below.
Also, check out our XNITO Helmet Review.
Other Questions and FAQs about Rad Power Bikes
How fast do Rad Power Bikes go?
The electric motor on a Rad Power Bike only assists the rider when pedaling or using the throttle, and maxes out at 20 MPH. This means that you can pedal as fast or slow as you want while also getting a little help from the motor to reach your desired speeds. You can pedal faster – or simply use gravity to go faster, the motor just won't help you.
Are Rad Power Bikes any good?
Yes. Rad Power Bikes makes a great direct-to-consumer eBike that is a great blend of functionality, design, and affordability.
Are electric bikes a fad that will go away?
No, they are here to stay and will continue to improve.
Electric bicycles often have a range of 25 miles or more without recharging, which means up to 40 miles in the city. They produce no pollution and their quiet operation is extremely convenient for short trips such as zipping around errands or commuting from work. In many countries they offer the option of pedal-assisted cycling, so you can choose between riding electrically and pedaling traditionally.
The popularity of electric bikes has increased year by year because fewer people are buying cars – thanks largely to ever-increasing fuel costs, but also due to congestion issues in cities that make driving too difficult on a daily basis.
How did Rad Power Bikes Start?
The CEO of Rad Power Bikes, Mike Radenbaugh built his first ebike in 2007 as a way to get to high school and back, became totally obsessed, and founded Rad Power Bikes. 
Since then, they've been creating and improving their eBikes.
Which Rad power bike is best?
That's like saying, "Which Honda is the best?" The truth is it depends on your height and what you're going to use the eBike for. Their best-selling models are the RadRover Fat Tire Bike, The RadRunner and the RadWagon Cargo Bike.