Mizzen + Main Dress Shirt Review: The athleisure dress clothes line called "The World Best Damn Dress Shirt." Is Mizzen + Main Worth it? We tell you what to buy and what not to buy in our comprehensive review of Mizzen + Main dress shirts, polos, henleys pants and vests.
Mizzen + Main Review: Overview
Bottom line:
Incredibly comfortable dress shirts. Feels like lululemon but looks like standard dress clothes.
His Review:
I tried almost everything to avoid ironing clothes, this is it! No one has to know how comfortable it really is because it looks like a normal dress shirt.
Her Review:
I thought there was no idea this would actually be as good as advertised. But no dry-cleaning and no wrinkles is amazing!
Comfort
You will (almost) forget that you are wearing dress clothes. I've worn them all around New York City in the middle of summer and was as comfortable as could be!
Style
We only give Mizzen + Main 4.5 stars here simply because a lot of their styles have a ton of different patterns. We like things a little more simple. I think part of the reason why is because it helps keep wrinkles at bay.
Value
You may think that it's odd that we give a $100+ shirt a 5-Star Value, but think about this: how much do you spend on dry cleaning shirts? Even more interesting, how much time do you spend ironing? If you look at it that way, these close pay for themselves pretty quickly!
Mizzen + Main Review Video
We love Mizzen + Main so much, they are actually listed as our Best Dress Shirt in our Men's Best Clothing Guide.
What is Mizzen + Main?
Mizzen + Main is a new clothing brand. It's designed to look like business casual, but engineered to perform like athletic clothes.
The biggest benefit? 4 Way Stretch. The stretch on their clothes is incredible. What does that mean for you? Comfort and no wrinkles!
Mizzen + Main Review: What makes them different?
I've tried many different so-called "athleisure" brands before. Don't worry, I'll post my reviews soon.
Mizzen + Main prides themselves on four main areas:
Moisture Wicking (think Under Armour technology)
Machine Washable (no more dry cleaners!!!!)
Four Way Stretch (the best benefit)
Wrinkle Resistant (Heck, yes!)
Most athleisure brands say they don't look like sweats or Under Armour, but they do.
In fact, I first tried Mizzen + Main's Spinnaker Collection. 👎🏻
My first impression was good. As I took the dress shirts out of the bag, they felt almost rough. They didn't feel like a typical dress shirt (which I expected).
However, when I put it on, at first glance, everything appeared to be normal. Then, I moved to some natural lighting and my wife was horrified. She said, "What the heck are you wearing?! It looks like you are wearing a dress shirt made out of a workout shirt!?!"
Well, I was wearing a shirt out of workout material…
Luckily, Mizzen + Main has free shipping and returns. I returned those dress shirts. Pronto.
Now, I did end up becoming a fan of Mizzen + Main again (just like I did of Allbirds – read our full Allbirds review). Here's how…
How I became a Mizzen + Main superfan
I convinced my wife to give them a second chance.
When we got in the Mizzen + Main pop up shop, a friendly sales person asked us if we knew about the brand. We said, yes, but had a bad experience.
She quickly said, "Have you tried the Leeward Collection?"
I had no idea Mizzen + Main had different collections (or what even a collection meant) so I said "no." She showed me the Leeward collection.
Mizzen + Main Review: The Leeward Collection Dress Shirts are the best
The Leeward Dress shirt has become my new favorite dress shirt. I wear it all the time.
---
Why do we love Mizzen + Main?
Mizzen + Main is a great guy's clothing brand. If you're like me, you hate dress clothes. You'd rather be comfortable. Mizzen + Main allows you to be comfortable and look good at the same time.
They have a very quick and easy return/exchange process. The customer service is amazing, too.
They also have really expanded the styles they offer – now offering polos, shorts, pants, vests and even henley (more on that in a second).
Mizzen + Main Review: Do they really look like dress shirts?
The Leeward Collection looks almost identical to a dress shirt. I took some photos of my Leeward Gingham Shirt (the one that looks black and white below – the color is actually a dark blue) and a semi-Gingham Banana Republic Dress Shirt so you can see the differences.
Are Mizzen + Main shirts really wrinkle-free?
You can see in the animated GIF below that both shirts (Mizzen + Main Shirt and Pants on the left, Banana Republic Shirt and Pants on the right), both look like dress clothes.
That's pretty incredible! One small thing that you might notice: almost all of the Mizzen + Main Shirts have some sort of pattern on them. This does help "hide" the wrinkles, but you can't tell at all. I have a couple of their solid color shirts and they do look slightly more wrinkled than the pattern shirts – but nothing close to something like the Banana Republic Shirt.
Tips for buying Mizzen + Main Clothes
Mizzen + Main Shirts sizing can be a little inconsistent. When in doubt – order different sizes when they are in stock if you are on the border.
For lighter shirts, by the larger size. For example, a Small Trim Fit that is a light color looks terrible on me. But a Small Trim Fit in a darker color looks good.
You have to be fairly trim to wear the "trim fit."
Some of the lighter-colored shirts are slightly see-through. We're working with Customer Support to help identify what makes them more or less see-through. We'd stay away from the solid white shirts. All of the Checker shirts (like the one pictured above) is NOT see-through.
Machine Wash Cold and Hang Dry (full instructions on how to wash Mizzen + Main Clothes)
Once again, don't buy the Spinnaker line!
We weren't a fan of their polos or Henleys (they were made for someone in WAAY better shape than me).
We did like their pull-overs, jeans, flannels, and chinos.
Mizzen + Main Review of their other items
We've spent a lot of time reviewing other Mizzen + Main products. See our other reviews:
Mizzen + Main Vest Review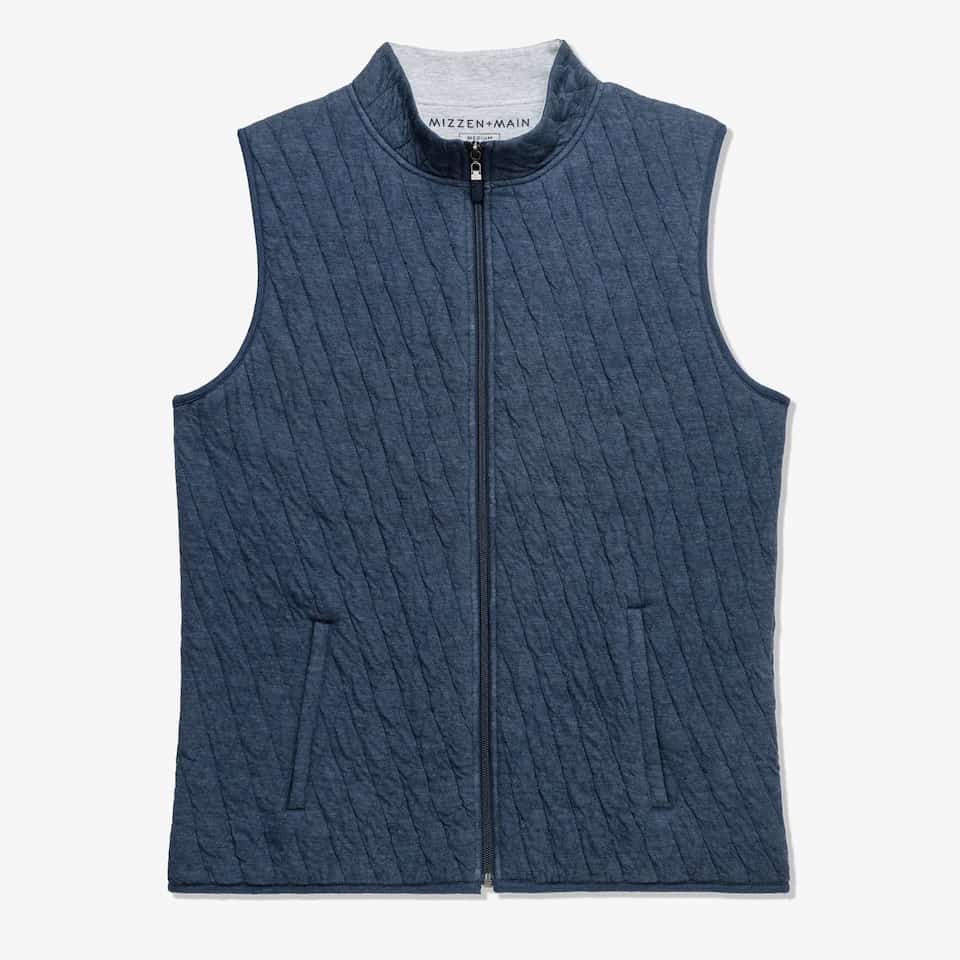 I used to hate vests. Did the Mizzen + Main Vest Change my mind? Read our Mizzen + Main Vest Review.
Mizzen + Main Pants Review
We've tried the previous generations of the Mizzen + Main Pants, even their short-lived Mizzen + Main Jeans. But are their newest pants, the Baron Chinos any good? Read our Mizzen + Main Pants Review.
Mizzen + Main Flannel Review
Another item I used to hate was flannels, but guess what? Mizzen + Main changed my mind there, too. Read our full Mizzen + Main Flannel Review.
Mizzen + Main Review: The Final Verdict
In short, we love Mizzen + Main. Even in today's work from home environment, I still wear Mizzen + Main Shirts in my office (however, I'm usually wearing shorts – check out our Best Work From Home Shorts). Their Polos are also super comfortable.
You can't go wrong with Mizzen + Main's clothes.
Do you have any questions or comments about our Mizzen and Main Review? Let us know in the comments below!