Pura Review: TL;DR
There's a reason Pura is our favorite smart home diffuser: it features the fragrances we love, alternating fragrances and programmable via an innovative smart phone app. All this means you know exactly what you are getting – something you can't say with other smart Diffusers.
Pura Review: We review the new smart diffuser you've probably seen over Instagram. Can it smell like your favorite candles? We dive deep into all of this and much more in our honest Pura Review!
Curious about how Pura stands up to Aera? Check out our honest Pura vs. Aera comparison.
Our #1 Smart Diffuser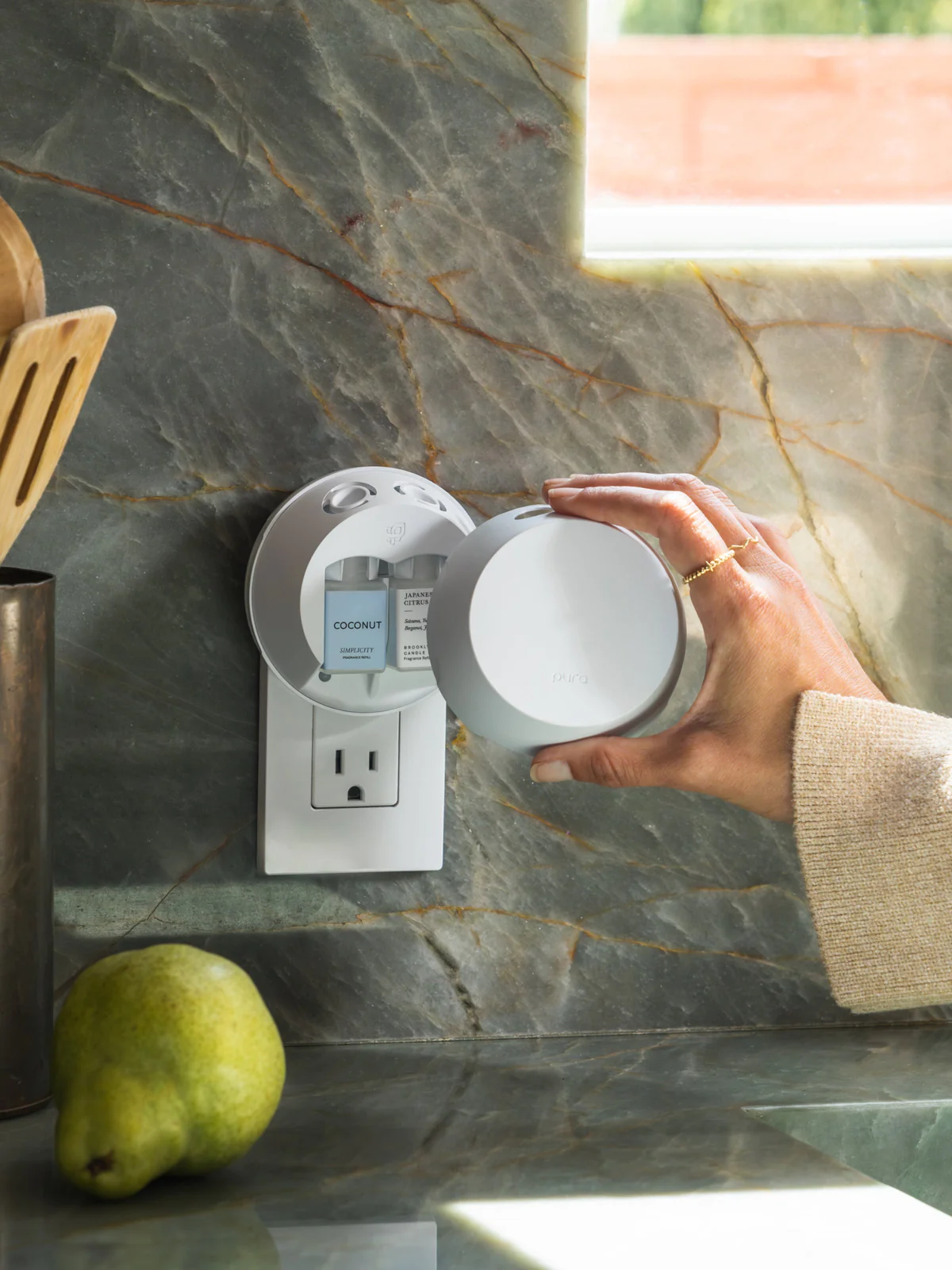 Pura Smart Diffuser
What's better than candles? Something that smells EXACTLY like a candle and is less expensive. We've found the world's best smart diffuser, Pura. Get Pura and enjoy scents you already know and love, like Capri Blue and many, many more.
Pros:
Many scents that you already know and love

Inexpensive device

Holds two scents - not just one

Programmable with your Smart Phone

Nightlight
Cons:
Limited coverage (but can always buy 2)

Diffuser is frequently out of stock
Buy Now
We might earn a commission if you make a purchase, at no additional cost to you.
Incredible Offer!
Exclusive Pura Promo Code
Want to save on the Pura Smart Diffuser? Use our exclusive promo code wetriedpromo to save 15% on your next Pura Purchase
Save Now
We might earn a commission if you make a purchase, at no additional cost to you.
Do you love candles?
Do you love candles, especially candles like Capri Blue Volcano but wish there was an easier, cheaper way to enjoy these candles?
| Product | Upfront Cost | Per Vial/Capsule Cost | Breakeven Point |
| --- | --- | --- | --- |
| Pura | $44 | $12 | After 4 vials |
| Expensive Candles | $0 | $30 | Never |
| Aera | $200 | $50 | After 5 capsules |
Do you ever come across a product and you're just like, man, why have I not heard about this before? Well, that's exactly what Pura is.
Pura Review: What is it?
We first did our review with the Pura 3 (we didn't know there was even a Pura 1 or 2). Here's our review of the Pura 3:
Pura 4 Review: The Diferences
In our Pura 4 Review, we talked about all the new changes and differences between the Pura 4 and Pura 3.
So, which smart diffuser is the best? We debate the Pura 3 vs. Pura 4. We discuss a lot you won't see in other Pura diffuser reviews
Pura is a smart diffuser that allows you to put two scents (from brands you know) and will enable you to control the Pura Device from your phone with the Pura App (or just set it and forget it).
We've discussed smart diffusers before (see our Aera Review, Aera Mini Review, and Aera Promo Code) and love the concept. A smart diffuser is a smart home fragrance machine that replaces candles (we love our candles!) in a set-it-and-forget-it way.
Why get rid of a candle?
First of all – no flame. How many times have you left the house and came home horrified that you left the candle burning? That doesn't happen with Pura!
Pura even can use your phone to determine your location and automatically turn off when you aren't home.
Candles are also really expensive – a Capri Blue Candle can easily cost over $30!
Pura vs. Aera: Which is better?
The main difference between Pura and Aera is the price. Using our Pura Promo Code, you can get started with two scents for about $50 bucks. It costs about $200 to get started with Aera.
We found Aera first, and it was our first foray into smart home diffusers. Here is the most significant difference between Aera and Pura. If you want to dive deep into the differences, we wrote a full review on Aera vs. Pura.
Pura vs. Aera: The Price
The biggest difference is the price! Aera costs $200 for the smart version. Pura costs only $39 (and you can save more with our Pura Promo Code).
The fragrances are also cheaper with Pura. Pura's fragrances are $12-$18 apiece vs. Aera's $50 for each pod. The Aera Diffuser does last longer, but it's more expensive.
Pura vs. Aera: The scents
This isn't something we thought about when we first bought Aera, but it's tough to know what something smells like online – what does "Optimism" smell like? Aera has some great fragrances, but it's tough to know if you will like them.
This is where Pura shines: you can get the scents you already know and love! Not only is there Capri Blue but Scents by Nest and Apotheke. That is amazing!
Pura: What else can it do?
Besides being simply a great air freshener, it does a lot more than the hanging tree fragrance in your car.
Another cool feature is that Pura takes two vials of fragrance – so you can have the scents alternate. We currently have our Pura Smart Diffuser alternating between Grapefruit (NEST) Scent and Capri Blue Volcano Scent.
The Pura can also serve as a nightlight. You can customize the color of the light and have it on all the time, or just at night.
It's also nice that the Pura simply sit inside of 1 plug, leaving the other plug 100% free. No cords, no mess.
The design is incredibly simple and looks great in any home.
How long do the scents last?
One common question that arises when considering a Pura Smart Diffuser is, "how long do Pura scents last?" Depending on the fragrance, each vial should last for approximately 120 hours or 15 full days on a medium scent intensity. That's pretty incredible. I currently have a Pura in my office and runs for about 10 hours a day at the highest scent intensity.
A new feature that Pura introduced is the ability to know when your fragrance is running low. Since they introduced the feature, they recently updated the information to give you even more details around how much is left in each fragrance. Pretty cool.
Pura encourages you to purchase a subscription to save money on each fragrance. We take advantage of our subscription AND also use our Pura Promo Code to save more on the device and to also subscribe.
Don't worry, the subscription is easy to change if you don't need the scents (they send you instructions in a helpful email several days before) and you can skip or reschedule the subscription very easily.
This is an update from our original review of Pura.
They recently updated the ability to see how many hours are remaining for each scent (they do tend to go at different levels), so this update is incredible helpful.
To put that into comparison, the Capri Blue Volcano Candle (original size) only lasts 85 hours! That's a huge difference.
Does Pura really smell like the candles?
YES! It actually does. Of course, you won't get the crackle of the fire like a candle but you will get the scent.
It doesn't even smell like a knock-off scent, the Capri Blue Volcano scent smells exactly like the candle!
It also travels through the house incredibly well. We even smell the candle on our second floor when it's been running.
What about the Scents?
We love many of the scents from Pura. Check out our full guide to the Best Pura Scents for more.
We love, obviously, the Capri Blue Volcano – but also love Fraiser Fir as a good compliment. It's always a good idea to switch between something citrus and something that's not citrus, for example.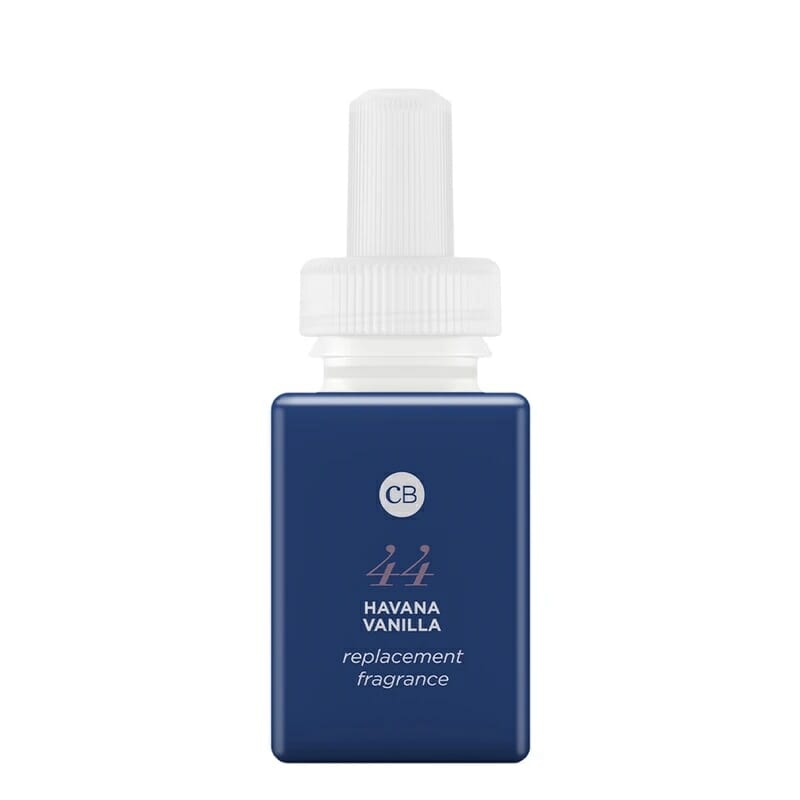 Another good one to alternate Capri Blue Volcano with is Capri Blue Havana Vanilla.
We also like a lot of the new Tommy Bahama fragrances. Maui Mango and the seasonal Evergreen scent are simply amazing!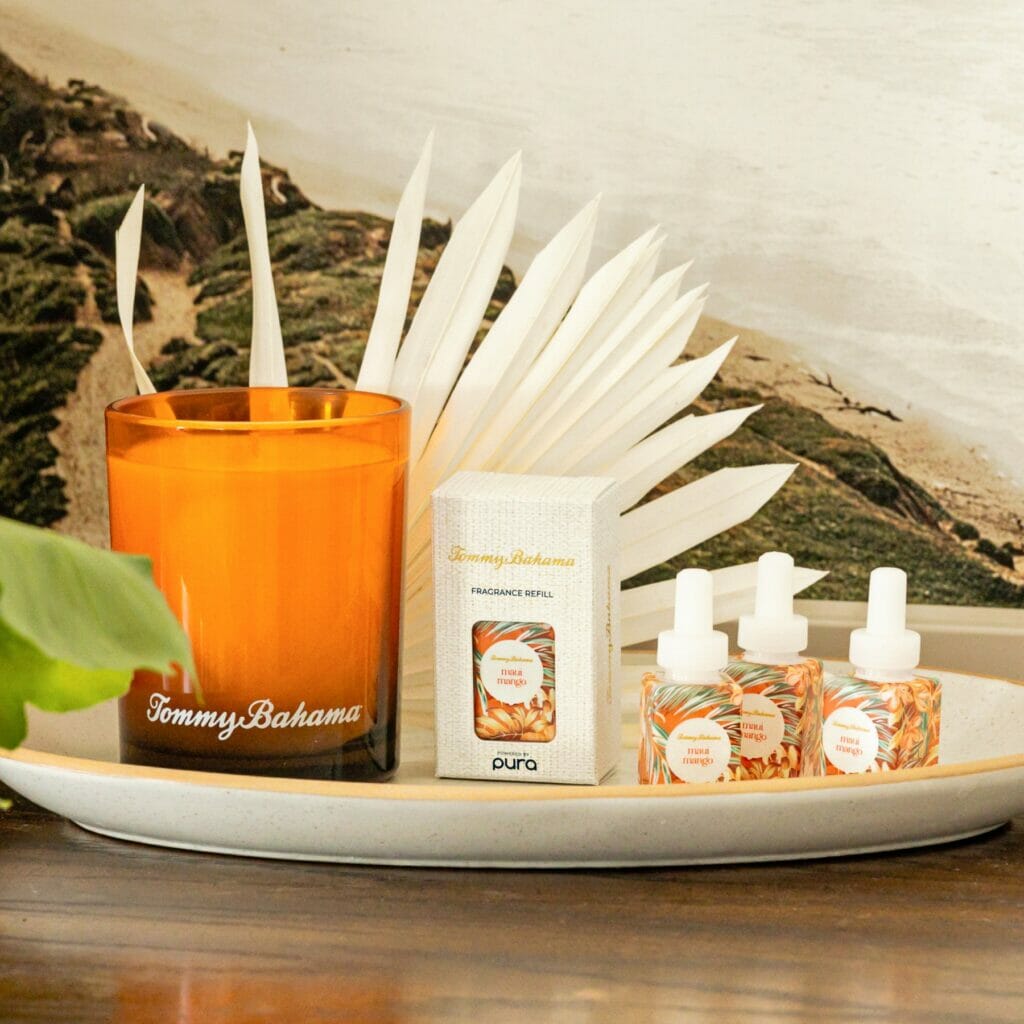 Do you need a smart home to run Pura?
We have a fully smart home, but we just use the simple scheduling features. You do not need a smart home to use Pura.
While it's a smart device, it is clear it doesn't need anything else to work except for wifi and a smartphone to set up the app and diffuser.
Pura: Constantly Evolving
Another great thing that Pura is doing is they are constantly coming out with new collaborations (collabs as the cool kids say).
Pura has also introduced more collaborations with Disney, like this Mickey and Friends collaboration. This gift set includes the device and two fragrances.
Pura Review: what we don't love
Pura has greatly improved their shipping and scheduling ability since we first wrote our original review, don't get us wrong. However, it's still not perfect.
We have one small gripe about the Pura Diffuser: the scheduling setup to set up both fragrances.
It'd be nice to be able to say: we want the scent scheduled to run from 7 am to 8 pm and alternate every hour, for example.
But you have to go and set up each "block" separately. It's a bit tedious, but you can get the fragrance EXACTLY the way you want it, which is pretty cool.
The one thing that is stopping this from being one of the most glowing reviews possible. They've improved the scheduling to be more intuitive for sure – but nothing's perfect.
Coverage: a slight complaint
It is true: the Aera does cover more square footage than Pura – for one main reason: Aera has a fan (that you can actually hear when it's running) that pushes the fragrance out in the air in your house.
It does spread the scent out farther than Pura, but Aera only offers one scent at a time. If you run the same scent all the time, your nose will get used to it and you won't smell it much longer.
While Pura doesn't cover as many square feet, you may still notice it more because of the changing smells, especially if you pair the diffuser with two different scents that are contrasting.
This is perfect for a room (we have several through our house in different rooms), but if you are looking for 1 product to fill your home with great-smelling air – you may need to look at something like Aera or even something like Aroma360 (read our Aroma360 Review) that integrates into your HVAC system,
Putting an Aroma360 unit like this is what something like a car dealership does to make sure the air is always smelling wonderful! But at almost $1,000, you could sure buy many diffusers!
How Does Pura Work?
The Pura diffuser works by using specially designed scent vials that are inserted into the device. These vials contain concentrated fragrance oils. Once the vial is inserted, the Pura device heats the oil to a specific temperature, turning it into a vapor. This vapor is then dispersed into the air, filling your room with the chosen fragrance.
You can control the intensity and schedule of the scent release through the Pura app on your smartphone. The app also allows you to alternate between two different scents if your device has dual vial slots, which helps to prevent olfactory fatigue—basically, your nose getting used to a scent and not noticing it anymore.
So, in a nutshell, the Pura diffuser takes a vial of concentrated scent, heats it up, and disperses the aroma into your space, all while giving you complete control through its smart app.
Pura Review: The Final Verdict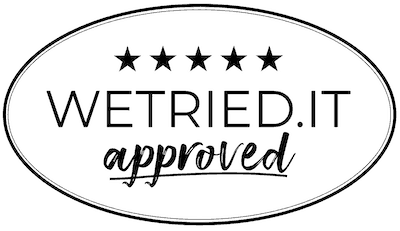 We don't say this lightly: the Pura Smart Diffuser is one of our favorite products we've test since starting this website. We don't hesitate to give this the We Tried It Seal of Approval. It's innovative, easy to use and inexpensive.
Our #1 Smart Diffuser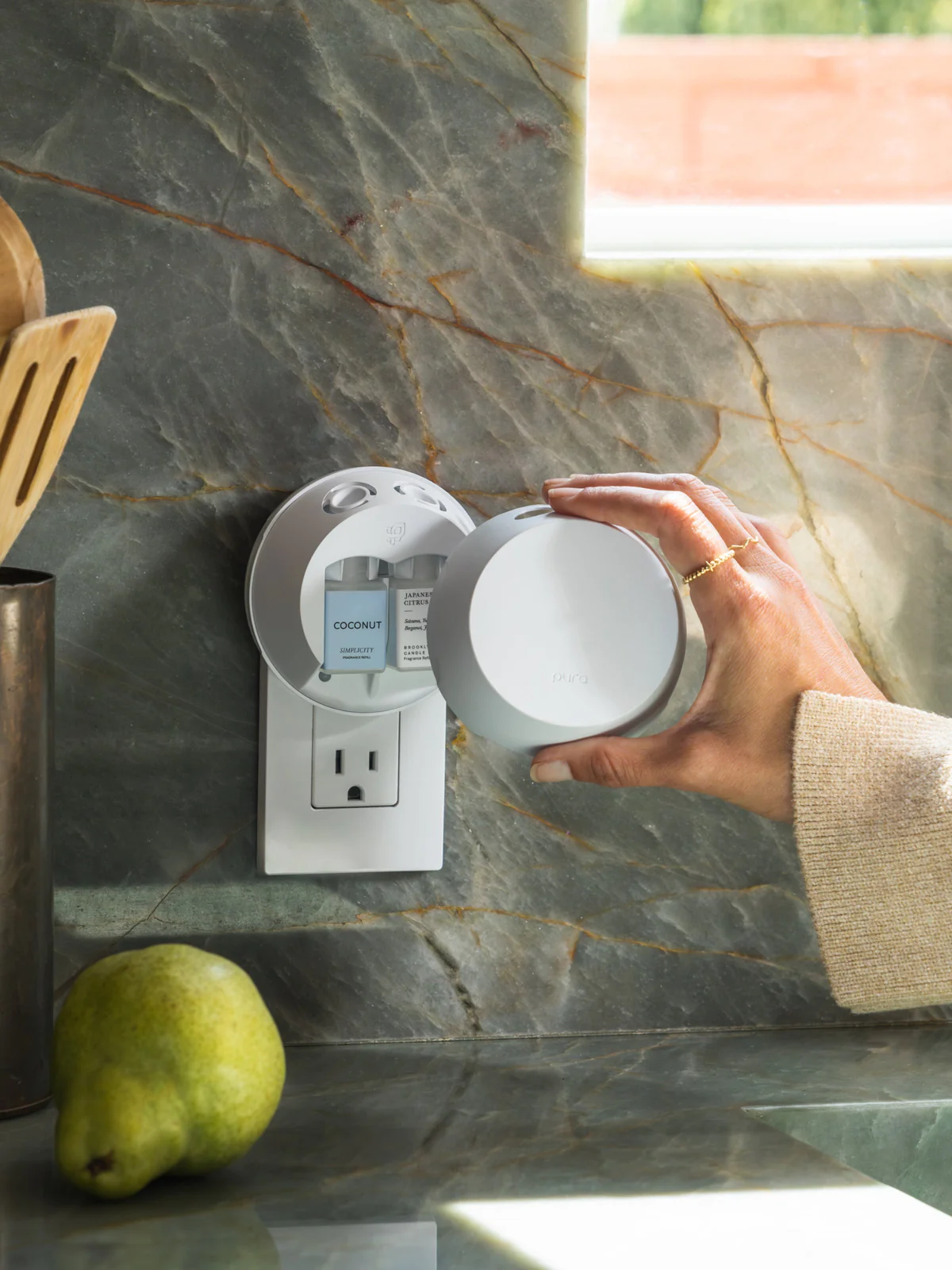 Pura Smart Diffuser
What's better than candles? Something that smells EXACTLY like a candle and is less expensive. We've found the world's best smart diffuser, Pura. Get Pura and enjoy scents you already know and love, like Capri Blue and many, many more.
Pros:
Many scents that you already know and love

Inexpensive device

Holds two scents - not just one

Programmable with your Smart Phone

Nightlight
Cons:
Limited coverage (but can always buy 2)

Diffuser is frequently out of stock
Buy Now
We might earn a commission if you make a purchase, at no additional cost to you.
It's best of candles paired with the convience and safety of a smart diffuser. We don't hesitate you buy the Pura Smart Diffuser now.
Pura is getting very popular, in fact, they've had shortages of product. Check the availability of Pura now and get our exclusive Pura Promo Code. Also, be sure to check out the Best Pura Scents.
How long does a Pura scents last?
A typical Pura Scent lasts about 350 hours or about 15 days (non-stop) depending on intensity level, the actual fragrance, and your climate. We've found that this estimate is fairly accurate and most of our Pura Scents last about a month when using the scheduling feature via the app.
When do you replace Pura Scents?
In a recent update to the Pura Smartphone (iOS + Android), the app displays High/Medium/Low Fragrance remaining.
The HIGH oil level is based on 101+ hours remaining
The MEDIUM oil level is based on 51-100 hours remaining
The LOW oil level is based on 0-50 hours remaining
Why can't I smell my Pura?
There are many reasons why you can't smell your Pura. But a couple of common reasons include:
1. There is something wrong with you Pura (reach out to support – they are super nice!)
2. The scent you selected isn't strong enough (Pura's Website lists fragrances as Subtle, Medium, Strong). Subtle fragrances are good for 300 square feet, while Strong are good for 1,00+ square feet.
3. You aren't using different scents (or different enough scents) in each slot. We've found if the scents are too similar (two citrus scents, for example), it will be tough for your nose to smell the difference when it changes. If you use the same scent, you will get used to it.
How much space does a Pura Scent fill?
In our mostly-open floor plan, we find that Pura fills about 1,000 square feet. The answer depends on many things – the scent, the airflow, and how the space is laid out.
Can you use two different scents in the Pura Diffuser?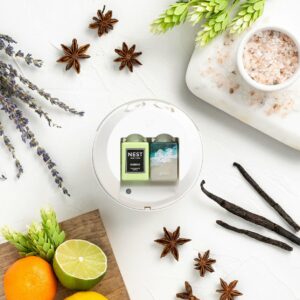 Yes! It's really easy to. Simply put different scents in each slot of your Pura Smart Diffuser.
Can you put the same scent in both Pura slots?
Yes. However we don't recommend it. You'll notice the scent more when you change (swap) between two different scents – like Capri Blue Volcano and Frasier Fir, for example.
The 12 Reasons we Love This Pura Diffuser
The smells are perfect
They offer a wide variety of scents
They offer new brands and brands you already know in love
You can easily adjust fragrance intensity
The LED Ambient Nightlight is a great touch!
Many fruity scents available
More affordable than having a candle running the whole time.
Pet Friendly!
Looks great and fits our overall vibe
Easy to use
Easy to set up
We love having control of 2 different scents
What don't we love? We just wish it "pushed" the scents a bit more to spread it around.