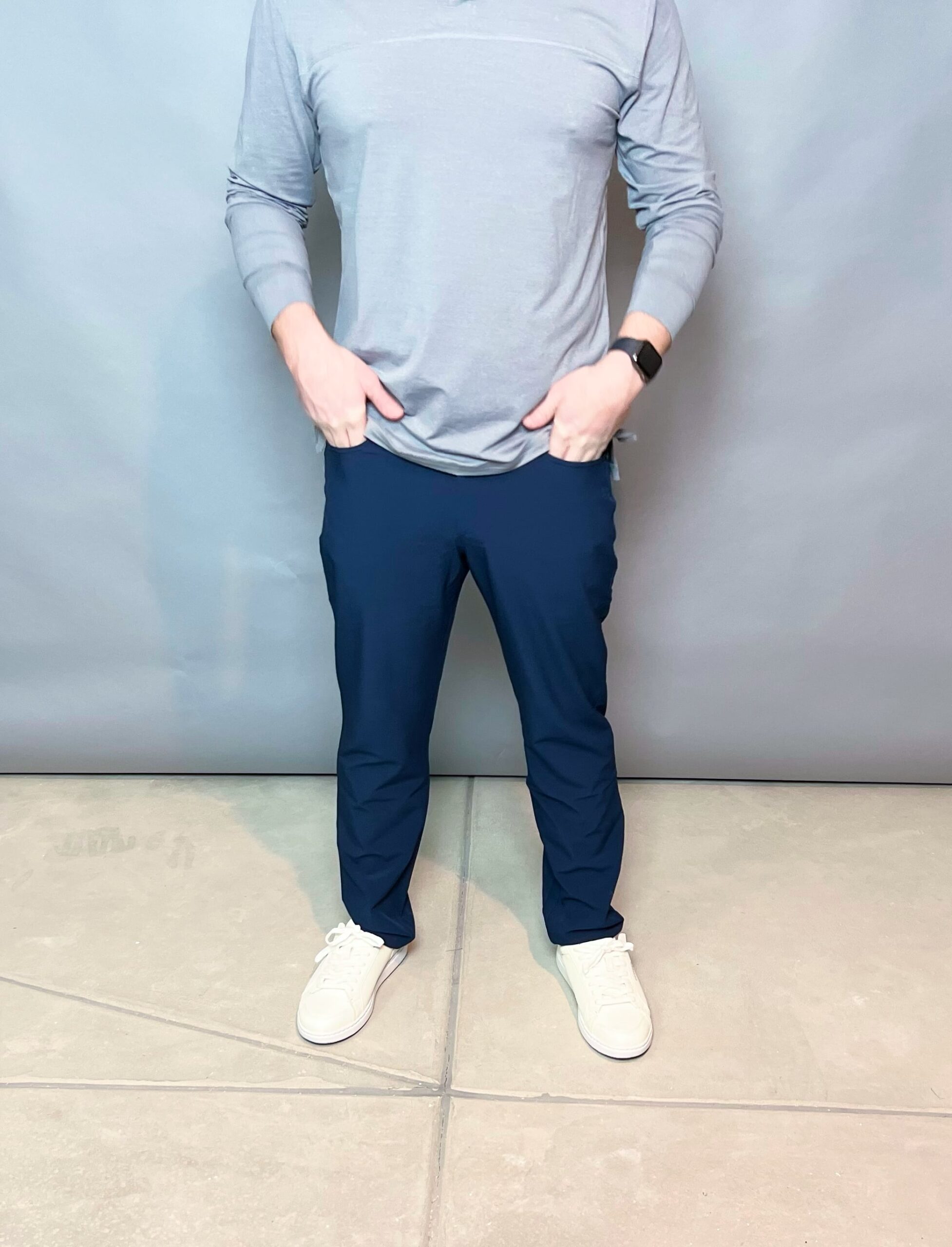 We're huge fans of the Public Rec All Day Every Day Pants – but how do their Workday Pants compare? Keep reading our honest Public Rec Workday Pants Review to find out more!
What are the Public Rec Workday Pants?
Super Lightweight Pants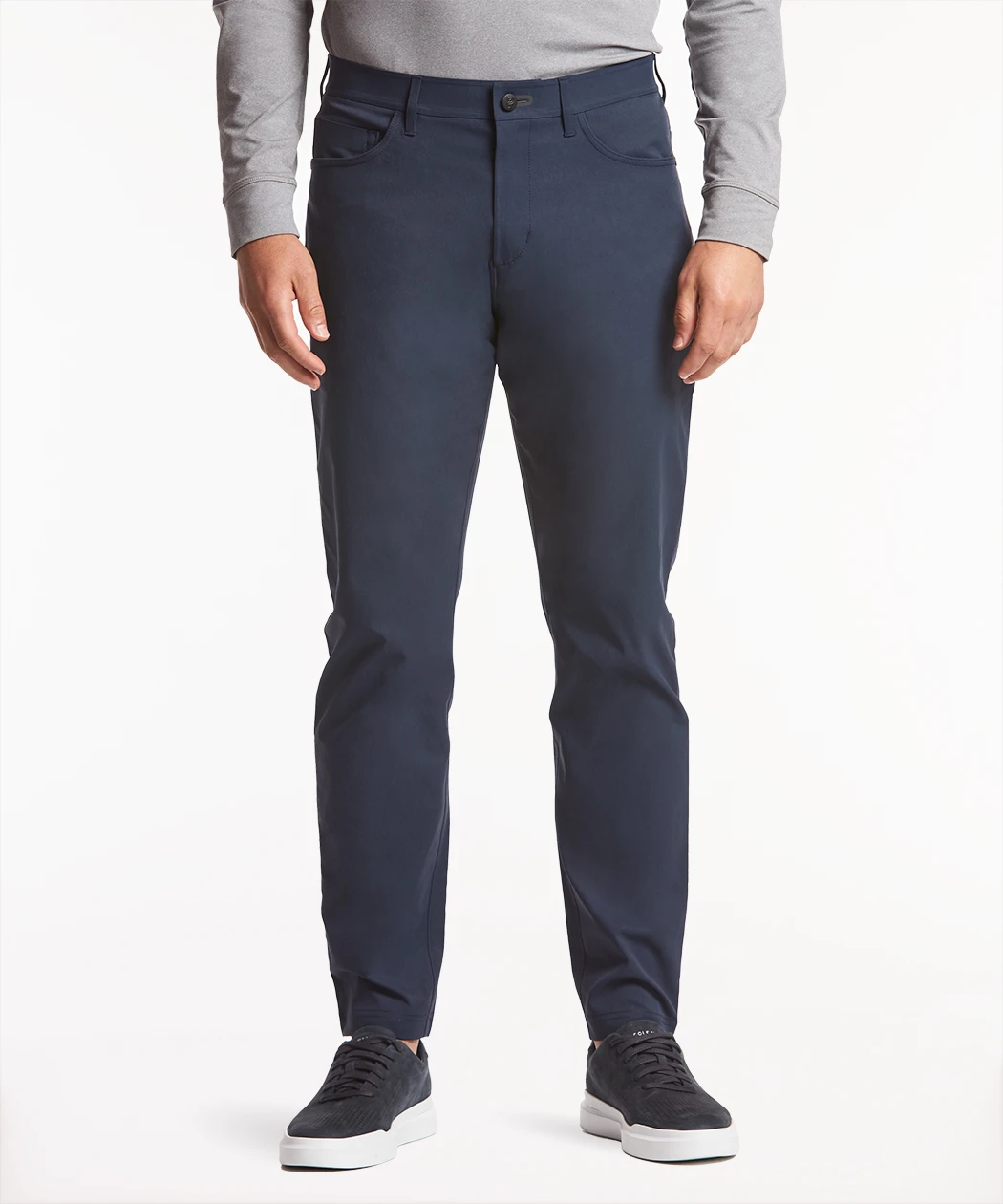 Meet the Workday Pants
The lightest pants we've tested
Super lightweight and good enough for the golf course – but how do they compare to others? Keep reading to find out!
The Workday Pants are 100% Polyester – making them more durable and comfortable than the original All Day Every Day Pants.
They're also water and wind-resistant, making them perfect for year-round use.
The Public Rec Workday Pant retails for $128 – which is a bit steep, but may be worth it for the features they offer.
About Public Rec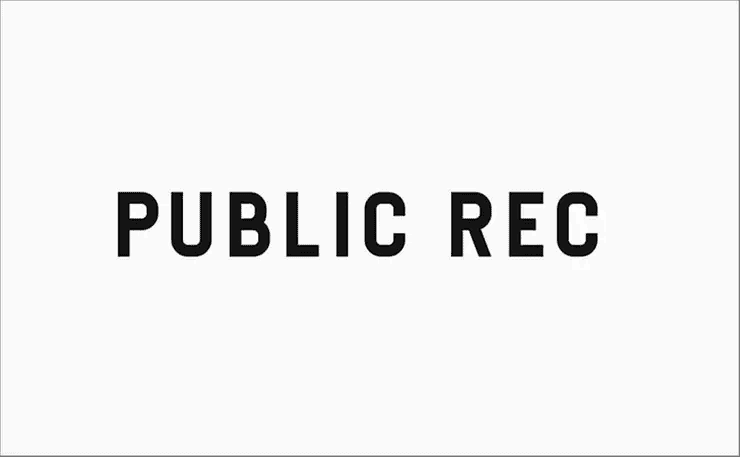 Public Rec set the world on fire with their All Day Every Day Pant Review, which we purchased 4+ years ago. Read our full Public Rec ADED Review.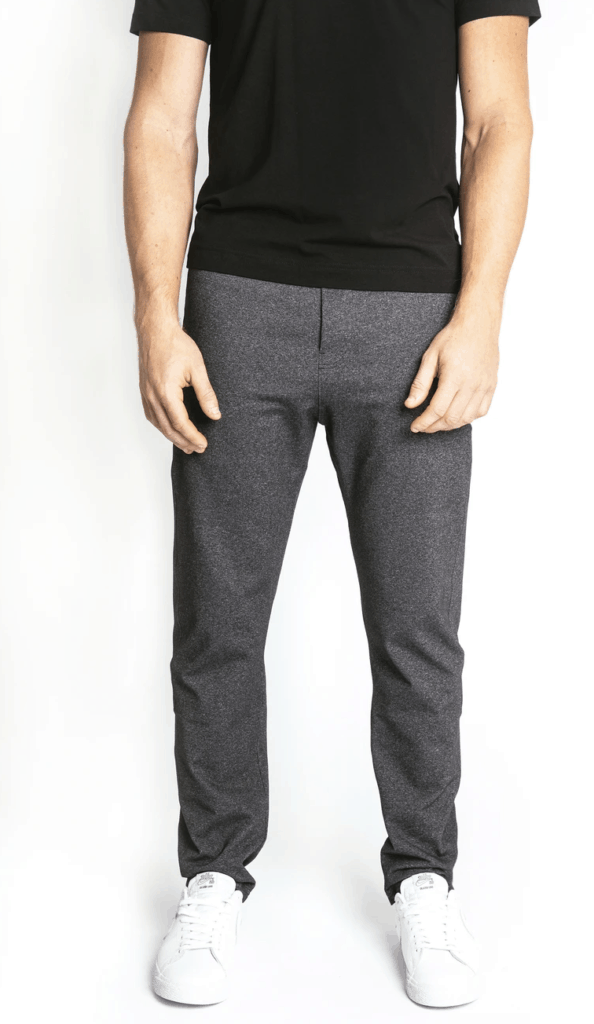 Since then, they've expanded their men's and women's products into differents pants and now Public Rec Clothes are available for men and women. Not just pants- but they now also have shirts, bags, and hats.
This athleisure brand is unique – they've got a mix of clothes for men and women that are extremely comfortable.
Check out other ABC Pant Alternatives.
What does Public Rec Apparel Workday Pants: The Claims
A stretchy, 5-pocket pant is featuring more durable fabric and a roomier fit in the seat and thighs. Designed to bring undercover comfort to formal occasions.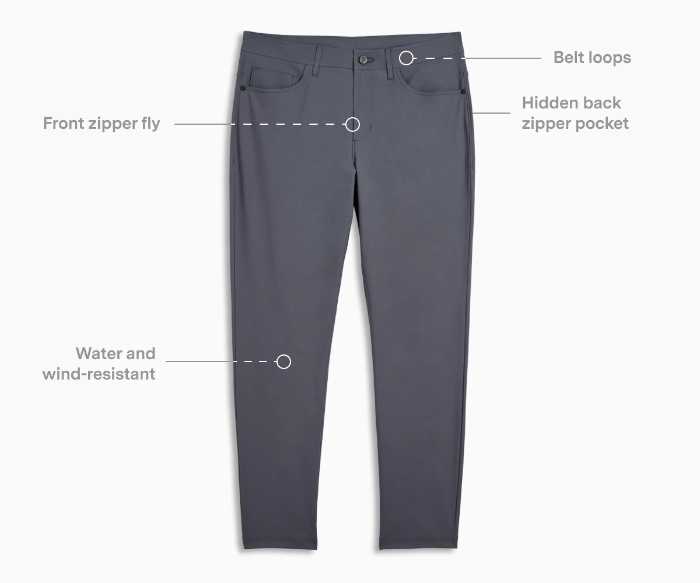 The pants have a zippered back pocket, belt loops and front zipper fly. It has a modern fit – not too baggy, not too skinny – almost a tailored fit.
Workday Pants 2.0 vs. Workday Pants 1.0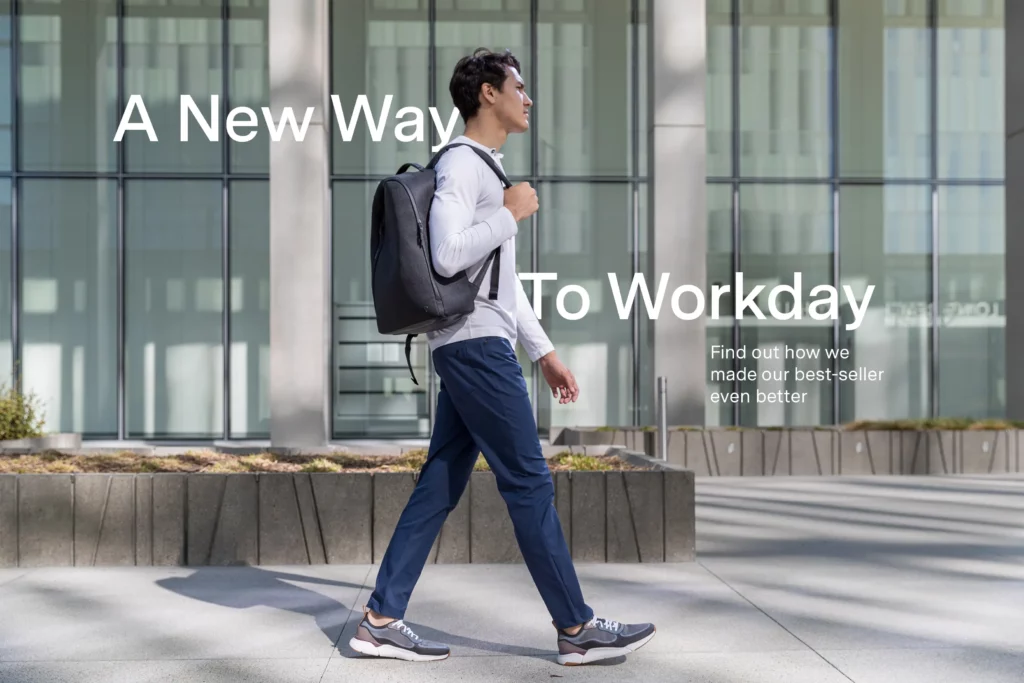 Public Rec updated their original Workday pants to the 2.0 version. They updated a couple of key features:
Updated the fabric to 100% polyester for more durability
Created a 28″ inseam for guys with shorter legs
Added room in the seat and thighs for added comfort and flexibility.
Public Rec Workday Pants Review: The Look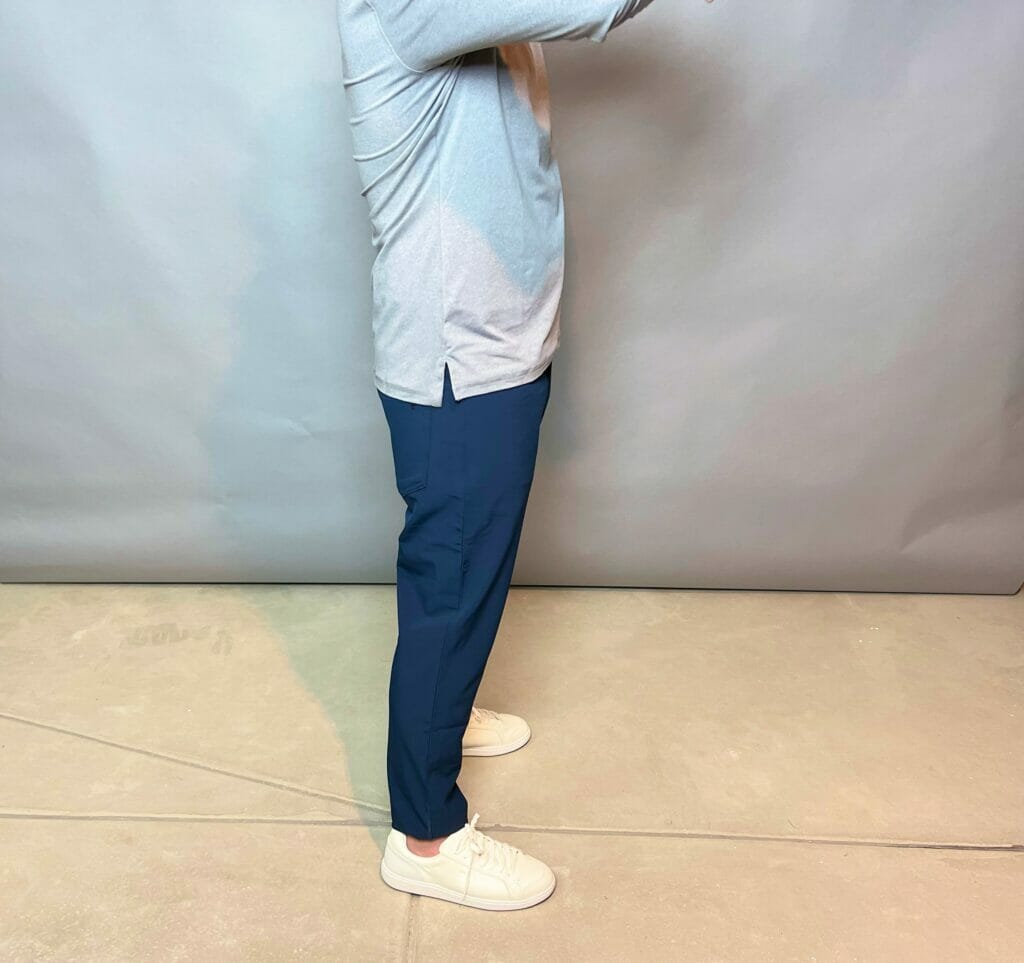 I was expecting these pants to be made of the same material as the All Day Every Day Pants, but they are not – and that's OK.
These pants are 100% Polyester. Polyester these days come in many different forms. Public Rec uses a polyester that has been altered to be more comfortable and durable.
The best way to describe these pants is a lightweight version of ABC Pants. ABC Pants are a lot thicker, which is fine. But sometimes, you don't want your pants to be thick.
The pants come in several colors: black, navy, slate, fog and sand.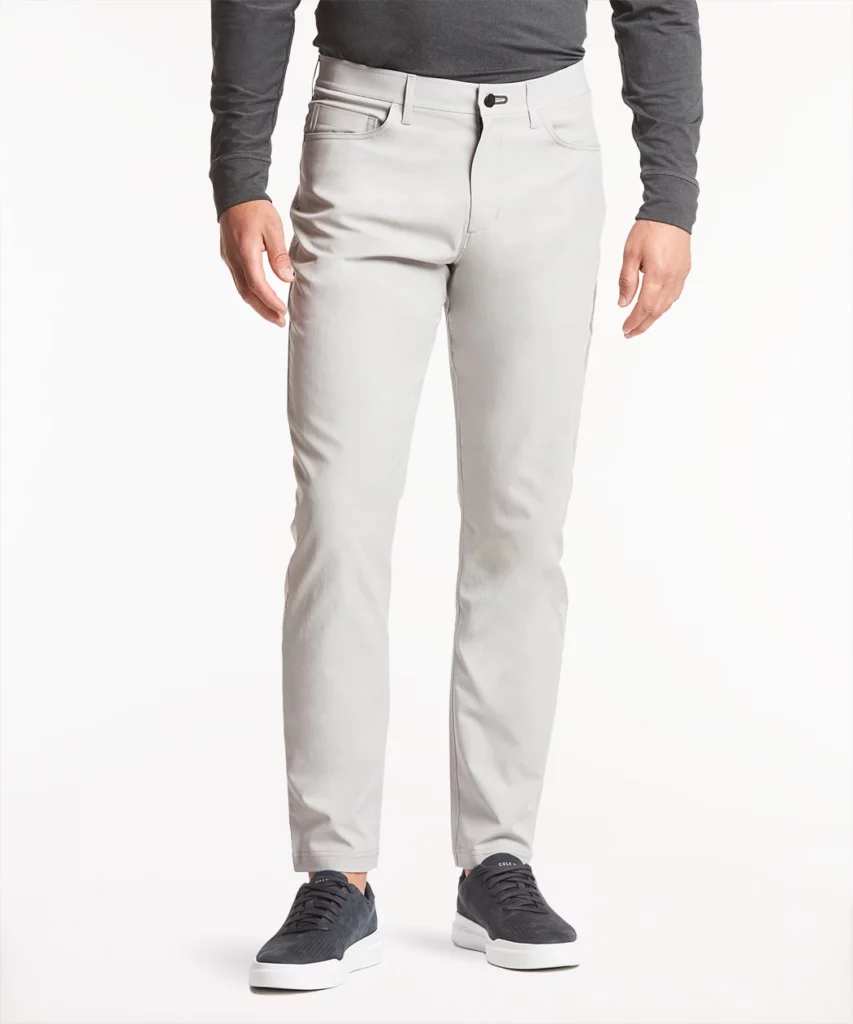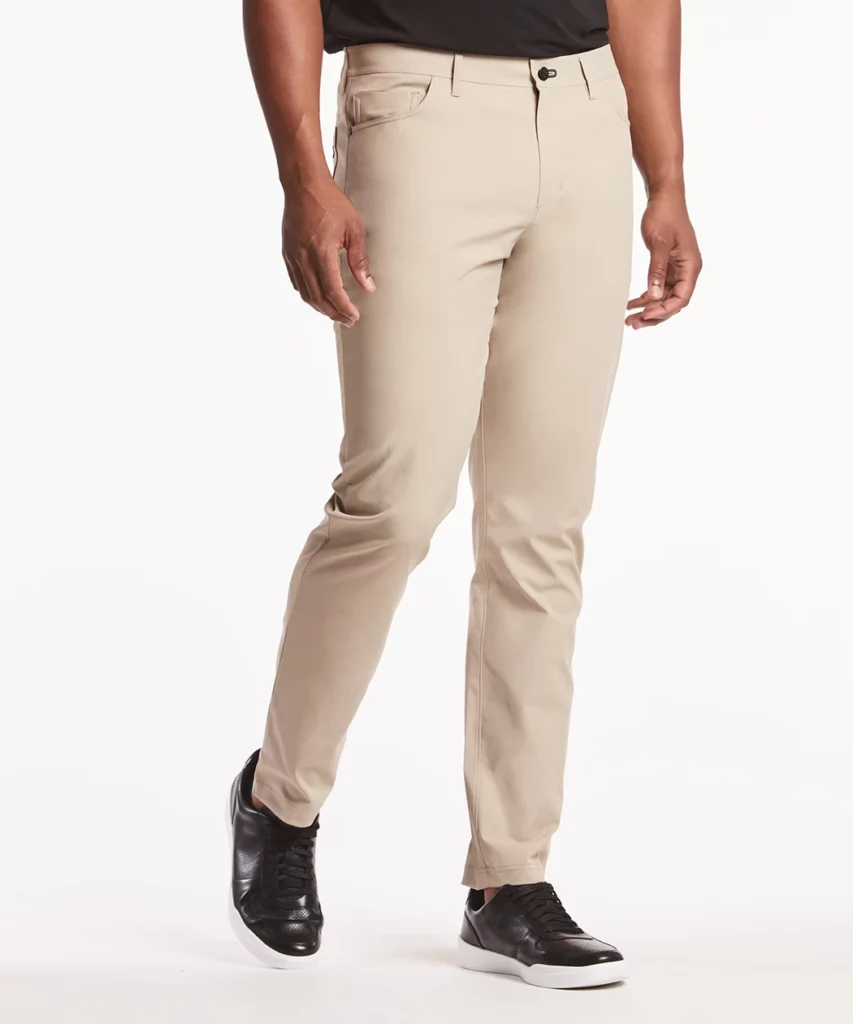 The pants are lighter weight than I expected, much lighter than even denim jeans.
I do run hot all the time, so I like pants that are pretty lightweight (I would hate some of the new Merino Wool-lined pants I've seen recently). In fact, when I'm at home, I wear shorts on Zoom calls all day.
These pants look the most like ABC Pants or even Myles Tour Pants. They don't look as much like slacks as those brands. They look a little more "smooth" than Myles Your Pants or ABC Pants. Here's a close-up of the fabric.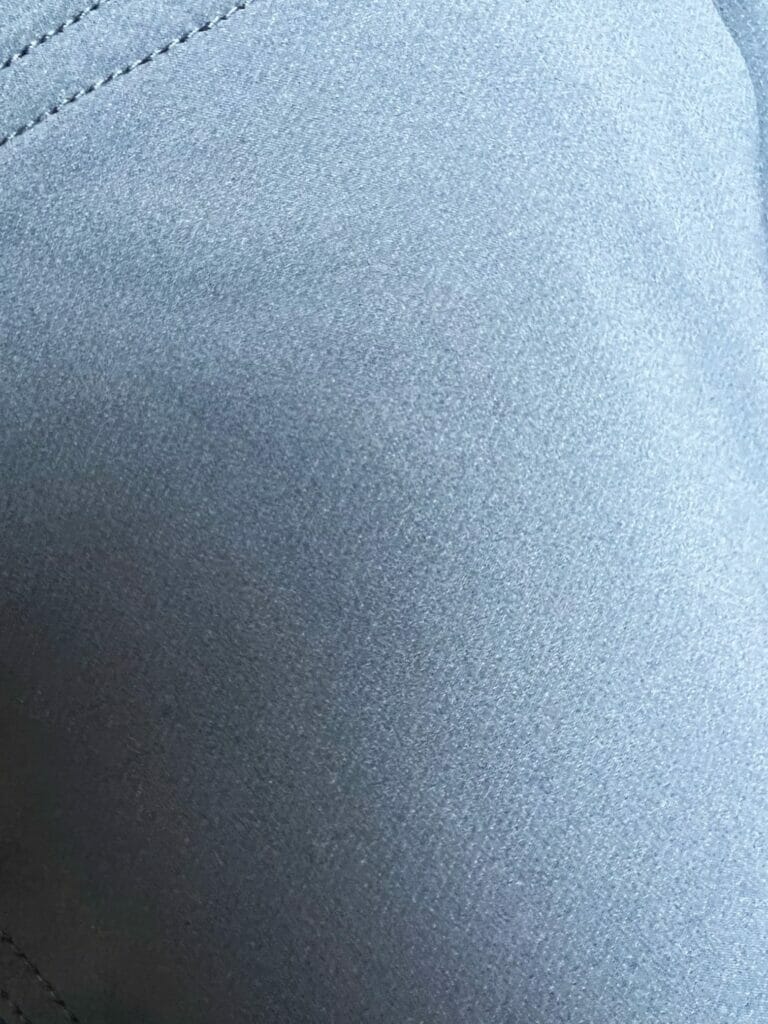 Up close, the fabric almost looks like nylon – but the good news is that it doesn't look like nylon (Nylon is what the cringe-worthy convertible cargo pants/shorts are made of that you can hear coming from a mile away).
What are the Public Rec Workday Pants like to wear?
We've been testing out a pair of Public Rec Workday Pants for the past few weeks, and we have to say – we're impressed!
At first, I thought the pants were way too lightweight, but I did find them incredibly comfortable.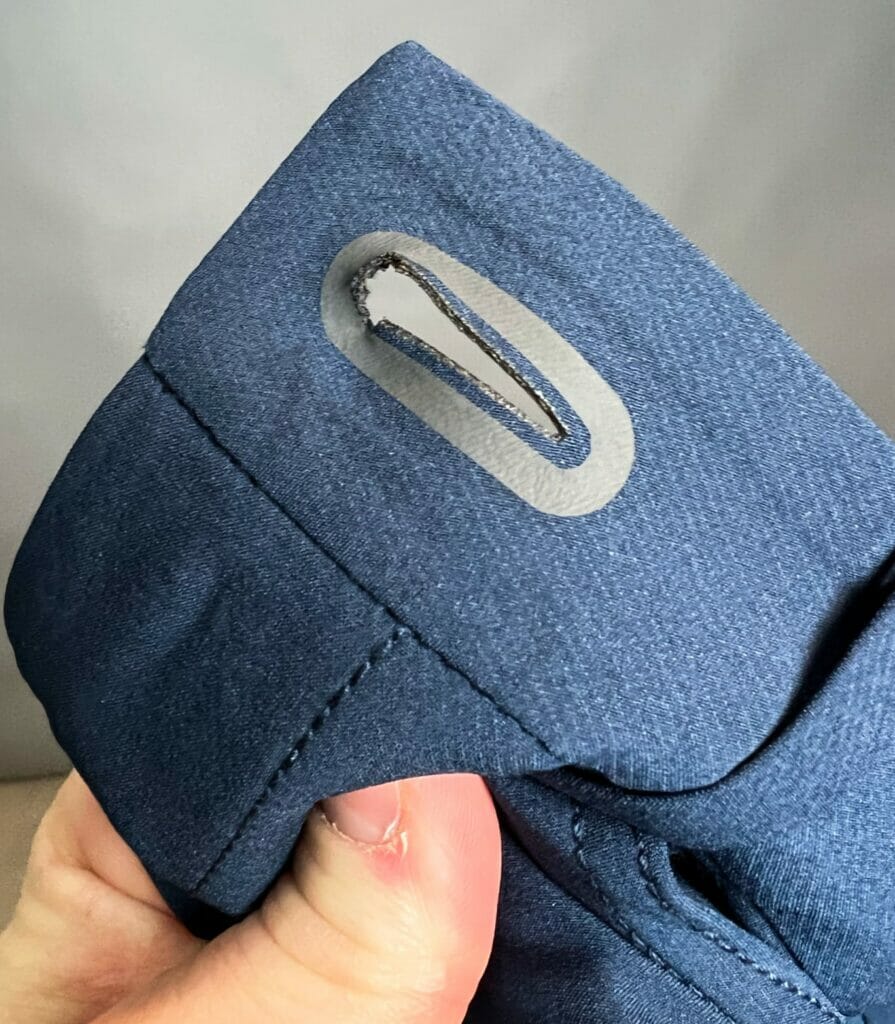 They have a good amount of stretch, even for this style of pants. I typically think that lightweight pants are going to be breezy, but the wind-resistance built in they don't feel breezy – they just feel lightweight. This is great because if it's a little chilly outside, you don't have to worry about the wind cutting through your pants.
I would not recommend this out in the snow, by any stretch (no pun intended), but they are perfect for pretty much every other situation. I can see these as being the perfect "business casual" pants for a lot of different occasions. Think great golf pants or a happy hour outside.
Public Rec Sizing
After trying on the Public Rec Workday Pant, we found that the brand added room in the seat and thighs for added comfort and flexibility – a much-needed update.
The waist isn't super stretchy – there is no elastic waistband here. I typically wear a size 32 waist and 30 length in my pants.
I found these to be SLIGHTLY tight in the waist, but probably not enough to size up in the waist. I wish they were about a quarter-inch wider around the waist. It was just SLIGHTLY snug.
I did find the inseam to run true to size.
Public Rec: Branding
We hate clothes with a lot of branding. Public Rec's Work Day pants have very minimal branding: their "P" logo on the back right pocket. It is made from a bit of rubber, which is a nice touch.
Otherwise, these pants are very light on branding, which we really like. It keeps the look of this clothing very stylish, in our opinion.
There are also some nice Public Rec buttons that you can only tell are branded by looking very closely.
When we say lightweight, we mean it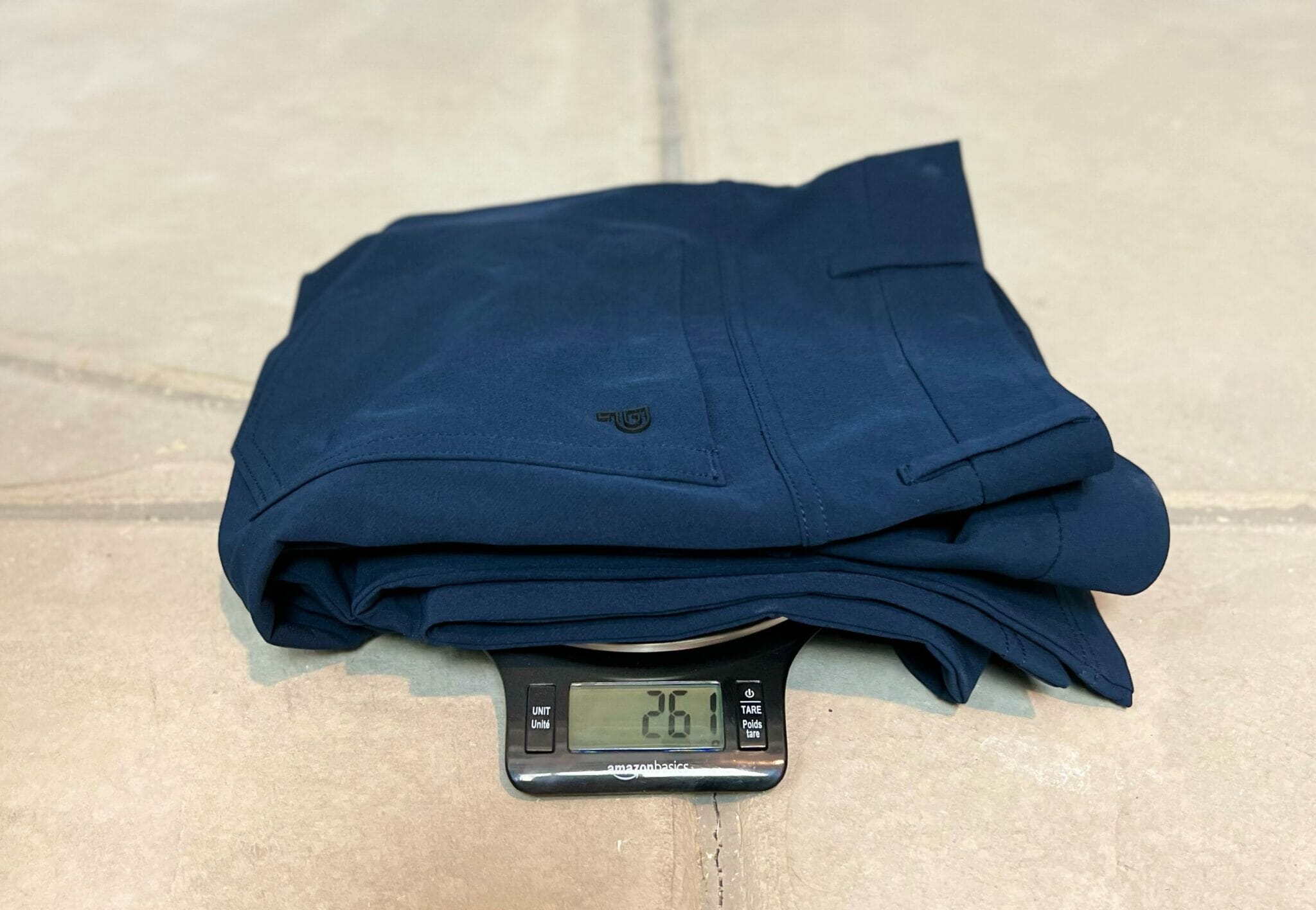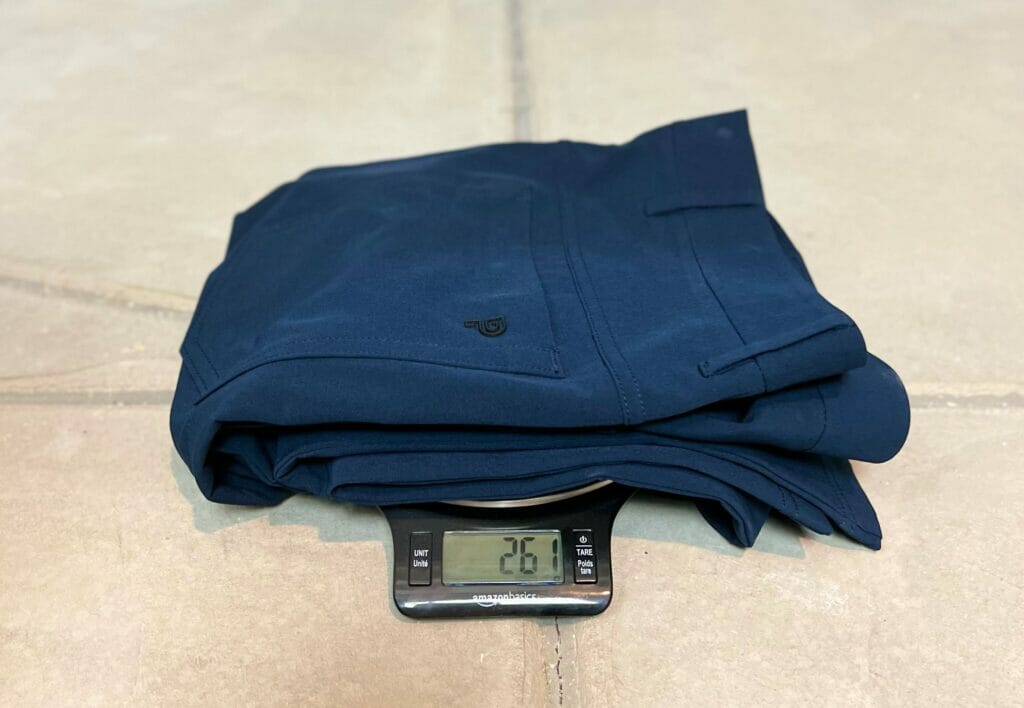 I was curious about how lightweight these pants really were. These pants clocked in at only 261 grams – just over 9 ounces. That's lightweight!
To put that into comparison, a pair of the Perfect Jean (read our Perfect Jean Review) is about twice that weight: 506 grams (or almost 18 ounces).
That's a big difference, and it's the very first thing you'll notice when you try these bad boys on.
Public Rec Workday Pants vs. Lululemon ABC Pants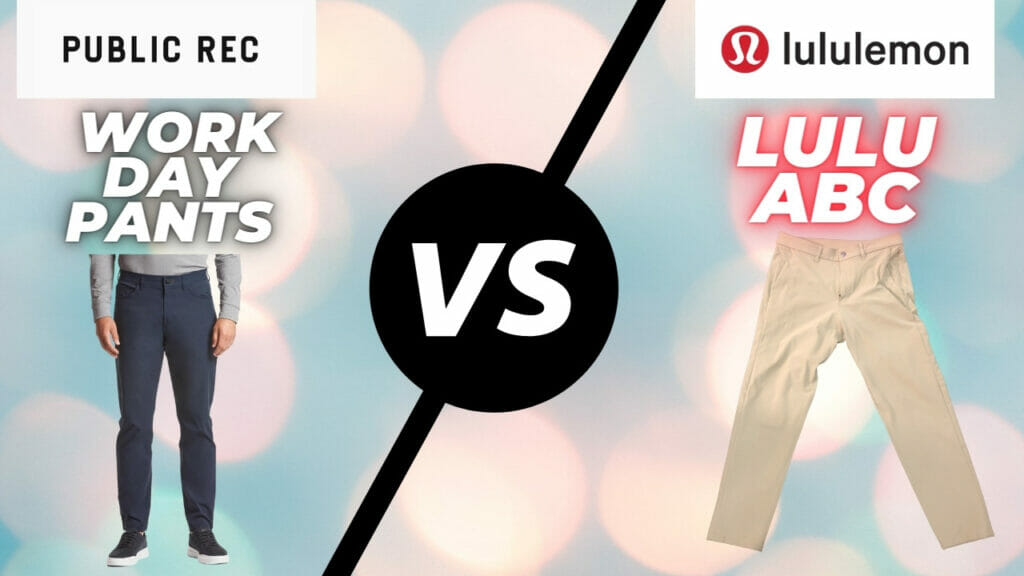 These are generally in the same category as lululemon ABC pants (read our ABC pants review). If you are looking at these pants, you're probably looking for a better ABC Pant Alternative.
While these pants are in the same category as the ABC pants, they are very different.
As I've mentioned several times, the biggest difference is how lightweight the Workday pants are. The Lululemon ABC Pants are 10.5 ounces. That's a pretty big difference.
The ABC pants come in a dizzying array of styles and fabrics, so you'll have more options but they are both about the same price.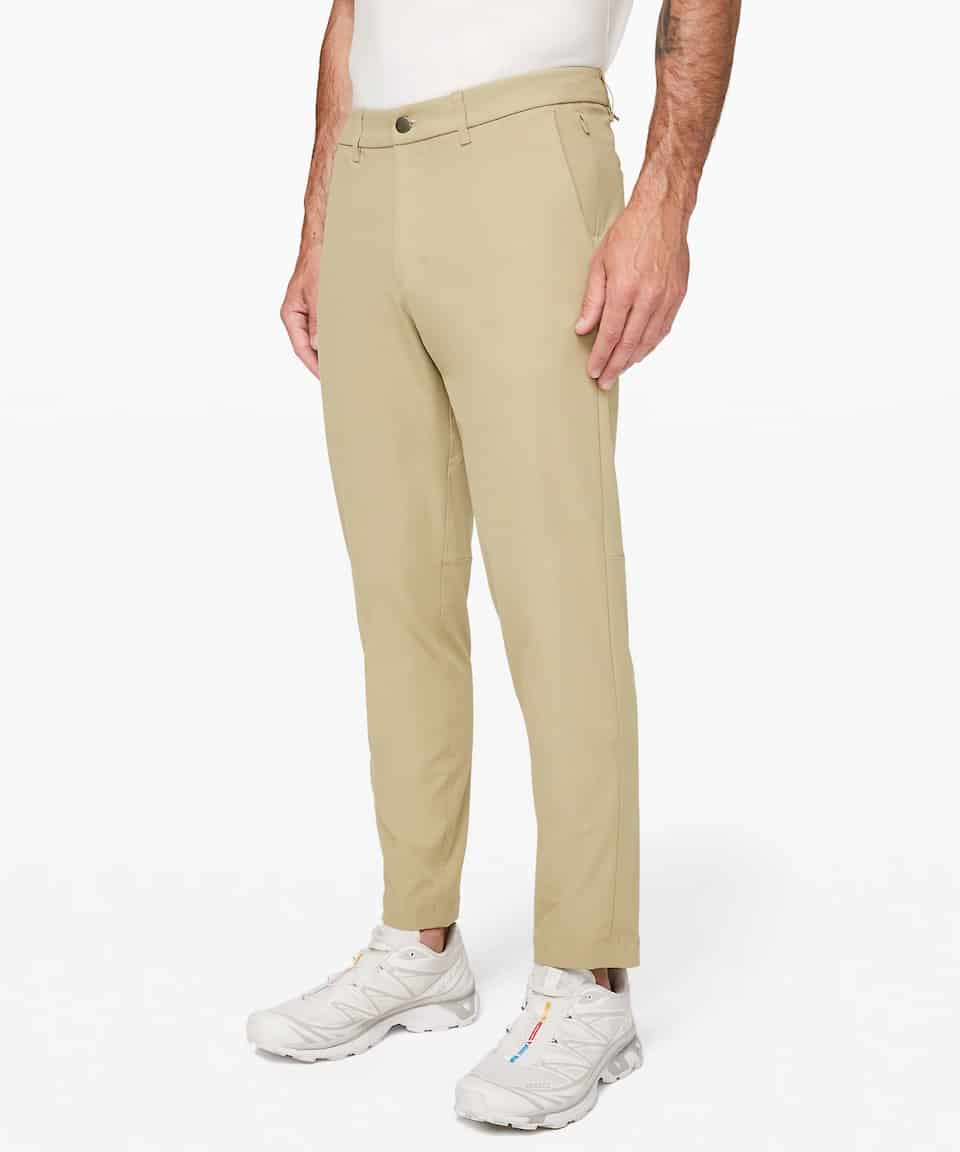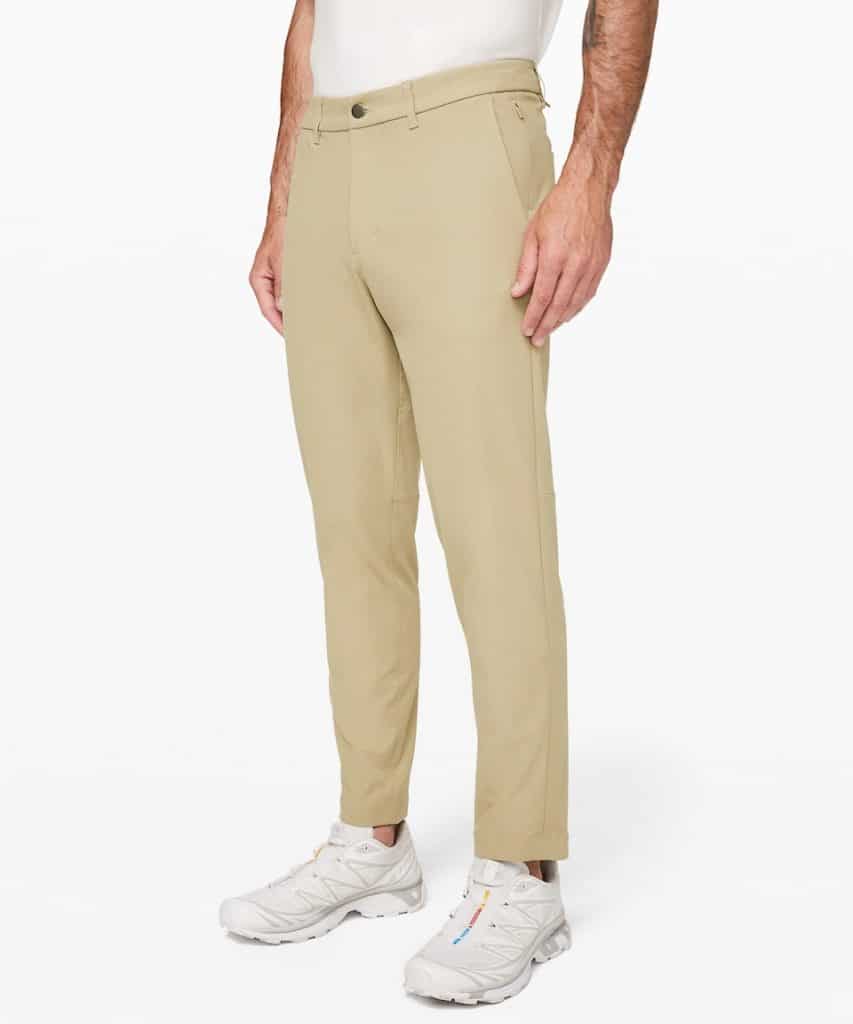 The ABC pants do have the dreaded back seam that we've talked about constantly and the Workday pants do not.
I think both the ABC Pants and Workday pants are similar in a lot of way. However, I think the lululemon pants look "nicer" but the Workday pants are much lighter weight.
Public Rec Workday Pants vs. Myles Tour Pants
I think that the Myles Tour Pants are actually better than the lululemon ABC Pants in a lot of ways. They are the best ABC Pant alternative that we've found. Read our full Myles Tour Pants Review for more information, but the Tour Pants just rock.
We love them.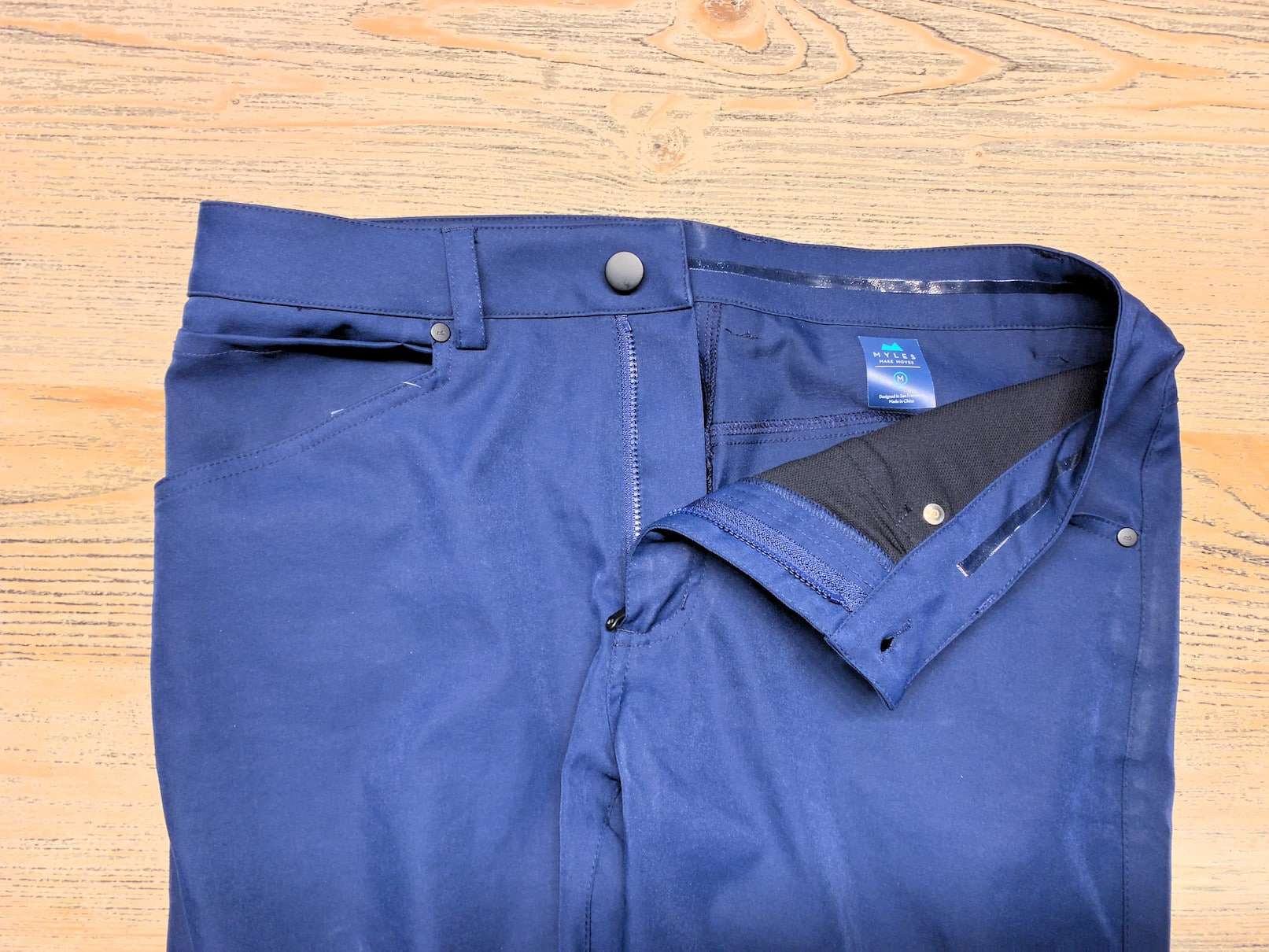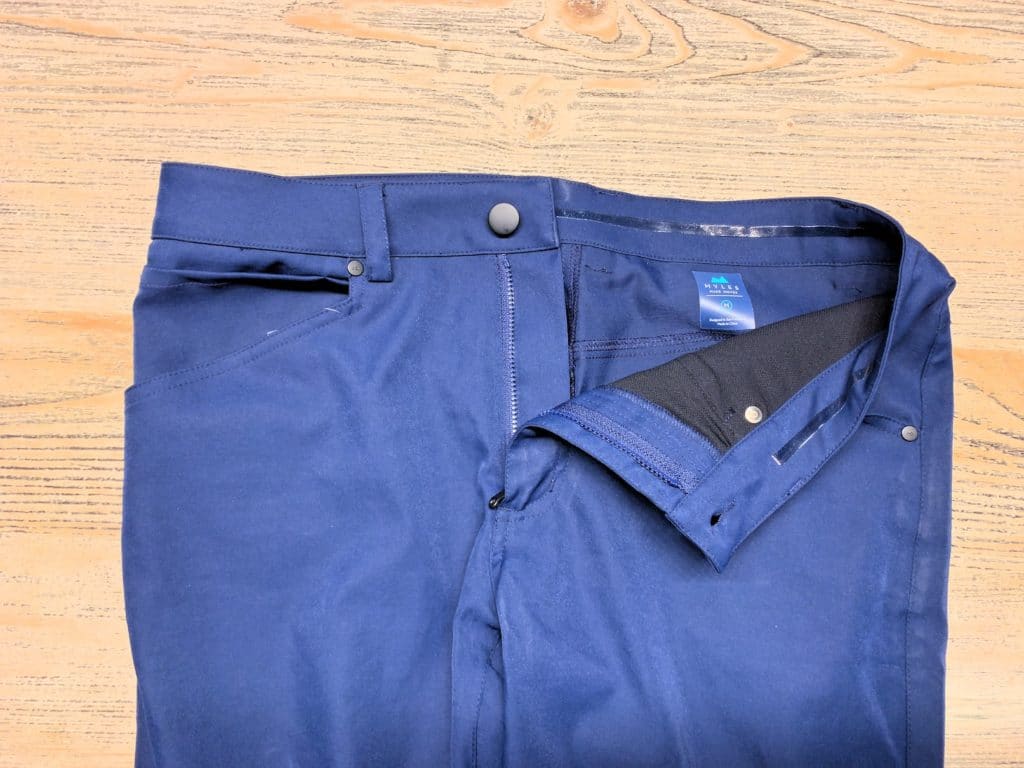 If you are about to spend about $125 on pants, I would probably go with the Tour Pants – unless you are looking for the lightest-weight pants you can possibly find. Then, I'd go with the Workday pants.
I also think the Myles pants look dressier, and less sporty – but you could also wear them on the golf course, no problem.
If budget is your biggest issue here, then check out these cheaper ABC Pant alternatives.
Public Rec Workday Pants Review: Final verdict
Super Lightweight Pants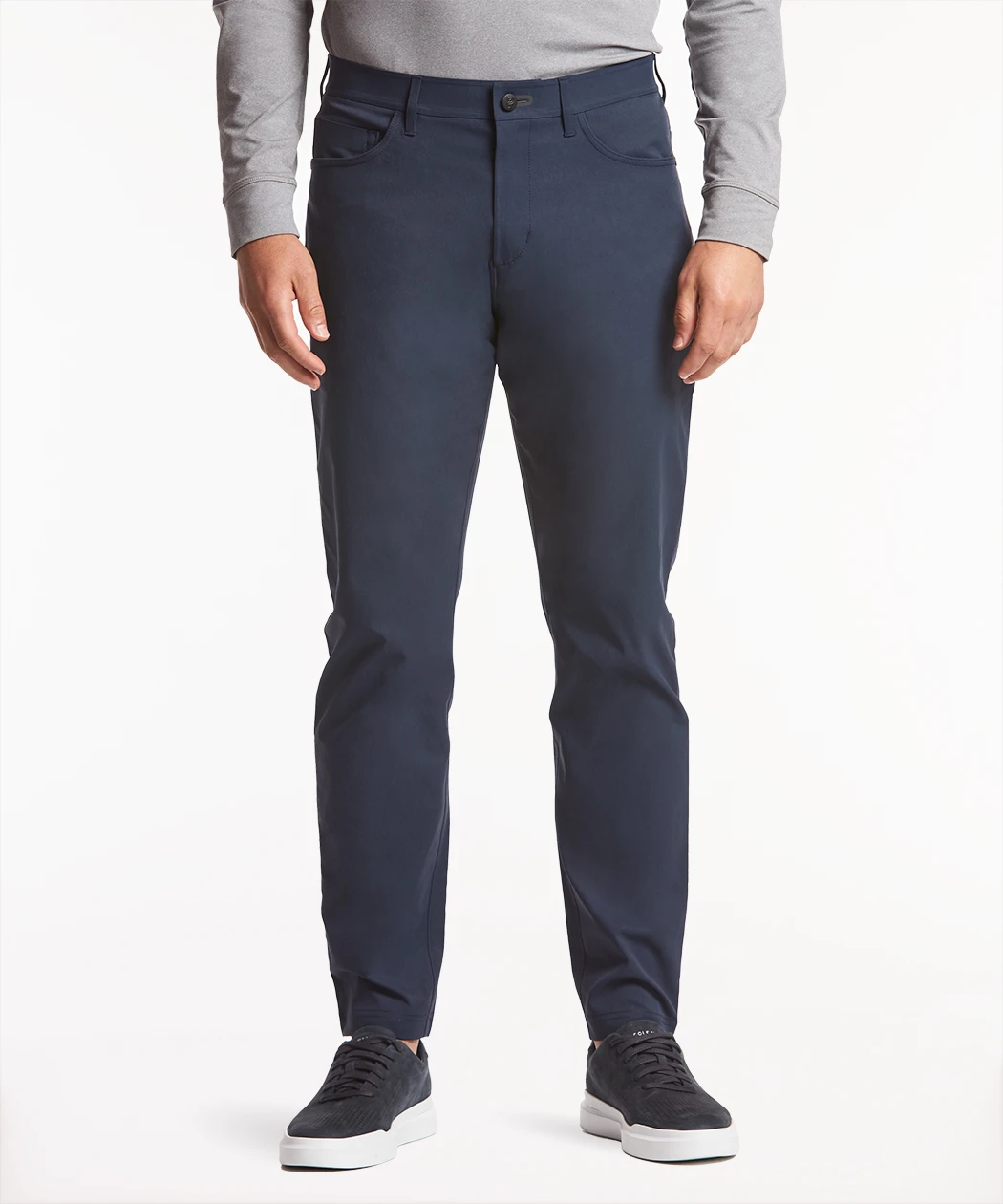 Great, lightweight pants
Not for everyone, but still great pants.
If you're looking for something different, and want some incredibly lightweight pants, check out the Public Rec Workday Pants.
These Public Rec Pants are great.
As with the All Day Every Day Pants, we had no idea what to expect. But we were pleasantly surprised by the Workday Pants. Public Rec offers free shipping and free returns for up to 45 days. So, if you are on the fence, you can always give them a shot.
We'd also recommend you take a look at the Tour Pants as a good alternative that is a little thicker.