The Ultimate Myles Tour Pant Review – we give you our honest Myles Tour Pants Review and Myles Tour Chino Review.
Myles Tour Pants Review: how does it compare to Lululemon's ABC pants? Are the Tour pants comfortable and stretchy? Do they even look like dress pants or more like sweats pants? Keep reading our honest Myles Apparel Tour Pant Review to find out.
About Myles
We're huge fans of Myles Apparel, one of our favorite athletic brands, be sure to read our full Myles Everyday Short Review and Myles Weekend Short Review. But can Myles Apparel, known for being an athletic brand that makes workout clothes really make dress pants? Let dive in!
Myles Tour Review
Myles Tour Pants Review and Myles Tour Shorts Review: what are they?
Here's what Myles says about the Tour Pant:
A classic 5-pocket pant design upgraded with modern features to help you get where you're going in comfort and style. Our signature breathable Toray® stretch woven twill fabric combines the quick-drying and wrinkle resistant performance of synthetic fabric with cotton-like texture and comfort. We added a water repellent finish for rain and stain protection, a hidden secure passport pocket, and a gripper waistband to keep your shirt tucked in. Now available in multiple inseam options so you can dial in the perfect fit.
In short, the 5-pocket style pant (in the Tour Pant or Chino style pant in the Tour Chino) is a square shot across the bow of Lululemon and their ABC pants. Let's quickly compare Lululemon ABC Pants vs Myles Tour Pants.
Myles Tour Pants vs Lululemon ABC Pants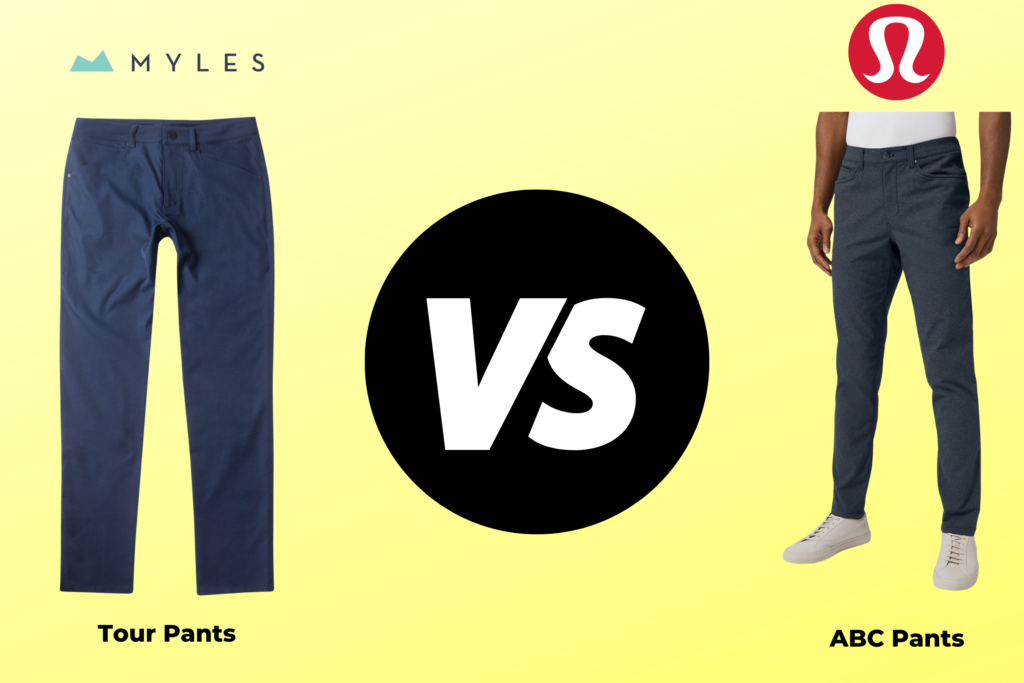 Myles Tour Review vs. Lululemon ABC Pant: What's the difference? How are they they same?
Myles Tour Pant
Price Range: $128 – $138 (Chino)
Material: 100% Polyester
✅ Gusset
✅ Flip-up cuff reflective material
✅ Four-way Stretch
✅ Hidden Back Pocket
✅ Free Hemming
(via Hemster)
✅ Gripper Waist Band
✅ Water-repellent
Styles: 5-pocket
Lululemon ABC Pants
Price Range: $128
Material: 100% Polyester
✅ Gusset
✅ Flip-up cuff reflective material
✅ Four-way stretch
✅ Hidden Back Pocket
✅ Free Hemming
(via lululemon stores)
❌ No Gripper Waist Band
❌ Not water repellent (but quick-drying)
Styles: 5-pocket Regular Fit, 5-pocket Slim Fit, 5-pocket Skinny Fit, Chino Classic, Chino Slim, Jogger. "Jean"
While we compare these pants a lot to ABC Pants, they are about the same price. Read about the Cheaper Version of lululemon ABC Pants we found.
Also, read: What's a gusset?
Myles Tour Pants: What makes them unique
There are so many ways the Tour pants are similar to ABC pants from the guesset to the reflective cuffs, there are some key differences.
Myles Tour Pant Review: the fabric
The material is made of 100% polyester, Myles says that their fabric is Breathable Toray® Stretch Woven Twill Fabric. The lululemon ABC pants are made from warpstreme fabric (read our full warpstreme guide) that is also 100% polyester.
It's important to note: there's no cotton here. That's what really makes a difference in these performance fabrics. You'll be hard pressed to find cotton in any of them.
There are many similarities to the fabric – if you look at the fabric closely, you can see the individual weave used. However, the Myles Tour pants look like it uses a slightly thinner piece of thread. The lululemon pants are the dark colored pants on the top, the Myles Tour Pants are the ones on the bottom in blue.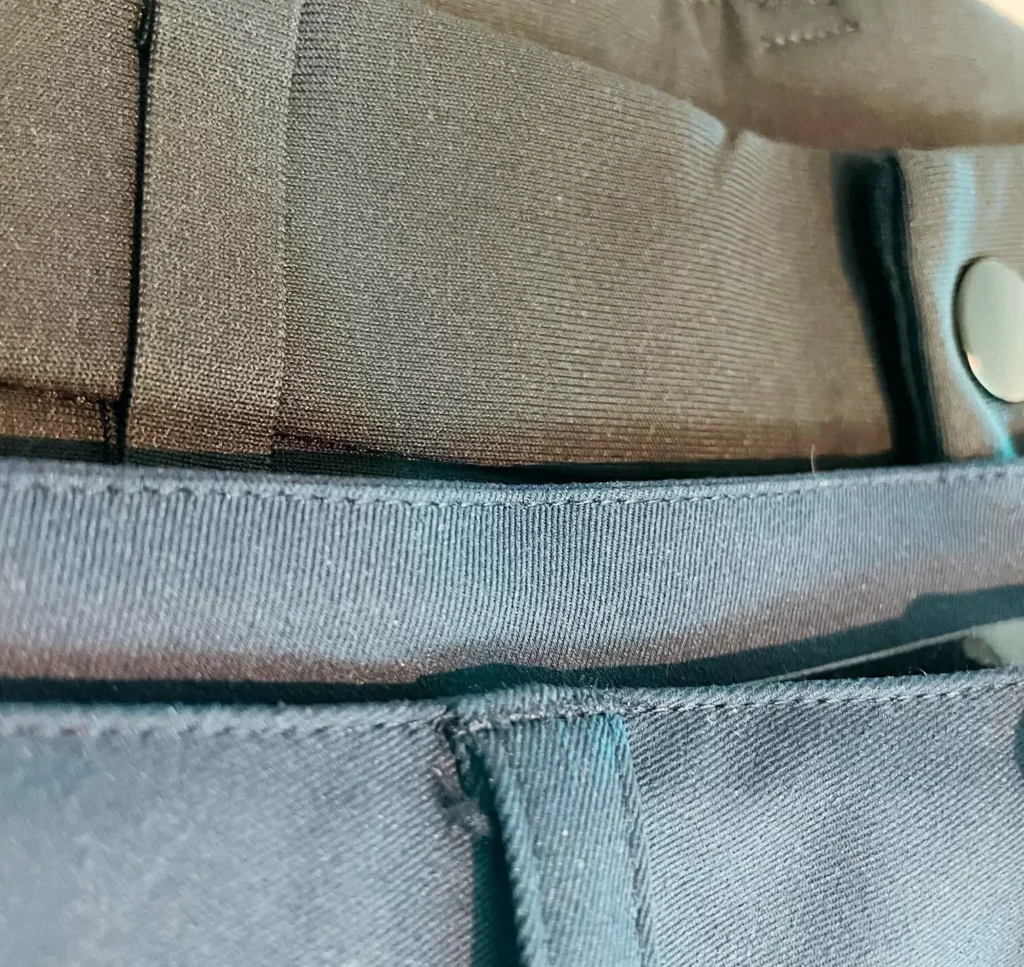 While the Tour pants and ABC pants are very similar, the main difference is the weight and the stretchiness.
Tour Pants: The Stretch
Myles Tour Pants Stretch: I was surprised at how stretchy the Myles tour pants were. They were fairly more stretchy than the ABC pants. They weren't ridiculously stretchy but just enough for that added comfort. The ABC Pants don't have as much stretch as you would think.
Myles Tour Pants Fabric: the thickness. Overall, I found the Tour Pants and Shorts the be slightly thicker than materials like the ABC pants. I found them to be on par with a lighter pair of jeans.
I will also say that the Tour Chinos are a little less stretchy since they are tighter at the bottom.
I run a little hot, so I typically wear shorts when I'm on the verge of shorts and pants but the Tour Pants give a little extra thickness. It's not a lot – if the ABC pants are a 6/10 thickness, I'd say the Myles Tour Pants are 6.75/10 thickness. I don't know if a better way to describe them. However, you will not overheat in them and they are breathable.
The Myles Tour Pants are also treated with a water repellent finish to help keep you dry and keep stains away, too. The Lululemon pants are not treated with a water repellent.
Tour Pants: The Design
One of my biggest pet peeves about the Lululemon ABC pants is the seam behind the back of the knee. We talked about it a lot in our ABC Pant Review. It's really the only way you can tell they are ABC pants. Now that I say that, it will bug you every time you see it.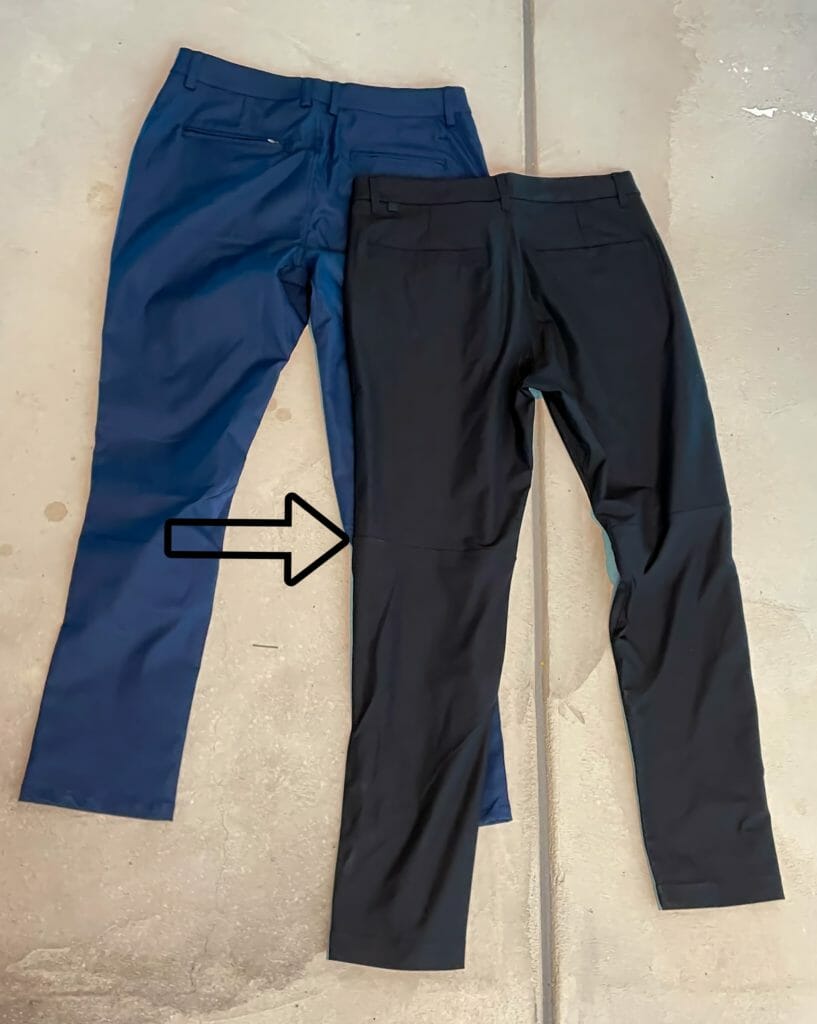 No crazy branding
I actually thought the Tour Pants and Tour Shorts had no visible branding except for one very small button on the front pocket with the Myles logo. I actually had to really look to see if there was any branding on the pants at all. Even the Myles Everyday Short (read our Myles Everyday Short review) has slightly more visible branding: the bright colored thread on the pocket.
After looking VERY closely, I found this branding on the Myles Tour Chino: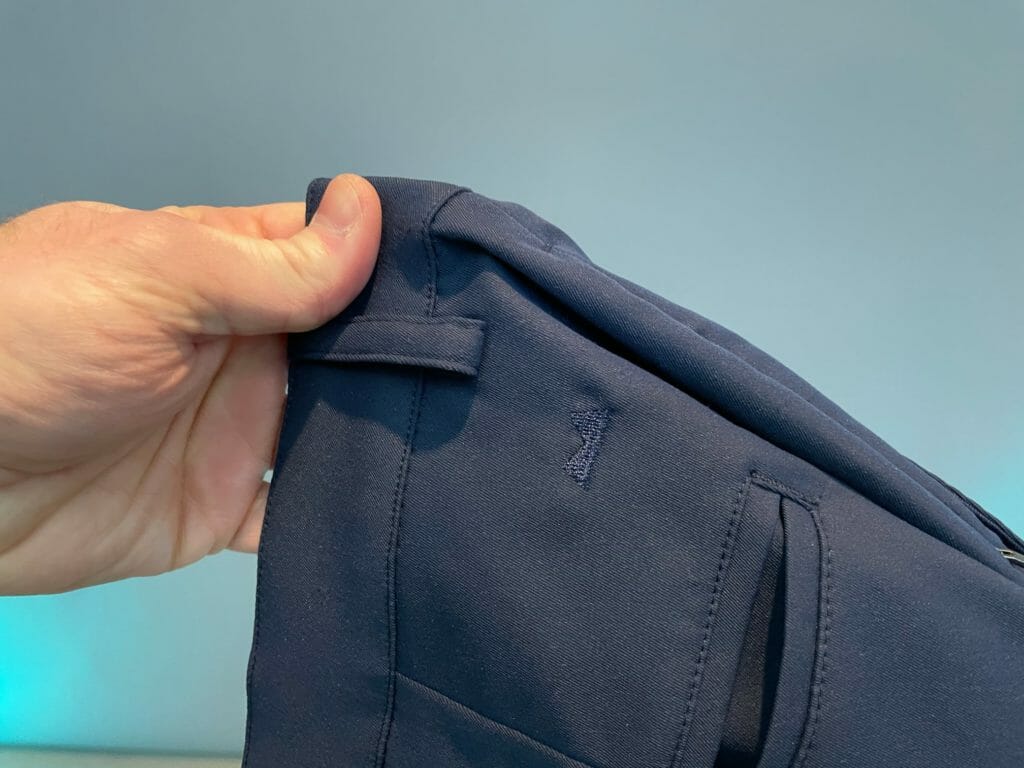 The branding on the Myles Tour Pant is even more subtle, just on the buttons:
We hate big logos on our clothes and the Myles Tour Pant and Tour Chino pass this with flying colors. There's not even an awkward seam on the back!
Myles Tour Pants or Myles Tour Chino: Which one is better?
Well, like most things in life: it depends.
Sadly, currently, Myles only makes the Tour Pants – the 5-pocket version. While they've released some stunning new colors, like this one (below), you can only get the 5-pocket style currently.
I've leave the comparison up, but I wanted to quickly highlight, right now only the Tour Pants are in stock.
Tour Pants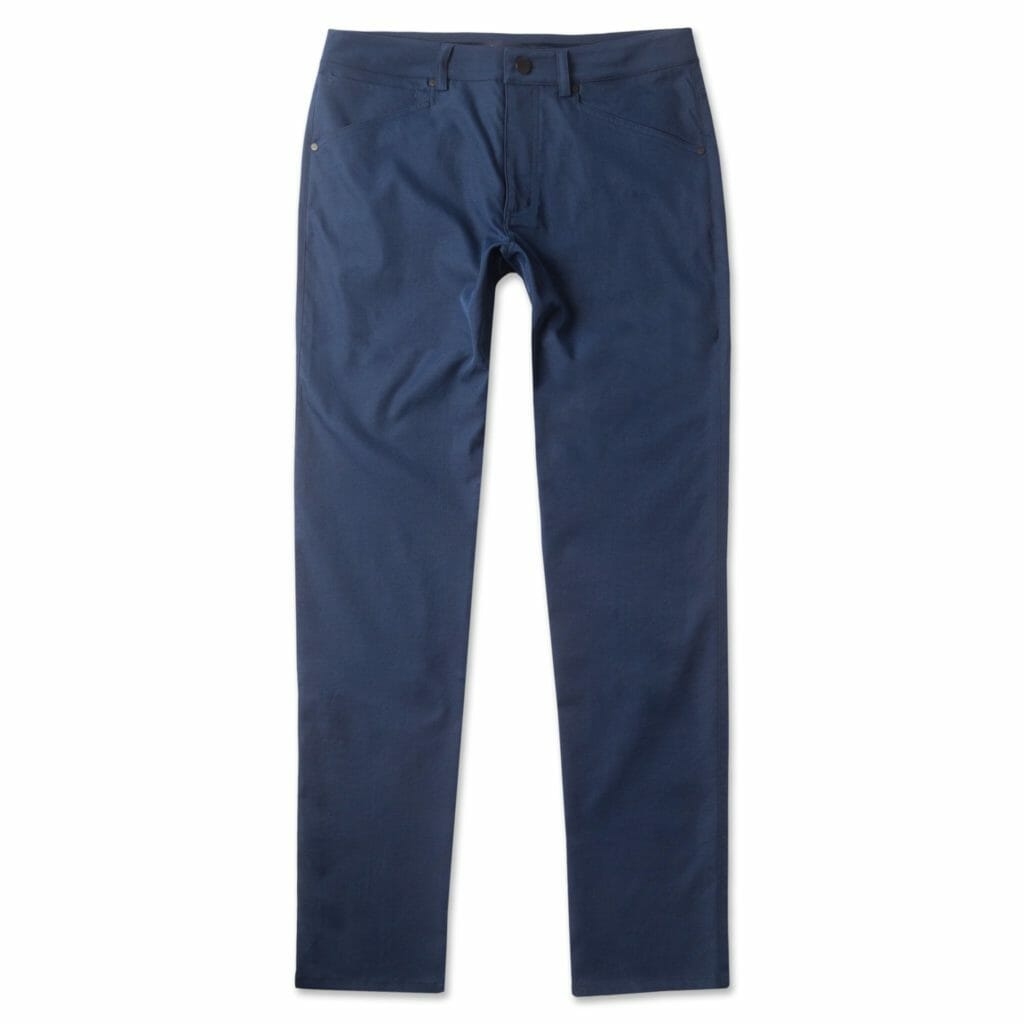 Price: $128
Fit: Original
Colors: Black, Slate, Deep Sea, Khaki, Sienna, Pine, Steely Blue, Crimson, Sage
Hidden Pocket: Back pocket
Back Pocket Style: Jean-like
Front Button: Single, jean-like
Both Styles: Have a gusset, the same fabric, water-repellent finish, free hemming, reflective interior cuffs
You really can't go wrong with either style. They are both great! It really comes down to style: do you like pants that look slightly dressier or pants that look more like jeans? The tapered fit is also only available on the Tour Chino.
Myles also has the new Myles Everyday Pant. Read our Myles Everyday Pant Review.
Myles Tour Review: the comfort
These are some of the most comfortable pants I own. I'd say they aren't quite as comfortable as the Public Rec All Day Everyday pants (read our ADED Pants review – but they are glorified sweat pants).
I'd say they are just as comfortable as the ABC Pants or even DUER Jeans. As mentioned, they are slightly thicker than the ABC pants, which is fine, but that makes the pants ever so slightly warmer than the ABC Pants. That's the only reason I have the tour pants just SLIGHTLY below the ABC Pants here.
Myles Tour Pants: Sizing
The Tour pants run slightly small. Lululemon has been a little inconsistent with their sizing recently (mostly because of the button placement) but I'd say Myles tour pants are about a half size smaller than most pants. If you like the waist a little snug, get your typical size. If you like your pants a little looser, size up one size.
The stretch in this performance fabric really helps! I typically wear a size 32 and the sizing is just a little snug – but the stretch works wonders!
Myles Tour Pants and Chino Pants: free hemming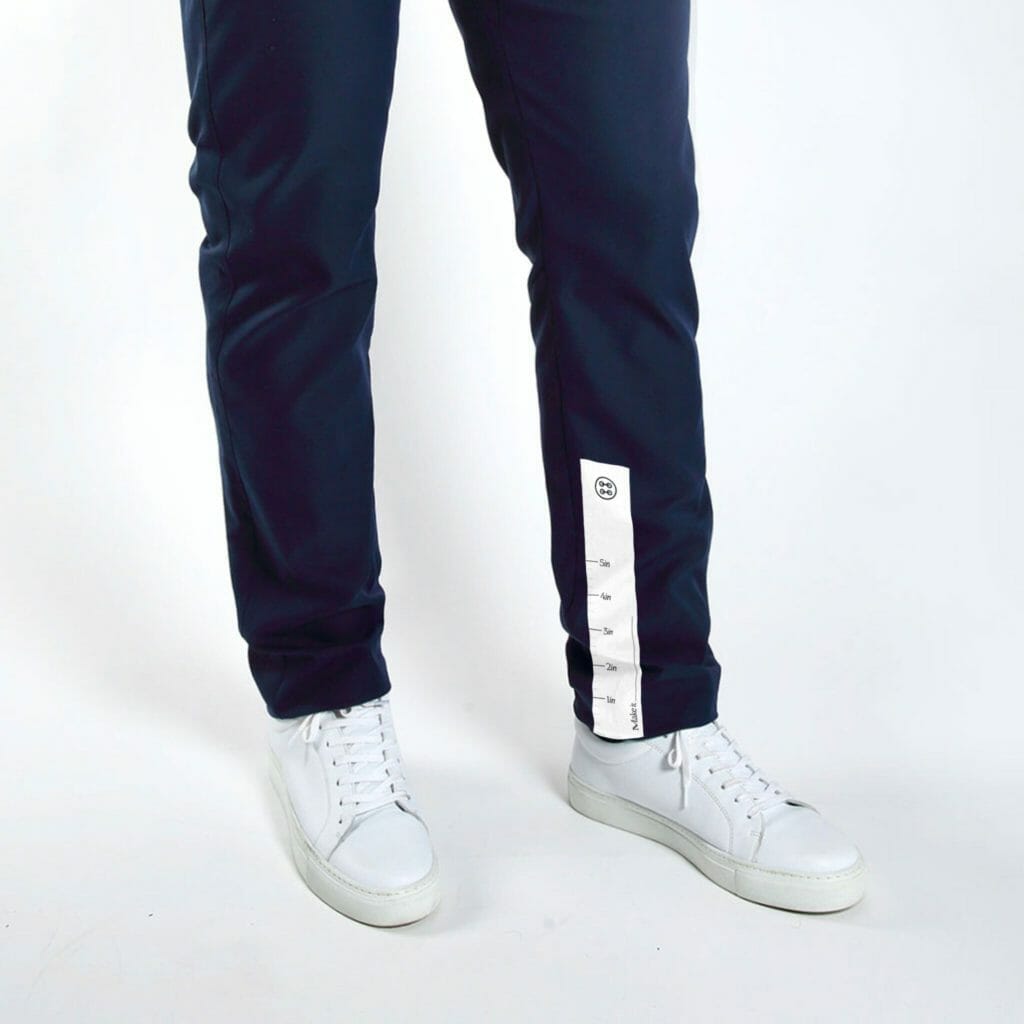 Just like the Lululemon ABC pants, Myles offers free hemming. Since Myles doesn't have retail stores, they use a service called Hemster. They say that you simply book a virtual appointment and Hemster walks you through the process. Since Myles now offers different inseam sizes, I didn't need to use the hemming services but it's an option and available at no additional charge. It looks like a great option.
Myles Tour Pants Review: how to style
Styling the Tour Pants or Tour Chinos is really easy. Simply style the Tour Pants with anything that you'd wear jeans with. I typically wear them with a Buck Mason shirt or a polo shirt.
You can wear the Myles Chino pants with anything you'd wear Chinos with. I wear them frequently with Mizzen + Main Dress shirts, especially in the summer. They also pair well with Polos. To keep consistent, you can easily pair with a Myles Tour Polo.
The Grip Waistband: Gimmick or killer feature?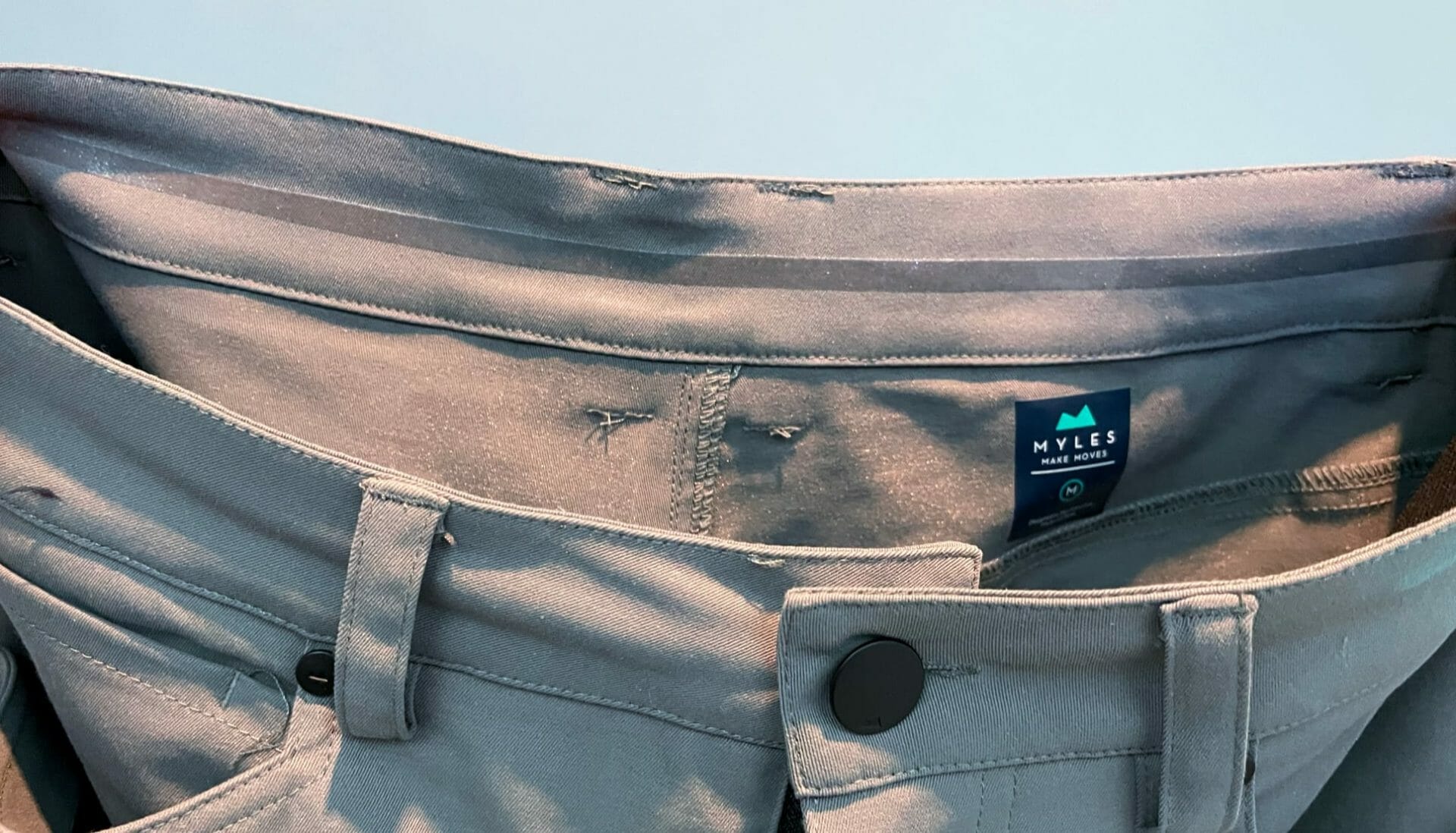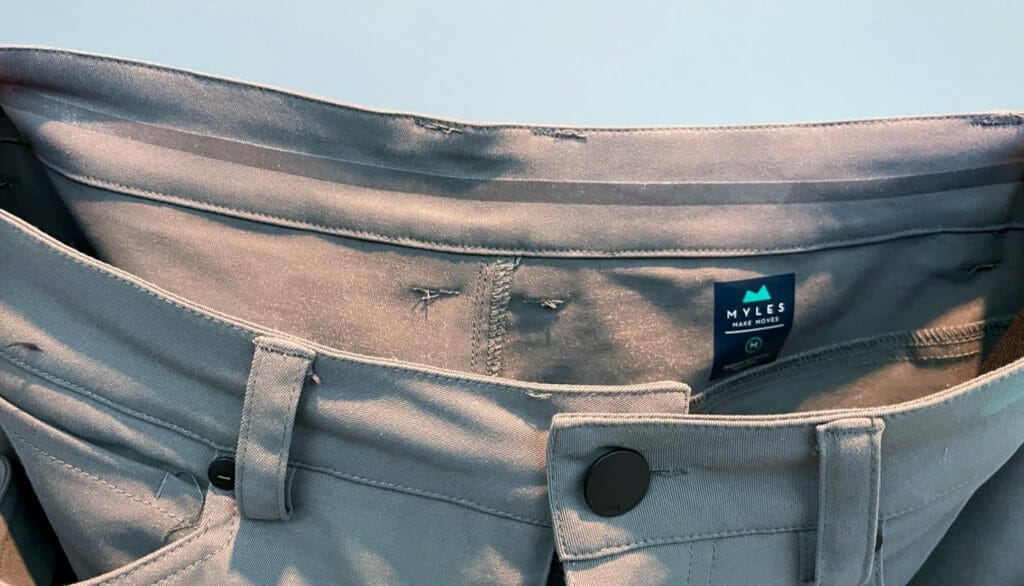 When I first saw the "Grip" waistband, I thought it might be a lame feature, to be honest with you. It is essentially a small piece of silicone-like material around the waist band. This does two things:
It helps keep your shirt tucked in (what it was designed for) – and it works!
It also helps keep your pants held up – so you don't show any crack. And it works that way, too!
I also thought it would be slightly uncomfortable, but it really isn't at all. You barley notice it after you first put it on (it can feel slightly cold if it's cold before you put it on). But it's a great, extra little feature that I really like!
Tour Pants: The Quality
This is an area that Myles shines! Every Myles product comes with a 5 Year Quality Guarantee. Here's what the Myles website says: That's why we promise to replace or give store credit for any item purchased through our website with defects that are not the result of expected wear and tear for 5 years from the time of purchase.
I recently got a run in my Myles Wool Socks (read my full Best Socks Review) and they replaced them right away – even after I had them for over a year!
Tour Pants: Can you really wear them golfing AND as dress pants?
I would actually say: YES.
No one will know the difference between these pants and dress pants, plus you'll be more comfortable on the golf course.
Myles Tour Review: The Final Verdict
If you are looking for a good alternative to the lululemon ABC Pants, look no further than the Myles Tour Pants – both the Myles Tour Pants and the Myles Tour Chinos. They are quickly becoming one of our favorite pair of pants. They are versatile, comfortable, look great and are about the same price. Best of all: they don't have the infamous seam on the back, like lululmon pants!
The only pants BETTER than ABC Pants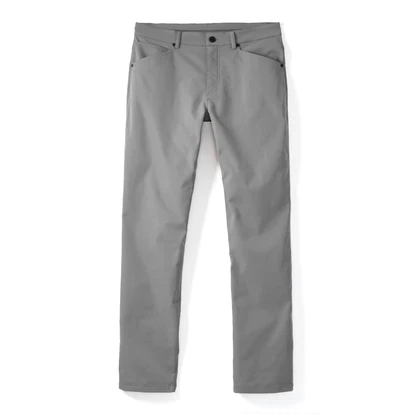 Myles Tour Pants
These are our favorite pair of pants and the only pants we say are better than lululemon ABC Pants.
Check Availability
We might earn a commission if you make a purchase, at no additional cost to you.
I promise if you wear these pants, all of your friends with ABC Pants will be jealous.