Myles Everyday Short vs. Olivers All Over Short: You might have heard some comparisons between the two. They are very similar. However, we heard some conflicting reports on Reddit:
"Are they a little noisy? Yeah, but I wouldn't have even noticed it if people on Reddit didn't like to bitch about it so much, and even then I only notice it when I'm working out, an occasion when truly nobody gives a damn."
or
"Olivers shorts used to bet he same as Myles, but now they are different - much, much better I'd say."
---
Mr. We Tried It has been a Myles Customer for a long-time. Were they a little noisy? Sure. It wasn't until we had a little one that I noticed how LOUD they were. So, Oliver's reached out and asked if we would try the shorts and we said yes.
Olivers vs. Myles - How are they similar?
Olivers All Over Shorts and Myles Everyday Shorts are similar in several ways:
4-Way Stretch: They are both very stretchy.
Pockets: They have similar pockets on each side (no back pocket).
They are both water repellent.
Drawstring: Both have a stylish drawstring (Myles is their signature Blue, Olivers their signature Yellow)
Lightweight: Both pants are extremely lightweight and weigh next to nothing.
They are both comfortable and look like nice workout shorts. They were both designed to be nice workout shorts that didn't come in obnoxious colors, so you could wear them "everyday." Myles even has a Khaki color that could be mistaken for more traditional Khaki shorts.
Olivers vs. Myles - How are they different?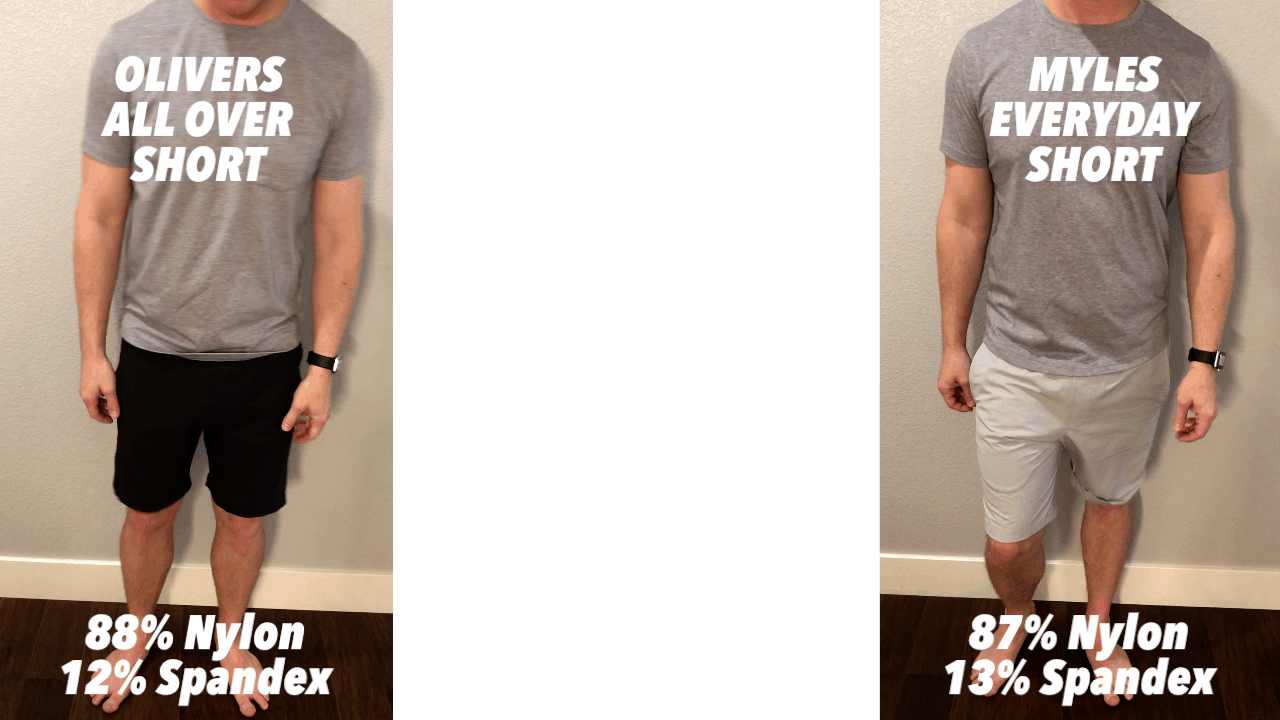 There is one key difference with the Olivers All Over Short vs. The Myles Everyday Short: The fabric is SLIGHTLY different. Olivers uses 1% more Nylon and 1% less Spandex to make the short. I reached out to Olivers to ask what the difference was and they wouldn't elaborate any further on the differences.
What else is different? They have different drawstrings and slightly differently pockets. The Oliver All Over Short comes in 1 length, the Myles Everyday Short comes in Standard (8" Inseam) and Long (10" Inseam). The Myles Everyday Short pictured is the standard 8" Inseam size.
That brings us to the reason you are probably here. The reason there are countless Reddit threads about this topic. That brings us to....
Myles vs. Olivers Shorts- Which short is quieter?
Like others, I didn't notice the "Swish, Swish" sound on my Myles Everyday Shorts until someone else pointed it out to me (my wife). I think she asked, "Are you wearing Swim Trunks?" I said, "No, these are athletic shorts! Do they look like Swim Trunks?" She said, "No, not really, maybe kinda closer up...but they sound like swim shorts!"
As your browse Reddit, you'll see many of the same concerns. So, we put the shorts to the ultimate test. I used some sophisticated recording equipment (a Zoom H4N, if you must know!) to pick up on the differences in sound between the shorts. I also used a control (some cheap-o cotton shorts, if you must know!) to exhibit the differences. I did not edit the levels in any way on the clip below. They are straight from the recording on the Zoom H4N device. The YouTube Video is queued up to the exact spot where I test out the "Swish" on both shorts:
---
Myles vs. Olivers: The Verdict
Honestly, we like both shorts a lot, here's the winner for everything we looked at.
Price: Myles is slightly less expensive.
Thickness: We felt like the Myles shorts were slightly thicker and felt slightly higher quality.
Colors: We really like the Myles Khaki  Color.
What didn't we love about Myles + Olivers?
Nothing is perfect. A couple small things we didn't like about the shorts!
Neither shorts had any pockets in the back. To be a true errand short, it'd be nice if they had pockets in the back for your wallet.
We wish that Olivers had a Khaki Color, like Myles.
Super small thing, but we wish that Myles didn't have the light blue stitching on the pockets - we know they are trying to great some branding, but I'd rather my clothes be nondescript.
The Winner: Olivers
Overall, we have to give the slight nod to Olivers. The fact they are softer and quieter put them over the top in our rigorous testing.
Want $25 Off Olivers? Use our Olivers Promo Code.