If you're anything like us, you despise packing for a summer vacation. It's always such a pain to try and figure out what to bring with you, and then you end up overpacking and lugging around a heavy suitcase. One of our favorite clothing brands, Buck Mason, just released a new suit aimed at the summer traveler. But is it any good?
Read our honest review to find out more!
Buck Mason: A brand we love
We love Buck Mason's clothes… for the most part. They are one of our favorite t-shirt brands (read our Buck Mason Tees Review and Buck Mason Review).
Buck Mason will never be the cheapest clothes you buy, but they are some of the best made we've experienced. Plus, all the Buck Mason clothes are designed to go together.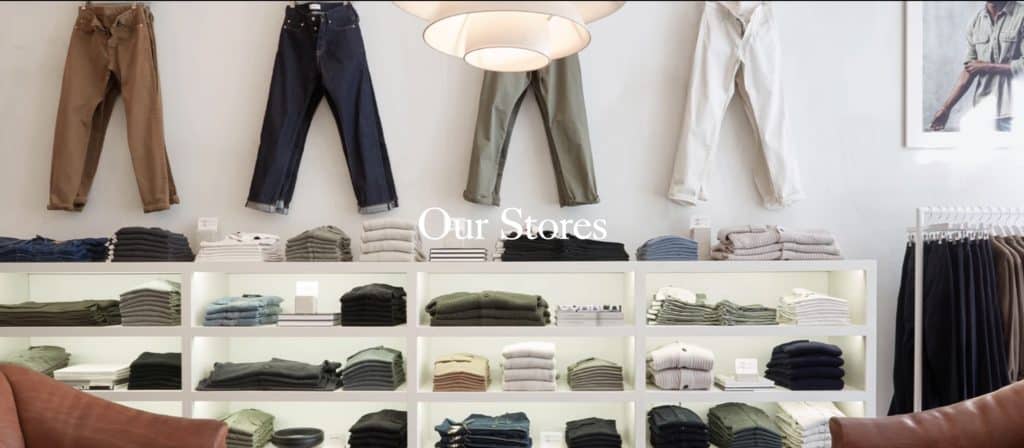 So, if you're a dude that has issues knowing "what goes together" and what doesn't, you should really check out Buck Mason.
The new Carry On Suit
The new Buck Mason Carry-On Suit is a summer suit designed to be lightweight and easy to pack.
The Carry On Suit is technically two pieces: the Carry On Jacket ($165) and Carry on Pant ($135).
Buy Now

We might earn a commission if you make a purchase, at no additional cost to you.

Buy Now

We might earn a commission if you make a purchase, at no additional cost to you.
The Buck Mason Carry-On Suit is a summer suit designed to be lightweight and easy to pack.
The Carry On Jacket is a tailored three-roll-two button blazer inspired by timeless vintage suiting, and the Carry On Pant is a lightweight five point five ounce cotton twill pant with a touch of stretch for comfort.
The jacket and pants are designed to be worn together or separately, and both the jacket and pants are unlined and have no back vent or cuff buttons for a casual, streamlined look (most suits do have lining).
The Wornwell One Pocket Shirt
Comfy but wrinkle-prone
We also tested the Wornwell One Pocket Shirt from Buck Mason. They describe it as "the shirt you wore to work." It's a slim-fitting button-up with a single spade pocket, a French placket, rounded barrel cuffs, and real shell buttons.
The Wornwell One Pocket Shirt is made from a lightweight woven cotton that strikes the perfect balance between soft and structured. We found the shirt to be true to size and very comfortable.
However, much like the Carry On Suit, as you will see – it was also incredibly wrinkle-prone.
It's not my style, but it was a super soft and comfortable shirt.
So, how did the suit fare in our testing? Let's find out!
Buck Mason Carry On Suit Review: The Good
First off, the suit is from Buck Mason, so you know it will be high quality. We've had t-shirts for 5+ years that still look and feel great.
We also really liked how lightweight and airy the suit felt.
Just like other Buck Mason pieces, they are designed to work as a pair or on their own and be able to be mixed and matched with other clothes from Buck Mason effortlessly.
But that's about where the good ends for this suit, sadly.
Buck Mason Carry On Suit: The Bad
Back in the early 2000s, J. Crew had a look that I could only describe as the "Newsies Wrinkled Look" that I never quite understood.
All of their clothes could never look 100% unwrinkled, no matter how hard you tried. Furthermore, if you looked at the clothes the wrong way (or worse: wore a seatbelt). the clothes would turn into a wrinkled mess.
I never understood the look. And I'm afraid the Buck Mason Carry On Suit is cut from the same cloth (yes, pun intended here).
If you like wrinkles, you will love this suit. If you don't, well… you've been warned.
No Tech Clothing Here
Buck Mason never pretends to be "Tech Clothing" but sometimes I wish they had just a little bit of technology built into them. It doesn't need to be powered by an iPhone but it could at least be wrinkle resistant.
A little bit of stretch
There is a tiny bit of stretch built into the Buck Mason Carry On Suit is 97% cotton and 3% spandex. That's not a ton of stretch.
Who is this suit for?
To be honest, if you can pull off the J. Crew Newsies look of earlier years, this suit MIGHT be for you. But if you are looking for a great, crisp suit for a summer wedding or outdoor party, you might want to look elsewhere.
This suit style is super casual and I wouldn't call it a dress suit at all.
The blazer could be worn pretty easily with jeans or other men's clothing – but once again, it's going to have that forever-wrinkled look. If you can pull it off, more power to you.
Sizing: True To Size
The Carry On Blazer, Carry On Pants and the Wornwell Shirt all fit true to size.
The shirt and blazer only come in standard S – XXL Sizes and the Pants only come in waist sizes. So, if you have shorter pants like me, you'll need to get them hemmed.
I do recommend that everyone gets EVERY suit tailored. It will simply look better if it is more designed to fit your body.
Buck Mason Carry On Suit: The Bottom Line
OK... if you like wrinkles.
We really wanted to like the Buck Mason Carry On Suit. We love Buck Mason as a brand, and we think their clothes are generally great. But this suit just didn't do it for us.
The good news is that if you're looking for lightweight summer suits, there are plenty of other options out there (see our xSuit 3.0 Review, Bluffworks Suit Review and Ministry of Supply Suit Review). And if you're looking for some great clothes from Buck Mason, well… they still make some of the best tees around! Just don't let this Buck Mason Review change your attitude on Buck Mason's clothes overall.
But if you want something that will stay unwrinkled (or at least not look like it was slept in), then we recommend checking out some of their other great clothes instead.
One good part about the suit is they offer free (and fast) shipping and returns. Each packages comes with a return label and you have 365 days to return it.
So, there you have it: our honest review of the Buck Mason Carry On Suit. What do you think? Let us know in the comments below