Have you seen the new KBO Ranger? Read our full KBO Ranger Review to find out if it is a worthwhile cargo eBike. This new bike from KBO features a powerful integrated battery, rear hub motor but most of all – an interesting cargo bike design.
But is it any good? Keep reading our KBO Ranger Review to find out more!
KBO Ranger Review: Our Quick Thoughts
An awesome cargo eBike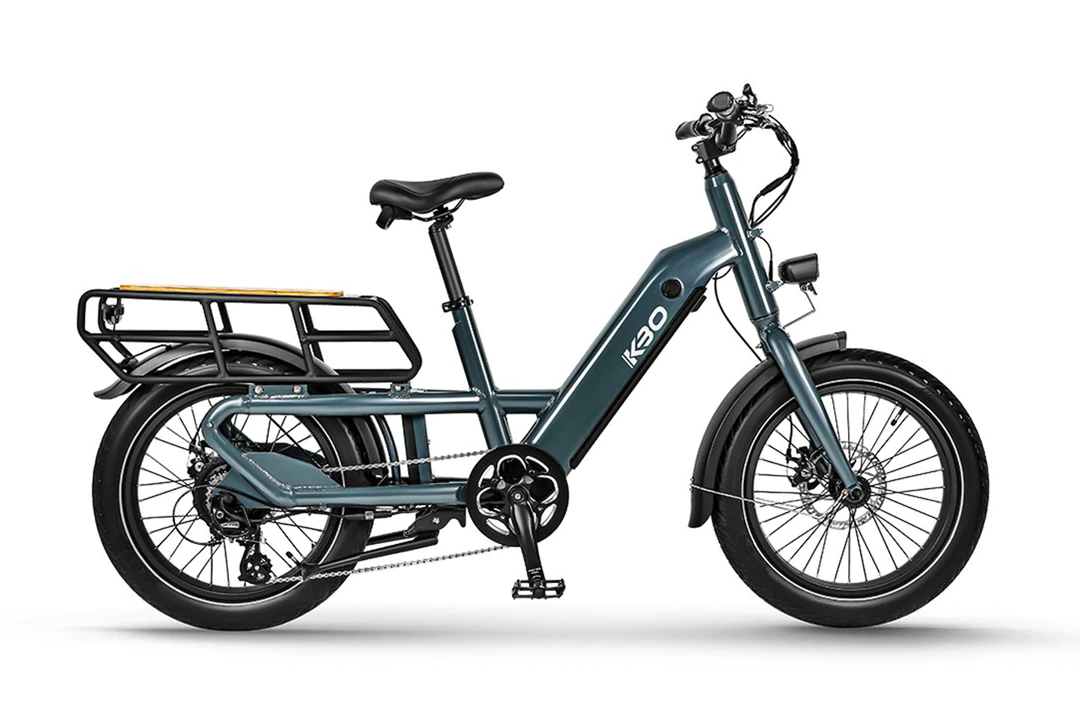 KBO Ranger vs. RadWagon 4
The main difference between the KBO Ranger and RadWagon 4 is the price and the overall length of the eBike. The Ranger is about 7 inches shorter and about $500 cheaper.
Watch our full video review of the KBO Ranger vs. RadWagon 4 for more details.
Check out our Youtube Channel for more video eBike Reviews.
If you are looking for something to haul cargo, take a look at the KBO Ranger with the extra large rear rack designed for carrying heavy loads. In fact, the KBO has a 400 pound payload capacity. That's a lot!
The KBO Ranger Electric Bike is perfect for the person that wants to carry additional cargo on their e bike, but doesn't want a bike that feels like a cargo ebike.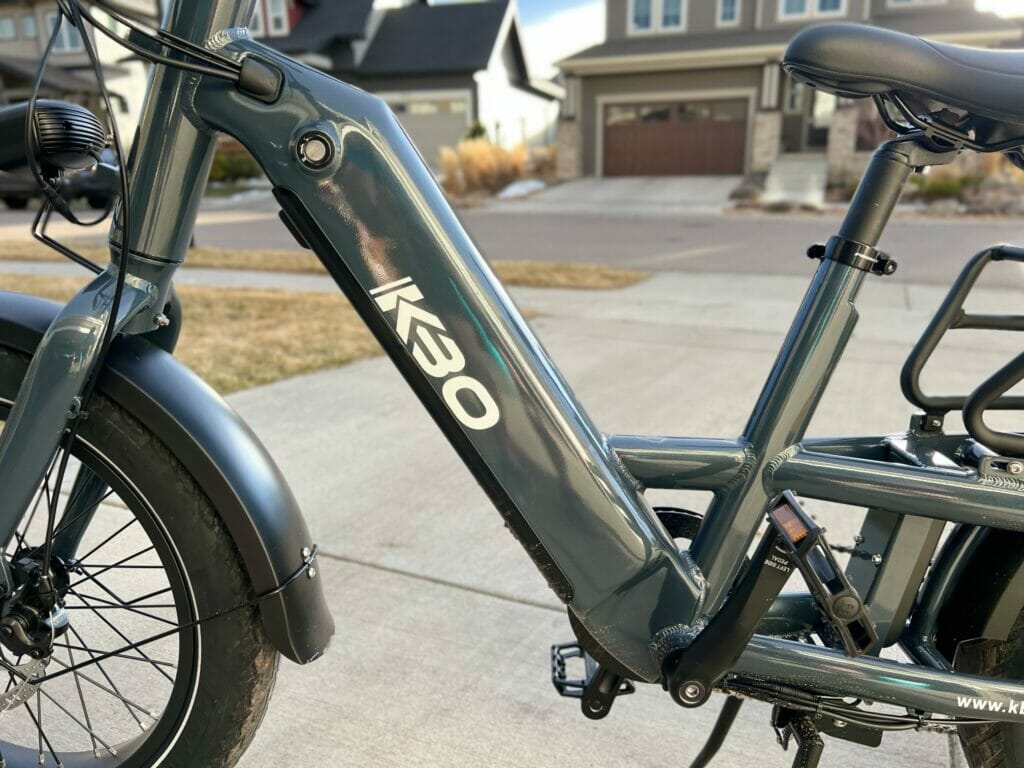 Not only does the KBO Ranger Cargo Bike come with a Rear Rack that features extra storage space. It come handy front mounts to also add a front basket, too – for extra cargo.
We love the KBO Breeze and other KBO eBikes we've tried, so we were excited to get our hands on the KBO Ranger Cargo eBike for a test of another electric Cargo Bike.
Basic Features of the new KBO Ranger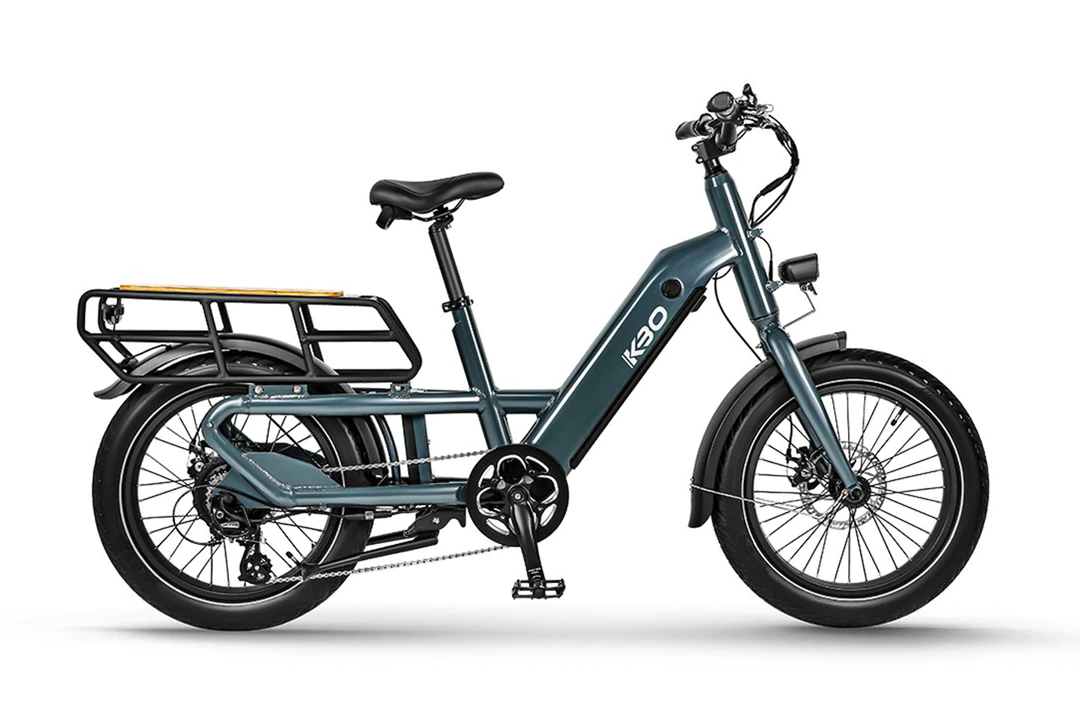 The new KBO Ranger features many of the standard features you'd expect in an electric bike these days:
Front LED Light
Front Fenders
Rear Fenders (aka Full Fenders)
Mechanical Disc Brakes (sufficient braking force even with a larger payload)
Rear Brake Light
Pedal Assist – 5 different pedal assist levels to choose from
Half-Twist Throttle (an ergonomic half twist throttle, at that)
Back-it LCD Display that displays pedal assist level, trip odometer and a lot more
Shimano Thumb Shifter
Adjustable Saddle
Powerful Motor – 750W Rear Hub Motor
Comes as a Class 2 eBike – 20 MPH Top Speed
Quick Charger
Much more
KBO Ranger: What we love
The KBO Ranger also has some extras that we really love
Center Stand Kickstand
If you've never had a bike with a center kickstand, it's awesome. That's because it keeps the bike balanced when you load it down with cargo – or even when you don't. No more picking up your heavy ebike after it's fallen over because the kickstand didn't catch, or your cargo got uneven.
This keeps your bike upright when loading. This is essential in cargo ebikes.
Integrated Rear Rack
The integrated rear rack is larger than other standard rear racks. That's what makes the KBO Ranger Frame a little bit larger. It's designed as a cargo ebike to carry whatever you need – including kids (but more on that in just a second).
Running Boards
Right now as one of the added free accessories, KBO Bikes includes running boards.
This is great for transportation of people (and kids), but also great if you want to strap stuff to the side of the eBike frame, too. Cargo ebike frames are designed to handle a lot of different scenarios, and this bike is no different.
Extra Range
The KBO Ranger has a larger, integrated battery than other cargo ebikes we've tested (read our RadWagon 4 Review for more), this gives the KBO Ranger an official maximum range of 60+ miles.
Obviously, range will depend on a lot of factors (rider weight, riding conditions like wind, terrain, etc), but expect a range of at least 35 miles even with a heavier rider and/or heavier cargo.
All of this is thanks to an upgraded integrated battery. The battery powers the 750 Watt Rear Hub Motor to extend the travel range. In fact, the KBO Ranger has a larger batter than the RadWagon 4.
KBO Ranger Review: What we don't love so much
The KBO Ranger is a great electric bike, but it's not perfect. Here are a few things we didn't love so much.
No Deflopilator
The KBO Ranger doesn't have a Deflopilator – what's that? It's a little spring that centers the wheel all the time. Notice in the video how the RadWagon 4 is centered. Without a Deflopilator, the wheel can get twisted around.
Not a deal killer, but we wish KBO Electric Bikes would have included this in the cargo bike.
No Front Suspension
This is a cargo ebike, and it's not designed for speed. That being said, we would have liked to see some type of suspension in the form of front fork suspension.
No matter how well balanced the bike is, when you hit road bump, you might feel it a little bit. This is something we'd like to see changed in future iterations of the KBO Ranger.
The typical 3-inch tires (slightly larger than typical commuter tires) help this just a bit, so it's not terrible. The semi-fat tires do help a bit. Wider tires could help a bit more with a smoother ride.
However, I was able to take this KBO Ranger Cargo ebike offroading without major issues.
KBO Fence – not yet available
The number one way we use our other cargo eBike, the RadWagon 4 – is to transport our kids. The KBO Fence – the KBO answer to the RadWagon's Caboose, isn't available yet. But it should be shortly.
No rear-wheel protection
Other cargo eBike frames, like the RadWagon 4, offer some plastic cover over the rear wheel to protect little one's feet (or even Cargo from getting intertwined), but simply put them in a bike rack bag to avoid this and you shouldn't have a problem.
I'd only be worried about my kids getting their toes or feet in the wheel, since they don't always list. You don't know any kids, that don't listen, do you? Just kidding. 🙂
A Great Cargo ebike is tough to make
No matter how big or small you make the KBO Ranger Rear Rack, it's not going to be big enough or small enough for everyone – that's why it's tough to make a cargo bike.
However, that's one of the reasons we love the new KBO Ranger eBike. The KBO Ranger Frame Stands out – in a very good way.
It's not overly large, like the RadWagon 4. But that's great – because it doesn't feel like it.
Sure, you can't transport a couple of extra inches worth of good (or people) but it doesn't feel like your driving a stretch limo, either.
You make a cargo bike with accessories
There is no such thing as the perfect electric cargo bike. That's because you need to make the cargo bike your own.
Sure, the KBO Ranger doesn't come with front basket, but it comes with the mounts for a front basket.
Sure, the KBO Ranger doesn't come with a perfect rear rack for everyone. But it has an adaptable rear rack. That's all you can ask for.
KBO Ranger Cargo eBike Review: Final Thoughts
An awesome cargo eBike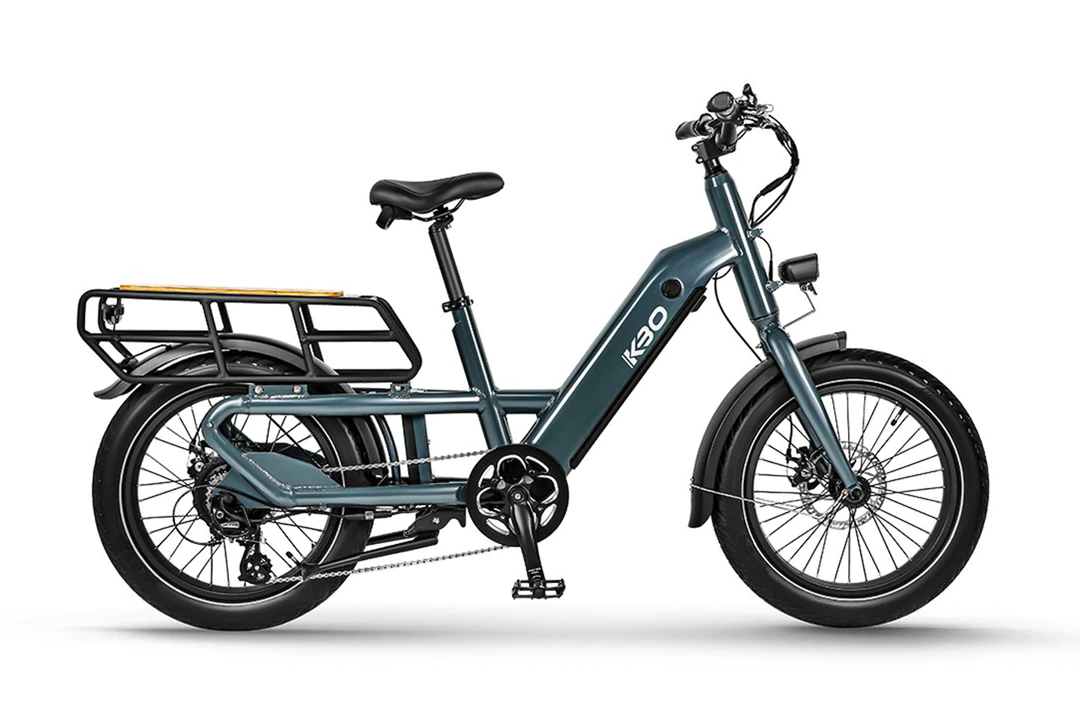 The KBO Ranger Cargo eBike is a great electric bike that comes with a lot of features. Some of the great features include the running boards, extra range, and larger integrated battery. The bike also comes with a frame that is larger than other standard rear racks, making it great for transporting cargo.
Although the bike has some great features, it also has a few areas that could use improvement. These include the lack of front suspension and rear wheel protection. Overall, the KBO Ranger Cargo eBike is a great electric bike for those who are looking for an electric cargo bike or simply want to save some money over options like the RadWagon 4. Read our full Radwagon vs. KBO Ranger Comparison.
As long as you are OK with a shorter overall length, the KBO Ranger is a great choice for an electric cargo bike – and it's tough to beat the price. The shorter length comes with its advantages, most notably better maneuverability. But obviously, it won't work for everyone.
A final note – the KBO Fence, their answer to the RadWagon Caboose, isn't available yet, but it should be shortly. We're very excited about this accessory and can't wait to get our hands on one!
Also, check out our guide, "Are Rad Power Bikes Any good?"