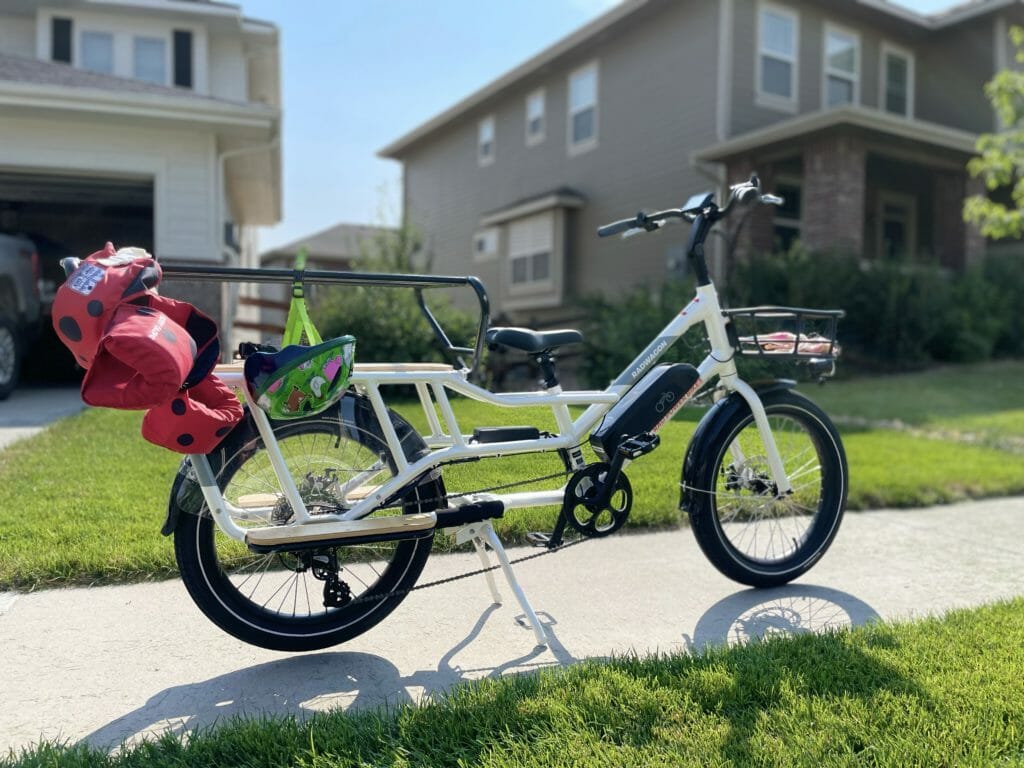 RadWagon 4 Review: The Rad Power Bikes RadWagon is a next-level hauler designed for those who are loading up to go somewhere, whether that's taking the kids on a trip across town or a weekend visit to the hardware store or farmer's market.
With Radwagon 4 you can carry everything from groceries and children with its cargo capacity of 350 pounds.
Top Cargo Bike Pick
Rad Power Bikes have been synonymous with electric bikes but, but the RadWagon, which does have a very odd design, may not be what people think when they hear "electric bike." Keep reading our full Rad Wagon Review to find out if this one's right for you! Also, check out our full Rad Power Bikes Review, too.
The Radwagon 4 is, in my opinion, the minivan of electric bikes. If you are looking for a practical vehicle that can carry plenty of stuff then I would definitely suggest checking this cargo bike out!
Watch our video review of the RadWagon 4
What is the RadWagon 4?
The RadWagon 4 is an incredibly versatile cargo eBike from Rad Power Bikes. It is a cargo eBike allows you to haul anything – from kids to pets and loads of other items. The bike has many different customizable options with lots of storage, so you don't have to worry about leaving your things behind when riding this electric bike.
It features both pedal assist and throttle (more on how important throttle is on a cargo eBike like the RadWagon 4, in just a second!).
Why the RadWagon 4 is kinda like an awesome minivan
The Rad Power Bikes RadWagon 4 is essentially the minivan version of an electric bike… but in the best way possible. Let's face it, you don't buy a Minivan because it is the sexiest beast in the world. You buy it because it's practical.
A minivan has automatic doors and a built-in vacuum cleaner – not because you're going to win the next Tokyo Drift contest (although that would be a brilliant idea for a movie!), but because it makes your life easier.
Why being a minivan is OK
The RagWagon is what happens when you take a "normal" electric bike and add several inches to the frame, add a unique built-in rack and design it to haul (haul stuff, that is).
There's no easy way to put this: the RadWagon definitely goes for function over form (it ain't the prettiest looking eBike). But that's OK.
Just like the Minivan, if you are even considering purchasing a RadWagon, it's because of the special features that it offers – like being able to haul 2 kids… yes, you read that correctly, in addition to a dog in a front basket.
You read that correctly: you could have 2 kids, 1 adult, and 1 dog – or just a lot of stuff in general. Try doing that in a RadRover 5.
Simply put – the RadWagon is built for hauling and customization. But the eBike was also incredibly well thought out. Let's keep diving into what makes the RadWagon 4 unique.
RadWagon 4 Review: How we use the Cargo eBike
The RadWagon eBike is the most used, by far, eBike in our Garage – even among other Rad Power Bikes (yes, you read that correctly). However, it has the least number of miles on it.
Why?
We use it almost every single day to take the two-block journey to the neighborhood pool.
We've been using it all summer and barely have 25 miles on it.
We put both of our kiddos on the "Caboose" in the back and our pool stuff in the front basket. It's the most efficient way to get from our house to the pool… and back. It's also the most fun… or at least, the most efficient.
RadWagon 4 Review – Quick Facts and Specs
The RadWagon 4 is loaded with features and has incredibly great specs for only $1,899. Rad Power Bikes RadWagon 4 packs a ton of features at a low price point.
Let's quickly touch base on those features.
Built-in integrated rear-rack with wood paneling
(We use both a front and rear rack – the front rack is optional)
Powerful 750 Watt Rear Geared Hub Motor
with 80 nm of Torque (that's pretty darn good!) – this is twice the torque of the previous generation Rad Power Bike Radwagon and torque makes a huge difference when starting the eBike from a cold stop.
Class 2 eBike
The RadWagon, like all Rad Power Bikes, goes up to 20 MPH through pedal-assist or using the built-in throttle. Learn more about the difference in eBike Classes.
In short, in most areas, Class 2 eBikes can go wherever "regular" eBikes can go.
Twist Throttle
I love a twist throttle on e bikes, especially when compared to other thumb throttles. On the RadWagon 4, it's on the right handlebar.
Included front and rear LED lights
The rear lights also includes an integrated brake light indicator
Tektro Aries Mechanical Disc Brakes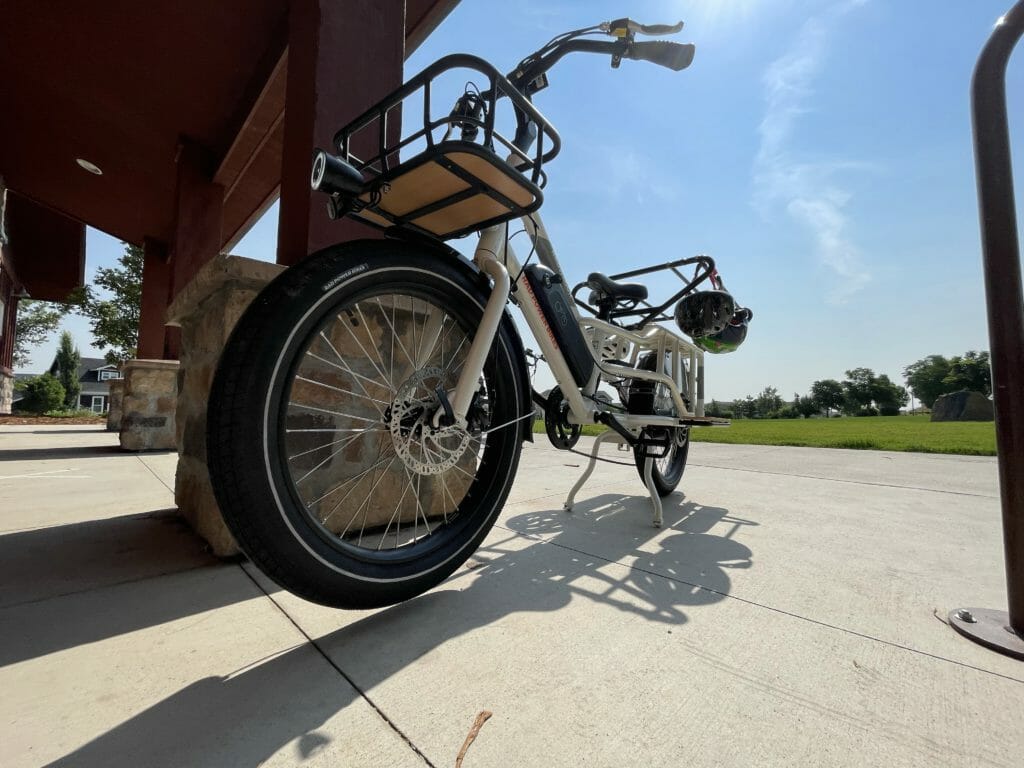 They provide ample stopping power in a bike with potentially 3 people on it thanks to these Tektro Aries Mechanical Disc Brakes
Easy to understand LCD Display
The LCD Screen explains exactly what you need
7-speed Shimano Shifter
A good number of gears to help you go where you need to go.
Super low standover height
this is much needed, as we'll discuss in more detail later – The telescoping seatpost allows you to REALLY customize how tall the bike is, without any tools.
Easily Adjustable Stem
Super convenient when my wife AND I ride both use this eBike. No tools are needed to adjust the stem
Custom designed tires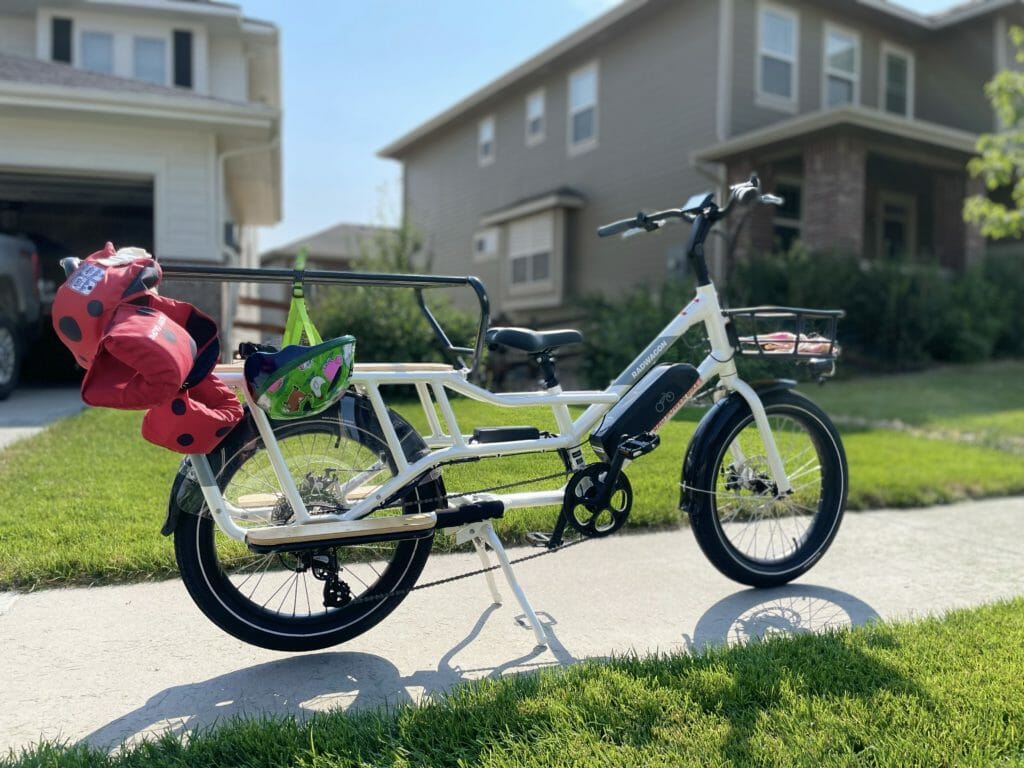 These custom tires give a lower center of gravity. Rad Power Bikes partnered with Vee Tire to get the perfect tire size for the RadWagon 4.
Included Front and Rear Fenders
Included – at no additional charge – perfect for any puddles you may come across
Many, many more – but let's dive into the real meat of this review. As you can see, they included a lot at a fairly low price point. But…did Rad Power Bikes think of everything? Let's break it down.
Rad Power Bikes RadWagon: Did they think of everything?
Rad Power Bikes thought of (almost) everything with the RadWagon. It's almost as if they made a list of everything that someone would need to haul any combo of kids and groceries and then incorporated those features into an electric bike.
The unique design of the RadWagon
The RadWagon has a much lower center of gravity than other eBike (or even regular bicycles) to help handle the extra cargo. That gives the bike a unique look that stands out from other electric bicycles you see on the market.
It's almost like a stretch limo. The back of the bike is several inches longer than any other bike on the market that we've seen.
This allows the RadWagon to come with a built-in rear-rack that has wood paneling on the top from the get-go (this NOT an extra option, it's actually included).
Many other eBikes would require extra customization or a third-party rack for you to haul almost anything.
The PlexiGlass That Will Save Your Legs
The RadWagon also has a unique plexiglass guard over the rear tires because they've thought of almost everything.
Think about it, if you have a kid (or an adult for that matter) on the back of the bike, without the Plexiglass shields, they could easily get part of their clothing or leg stuck in the rear wheel. That would be a pretty serious hazard.
By itself, you can't haul much with just the integrated rack – but that's actually the beauty of the design. It allows you to customize the rear rack to haul EXACTLY what you want to haul.
A quick sidenote on eBikes: almost no eBike (or even regular bike) will be perfect for you off the shelf. You'll want to add a basket or bell or headlights. The secret is to purchase the eBike that you think is "close enough" – and then make it better. That's what makes the RadWagon so awesome: it's a flexible base design to make your perfect bike.
The AMAZING, AWESOME, WONDERFUL Kickstand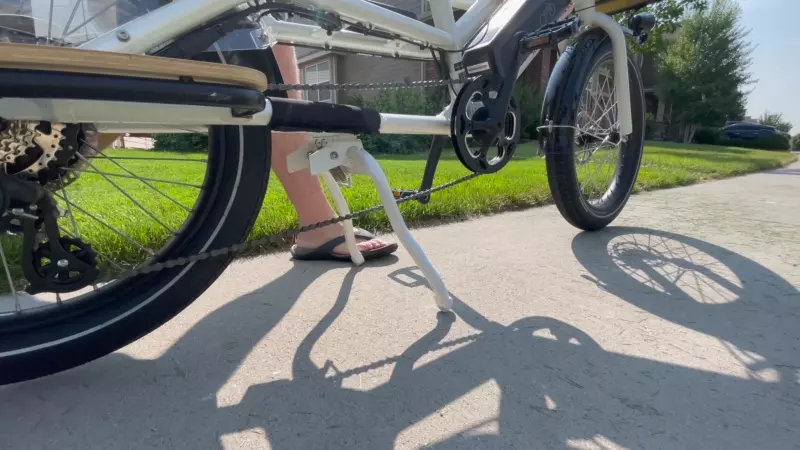 I've never shared my love for anything on a bike as I have of this kickstand. I wish all bikes had this sort of kickstand. It is a Dual leg, spring-loaded, steel kickstand.
What does that mean? It means the kickstand stands completely upright when you use it. Not leaning to one side or another like most kickstands.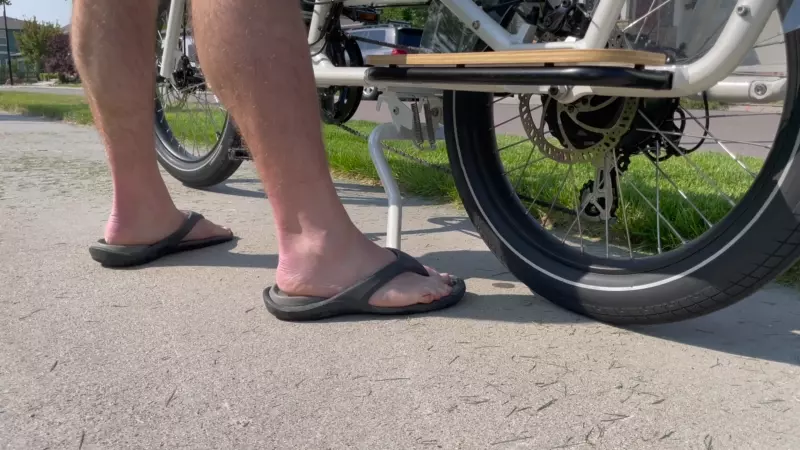 It can hold up a RadWagon plus two kids and still be stable (check out the photos below). It's amazing. You just don't find that sort of quality in most bikes today.
The thing I love most about this is when my 2-year-old gets on the back, I know it won't tip over. It is a little more difficult to get going when you first use it, but the pros outweigh the cons here.
The kickstand is simply the best I've ever used. Rad Power Bikes, if you're reading this – please never change this kickstand!
What size and type of cargo can I carry with the RadWagon?
One of the best parts about the Radwagon is that it's designed from top to bottom to carry whatever you need.
The bike is capable of carrying a maximum payload capacity of 350 pounds. That includes the main rider and anything else loaded on the electric bike.
The Rear Rack Capacity is 120 pounds, which isn't a ton – but a smaller adult or several kids could easily fit.
The Rear Rack was designed for customization. We installed the Rad Power Bikes Caboose and Rad Power Bikes Running Boards (also with sweet wood paneling) on the Rear Rack. However, you can also put a Thule Child Seat on the Rear Rack – it's actually big enough to fit 2 children's seats on the back.
A must have accessory for the RadWagon
If we were using our eBike for any longer trips than the two blocks it takes to go to the pool, we would probably put our youngest (almost three at the time of writing this RadWagon Review) because they can tend to get bored and mess around while on the back of the bike.
A general rule of thumb is: if your kid is young enough to fall asleep on the back of the bike, you should probably put them in an actual bike seat instead of the Caboose. If your kid falls asleep, they could fall out of the bike. That would be super scary.
Rad Power Bikes RadWagon: What does it feel like to ride?
I've never driven a limo, but I imagine the RadWagon is pretty similar to a limo.
Sure, a limo is a car, but I'm sure it feels longer than a car. The turning radius of a limo is pretty large and it's probably a little slower to get going than a car. But that's not why you drive a limo.
The same is true with the RadWagon. Sure, it can go 20 MPH, but it takes a little longer to get there. The 750 Watt Motor is plenty, but with 2 kids and yourself, you can definitely tell this eBike isn't "zippy" like it would be without all the extra weight.
It's just longer and a bit heavier. It's doable. But the fine folks at Rad Power Bikes really did think of everything. By making e bike have a low center of gravity, it almost feels more like a roller blade than a bus. Notice I didn't use the analogy of a bus – because this electric bike and it's rear hub motor were all designed to work together.
Overall performance and riding the RadWagon 4
The RadWagon 4 is surprisingly zippy for how big the bike is and how heavy it can be with a loaded integrated rear rack. We typically ride the ebike at pedal assist level 2 or 3 and have the bike in about 5th or 6th gear.
With both kiddos on the back, this is a comfortable pace to take the kids to the pool or even to the park.
If you were to need more power on the RadWagon, you can always use the built-in twist throttle. The RadWagon also uses a cadence sensor to gauge how much pedal assist you need, this is essentially little magenents that sense when you pedal the wheels.
I prefer Rad Power Bike's pedal assist levels to some of the other e bike brands we've test in the past.
One of the most noticeable features of the bike is how quiet it is. There are many bikes out there that will make more noise than this thing! You can actually hear yourself think while riding the RadWagon (that is if you don't have kids screaming on the back).
How do you start the RadWagon from a dead stop?
To be 100% honest, starting to pedal from a dead stop in the RadWagon 4 is difficult. Even with pedal assist turned on, it is hard to start pedaling from a dead stop with extra weight. The same is true with the RadRover 5 from Rad Power Bikes, especially when my kiddo is riding in a shotgun seat or uRider seat.
For a full stop, the telescoping seatpost is a godsend. My wife and I both use the RadWagon (separately, of course) and the ability to quickly adjust the seatpost is perfect for us.
You really need to be able to touch both feet on the ground to say balanced, especially with weight in the back. I normally don't bold and underline things, but that is incredibly important for the Rad Power Bikes RadWagon 4. If you have weight in the back, especially moving weight (like kids), you need to be able to put both feet on the ground, comfortable, when stopped.
That's telescoping seatpost design is what allows the RadWagon 4 to be suitable for people 5'1″ to 6'4″. I'm 5'9″ and my wife is 5'2″ – it's pretty incredible we can both ride this bike and not need any tools at all to adjust it for our heights.
Remember: the extra weight makes it tough to balance and get going. The first couple of strides on any bike are always the most difficult. The extra weight simply adds to that problem. For that reason, we use the twist throttle to start the eBike going, just a little bit – before we start peddling.
When the kids are on the back of the bike, the weight can easily get moved around when starting to pedal – so we use the throttle. This will, as we've read, put more wear on the geared hub motor – but it's worth it to keep everyone safe (at least in our opinion).
Aren't your worried you're going to fall over with your kids on back?
Yes. Terrified.
And in 100% truth, it happened once, but it wasn't the fault of the Rad Power Bikes or the RadWagon. It was our fault.
The very first time we took the kids for a ride on the RadWagon 4, it had been raining a lot in Colorado. The streams were overflowing, it had been raining so much.
On a day after one of the storms, we took a trail that is next to a stream. It was slightly overflowing and we decided to go through it.
My wife was driving the RadWagon and I was driving my RadRover 5 (see the full RadRover 5 Review). I was going behind her to make sure the kids were being safe (it was the first ride after all) and we came across an area where there was some water over the trail.
It didn't look deep so we decided to go through it, very slowly. As we were going, my wife hit a sink hole that she couldn't see under the surface of the water and the front wheel got stuck. The bike fell over on the side.
It happened so fast, yet so slow – as I watched it happen right in front of me. Thankfully, everyone was OK – and I actually think the Caboose saved an injury from one of our kids.
The Caboose Design: why it's brilliant
A must have accessory for the RadWagon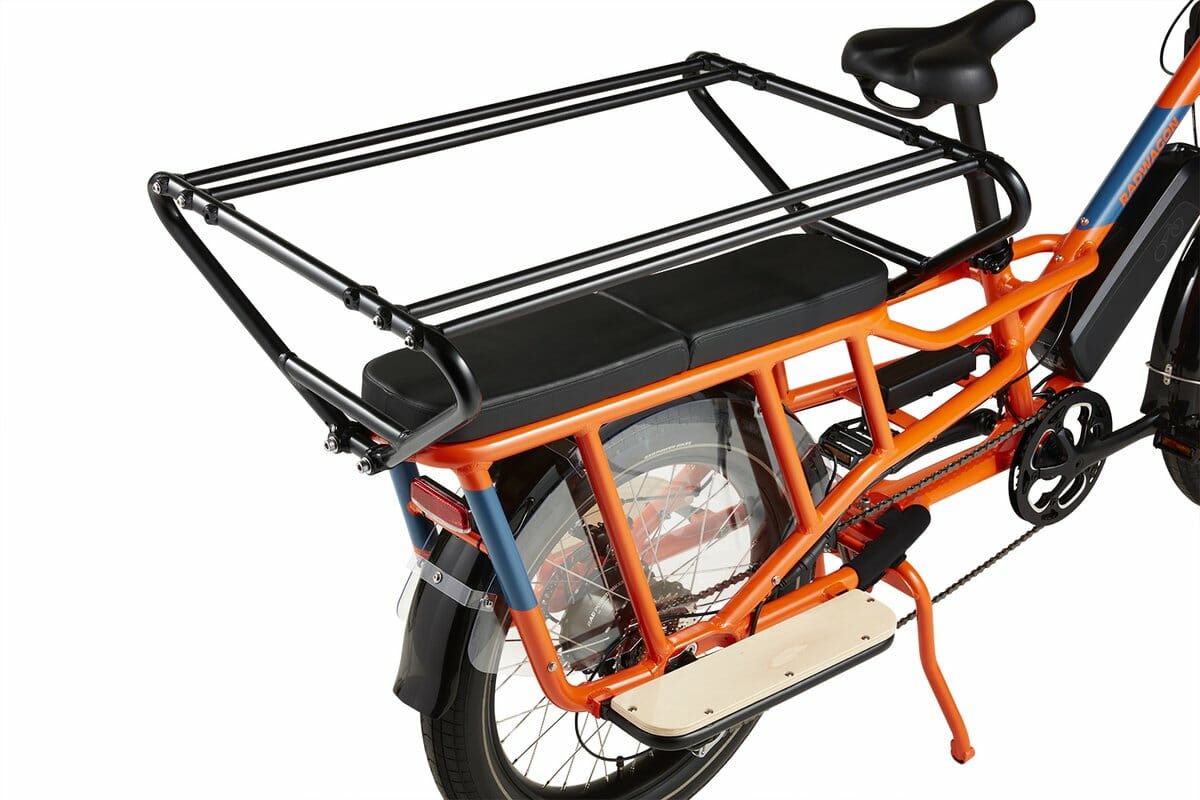 RadWagon Caboose
If you want to haul kiddos, there's no better way than the RadWagon Caboose.
Buy Now
We might earn a commission if you make a purchase, at no additional cost to you.
If we had our kids in a child seat, there's a good chance they would have broken an arm. Here's why: the caboose has an inverted pyramid design.
When the bike fell over, the kids' hands were inside the caboose, on the interior bar. You can see the scratches left on the Caboose from the accident.
If they were in a children's seat, there's a good chance their hands would have been outside of the seat and they would have a smooshed arm, or even worse – a broken one.
Long story short: be super careful with the most precious cargo you own and don't go in water that you can't see the bottom of. Our mistake.
Sidebar: It seems like every time anyone we know gets a new eBike, they have some sort of accident the first time or two they take it out. Just be careful. These bikes are safe, but they still go fast.
How do Rad Power Bikes handle assembly of the RadWagon?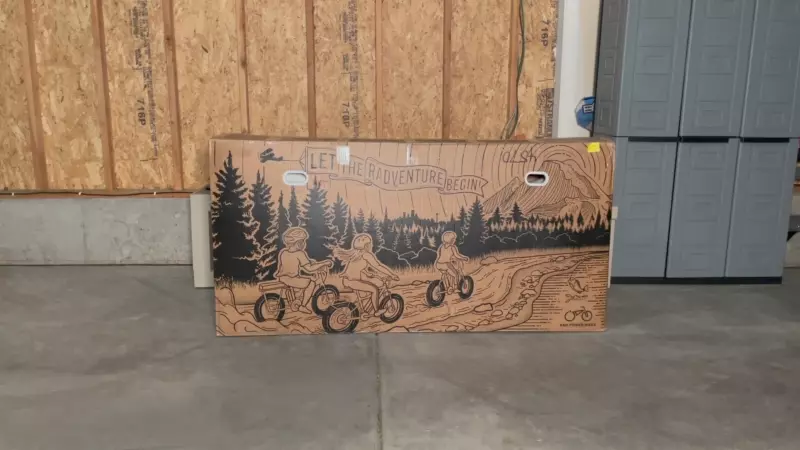 The RadWagon was about on par with other eBikes to assemble. You can do it by yourself, however, I would recommend getting a friend to help you out.
My dad helped me put together this RadWagon and I'm glad I had his help. It's a little bit awkward and it helps to have someone hold it up while putting it together.
It took about 30 minutes or so to put it together. That is about on par with other eBikes we've tested.
Bonus: I learned what a deflopilator was. Do you know how that relates to a bike?
Reminder: Always get your electric bike checked by a certified bike mechanic
Just do this. Don't skimp and think you followed the instructions perfectly. There are things, like making sure the tires are "true" (I bet you don't even know what that means… or even how to fix it if they aren't) that only a bike mechanic can do.
Don't try and save $60 or so to have a bike shop check your new electric bike. We have a local bike mechanic check all of our bikes after we put them together. While they say they are all safe enough to ride – they always find 1 or 2 things that need to be improved or fixed.
If you spend almost $2,000 on an eBike you can afford to spend the minimal extra amount to get a professional to make sure your eBike is the safest it can be.
What we don't love about the Rad Power Bikes RadWagon 4
As you can tell, we really like the Rad Power Bikes RadWagon 4. However, there are a few things about it that we don't like. Nothing's perfect, right?
The Front Handlebar post is designed to always be straight. This isn't a huge deal, but the front light (and basket if you have one) is always facing straight. This makes it a bit more difficult to drive at night, which we never do (our kids are usually asleep by sunset).
However, it is a bit trippy to steer when the basket doesn't move when you turn the steering wheel.
It also seems like there is some dead space that could be used in an innovative way in the middle of the bike, but that's very minor.
We also wish that all eBikes, not just the Rad Power Bikes, had built-in cell phone chargers and stands. Seriously? Doesn't everyone ride with a cell phone these days?
However, you can charge your cell phone via the built-in USB port on the LCD Display of the RadWagon. You just need to plug in your cell phone first, before turning on the RadWagon.
Also, check out our Flyer Cargo Bike Review to see a great, cheaper option.
Recommended Accessories for the Rad Power Bikes RadWagon 4 Electric Cargo Bike
Like so many things, this all depends on how you are going to use your RadWagon. If you are looking at hauling kids, we'd recommend:
The Caboose – as mentioned before. This allows you to put 1-2 kids on the back. The interior bars are adjustable so the Caboose can grow with the kids.
The Running Boards – These slick running boards are awesome! They match the bike perfectly with wood panelling and are great for any passenger.
Deck Pad – perfect for passengers, this is a great padding that goes on top of the wood from the integrated rear rack. It would be a little more comfortable for passengers. When we got the Rad Wagon 4, it was out of stock.
Front Basket – If you've got kids in the back, the best thing to do is purchase the front basket. The eloquently fit on the front of the eBike and is designed specifically for the Rad Power Bike RadWagon.
If you have kids you want to haul around, those are your must-have accessories you need when you order your RadWagon 4.
How fast does the RadWagon 4 go?
The Rad Power Bikes RadWagon 4 goes 20 MPH using pedal assist or throttle. After it reaches 20 MPH, you can always pedal to go faster. If you are going downhill, it will not brake. The motor will simply stop providing additional power after you reach 20 MPH.
The RadWagon 4 is considered a Class 2 eBike and is typically allowed on all trails regular eBikes are allowed. Check your local laws for more details.
Does RadWagon 4 have regenerative braking?
The RadWagon 4 does not have regenerative braking. The RadWagon 3 did. Rad Power Bikes made some very important improvements to the RadWagon from the 3 to the 4. They switched out a direct drive motor to a geared hub motor. As a result, the motor got a boost in overall power and torque, but lost the ability to provide regenerative braking.
What is regenerative breaking?
Inside the motor, wires are powered by the battery to turn magnets on the outer ring. This makes the wheel spin. When you squeeze your brakes, a signal is sent to the controller which changes it into a generator and quickly converts some of your bike's momentum into electricity for your battery. This added charge in your battery means that you can ride further without having to stop. When you want to stop, or ride down a hill, the bike can become an electric generator. It will make electricity which will charge your battery and you can ride it for longer!
Pretty cool, huh?
RadWagon 4 Review: The final verdict
RadWagon 4 Review – Any good?
A great way to haul anything
Have an questions or comments about our RadWagon 4 review? Let us know if we missed anything in our RadWagon 4 Review, too! We'd love to hear from you! Also, be sure to check out the best Rad Power Bike Promo Codes to save on this awesome electric bike!
How fast does a RadWagon 4 go?
RadWagon 4 goes up to 20 MPH assisted. This is done through pedal-assist or throttle. However, you can go even faster when going downhill or by pedaling even more, due to the law of physics – the motor just cuts out once you reach 20 MPH.
Does RadWagon 4 have regenerative braking?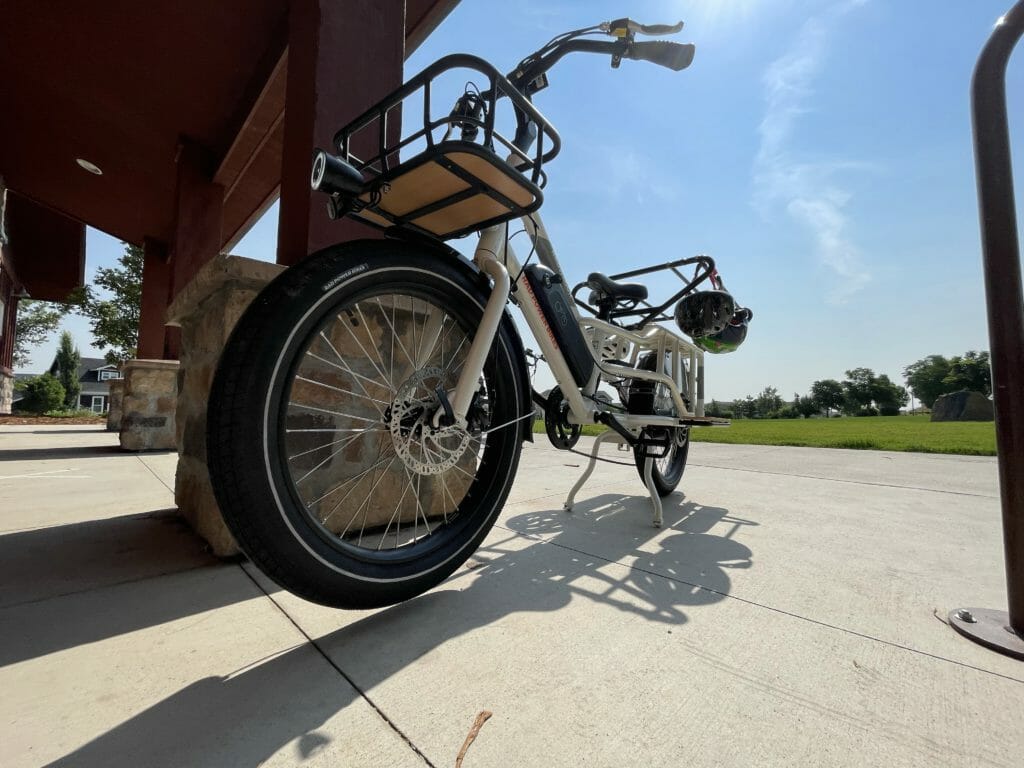 No, the RadWagon 4 doesn't have regenerative braking. This newer model features a higher-powered motor with more torque, so it's perfect for heavier loads or longer distances.
What class is a RadWagon 4?
The RadWagon 4 is a Class 2 eBike. It stops providing power to the motor at 20 MPH, but also has a throttle.