KBO Breeze Step Through eBike Review: We've given you our honest review of the KBO Breeze eBike, but what about the Step-Thru model? Is the KBO Step-Thru any good? Take a deep dive into our honest KBO Breeze Step-Thu Review to find out!
KBO Breeze Review: Meet commuter bike, packed with features at a budget price.
Here at We Tried It, we adore our eBikes! We became enthralled with the RadRover 5 (read our complete RadRover 5 Review). My father-in-law uses the KBO Breeze (the non-Step-Thru Commuter eBike) as his daily bike. Don't miss the full KBO Breeze Commuter Bike Review.
When KBO wanted us to do a KBO Breeze Step-Thru Review, we jumped on the opportunity to review the hot eBike that is finally back in stock.
Meet the KBO Breeze Step-Thru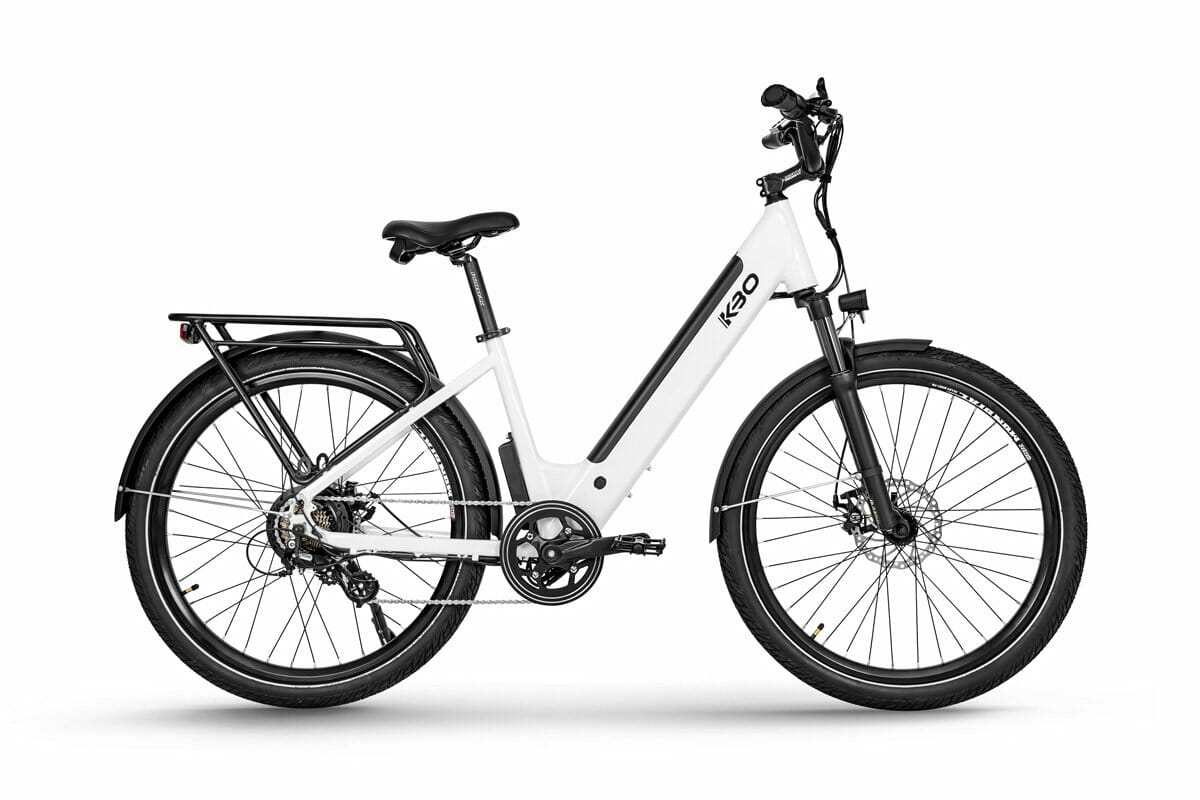 A great all-around eBike
$1,499
Rear rack built-in
Range: 55+ miles
Top Speed with Motor: 20 MPH
Front + Rear fenders included
eBikes: Where and I use eBikes
I really don't have a logical reason for eBikes, except for living in one of the country's most cycle-friendly cities.
We even have a famous beer made here called Fat Tire (for the bicycle) Fort Collins is full of trails to explore and it also has great weather around 300 days out of the year with some snow showers every now and then but mostly sunny skies all year long. Even if it's cold, the sun is usually out!
How I use my eBike
I'm not a hardcore bicycle rider by any stretch of the imagination.
I like to get outside and enjoy the weather. I'll use it for short errands too (five miles or so).
Riding with my kiddo
I simply like to get out, breathe some fresh air, and spend time with family now that my son is old enough to ride on a UrRider eBike. My Zoom calls can be tiring sometimes due to long hours spent at work; an evening bike ride clears up any mental clutter!
What is KBO Bikes?
The brand name KBO is a new direct-to-consumer eBike manufacturer. They eliminate the middleman by delivering the bike to you directly, much like Rad Power Bikes.
They offer three models, the KBO Breeze, the KBO Step-Thru Breeze, and the Hurricane (read our KBO Hurricane Review). They also just announced the KBO Ranger (read our KBO Ranger Preview)
Meet the other KBO eBikes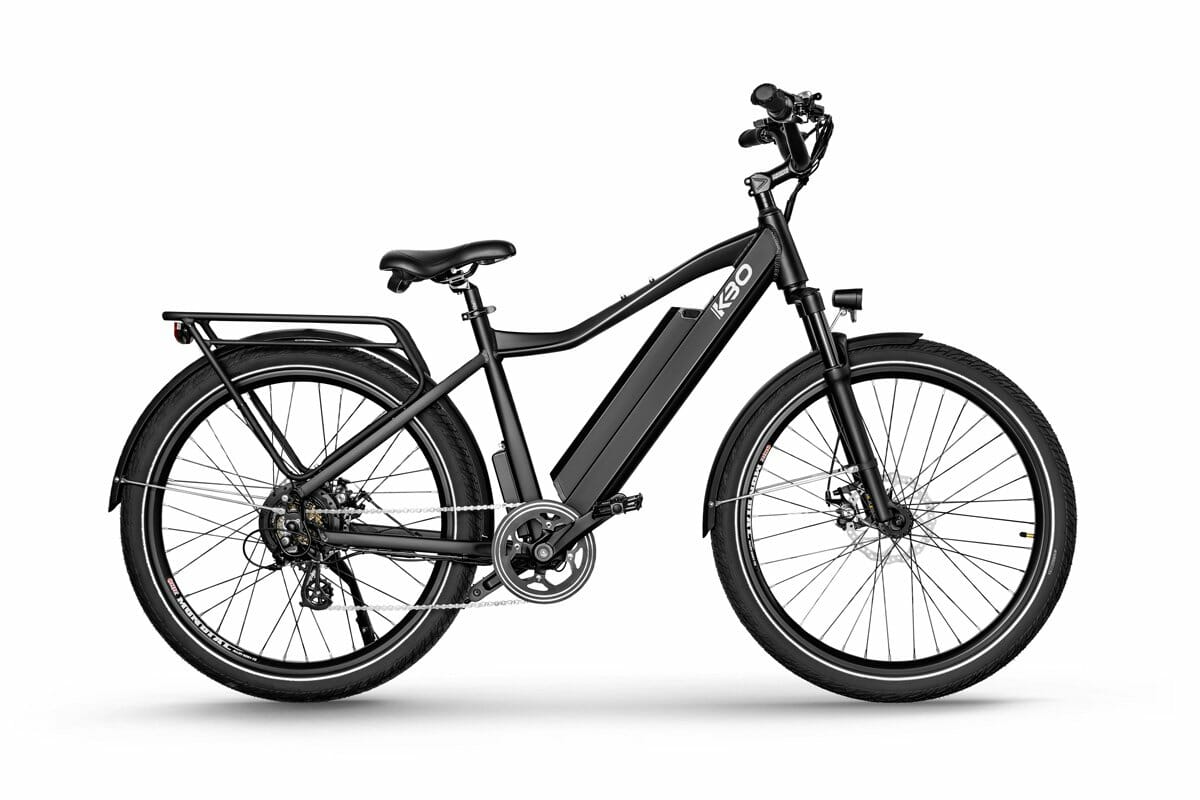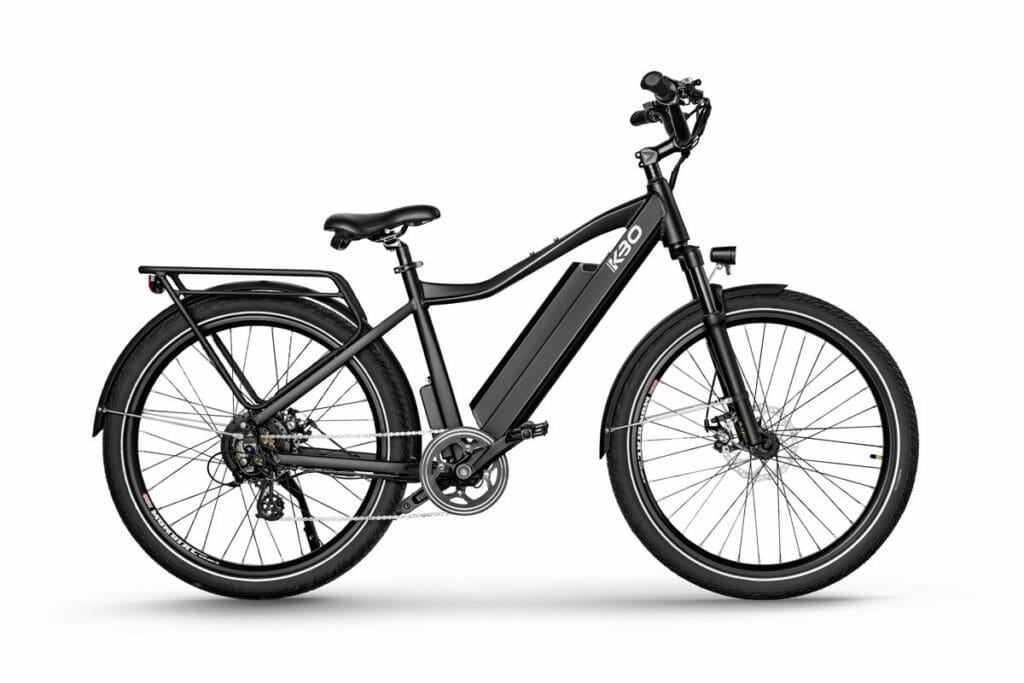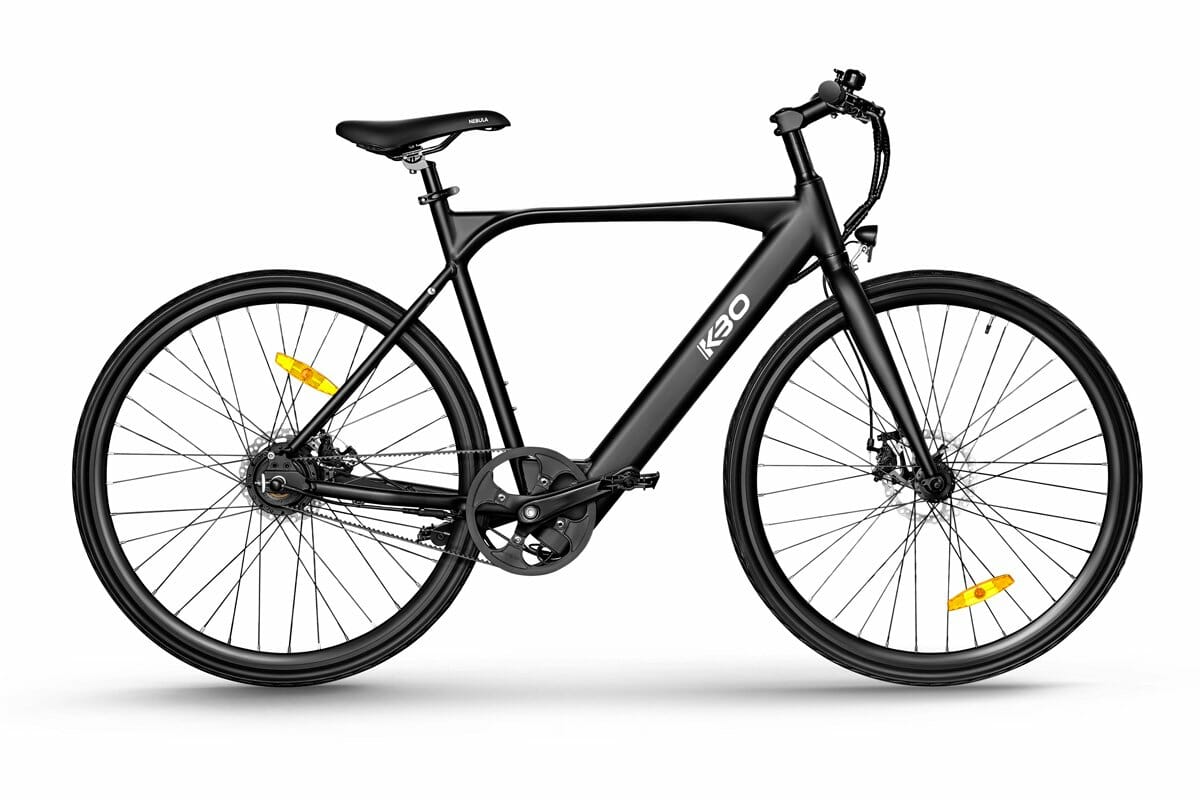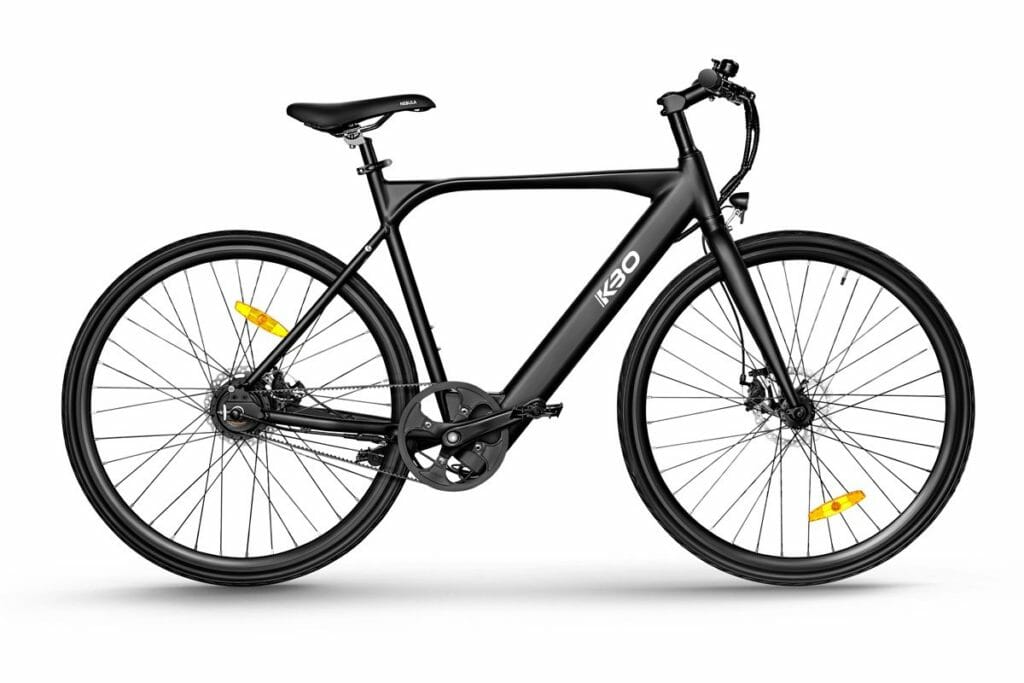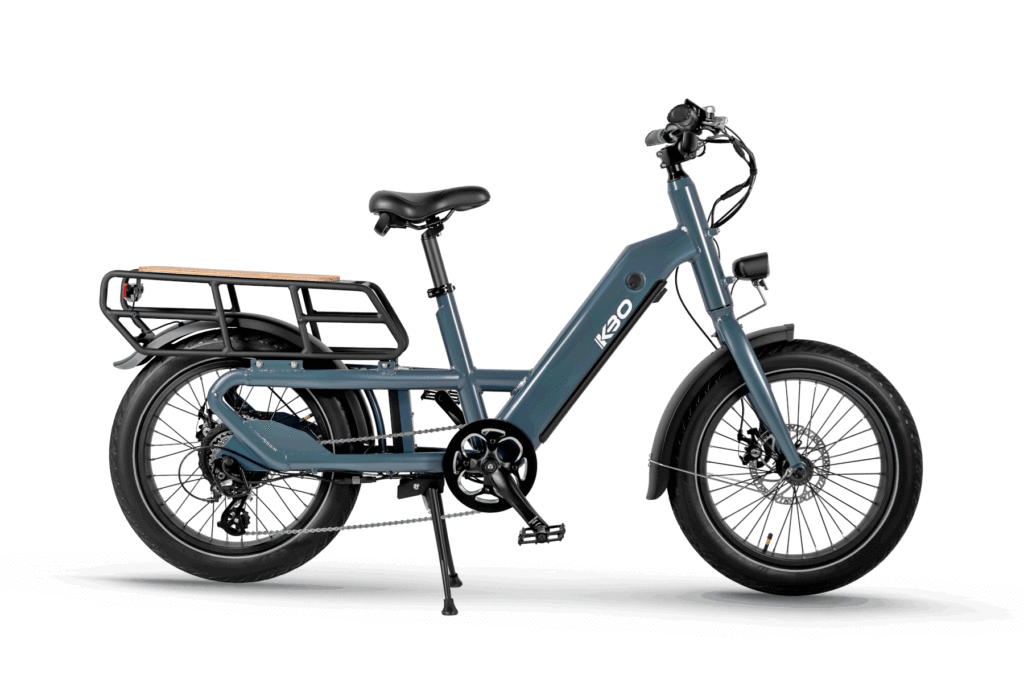 KBO Breeze Step Thru: What is the KBO Breeze Step-Thru e Bike?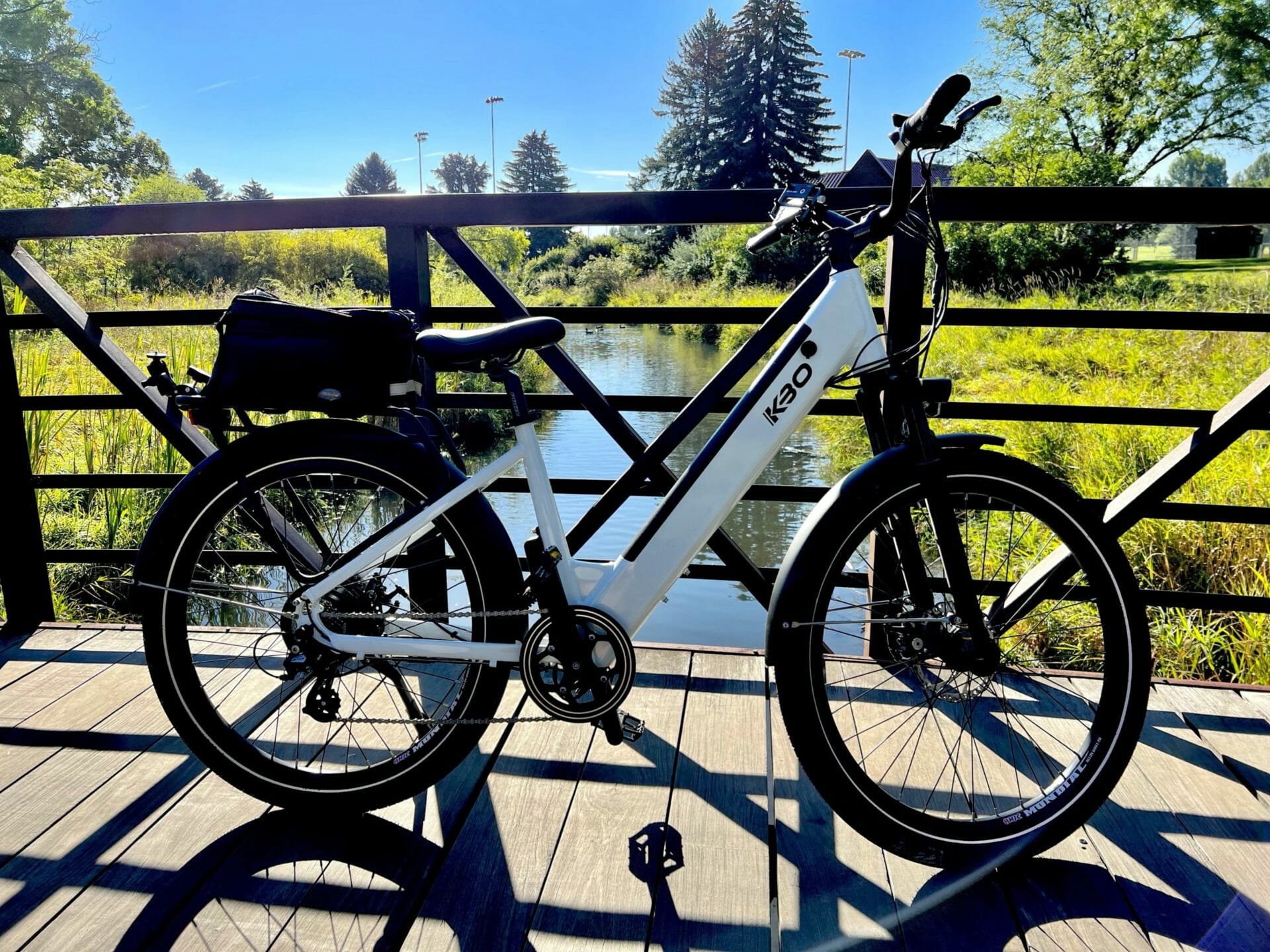 The KBO Breeze Step Thru is a durable bike that can be ridden on trails and roads alike.
At $1,499 it offers an affordable price for those looking to get into ebike riding without spending too much money up front or having some features missing (like a rear rack that you need – it's one of our top eBike accessories) or fenders. Some eBikes charge extra for these features, but they are included with the KBO Breeze Step-Thru.
The Step-Thru also includes a water bottle holder, that we don't use – frankly – but that's ok.
KBO Step-Thru Classification
Class two e-bikes are a type of e-bike that can go as fast as 20 miles per hour. They can be powered by pedal assist OR throttle only. Read more about the differences between eBike classification.
The Breeze Step Thru Electric Bike can carry 300 pounds of weight, either 300 pounds for a single person or as a total load.
The KBO Breeze is a medium-sized tire electric bike (not as fat tires as the RadRover 5) with an aluminum frame, front suspension fork, and mechanical disc brakes. It has both pedal assist (level 0 – 5) and throttle-only options to help you get where you want to go at a maximum top-assisted speed.
But the Breeze is not without its limitations, but more on that in just a second in our KBO Breeze Step-Thru Review.
Let's talk power, first
The Rear Motor Hub in the Breeze is a geared hub motor.
The Rear Hub Motor (which simply indicates that the motor is in the rear wheel's hub) produces 750W peak power- identical to the RadRover 5.
The Sustained 500W brushless geared hub motor will allow you to ride freely through the city blocks, light trails, and dirt roads just like the breeze (hence the name).
The motor has plenty of power to get you wherever you need to go, but there is one small limitation.
Torque, torque, torque
I had no clue what torque was until I studied this with eBikes, because both the Rad Power Bikes and KBO eBikes assembly instructions describe how many newton meters of torque you'll need to apply in specific regions of construction.
However, Torque is even more important when it comes to the motor's power when riding.
The definition of torque is the amount of a motor's rotational force. If horsepower is how quickly work can be delivered, then torque is how much work it can do.
Torque differs from horsepower because it describes how much an engine can do, while horsepower defines how fast that work can happen. This means that sometimes people say "torque" in everyday language as "oomph".
The RadRover 5 has 80 Nm (newton-meters) of torque.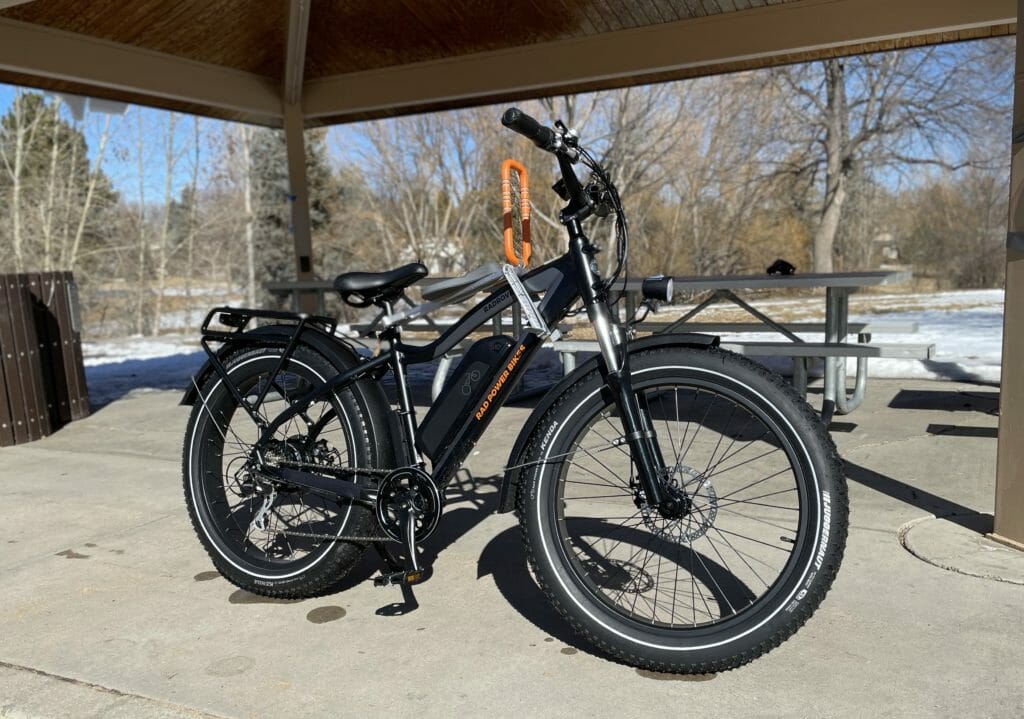 The KBO Breeze Step Thru Motor has 60Nm. While it's only 20 Newton-meters difference, it is actually 25% less – which is a lot in the grand scheme of things.
Torque: Where you feel the difference
I'm sure I sound like a broken record when it comes to torque, but if you have ridden other eBikes, you might notice a difference in a couple of ways.
You'll notice the biggest difference in the first couple of MPHs that you are going – and when trying to go up hills.
How the Step Thru Compensates
The KBO Breeze Step Thru has a super sensitive Pedal Assist, I think in part to make up for the lack of torque (which isn't a terrible thing), but you'll notice it the most going from start to just a couple of miles an hour.
If it was a car, it would feel like a really slow – and long – first gear. The first couple of miles per hour would just take a little longer.
If you've never ridden another eBike, you'd never know the difference. If you have tried another eBike, you MIGHT notice a difference.
Electric Bike: Pedal Assist + Throttle
This is a Class 2 Electric Bike, which means it helps you go up to 20 miles per hour either by pedaling or entirely using the throttle (no pedaling required). The Breeze, like other electric bikes, has both pedal assist and a twist throttle (seen below).
Overall, I found the pedal-assist to be a little more touchy than other electric bikes that I'd tried. If you've never ridden an electric bike before and haven't had the opportunity to compare it to anything, you wouldn't notice any difference.
However, I do feel that the pedal assist is a little too sensitive for my taste. It's not a dealbreaker in any way – I'd just prefer it to be a bit less sensitive (and, in all fairness, their website states that it is).
Top Speed
When I was testing this bike, I was able to get it to travel just over the 20 mph limit – the highest speed I achieved with throttle-only was about 22.5 mph. I'm not sure if that's due to an issue with the on-screen display or if I was really traveling at that speed.
Gravity and physics will not keep you from going any faster – you may always pedal to exceed the assisted speed of 20 mph.
Breeze Step Thru: Range + Battery
The Breeze Step-Thru features a removable, in-frame 48 volt, 16Ah Lithium-ion Battery with Samsung/LG Cells.
Battery life is one of the biggest advantages of a KBO bike, rated for 900 full charge cycles. The 768Wh capacity battery gives you up to 55 miles of riding on a single charge.
I haven't been able to take any of my batties down to zero yet (I'm not going on super long bike rides), but this is a more than capable battery.
According to KBO, they say this battery will give you 55+ miles of riding on a signle charge. The range will, of course, all depend on pedal assist level, terrain (hilly or flat), wind, weight on the bike, etc.
KBO Breeze Step-Thru Front Suspension
The KBO Breeze Step-Thru also has a front suspension fork – with some adjustment options – that allows it to be taken on light trails, such as dirt roads and maintained trails.
You will really appreciate the Front Suspension when you hit potholes or just uneven pavement. I even notice it when I go off my driveway into the street, we have one of those sharp driveways in our neighborhood.
The Breeze Step Thru also has front and read mechanical disc brakes and a Shimano Altus derailleur.
Added extras with the KBO Breeze
The KBO Breeze has a built-in, included rear rack, which is one of the greatest available extras. That's fantastic that it comes preinstalled!
The bike's light system is controlled by the bike's LCD display and built-in controls, with a bright headlight and taillight powered by the battery.
The KBO Breeze also has front and rear fenders, which is really beneficial if you encounter water or puddles while cycling. This particularly helps to keep your pants dry in the rain at higher speeds.
Mechanical Disc Brakes
Almost every single eBike we've tested, with the exception of the RadRover 6 (read our full RadRover 6 Review), comes with Disc Brakes – hydraulic brakes can troublesome for repair and service.
The KBO Breeze Step Thru comes with solid Disc brakes (mechanical). Nothing fancy and nothing bad here.
KBO Breeze Step-Thru vs. Non Step-Thru Electric Bikes from KBO Bike
The only REAL difference is the frame. The KBO Breeze Step-Thru. is simply easier to get on and off of.
The Step-Thru lists a recommended rider height of 5'2″ ~ 6'3″ and the Non-Step Thru lists a recommended rider height of 5'4″ ~ 6'4″.
My wife, who is about 5'1″ can ride this bike. However, it is still a larger bike – weighing about 62 pounds. It's not that much lighter than the RAdRover 5, but it feels a lot lighter.
Why and who should you buy the KBO Breeze?
The KBO Breeze is the perfect eBike for the casual biker. What I mean by that is simply someone who isn't a superbike nerd.
I'm not a bike nerd and slowly learning more about eBikes and what I like and don't like. But I don't consider myself an expert. Just someone who really enjoys eBikes and getting outside.
This would be a great commuter bike for traveling a couple of miles to work every day, too.
Why and who should NOT buy a KBO Breeze?
Besides being too short (or tall), this eBike isn't designed for the super bike nerd. If you actually know what Nm stands for and means in terms of torque, you should probably pass on this bike. It has a lot of great features, sure, but it's not designed for the person that is super-obsessed with bikes.
There will be times when you need to move this bike (parking, onto a hitch, etc.), and it is a beast. Just know that before you get it.
For commuting on paved roads, I'd recommend checking out the Charge City eBike. Read our full Charge City Review.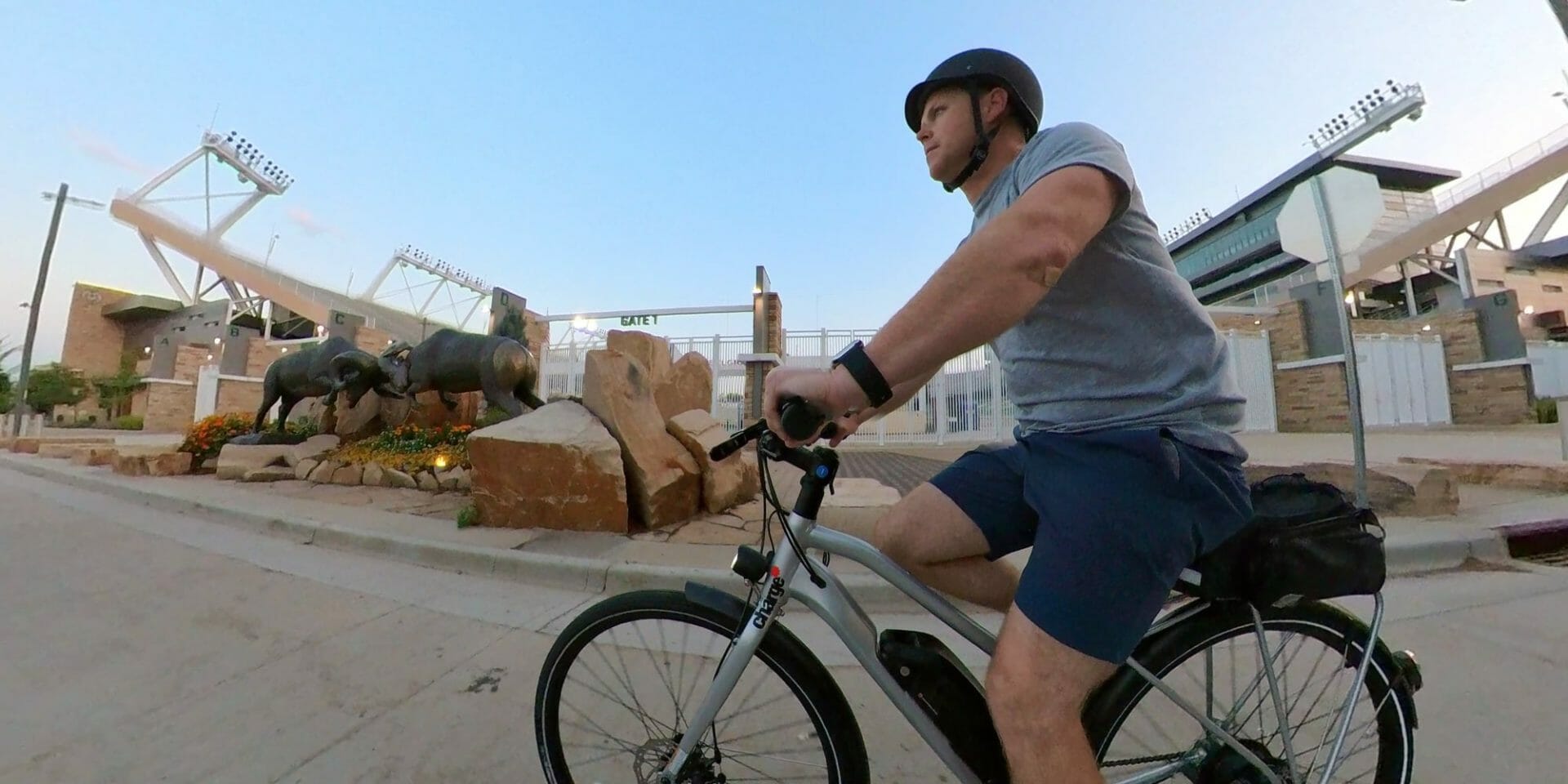 It's about the same price, but is a lot lighter and designed to be moved. It even collapses into a really small package.
How will you use your KBO Breeze electric bike?
It all comes down to how you are going to use your bike.
My Father-in-law uses his KBO Breeze as his daily eBike. The Breeze Step-Thru is just a slightly different frame.
Some may say that the "Step-Thru" is a "girl frame," but I have no problem driving. itas a dude. Seriously.
The Rear Rack on KBO Breeze
I love that the rear rack is included with the Breeze. Honestly, installing the rear rack on the RadRover 5 was not the easiest thing in the entire world, but. itis super nice that the rear rack comes installed on this bike.
Can I put together a KBO eBike by myself?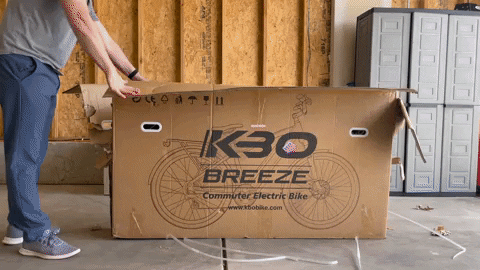 Yes! Plan on it taking about an hour and watch the video that KBO Bikes put together. They do a pretty good job in the video explaining exactly how to put it together. I simply opened up my iPad, viewed each step in the process, paused the video, and then did the step I just viewed.
The bike essentially comes in two pieces: the main part of the bike and the front wheel. You don't need to worry about connecting the motor and a whole bunch of electronics, it's way easier than I thought!
Cool little tool that comes with the Breeze Step-Thru
The KBO Breeze does come with this little cool multi-tool, which comes in handy. I'd still recommend getting an Allen Wrench for putting it together, but KBO provides all the tools you need to put this bike together.
See our post about the best eBike accessories to learn more about what else to get with your bike.
KBO Breeze Step-Thru Review: the final verdict
I really like the KBO Breeze Step Thru. My only real complaint is that the Pedal Assist can be a little too sensitive, but that's not a deal killer by any stretch of the imagination.
Top Pick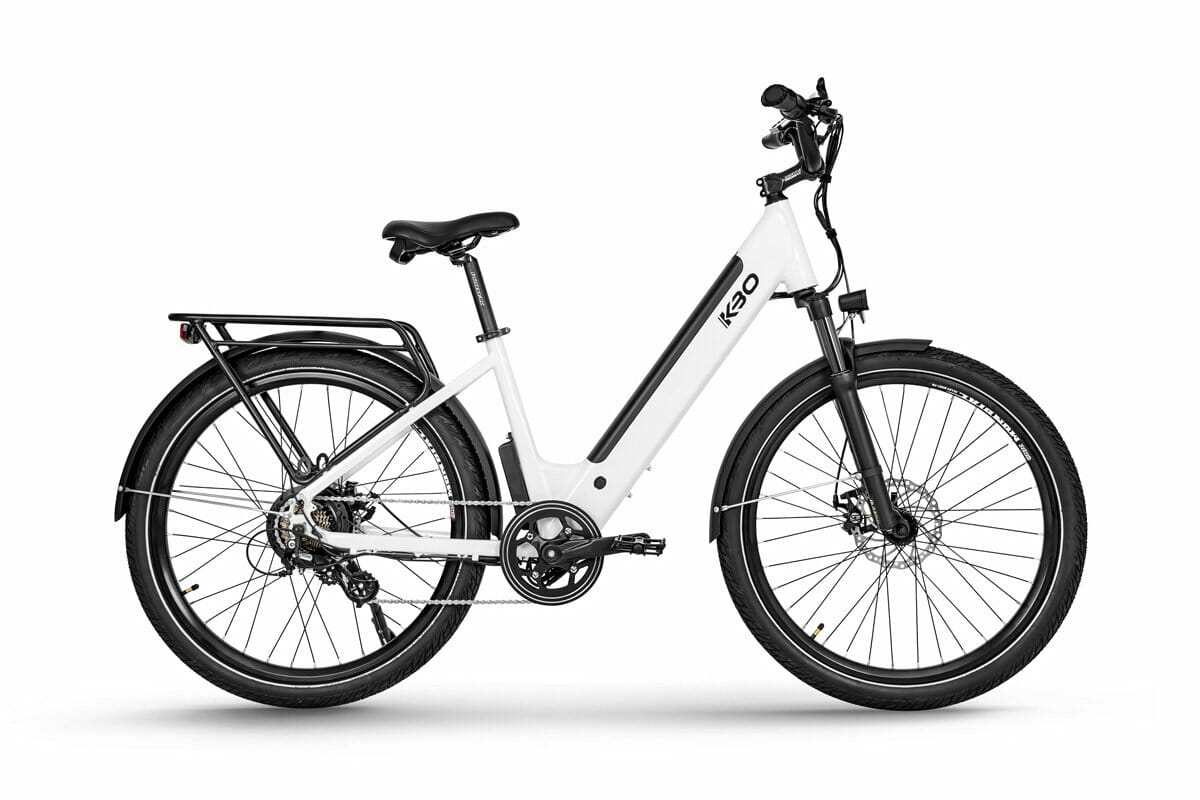 KBO Breeze Step-Thru Review
The Final Verdict
The KBO Breeze, both the Step-Thru and the regular version are incredibly fun eBikes that are a great value.

You can't go wrong with this great eBike.
The KBO Breeze Step-Thru takes all the great things that you'll find on the regular KBO Breeze and simply makes it easier to get on and off.
Some people don't like Step-Thru frames, and that's ok. If you don't, check out our Original KBO Breeze Review.