If you're in the market for an electric bike, you might find yourself overwhelmed by the sheer number of brands available. Who has time to sift through endless Google results, trying to decide which ones are worth considering? It's almost enough to make you want to give up on the idea altogether.
But fear not! We're here to help. Our team of eBike riders has done the hard work for you, testing out countless models to bring you the top 5 electric bike brands of 2023. And the best part? Our guide is tailored specifically for the average rider who just wants a reliable, high-quality eBike without all the technical jargon.
The Best eBikes
Especially if you don't consider yourself a super-bike nerd (we're not here, we are just casual riders), it is still difficult to weed out the good from the bad. Without real advice from someone who has actually ridden these bikes, how will you know where to start? 
That's why we've created Best eBikes of 2023. Our guide is written from the perspective of a novice bike rider who just wants to find a great electric bike without too much fuss. With our advice, you won't have to worry about sifting through all of your options – we'll tell you exactly which bikes we have had the best experiences with!
Best eBike company: Rad Power Bikes
We've loved every electric bike we've tested from Rad Power Bikes. They offer great customer service, quick shipping and great bikes.
With a mind-numbing assortment of bikes (and now Trikes), there is an eBike to fit your needs in their line-up.
How we picked the best electric bikes
Let me shoot it straight: there is no perfect eBike brand for everyone. That's why there are so many out there – they all offer something a little different.
While there isn't a best electric bike brand for everyone, there is the perfect electric bike for you!
What you will… and won't find in this guide
All the electric bikes listed here fall in the $1,000 – $2,000 range. Why? That's really the sweet spot for most consumer eBikes.
Most brands in this guide only offer a rear hub motor (not a mid-drive motor). Mid-drive motors are more expensive, but they also last longer. Read more about the difference between rear hub motors and mid-drive motors.
But the jest is this: most people will be OK with a rear hub motor. They are much less expensive and are more likely to have a throttle than a mid-drive motor (mid-drive motors are just a bit more complicated).
If you are a serious cyclist, this guide probably isn't for you. This isn't a guide to find the high-performance electric bike of the century, it's here to discuss the pros and cons of affordable e-bikes.
We've had the chance to test electric bikes for the past three years and have tested almost every one of the biggest and best electric bike brands.
What to look for in Electric Bikes: a quick guide
We wrote a full eBike guide to picking out the perfect eBike for yourself, but here are a couple of quick pointers.
Be able to ride it
This sounds odd, but make sure you can ride on your electric bike – just check the recommended rider heights. Most eBike companies do a great job outlining the sizes, but the worst thing in the world would be to get a bike and you can't ride it!
A special note for fat tire electric bike riders: check out the step-through versions of the bikes if you are not as tall.
Buy from a trusted manufacturer
If you are a novice rider, ensure you can get your bike serviced and get support for your bike. You can 100% put together your bike on your own (make sure to get some help if you've got a giant, fat tire eBike when pulling it from the box).
With eBikes exploding in popularity, there are tons of new manufacturers. To make the bikes unique, even with the same components, they will make little tweaks where the same battery has a different connector. The last thing you want is an eBike you can't ride because no one makes the bike anymore.
Get a Class 2 or 3 eBike
Class 1 eBikes are fine, but you really want a throttle and pedal assist (Class 2 and Class 3 eBikes have both). You don't need a Class 3 eBike, which goes 28 MPH (Class 2 eBikes go 20 MPH).
20 MPH is plenty fast for a city bike – and you won't find yourself in trouble with the law! It's illegal in some areas to take a Class 3 eBike on trails, but I've never seen a police officer stop someone (or even check speeds) on a trail. Just don't be a jerk.
Consider how you're going to use the bike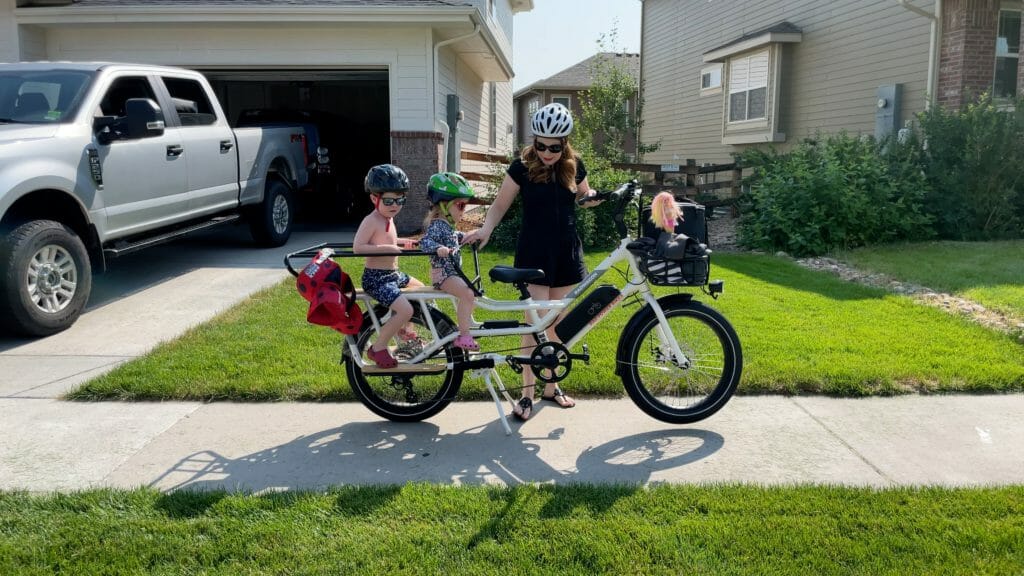 This may be obvious, but sometimes we romanticize how we're going to ride our bikes. But if you are always hauling kids or cargo around, consider a Cargo eBike – or a bike with a great rear rack.
If you want to go off-roading, ensure you get some fat tires and (at least) a front suspension for electric mountain bikes. See our guide to the best fat tire eBikes.
And if you want a bike you can carry up and down stairs, consider the overall weight, too. Just be sure to find a bike that matches how you want to use it and not just how it looks. Most city riding eBikes are super lightweight and comfortable (as long as you aren't on trails).
Get the right accessories
Also, be sure you've got the right accessories (see our Must-Have and Best eBike Accessories), from a bike helmet (see our Thousand Helmets Review and XNITO Review), to a rear rack and even a good lock. Get the add-ons you need to make it the electric bike you want.
Now that we've covered what to look for when choosing an electric bike, let's explore the best electric bikes in 2023.
#1 Best Electric Bike: Rad Power Bikes – An Overview
Rad Power Bikes is among the best electric bike brands, especially for beginners, commuters, and recreational riders.
They offer a wide range of models with features such as adjustable handlebars and seats, powerful motors, and long-range batteries. Rad Power Bikes also provides excellent customer service and has a great reputation among e-bike enthusiasts.
About Rad Power Bikes

Rad Power Bikes is the leading electric bicycle company that offers award-winning and affordable ebikes for city, commuter, cargo, utility, folding, and other types of rides. With the launch of the new RadWagon 4 electric cargo bike and the RadRunner 6+ electric fat tire bike, Rad Power Bikes has become one of the most versatile ebike companies on the market.
The bikes are custom-designed to fit your lifestyle and ride. Additionally, they are made with high-quality materials and components that make them durable and reliable. They are one of the few electric bike brands that create truly unique components you won't find on other electric bicycles.
On the other hand, some customers have voiced concerns about safety issues with their bikes. In response to these concerns, Rad Power Bikes recently announced their "New Rad" pledge which promises to refocus on safety in all aspects of their business.
Overall, Rad Power Bikes is a great option for those seeking an affordable and reliable ebike experience. With their commitment to safety and dedication to providing quality products at an affordable price point, they are sure to remain one of the top ebike companies in the industry for years to come.
What are Rad Power Bikes known for?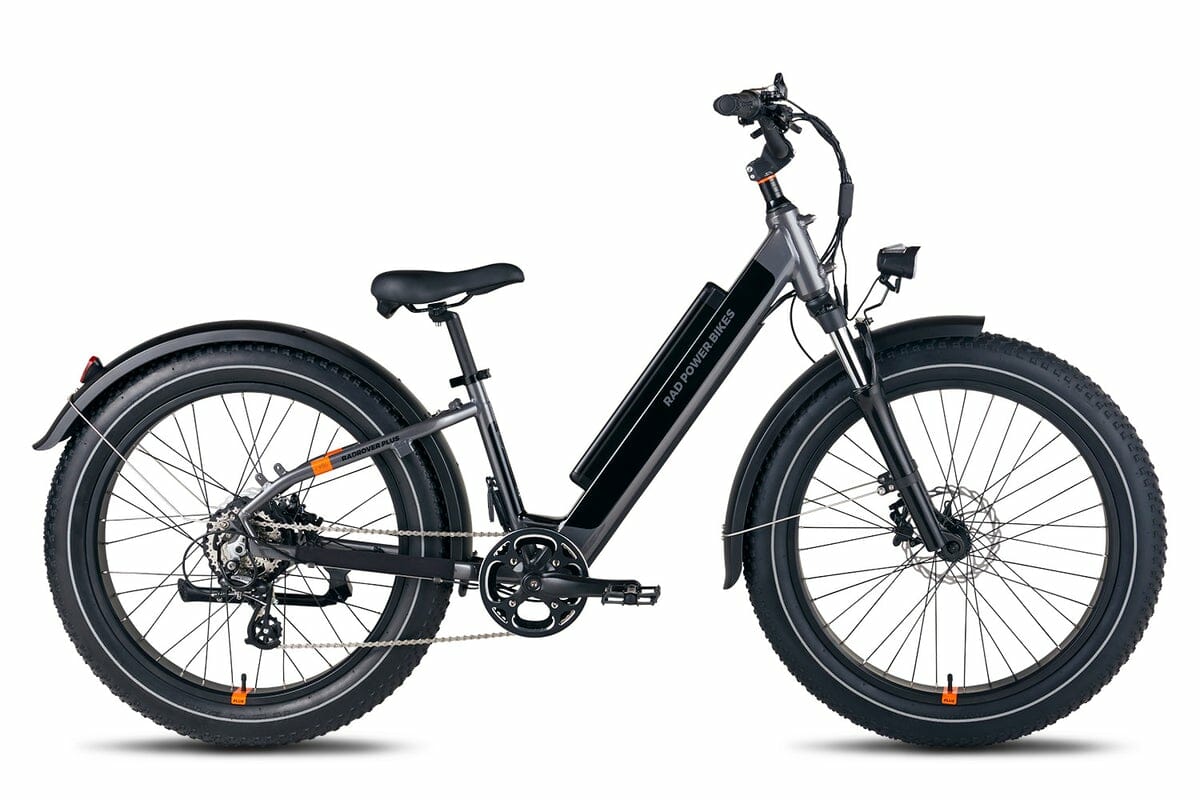 Rad Power Bikes is the largest electric bicycle brand in the United States and is best known for its award-winning, affordable ebikes. Rad Power Bikes offers high value, lower-cost e-bikes. Whether you're looking for a city commuter, cargo bike, folding bike or utility bike, Rad Power Bikes has something for everyone.
Rad Power Bikes are perfect for anyone who wants an easy and enjoyable way to get around town or explore nature trails. With their powerful motors and comfortable tires, these ebikes make it easier to go farther and faster than ever!
Rad Power Bikes Models we recommend
We highly recommend the RadRover 6+ and the RadWagon 4. These are the bikes we've personally tested, but Rad Power Bikes makes some other cult favorites, like the RadRunner.
Read our full RadWagon 4 Review and RadRover 6+ Review.
The RadRunner model has gained a cult following for several reasons:
It's an extremely versatile bike that can be used for commuting, carrying cargo, or recreational riding. The large rear rack and front platform allow riders to transport a variety of items, while optional accessories like a passenger seat or child seat make it family-friendly.
A powerful motor that assists the rider's pedaling, making it easier to tackle hills and headwinds or travel longer distances. The long-lasting battery means less worry about running out of charge during rides.
The RadRunner is stylish and enjoyable to ride thanks to its comfortable components, wide tires, and upright riding position. It comes in a range of colors so riders can choose one that suits their style.
Despite its premium features, the RadRunner has a relatively affordable price point compared to other eBikes. This combination of value and performance has resonated with many consumers and contributed to the bike's popularity.
Overall, the RadRunner's versatility, practicality, style, and affordability have earned it a devoted following among commuters, families, and recreational riders alike. Rad Power Bikes' commitment to producing high-quality yet affordable electric bicycles is clearly demonstrated through the success of the RadRunner model.
In short, you can't go wrong with any of the Rad Power Bike Electric Bike Models out there.
#2 Best eBike: Aventon eBikes
Ironically, people tend to be "Team Aventon" or "Team Rad Power Bikes" – and we get it. They are two of the most popular brand names in the world of eBikes. Frankly, you can't go wrong with either brand.
Rad Power Bikes are a little more mainstream and less expensive. Aventon electric bike company bikes tend to be more aggressive and slightly more expensive.
Aventon eBikes are built to impress, with sleek designs and eye-catching colors that turn heads. But don't let their looks fool you – these bikes are also built for speed and efficiency, with powerful motors and long-lasting batteries that make your commute or weekend ride a breeze.
But Aventon eBikes are more than just good looks and performance – they're also packed with advanced features that make riding safer and more comfortable. From responsive hydraulic disc brakes to smooth, reliable Shimano gears, every component is designed to enhance your riding experience.
So why settle for a boring, outdated bike when you can ride an Aventon eBike and enjoy the best of both worlds? That's what makes this one of the best electric bike company options on the market.
What are Aventon eBikes know for?
Aventon eBikes are known for their wide range of electric bicycles, designed to empower everyone to ride regardless of age or ability.
Models we recommend from Aventon
We love many of the eBikes from Aventon. However, our two favorites are the Aventure and Abound.
Aventon Aventure
Their flagship model, the Aventon Aventure (and now, the Aventure.2), is a mid-range rear-hub-motor fat-tire e-bike with an elegant frame and internally concealed battery that can be removed for charging.
Here are a couple of the reasons people love the Aventon Aventure electric bike:
Powerful 750 watt electric motor
Front suspension for a smoother ride
4 inch fat tires for extra stability and grip
Throttle on demand from a complete stop
LCD Smart Easy Display to monitor your ride
Class II ebike with pedal assist and throttle up to 20 MPH
Torque sensor amplifies pedaling efforts
It has a max operating range of 60 miles and a max speed of 28 MPH.
Aventon Abound
We recently got the Aventon Abound and love it. It's a smaller Cargo-style eBike that is easy to ride and great at hauling cargo (mostly kids, in our case!).
It's got a solid motor, hydraulic disc brakes and is a great size. While the RadWagon 4 is bigger and longer, the Abound is easier to ride. A couple of other reasons we love the Abound:
It has a powerful 750W rear-geared hub motor that can reach speeds of up to 20 mph (32 km/h).
It has a long range of up to 50 miles (80 km) on a single charge.
The bike has a huge weight capacity of 143 lbs, allowing you to haul all your cargo with ease.
It features an adjustable stem and handlebar, making it easy to customize the fit for any rider.
The frame is made from lightweight aluminum alloy, making it easy to maneuver and transport.
It comes with hydraulic disc brakes for superior stopping power in all conditions.
The Abound is priced at $2,199 USD, making it significantly more affordable than similarly equipped cargo e-bikes in the market.
Other Popular Aventon Models
Other popular models include the Aventon Level.2 Commuter Step-Through eBike, which has up to 60 miles Max Operating Range and 28 MPH Max Speed; the Aventon Pace 350, which is the a great value e-bike; the Aventon Soltera (read our full Aventon Soltera Review), which is the great single-speed e-bike; and the Aventon Level All Around E-Bike.
No matter which model you choose, you can rest assured that you'll have fun riding an Aventon electric bike! With features like pedal assist and throttle mode, these bikes make it easier than ever to get around town or take on more challenging terrain.
Ride1Up
Ride1Up is an up-and-coming niche brand that specializes in affordable electric bikes.
They offer models with features like powerful motors, long-range batteries, and adjustable handlebars and seats. Ride1Up also provides excellent customer service and has quickly become a favorite among budget-conscious riders.
Overall, Ride1Up eBikes are a great choice for riders who want high-quality eBikes at an affordable price. While there are some limitations to purchasing and servicing the eBikes, the advantages outweigh the disadvantages for many riders.
What is Ride1Up known for?
Looking for an electric bike that's fast, safe, and affordable? Look no further than Ride1Up! This direct-to-consumer brand specializes in Class 3 e-bikes that can reach speeds of up to 28 MPH, while still complying with U.S. federal regulations.
With most eBikes featuring a 750W rear hub motor and five levels of assistance, Ride1Up bikes are fully customizable to fit your needs. Even better, you can order your dream e-bike online and have it delivered right to your doorstep, with minimal assembly required. Who said getting around town had to be expensive? Ride1Up is making eco-friendly transportation more accessible than ever.
What are the most popular Ride1up Models?
There are many great Ride1Up Models, including some really cool-looking new eBike models.
The Core-5
One of Ride1Up's most popular eBikes is the Core-5 Series, designed for commuting and city riding. It has a powerful motor, long-lasting battery, and high-quality components such as Shimano gears and Tektro disc brakes.
The Core-5 Series also features a lightweight frame and comfortable riding position, making it a great choice for urban commuters.
Here's why we love the Core-5:
It comes with a powerful 750W geared hub motor that can reach speeds of up to 28 MPH
The bike has a range of up to 50 miles on a single charge.
It features a lightweight aluminum frame and a carbon fiber fork, making it easy to maneuver and transport.
The Shimano 7-speed derailleur allows for smooth and easy shifting
The bike comes equipped with Tektro Mechanical disc brakes, providing excellent stopping power in any weather condition.
The Core-5 features a thumb throttle, allowing you to ride without pedaling if you choose
The bike is priced at $1,045 USD, making it a very affordable option for a high-quality electric bike.
The LMT'D
Another popular model is the LMT'D, which is designed for off-road adventures. It features a full suspension system, fat tires, and a powerful motor, making it perfect for tackling rough terrain. The LMT'D also comes with high-quality components such as hydraulic disc brakes and a Shimano drivetrain, ensuring that it can handle any challenge.
Overall, Ride1Up eBikes offer a great balance of quality, affordability, and customization. Whether you're commuting in the city or exploring off-road trails, Ride1Up eBikes have a model that will fit your needs and budget. With their high-quality components and customizability, Ride1Up eBikes are a great choice for riders who want an affordable and reliable eBike.
Other eBike Companies to consider
While these three are great brands for the novice rider, there are many other electric bike brands we wouldn't have a problem recommending.
KBO eBikes
KBO electric bikes are revolutionizing the way people bike for leisure and commuting. KBO Bike is a company that is pushing the boundaries of innovation and imagination to offer more choices for those who want to bike.
The KBO electric bike collection features three top-selling models: the KBO Tornado Bike, KBO Breeze, and the KBO Breeze Step-Thru commuter bike.
The KBO Breeze is a great choice for those looking for an affordable ebike with plenty of power. It has a 750W motor, 55 mile range, 48V 16Ah 5H fast charge battery, 300lbs payload, and 20MPH top speed. It also features Shimano 7 speed gears and Tektro disc brakes for smooth stopping power.
The KBO Ranger is a great cargo bike with a powerful motor and extra-wide rear rack. And finally, the KBO Tornado is ideal for any terrain you throw at it with it's big, fat tires.
eSpin eBikes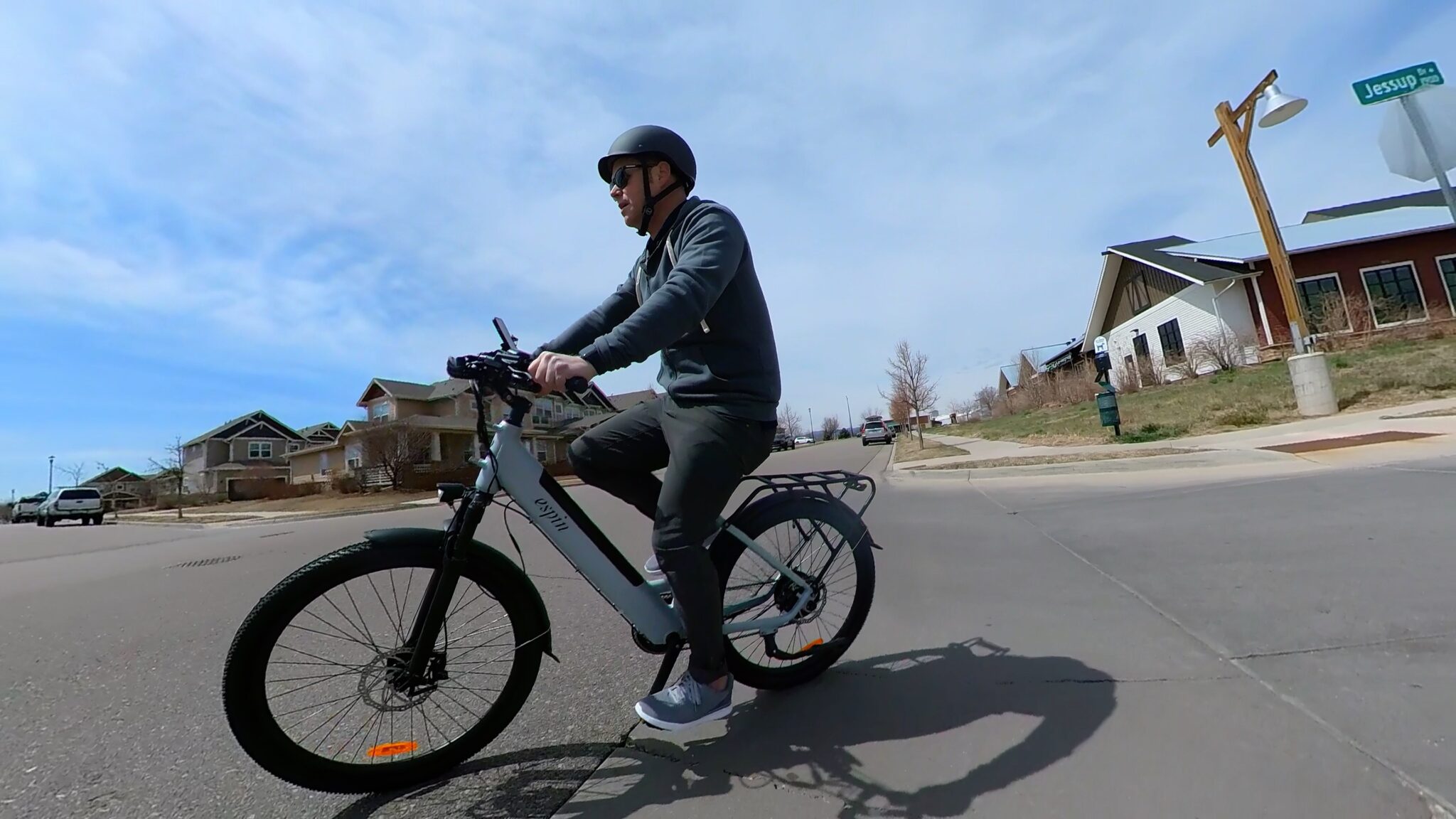 eSpin is another great option for those looking for an affordable electric bike. Their models feature powerful motors, long-range batteries, adjustable suspension systems, and more.
eSpin also offers excellent customer service and a wide selection of accessories to customize your ride.
Velotric eBikes
Velotric electric bikes are the perfect combination of style, quality, and affordability. But if we had to set one thing that sets them apart: it's their beauty! Velotric makes some great-looking eBikes!
With several models, there's (almost) something for everyone. Whether you're looking for a lightweight cruiser or an all-terrain fat tire bike, Velotric has you covered. Their ebikes are designed with premium materials and great build quality that won't break the bank.
Best electric bikes – 2023 Edition: Final Thoughts
What did you think about our ultimate guide to the best eBike brands? From Rad Power Bikes to Aventon to Ride1Up to KBO, there are so many great options out there.
When it comes to finding the best eBike for you, there are a lot of great options out there. We've highlighted some of our favorite brands and models that offer quality components and customization at an affordable price.
Whether you're looking for a lightweight cruiser or an off-road adventure bike, these companies have something that will fit your needs and budget. Consider what type of terrain you plan on riding, how much power you need and how long your battery should last when selecting the perfect eBike for yourself. With all the choices available today, we hope this guide has made it easier to find the right one!