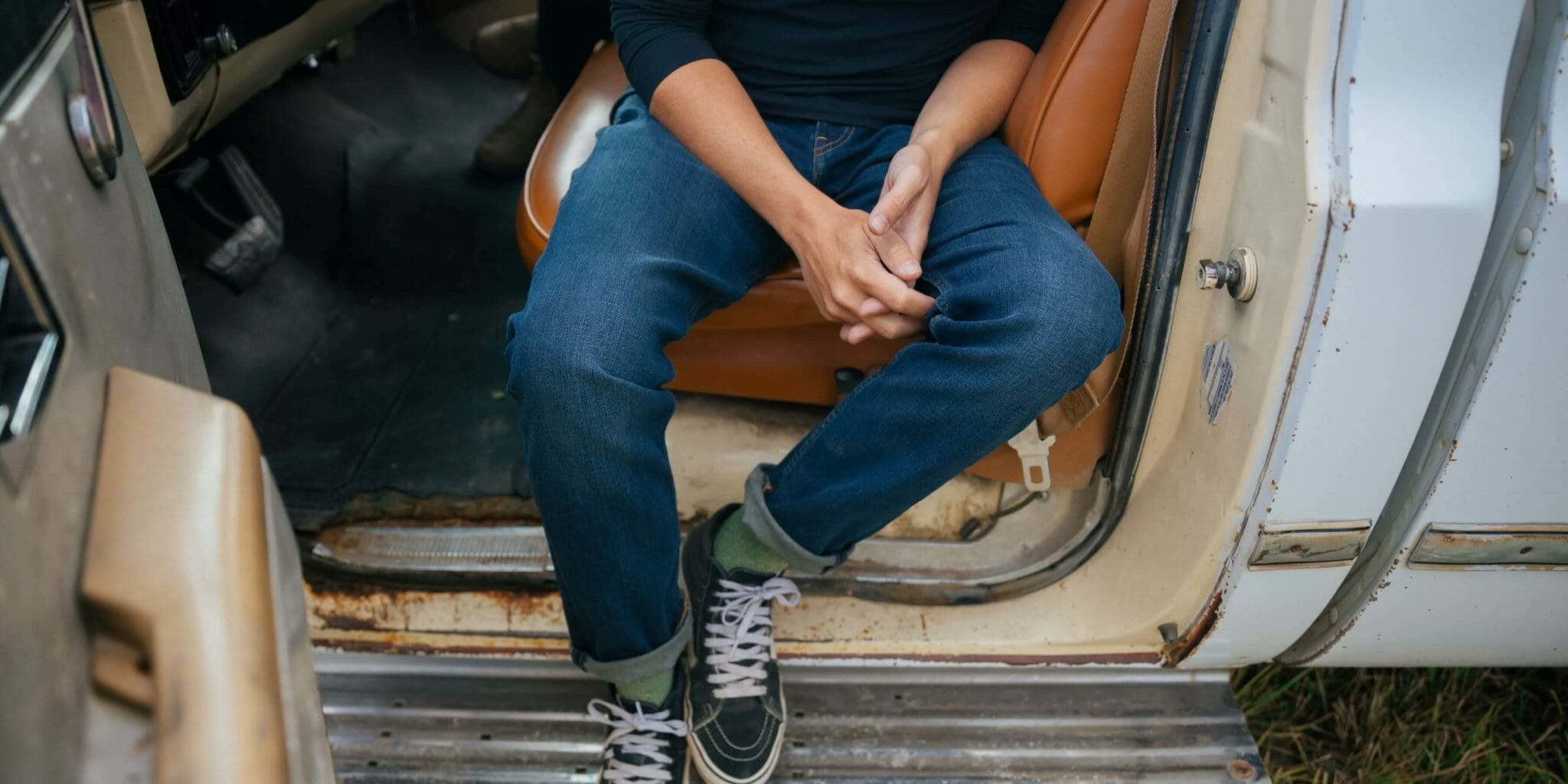 Revtown Jeans is a new company that has been popping up all over social media lately. They claim to have the "holy grail" of jeans and the most comfortable jeans on the planet. We wanted to see if they were just hype or actually as great as they claim, so we decided to put them through our rigorous review process to find out!
Super versatile jeans.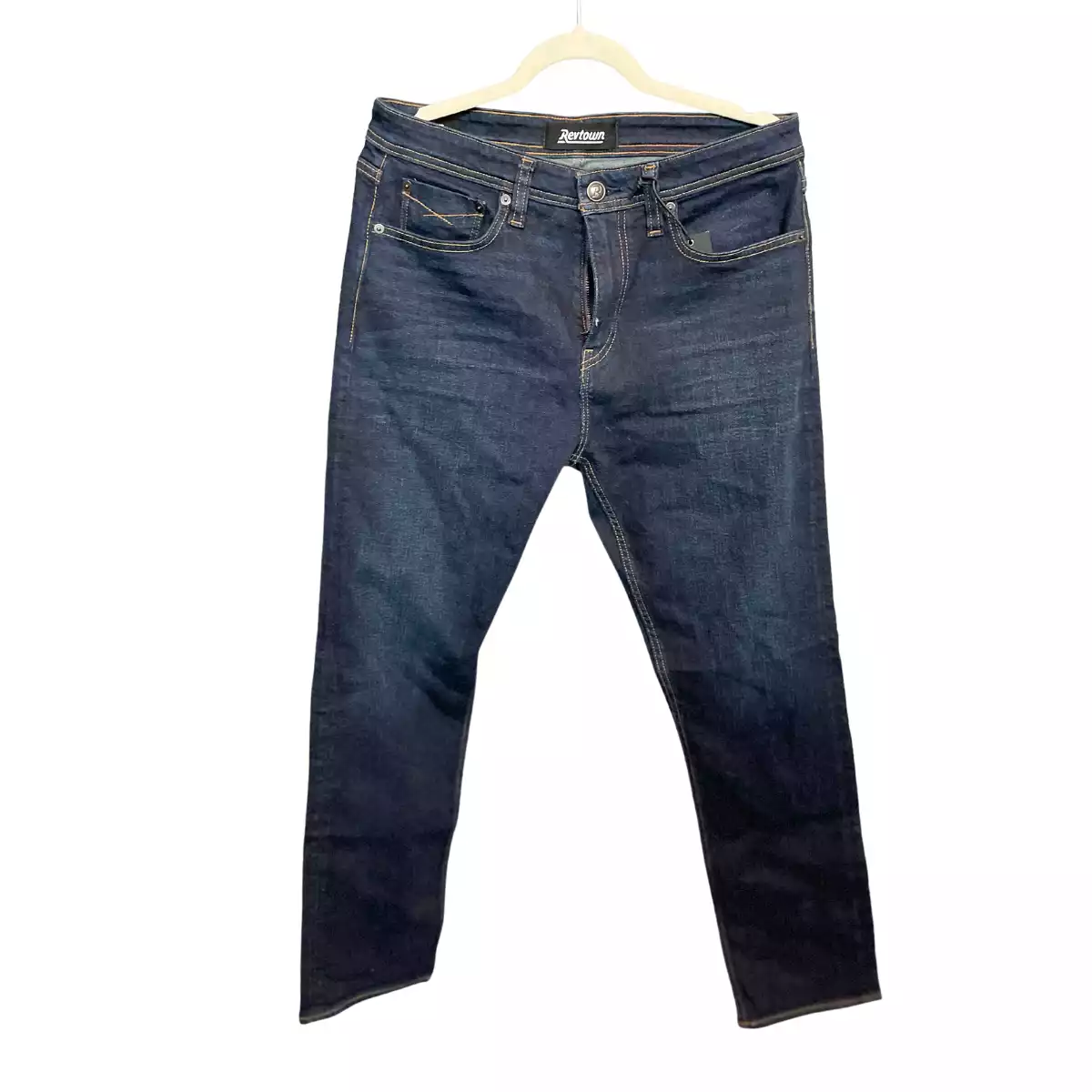 We might earn a commission if you make a purchase, at no additional cost to you.
Jeans are hard to buy. You either get ones that fit in the waist but not the legs, or vice versa. Or they're too tight in one area and baggy in another. Or they might just not even be flattering.
The problem is that "traditional" jeans (I'm looking at your Levi's!) are made of rigid denim material which doesn't stretch at all when you put them on, making them uncomfortable and inflexible.
The Revtown Jeans solve this problem by being infused with athletic stretch yarns which give the fabric flexibility without losing its shape over time as regular jeans would do after wearing them several times. This means their pants will always offer a flattering silhouette while still feeling (almost) just as comfortable as your favorite sweats!
The Quick Revtown Jeans Review
Super quick lowdown on Revtown is this: They are a great, high-quality jean at a super fair price.
They aren't our favorite, but that's more a preference thing. There's nothing wrong with their jeans – we are just spoiled at trying a TON of other jeans that we do love (like Duer – see our Duer Review). Duer jeans are more performance-driven but also cost about 3x as much.
Revtown Jeans offers great jeans at a great price.
Check out all of the styles from Revtown. Also, see how Revtown fits in our guide to the best mens jeans, too.
Revtown Jeans Review: What is Revtown?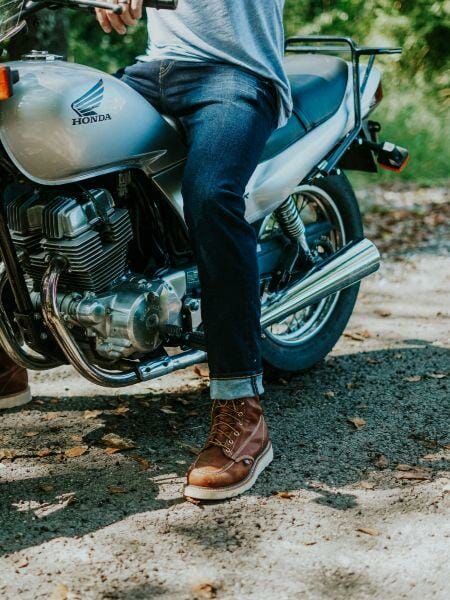 Revtown is a new brand trying to redefine what a pair of jeans really is – and should be.
After 20 years of designing technical athletic and training apparel, the founders of the Revtown brand set off to Milan, Italy where they combined the science of performance fabrics with the art of high fashion.
In mixing these two worlds they tried to create what they call The Holy Grail of Jeans.
What makes Revtown's jeans different?
Revtown claims that its jeans will not lose their shape regardless of what you do in them, but how does it stand up to real life conditions? Keep on reading to find out.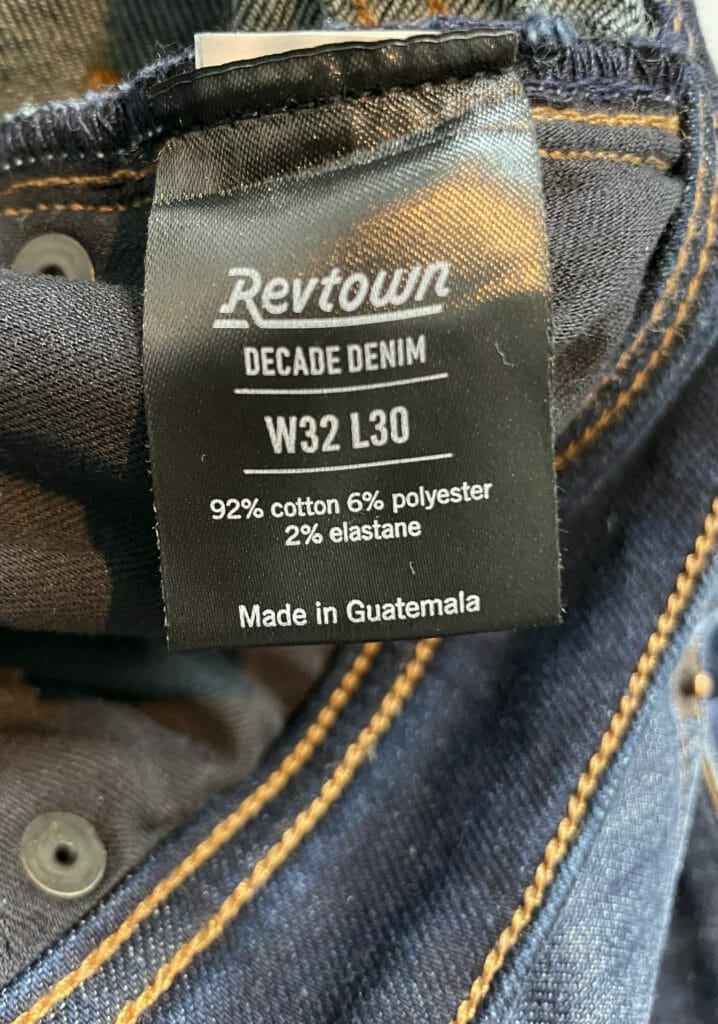 Meet Decade Denim
Revtown's trademarked fabric, DECADE DENIM, claims to be a pair of jeans that fits perfectly from day one.
"Jeans shouldn't come with an instruction manual."

Revtown
This is actually my favorite part about Revtown Jeans: they believe that you shouldn't need an instruction manual to wear jeans or high-quality denim. A pair of jeans should be easy to wear and ready to go from day one. I have to agree 100%.
I shouldn't need to treat my jeans like a delicate orchid. I should be able to throw them on, ride my Rad Power Bike to a brewery, and not worry if I spill a beer on them.
So many jean brands these days act like you are wearing a work of art. This jean isn't for "denim purist" – these jeans are for guys that want a simple pair of jeans that just work.
Revtown Jeans: What we reviewed
In addition to the Revtown Tech Jeans (read our full Revtown Tech Jeans Review), we tried three other Revtown Jeans:
Revtown Tech Jeans – 32×30 – Read our full Revtown Tech Jean Review.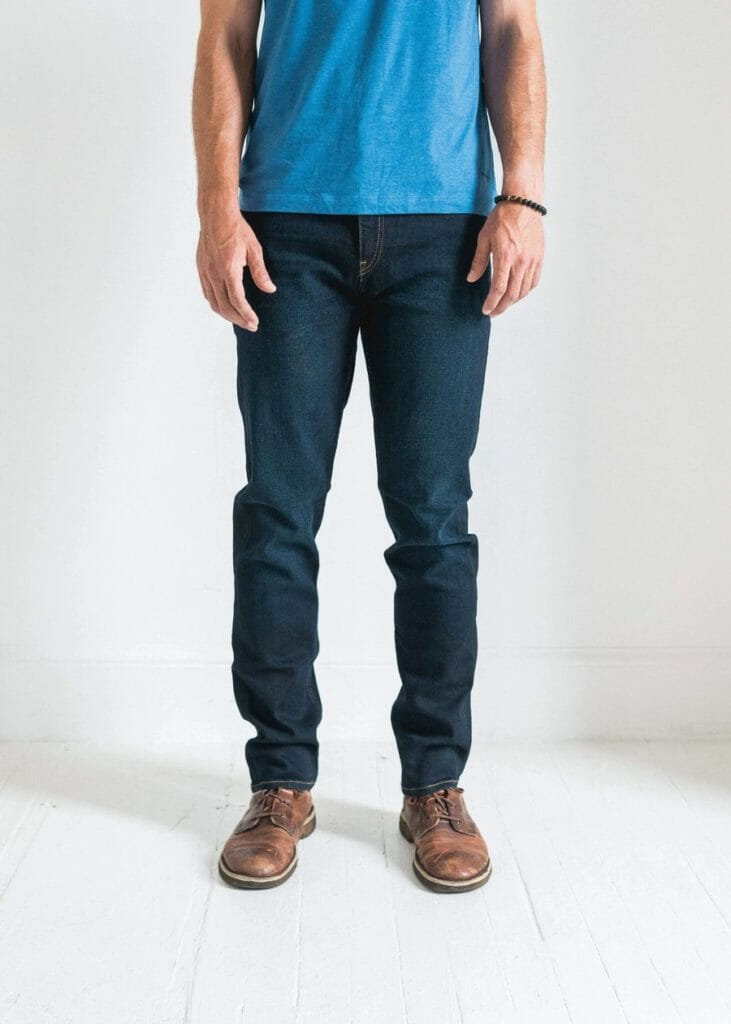 The Sharp – Dark Indigo – 32×30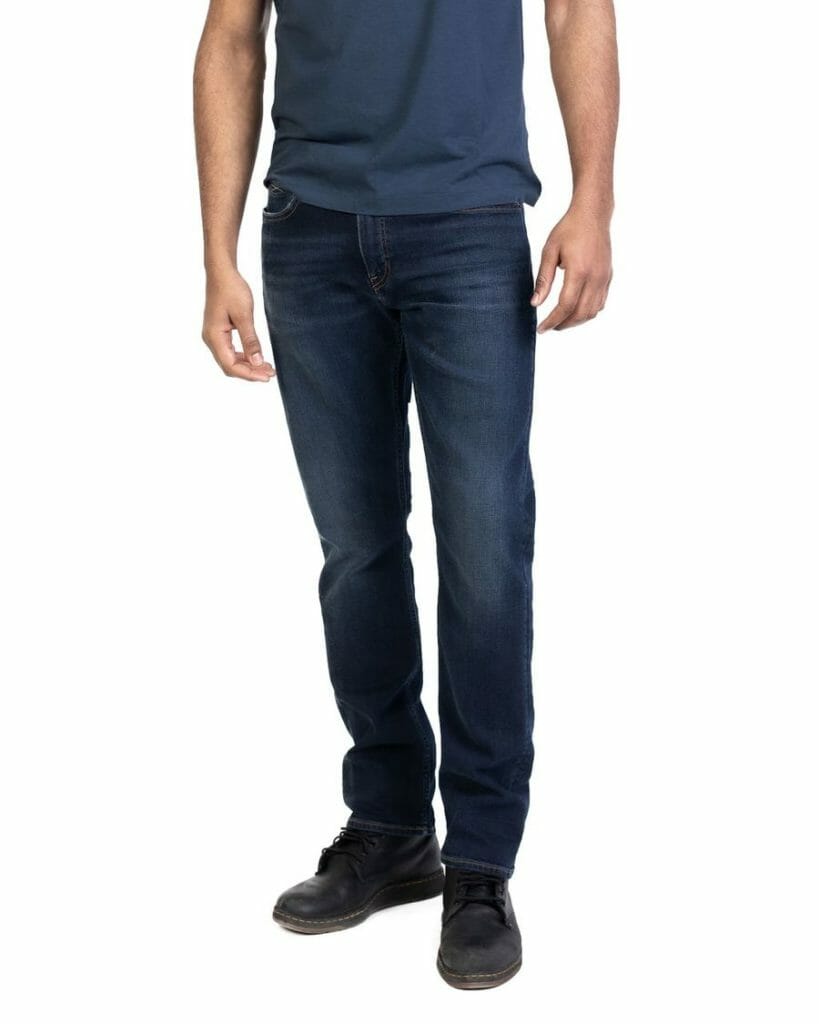 The Sharp – Washed Indigo – 32×30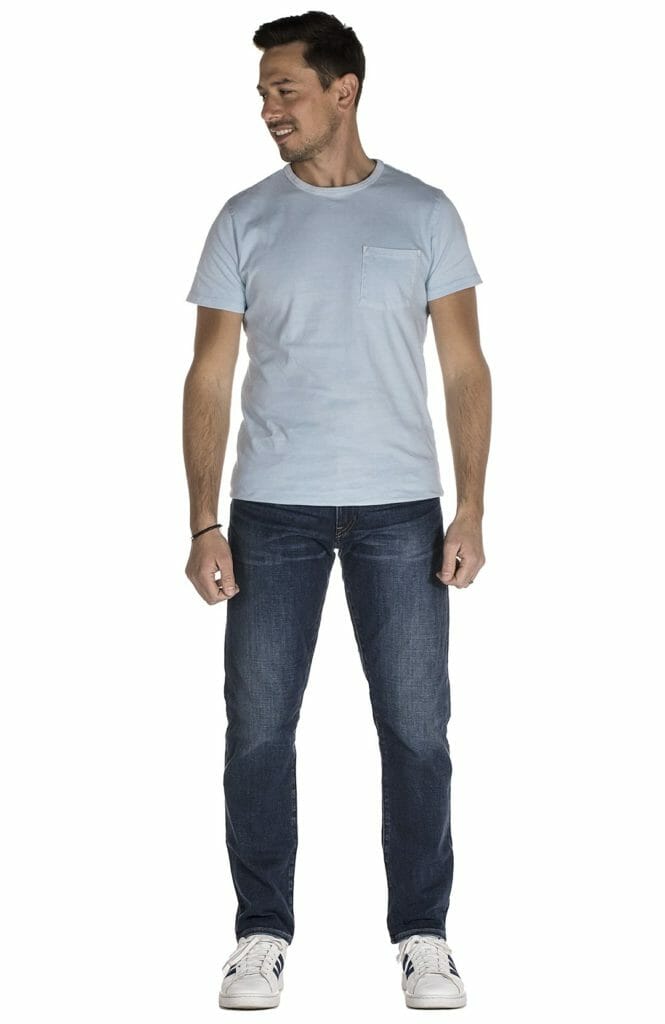 Lightweight Jean – Dark Medium Indigo – 32×30
Revtown Jean Review: The Fit
As I mentioned, Revtown Jeans is a startup. I ordered multiple pairs of jeans because I know almost every single apparel company struggles with sizing and consistency – especially when you start out.
Heck, even lululemon still struggles with size consistency these days. I've had the same size ABC pants fit drastically differently over the years. Getting consistent sizing is really hard.
Revtown made a mistake on one style
I don't know how it happened, but I ordered all of my Revtown Jeans at exactly the same size – 32 Waist and 30 Inseam. I know, I've got some fairly short legs.
However, one of the pairs I ordered was comically large. It was probably like a 42 waist. I thought, "maybe they just grabbed the wrong package!" Nope – it was an actual mistake. Even the jeans had 32 waist printed on the inside. Whoops!
The other two pairs of jeans fit perfectly. I had no complaints. I like a slim, but not skinny fit and the Revtown Jeans fit really well.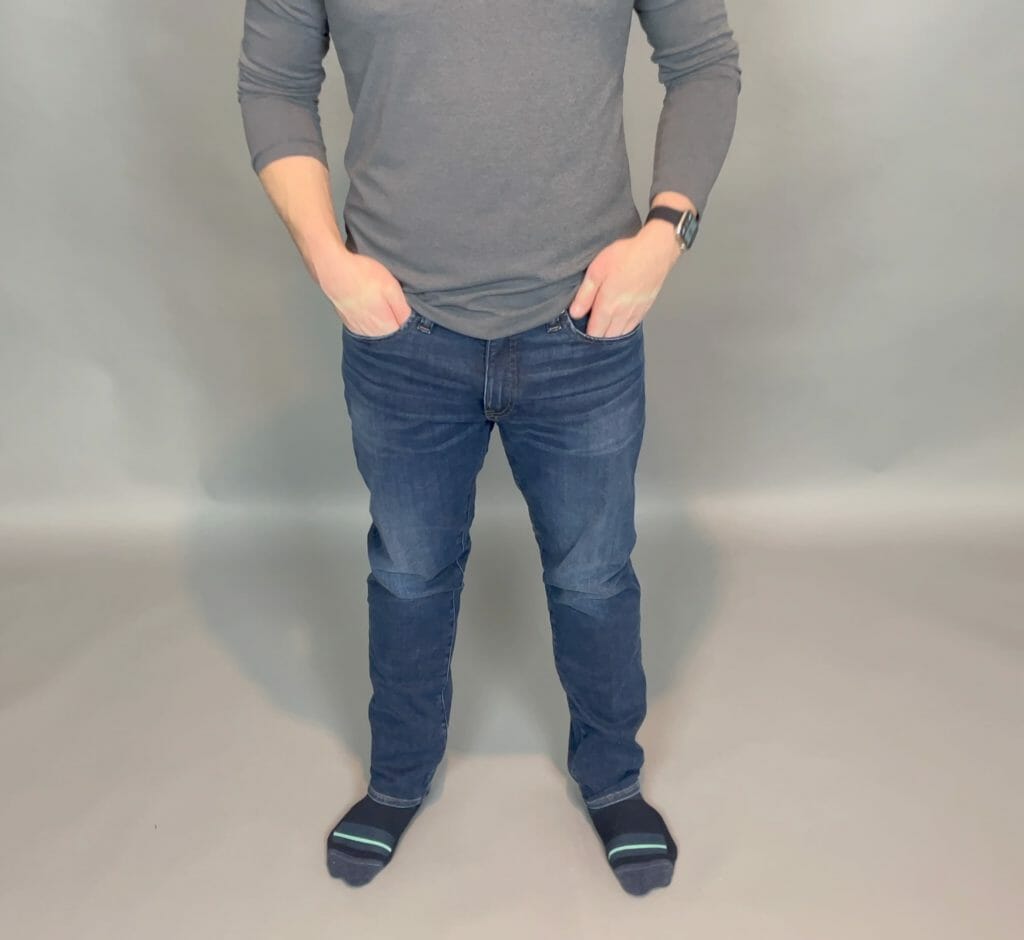 Revtown Customer Service
That brings me to another great point. Revtown has great customer service and an awesome return policy. That's because they know that you're going to make a mistake with sizing (or in their case – they will make a mistake in sizing!).
And overall, jean sizing is just hard.
It seems like every single jean company sizes their jeans differently and it's tough to know exactly what to get.
It was easy to return the big pair of jeans back, and I got my refund within days. They don't charge any restocking fees or other penalties for mistakes like this either – just wear them around your house to make sure that they fit.
You can easily return anything with free shipping both ways.
The Comfort of Revtown Jeans
I'll admit. I ordered my pairs of Revtown Jeans when I was also reviewing a couple of other pairs of jeans – most notably Mugsy Jeans (full review coming soon) and the Perfect Jean (read our full Perfect Jean Review).
And to be honest, that's just not fair. That's like reviewing a Ferrari and a Toyota Camry at the same time. The Toyota may be a better car, but the Ferrari is a lot more fun to drive.
Here's what I have to say about the comfort of Revtown Jeans: they are super comfortable, much more comfortable than your average pair of jeans, but there are also more comfortable jeans out there.
Revtown Jeans Comfort: A quick comparison
If you are anything like me, over the past year, working from home: you've been in shorts (read all about our full best work from home shorts). The first time you had to put on jeans, you were probably like, "EW!"
I was the same way! Why had I constrained my legs from the world… why did I ever put up with something SO INCREDIBLY uncomfortable.
I thought the holy grail of comfort was the Duer brand before this. I would say that the Revtown Jeans are even more comfortable to Duer.
However, Mugsy Jeans (full Mugsy Jeans review coming soon) and the Perfect Jean (read our full Perfect Jean Review) are heads and shoulders above Revtown when it comes to comfort.
Once again, there wasn't anything wrong with the comfort of Revtown, it just wasn't as good as the comfort of Mugsy or the Perfect Jean.
The Styles Available in Revtown Jeans
One area that Revtown does excel in is the number of styles that are available in Revtown Jeans. That's because they have over 7 fits and styles available in multiple different washes.
Other jeans like Mugsy and Perfect Jean don't even come close to this.
The Branding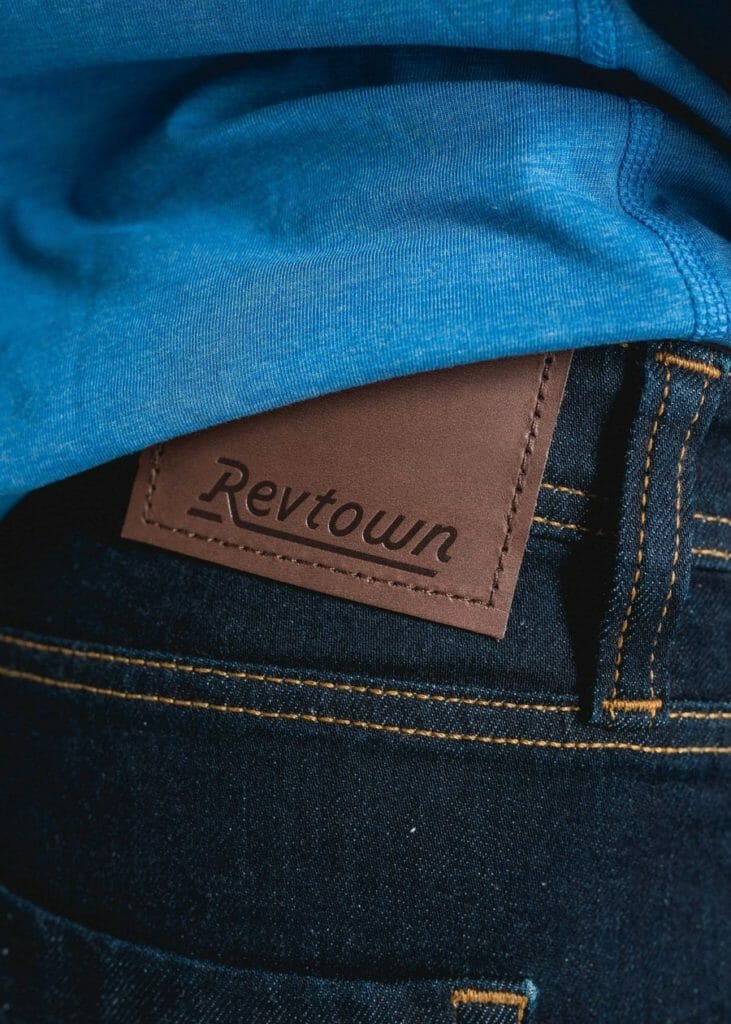 We hate jeans that have a ton of branding on them or a crazy design on the back pockets.
You won't find anything like that on Revtown jeans. They simply have a simple leather-esque patch on the back, near the belt loops, that has their logo on it. Nothing crazy, we approve!
Revtown Jeans Review: The Fabric
Revtown Jeans are made from a combination of soft Italian yarn within their Decade Denim creates a four-way stretch all over. It's a unique combination of fabrics, I'll definitely give Revtown that, for sure!
The fabric: different styles
Obviously, different styles have different fabric make-ups. However, one of the most popular style, The Sharp, has the following fabric makeup:
92% cotton / 6% polyester / 2% elastane
If you didn't already know. Most denim is 100% cotton, that's the definition. So once again, this isn't for denim purists. The Polyester and Elastane is the stretchy part of the pants that makes the product unique.
The Sharp fit is a good overall representation of the brand and is their take on the classic jeans.
Men and Women Jeans: Rapid Review
Revtown makes a great pair jeans for both men and women – even if we aren't wearing jeans as much these days!
Men's Jeans Review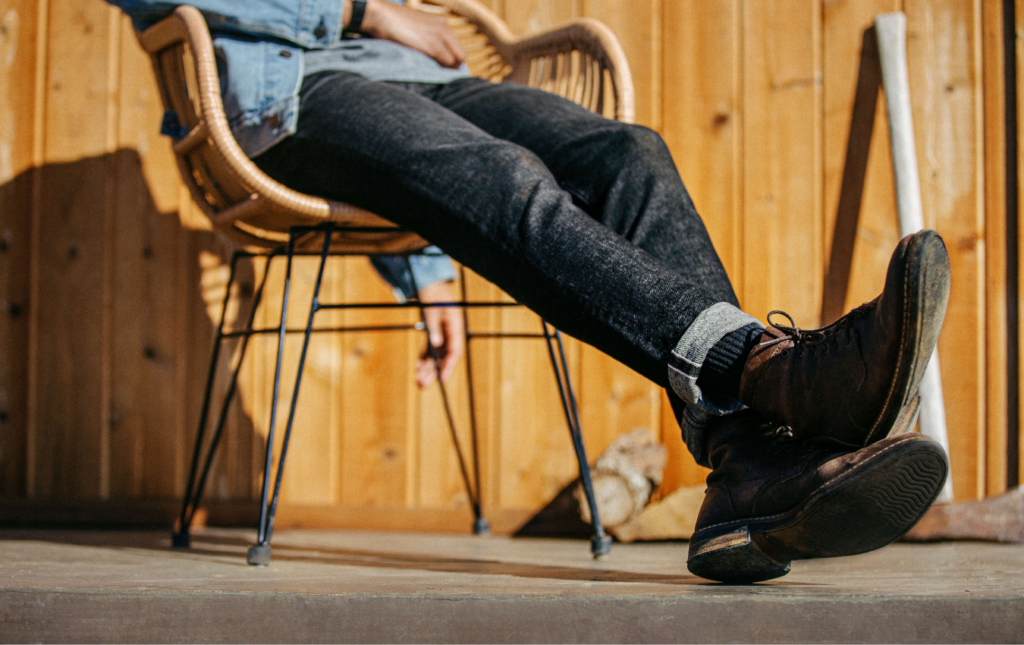 Revtown's Prices show you exactly the market that Revtown is going for: not as cheap as someone that would buy jeans at Costco or Target, but someone that is looking for something higher quality.
They are trying to target the person that wants a great pair of jeans, but doesn't want to pay $150 for them. With Revtown priced right at $79 – they are an incredible value for men.
I would pick Revtown over other brands if I wanted a certain style but couldn't find it in Mugsy or the Perfect Jean.
Mugsy is more comfortable. Perfect Jean is slightly more comfortable and is less expensive. But you, seriously, can't go wrong with Revtown.
Women's Jeans Review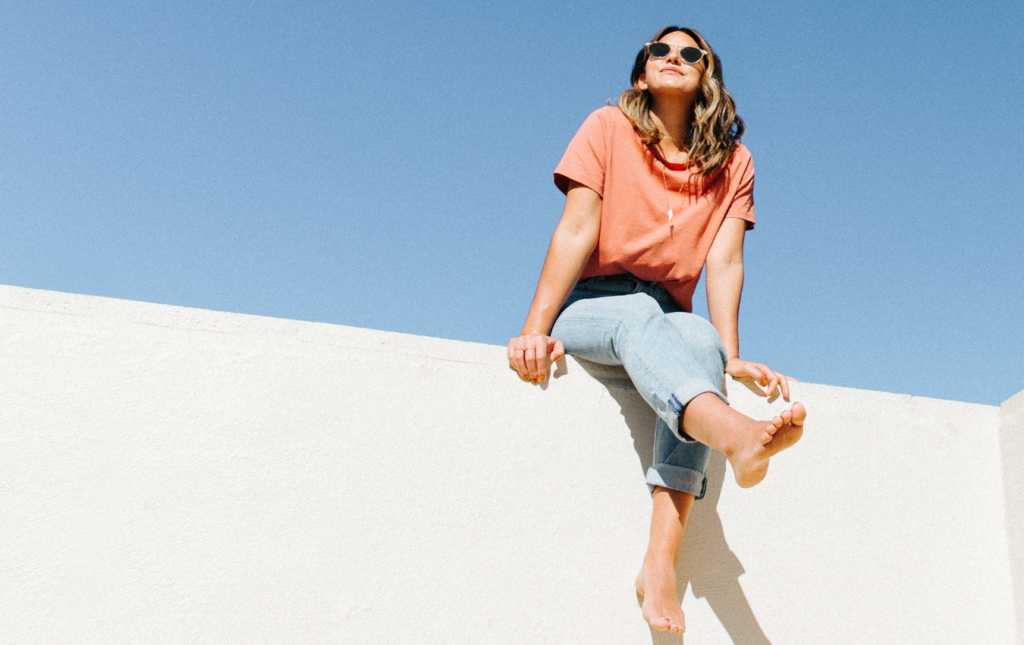 Let's face it, buying jeans as a girl is tough. You seem to find 1 or maybe 2 brands that you really like and you stick with them.
I passed on trying their Women's jeans, but they some interesting options. We'll update this review as I try women's styles, like this one: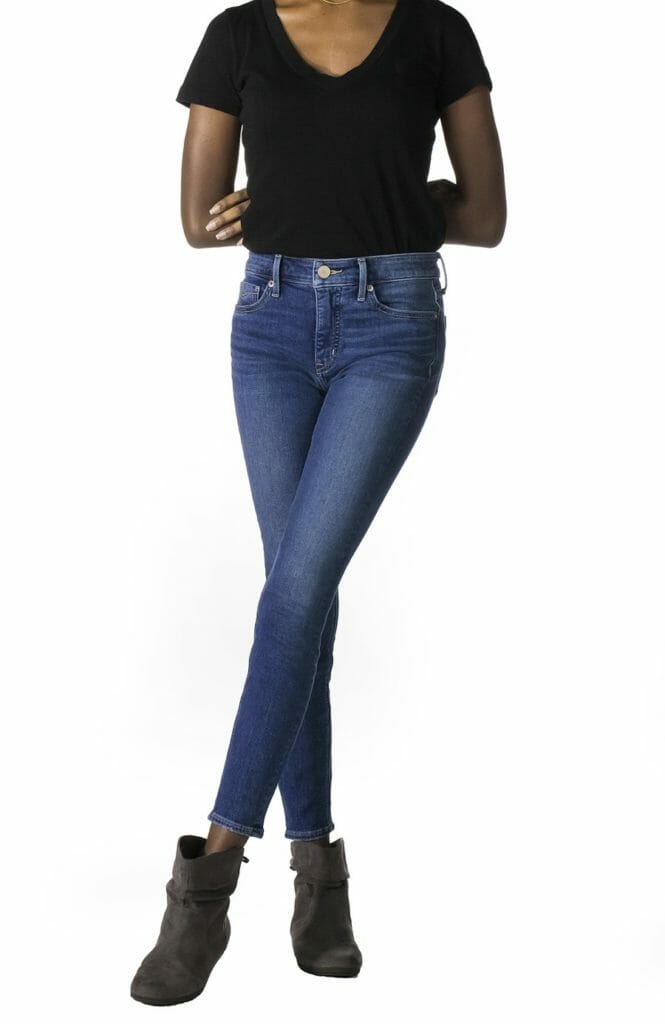 Some other review's we've found:
These high-quality jeans are another true-to-size fit with just the right amount of added comfort. I always prefer high-waisted fits, which is why I tried both this pair and the previous skinny pair. Like I figured, this fit was way better for my curvier body. It's a lot more flattering
The jeans are also an excellent selection for those on the taller side. They're fitted but very sexy; there's a reason they call them, "the most comfortable jeans in the world"!
Revtown Crate: What is it and is it worth it?
Revtown also has a unique idea called the Revtown Crate. As we're writing this, they are doing a collaboration crate with Mizzen + Main (another one of your favorite brands – read our full Mizzen + Main Review).
The crate is a great way to shop for a new look.
You can get a pair of jeans and a short-sleeve button up shirt from Mizzen + Main for only $125 – that's a discount of almost $40!
This allows you to save even more and get a full high-quality "crate" of clothes for less that $150 – not a bad deal!
Are Revtown Jeans Worth It?
In short – yes. I think these are a great pair of quality jeans.
Revtown Jeans: The Final Verdict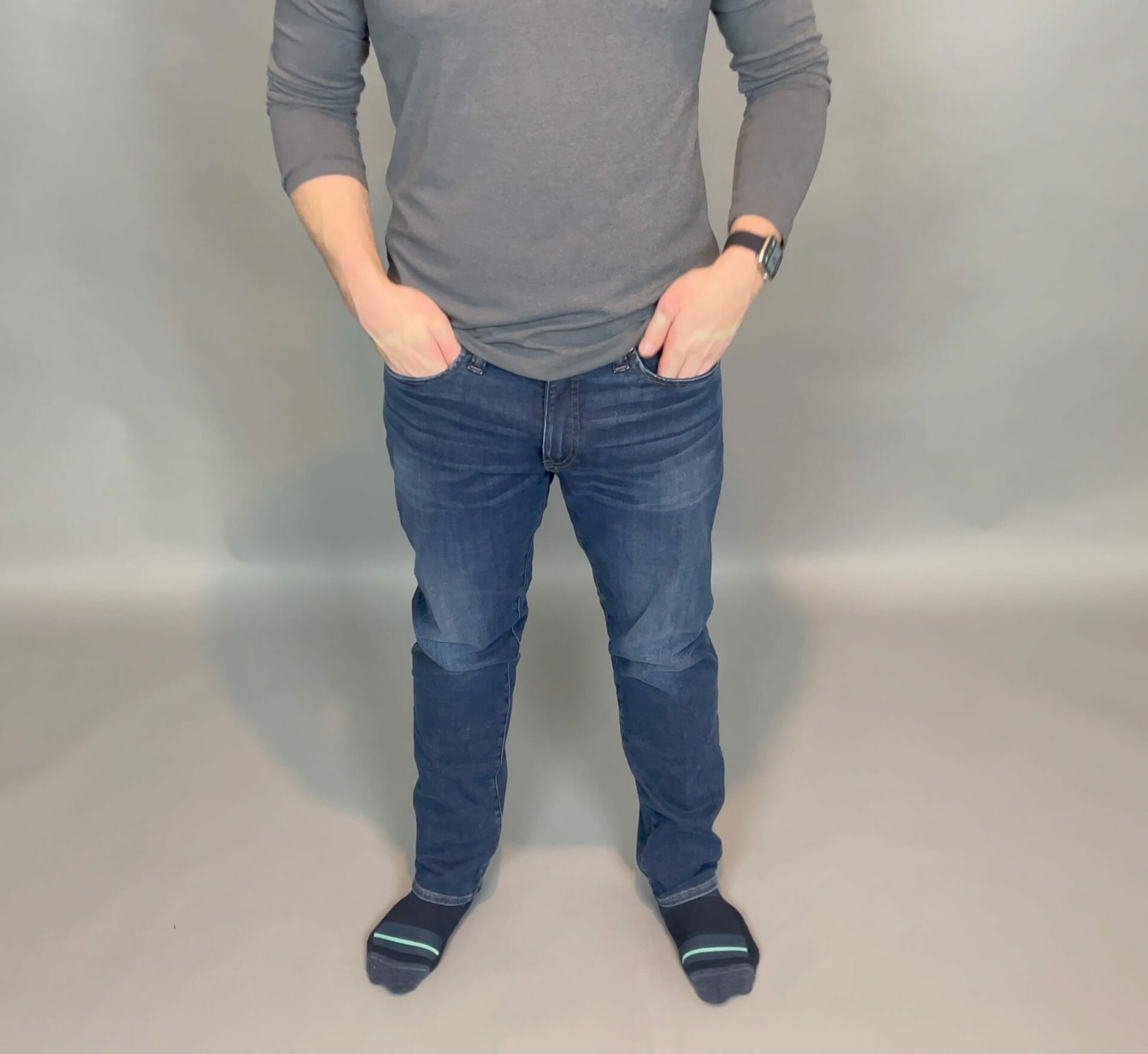 A great jean brand with a ton of styles
Variety of styles and washes
Signature "Decade Denim"
Built-in stretch
Low-maintenance jeans
Affordable prices
While I wouldn't rate them as high as performance jeans as say, Duer Jeans, they are incredibly versatile. The price, at around $70-$80 is fair.
I do wish the Revtown pants had a gusset (read what is a gusset) but other wise, these jeans have everything that you could need or want in a pair of jeans.
Revtown Competitors and Alternatives
There are a ton of good alternatives and competitors to Revtown. We'll be doing a full comparison shorty – to come to Duer (read our Duer Jean Review), Perfect Jean (read our Perfect Jean Review), Mott + Bow, Mugsy and many more!
Have questions or comments about our Revtown review? Let us know in the comments below!