It's a struggle to find quality kid sunglasses that fit your little one's face well, don't break the bank and look cool enough for them to wear without feeling embarrassed. We were on an epic search to find the best kids sunglasses and thought we'd share with you our advice.
Why our kids need good sun protection
Our kids are blessed with beautiful, bright blue eyes. But that also means that their eyes are incredibly sensitive to the sun.
If you're looking for the best pair of kids shades that actually work, look no further. We've tried a wide range of sunglasses from super-expensive Ray-Ban's to kids' sunglasses that, literally, cost less than $10 and several pairs in-between. Here's where we've found the best kids sunglasses.
Keep reading to learn about the differences between super expensive kids sunglasses and cheaper kids sunglasses.
Also, be sure to see our full Knockaround Review.
Best Kids Sunglasses: what we were looking for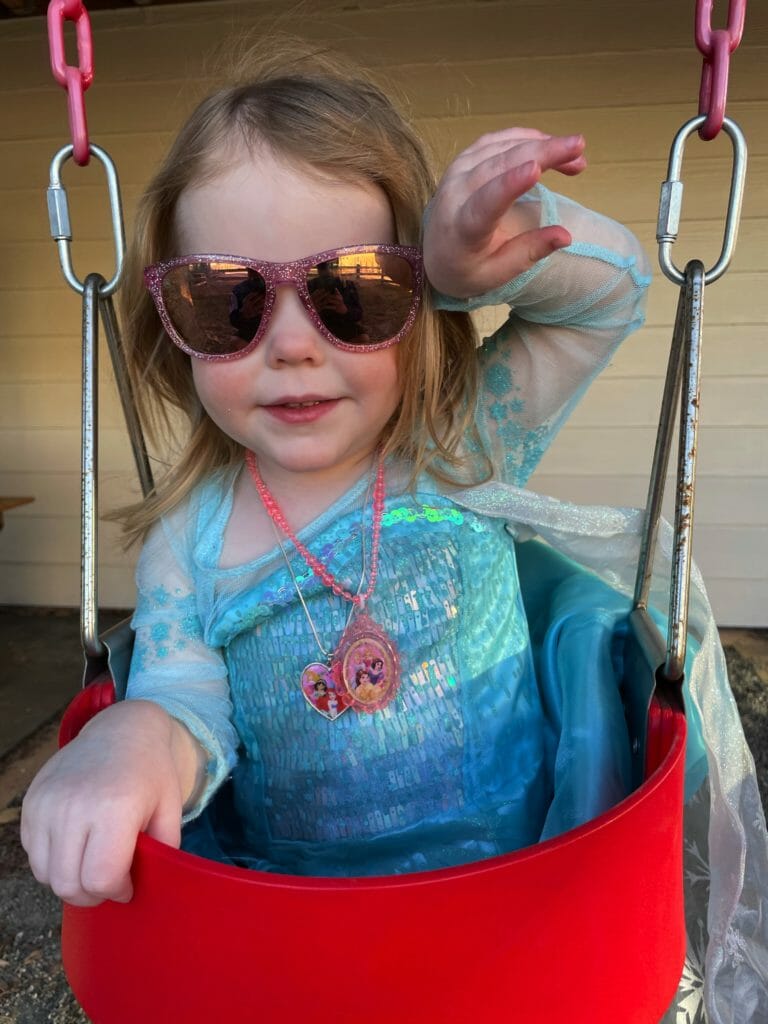 We looked for a few specific features when looking at kids sunglasses. We wanted sunglasses that are inexpensive, have good UV protection lenses and looked somewhat normal.
Toddler sunglasses or baby sunglasses tend to be super cheesy, so let's start with the styles that we did not like at all in the toddler sunglasses and baby sunglasses world.
We also weren't looking for any sport sunglasses or anything extreme.
Styles we don't like
Let's first talk about styles that we don't like, just so we're on the same page.
We also really don't care for cheesy, super-themed sunglasses like Spider Man Sunglasses.
Plus, if your kids are anything like ours – they will have a new favorite character in 2 weeks anyway.
After trying on dozens of pairs from Target to Amazon to Sunglass Hut: we found our favorite pair – and even better, you can find them on sale for less than $10.
Once again, we just wanted something that looked like normal sunglasses and not some extreme sport sunglasses, either.
Best Kids Shades: Knockaround Kid Sunglasses Review
Knockaround Sunglasses for kids are great for several reasons:
Protect your child's eyes from harmful UV rays
Keeps their vision sharp and clear while outdoors – no more complaining that, "I can't see!!!"
Ensure that they stay cool without worrying about them breaking the glasses
Cheap enough that you don't care if they break them
Cheap enough to buy multiple pairs to match how their outfits
Do Knockarounds offer good sun protection?
All of Knockarounds shades – from toddler to adult carry a UV400 rating. This powerful UVA400 rating means that the lenses block out 99 to 100 percent of the sun's rays, including UVA and UVB protection – both are important and included in every pair of Knockaround sunglasses.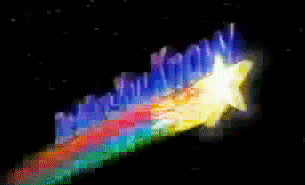 Sun protection is incredibly important in areas with a higher elevation, like Colorado. Contrary to popular belief, this is not because we are closer to the sun. It's actually because the atmosphere is thinner with higher elevations. In fact, in Colorado, the sun is about 20% more powerful than at sea-level.
Why is a UV400 Rating Important?
Great question, the UV400 rating is important because it protects your eyes from the sun's harmful UV rays. Exposure to these can lead to cataracts, macular degeneration and other serious eye diseases that may cause blindness later in life.
Interesting fact: Polarization doesn't block UV rays, it will cut down on reflected glare from water, snow, ice, sand, car windows and pavement. I had no idea!
Kids Sunglasses: What we tried… and didn't like
We tried everything, from the super expensive, like Ray-Bans for Kids (they had a deal where you get a free kids pair if you bought an adults pair) to the super cheap (like Knockaround).
Ray-Ban Kids Sunglasses Review
The Ray-Ban Sunglasses look great. But at $70+ they are super expensive. Of course, if you wear Ray-Ban Sunglasses, it's always cool for your kids to match your sunglasses.
The great part about Ray-Ban kids sunglasses
Our little guy looks so cool and gets a ton of compliments when he wears them. Seriously, everyone says, "Awesome shades, dude!"
He's a bit of a ham, so he loves it.
They are super-high quality, have a classic look and our kids love them.
But, the downside is the price. At $70, we hate that we have to be so careful when he wears them. We did find the kids Ray-Bans slightly cheaper on Amazon, although we would be worried about fakes, especially at a cheaper price.
The best place to buy REAL Ray-Band Toddler Sunglasses or Baby Sunglasses is at a place like Sunglass Hut.
So, we decided to look for some cheaper sunglasses. So, we looked at the Polarized Minishades in our search for the best kids sunglasses.
A quick warning on where you buy sunglasses
You need to be careful where you buy your sunglasses. Even on Amazon, where we've got several counterfeit items before.
The actual brand part isn't that big of a deal for something like toddler sunglasses, however, you want to make sure that they are getting the right protection for their eyes. That's the most important thing in all of this.
Not to be scary, but without the proper UV protection, kids eyes can actually get a sunburn and that sounds terrible. Make sure you have both UVA UVB Protection. All the glasses on this page have both UVA UVB Protection.
Sorry to make you worry there, but it's the honest truth!
Polarized MiniShades Review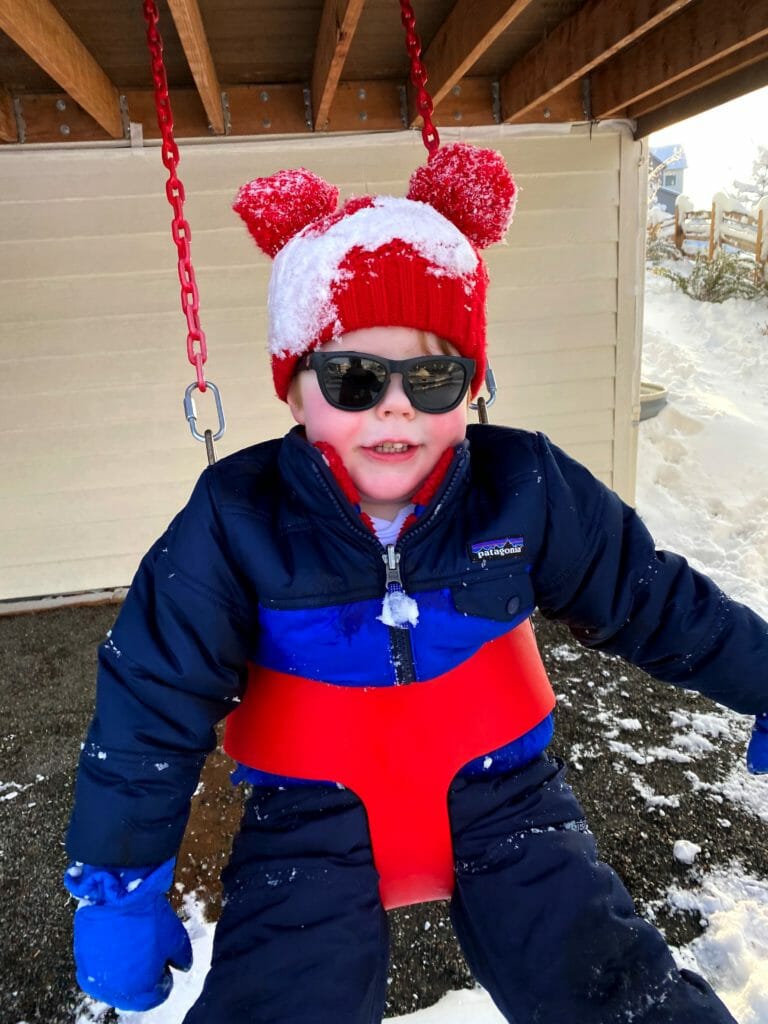 We were intrigued by Polarized Minishades Sunglasses. They claim to offer polarized sunglasses designed for kids and also offer a 1-time replacement guarantee.
Polarized MiniShades Replacement Offer
At $19.99, they offer a 1 time replacement guarantee. It's important to read the fine print. Here's what the website says:
Now you can protect your child's eyes and have peace of mind about your purchase because every Polarized MiniShades® product is backed by our unbeatable Hide n' Seek Loss & Damage Warranty.
To be eligible, simply register your MiniShades® with the 6-digit ITEM# found on the inside arm of your MiniShades® or on the back of your box.
At any point in the future, should your child lose or damage their MiniShades®, we will send you a one-time replacement pair (exact same size/color)..…..all you pay is a $7.95 processing fee.
Upon registration, you will receive a confirmation email with your one-time Redeem number which is required to make a future claim.
Is the MiniShades Replacement Worth It?
While the replacement was intriguing, it wasn't that great of deal once you compare them to something like Knockarounds.
Think about it: Knockarounds, at the time of writing this, are about $9. If you get a pair of Polarized Minishades and have to replace them, it costs $27.95. You can get three pairs of Knockarounds for $27!
Granted the Knockarounds don't have polarized lenses, but I don't think that's incredibly important for kids sunglasses.
Also, we didn't care for the rubber-like, more flexible material the Polarized MiniShades were made from. I know that probably makes them more durable, but also makes them look more like they are made for little kids. And don't kids just want to "big?"
One great thing about Polarized Mini Shades
They have multiple sizes! Obviously, Toddler Sunglasses aren't the same size as Baby Sunglasses and Pre-Teen Sunglasses. We love that Polarized Mini Shades has multiple sizes. Babies have some pretty small heads!
Knockaround only has 1 size, for comparison – that's ages 1-5. That's a pretty large gap!
What do polarized lenses do?
Polarized lenses in sunglasses are best used for activities like driving and boating. Are you kids driving?
Polarized lenses are designed to reduce the glare from horizontal surfaces, such as water or a car's headlights, while also increasing contrast by blocking out reflected light.
Polarized minishades say this about why kids need polarized lenses:
Your child's developing eyes are more transparent, which allows more harmful light to reach the retina. Polarized lenses block the reflected UV light in addition to the direct & scattered UV light. This essential layer of protection is now a standard in adult sunglasses. It's time your kids have the same protection!
What we think about polarized lenses for kids:
Overall, we don't think it's a giant deal for kids to have polarized lenses. I really only notice the difference, as an adult, when I'm doing something on the water. But you can be the judge! You can't go wrong with Polarized Minishades.
Once again, the amazing thing that I had no idea about until writing this post was that Polarization doesn't offer any additional uv protection. Isn't that crazy? I thought it had to provide extra uv protection! t
What about Knockaround Sunglasses?
The founder of Knockaround said, "Growing up, my dad had a pair of sneakers in the garage that he'd wear when he mowed the lawn. He called them his 'knockaround' sneakers—he could count on them, they were dependable, and he didn't care if they got beaten up
So, I just applied that idea to sunglasses. I wanted them to be affordable, if you lost them or broke them, no big deal. The Knockaround name seemed like a natural fit—like, I'm just going to knock around this pair of sunglasses."
What a brilliant idea! As we talked about in our Knockaround Adult Sunglasses review, you really don't feel bad about buying Knockaround Glasses, because if you lose them or break them – you aren't out all the money!
Let me correct that statement, if your toddler looses or breaks their toddler sunglasses, you aren't out a lot of money.
Why Our Kids Call Knockaround Kids Sunglasses the Best Kids Sunglasses
It really doesn't matter what my wife and I think. What do our children think? What would their Knockaround Kids Sunglasses review say if they could write? Our oldest child is still working on that whole writing thing.
In short, they'd say they love them – and love the bright colors. Our son's favorite color has always been Red – and he loves his Red Knockaround Sunglasses.
Knockaround Kid Sunglasses are made with the same high-quality materials as the adult styles so they will last through years of adventures.
The flexible frames adjust easily to most child + toddler faces and come in an assortment of colors so you can pick out a pair that matches their personality or favorite outfit.
Knockaround Kids Review: Are Kids Knockaround Glasses worth it?
YES! If you want a pair of sunglasses that your kids will love (if they are a toddler or even a little older child), it will protect their eyes AND you won't worry about them breaking them – then check out the Kid's Knockaround Sunglasses.
Recommended Product:
Knockaround Kids Sunglasses
For next-to-nothing, you can have a great pair of kids sunglasses that your kids will love – and they won't break the bank.
Have any questions about our quest to find the best kids sunglasses? Or questions about knockaround kids sunglasses? Let us know in the comments below!