Even before social distancing and work from home became the "new normal" (I still hate that term), I lived in polo shirts. During the summer, it was polos and shorts and during the winter, I wore polos (or Mizzen + Main Flannels) and sweats. I'm always game to find another polo to add to my ever-growing collection. When I saw the Bluffworks Polo on sale, I had to get the Bluffworks Piton polo and give you my honest Bluffworks Polo review.
Bluffworks polo review: what we look for in a polo
One quick pet peeve on polo shirts: the collars. Now that I mention it, you'll notice that the collars on many polo shirts curl after several washes.
My other big pet peeve is around seeing chest hair through the front. I don't have a super hair chest but I guess it is thick enough to show in some light colored shorts with thinner material.
We also don't like clothes that have giant logos on them but still fit well.
Let's keep going in our Bluffworks Polo Review to see how the Piton Polo stands up.
Bluffworks polo review: we test the claims
Here's what Bluffworks says about the Piton Polo: The Piton polo is travel-ready, technical polo with quick-drying, wrinkle-resistant properties, and doesn't sacrifice the much-loved classic aesthetic or silhouette.
As you'll see in the video review: I literally put on the polo right after unfolding it. You can see some slight wrinkles in it, but they come out quickly with heat.
We haven't tested the polo throughly but it does look like a regular, non-technical polo – so that's a good thing!
Bluffworks polo review: fit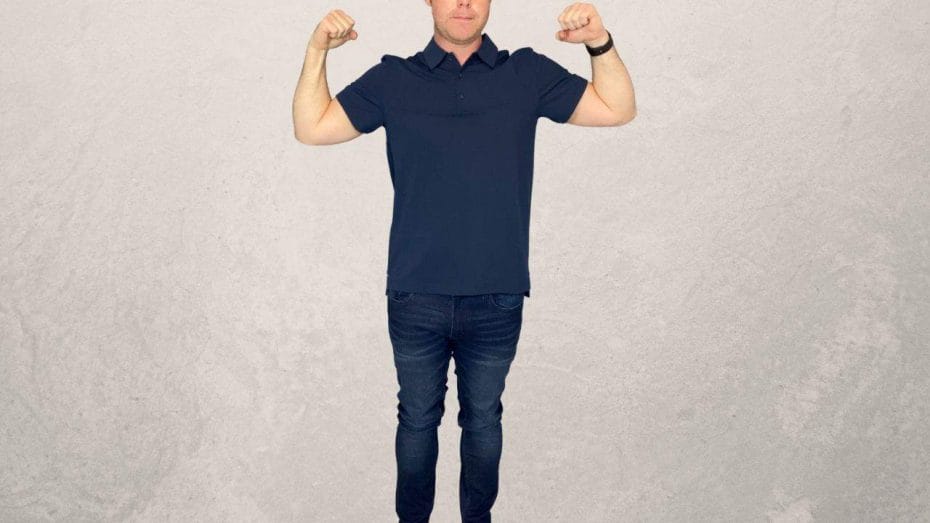 I wear a medium in all polo shirts and ordered a medium classic fit Piton Polo. The overall fit is perfect. Not too tight, not too loose. I almost ordered the slim fit, but the classic fit works perfectly.
A quick warning on the light colors
I originally ordered the lighter Sky Blue Piton Polo, however, TMI warning, my chest hair was visible through the polo. Sorry for the picture below, but that's what it looked like.
The good news is that Bluffworks had incredible customer service and was able to swap for another color right away.
I don't have a ton of chest hair, but it is fairly bristly. For that reasons, I typically don't wear lighter colored polo shirts.
Bluffworks polo review: overall look and function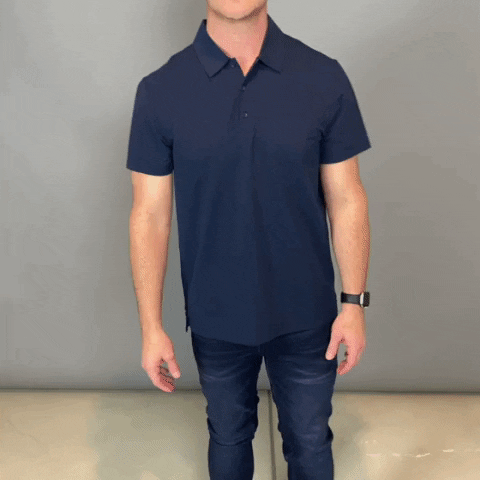 No one will mistake this polo for a "technical polo." It has a unique pique material that doesn't looks more like cotton than other polyester shirts (most polyester polos are super shiny). This shirt actually looks more like the Everlane Polo (read our Everlane Performance Polo Review).
It fits well, breathes well and looks great!
It has some VERY subtle branding on the sides, a super tiny bright orange mark. I usually don't like branding like his on polos, but this works really well and is very subtle.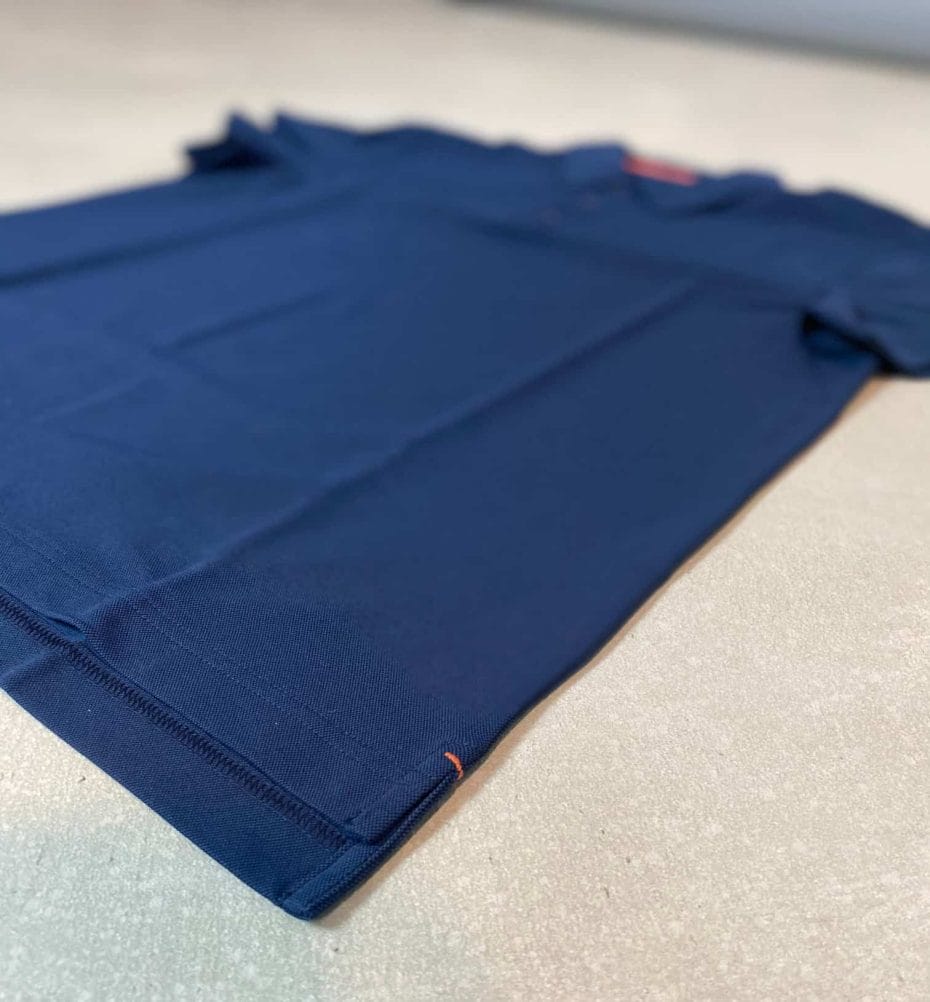 Bluffworks polo review: the final verdict
Overall, this a great alternative to other polos – especially 100% cotton ones. While the pique material looks nice, it also causes things like lint (and dog/cat hair) to easily stick to it. That's really the only think I don't like about the Piton Polo (or other pique-material clothes). In filming the review, there was a small piece of lint that got stuck on the shirt – right out of the box:
As of writing this, the Piton Polo is on sale for $34 here – half off the retail price of $68. That's a steal if you can get it for only $34!