Tovala Smart Oven Review: How long do you think it took to make all of these recipes? What if we told you each recipe took literally less than 30 seconds of prep and less than 30 seconds of clean up? Don't believe us? Read on to learn more in our honest Tovala review. We've been using the Tovala Smart Oven for over two years! Let's dive into the good and the bad of the Tovala Smart Oven. 
Updated May 2020 with Tovala Gen 2 Oven review and even more meal options!
;tldr Tovala Oven review

The most amazing device we've tested. The Smart Oven + meal delivery service is just as good as Hello Fresh, roughly the same cost but is easier and faster.

His Tovala Review

I was skeptical, but after testing for a month, the Tovala Smart Oven one of the few must-haves that we've reviewed.

Her Tovala Review

Frankly, I got tired of the Hello Fresh meal prep (and cleanup!). With the Tovala, there's no mess, no prep and you get an amazing meal, too!
Tovala Review Table of Contents
What is Tovala?
Tovala is a meal-delivery service (like Hello Fresh) combined with a smart, wifi steam oven. Before you think you don't need another smart device - this will change your mind. 
The Tovala Smart oven makes it super simple to create the recipes they send you every week. Simply scan the barcode on the food box and Tovala does the rest. It's, literally, that simple.  
Who is tovala for?
Tovala is for busy people that want to eat great food but don't have the time to prep, cook and clean up the food. 
We started using Tovala when we had our first kiddo and haven't looked back. If you are looking for a great way to step up your meals without spending more time, Tovala is for you!
Tovala Review - How does the smart oven work?
Setting up the Tovala is a breeze. You simply plug in the Tovala Smart Oven, fill it with water and use the Tovala app to set up the rest (you'll need to know your wifi name and password). Setup took about 5 minutes, including time to get the Tovala Oven out of the box.
Tovala Smart Oven Recipes Review
Much like other food delivery services, you select what meals you would like delivered before they arrive (one small downfall with Tovala, you have to select the meals 2 weeks beforehand - as opposed to other services, where you select the food the week before).
You select three meals from about 7 different choices. Two weeks later, you get a box with your three meals. Here's the box with the three meals delieved to our home.
Inside the Tovala box are the three Tovala meals that you selected. It's a bit different how they are packaged. 
Note: Tovala has slightly updated the packaging options for the meals. 
Each Tovala meal has three main parts:
The Protein tin (chicken, beef, salmon, meatballs, etc.)
The Rice/Veggie tin
The prep/finishing ingredients (the photo below).
On the side of the box, you'll find the instructions for the prep and finishing of each meal. It's super-simple. There's no chopping, cutting or mincing. Here's the example from the meatball dish:
In this Tovala Meatball recipe, simply take off the plastic covers, pour one glaze over the meatballs and lime juice over the broccoli. 
Put the two tins in the oven and scan the barcode. That's it!
No mincing garlic or pickling onions (seemed like every recipe in Hello Fresh or Blue Apron had some ridiculous step in it).
The Tovala Smart Oven gets the information from the barcode about how to cook the recipe. The Tovala Oven can Bake, Steam, and Broil. This is where the Tovala App is handy. If you want to check on what the Oven is doing, and how long is left in your recipe, just check the app while the food is cooking: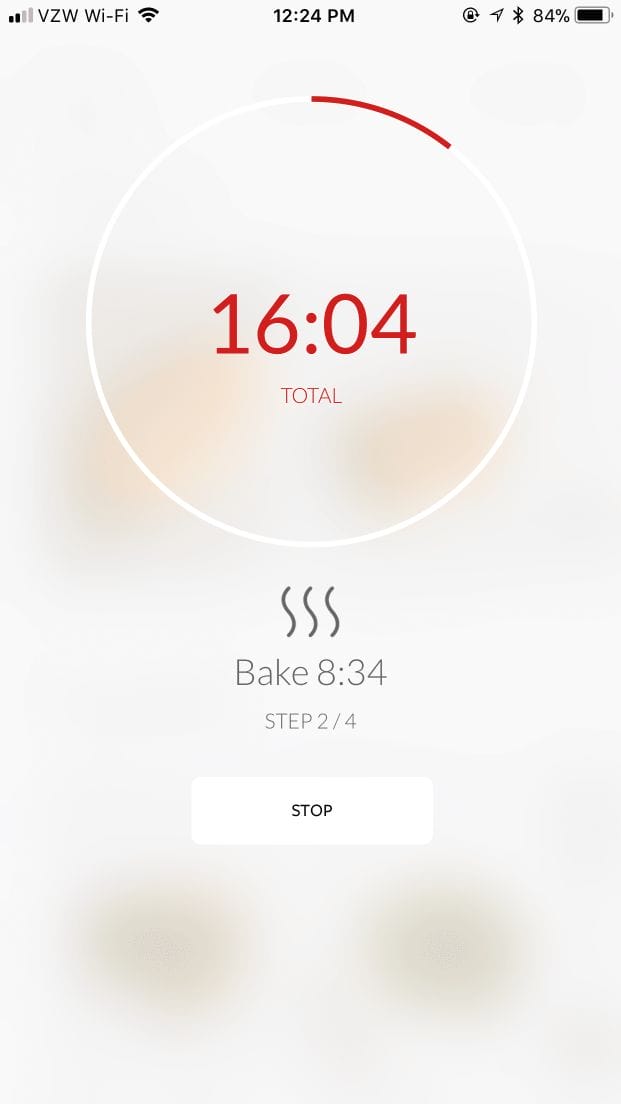 You don't actually need to use the app to scan a recipe and have the Tovala Oven cook your food. But the Tovala app does give you a notification when your meal is done. It even shows up on your Apple Watch (if you have one). 
Here's the finished product of the Meatballs (before you ask, yes, we made that and yes it's our photograph - that's how good the food from Tovala looks!):
We're not kidding: this literally took us about 30 seconds to prep and 30 seconds to finish and clean up. The first time we tried a recipe, we thought, "Maybe this is the easiest recipe, others will be more difficult!" Nope - they are all this easy. 
It was such a relief to be able to make dinner with just a minute of work. The actual recipe cooks for anywhere from 11 - 20 minutes (depending upon what the recipe/food is). 
How much is the Tovala Smart Oven?
Things get a little complicated here, but hold on: it's worth it!
How much is the Tovala Smart Oven?
The oven, bought by itself (which we wouldn't recommend) is $299. That's steep - but you can get the oven for as low as $199 if you pair it with a meal plan. You can also save an additional $50 if you use our Tovala Promo Code.
There's no reason to pay full price for the oven. If you are, at all, on the fence, buy the oven with the meal plan for $199. Why are we so sure?
The Tovala Oven has a no-questions-asked 100 return policy. We were on the fence, too. But we read all the fine print so you don't have to.
If you decide, before day 100, you don't like the Tovala Oven or the Tovala meal delivery service, you can get whatever you paid for the oven back - it doesn't matter if you spent $199 or $299.
How much are the Tovala Meal Plans?
Meals are simply $11.99. Shipping is free with 4+ meals. 
Is Tovala Worth it?
If you like to cook: no.
If you like the IDEA of cooking: yes.
If you like great food without cooking: yes.
If you've tried meal deliver services, but hate the prep and clean-up: yes.
If you get pleasure from oil burns: no.
If you want the cheapest way to eat: no.
If you want a simple way to eat great, fresh food: yes.
We think it's well worth it. We're trying to get the most from doing the least.
There is no risk in trying it - and we've recommended this to everyone that has come over to our house or everyone that has mentioned Hello Fresh or Blue Apron. It's a much better solution.
To get $50 your order, simply use our Tovala Promo Code.
---
What don't we love about Tovala?
Nothing is perfect. Tovala is close! A couple of VERY small things that we would change about Tovala:
Right now, we get our meals delivered on Wednesday (it's the only option). Ideally, Tovala would arrive on Monday. There is obviously some supply chain issues they are working on to make this happen. 
Mr. We Tried It would like a full-keto diet friendly option. They have improved and now offer a "Low Carb" selection, which they say is under 35 g of carbs - but not net carbs. It would be great if they listed net carbs and kept them low. 
More recipes you can make on your own. There is the Tovala Community site, where there are a couple recipes, but not the number you would hope.
It does take some experimentation to make your own recipes. Mr We Tried It  attempted to make some melted mozzarella and it took several tries to get the Bake/Broil timing right. 
---
Tovala Oven: First Generation vs. Second Generation
What's the difference between the first generation and second generation (size, features, etc.)
A couple of key things are different between the first generation Tovala Oven and the newest, second generation Tovala Oven.
The biggest is the size and form factor. The origional oven was a hefty 17 inches x 19.75 inches x 14 inches. The new, second generation oven is smaller: 18.5 inches x 12.32 inches x 11.75 inches. It's actually slightly wider, but not as tall or deep.
The new oven has actually more controls on it vs. the origional oven. The origional oven required you to use the app a lot to cook. The new and imporved button layout on the second-generation Tovala makes it easier to use without the app. 
For example, you couldn't simply steam with the old controls. You can directly control steam, for example, on the newest oven: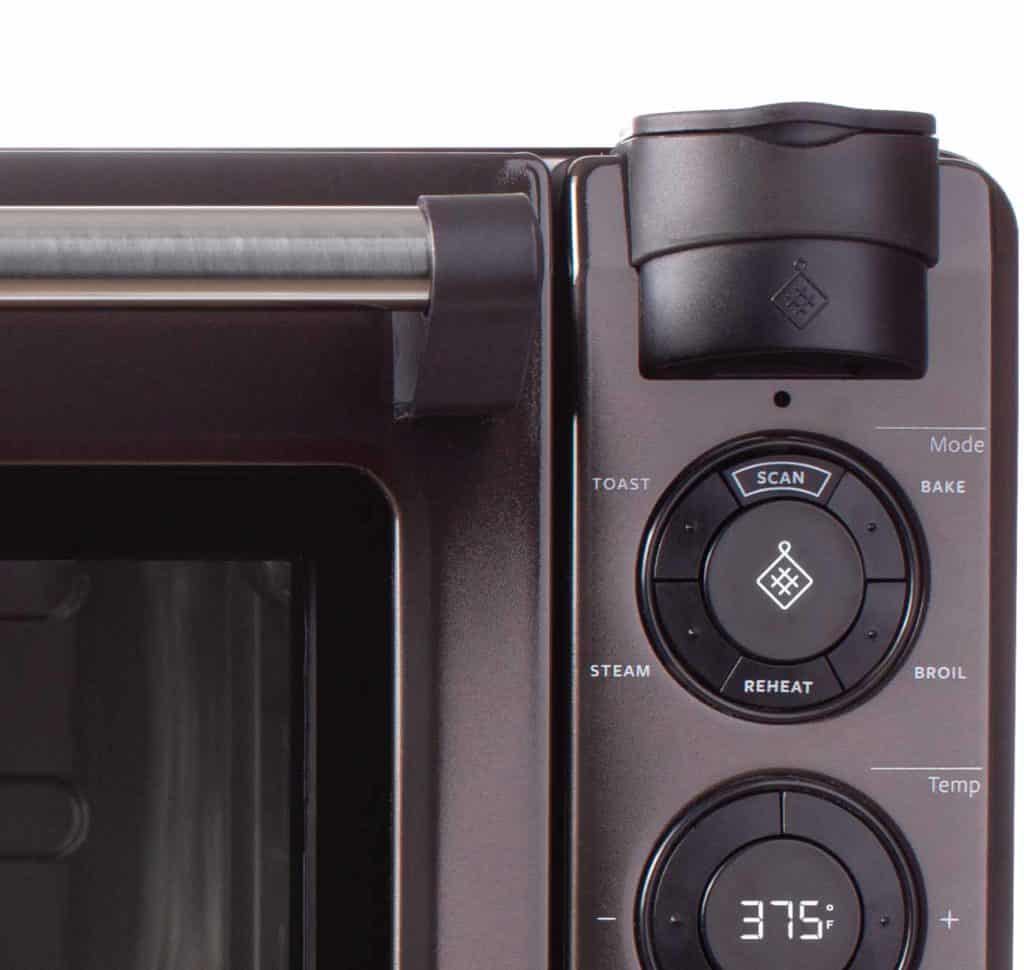 Our first generation is actually still going strong, but we wouldn't hesitate to use the new, second-generation oven if we needed to. 
---
Tovala Review: We test the claims
"Good home cooking takes too much effort. That's where we come in."

Yes. Yes. And Yes. We'd never probably cook some of the recipes, but the food is amazing!

The Tovala "can also steam, making your proteins juicier and more tender, your veggies tastier, and your cooking more dynamic."

Big, big yes! In the app, there is a pre-made setting for chicken breast in the oven. The chicken came out perfect the first try. Juicy and well-cooked.

Cook your own ingredients with one touch.

The Tovala has a small handful of recipes built in. However, creating your own recipes takes a lot of trial and error.

Eating a healthy, freshly-cooked meal is as easy as scanning a barcode.

Yes! True.
What's Changed Since Our Original Tovala Review?
It's hard to believe that Tovala was one of the first things we reviewed on We Tried It! It's actually what started this whole journey. We first reviewed Tovala in February of 2018 (Original Youtube Video). A lot has changed (for both Tovala and our family!). Here are some of the highlights of what is new with Tovala:
Tovala's Second Generation Oven
The biggest change to Tovala has been their new, second-generation oven. Take a look at this beauty: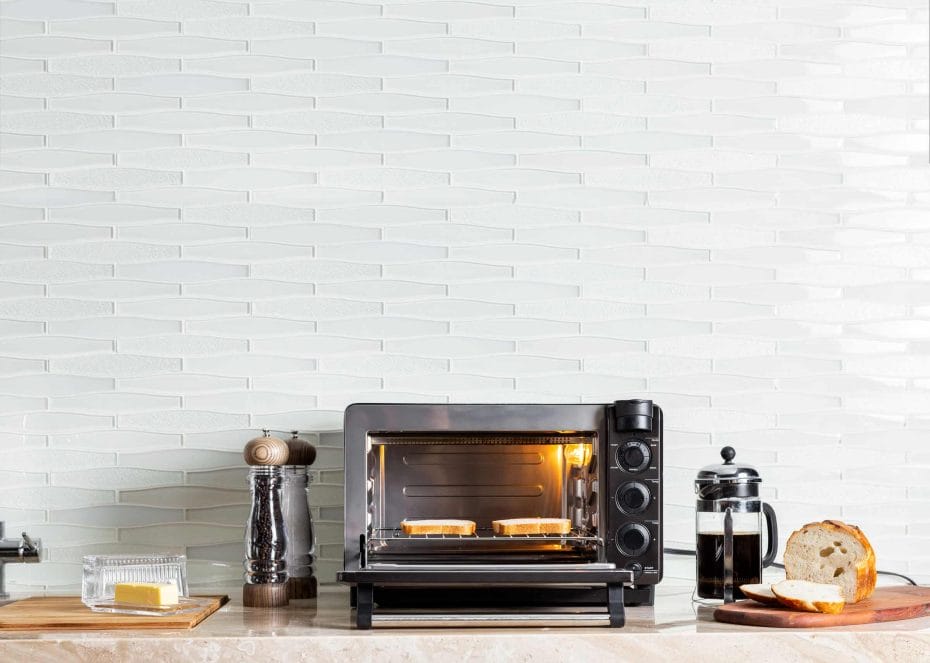 Isn't that oven beautiful? It looks a little more conventional, more like a toaster oven than the original Tovala (below, which you can actually still buy on Amazon.
Tovala's new food offerings
One of our biggest complaints with Tovala when it first came out was the food choices. Mr. We Tried It practices Keto and sometimes, he'd just have to throw the side away (many came with potatoes, for example). But now, Tovala has new categories on their website! 👏🏻👏🏻👏🏻
Take a look at the new catories on the Tovala website: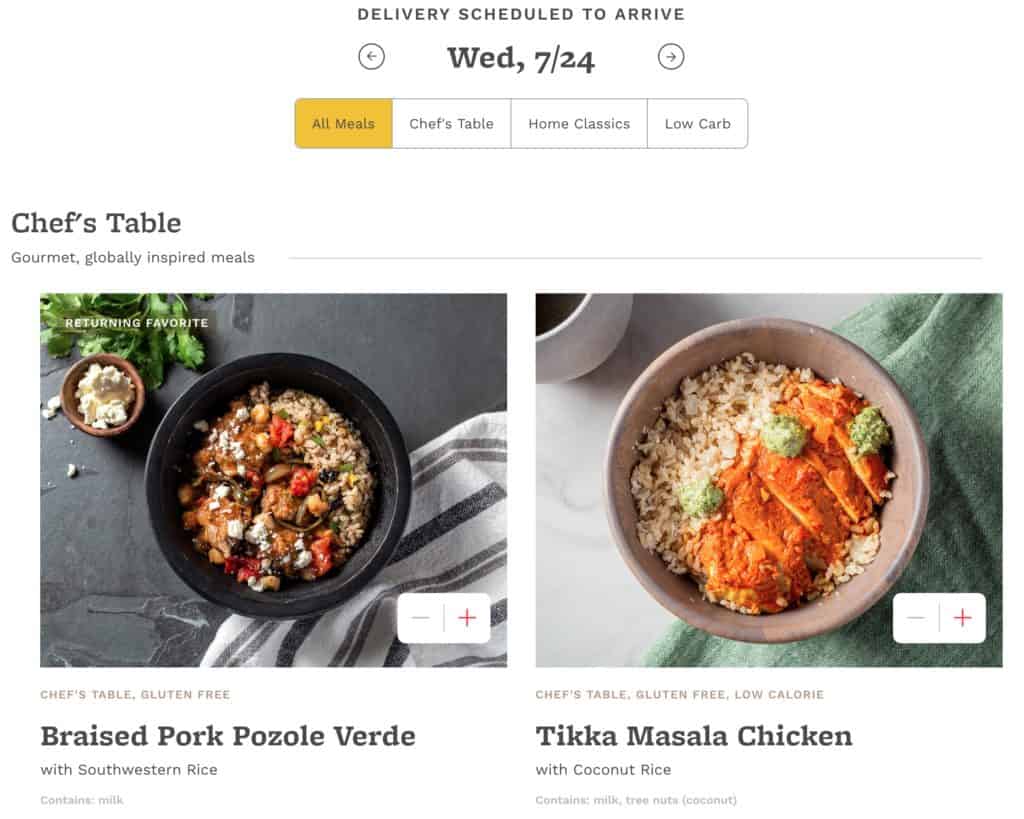 Tovala technically labels anything under 35 Carbs (it does not show net carbs...yet) as Low Carb, but it's a start in the right direction. There is a lot of califlour rice and veggies instead of more starch-y choices. 
It's not all low carb options either. They also added "Chef's Table" selections ("Gourmet, globally inspired meals) and "Home Classics ("Approachable dinnertime favorites"). Now, I feel like they have options for almost everyone.
Even those wanting to eat Vegan should be encouraged by this: Tovala and Beyond Meat Team Up. That's right, Beyond Meat, the vegan meat subsitute is working with Tovala. Pretty cool!
Tovala's new Ordering Options
We don't take advantage of this, yet, but there are now more options to order: how many you get, etc. Tovala now offers a plethora of choices when it comes to how many meals you get a week.
Many have been asking for this to change for a while!
You can now also substitute sides on some dishes (like the one above). For example, you can pick Mac & Cheese OR Crunchy Veggie Salad with the BBQ Chicken Breast.
TRADER JOES Automatic Cooking!
Tovala recently introduced Scan The Store, the ability to scan items and have them auto-magically be cooked in the oven. Currently, this is only compatiable with Trader Joes frozen items - they are expanding it to other foods soon. How easy it is? There are only three steps:
Step 1
Get food from the grocery store.
Step 2
Scan its barcode.
Step 3
Press start to cook.
That really feels like the future. 
Tovala Smart Oven Review: The Final Verdict
This is one of our few must-haves. It's changed our dinner routine for the better. Having a little guy run around the house AND cook a full dinner from Hello Fresh or Blue Apron just wasn't worth the hassle.
If you want a simple solution to get quick, healthy meals - look no further than the Tovala Smart Oven and the Tovala Meal Service.
Buy the Tovala Smart Oven today and get $50 off. Use our special Tovala Promo Code.