Now if you're like me, you probably have a favorite pair of sunglasses. Mine happened to be these polarized Ray-Ban Wayfair's, but they're about $200. Yikes! You really don't want to be wearing these in the pool with the kids or playing in the backyard. Well, I've got a solution for you today. They're called Knockaround Sunglasses and here is our honest Knockaround Sunglasses Review
Knockaround Sunglasses Review: What they say
The founder said, "Growing up, my dad had a pair of sneakers in the garage that he'd wear when he mowed the lawn. He called them his 'knockaround' sneakers—he could count on them, they were dependable, and he didn't care if they got beaten up.
So, I just applied that idea to sunglasses. I wanted them to be affordable, if you lost them or broke them, no big deal. The Knockaround name seemed like a natural fit—like, I'm just going to knock around this pair of sunglasses."
What a brilliant idea!
Knockaround Review: What we tried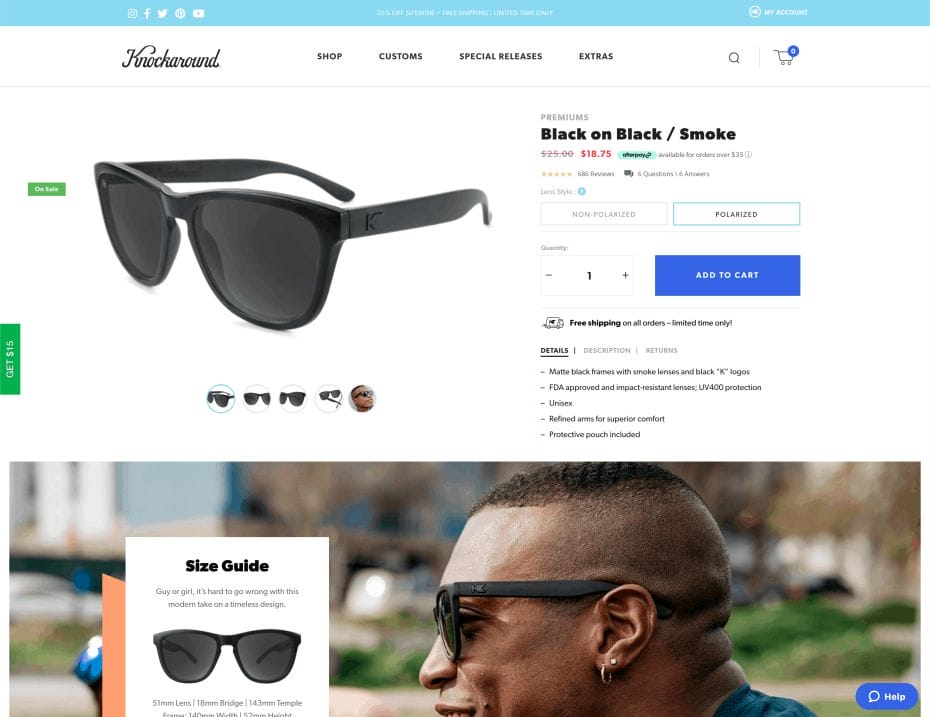 I tried the Premium Black on Black – Smoke Knockaround Sunglasses, the polarized version. In the screenshot above, you can see they are on sale for $18.75. They retail for only $25! The non-polarized version is only $20!
That's a lot less than the $200 bucks my Ray-Bans cost. So, what did I think about them?
Well, they came packaged in a cool carrying case, which was a nice touch. But the truth is is: they are simple, lightweight, nice sunglasses.
There's no crazy branding anywhere. There's no bright colors. But you can see very, very faintly: there's a little "K" that is backwards on the side. You can see it clearly in the photos, but in real life, it's a little harder to see because of the matte, black-on-black look – which I really like! There's also very subtle branding on the top right of the right lens. Once again, it's their K it's a little backwards. It's very lightly screened. You'd have a hard time finding it without really looking closely.
They are really lightweight. I'd say they are slightly heavier than my Ray-Bans.
So I decided to put on the Knockarounds and go outside, I was really pleasantly surprised! They're almost as nice as the ones from Ray-Ban that are polarized.
Knockarounds Review: Polarized or Not?
First of all, you need to learn about what Polarized Glasses do. Here's what the American Academy of Ophthalmology says about Polarized Glasses:
"On polarized sunglasses, the filter creates vertical openings for light. This means that only light rays that approach your eyes vertically can fit through those openings. The lenses will block out all the horizontal light waves bouncing off a smooth pond or a shiny car hood, for instance.
As a result, the image you see with polarized lenses is a bit darker than usual, but objects look crisper and clearer, and details are easier to see. People who use polarized sunglasses for long stretches of time often say they are less tired than usual after hours of battling sun glare. People who fish, in particular, find polarized sunglasses drastically cut the glare and help them see into the water."
I'm not using the glasses for anything fancy, but I did really like the polarization for the pool.
Knockaround Review: want something a little more crazy?
I don't like loud and crazy clothes/sunglasses. But do you? You're in luck because Knockaround has a ton of crazy versions ranging from Hot Wheels collaborations to Rainbow sunglasses to Giraffee Print to everything in between. Just look at all these different options:
Knockarounds: Want to save even more?
Now, if you want to save even more on Knockarounds, you can use our special promo code to get $10 bucks off. That's right. 10 bucks off these already very inexpensive sunglasses. Get our exclusive Knockaround promo code here.
Knockaround Sunglasses: The Final Verdict
I've worn my Knockaround Sunglasses all summer long, to the pool, bike riding and they still look really good. They don't even have any scratches on them. They're not even beat up, but frankly, if they do get beat up, who cares? Because they're only $20 sunglasses. They're not the $200 ones!
I hate it, but I'm now the person that has "nice" flip flops (see our Hari Mari Review) and "not nice" flip flops. Now I'm the guy that has "nice" sunglasses and "not nice" sunglasses.
Take a look at the Knockaround sunglasses. You will not be disappointed: unless you really want that name brand on your face. They're a great alternative to more expensive sunglasses and the optics quality is great! You don't get the weird curvature in the optics when you buy some of the cheaper sunglasses from Walmart or the gas station.
They're great glasses and I really can not complain. We're happy to give Knockarounds the We Tried It seal of approval.