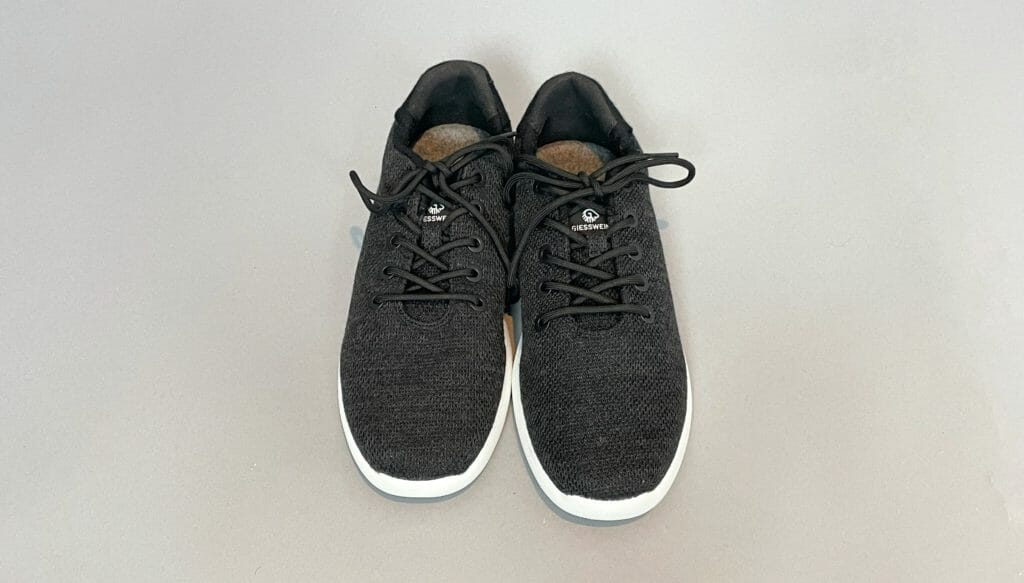 Giesswein Wool Knit shoe review: I'm a sucker for shoes you can wear without socks. And some of my sock-hatin' DNA must have been passed on to my son – who also hates wearing socks.
In the We Tried It House we are huge fans of Allbirds shoes (read our full Allbirds Review). It's where we were first introduced to Merino Wool Shoes.
We want to make sure that our reviews are honest and are ACTUAL reviews – not just grabbing a bunch of photos of the internet, we actually test every product.
Meet the Giesswein Wool Knit Shoe
A worthy Allbirds competitor
Comfortable
Can be worth with or without socks
Machine Washable
Very breathable
A different take on wool shoes!
See our massive (partially pictured) collection of Allbirds.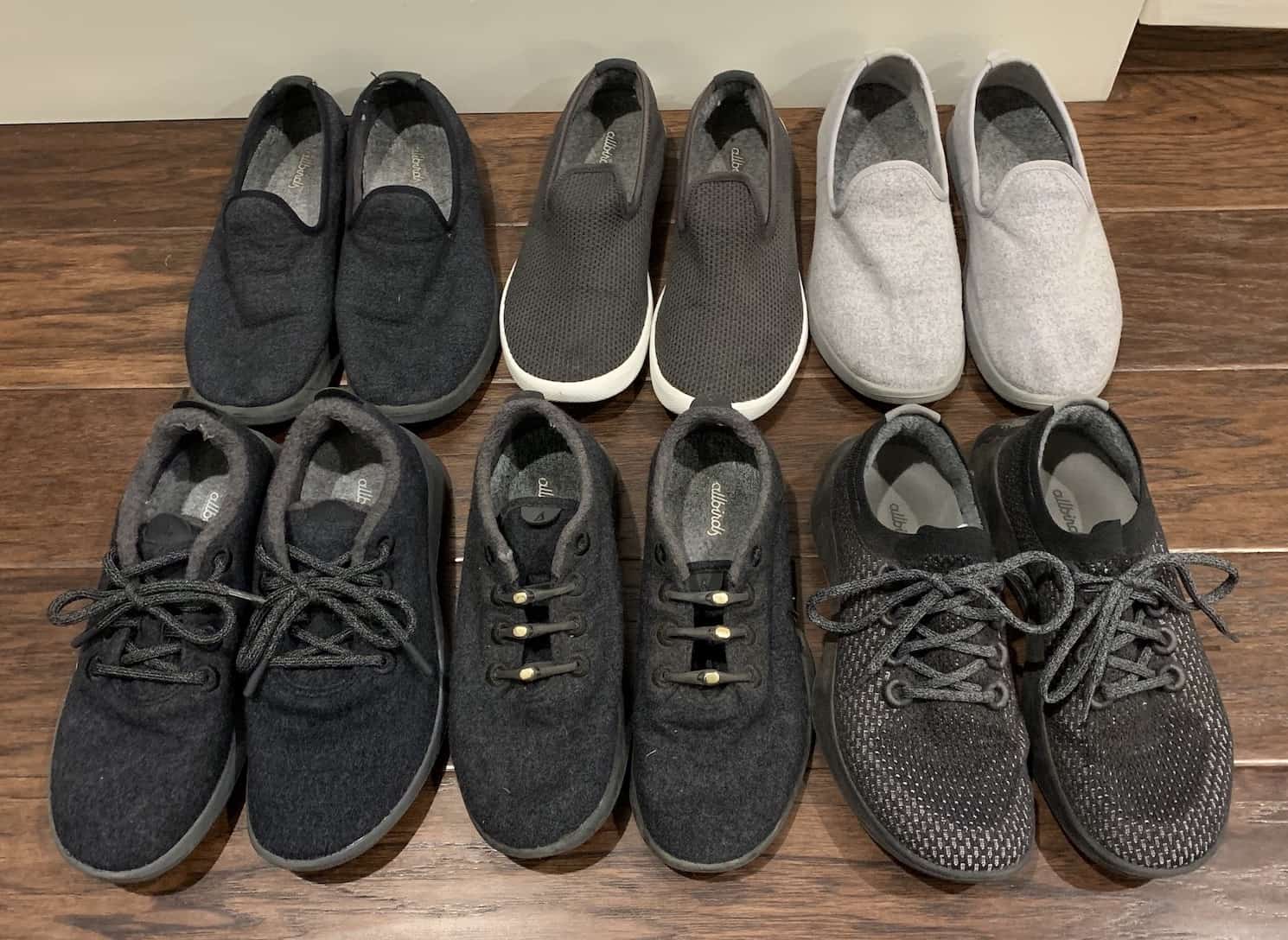 We love how Allbirds are washable, odor-resistant, and super comfortable. Oh yea, we also love the Merino wool, too.
So, we had the chance to try the Giesswein wool knit shoes, we had to give you our honest opinion. Are they comfortable? Are they lightweight? Are we a happy customer? We had to share with you.
Let's dive into our Wool Knit review!
Giesswein – Funny name, serious shoe

Giesswein is an Austrian company; famous for its natural, high-tech wool fabrics.
What's different about this pair of shoes?
Giesswein treats their merino wool differently from other companies, focusing on sustainable use and the specific treatment of wool.
Founded as a family business and run by the third generation, the founders, Markus and Johannes Giesswein have been dealing with wool since childhood.

They create unique fabrics made of 100% wool, what's not to love? These wool products can absorb more moisture and keep you warmer than other wool materials. They have made it their mission to reinvent the positive attributes of wool to create unique products.
Their mission is to process wool so that its benefits can be optimally utilized.
All about sustainability
I had no idea about this, but according to Giesswein, about 20% of all the materials used to make footwear would be considered "waste" by industry standards. Giesswein has found a brand new way to process their unique wool while producing 0% waste. That's pretty amazing.
We love that Giesswein is committed to 0% waste because we are committed to a sustainable future. We're willing to pay a little more for something that is sustainable.
See more reviews of sustainable products we've tested.
About the Giesswein Shoes – Overview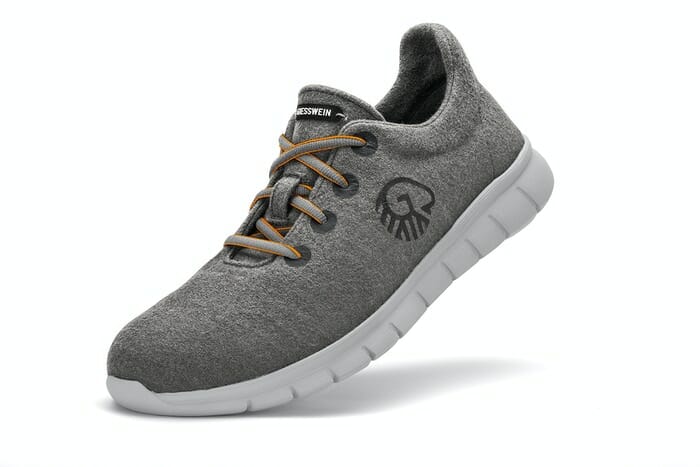 Giesswein first came across my radar when they released their Merino Runners via Kickstarter. This was the first chance I really heard about Merino Wool being used in footwear and I was intrigued.
Why we never tried the Merino Runners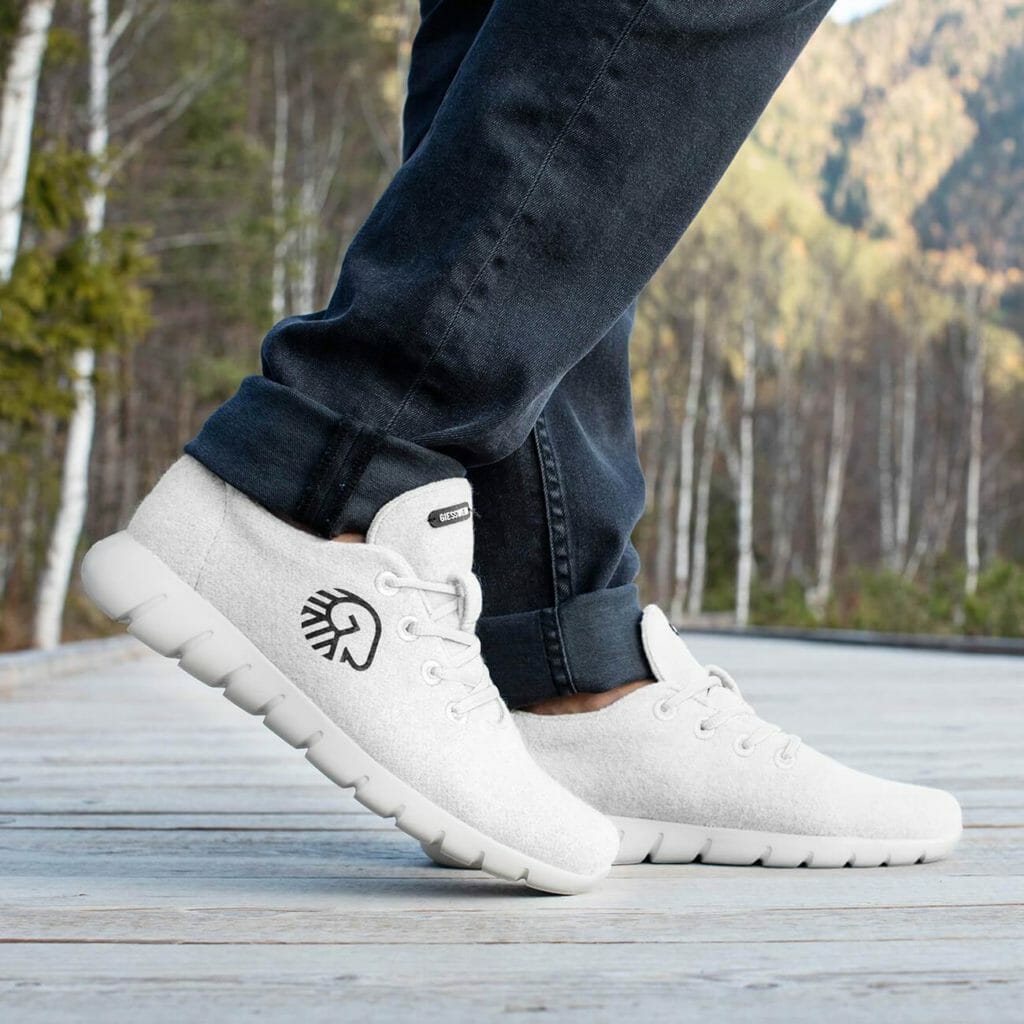 However, to be 100% honest with you, I hated the giant logo on the Merino Runners. We don't really wear clothes with super large logos on them, so even though the idea was really cool – we didn't care for the look.
Since the Kickstarter (I don't know if they even appreciated the pun of kick and shoes, but I digress), they really perfected the Merino Runners. I kept my eye on the shoes, but they still all had the giant logo on the side.
Giesswein also came out with some awesome slippers that I hope to try someday, but I really wished they could come out with some shoes that I could wear every day – that did NOT have the giant logo on them.
What we worn instead of the Giesswein Merino Runners
In the meantime, I started wearing Allbirds shoes on my sweaty feet.
The Allbirds Wool Runners and Tree Runners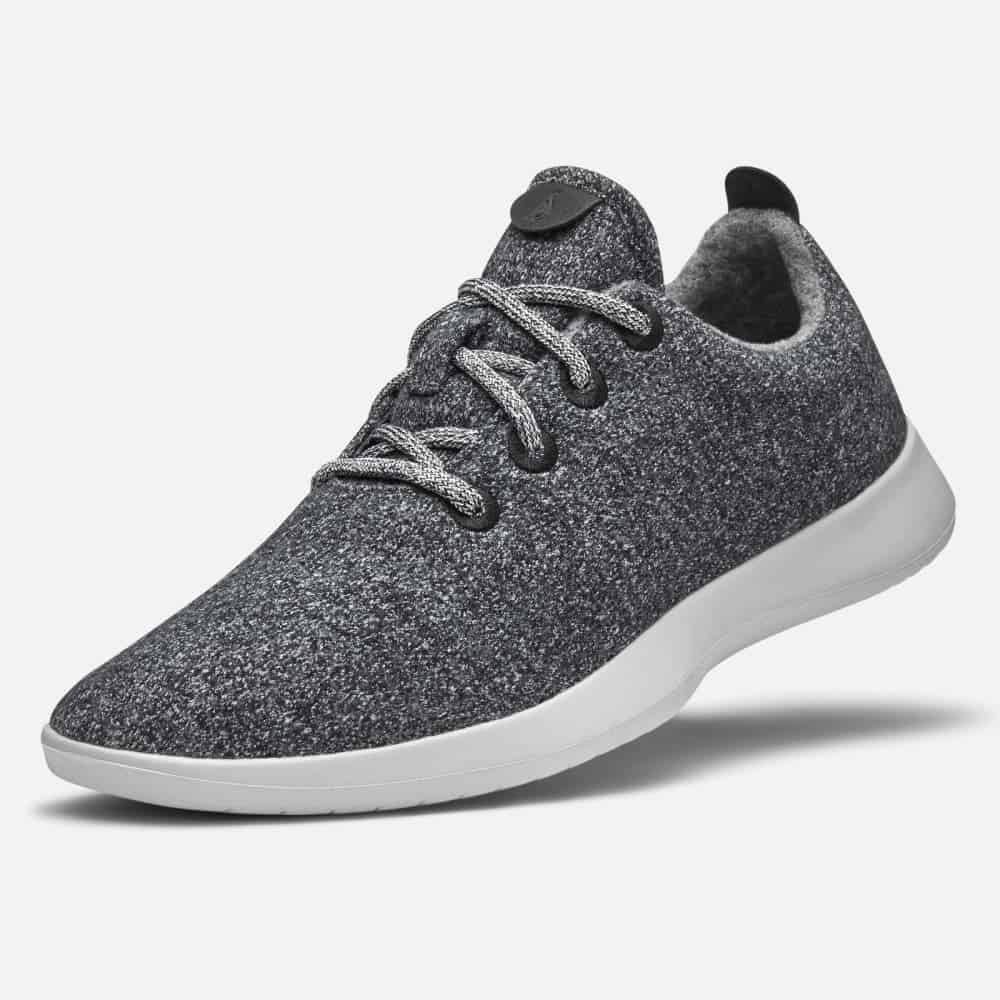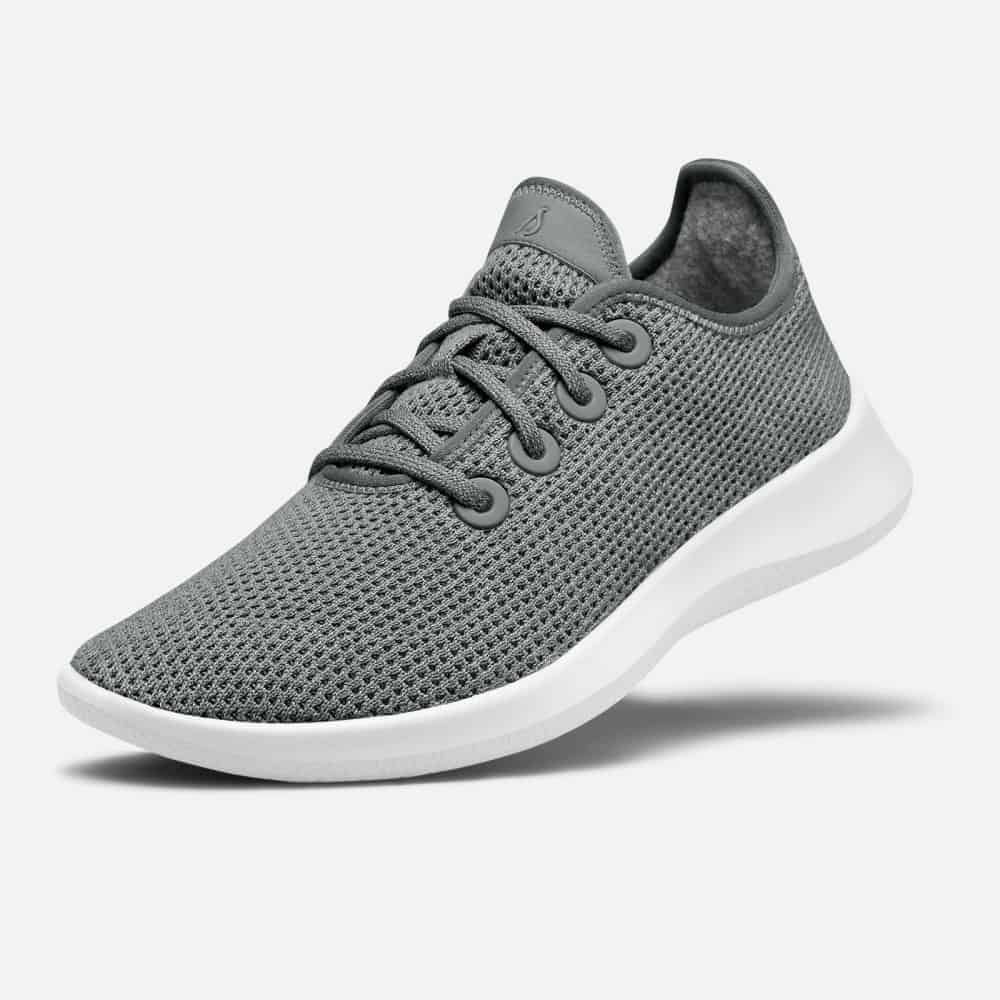 In particular, we bought the Allbirds Wool Runners when they first came out instead of the Merino Runners (confusing how both Merino wool shoe companies have similar names for their shoes, right?)
Allbirds shoes are similar because they are made from merino wool, but they don't have the giant logo on them. I had to choose between Allbirds and a giant logo; I'm going to choose Allbirds every day.
The Giesswein Wool Knit Shoes look the most like the Allbirds Tree Runner, however, the Allbirds Tree Runner is made of a sustainable tree fabric AND Wool, where the Giesswein Wool Knit Shoe is a wool knit (hence the name).
Finally, Giesswein Merino Wool Shoes without a giant logo!
That's why I was super excited to see they introduced The Giesswein Merino Wool Knit Shoe – finally a shoe that looks like a real shoe – without the giant logo!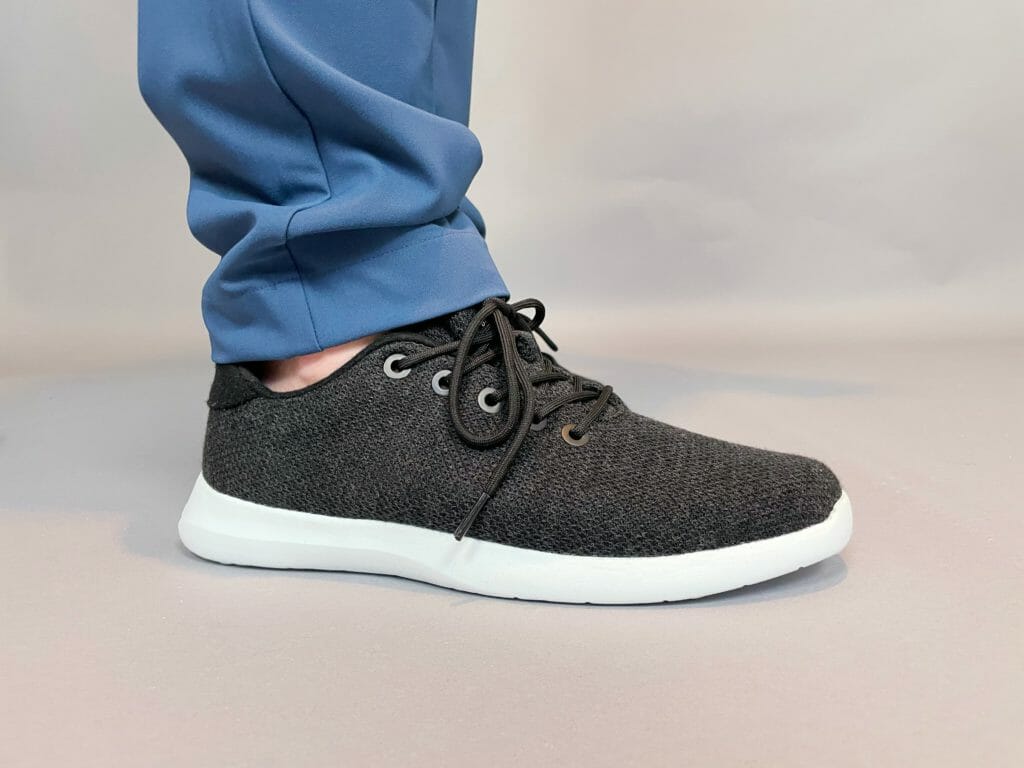 Great success! When I had the chance to try this shoe, I jumped on it! Once again, no pun intended…
Giesswein Wool Knit Shoe Review: The basics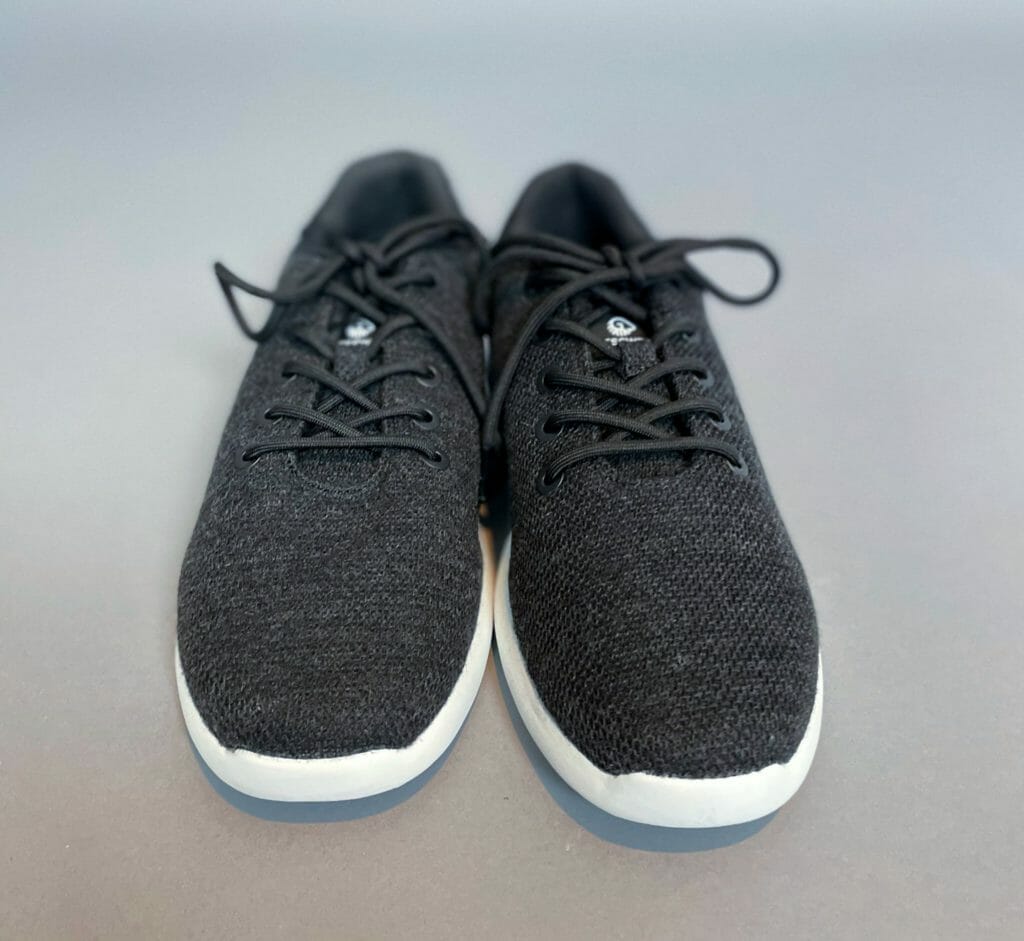 What do they say about the Merino Wool shoe?
Here's what Giesswin says about the Wool Knit Shoe:
Natural Merino wool wrapped in a linen stitch gives our MERINO WOOL KNIT its unique look. The Merino Wool Knit from GIESSWEIN regulates the temperature inside the shoe, and quickly wicks moisture away from the foot.
This technology gives you a comfortable, moisture-free feeling—even when you're wearing shoes without socks. The interchangeable Comfort Foot Bed and ultra-light sole made of EVA guarantee maximum comfort. The Perfect Fit System from Giesswein makes sure that your shoe will have—you guessed it!—the perfect fit.
That sounds like the perfect shoe, right? But what's the big idea… why do they use wool for their shoes? Let's dive deeper into this innovative pair of shoes.
Fabric: What is Merino Wool?
I had no idea what made Merino Wool special until I dove into the best Merino Wool Socks – the rabbit holes I go down for you, the loyal reader.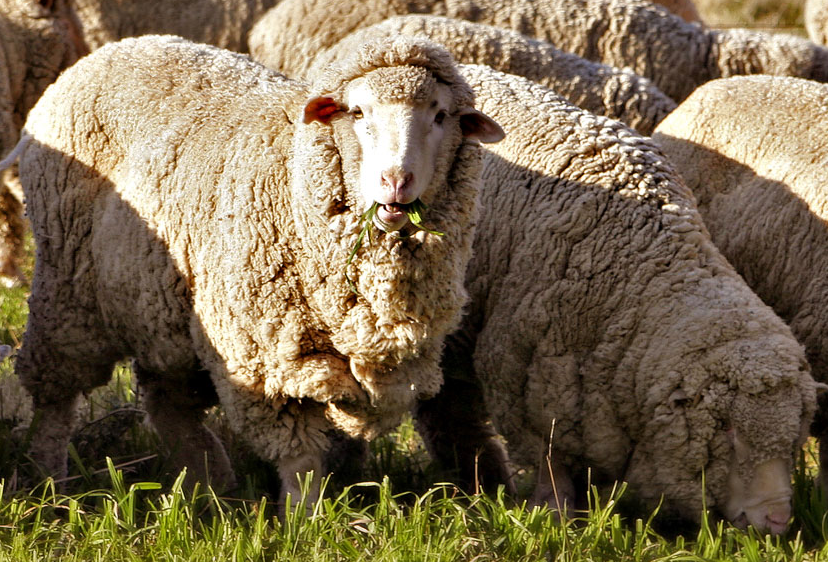 Merino is a breed of sheep that is prized for its unique wool. Merino Wool is thinner and softer than regular wool—making it easy to wear. It's naturally soft, thermoregulating and odor resistant.
As I mentioned in our best wool socks round-up, Merino isn't magic. If your feet are terrible stinky – these will really help – but it won't help the stench go away 100%.
Case in point: our son wears Smallbirds (read our Smallbirds Review) all the time. But the other day he came into my office with his shoes on and they REALLY stunk. But the great news is that we could wash them and get the stink out.
Before he had washable shoes, his shoes would still stink and we'd try to use febreeze on them – but they would never get truly clean. So, being able to wash shoes in the washer is a giant game-changer for anyone that wears shoes without socks on a regular basis (it doesn't matter if you are a kid or an adult!).
Merino Wool Knit Shoes: Washing!
Until we tried Allbirds, we had no idea that you could wash shoes. Then, we met Rothy's shoes and discovered you could wash more.
The same is true with the Giesswein Wool Knit Shoes. You can wash them, too!
We haven't had a chance to fully wash them, but will update this post after we do. Merino Wool is super easy to Wash (just don't put it in the dryer!) and clean, actually!
These shoes have the same instructions as Allbirds for washing – simply wash in the delicate cycle and hang dry.
Here are our full instructions on how to wash allbirds.
Giesswein Wool Knit Shoe – The Weight
When I first took these shoes out of the box, I was concerned they were going to be a little heavy. However, they were incredibly lightweight.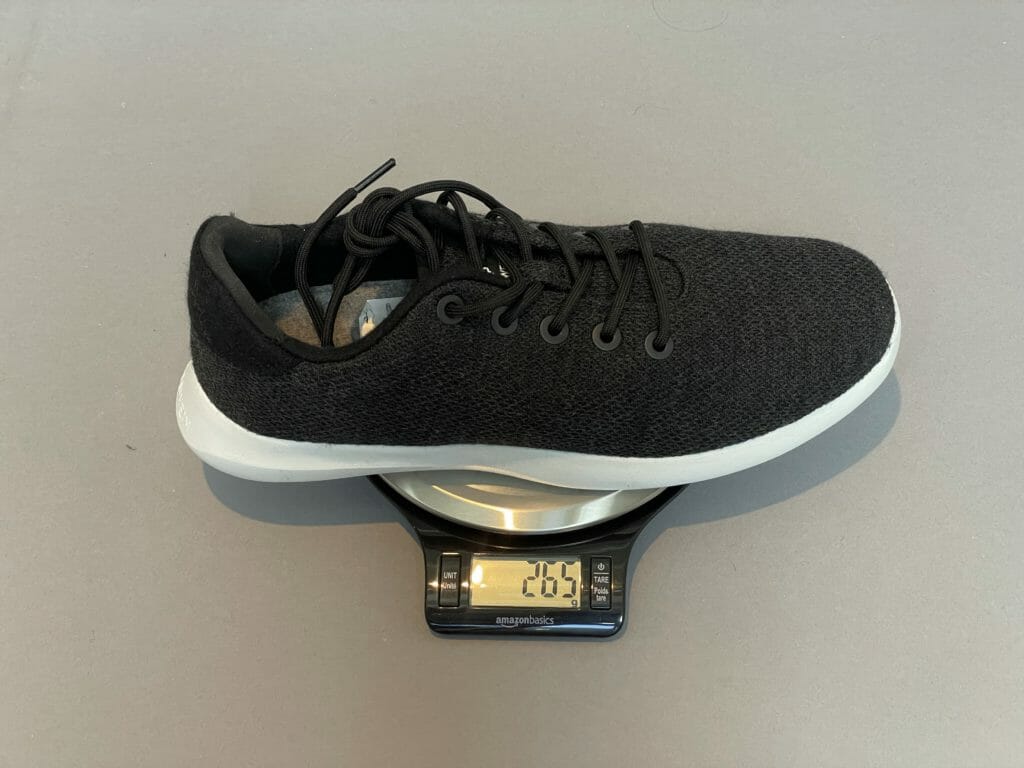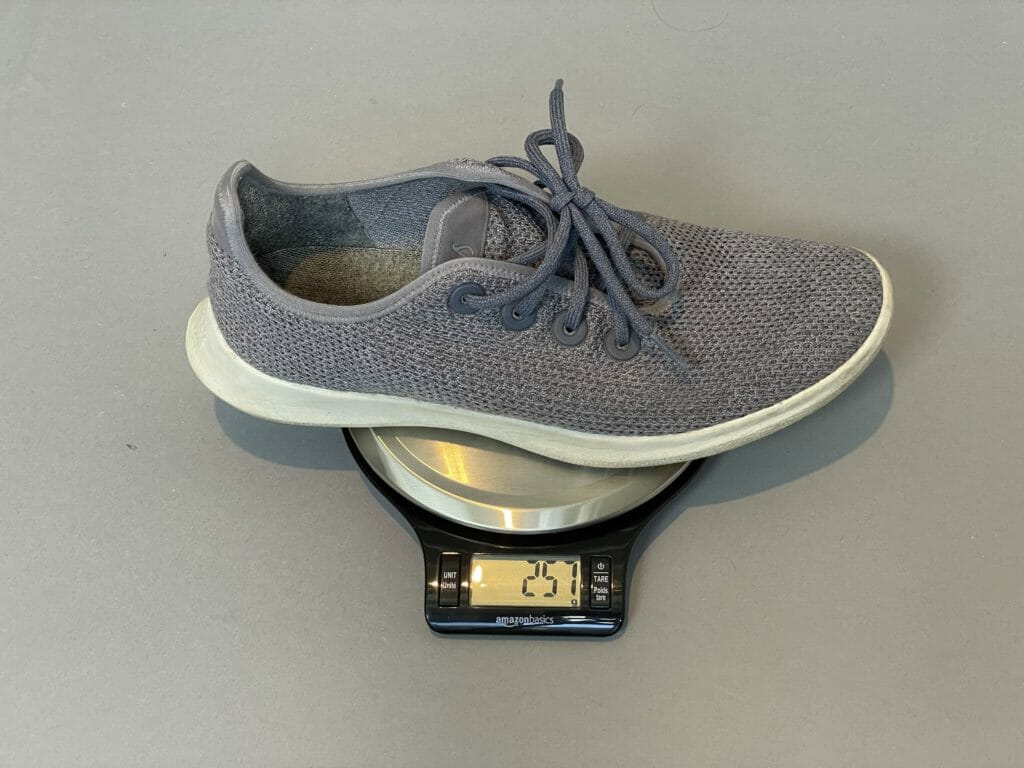 About the same weight as Allbirds
The shoes clock is at just under 10 ounces (265 grams to be exact). How light is 10 ounces? 10 ounces is about the same as a small hamster. It's also almost exactly the same weight as Allbirds Tree Runners (257 grams) and about an ounce heavier than Suavs Shoes (read our full Sauvs Shoe Review).
In short, they are super lightweight and are nothing to worry about in the weight department. These look like a little bigger of a shoe out of the box, but they really aren't big at all once you put them on your feet.
The comfort of the Giesswein Wool Knit Shoe
One word. Wow. These Wool Knit shoes were so comfortable that I almost didn't want to take them off. I put on the shoes and walked around in my house for a while just feeling all of the different textures: carpet, tile, hardwood flooring, and outside.
No matter what surface I was walking on they felt great. If I was walking or even riding my bike, they were super comfortable.
I wouldn't call these my go-to running shoes, but they were comfortable. We aren't giant runners, either, so we probably aren't the right people to give an opinion on if these are good for runner.
However, I wouldn't have a problem wearing these shoes lifting weights or riding my bike (my typical go-to exercises).
Why are these so comfortable?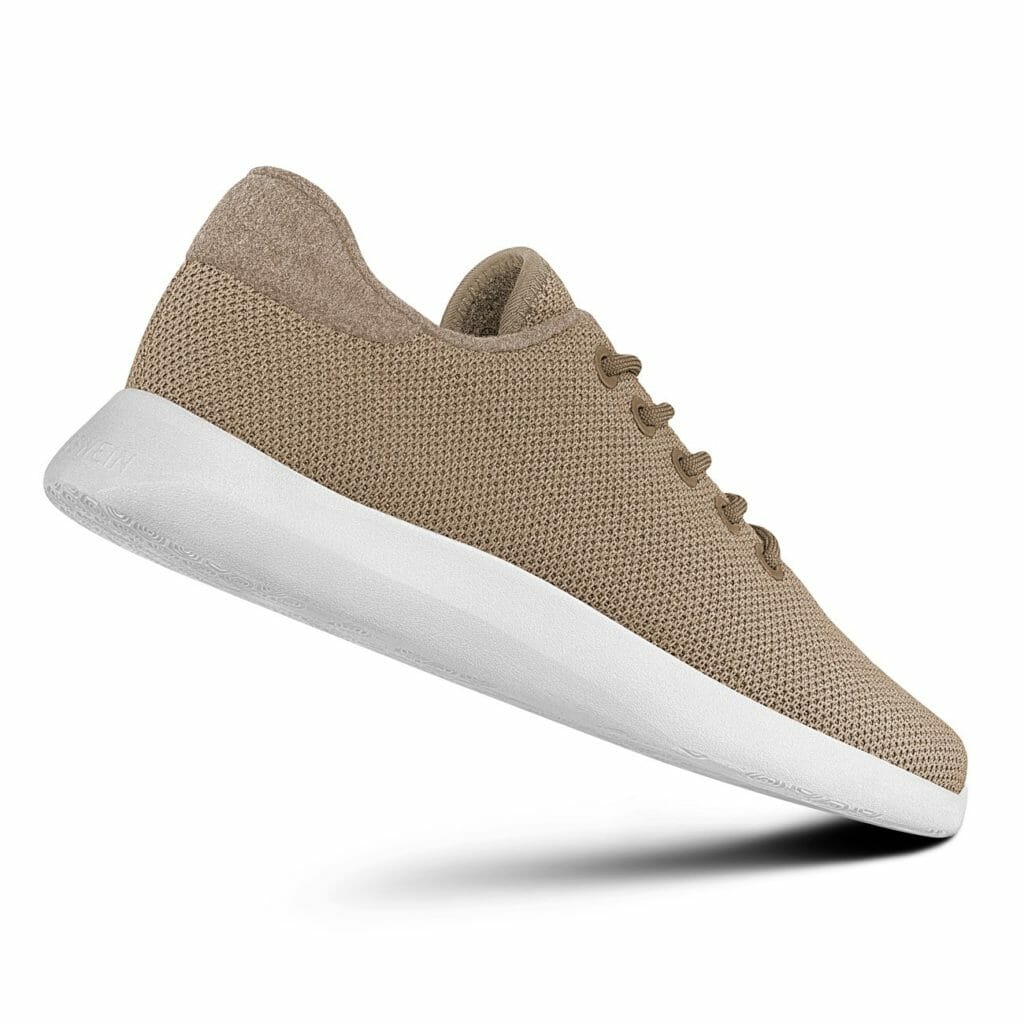 At first glance, it's not obvious how comfortable these shoes really are. But there are three distinct features that make the Wool Knit Shoes so comfortable:
A super-light and flexible EVA material makes walking a breeze, comforting you along the trail or through city streets.
The heel of the shoe is very comfortable.
Giesswein's shoes are designed with a sophisticated Diamond-System, which ensures that a slip-free grip and holds your feet firmly in place.
The Fit: True to size
As you can see in the screenshot above – these shoes do not come in half sizes. I like my shoes to fit slightly looser than they probably should.
My true size is probably 9.5 US size, but I wear a size 10 (United States sizing) in both Allbirds and Giesswein. I'd order what you typically order, especially if you've won Wool Runners before. If you are between sizes, I'd probably size up.
The style of the Giesswein Wool Knit Shoe – how to style
Aren't these good-looking shoes? Seriously? I really like them!
At first, I thought that the sole was a little thick, but after putting them on, they don't look super thick after all. But the lack of branding on this pair of shoes makes it a lot more flexible and versatile.
I will write a full comparison of Allbirds vs. Giesswein shortly, but if you have seen the Allbirds Tree Runner – the Wool Knit shoe looks VERY similar.
And that is not a bad thing at all!
What color I tried
I tried the anthracite color with is a really dark grey. In the photos you can see this goes really well with blue pants, it would go well with jeans but it is a more casual shoe.
How to style the Giesswein Merino Wool Knit Shoe
The shoe is pretty casual, so I wouldn't dress it up too much. I'd wear it with the same type of clothes you'd wear with Allbirds.
I'd recommend wearing these with jeans, shorts, or something like ABC Pants (or Tour Pants of the Cheaper, Quince ABC Pant Alternative).
I'd wear it with a t-shirt or polo, but probably not a button-up shirt.
Who the Giesswein Wool Knit Shoe is for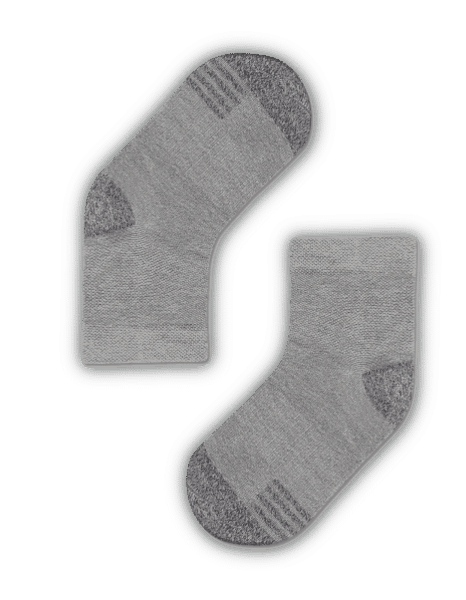 The Wool Knit Shoe is perfect for the person who wants a shoe that is light, breathable, and odor-resistant. It's also perfect for someone that HATES socks, like me (and my kiddo).
Just a quick aside here, because I think it's important: the reason I hate socks is just because it seems so unnecessary. If you don't need to wear socks, then why wear them? You know?
These shoes (just like the Tree Runners) will be perfect to place in the mudroom and slip on if I need to go outside for something quick. Plus, not having to find socks before putting them on makes these types of shoes awesome to just slip on before you head out the door.
Summer or winter shoes?
I would recommend the Wool Knit shoe more for summer wear than winter wear because of the breathability.
I wouldn't wear these to the pool or beach – but they are great summer shoes.
It does breathe in the cool air, too. I've worn these on both hot and cold days in Colorado without a problem, but I run a little hot.
If you run really cold, maybe look at a different pair of shoes. These may be too cool for your liking.
Who the Giesswein Wool Knit Shoe is NOT for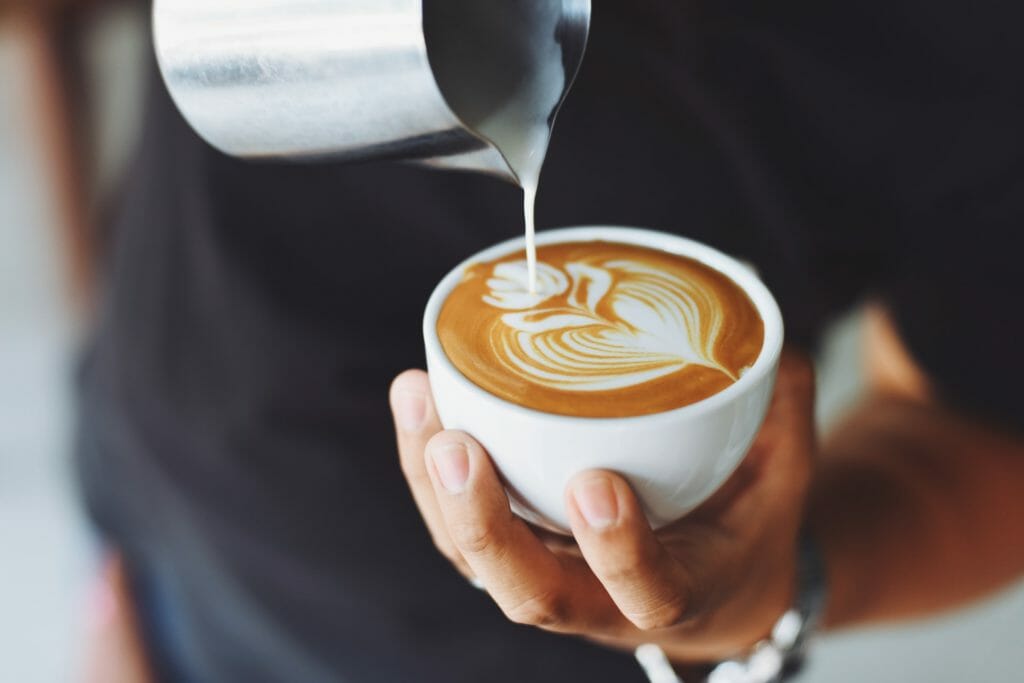 This shoe is not for the person that wants a shoe to keep their feet super, duper warm. While Giesswein claims that these shoes keep your feet warmer in the winter and cooler in the summer, they are definitely "cooler" shoes. The breathability goes both ways.
On cooler days, you will feel some cool air. I also tend to wear socks on warmer days (at least more often), just because my ankles will get cold if I don't!
They also aren't the most high-fashion shoes – but they aren't trying to be high-fashion, either. These are super casual, super comfortable shoes.
Are Giesswein Shoes Worth it?
If you are looking for a super-cheap shoe, look elsewhere, too. At $139, they are not inexpensive. However, the fact that you can wash them means they should last you a long time.
I'll update this review as I get more wear and tear on the Wool Knit Shoe to show how it holds up over time.
Delivery Time: An issue?

My shoes shipped from Munich, Germany on a Thursday. It was delivered the next Tuesday – not too shabby at all! I've had products that I've ordered from Amazon that took longer, honestly.
I've ordered plenty of products overseas but this is, but far, the quickest delivery of my order that I have ever got some so far away. Even though the company is based in the country of Germany (and that is where my order came from), the delivery was super quick!
Giesswein Wool Knit Review – The final verdict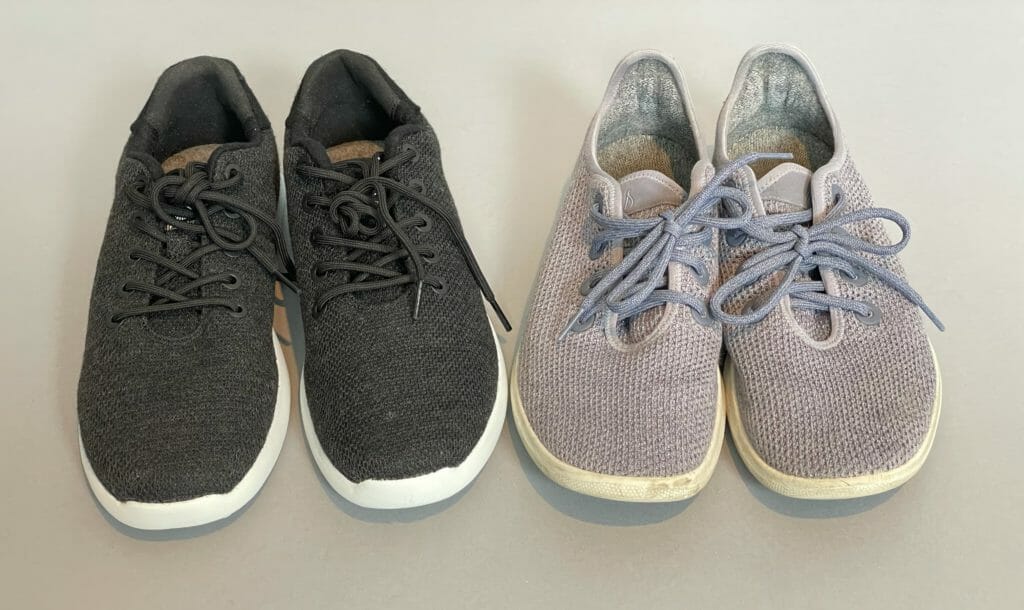 I'll do a full review of Allbirds vs. Giesswein shortly, I want to wear the shoes more to give you my honest reviews between the two. I'll also look at Suavs Shoes vs. Allbirds vs. Giesswein, too.
In conclusion, check out the Giesswin Wool Knit Shoe if you are looking for something that is lightweight, breathable, and machine washable. If you are a fan of Allbirds, you'll also be a fan of Giesswein, too!
More shoes on the market that are comfortable, lightweight, can be worn without socks, and built by people obsessed with sustainability can never be a bad thing, right?
These shoes are incredibly comfortable and super lightweight.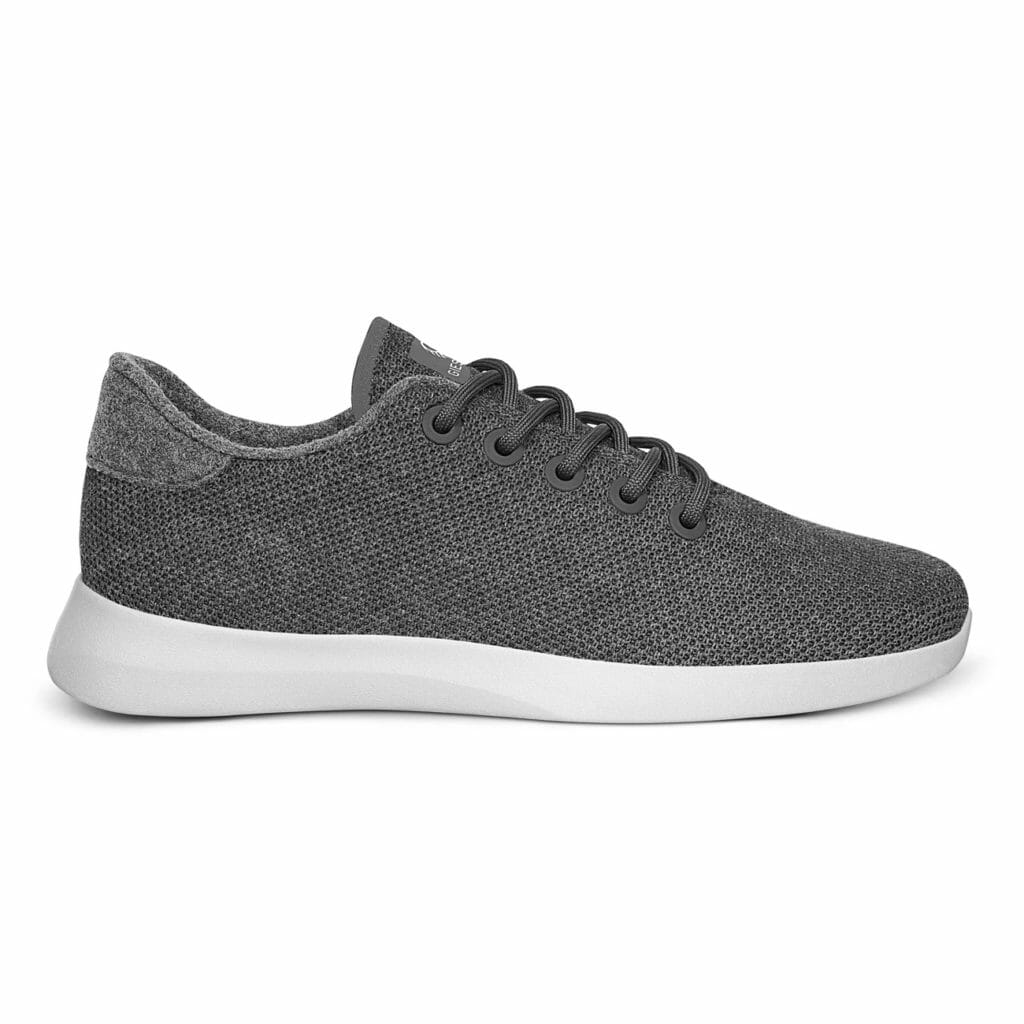 Recommended Product:
Giesswein Merino Wool Knit Shoes
An awesome shoe for the summer and spring. Super lightweight and made to be worn without socks, you can't go wrong!
Also, check out our guide to the best men's summer shoes.