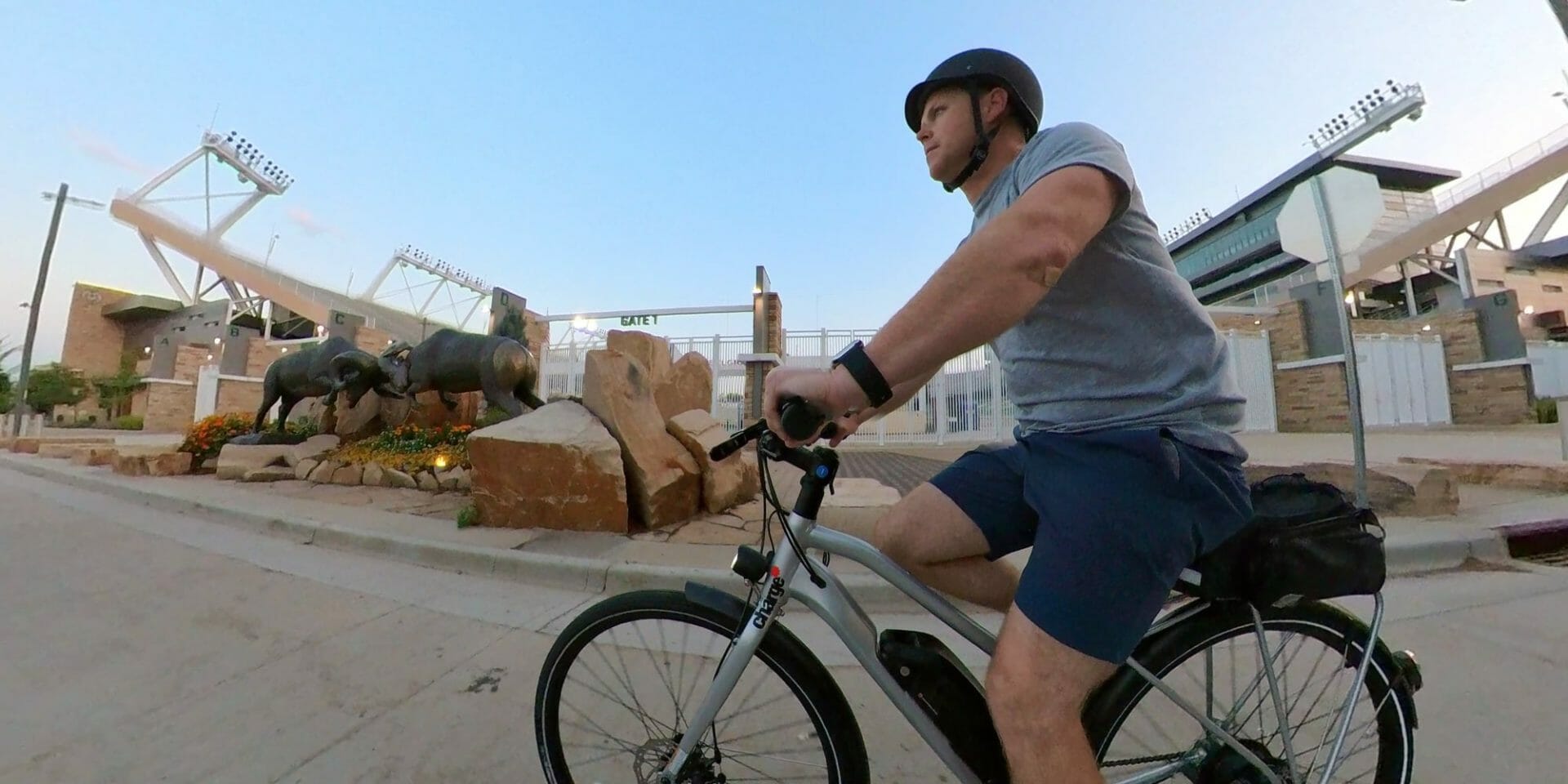 Charge City Review: We give you our honest take on the Charge City Electric bike to help you decide if it's the right bike for you.
Before we go any further, let me tell you the bottom line on the Charge City eBike:
It's not the fastest eBike we've tested
It's doesn't have the most features
It doesn't have the longest range
It's not the lightest weight.
But it is one of the BEST DESIGNED.
We still recommend the Charge City Electric Bike for one simple reason: it is the most well-thought-out bike we've tested. From the unique and easy-to-understand (and FAST) assembly process to the ability to store the eBike flat against a wall.
Top Pick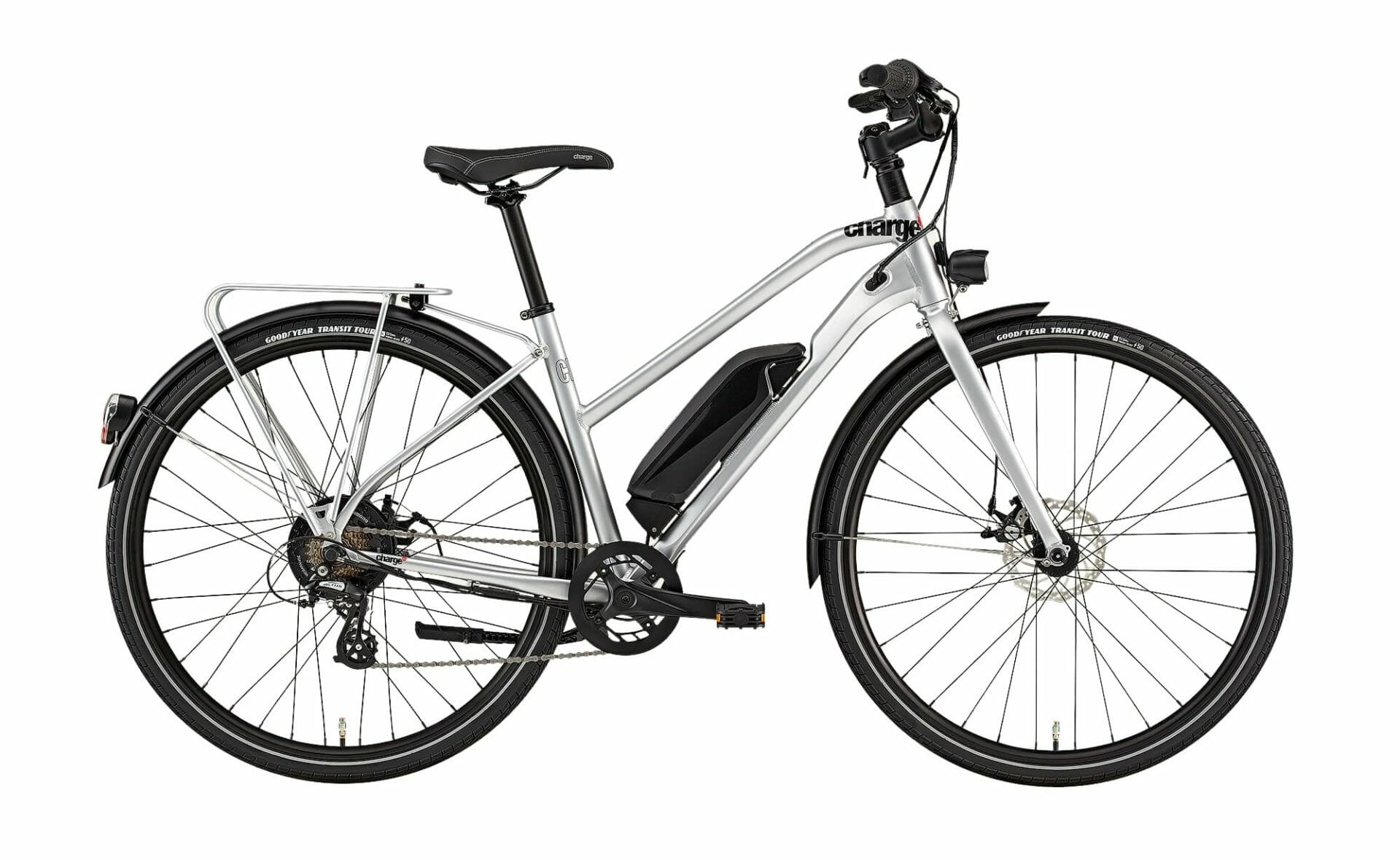 The best-designed eBike we've tested
Urban biker? Check this out.
You'd be hard-pressed to find an eBike with better features for the Urban Rider. This is a lightweight, collapsable, fun eBike with everything you need and nothing. that you don't.
In a way, this eBike is one of the easiest to recommend since they've thought through so many of the things most electric bike companies haven't considered. It's not for everyone; keep reading more of our Charge City eBike Review to find out if it's right for you.
Video Charge City eBike Review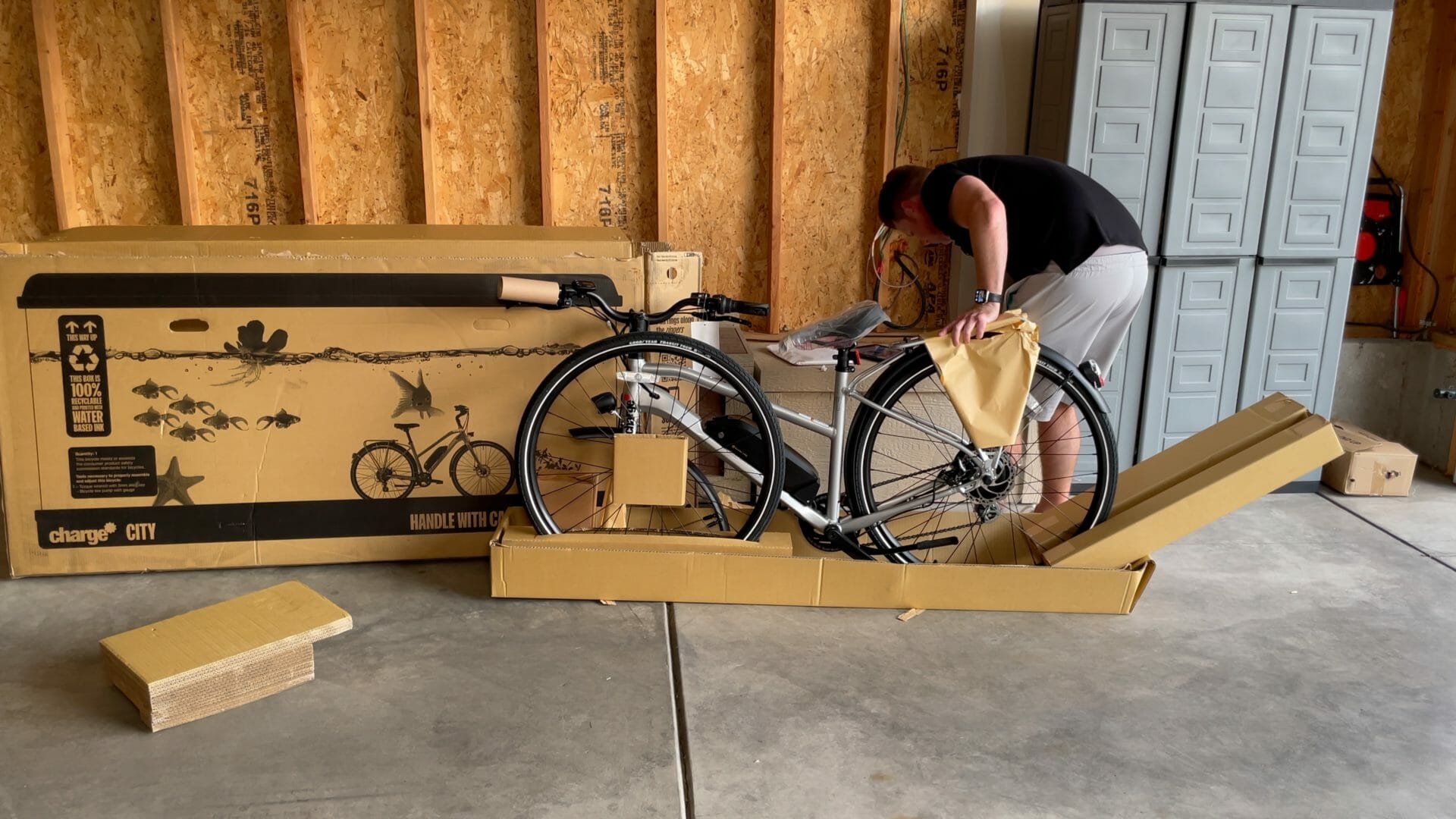 Charge City eBike Review: The basics
The Charge City is a classic urban bike. It's designed to be driven in the city – even if it's hilly – and be incredibly easy to maneuver the streets or the hall of your apartment.
What we tested for our Charge City Review
We reviewed the Charge Bikes City Bike – Low Step in Silver for this review. The eBike retails for $1,699 and Charge offers free shipping.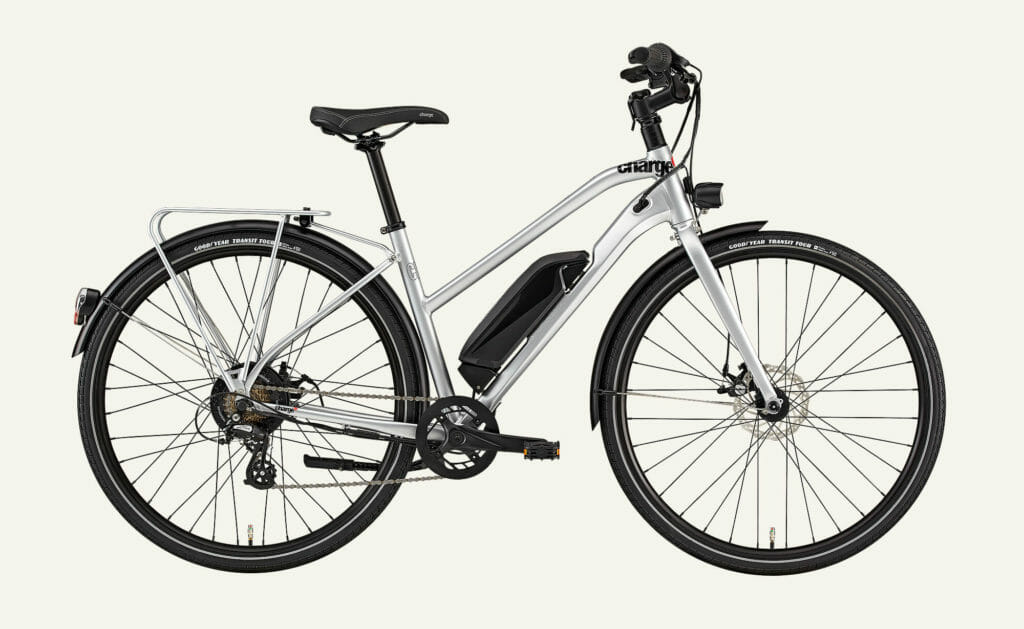 About Charge Bikes
Charge Bikes is not new to the Bicycle Game. Charge is owned by Dorel Industries, which owns also Cannondale, Schwinn, GT, and other brands. And it's obvious they know bikes.
Charge City Review – The Motor
In terms of the number of features, this is a fairly simple bike, with 5 levels of pedal assist, front and rear lights, and a 250 W Motor.
A 250W rear hub motor puts it at about half the Motor Wattage of the RadRover 5, but it's almost half the weight, too.
An Electric Bike that only weighs 45 Pounds?!?
The Charge City is only 45 pounds – with the battery installed. Similar models of eBikes weigh about 20 pounds more.
Combine that with the collapsable handlebars and foldable pedals and you have an incredibly portable eBike.
It's not the lightest eBike we've tested (that goes to the KBO Hurricane – read our full KBO Hurricane Review) – but it has many more features than the Hurricane, all while adding only 9 pounds.
Those 9 pounds give you 7 Gears (vs. the 1 on the Hurricane), a Throttle, fenders, and many more features!
While both are capable of being a great City Bike – the Hurricane City Bike is only $999. The Charge City Bike is $1,699.
The Overall Range of the Charge City Electric Bike
The eBike has a 50 Mile Range (technically unlimited if you pedal) and a 20 MPH top speed via the throttle or pedal assist. It's considered a Class 2 eBike in the US (read about the different classes of eBikes), and you can ride it most places a non-electric bike is allowed – including around town on the streets.
You can use JUST the thumb throttle if you want. Or you can just pedal.
The Samsung Powered Battery
The battery can be charged on or off the bike and comes with an adaptor to plug into a standard wall outlet.
The battery features reliable Samsung Cells, so you don't have to worry about them being created by some no-name company.
The Tires
The e-bike also features puncture-resistant Goodyear tires in addition to front and rear disc brakes.
Those are the basics. Pretty much what you expect from an Electric Bike these days. Let's talk about the areas where Charge went above and beyond in their design.
Pedal Assist
Like many other eBikes, this eBike does offer a throttle and pedal power assist.
7 Gears
The Charge City also has 7 hears, via the Shimano Revoshift controller.
The only other super-lightweight eBike we've tested only had 1 speed.
Having only 1 gear makes it REALLY tough to start on a hill. We love having the flexibility to select a gear
Free Shipping
Charge offers Free Shipping on all of their bikes. On top of that, they are running a special where you can save $200 by buying 2 eBikes at the same time.
Don't like the Charge Bikes you got? They also offer a free return program.
Where the little improvements make this eBike an incredible value
I was shocked by the little improvements that made my life easier with the Charge City bike.
Assembly: the easiest assembly ever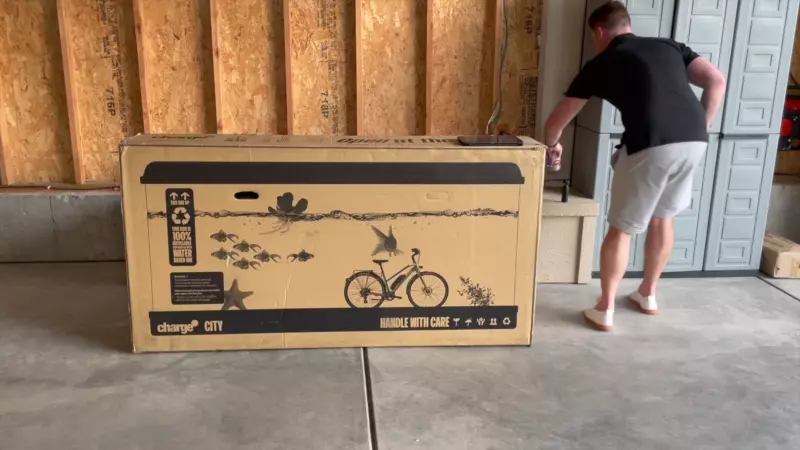 The Charge City claims to take about 10 minutes to assemble. It took me about 20-25 with filming and double-checking a couple of things. That's about a quarter of the time it took me to put together similar eBikes.
This could very well be the easiest eBike to put together. Not only is it fast, but the instructions are super clear.
Only 4 Steps to install
Seriously, there are 4 steps in the instructions.
To put that into perspective, there are 10 main steps in the RadWagon 4 (with about 40 sub-steps). The RadWagon was easy to assemble, just not this easy!
Charge also thought about how you would be assembling the bike, too. They had a unique box that allowed you to slide the bike out from the side – instead of trying to lift the bike out from above (and hurting your back in the process).
They even included little wheel holes to keep the wheel steady when installing the front wheel.
In reality, the steps weren't that much different than the eBikes we've tested – but Charge took the little extra steps to make each step a lot easier. While it may not seem like a big deal, it saves you a lot of time!
Pro tip: my Charge City came with an almost 100% depleted battery. I was super bummed that I didn't check that before I tried my first ride. I had to wait until the next day (after charging overnight) to enjoy the ride!
Flat Storage
The Charge City can fold flat. Yes – you read that correctly, the City folds flat and takes up about 8 inches of width when you use the quick release handlebars to fold them parallel to the bike frame.
Once again, this may not seem like a giant deal, but if you are limited on storage space, this is a great feature!
Most electric bikes are stored upright and tilted – but you can literally store the Charge City in about 8 inches of width. That's pretty impressive.
We even use this feature in our 3 car garage to save space!
The pedals also flip up to save even more space.
The Bike Display
We've tested countless eBikes at this point – granted none of them have been above about $2,500 – but the Charge City electric bike has one of the best displays.
Why?
It shows the estimated range! I'm not going to lie, I have had some range anxiety with our eBikes, especially when I have the kids with me.
I don't always charge the eBike to full capacity before riding, but a quick glance at the display will tell me how far I can go (and come back) before needing a charge.
Automatic tire pressure sensors
I know this is probably a 50 cent part – but it's a pretty cool feature. I always have a hard time finding the exact right tire pressure that is printed on a tire. These Tire Pressure Caps take away the need for that altogether.
How?
They turn green when there is enough pressure and red when they need to be filled. It's brilliant!
The Weight
45 Pounds is a great weight for this eBike. It's just enough to feel sturdy, while not so big that it's impossible to move around.
Built-in rack
The Charge City also has a built-in rack. Perfect for a backpack or panniers. And, it's rated for 36 pounds. We like that it wasn't an add-on.
The lights
The Charge City has bright LED Lights in the front and back. I was pleasantly surprised by how bright they were. I even drove it at night through some trails here. I wouldn't recommend doing it all the time, but plenty bright to navigate without any street lights.
Upgraded Tires
The Charge Bikes City Bike offers some upgraded Goodyear Transit Tour Tires. These name-brand tires are a great upgrade!
What are some little things that we didn't love?
Obviously, you can't have EVERYTHING, right? There are a couple of little things we didn't care for with the Charge City Bike.
In no way are these deal-killers by any stretch of the imagination, but just tiny little things (almost nit-picky) we didn't care for.
The Thumb Throttle
Most eBikes we've tested (with the exception of the FreeForce eBike – read our FreeForce eBike review) have featured a twist throttle. This means that the throttle is activated by twisting the handlebar (usually the right handlebar).
The City Bike has a Thumb throttle on the left handlebar. I don't know why, but this just feels a little cheaper to me. You know exactly where it is (no accidental throttles when moving the bike), but I simply prefer a twist throttle.
Not a deal killer by any means.
Starting from a cold stop
Once again, not a deal killer here but the City will not allow you to use a throttle to start from a cold stop.
So, if you are stopped at a stop sign and want to go, you have to start pedaling before you are able to use the throttle. I'm sure this is to make the motor last longer, but it surprised me when I first used it.
If I didn't know there was any other option, I wouldn't have even mentioned it, but a tiny little annoyance.
The Kickstand
I hate it when the kickstand doesn't allow you to move the pedals and avoid hitting the kickstand. I know you technically shouldn't do that, but sometimes you have to reverse a bike out of somewhere, and the pedals move. It's super annoying to kick the kickstand back up and back down.
It also didn't seem as sturdy as I would have liked it to. Once again, not a deal killer here, but a minor annoyance. Kickstands are also easy to change, too.
The saving grace here is that the bike is so lightweight, you can simply pick it up!
The rear brake light
The rear brake light is static – always red. Some other eBikes, like the Rad Power Bikes we've tested, are light red all the time and are also connected to the brakes.
When you press on the brakes, the rear light also gets brighter, so people know you are actually stopping.
This is a minor inconvenience and we understand – it's a more complicated product and was a way to keep the price down.
No suspension
Even in the city, you're bound to hit some potholes and railroad tracks. I didn't notice how much I missed a front suspension until I tried to film the video review for the Charge bike.
A little behind-the-scenes secret. I actually use a drone or an invisible selfie stick. The great thing about an invisible selfie stick is that I am able to hold a selfie stick and you don't see it in the shot.
The bad news about an invisible selfie stick is that I still have to maneuver the bike AND hold the stick at the same time. While you won't be doing that – you feel the bumps a little more on a bike without a suspension.
I actually just hopped on my KBO Breeze the other day after riding one of these Charge Bikes and I forgot the feeling of the suspension. -I thought I had a flat tire!
Once again, keep this on paved trails or roads and you will be great!
Who is the Charge City Designed For?
The Charge City is the perfect electric bike for the person in the city, urban environment, or even large university environment. For the review of the Charge City, I took the bike around the campus of Colorado State University to test it out (since Fort Collins isn't a large city at all).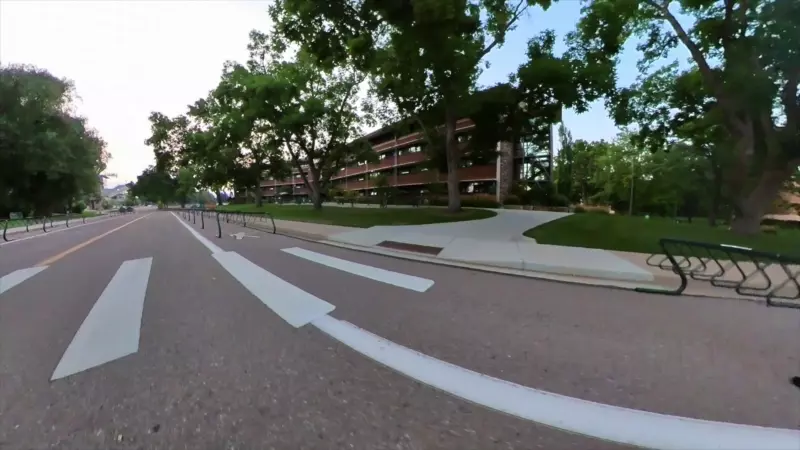 This would be a perfect electric bike for a college student since they could take their bike to their dorm or apartment and store it in a tiny space. It's also light enough that you could move it easily.
I'd just make sure to take the battery with you when you lock it up since that's one of the most expensive parts of any eBike.
Charge City Review – The Final Verdict
The Charge City eBike is one of the best electric bikes for those who live in a more urban environment. It's designed with features that make it easier to navigate, store and ride than other models we've tested which makes it perfect for students or people living in small apartments.
Top Pick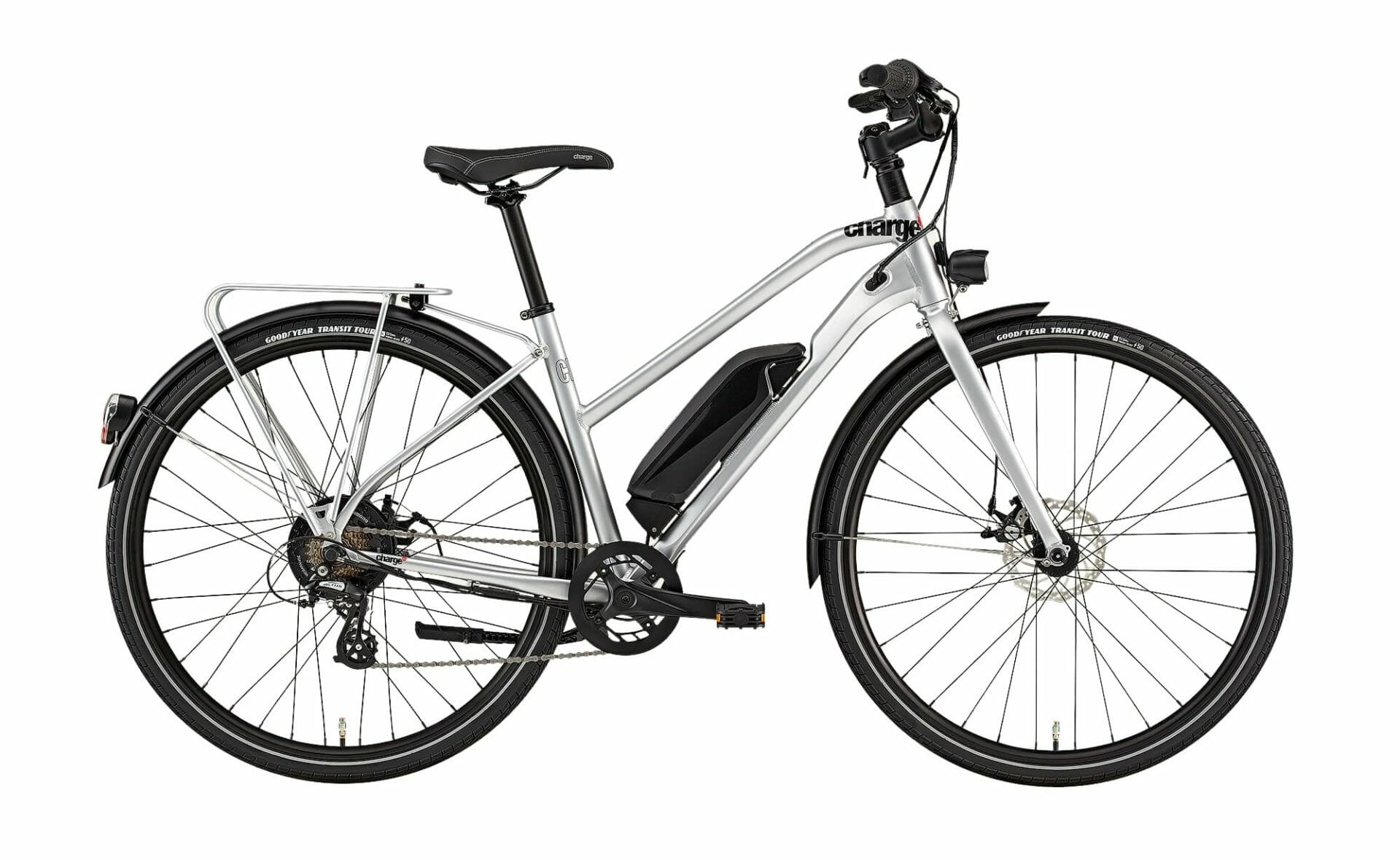 The perfect urban eBike
Charge City
$1,699
This is an incredibly well-designed and fun eBike for anyone that lives in a concrete jungle (AKA the City).

The City eBike is perfectly named. It is the perfect eBike for any City.
If you're looking for an affordable bike that has thought of everything for you – so you can just ride – check out the Charge City Bike!