It's winter, and you know what that means: colds, sinus infections and runny noses.
If you're like my wife and me, we always have a stash of Sudafed (you know, the kind they make you feel like a criminal for buying, behind the counter – the "good" stuff, aka pseudoephedrine) to make sure we're prepared for colds.
In fact, my wife joked a couple of weeks ago that Sudafed was the only thing that would actually get rid of sinus pain – the only cold drug that actually worked.
A Top Pick
Tivic ClearUP
An incredible, drug-free alternative to decongestants.
Buy Now
We might earn a commission if you make a purchase, at no additional cost to you.
But what if I told you I haven't used Sudafed in over 4 weeks – avoiding the dreaded holiday germs that seem to circulate this time of year? That's all because I've been testing a new product, called ClearUP.
If you're one of the millions who suffer from congestion, allergy sinus pain, allergic rhinitis, or sinus headaches, you know how frustrating it can be. You also know that there are a lot of products out there that claim to relieve congestion. ClearUP is a new product that claims to be effective (is clinically-proven), and also drug-free. But does it really work? We put it to the test to find out.
ClearUP Review: What is ClearUP?
ClearUP is a revolutionary bioelectronic medicine device to relieve sinus congestion and allergy symptoms without any wonky side effects or chemicals. The ClearUP helps relieve sinus pain and calm sinus nerve fibers.
What does the ClearUP look like?
The ClearUP device is a high-tech teardrop-shaped gadget slightly smaller than the original iPod. The device comes with a USB-C Charger and is powered by a rechargeable battery.
It doesn't look like much, at first glance, but that's by design. It's lightweight and discretely designed, so you can pack it in your backpack or purse, without a problem.
What does the ClearUP Come with?
The ClearUP Device comes with the actual device, the USB-C Charger and a great User's Guide – with incredibly clear instructions, I must add!
How does ClearUP Work?
Utilizing bioelectronic medicine, ClearUP uses low-current electrical stimulation to reduce pain at the source.
While that may seem weird, similar products like TENS units have been used for decades in physical therapy and rehabilitation. ClearUP uses gentle microcurrent to stimulate the nerves underlying the sinus passages in the cheek, nose and brow bone.
What does it feel like to use ClearUP?
What this feels like is a bit unique: you don't feel a "shock, " like an electrical stimulation would feel, but you don't feel the contractions of a TENS Device (you may have seen a TENS device used for muscle relaxation, for example). That's because ClearUP uses what is called a microcurrent.
Microcurrent is about 1/1000 the level of traditional TENS therapy, so ClearUP is much more gentle and non-invasive – not to mention it doesn't make your muscles twitch, like a TENS machine can.
The ClearUP device sends a gentle microcurrent through the skin and stimulates the nerves underlying your sinus passages – in the cheek, nose, and brow bone.
It's an interesting device, especially when you first use it.
ClearUP comes with clear instructions to turn on the device and follow a pattern around each eye. Glide the top of the ClearUP along the skin over your sinus passages. ClearUP will vibrate when it detects an optimal treatment point and will then transmit microcurrent to this area.
Hold the device in the same position and area until the device stops vibrating. Then move along the skin until it vibrates again.
I reached out to ClearUP to see what it means when the device detects a treatment spot. The user manual says that it is looking for impedance (Impedance is a measure of the opposition that a circuit presents to an alternating current when frequency is applied), which is used to find areas on your face where the treatment is most likely to provide benefit (reduced pain and congestion).
These treatment points tend to be where the microcurrent can easily reach the sinus nerves under the skin.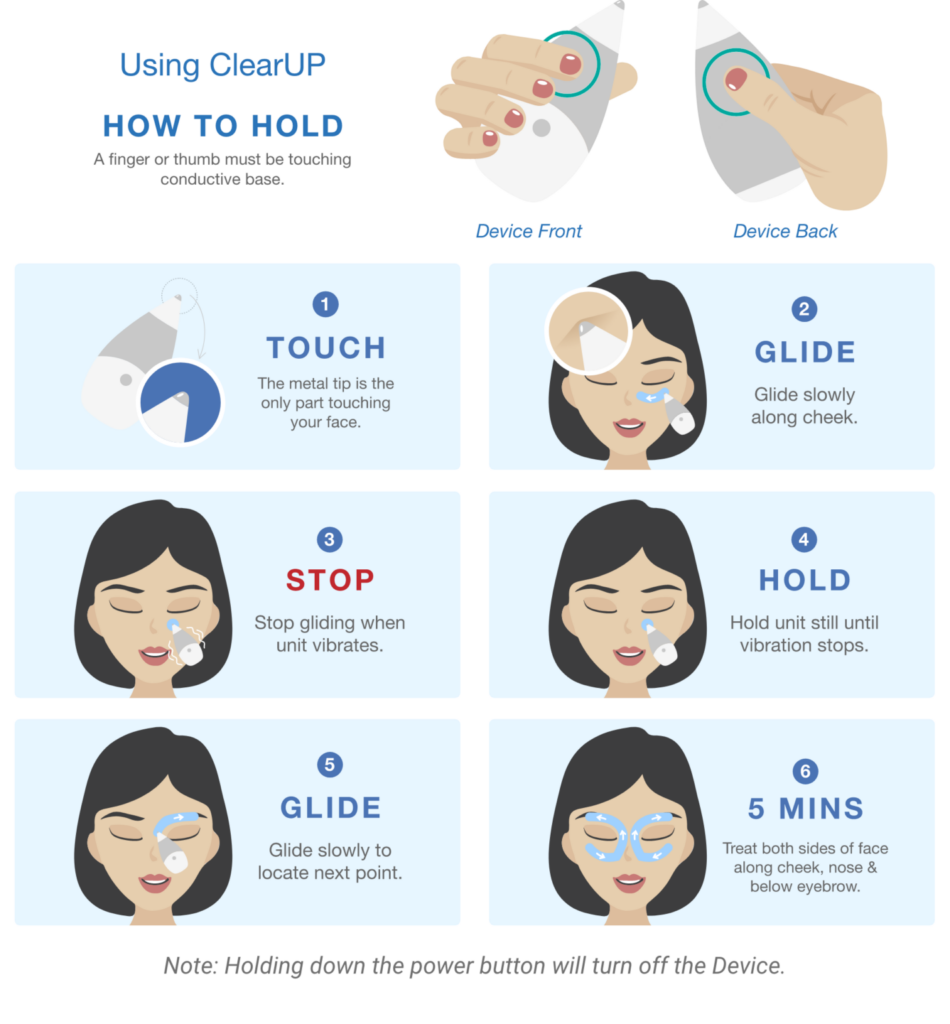 I thought, for sure, that it was just a gimmick, or that the device was timed to give me the stimulation at set intervals. But it was super interesting: the device detected impedance at different points around my eyes the first time. Every time, it seems, it finds different points of use and most of the time each side has different impedance points.
Does ClearUP Work?
So does ClearUP really work? I have personally used ClearUP for about four weeks, and can honestly say that I've noticed a big difference in my congestion. On days when I would normally use Sudafed, ClearUP helps me manage my symptoms enough to avoid taking any drugs at all.
Even better than that, the ClearUP device is 100% drug-free, so you don't have to worry about putting chemicals into your body or feeling jittery after using it.
What does it feel like after each use?
This is a little harder to describe. I expected, the first time trying the device, to feel instantly cured – like I took Afrin, or something similar.
But I didn't. I used the device and then, about 30 minutes or so later, noticed that I wasn't as congested at all. The effects are subtle but also compounding.
That's why ClearUP recommends using the device 2-4 times daily, for 2-4 weeks for maximum effectiveness.
What did I like about ClearUP?
I really liked not having to turn to a pill to clear up my sinuses. That is huge.
I can't tell you how often I've felt jittery or haven't been able to sleep because I took Sudafed too late at night.
With ClearUP, I can use the device whenever and not feel like a criminal, showing ID for Sudafed behind the counter.
What did I not like about ClearUP?
While ClearUP has many wonderful features, one thing that could make it even better is adding a carrying case. This would be perfect for trips, so you don't have to worry about your device getting scratched up in your bag! You can buy a carrying case for the device on the website, but it would be nice to be included.
And while a USB-C charger is included with purchase, the ClearUP didn't work with my iPad USB-C Charger. Having compatibility with other brands' models would be awesome and add extra convenience when charging on-the-go, allowing me to not carry another charger.
Neither are deal-killers, but something to note.
Is there any science to back this up?
ClearUP is a Class II medical device with FDA approval for over-the-counter purchase.
ClearUP has seen incredible success with the majority of users experiencing relief in their own clinical studies.
What did other ClearUP Reviews say?
82% preferred ClearUP over other allergy treatments, and 88% saw an improvement in congestion symptoms.
82% preferred ClearUP over other allergy treatments, and 88% saw an improvement in congestion symptoms.
In their studies, subjects also reported relief for up to 6 hours and 75% experienced pain relief in their very first use.
Where to buy ClearUp and how much does it cost?
You can purchase the ClearUP directly from Tivic and get the most efficient sinus allergy relief for only $169.99!
You can also buy the Tivic ClearUP on Amazon, bestbuy.com and walmart.com (currently out of stock).
Is ClearUP covered by insurance?
No, currently, ClearUP is not covered by insurance – even though it's clinically proven to help with a sinus headache. However, ClearUP is HSA and FSA eligible.  
What are the side effects of ClearUP?
We experienced no side effects from using ClearUP at all. Occasionally, we'd place the tip of the unit on spot, which made my eye wiggle a bit, but that's literally the only thing we noticed. It was a bit odd, but not a side effect at all. 
According to Tivic, a small percentage of users (less than 5%) may experience mild, brief skin irritation.
When using the ClearUP to relieve any sinus pressure or sinus headache, we didn't experience any side effects.
ClearUP Review: Final Thoughts
A Top Pick
Tivic ClearUP
An incredible, drug-free alternative to decongestants.
Buy Now
We might earn a commission if you make a purchase, at no additional cost to you.
Testing products on this website is interesting. You get products that are slight variations on already-successful products, and then you get category-creating products with no real comparison.
ClearUP falls in the later category. It's not something you "feel" right away or a super-instant gratification.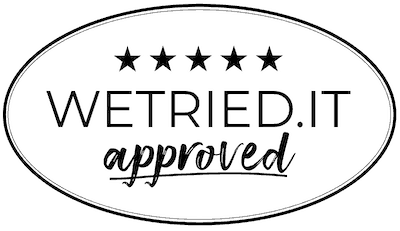 We're pleased to give ClearUP our coveted We Tried It Seal of Approval.
The ultimate test: did we turn to Sudafed?
To illustrate ClearUP's effectiveness, let's take a look at the product we haven't had to touch in weeks – Sudafed. 
And that's through the middle of winter, several airplane trips and colds all around. That's unheard of in our house during winter.
So, you can hold off on the Sudafed (we'll keep some around, just in case) and buy the Tivic ClearUP to help give you drug-free relief from sinus pain, sinus headaches and congestion.
Tivic ClearUP provides a drug-free solution for sinus pain, headaches and congestion relief. It's definitely worth considering as an alternative to traditional medication like Sudafed. ClearUP can truly be a game changer when it comes to helping you stay healthy during the winter season without depending on traditional medications.
We highly recommend this product, and can't wait to test it our during the summer and spring months come along – bringing pollen and allergies with it. ClearUP has our stamp of approval here at We Tried It!