You may have seen GREATS Shoes, which burst onto the market with their GREATS Royale white leather shoe. It made splashes for the being incredibly high quality leather at a great price.
We're not huge white leather shoe fans, simply because they can not be machine washed. So, when we saw the GREATS Knit Royale, we had to give you our honest review. 
Let's dive into this new sneaker, designed to be the ultimate machine-washable sneaker. 
A great, white seaker
GREATS - The Royale Knit Sneaker
Classic Silhouette, Beautiful Design, Machine-Washable, and Super Comfortable. What's not to love?
Buy Now
We might earn a commission if you make a purchase, at no additional cost to you.
Meet GREATS Shoes: Born in Brooklyn with Responsible Materials and Hand Crafted Quality 
GREATS Shoes is a sneaker brand that was founded in 2014. Their mission is to create sneakers that are responsibly made, have a superior fit and feel, subtle details, and last a lifetime. They source premium materials ethically, handcraft their shoes, and became popular after creating a more affordable version of the Common Projects Sneakers. 
Let's take a closer look at what makes GREATS Shoes unique. 
Recently acquired by Steve Madden
Steve Madden is made a major move in the sneaker world with the acquisition of GREATS Brand Inc. Founded in 2014 by Ryan Babenzein; Greats has quickly become one of the most sought-after sneaker labels. Financial terms were not disclosed, but Steve Madden stated that sales for the 12 months ending June 30th were approximately $13 million.
With its new partnership, Madden looks to continue to expand their influence within the sneaker market.
Has Quality Dropped?
Some people have mentioned that the shoe quality has reduced after the acquisition, however, this is our first pair of GREATS Shoes, and we can say that the quality is still top-notch. The Royale Knit Sneaker looks good and feels even better – we love its unique design, comfortable fit, and eco-friendly materials. 
While it's not made in Italy (it's actually made in China), this product should still last several years. Where a product is made (Italian or elsewhere) should place some stock into the quality conversations, but the overall production process is what should be the ultimate deciding factor for quality. 
Responsible Materials 
GREATS Shoes is committed to sourcing materials ethically, meaning they only use the most trustworthy factories worldwide. Every shoe is made from high-quality materials that are hand-picked for their unique characteristics. 
Hand Crafted Quality 
GREATS Shoes are handcrafted with attention to detail by experienced artisans who understand quality craftsmanship. This attention to detail allows them to deliver a product that transcends time while remaining true to its core values of sustainability and responsibility. 
Where to buy GREATS
I actually found GREATS through Verishop.
You can also buy GREATS directy from GREATS or other outlets, like Nordstrom.
Before you pass off Verishop, let me explain how I found these great shoes through Verishop.
What is Verishop?
They are one of the largest aggregators for DTC & independent brands. They house a unique selection of emerging brands, including brands you may have heard of, like GREATS, to brands we've never heard of, like SMEG. SMEG makes some awesome kitchen appliances, and we would have never heard about SMEG, if it wasn't for Verishop.
In short: it's a fun place to look at a curated selection of styles, gifts and new products.
I think of it like this: a curated Amazon, with only great, tested stuff. No crappy knockoffs or fake products – only curated brands you love (or will soon love).
A unique way to shop
Verishop
Looking for something… but don't know EXACTLY what you are searching for? Verishop is a great place to browse their curated brands, carefully selected to help you find the best stuff.
Shop Verishop
We might earn a commission if you make a purchase, at no additional cost to you.
Unboxing, First Impressions + Branding
At first glance, you'll be super impressed. These shoes are simply beautiful. 
You can tell they are high quality but also have a unique look. 
The Royale Knit looks like something that is a cross between Rothy's shoes and Oliver Cabell Shoes. The Navy in the heel adds a nice touch in this sneaker.
There's minimal branding: only "GREATS" in the back of the outsole, on the bottom of the sole and a brand logo mark on the tongue. Since it's white, like the shoe, I didn't notice the brand logo on the tongue, until trying the shoes on.
They have a familiar look to the knit, but a unique feel to them. You can tell these are going to hold up nicely over the years and they are perfect for both dressed-up and dressed-down looks.
How comfortable are they?
I found these shoes to be on par with other brands in terms of comfort. 
While the shoes are slightly heavier, you do get a bit more overall structure to the shoe. 
At first glance, these shoes reminded me a bit of SUAVS Shoes (Read our full SUAVS Review). However, that changed after putting them on.
The SUAVS are lighter and more breathable, but you don't suffer the bulge on the side you get with SUAVS. 
The structure of these shoes actually makes them look a bit more comfortable and looks a lot better! 
Sizing: True To Size
This style runs true to size. I wear a size 10, which I like a little loose for a casual style. I ordered a size 10 in these shoes (also available in a half size) and this sneaker fit true to size. 
Durability & Quality
One great thing about GREATS Shoes Royale Knit Sneaker is that it does not use any leather. It's 100% Vegan. 
This is important because it helps reduce the environmental impact of using animal-based materials and enables GREATS to offer a more sustainable sneaker. Not only does this help to protect the environment, but it also ensures that their shoes last longer due to their higher-grade material construction.
The Royale Knit Sneaker also features high-grade rubber outsoles designed to provide extra grip and traction while ensuring long-term reliability. This rubber outsole also helps with durability by preventing unnecessary wear and tear on the shoe. 
The knit upper is made with recycled plastic bottles, making them one of the most eco-friendly sneakers on the market today! These plastic bottles help reduce plastic waste from entering our oceans and are stitched together to provide enhanced comfort and breathability without sacrificing style or quality.
Finally, another great feature of this eco-friendly sneaker is that it's machine washable – meaning you can easily clean off any dirt or grime by tossing them in the washing machine. Not only does this make maintenance easier, but it also means you don't have to worry about investing in additional shoe-cleaning products or worrying about wearing the shoes when they might get dirty. 
This is the ultimate in durability – as shoes that can be washed look newer, longer. No more buying a new pair the first time they get dirty. 
Pros & Cons: Who is this product for?
Let's talk briefly about who this product is for and who it's not for.
Who the Royale Knit is designed for
I love white knit shoes (See our Rothy's Men's Shoe Review, SUAVS Review and Allbirds Review to see some examples) for a couple of key reasons:
They are machine washable. This is perfect for kids and feeling like you can actually wear white shoes and not worried about them getting trashed on the first day.
I love knit shoes because of their breathability. 
You don't need to wear socks, typically. Some people still wear socks with these shoes, but you don't need to. 
These shoes just look really sharp. The contrasting Navy back with the crisp white shoe, is just a classic design that will never go out of style. 
So, if you're looking for an eco-friendly, stylish and comfortable shoe that won't let you down after the first wear – then these are definitely the shoes for you. 
Who the Royale Knit are NOT designed for
If you are a "shoe snob," these shoes probably aren't for you.
Sure, GREATS has made a great shoe (yes, pun intended), but it's not going to be anything like your $400 pair of Common Projects shoes – the direct-to-consumer brand that started the whole Stan Smith Dupe hoopla. 
Read our Oliver Cabell Review for a good, cheaper alternative.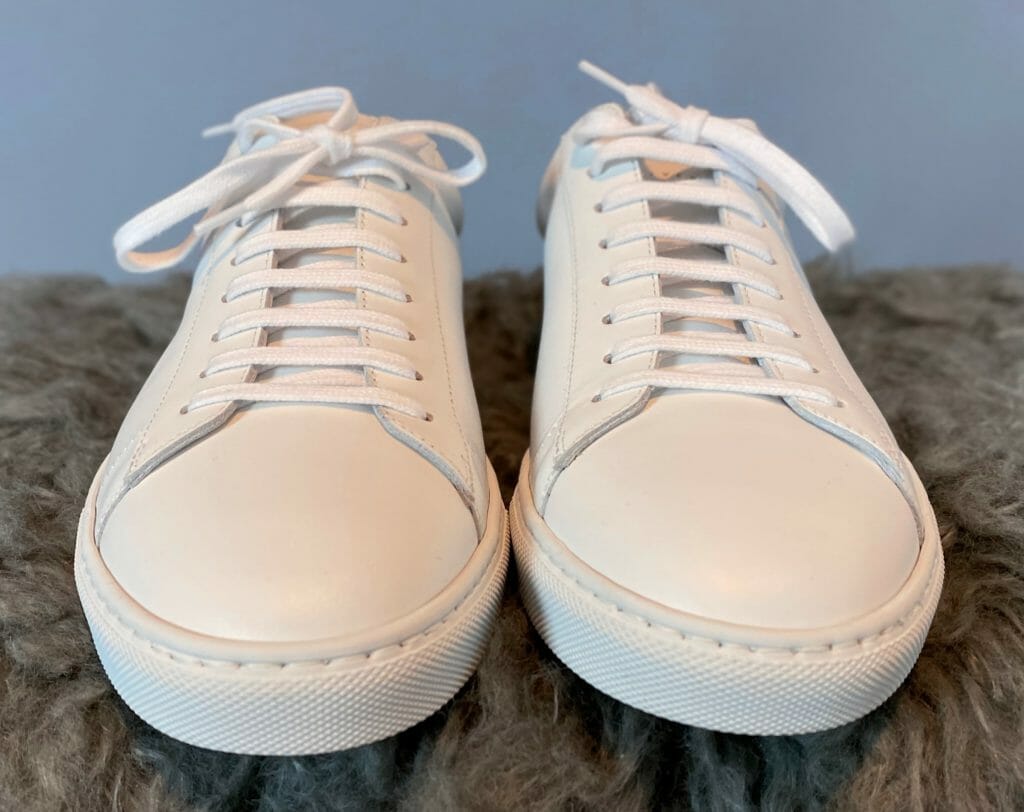 These sneakers know who they are and aren't trying to be something else. If you want these shoes for running or working out, look elsewhere. These are straight-up casual, fashion sneakers and they excel in that category. 
Alternatives to GREATS
There are many alternatives these days to GREATS. 
If you are looking for an all-leather version of these shoes, Check out Oliver Cabell shoes. They are beautiful, impeccably made and are more suitable for the "shoe snobs" out there.
Three other brands to look out, which I'll highlight the differences between them: SUAVS, Rothy's and Allbirds.
GREATS vs. SUAVS
Both brands have a classic silhouette and look (especially the Zilker Gum from SUAVS). They are both made from recycled materials and are machine washable. They are also both about $100 (Suavs are about $95, GREATS are about $115).
But that's about where the differences end.
The SUAVS are a more casual-looking (read: less refined) shoe. But as I covered in my SUAVS Review, the fabric can make your foot look like it's bulging out of the side.
You won't find that on in the GREATS Knit Royale at all.
I will say that I do like the lighter-weight of the SUAVS shoe and did feel like it was a bit more breathable.
GREATS vs. Rothy's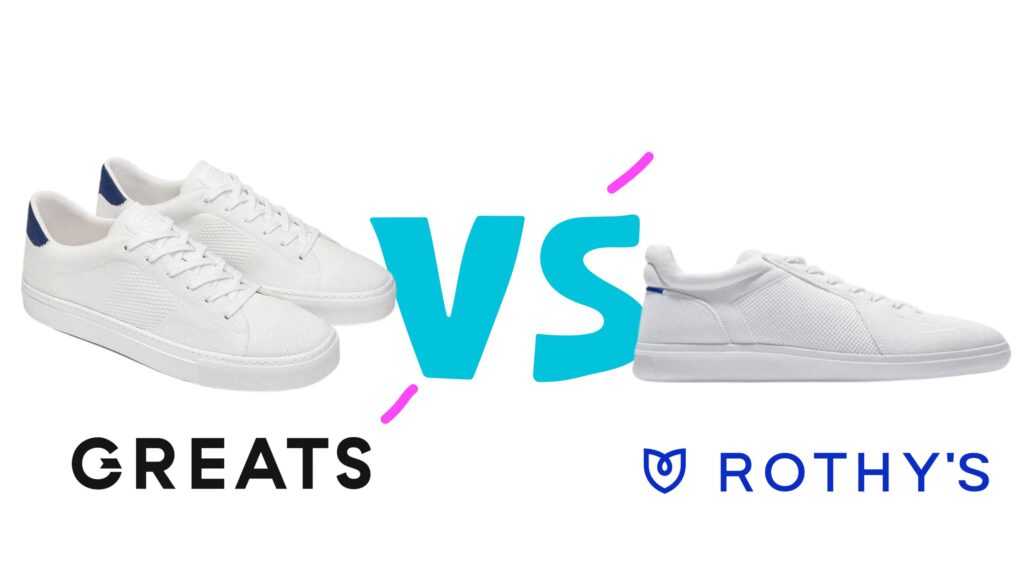 This is where it gets a bit more tricky. 
Once again, both are made from machine-washable recycled materials and have a classic silhouette. 
The Rothy's are more expensive (The RS01 is $169 and RS02 is $149, but save with our Rothy's Promo Code), but I also think the Rothy's are a bit higher quality.
They've been making the recycled water bottle shoes for many years and just recently got into the world of men's fashion. 
The Rothy's RS01 is slightly heavier than the GREATS Knit Royale, but I think the RS01 is a bit more comfortable. 
They both look very similar and are the best-looking knit shoes on this list. Read our full RS02 vs RS01 Review.
GREATS vs. Allbirds
Once again, both are made from machine-washable recycled materials and are about the same price.
Allbirds, as a whole, has some less classic designs than Rothy's or GREATS. But Allbirds are my go-to shoes for anything like running errands or walking the dog. 
They are easy to slip on and off, clean up in the washing machine if needed, and are comfortable. Allbirds do feature Merino Wool inside the shoes (even in their Tree Runners, made from Eucalyptus Trees, have Merino Wool inside – it's also why we named them the best Allbirds). 
While not technically made from recycled materials, Allbirds is an incredibly sustainable brand that does everything possible to create sustainable products. 
I think that GREATS is still a great option, if you are looking for something that is a bit more refined and a bit less "sporty" than Allbirds. I think Allbirds are slightly more comfortable but GREATS look better. 
GREATS Alternatives: Final Thoughts
There are many new, up-and-coming shoe brands, each with a unique take on the traditional sneaker. If you don't like GREATS for some reason, I'm sure you'll find something that suits your style. 
Personally, I think GREATS are a great option if you want a classic sneaker-style shoe made from recycled materials that is machine washable and vegan-friendly. The design is sleek and it looks good with almost any outfit. 
GREATS Knit Royal Review: Final Verdict
A great, white seaker
GREATS - The Royale Knit Sneaker
Classic Silhouette, Beautiful Design, Machine-Washable, and Super Comfortable. What's not to love?
Buy Now
We might earn a commission if you make a purchase, at no additional cost to you.
GREATS Shoes are pretty darn good, if not great.
They are better looking than Allbirds and SUAVS and cheaper than Rothy's. We like the overall comfort and quality of the Rothy's RS01 slightly more than the GREATS Royale Knit, but you can't go wrong with the GREATS Royale Knit. It's much cheaper and looks incredible.
Of course, being machine washable will make sure that the product keeps looking flawless for years to come.
GREATS Shoes FAQs
Are GREATS shoes made in Italy?

GREATS used to be made in Italy, but since the company was bought by Steve Madden, production was moved to Portugal. The knit shoes are made in China.
Do GREATS sneakers run big?

No GREATS Sneaker run true to size, however the fit may vary depending on your foot type.
Where are the GREATS shoes made?

After GREATS was purchased by Steve Madden, the production of their shoes was moved from Italy to Portugal, while the knit shoes are crafted in China.
Who bought GREATS?

Steve Madden purchased GREATS in 2019 to expand their presence in the sneaker market.