Do you ever come across a product that is so simple, so brilliant that you wonder, "Why wasn't this in my life sooner?" Well, that's exactly what we thought when we came across FEND.
Fend is a new nasal mist spray that promises to provide relief from congestion and other symptoms for up to 12 hours. But does it truly work? Continue reading for our FEND nasal mist spray review.
An amazingly simple, life-changing device
FEND | Breathe better. Breathe easy.
Are you always stuffy in the morning? Or suffer from allergies? Or just want to clean your airways after something like travel, then you NEED FEND. We were skeptical, but these types of products are the EXACT reason we created We Tried It.
Buy Now
We might earn a commission if you make a purchase, at no additional cost to you.
FEND REVIEW: What is Fend?
FEND is a new hygiene protocol that cleanses and hydrates the upper respiratory airways to strengthen the body's natural ability to help keep the lungs cleaner and healthier.
FEND uses a proprietary calcium-enriched saline solution delivered in perfectly sized particles that exit the device in a mist that is inhaled through your nose. When inhaled deeply, it hydrates your upper airways to capture and eliminate airborne contaminants before they reach your lungs.
In addition, FEND helps reduce the number of airborne contaminants you exhale back into the air. FEND is backed by science, and is proven to be an effective way to help keep your lungs healthy and clean. So if you're looking for a way to breathe easier, FEND is the way to go.
With FEND, you'll never have to worry about harmful drugs. It's basically salt-water (saline), with some calcium.
The sleek and stylish atomizer is easy to carry with you wherever you go, so you can always be prepared. And because FEND is backed up by science (more on that in just a second), you can be confident that it really works. 
Wait, isn't this just a nasal spray?
FEND is not a nasal spray. It's not inserted into your nose at all.
FEND is different than nasal spray because the FEND system generates a gentle, safe mist that is inhaled into the upper airways vs. being inserted and sprayed into the nose.
Like a humidifier works by creating a mist from water, the FEND Mister device creates a mist from the proprietary calcium-enriched saline solution.
What drugs are in FEND?
Unlike most nasal sprays, FEND is drug-free. The FEND Mister device is unique because the mist particles derived from the solution are smaller than what a nasal spray bottle creates.
FEND actually rejuvenates the mucosal lining to help it capture and eliminate airborne particles. This enables the solution to stick to the mucus lining in your nose, trachea and main bronchi, which are just at the top of our upper airways.
How does FEND work?
The mist contains tiny droplets of water that act as a barrier against harmful airborne particles such as pollen, dust, and air pollution and protect human airways.
When you breathe in the mist, the water droplets will bind to the particles and prevent them from entering your lungs. This makes you breathe easier and provides a natural defense to your lungs from damage. Additionally, the unique formula of FEND includes ingredients that help to soothe and refresh your respiratory system, providing relief and protection from allergies, congestion, and other contaminants
What do you use FEND For?
FEND is an acronym for Fast Emergency Nasal Defense.
Originally designed in response to COVID-19, the creators of FEND found out that it could be used for many more occasions: such as when there are allergens, pathogens, or carcinogens present, which could make you sick if they enter your body through inhalation.
The name also hints at how FEND work – it helps scrub – and fend away any harmful compounds and bacterial burden before they reach our respiratory system.
How we use FEND
We use FEND for three distinct purposes:
In the morning to help me not feel so "stuffy"
2-3 times a day when pollen is high and I feel like I may be getting some allergies
Extensively when I travel, or any other time I feel like I've been around a lot of people
FEND has really been a game-changer for travel. While I'll never know if it kept me from getting sick, I'm always super dry when I travel and it at least helps me moisten my airways and breath easier.
As a result, I've found myself less congested and have taken less Sudafed day-to-day.
How to use FEND
To use FEND, follow the given steps:
To use FEND, simply hold the bottle upright a few inches from your nose, press and hold the button firmly to create the mist, and breathe in.
Repeat one more time. It's that easy.
FEND recommends using FEND every 6 hours, up to 3 times a day.
I typically use FEND when I get up, at some point in the afternoon and before I go to bed.
Regular use of your FEND helps to continually strengthen the mucosal lining, creating a strong filter against small airborne contaminants.
Doctors recommend FEND plus it is a clinically proven device. It was developed by a Harvard professor in collaboration with researchers around the world.
In clinical trials, FEND was shown to clean away up to 99% of respiratory droplets from the airways for up to 6 hours.
How do ingredients make Fend effective?
The ingredients in Fend include water, calcium, and sodium which work together to provide a cooling and soothing effect. FEND is a natural way to cleanse your upper airways and lungs.
The unique blend of these ingredients strengthens the upper airways natural ability to trap and remove dirty air, dust, and other airborne pathogens. This makes it harder for the impure air to go in-depth into your lungs.
Benefits of FEND
Besides the fact that it works, a couple of other benefits we've found with FEND.
Easy to carry
Fend is easy to carry. It uses a perfectly sized droplets spray bottle. You can carry it in your pocket or simply put it in your bag. And it's easy to use. Just pull it out and hold it close to your face when you need any protection and fend works!
Quick Results
My nasal passages felt more hydrated after using FEND for the first time.
FEND's research shows that the product starts delivering results in as little as 15 seconds. Pretty incredible!
Chemical Free
FEND is a natural product that is effective against a great number of bacteria, viruses, and fungi and thus protects people from air pollution and other airborne contaminants. It is made with ingredients that have been tested and proven to be effective as well as safe.
FEND is the perfect choice for anyone looking for airway hygiene and an all-natural way to protect the respiratory tract from infection. There is no harm in using FEND daily and you can include it in your daily hygiene practices.
Anti-bacterial
This spray is a small, portable bottle that can be easily stored in a pocket or purse. It comes in a handy spray bottle and is perfect for airway hydration.
Doctor Recommended
FEND was developed by a team of doctors and is recommended by medical professionals for its effectiveness, nasal administration, and natural defense properties. Check out the FEND Science Page for more details.
Clinically Proven
Fend is the clinically proven way. A professional physician surely recommends FEND. It is safe for everyone, including those with compromised immune systems. Fend has a light, pleasant scent and is non-toxic
100% Safe
Looking for a safe way to breathe better? FEND nasal mist is here to help. FEND is safe for both adults and children.
Comes with a 21-Day Guarantee
FEND guarantees it'll help you start breathing better within 21 days.
Honestly, this is the final straw that made me purchase FEND. Honestly, I didn't have to try a return, but love a company that stands by their product.
Disadvantages
Nothing is prefect, right?
Price
FEND nasal mist is pricey. However, it is worth the investment because it promotes better breathing it is an effective way to keep allergies and viruses at bay.
You can sign up for their monthly recurring shipments to save even more money. It's exactly what we do. They make it easy to skip a month if you haven't used it as much.
It's not a miracle
While we love FEND, it's not a miracle cure. Sure – it helps with congestion, allergies, and having a clear breathing way, but it's not going to stop you from EVER getting sick.
What does Science say about Fend?
The makers of FEND cite several studies validating the use of FEND. Since 2015, researchers have published 17 studies on FEND in peer-reviewed journals. The studies indicate that the device can help decrease snoring as well as mild sleep apnea.
In addition, the device appears to be well tolerated, with a small number of side effects showing up. These findings suggest that FEND may be an effective treatment option for people who suffer from snoring or mild sleep apnea. However, more extensive and more rigorous studies are required to prove these findings.
One study from 2020 found that spraying water can hydrate human vocal cords, leading to better oscillation frequency, increased amplitude, and better closing-opening asymmetry. This can result in improved vocal cord function overall.
Other studies have shown that FEND can help reduce inflammation in the throat and improve symptoms of laryngitis. In one study, patients who used FEND reported a significant reduction in both pain and discomfort related to laryngitis.
A recent study printed in Molecular Frontiers Journal has associated the use of FEND with considerably lower the spread of serial particles. In the study, 92 men, women, and children were analyzed for the effects of FEND on virus transmission.
The findings showed that those who used FEND lowered exhaled particles by around 75%. This is a significant reduction that could significantly impact preventing the spread of viruses.
In fact, the study found that FEND "outperformed surgical face masks in the clearing of sub-micron particles." These findings suggest that FEND could be a valuable tool in preventing the spread of respiratory viruses.
Overall, the available evidence suggests that FEND is an effective tool for maintaining vocal cord health and preventing or treating laryngitis.
FEND Review: Final Thoughts
We loved everything about FEND, from the amazing packaging to the fact that it is a drug-free product that actually works.
An amazingly simple, life-changing device
FEND | Breathe better. Breathe easy.
Are you always stuffy in the morning? Or suffer from allergies? Or just want to clean your airways after something like travel, then you NEED FEND. We were skeptical, but these types of products are the EXACT reason we created We Tried It.
Buy Now
We might earn a commission if you make a purchase, at no additional cost to you.
We're actually excited to give this product the coveted We Tried It Seal of Approval.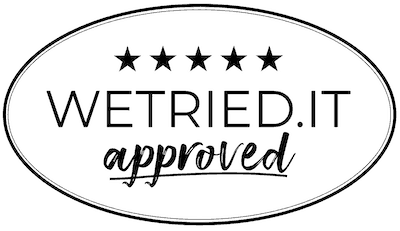 FEND is the perfect example of the reason we created We Tried It. It's a unique product that we were initially skeptical of. We saw the ads on Facebook and Instagram and wondered, "could it possibly be that good?" And the truth is, it's better than we ever imagined.
Check out FEND today and let us know what you think.
Frequently Asked Questions:
How often should I use FEND?
We suggest using FEND after every six hours, at 2-3 times a day. This natural product will help to constantly improve the mucosal lining, creating a solid filter against tiny airborne microbes. Because it is made from 100% natural ingredients, it is also safe for regular use. Studies have shown that regular use of FEND can help to reduce the incidence of colds and other respiratory infections by up to 60%. So if you're looking for the best way to protect yourself from harmful airborne particles, make sure to use FEND on a regular basis.
How quickly does FEND take effect?
FEND Starts working in about 15 seconds. FEND nasal mist is a quick and effective way to protect yourself from the harmful effects of environmental pollution. The mist contains an active ingredient that binds to pollutants, creating a physical barrier that prevents them from being inhaled. Additionally, the mist helps trap pollutants that have already been inhaled, preventing them from reaching the lungs. FEND nasal mist is easy to use and can be applied in just a few seconds. Once applied, it will begin working within around 15 seconds, providing long-lasting protection against environmental pollution.
What is the advantage of using FEND?  
We are all affected daily by small airborne germs. Whether we're walking down the street, taking the bus, or simply sitting in our homes, we're constantly exposed to harmful particles that can damage our lungs. The good news is that there's a simple way to help protect ourselves from these dangers: by using FEND regularly. FEND is a natural product that helps to restore your mucus lining plus improves the natural ability of your body to keep airborne pollutants from finding their track in your lungs. In addition, FEND is entirely safe to use and has no side effects.
How should it feel after inhaling FEND?
If you properly inhale the mist from a FEND device, you may notice your nose feels slightly moist or a slight tingling sensation inside your nose. This is not unusual and shows that the FEND device is working as it should. I would best describe this as your noise and airways saying, "awwhhhh, that feels GREAT!"
Drug-free and safe, FEND is an excellent way to protect yourself and your loved ones from harmful airborne particles. However, in case you experience persistent or uncommon symptoms, it's always recommended and the best option to consult with your doctor right away. With their guidance, you can determine if FEND is the best solution for you.