Are you looking for a smart and efficient way to keep your home sparkling clean? Look no further than the Roborock Q7 Max Robot Vacuum and Mop!
This sophisticated device is one of the best robotic vacuum cleaners on the market, featuring super-strong power suction, a 350 ml water tank capacity, multiple modes and reusable mopping cloths that'll leave your floors spotless in no time.
A great vacuum with tons of features
Roborock Q7 Max+
We depend on this vacuum to keep our basement floors mopped and carpet clean!
Buy Now
We might earn a commission if you make a purchase, at no additional cost to you.
06/08/2023 06:11 pm GMT
Find out why this robot vacuum is (almost) perfect with our Roborock Q7 Max review – perfect if you're a busy mom or dad trying to get through those stressful days without having to worry about vacuuming!
Meet Roborock
Roborock Vacuums have been revolutionizing how we clean our homes for over a decade. Founded in 2014,=, Roborock has been dedicated to creating intelligent robot vacuums that make cleaning easier and more efficient. Their mission is to "Improve people's lives with distinctive products "
Roborock's Range of Products
Roborock's products include robot vacuums, the amazing RockDock, and even a super-powerful wet/dry upright vacuum.
Their intelligent automatic robot vacuum cleaners are designed to help you save time and effort when it comes to cleaning your home. With features like sweeping and mopping, intelligent route planning, app control, pet-friendly technology and more, Roborock and most robot vacuums are designed to make your life easier.
The best part about Roborock vacuums is that they come in a variety of models so you can find the perfect one for your needs. From the budget-friendly E5 model to the top-of-the-line S8 Pro Ultra, there's something for everyone.
What we wanted a robot vacuum for
We already had – and were satisfied with – the Ecovacs Deebot T8 AIVI (with the Auto-Empty Station) that we purchased from COSTCO for our main floor.
While this bad-boy retails for $849.99, you can frequently find a much better deal on it. For example, you can currently find the same robot vacuum with an auto-empty dock for only $499 at COSTCO right now.
However, like everyone else, we finished our basement during COVID and wanted another unit for the basement.
What we wanted the robot vacuum to do
In the basement we have three distinct surfaces:
Hardwood Floors
Carpet
Area Rug on top of the hardwood floors
We wanted something that could be stored out of the way and not need to be emptied after every run. After we got the Deebot with a built-in mop, we were officially spoiled.
While no robot vacuum is perfect, most folks simply look for something to help between deeper cleans.
With two kiddos, a dog, and two adults, things can get messy fairly fast.
We wanted something that could handle the mop simultaneously with the vacuuming. This makes a huge difference when it comes to hard floors, too.
Introducing the Roborock Q7+ Max: What's the big idea?
The Roborock Q7 Max is designed to be simple in every sense: easy to use and easy to empty.
We found this to be 100% true. In fact, it is almost too simple – at least in how easy to use. More on this in just a second.
The Q7+ Max straddles the balance between a large number of features (not the most), being easy to use AND being a good price point. At the time of writing this, you can get the best deal on the Q7+ here.
Setting up the Roborock Q7+
Setting up the Q7+ was a breeze.
To get started, you'll need to download the mobile app for your device. You can do this by searching for "Roborock" in the app store of your choice. Once you have downloaded the app, you can connect it to your robot vacuum using Bluetooth or Wi-Fi.
Simply follow the on-screen instructions to set up your Roborock Vacuum.
Here's how easy it is
It literally took about 5 minutes (we've sped up the process here, for convenience), but it's super simple!
After your robot is connected
Once connected, you'll need to run the vacuum to create custom cleaning schedules, invisible walls, invisible wall, etc.
Simply run the vacuum one time and the mapping system will create a great overview of your home.
The Magic is in the Map
I had no idea how amazing the mapping technology was on the Roborock app. Seriously.
The app and vacuum were able to map the basement out quickly. This same app allows you to understand what the robot sees for each deep cleaning up session.
Overall, setting up the Roborock Q7+ robotic vacuum is simple and easy – just follow these steps and you'll be ready to start enjoying a cleaner home in no time!
Not just one floor at a time
The Q7+ also can use multi-level mapping, meaning you can use the multi-level mapping systems on different floors in your home. Of course, the Q7 can't just fly to a different floor, you'll have to manually place the robot on a different floor, but it will recognize it as a different floor and create a new mapping level with the cleaning session.
That's pretty darn awesome!
What we loved about the Roborock Q7+
Besides the simplicity of setup and mapping, there is a lot to love about the Q7.
Clean Grids
I know this is a small one, but we love how clean of a grid the Q7 cleans in.
We love to see how nice the carpet looks, with neat lines that show exactly where the robot has cleaned. It gives a really nice overall look to the carpet.
No bump and run here – just a great mapping system
Bump and run robot vacuums are a type of robotic vacuum cleaner that use a combination of random navigation and bumping into obstacles to clean your home. These robots are designed to navigate around furniture, walls, and other objects to effectively clean the entire area. It's random, but over time, it cleans a whole floor.
This is a way of "cheating" a navigation system – by randomly covering the layout of a floor. It works just OK, in our experience.
The Roborock Q7+ is not a bump and run robot! It uses advanced navigation techniques to accurately map out your home, and efficiently clean your floors. This means that you get the most cleaned for the least amount of effort (both from you and from the robot!).
Built-in mopping
We love that the robot has a built-in reusable mop cloth for mopping. A wet mop takes the cleaning performance to another level.
To note, the water tank capacity is not huge – about 180 ML – but that equates to about 1,600 square feet, which is enough for our basement. It's important to know the mopping system will automatically only use the water one hardwood and not carpet.
No Mop Zones
You can also set no mop zones for different cleaning areas because of the floor you have no mop zone you are cleaning.
7 Weeks Between Emptying – Auto Empty Dock
Roborock claims that the 2.5 L dustbag allows you to clean every day for up to four levels for up to seven weeks now.
We don't run the vacuum every day, so we can't give you exact figures on how long it's lasted (since we haven't had to empty out the dustbag, yet), but it's lasted several months cleaning 1-2 times a week.
The battery life is also great! Roborock claims it will clean for a maximum of 180 minutes or 3230 square feet.
Great Cleaning Power
In general, we were very pleased with the cleaning power of the Q7+. It has kept our basement floors clean – better than other robot vacuums could.
Doesn't get stuck
We have not experienced our vacuum getting stuck in the basement. Occasionally, our Deebot vacuum would get stuck in random spots – over a threshold between floor types – hardwood and tile seemed to be the most common culprit.
This robot vacuum cleaner hasn't had any issues going between furniture and floor materials, like other vacuums we've tested.
What we didn't love about the Q7+ – but not deal-killers
This is a really funny issue to highlight: it's almost too simple and easy to operate. Let me explain.
So simple… but effective
Obviously, when you have water in a robot vacuum, you want to make sure it's cleaning hardwood floors and tile with the water – not carpet.
After messing with the settings a bit, I couldn't figure out how to tell the Q7 thought something was carpet, or hardwood. I was worried that I would run the vacuum and it would also mop the carpet – not what I wanted!
I researched online and still couldn't figure it out. So, I did the most logical thing: I just watched the vacuum and robot clean the basement.
I watched as it cleaned the hardwood floors perfectly, then made its way into the media room, which is fully carpeted. Sure enough, the Q7 detected the carpet without me doing anything and stopped the mopping cycle before it reached the carpet.
I was relieved that I didn't need to worry about the mopping feature at all!
The Roborock App does feature "no mop zones" and "no go zones"
Suction boost
The robot also has a carpet suction power boost. When it detects carpet, it turns up the suction ability.
The Overall Water Storage
The overall water storage for the mopping feature is fairly small. It's enough to clean our basement and get about two cleans of our basement, it would barely get one clean out of our main floor.
Roborock does offer some units that will refill the vacuum with water, but that would be a bit cumbersome with the location we have our Q7 parked (under the air hockey table, obviously…).
Refilling the Mop Reservoir
Once again, a very small thing, but it's a little difficult to fill the mop reservoir. You have to lift a rubber tab and pour water in slowly. After it fills about halfway, you need to move the reservoir around to let out the air bubbles and fill up the rest of the water tank.
No "Sonic Mopping"
I have to admit, I was intrigued when I saw the Sonic Mopping function available on some of the other Roborock Models.
Beyond the mopping pad, the mop pad on models like the S8 Pro Ultra offer scrubbing. This is supposed to clean hard floors even better and ensures consistent mop pressure on the mopping and mop pad itself.
Roborock claims the sonic mopping in "VibraRinse 2.0" even gets rid of stubborn stains on different floor materials.
It looks pretty cool, but I couldn't justify the extra price.
Other great features
I've tired to highlight the best features of this awesome little robot, but here are a couple of more features in this robot vac.
Smart Home Control
Not only is Amazon Alexa and Google Home supported, but voice control on the Roborock Q7 Series can be powered via Apple Siri Shortcuts, too.
Many smart home devices these days offer ways to run the robot automatically, but you can also set the schedules in the Roborock App. That's typically what we do, since we don't run this one every day.
Routines
This isn't a feature we run a lot, but you can set the vacuum to repeat automatically run a certain section of your map, in one simple shortcut.
For example, you can create an "after meals" routine that allows you just to clean the kitchen – or other specific rooms.
Comparing it to Other Robot Vacuums on the Market
We can compare this best robot vacuum yet to the much cheaper versions of robot vacs we've test and the more comparable ECOVACS DEEBOT T8 AIVI.
Another great pick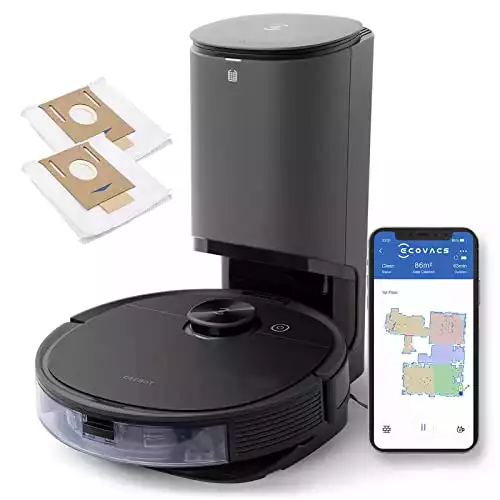 ECOVACS Deebot
While it lacks the suction power of other robot vacuums, it's quieter and cheaper, but still has mopping functionality.
Buy Now
We might earn a commission if you make a purchase, at no additional cost to you.
06/08/2023 06:36 pm GMT
How it compares to cheaper vacuums
Predictably, the Q7+ blows the cheaper, bump and run vacuums out of the water. There really is no comparison.
The super cheap (I'm talking $99) vacuums are glorified dirt-pile pushers and really don't help like a true robot vacuum cleaner.
Q7+ vs. Deebot T8 AIVI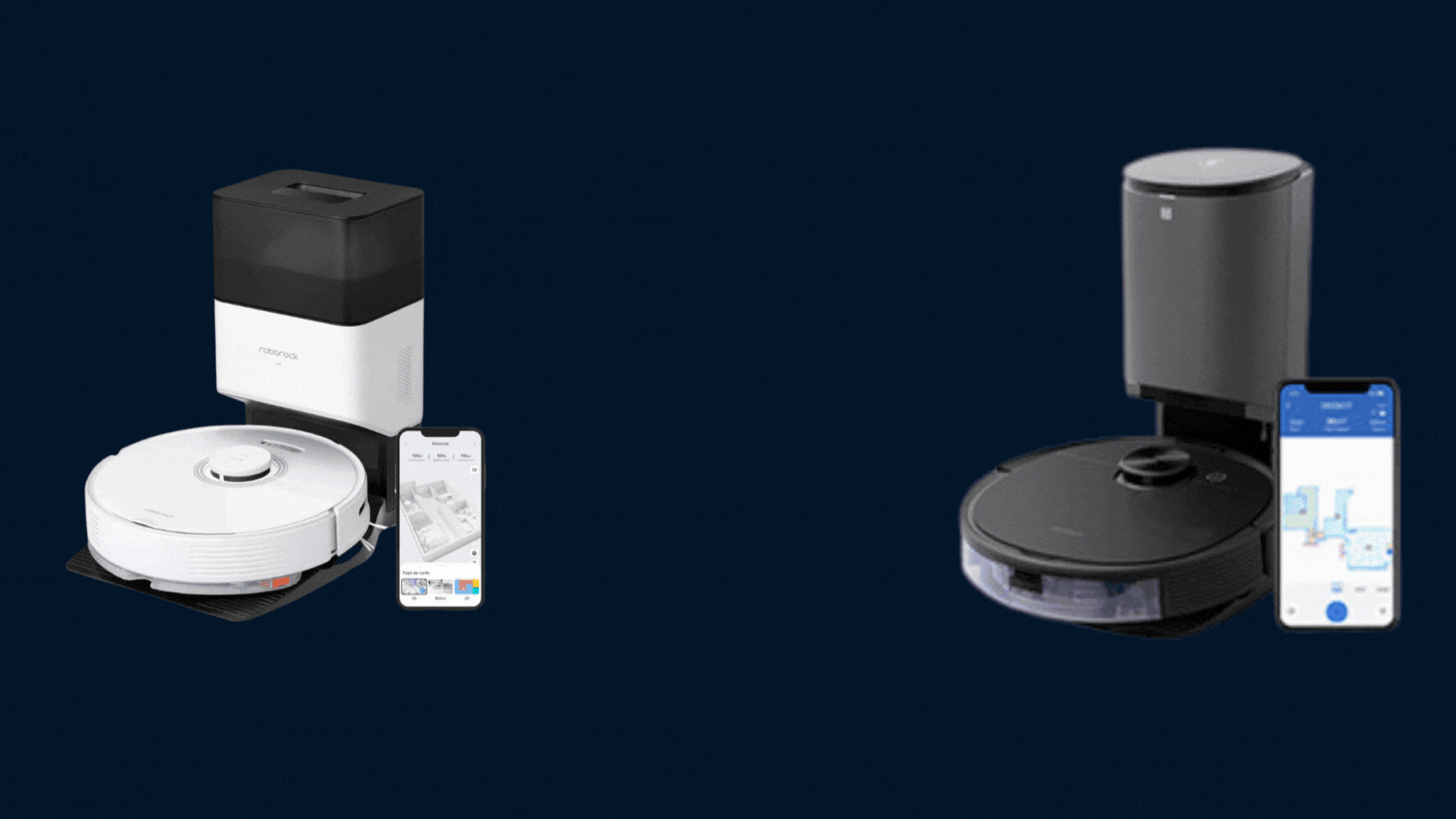 This comparison is a lot closer.
Sidenote: why are vacuum cleaners so poorly named? Seriously, it's a bit annoying and makes it really tell the difference between the Q7 Max vs. the S8. Which one is better? Hard to tell, isn't it?
The Q7 and the Deebot T8 Aivi are very similar. Let's dive into a couple key comparisons.
Suction Power: Winner Q7
The Q7+ comes with 4200Pa of suction power right out of the box. The T8 comes with only 1500Pa of suction power.
While the suction power is, on paper, much worse, actual results can vary. If you amp up the suction power on the T8, it does go up to 3000Pa.
The only good side of less suction is a quieter experience. We run both vacuums at night, after we go to bed, so this isn't a huge problem.
Self-Emptying Dustbin: a tie
Both have a great self-emptying dustbin with a ton of capacity.
Cleaning Ability: Winner Q7
The Q7 does a great job of getting all the dirt and dust out of the crevices. The T8 does a decent job, but not as good as the Q7.
Both the Q7 and T8 can mop floors simultaneously and vacuum, so that isn't the biggest issue for cleaning performance.
You really notice the carpet boost feature in the Q7+, the lines of dust that it leaves behind are much less pronounced than with the T8.
The mopping on both vacuums is decent, but the Q7+ outperforms the T8 in almost every way.
Overall design: Tie
While I like the overall look of the Roborock Q7 a lot, there is one small thing that I don't care about: the combined water tank.
The combined water tank is a good idea, but it reduces the amount of water – and dirt – the container can hold.
The T8 has a separate water tank and dust bin. The dust bin is larger and the water tank is
Final Thoughts – Is the Roborock Q7+ Max Right for You?
Our pick for best robot vacuum and mop
Roborock Q7 Max+
We depend on this vacuum to keep our basement floors mopped and carpet clean!
Buy Now
We might earn a commission if you make a purchase, at no additional cost to you.
06/08/2023 06:11 pm GMT
The Roborock Q7 Max is a great option for those in need of advanced cleaning solutions. Its powerful 4200Pa suction and 350ml water tank capacity make it ideal for tackling tough messes, while its ability to mop will have your floors sparkling clean. This robot vacuum is also packed with convenient features like the app control system and quiet operation mode, making it simple to manage and silent enough that you won't even notice it running. With everything this product has to offer, the Roborock Q7 Max could be perfect for anyone looking for a top-of-the-line vacuum and mop combination.
Overall, the Roborock Q7 Max is an excellent choice for anyone looking for a quality robotic vacuum and mop. It offers advanced features and powerful performance, making it ideal for owners who prioritize cleanliness without compromising on time or energy. The charging base station eliminates the need to empty the dustbin after every run, while the adjustable water level ensures a floor is washed with just the right amount of fluid.
Add in automatic scheduling capabilities and multiple cleaning modes, plus whisper-quiet operation, and you have all the necessary elements of a great robot vacuum. Those who have considered upgrading to a robotic vacuum that can provide advanced cleaning functions would do well to consider the Roborock Q7+ Max before making their decision – its innovative design, along with its powerful suction, makes it perfect for delivering both convenience and top performance.