Better weather is here, and we're sure you're eager to get out in the sun. We've got just the thing – a roundup of the Best Dress Shorts for Men! Brands like Mizzen + Main, Lululemon, Myles Apparel, Olivers Apparel, and many more will be included. If you want the best Dress Shorts for men, this ultimate guide to Best Summer Shorts for Men has it all!
Description:

Our New Favorite pair of shorts!
Great overall shorts
Upgraded to now include 4-way stretch!
Lightweight and comfortable
Pairs well with Mizzen + Main Shirts

Description:

Super Comfortable
Long-lasting
ABC - Anti-ball crushing
Look great!

Description:

Close runner-up to ABC Shorts and Mizzen + Main
Innovative features
Great fit
Looks more like "real" shorts

Description:

"Chino" Style shorts made from the All Over Short Material
Super comfortable
Look the least like "real shorts"
Most versatile of all the shorts
Meet the best Men's shorts: Mizzen + Main Helmsman Shorts
Why are the new Mizzen + Main Helmsman shorts our favorite? Well, for starters, they are incredibly lightweight and very comfortable. This new version also features 4-way-stretch for the first time. We simply love these shorts and want to replace all of our shorts with them.
Our favorite chino-style shorts!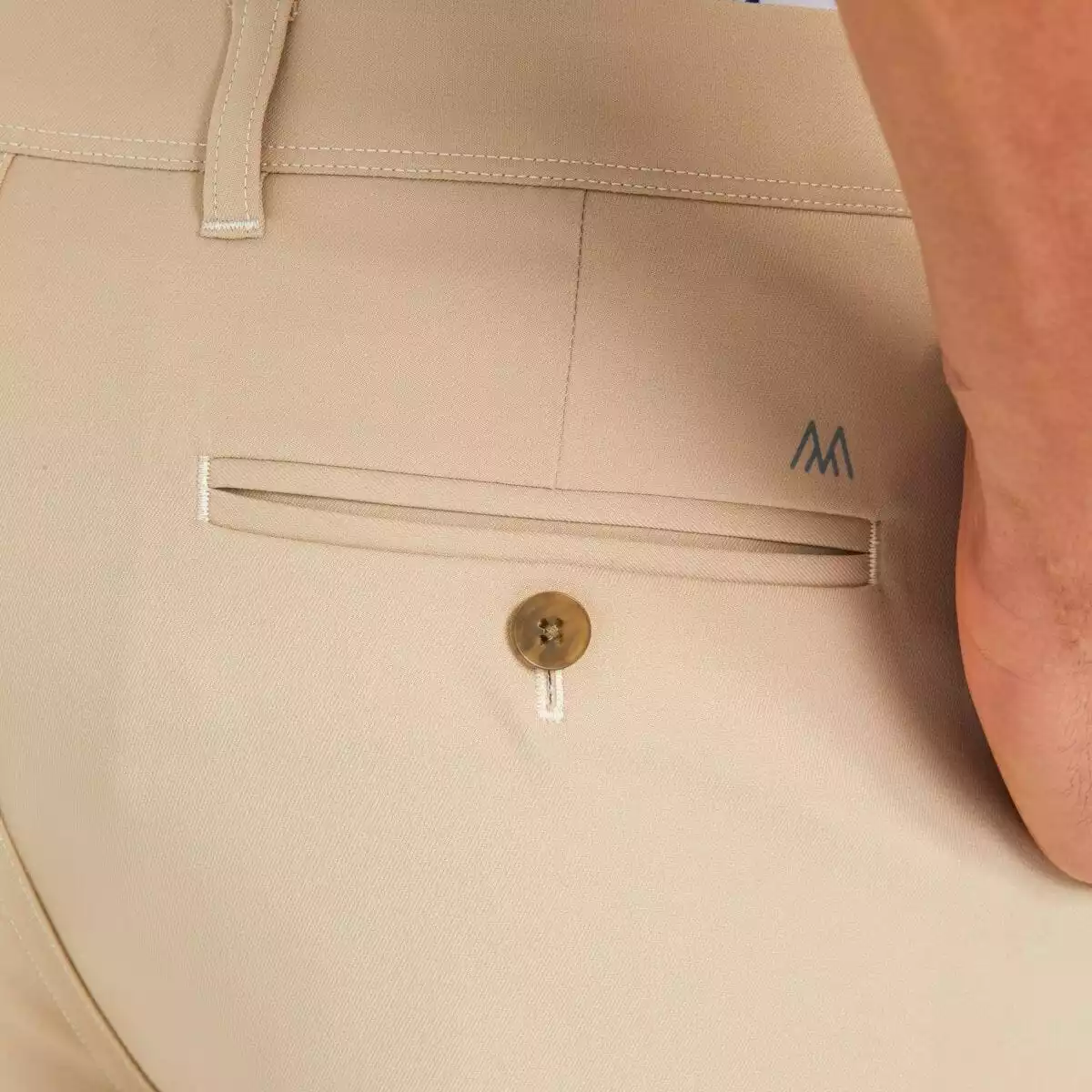 Mizzen and Main Helmsman Shorts
Our New Favorite pair of shorts!
Great overall shorts
Upgraded to now include 4-way stretch!
Lightweight and comfortable
Pairs well with Mizzen + Main Shirts
Buy Now
We might earn a commission if you make a purchase, at no additional cost to you.
What to look for in a pair of summer shorts
Three Things to Consider: Style, Fabric + Features
Picking out summer shorts can be difficult. There are so many brands and fit options, you may not even know where to start. We've compiled a list of the best summer shorts for men, but if you need more of a helping hand, here are some things to look for:
1) What's your style? If you want something more relaxed, choose a longer short with an elasticized waistband. If you want something dressier and with more flair, go with a shorter chino-style short.
2) What kind of fabric? Summer is hot and humid – pick a pair of shorts that will keep you cool all day long. I typically stay away from cotton simply because it's not very moisture-wicking and can wrinkle easily.
3) What other features do you want? Some of these shorts we'll review are stain-resistant or even water resistant. Do you need that? The most important feature for me is comfort and being lightweight. That's something all of these shorts have in common.
Summer Shorts: Different styles – and what to avoid
We prefer chino-style shorts to wear in the summer. Think khakis meets shorts – but not necessarily khaki color. That's what we'll be talking about in this ultimate round-up.
All of the shorts here are NOT athletic shorts. For some great athletic shorts, check out our full Olivers All Over Short Review, our Myles Everyday Short Review or even our Olivers vs. Myles comparison review.
Shorts are never "dressy" but there are shorts that are more casual, or less athletic. That's what we'll be talking about today.
The different fabrics in Men's Shorts
Traditional Chinos are made from 100% cotton (most of the time). However, none of these shorts in our roundup are 100% cotton. In fact, the shorts that we are going to review are all 100% Polyester.
Before you start thinking of Saturday Night Fever Polyester, today's polyester is actually incredibly lightweight material, breathable, quick-drying and resistant to wrinkles.
Polyester has come a long way since the '70s so don't be scared of it!
It also looks a lot more like cotton than the polyester of yesteryear.
Lululemon calls their Polyester Warpstreme.
Myles uses Breathable Toray® Stretch Woven Twill Fabric.
But they are both polyesters, in fact, that's what the label says.
Polyester is a man-made material that is more durable than cotton
Polyester also doesn't wrinkle easily like cotton does, which is great if you're traveling or don't want to iron your clothes often. Polyester also has the ability to wick sweat away from your skin so it helps keep you dry on hot days.
Many of the pants featured here have their own unique take on the polyester shorts. Keep reading to learn more about what makes these the best summer shorts for men.
Meet the contenders: The Best Men's Shorts
Enough with the small talk, let's meet the contenders for the best summer shorts for men.
Lululemon Commission Short 7″ Warpstreme – $89
A classic chino, done the lululemon way. These shorts, powered by ABC™ technology, come equipped with secure pockets and stretchy fabric to keep up with your daily agenda. Warpstreme Fabric (learn more about what is warpstreme?) is the type of polyester this short is made of. Check out our ABC Shorts Review.
Pros: Look good, minimal branding (small tag on the back), gusset for comfort + durability, last a long time
Cons: Inconsistent sizing, an overwhelming variety of different styles to choose from.
Make sure to read more about Warpstreme and our full ABC Pants Review, too.
Myles Tour Shorts – $88
Myles Tour Shorts are made of stretch twill fabric that feels like cotton and has hidden side pockets. Best of all, they're now more comfortable than ever thanks to a stay-tucked waistband. A quick-drying material means you can wear them for your next vacation or day at the golf course with no worries about water damage and wrinkles! They are also Wrinkle & Stain Resistant.
Myles Tour Shorts are made with Breathable Toray® Stretch Woven Twill Fabric – another polyester.
Pros: One of the best-looking pairs of shorts in this group. Innovative features like the gripper waistband
Cons: A little more form-fitting and tight, compared to the other styles.
We love all things Myles Apparel! They simply make great clothes that don't look like athleisure clothes. Read our full Tour Pants Review to find out more!
Mizzen + Main Helmsman Shorts – $98
Mizzen + Main Helmsman Shorts are a performance pair of shorts that's made with lightweight, wrinkle-resistant fabric to keep you cool and comfortable. Best of all these stretchy pairs have moisture-wicking technology for ultimate comfort.
Pro: Simple design, great color choices. The cheapest on the list.
Cons: At $98, they are a little steep – but great shorts, overall!
We're huge fans of Mizzen + Main, too. Read our full Mizzen + Main Review and also about the Mizzen + Main Chinos (made from the same fabric as these shorts).
Oliver's Capital Short – $98
What would happen if your favorite pair of cotton khaki shorts combined with your favorite pair of athletic shorts (like the Olivers All Over Short)? If you combined the best of both worlds, you'd get the Olivers Capital Short. Read our honest Olivers Capital Short Review to find out if it is the best pair of khaki shorts you'll ever own.
Pro: Super comfortable, really easy to wear.
Cons: Most expensive. Are basically the same material as the Oliver All Over Shorts but cut in a different silhouette.
Olivers is another one of our favorite brands. Their colors are very earth-toned, which can be good. We like the simplicity and minimal branding.
We used to recommend their All Over Shorts, but we don't anymore. Why? Read our All Over Shorts Review.
Different lengths of these shorts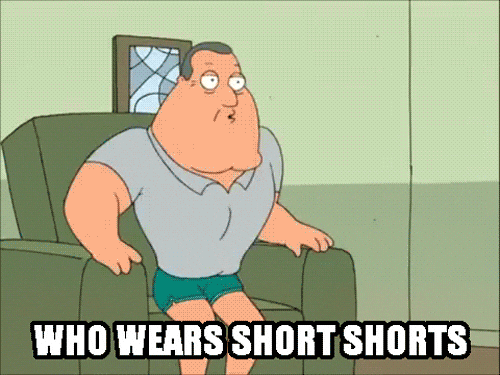 Most shorts come in two lengths: short (around a 6-7″ length) or longer (typically 9 inches). The length that you choose will depend on your personal preference. Short shorts, in the 6 or 7″ lengths, usually come down to about a few inches above the knees.
I, personally, wear a 8-9″ length in almost all of my shorts. 6″ or 7″ is just too short for me. Of course, this all depends on your personal preference.
7 Inch Shorts
9 Inch Shorts
I tend to find that shorter versions of shorts, typically start to show the thigh and I just don't think people want to see that on me! But that's just a personal thing.
I do find that 10″ shorts are too long, but once again, you're just going to have to experiment with the various lengths to see what you like best.
You may have longer or shorter legs than I do. However, I would say that I have shorter legs in general and a longer torso.
Some people like their shorts to be shorter, but for me, it's best if the length is longer. There are shorts with a 6-7 inch length that comes down to about a few inches above the knees. 8-9 inches is my preference.
6 or 7 inch shorts are not going to be "short shorts" by any definition, but they will show a little thigh.
How to style chino shorts
All the Chino Shorts for men that we described can be styled in a similar way. I typically style them with a button-up shirt, like a short sleeve one from Mizzen + Main or a polo shirt.
It's also turns out that most of these brands have polos or button-ups that pair really well with their shorts.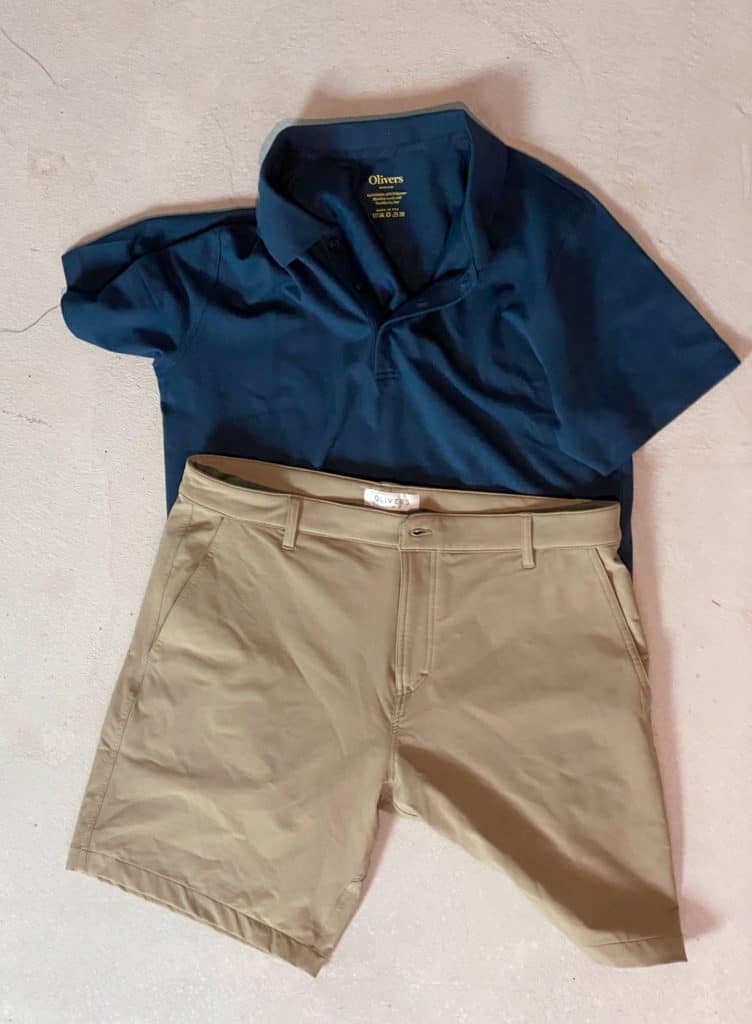 I typically don't pair them with a t-shirt because it feels like the t-shirts is more casual than the pants. But if you do pair them with a t-shirt, I'd recommend something like the Buck Mason Tees (read our Buck Mason T-Shirt Review).
For shoes, I typically wear either boat shoes, a pair of white Allbirds (or even white Suavs) or even some flip flops. Hari Mari Flip Flops are the ones that I currently am wearing all the time!
I really like to pair these shoes with white shoes – even better if they are washable. I typically wear them with my White Allbirds Tree Skippers or even my new Allbirds Tree Pipers. Read our full review here.
Best Chino Shorts for Men: The Final Verdict
Simply put: you can't go wrong with any of these pairs of Chino shorts. I actually like different things about each pair.
Our Top Pick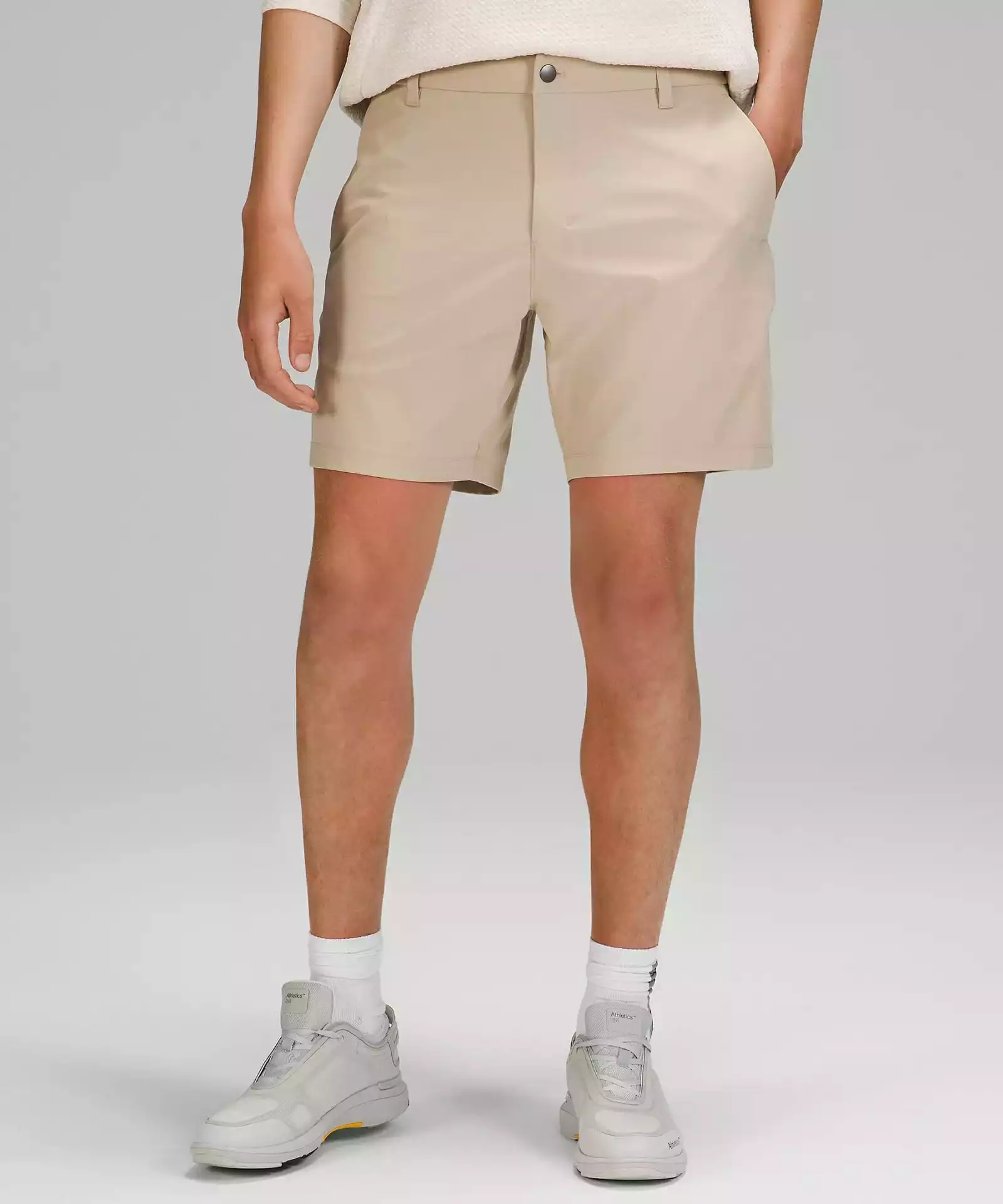 We might earn a commission if you make a purchase, at no additional cost to you.
I would say that I typically wear my Lululemon Commission Shorts most often because they are relatively loose-fitting and probably the most comfortable. These shorts hold up really well and look great even after tons of washes!
I really like my Myles Tour Shorts, too. They are a little more form-fitting but has some incredible features you won't find in the other shorts: like the gripper waist or the water + stain repellent features.
A close runner-up
Myles Tour Short
Close second place to ABC Shorts
Innovative features
Great fit
Looks more like "real" shorts
Buy Now
We might earn a commission if you make a purchase, at no additional cost to you.
The one thing I like about the Mizzen and Main Helmsman shorts is kinda odd: I love the hot pink color. If you've seen our other reviews, you know we keep things pretty simple in the color department. However, I love the hot pink Mizzen + Main Shorts.
It's difficult to find the best shorts for men, but with these options, you're bound to find something that suits your style. Whichever pair of chino shorts you choose, don't forget to experiment with different lengths and styles until you find what works best for you.
Have any questions or comments about our best summer shorts for men? Let us know in the comments below!
Also, check out some of the lululemon swim trunks, too and see our guide to the best ABC Pant Alternatives.