Have you come across Setapp? We've been using Setapp for over a year and we love it! What do we love about it? Read on to read our full Setapp Review and get our exclusive Setapp Promo Code to get a free month of Setapp!
What is Setapp?
Setapp is a monthly subscription that includes a bunch of great Apple (and iPhone) apps.
There are a lot of apps that we use on a regular basis, here some of the most-used Apps we use on Setapp:
Toothfairy: This is a great little app that sits in the menu bar on Mac that allows you quickly switch between different Bluetooth apps. I frequently switch between my AirPods Pro and my Bose 700 headphones.
Ulysses: When I write REALLY long blog posts, I use this (also works with the iPhone app, too!).
CleanMyMac X: This is another great app that helps keep your Mac nice and tidy. If you can't find large files, this is a great way to hunt down what's taking up space.
Spotless: I'm guilty of NEVER cleaning out my downloads folder. This little app helps move things over to Google Drive (where I have unlimited storage).
Downie: A great way to download videos from different websites to watch later
BetterZip: Another great utility to compress and uncompress a lot of different types of files.
Much, much more!
What we love about Setapp
We love Setapp because they really only have the best apps available on the service. You know you are getting a high quality app when you download it on Setapp.
They also just introduced the ability to add the companion app to your iPhone. For apps like Ulysses, this is AMAZING! It automatically syncs your writing across different devices. Really cool!
The actual app itself (you download Setapp on your computer and then it allows you to download any of the Setapp apps to your computer) is beautiful. They really have an eye for design!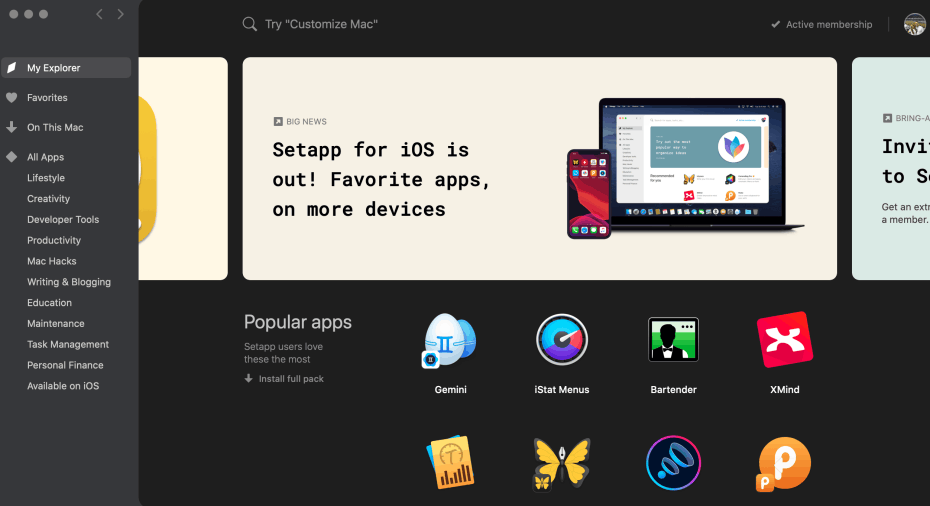 Setapp Review: What we don't love about Setapp
No one likes another subscription, but Setapp quickly pays for itself. It's only $9.99 a month. Also, they are always adding more products, too, to help justify the cost.
There also seems to be some apps with duplicate functionality (how many screenshot apps do you really need?!), but that's not a huge deal. You can get most of the apps on the Mac App store, if you want.
Setapp Promo Code: How to get a month free
If you want to get a free month of Setapp, simply use our Setapp Promo Code by clicking this link. There isn't an actual Setapp promo code, it's just a link. This will give us both a free month! What a great deal!
Have any questions or comments about Setapp or have any issues with our Setapp Promo code? Let us know in the comments below.