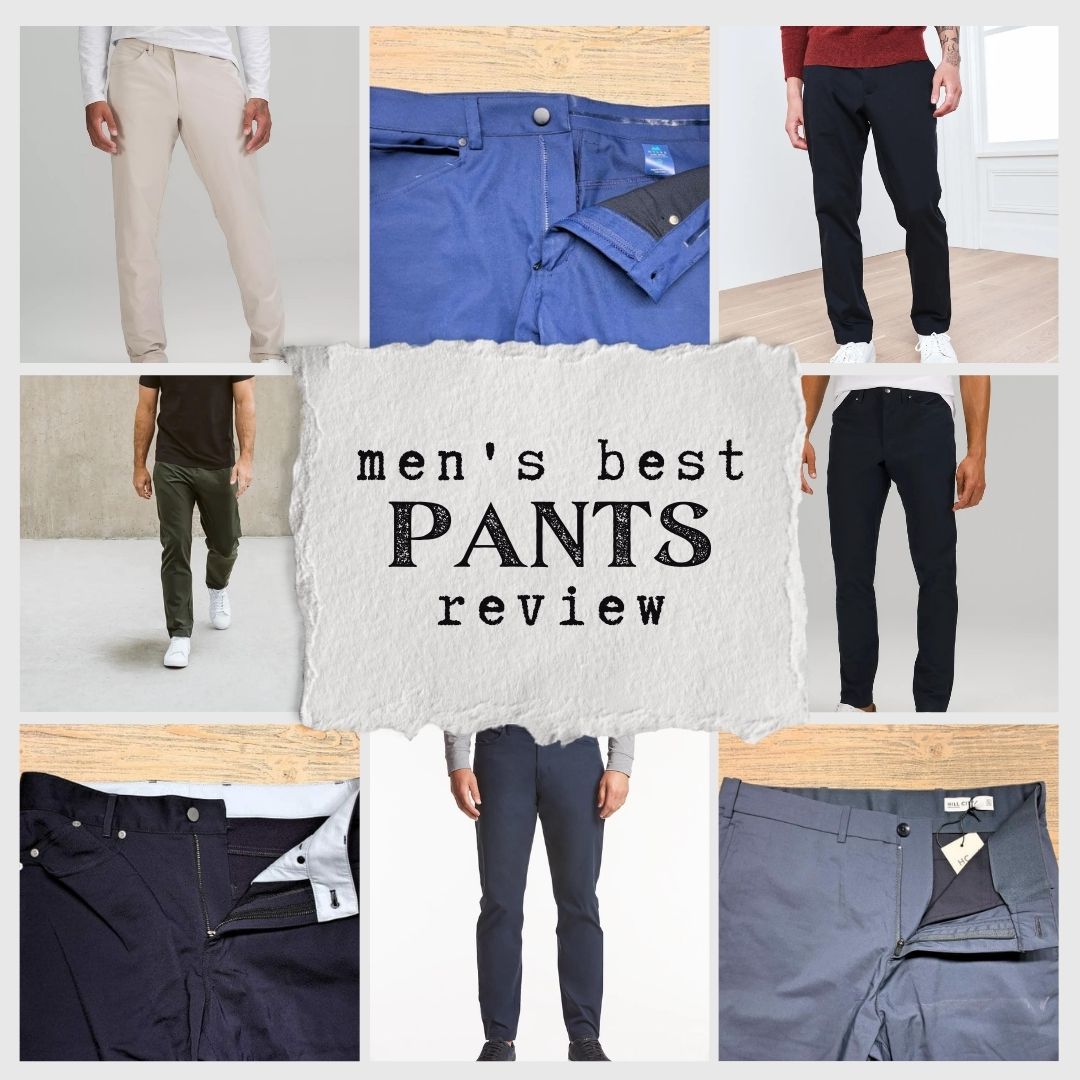 Mega Best Men's Pants Review: Pants. Pants. Everywhere. Which are the best? Keep reading our ultimate guide to the best pants for men to find out!
How this all started
A couple of years ago, came across the Lululemon ABC Pants (and read our Lululemon "jeans" review) and was immediately intrigued (I love their ABC Pants, read our ABC Pants Review) by finding a perfect alternative to jeans.
In short, I was trying to find the best men's pants – casual pants… not jeans.
That sent me down an internet rabbit hole, like most things. I came across many jean alternatives and just great pairs of pants – ranging from the $198 Outlier Pants to Myles to even a viable option that only costs $19.99 at Costco. Yes, that Costco.
Curious about what I found as the best Men's Pants (or even the perfect Jeans Alternative)? Read on!
Best Pants for Men – A Jeans Alternative – What Was I Looking For?
I was looking for four primary features when looking at the best Jean Alternative:
Needs to look good: Nothing worse than "tech pants" that look like tech pants – or even dad pants. These pants need to look good!
Breathable: Sometimes it just gets hot in the summer and I wanted to find a jeans alternative that was a little cooler.
Stretchy: I like pants that are stretchy. If they aren't too stretchy, they are still comfortable and look decent.
Easy to care for: This means wrinkle-resistant and machine wash only – you can't have a great pair of pants that are high maintenance.
A True Jean Alternative: I also wanted to find a jean alternative that could really pass as a jean alternative, meaning I could wear a button-up (something I could pair with something like a Mizzen + Main Dress Shirt (read our Mizzen + Main Review and our best performance dress shirt guide), t-shirt or polo shirt with the jean alternative.
What kind of pants are there?
In our massive search for the best pants for men, we came across several clear styles to give you the best.
Jeans
Of course, there is the classic American Denim. This pant round-up won't focus on these at all. But if you want to read more, check out our guide to the best men's jeans. Also, check out our Perfect Jean Review, too.
Tech-Alternative Jeans
Our favorite kinds of pants we've found are the tech-alternative jeans: like the Lululemon Tech Canvas Pants and the Ministry of Supply Kinetic Twill Pants (read our Kinetic Twill Pants Review).
What are Tech-Alternative pants? They are pants that kinda, sorta look like jeans. They look like jeans in a way that if you didn't look too closely. They are "jean-like," and are a pair of pants that tend to have some stretch.
Chinos
Chinos are the all-American classic – typically made from cotton, we've found some styles that are an instant upgrade to the older-style chinos most dudes wear to work for their work pants. You may call these dress pants, slacks, trousers, or something else.
While we think jeans look a little nicer, overall, these are a good middle ground between jeans and sweats. ; we've seen thousands of new chino brands come out from everyone, so it's really hard to narrow down the list, but we'll do our very best.
Wait… what about Khakis?
We tend to group chinos and Khakis together. First of all, Khaki is just a color. But there is a difference between Khakis a chinos… what is it?
Chinos are made with a lightweight cotton or cotton blend fabric, and they have visible stitching, which gives them a more finished, formal, and dressy look. Khakis are made with a heavier weight cotton fabric, and the stitching on khakis is hidden. Khakis are typically thought of as more casual because of the sturdier fabric.
Fun fact: the Khaki material was also designed to be more of a work pant or work trousers..
5-Pocket Pants
What are 5-pocket pants? 5 Pocket pants are a type of pant that has, you guessed it, 5 pockets. 3 in the front, and 2 in the back. The 5th pocket is typically a small pocket on the right side, near the waistband, and is meant for a pocket watch or other small item.
5-pocket pants have been around for a while, and they are a great alternative to jeans. They are usually made from denim, but can also be made from other materials like corduroy or chino fabric.
Is it a chino for jeans people, or a jean for chinos people? Yes.
Joggers
Joggers are a new addition to the We Tried It wardrobe. Joggers can be made from either a more casual sweat pant like fabric or something closer to a chino-type fabric. We tend to gravitate toward the slightly-more-dressy version that don't look like sweatpants
Sweats
Sweats, or Sweat Pants aren't really part of this round up – and neither are leggings or cargo pants. Sorry to burst your bubble.
Joggers could be considered sweatpants but aren't for this review.
Best Pants: Meet The Contenders
As I mentioned, I first started this epic tour of jean alternatives after seeing the Lululemon Tech Canvas pants. Since then, I've tried pants from Ministry of Supply, Western Rise, Myles, Olivers and even Perk.
I could write thousands of works about all the pants for men, I've tested, but let's dive into the very best pants for men that we've found in our research.
The Very Best Jeans: Duer Jeans
You can read our full best Men's Jean Review.
If you're in the market for a new pair of jeans, the choices can be overwhelming. You've got brands you've never heard of before like Mugsy and Revtown and jeans from the tried and true brands like Levi's. But what jeans are the best for you?
However, there are a few things you can keep in mind that will help you narrow down your choices. First, think about the type of fit you're looking for. Do you want a slim-fitting pair of jeans or something a bit more relaxed fit?
Another great Men's Jean: The Perfect Jean
The Perfect Jean is another great jean that is much cheaper, and frankly, not all that different than the Duer Jeans. We've turned a lot of friends on to this fun brand. Read our full Perfect Jean Review for more on this super-stretchy brand.
Also, consider the type of fabric you prefer. Some denim is heavier and more durable, while other fabrics are softer and more comfortable. Once you've considered these factors, you'll be able to zero in on the perfect pair of jeans for you. Check out our Best Men's Jean Review to find the perfect pair for you.
Best Jean Alternative: Ministry of Supply Kinetic Twill 5-Pocket Pants
As you'll read in our Ministry of Supply Kinetic Twill Pants Review, you'll see that Ministry of Supply (or MoS, as the cool kids say), has made our new favorite pair of jean alternative pants.
They are lightweight, resist fading, are incredibly stretchy, super comfortable and just look and feel great.
This isn't your dad's athleisure wear, this is a full, bonafide alternative to jeans that you'll ask yourself, "How come I ever owned any other pair of pants?!" Yes, they are that good.
They even have a drawstring waist so you don't have to keep pulling up your pants without a belt!
However, they do have 1 small flaw. Keep reading our MoS Kinetic Twill Review to find out what that very small flaw is.
Best Jean Alternative Runner Up: lululemon and Revtown
Both lululemon and Revtown make a great Jean Alternative.
However, both of these brands make nearly identical jean alternatives that kinda, sorta (but not really) live up to the Jean. The lululemon is a comfortable-to-wear jean alternative and is a little bit on the less stretchy side. Read our full ABC Tech Canvas Review and Revtown Tech Jean Review
The Revtown Tech Jean looks almost identical to the lululemon tech canvas jean but is much cheaper. You can't go wrong with either. We just perfer the Ministry of Supply Kinetic Twill Pants (read our full Kinetic Twill Pants Review).
Best Chinos: Where is starts to get tough
Whew, there are a ton of different Chinos on the market and we could easily break this into a separate post on the different styles.
There are hundreds, if not thousands of chino styles out on the market today, some that look better than others, some that fit better than others and some that are simply better looking than others. Chino pants, whether you're looking for a classic or something that is just comfortable, you have a ton of options!
These are considered "dress pants" by most folks and can be dressed up or down, depending upon the situation.
Best Sporty Chino pants for men: Myles Tour Pants
Myles Apparel has really outdone themselves with the Tour Pants. They look better than the ABC Pants, they're stretchier and they have a lot of features that make them superior.
Best of all: they don't have the weird seem behind the knees.
My favorite thing about them is that they don't have the weird seem behind the knees. You can wear them anywhere and you'll get compliments on them. They're available in both chino style and five pocket style, so you can choose what looks best for you. Whether you're dressing up or dressing down, these pants will definitely elevate your look.
Runner up: Lululemon ABC Pants
We've written a lot about lululemon ABC Pants. Read our full ABC Pant Review.
ABC Pants are what started us venturing out into the world of pants – beyond jeans and Chinos.
But what exactly is this " ABC" technology? ABC stands for "anti-ball crushing."
This means that the pants are designed to give your boys some extra room, while still providing a slim and flattering fit.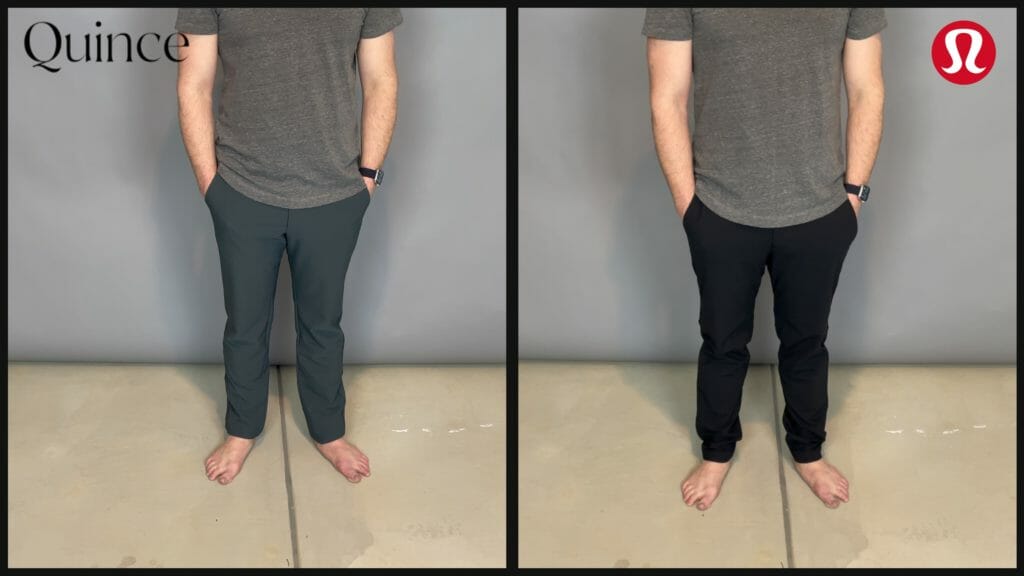 ABC pants are available in a variety of styles, colors and fabrics, so you're sure to find a pair that suits your needs. We particularly like the ABC Commission Pants, which is made from a lightweight fabric that's perfect for summer weather.
There are a couple downsides to ABC Pants:
Their sizing can be a bit inconsistent (but they are great at returns!)
They price – at about $130, they are a bit expensive
The seam behind the knees is a dead-giveaway someone is wearing ABC Pants and we don't care for it – but that's a personal issue.
Want a cheaper version of the ABC Pants? Check out Quince Cheaper ABC Pant Review and our Quince Brand Review.
Best Dressy Chino-style pants: Bluffworks or Ministry of Supply
UPDATE
These two brands have some simply great suits and dress pants to go with them. If you are looking for high-tech pants that check all the boxes, check out these two amazing brands.
Bluffworks Chinos
Bluffworks makes the best chinos I've ever owned. The Bluffworks Gramercy Pants are dress pants you'll actually want to wear. Read our full Bluffworks Suit Review for more.
These wrinkle resistant pants are soft, comfortable, and machine washable, with a touch of stretch. They come in a variety of colors and sizes, and they're perfect for travel because they hardly ever need to be ironed. I've worn them on planes, trains, and automobiles, and they always look great.
I highly recommend the Bluffworks Gramercy Pants to anyone who wants a pair of dress pants that they can actually enjoy wearing.
Even better: they don't look like athletic pants or even athleisure pants.
They have a "tailored fit" but they're also stretchy and breathable (but I would recommend getting every suit tailored by a professional to make it look even more expensive).
Some people might call these travel pants, but I wouldn't. I would much rather travel in something a little more comfortable than these. So, pack these in your carry-on because these look like high-quality wool dress pants. They don't wrinkle, either – so you don't have to worry about carefully packing them. Pair them with the Bluffworks Blazer (also machine washable and wrinkle free) and you've got the perfect fit for date night, work and a whole lot more.
No one but you will know they're secretly the most comfortable dress pants you'll ever own.
At $140, they cost way less than most other dress pants on the market. Bluffworks makes some of the absolute best dress pants out there. Read more in our Bluffworks Review
Ministry of Supply Chinos
Looking for dress pants that feel like pajamas? Then you need to check out the Velocity pants from Ministry of Supply. Velocity's pajama-soft fabric captures the crisp, classic look and feel of wool, built from the ground up for easy care and performance.
Velocity pants are: 4-way stretch woven Wrinkle resistant Natural odor control Machine washable They also look like real dress pants – not sweat pants. So if you're looking for the ultimate in comfort and style, Velocity pants are the way to go.
The only downside? The Price. At $188, they are a bit expensive.
Best Value Chino Pants: Everlane Chino
Everlane makes great clothes. The Everlane Performance Chinos are no different. They look clean and classic.
Unlike some of the other products on the list (especially the Lululemon Tech Canvas), if you look close, the pants may look really technical (ie "Not real pants").
No one will ever think that the Everlane Performance Chinos are technical, they simply look like your classic pair of slim fit chinos.
At $88, they are cheaper on this list than others, but they do have some limitations.
The only downside?
The Everlane Performance Chinos are not as stretchy as some other brands.
Even though these chinos are 94% Cotton, 6% Elastane, I would not recommend them if you are looking for a lot of stretch in your pants.
However, I do think that Everlane hit the nail on the head with their website description of these pants. T
hey are comfortable, stylish, simple and a great value at $68! If you are looking for a pair of performance chinos that aren't too crinkly, too tech-y, and too expensive, I would definitely recommend checking out Everlane's Performance Chinos – just don't expect a ton of stretch.
Best 5-Pocket Pants: Duer No Sweat Pants
There are a lot of these new styles, typically called "5 Pocket Pants" – they are a combination of the cut of jeans with more Chino-type fabrics.
We first discovered these with the Duer No Sweat Pants. They had a great, soft and stretchy feel but didn't look like sweat pants. The more relaxed fit also made them not feel like chinos and had plenty of room in the thighs.
Duer's N2X™ No Sweat fabric material in the Duer No Sweat Pants is a game-changer when it comes to comfort and function.
This unique blend of natural cotton, flexible Spandex, and moisture-wicking TENCEL™ provides the perfect combination of comfort and performance. The Duer No Sweat Pants are ideal for any activity, whether you're hitting the gym or running errands around town.
And, thanks to the anti-bacterial properties of TENCEL™, you can be sure that your Duer No Sweat Pants will stay fresher, longer. So don't sweat it – pick up a pair of Duer No Sweat Pants and enjoy the comfort of knowing you look great no matter what you're doing.
They also held their shape really well and looked like a good in-between Chinos and Jeans.
Runners Up for Best 5-Pocket Pants: Everyone else
Many of the brands we talked about above have a five-pocket version of their chinos. Myles Tour Pants come in a 5 pocket version, as do the ABC Pants.
Olivers Apperal also makes a great 5-pocket pant.
Best Joggers: Ministry of Supply Kinetic Joggers
We love Ministry of Supply for so many reasons, and love their Kinetic Joggers the most.
These have a looser fit and include a drawstring. This is perfect for a jogger.
Other great joggers: Western Rise and Rule of Threads
Both Western Rise and Rule of Threads makes some great joggers that I LOVED. Read our full Rule of Threads Review and our full Ministry of Supply Review.
What pants to stay away from
Reddit really loves Outlier clothes, for some reason. Their marketing is sexy, sure, but I hated their clothes.
Outlier Slim Dungarees
I also tried out Outlier Slim Dunagrees. I tell you what – they do a great job of selling their product. Every product description makes you belive that if you wear them, you will become 10 years younger and be able to scale skyskrapers with a single bound. I will say this: the product is amazing. However, I simply didn't like the style. I will write a longer Outlier Review in the near future, too. The short version is: Amazing fabric and craftmanship, but you have to fit their style.
The Slim Dunagrees look like work pants. Like something you could wear in the oil field (and they are strong enough that you probably could), however, that's not my style. I was trying them on for Mrs. We Tried It and she said, "What are you doing? Going to a construction site?" That's all I needed to hear.
GapFit Khakis
I hoped these would be a better, cheaper ABC Pant alternative, but instead, they just looked like terrible dad pants – minus the convertible zipper to turn them into shorts.
Other surprising pants we reviewed
We tried some other interesting pants that didn't really fit into the other categories that we really liked.
English Laundry 365 Pants
Call me super surprised here. I'm shocked that the best overall pant for the price was the English Laundry 365 Pant. When I first did my major jean alternative review, I was ready to name a winner. Then, came across these pants at Costco. Yes, THAT Costco.
These are made of 64% cotton, 34% polyester, and 2% spandex (much like the pricier Lululemon Tech Canvas!) at a fraction of the price! The English Laundry 365 Pants are full of technology and breathable, moisture-wicking Sorbtek technology keeps you cool, dry, and they look slightly more dressy than jeans.
The Lululemon Tech Canvas Pants may have been 2% more comfortable, but they did not look dressy at all!
Even better, if you don't have a Costco membership, the English 365 Pant is available for purchase on Amazon.
Myles Everyday Pants
I thought I would hate the new Myles Everyday Pants – that they would look like "dad pants." But I was totally wrong.
Made from the same materials as the Myles Everyday Shorts (read our Everyday Short Review and our Myles Brand Review), these pants are lightweight and functional. A tad in style above sweats and just as functional, these bad boys will be added to the Saturday morning rotation taking kids to the park and running errands, for sure!
With a slimmer fit than other similar pants (and also a drawstring waist), these have a roomy fit that is still a relaxed fit. But – it looks more like a slim fit, if that makes sense at all.
Ultimate Men's Pants Review: The final Verdict!
Whew! This was a long one. Thanks for hanging in there. The long and short of it is: there are a ton of options that aren't Ralph Lauren or Hugo Boss.
There also isn't a clear best pair for a simple reason: it all depends on what you are looking for.
For the best value: go with the English Laundry 365 Pants. For the most classic style, go with Everlane.
However, if I could only pick one of these styles (and it couldn't be jeans), I'd pick the Myles Tour Pant.
For the most comfortable but most casual, go with the Ministry of Supply Kinetic Twill Pants or their Kinetic Jogger.
Have any questions or comments about this pant roundup? Let us know in the comments below!