Stitch Golf's Polos won't fix your golf swing, but are they really the best clothes to wear when you're golfing? Check out our honest Stitch Golf Polo Review. We also give you our honest review of the Stitch Golf Shorts.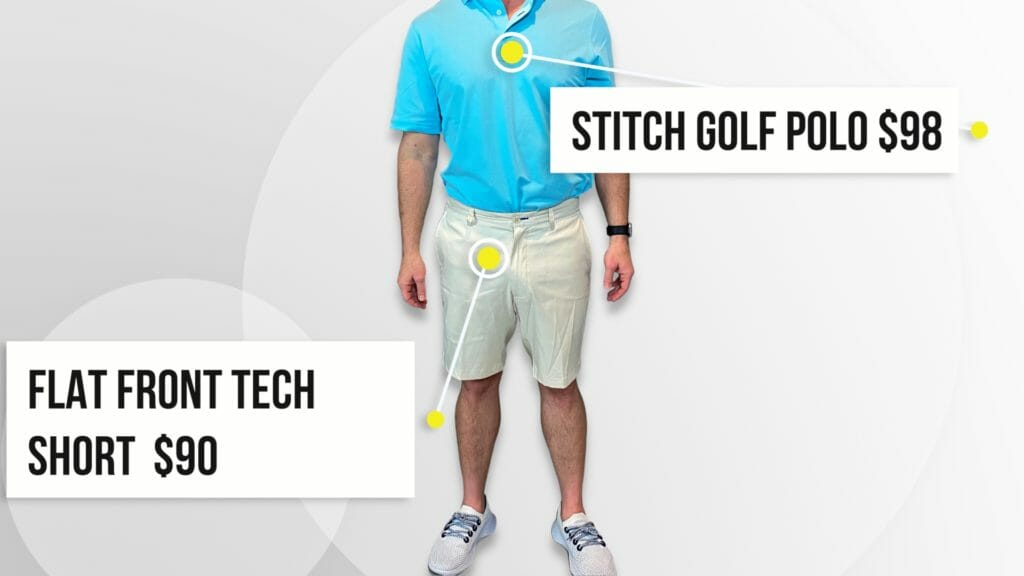 Why Golf Clothes if you don't golf?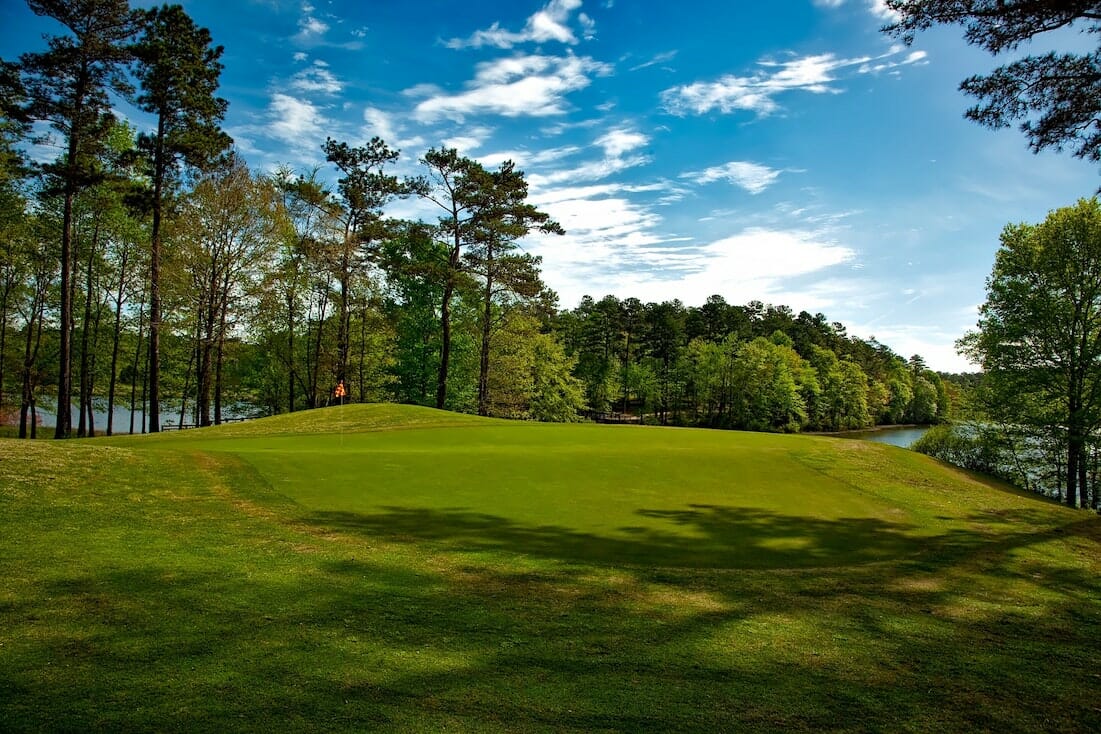 Now, let me be honest with you for just a second. I am not a great golfer. In fact, I haven't played in a while, but I love the idea of golf. I think I would actually be pretty good if I didn't have two kiddos, but I love the idea of wearing golf clothes. Why do I love golf clothes? It's because they need to be:
Comfortable
Lightweight
Still look good.
I think of Stitch Golf as kind of a combination between Mizzen + Main (be sure to read our Mizzen + Main Review) and a more traditional golf brand.
Stitch Golf has the technical capabilities of Mizzen + Main and the great, classic looks of golf clothes (with subtle touches). We tried out one of their polos (retail for $98) and the Flat Front Tech shorts (retail $90).
What Stitch Golf Says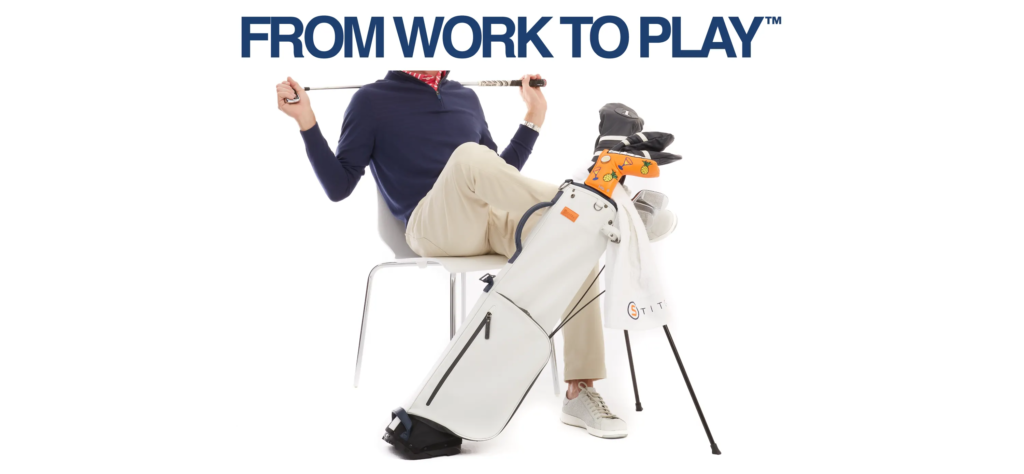 Stitch Golf was founded in 2011 as a golf head cover company (of all things) and the became known for their unique design and creating products with attention to detail – down to the last stitch: hence the name.
They like to say "From work to play," whether it be casual Friday or your typical work attire, their apparel allows you to transition from the boardroom to the fairways with ease. They say their clothes are classics with a twist. Their clothes feature details that perform.
Stitch Golf Polo Review: What do we love?
The first thing we love about Stitch Golf is they have really classic styles, but they also have some stuff that's a little bit out there.
The Stitch Golf Polo Shirt we tried is a REALLY bright blue. It doesn't look as bright blue on their website.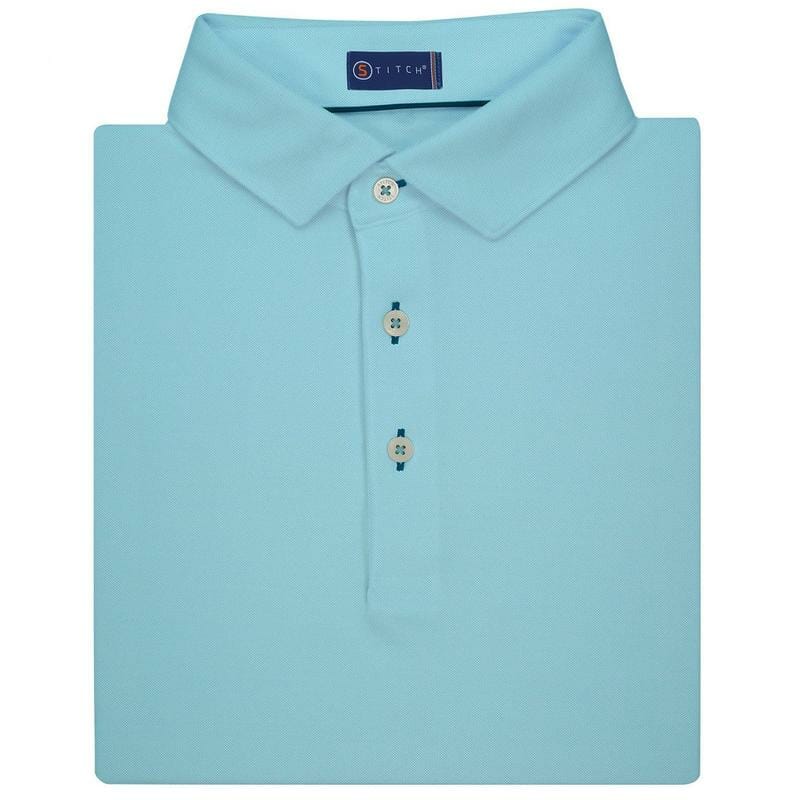 So just be warned, their clothes can be a little bit bright, but also have a really great return policy. So don't worry about it too much.
We also love how lightweight Stitch Golf Clothes are. In Colorado, it can get hot! If you're playing golf, you don't want to be hot and sweaty. Stitch Golf's clothes allows you to wear clothes that are cooler, but still look good.
Stitch Golf Polo Review: What don't we love?
The first thing to know about Stitch Golf's clothing is they are a little bit on the expensive side here. $98 for a polo shirt, that's about the same as Mizzen + Main's polos. In fact, Mizzen + Main even has a shirt, made by Phil Mickelson, which is really nice. I wear those shirts a lot too.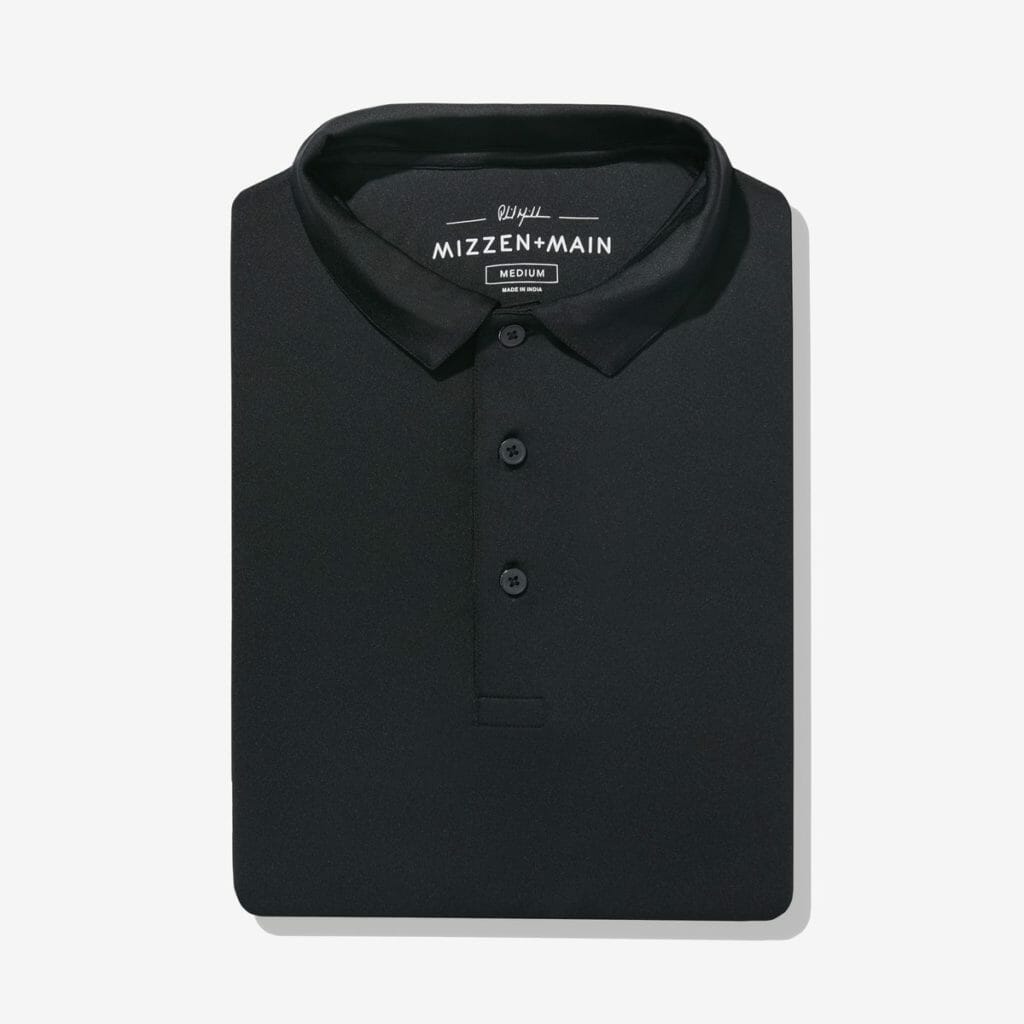 The Flat Front Short are $90.
Do Stitch Golf Clothes Wrinkle?
The polo shirt and shorts do show wrinkles a little bit when you first put them on. But don't worry: they de-wrinkle as you wear them.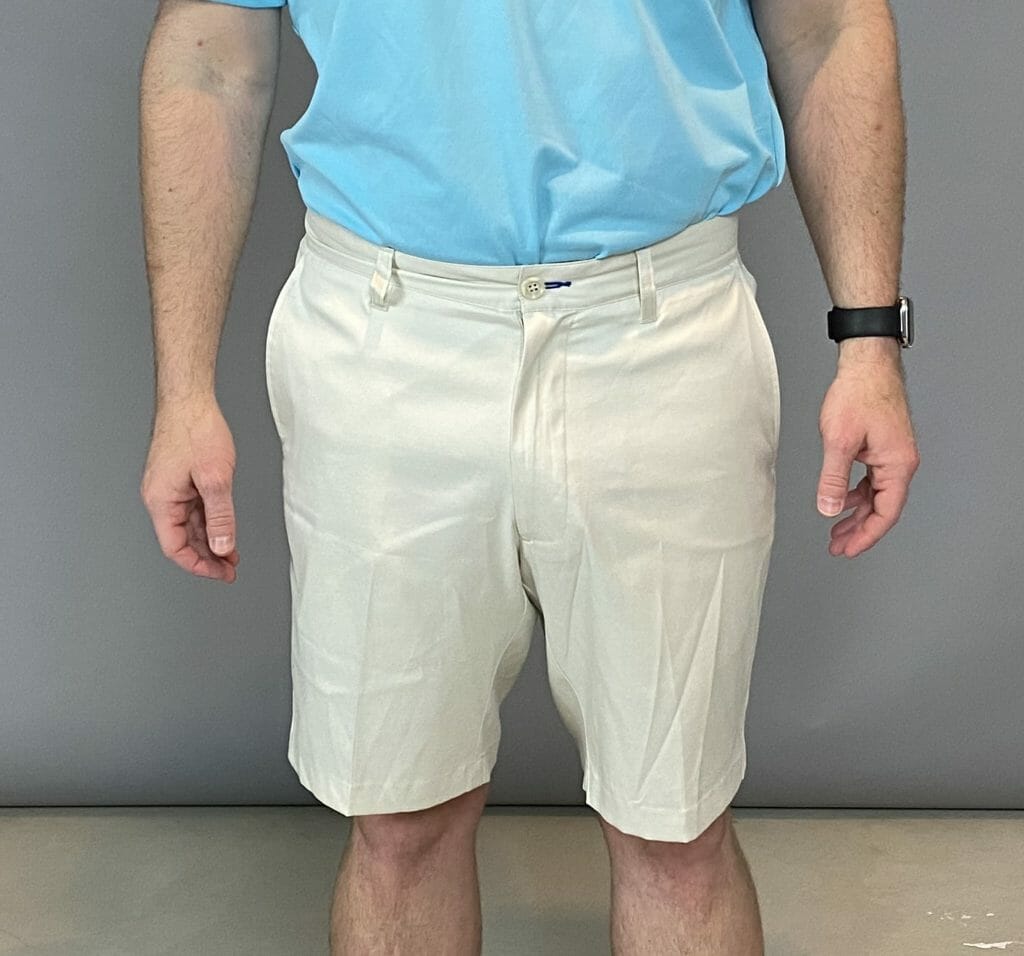 A little bit of a TMI warning here….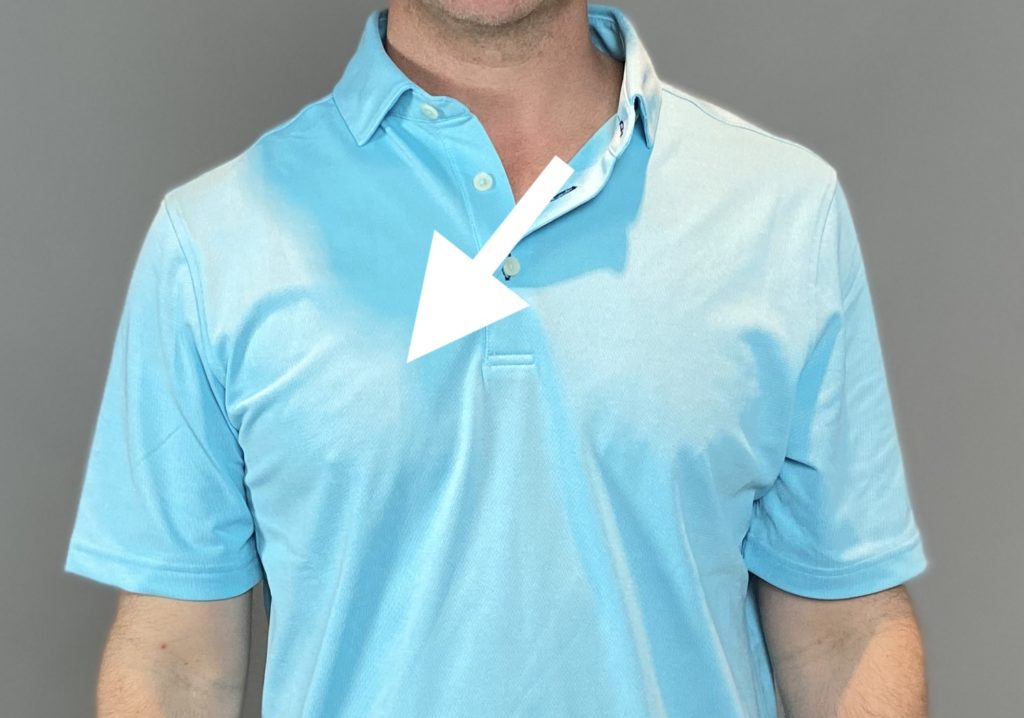 The Stitch Golf Polo Shirt: if you have a little bit of hair on your chest, it can look like it's poking through a little bit on the light colors. Just a warning, if you do have some hair on your chest, that's a little prickly, I would look at getting a darker color polo shirt or maybe wear an undershirt. I typically don't wear undershirts.
How do Stitch Golf Polos Fit?
Their shirts are a little loose, which is by design, because you want the Polo Shirt to be a little bit loose. You don't want to be constricted when you are playing golf. The Polo Shirt isn't baggy – but it isn't overly tight, either.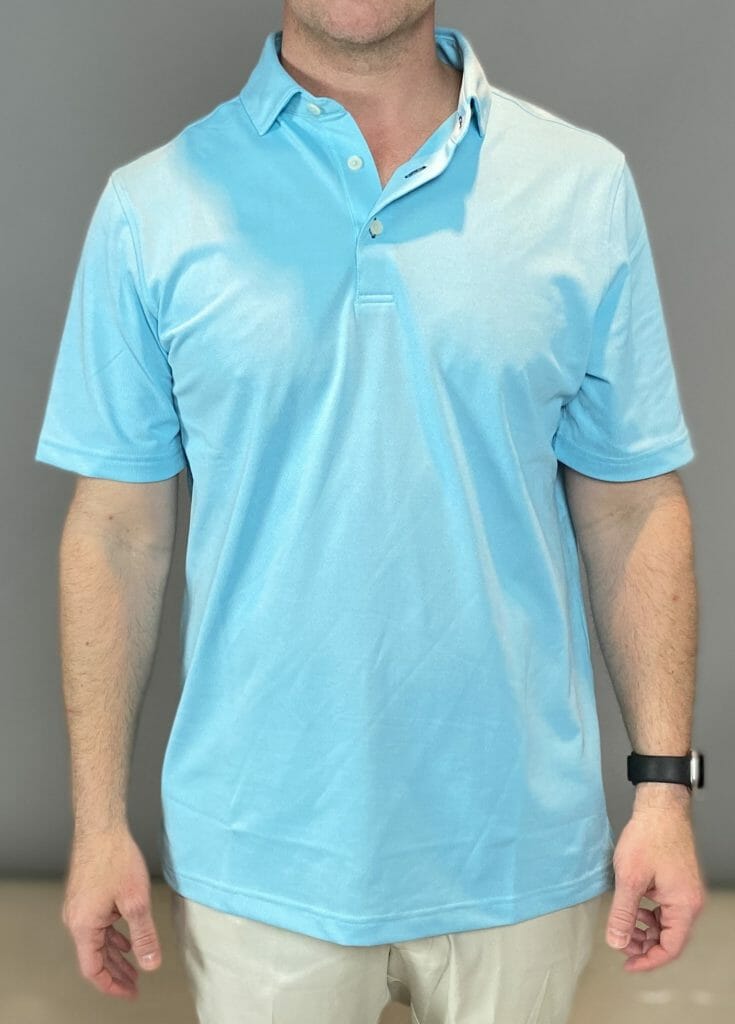 The shorts are super comfortable too. However, they're a little bit snug. They aren't super stretchy. But this is also by design – you don't want your shorts to fall down mid-swing, either.
I wear a medium in most polos and a size 32 in most shorts. Those are the sizes we tried for the Stitch Golf Polo Review and Stitch Golf Shorts Review and they fit true to size.
Stitch Golf Quality
This is where Stitch Golf really shines. Stitch Golf is extremely well-made, extremely high quality. Their clothes will last a really long time.
Stitch Golf Polo Review: Final Verdict

If you're a golfer… or just like to act like you're a golfer, Stitch Golf is a great brand that you can feel comfortable wearing out to eat, at the office or on the course.
I think if someone saw you wearing Stitch Golf clothes, they would immediately give you a compliment on the clothes. They just look "nice" with minimal branding on the back of the polo.
Sitch Golf is great for the golf course and the office (if you have a more casual environment). Stitch Golf's clothes are super high quality. Stitch Golf is a little on the expensive side, but if you want to look good on the golf course and not look like everyone else, take a look at Stitch Golf.
Want a cheaper polo shirt? Check out our Fresh Clean Tees Review.