Today we are bringing you our Fresh Clean Tees Review. If you've been on any social media site, you've probably seen a ton of t-shirt startups popping up and wondered, "Are these shirts any good?" Well, let's dive into our full Fresh Clean Tees Review to find out if there is really such a thing as an awesome t-shirt for less than $20.
Fresh Clean Tees Review: What you need to know
Super Comfortable. Super Cheap.
Inexpensive.
Comfortable.
Cut for many different body types
Easy to style and wear.
"Hey, what T-Shirt are you wearing in your videos?"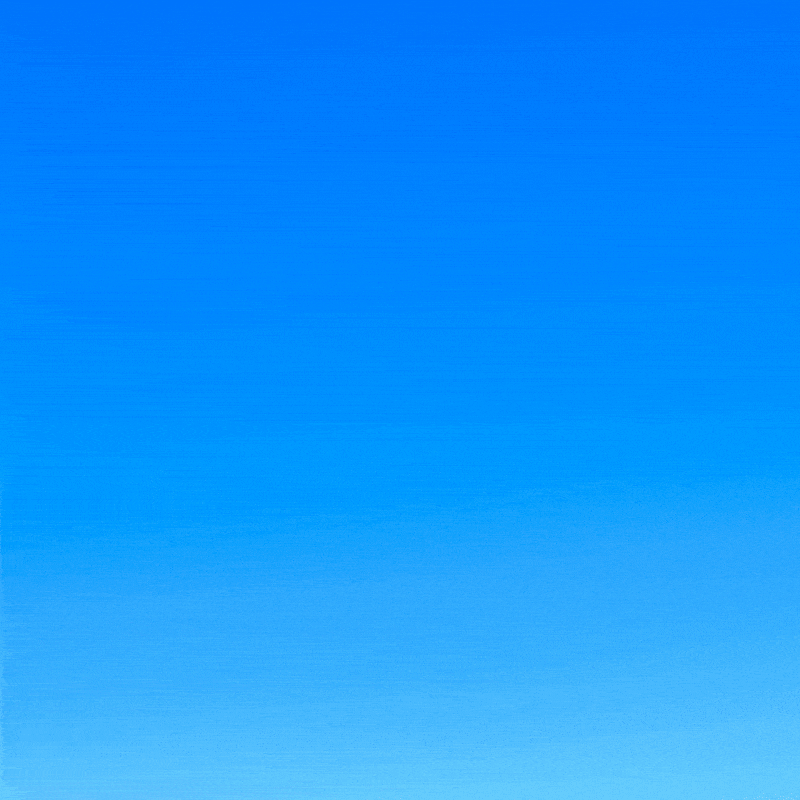 Now, we've had a couple of people comment on our videos and review before and asked, "Hey, what shirt is that you're wearing all the time?"

I'm actually wearing the Buck Mason Vintage Tri-Blend Tee (see our full Buck Mason Review and our Buck Mason T-Shirt Review). I wear it in a lot of videos because it's nice, easy, and comfortable.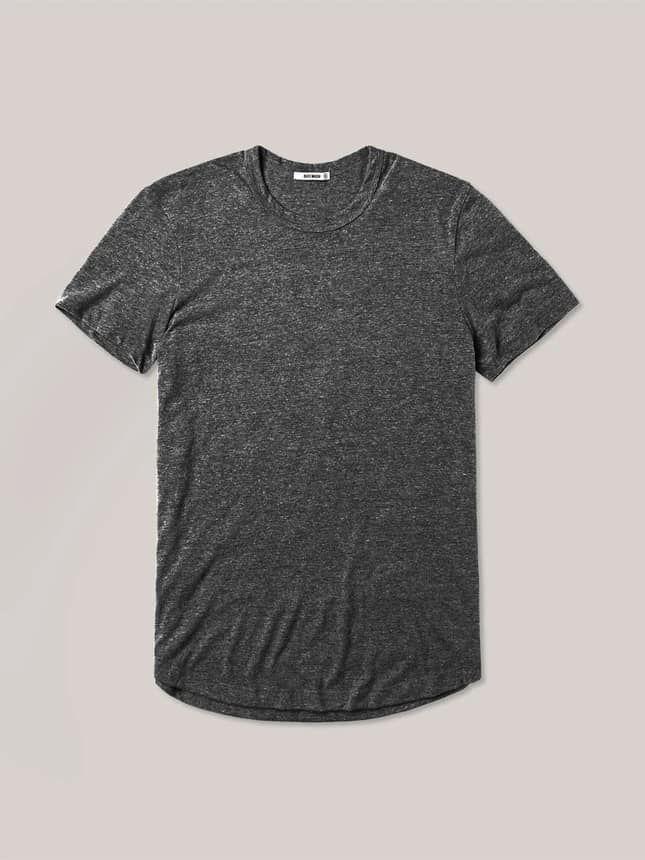 It's decent looking – but not distracting. It's also really high quality. So let's compare Fresh Clean Tees to what I consider the gold standard of t-shirts: Buck Mason. Fresh Clean Tees sent me a couple of shirts for me to review. I loved some and hates some. So, let's dive right in.
Fresh Clean Tees Review: What is it?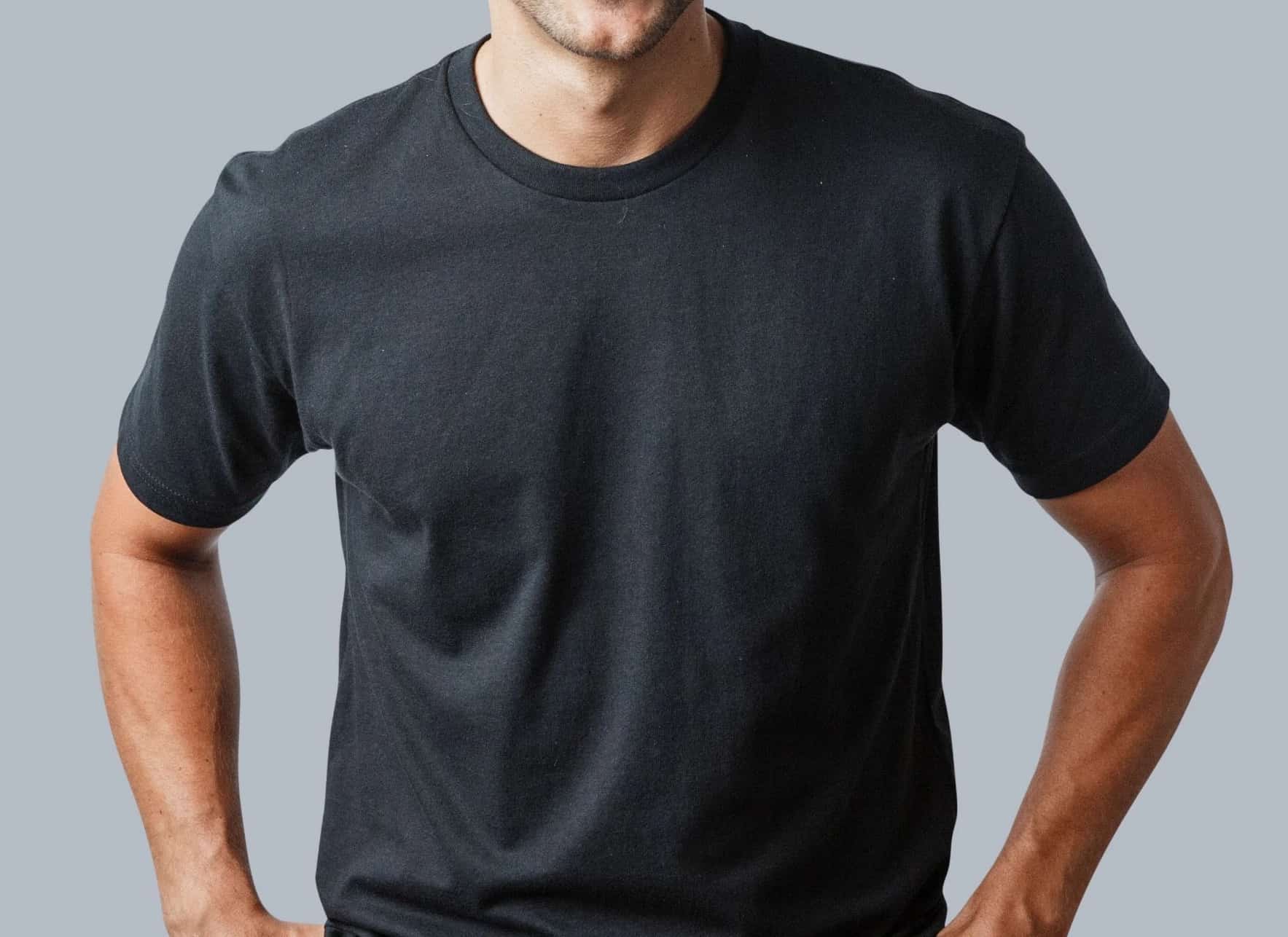 What is Fresh Clean Tees? They opened their virtual doors back in 2015 by a husband and wife team. They knew the men's basic market was flawed. They found many great shirts that fit well and looked good, but they retailed for over 30 bucks, but some t-shirts retail for over $50! That's crazy!
There are some cheaper tees out there – but they were poorly made, don't fit, and came part after a few washes. They also had no consistency. So the husband and wife duo decided to make Fresh Clean Tees. Their tees are a 60/40 cotton/poly blend. That means their shirts are 60% cotton, 40% polyester. It lets the shirts be nice and airy and comfortable and also stylish.
Fresh Clean Tees Reddit
Reddit Fresh Clean Tees and you may come across some odd results. Fresh Clean Tees Reddit is full of people, for some reason that doesn't seem to care for the brand. Can you find cheaper shirts elsewhere? Of course! But it can be a pain. Read on to see what we loved about this brand.
Fresh Clean Tees Review: What we tried – and loved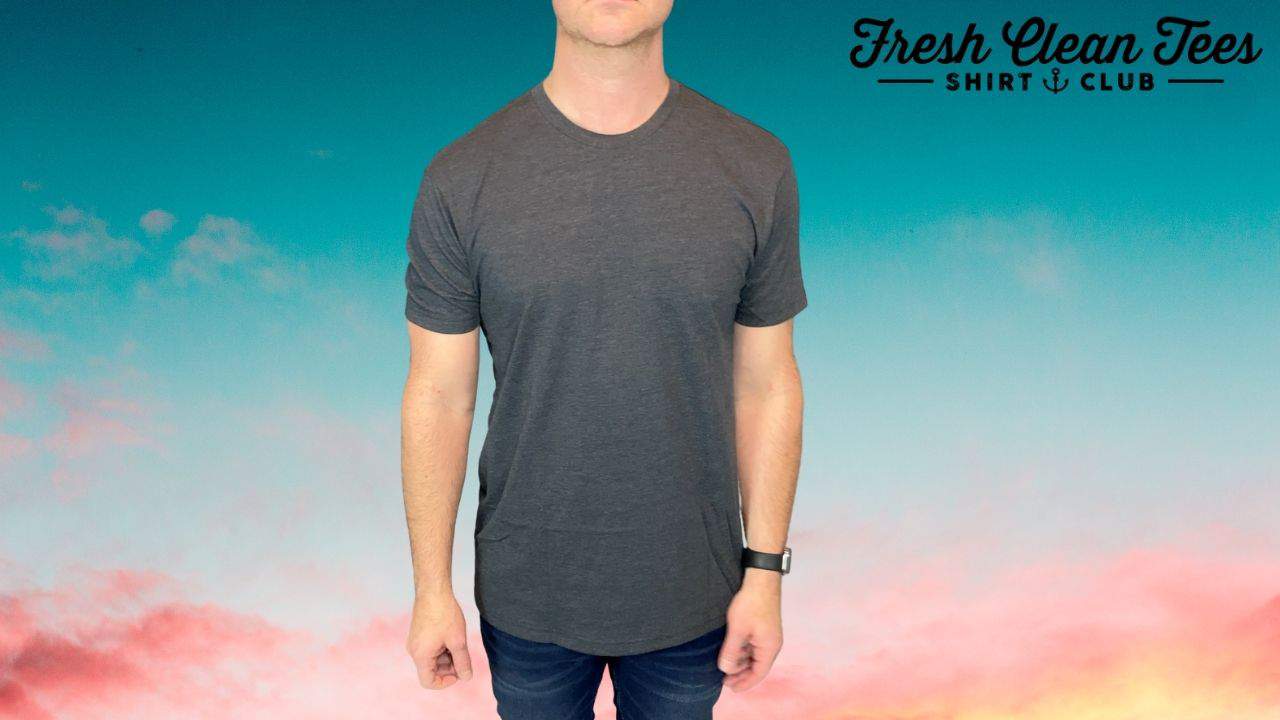 This is their classic crew neck shirt. On their website, they say they wanted to call this the "Mark Zuckerberg crew neck," but they decided not to poke the bear. This is a really nice soft t-shirt. I think it is actually slightly lighter than the Buck Mason T-shirt, which I like.
It's got a good, nice shape. You can see it's a little bit wrinkled, but this is fresh out of the box. No irony, no cleaning. It is a great, nice, soft T-shirt and I like it.
This is the same Crew Neck Fresh Clean Tee in Sand. I usually don't like light-colored t-shirts because my chest hair can poke through, and you can kind of see the chest hair (TMI, I know). But with the Fresh Clean Tees shirt, it doesn't happen, which is great.
Polos, Hoodies and Henley: Oh my!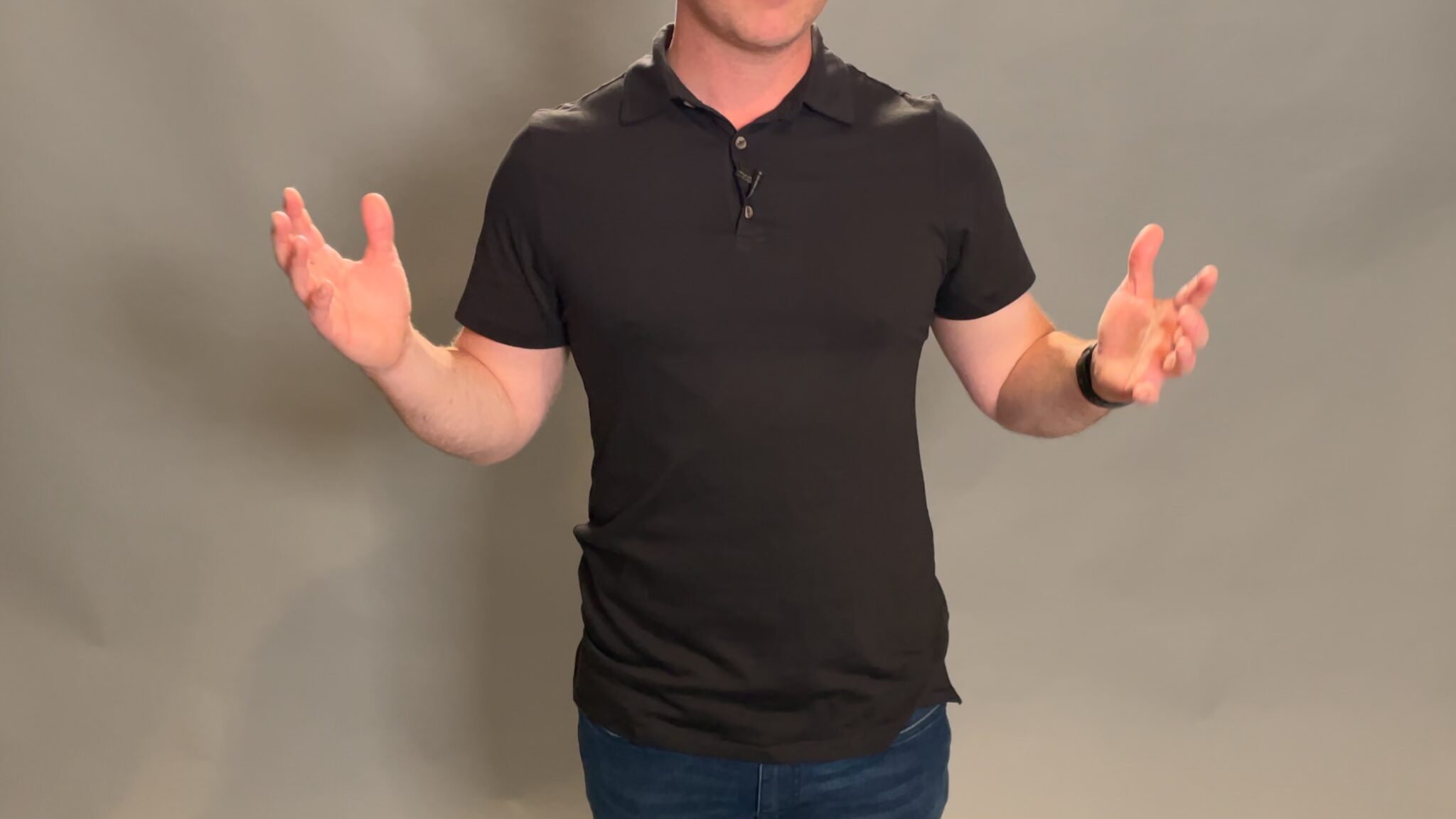 In addition to the Fresh Clean Tees, well, T-shirts, we've also tried their Fresh Clean Tee Polo (read our full Fresh Clean Tee Polo Review), the Fresh Clean Tee Henley, and some of the Fresh Clean Tee Hoodies (read everything in our Fresh Clean Hoodies Review).
One of the most amazing things: the Fresh Clean Tees Polo is only $25! That's an incredible deal. Shop the Fresh Clean Tee Polos here.
Fresh Clean Tees: What we hated
Now let's move to something that we didn't like, I don't use the word "hate" very often, but I really hated the Fresh Clean Tees Longline Shirt. Want the simple Fresh Clean Tees Longline Review? They are simply awful. They are too long. That's all I have to say about that.
I don't know if Fresh Clean Tees is trying to have more of a Curved Hem like Buck Mason, but these are too long.
The Longline Tee might be going to my wife to wear with some leggings or as a dress. The Split Hem in the t-shirt made it even worse.
Pass. Pass. Pass. Did we say we didn't like these yet?
Fresh Clean Tees Review: Sizing
I wear a size medium in just about every single t-shirt and every single polo shirt that I own. I also wear a size medium in Fresh Clean Tees. They run true to size before washing. Since they aren't 100% Cotton, I don't think they will shrink much.
Fresh Clean Tees: The Materials
As I mentioned before, the Fresh Clean Tees are made from a 60% Cotton, 40% Polyester blend. They almost apologize for it on the website, but the blend is really what makes their products great. A 100% cotton t-shirt will shrink. 100% Cotton T-Shirts can have all sorts of different issues. However, the poly blend really does add a nice touch to it.
As I mentioned earlier, I love the Buck Mason shirts. For comparison, Buck Mason Tees are 50% polyester, 38% cotton, and 12% rayon (synthetic silk). So, Fresh Clean Tees aren't the only T-Shirt Company doing a cotton/poly blend. The combination actually makes it really nice and lightweight, breathable, and I really liked how it feels. It's really soft.
When you see items with multiple fabrics, they are typically trying to get the best from all of them – the softness of Cotton, the breathability and structure of polyester, etc.
Our Favorite Part of Fresh Clean Tees: The price!
Now it is time for our favorite part of Fresh Clean Tees: the price. You can not beat the price of Fresh Clean Tees. They retail for $17. Compare that to Buck Mason, which retails for about $25+. Other clothing brands have t-shirts that are $60+ (I'm looking at your, Goodlife!), which is just crazy to me.
You can also use our exclusive, Fresh Clean Tees promo code.
Do you want to save even more? You can save even more by having your t-shirts delivered automatically. So, for example:
You can get what they call the Foundation 3-Pack pack for $44. That's just $14.66 a shirt, which is a steal!
You can use our Fresh Clean Tees Promo code and save an additional 15%: that makes it about $12.47 a shirt!
That's an incredible deal for some high-quality shirts.
If you're running a little low on the shirt department, this is a great way to keep your closet stocked with some great basics and some comfortable tees. You won't have a problem wearing these shirts out and about or around the house.
Fresh Clean Tees vs. True Classic Tees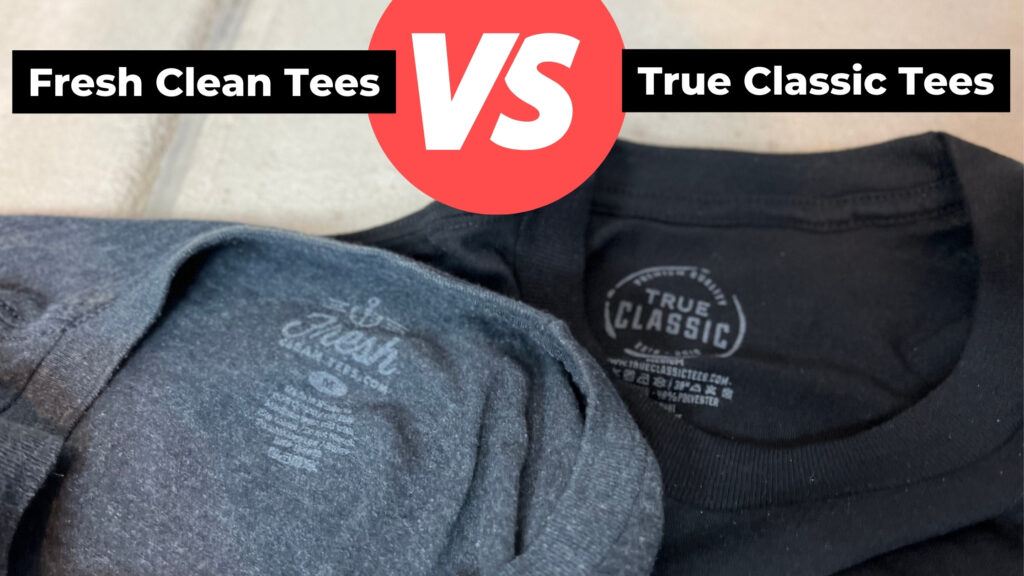 The main difference between Fresh Clean Tees and True Classic Tees is mostly the styles available. True Classic Tees Offers a ton of different colors but Fresh Clean Tees is slightly cheaper.
Both are great quality t-shirts that we really enjoy!
Read our full True Classic Tees Review and our full Fresh Clean Tees vs. True Classic Tees comparison, too.
Fresh Clean Tees Review: The Final Verdict?
Our #1 Best Value Shirt Brand
Fresh Clean Tees
A great shirt at a great price. Super comfortable and fits incredibly well.
Buy Now
Promo Code
We might earn a commission if you make a purchase, at no additional cost to you.
If you are looking for a great t-shirt, check out Fresh Clean Tees. Their tees aren't flashy or crazy. They don't have a "killer feature" (except the price!).
But you will find a super comfortable shirt you can wear out and about but also wear at home and not feel like you're wearing an expensive t-shirt you can't get dirty.
Oh, we almost forgot; how do they hold up to Buck Mason? We think they are pretty comparable! You can't beat the price of Fresh Clean Tees, especially in a three-pack with our Fresh Clean Tees Promo Code. If Buck Mason is a 9.5/10 – we give Fresh Clean Tees a solid 9! Pretty close!
Be sure to check out Fresh Clean Tees and be sure to use our promo code.
Do you have any questions about Fresh Clean Tees? Let us know! You might also be interested in checking out our Perk T-Shirt Review. The Perk Tee is more expensive (at $35 – but we've got a Perk Clothing Promo Code, too) – find out if it's worth the extra price in our honest Perk Shirt Review.