If you're like most guys, you don't have a suitcase or laptop bag. When you're taking your laptop somewhere, you probably have your stuff in a backpack. If you workout, you probably need a backpack that can hold your shoes, a change of clothes AND your work gear. So, did Stitch Golf make the best workout backpack? Read our honest review of the Stitch Traveler Backpack.
Best Workout Backpack: what you need
If you're traveling or going to the gym, you probably have no problems with your pants, shirt, socks, laptop, toiletries. But when it comes to shoes, what do you do with them? I've been looking for the perfect backpack that could have all these things in it and have a space for my shoes and not be humongous.
Stitch Traveler Backpack Review
Meet the Stitch Traveler backpack.
Features:
It has really high-quality straps on the shoulders, with a snap in the middle of the straps.
Tons of internal compartments.
Hold a laptop and iPad and necessary accessories
Adjustable Water Bottle pocket
Can carry it on your back or with the side handle.
The "Drop The Top" Front Pocket
Drop the Top: The killer feature?
Here's what Stitch Golf says about the "Drop The Top" front pocket: Pack your traveler full of your work essentials, but use the Drop The Top feature to pack your after-work golf outfit; Cut down on having to go home to change clothes after work and head straight to the course for a quick round or practice session.
Let's go ahead and open up the Drop The Top Front Pocket. The front pocket is designed to simply open up and have things like your shoes, pants, sweater, etc. in the front pocket. This completely seperates the clothes from where you put your computer/iPad/etc.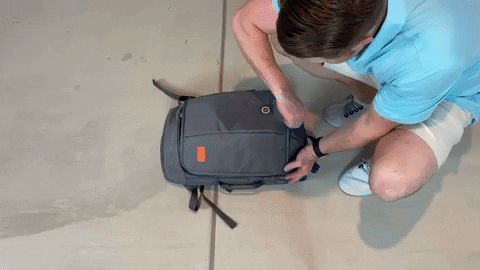 The front pocket also has vents. This allows any "stink" to breathe through. Check out the vents: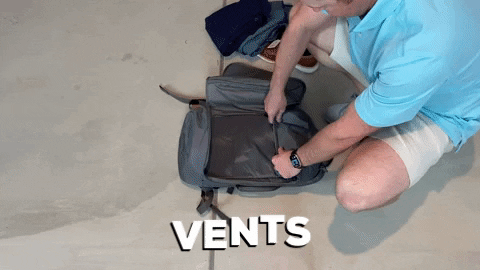 The back part of the backpack also has a lot of great pockets to hold different things.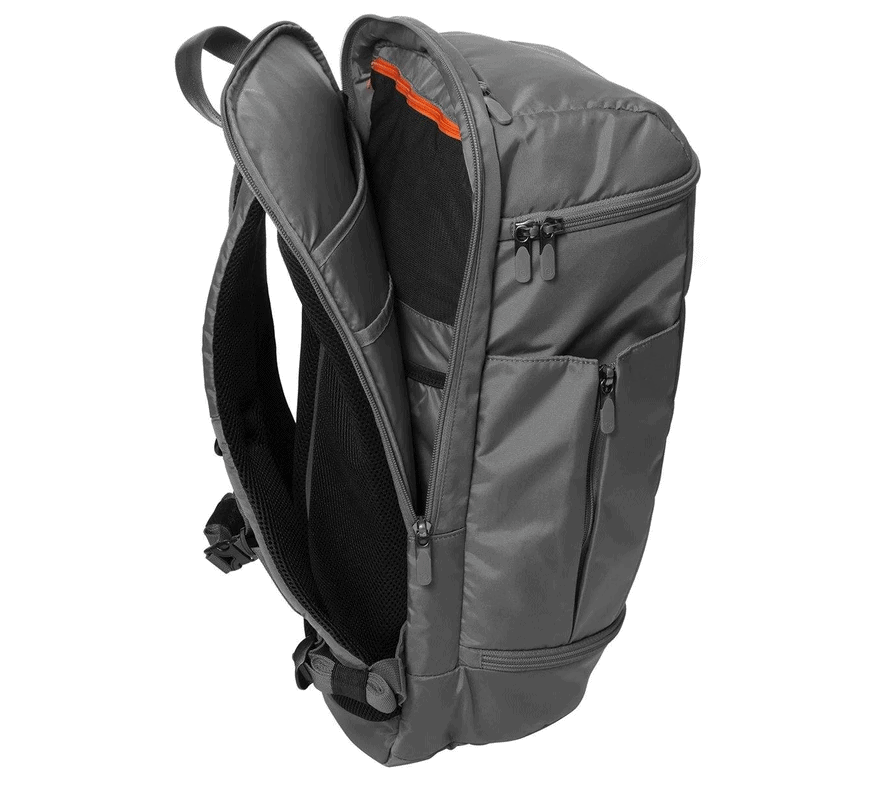 The pocket on the top (in the back) is the perfect size for a 15 inch computer. The second pocket fits an iPad or iPad mini very easily. There are also a lot of different pockets (some are mesh – see the orange zipper lining) that can be used for toiletries, chargers and other cords.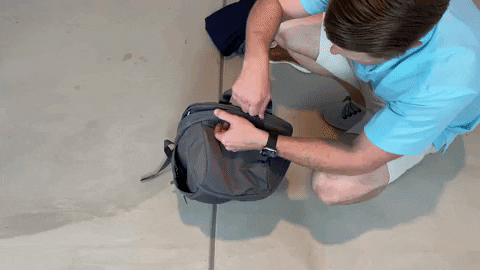 The back of the backpack also has really nice padded back (just be careful about putting too much weight in your backpack). This workout backpack even has a YKK Tough Zipper that is really durable.
The best workout backpack: a quick warning
Here's the deal: not any one backpack (especially a workout backpack) will be the best for every single person. The good news is that Stitch Golf has an incredible return policy. If you don't like it, you can return it easily.
Stitch Traveler: The Final Verdict
Overall, this is a great backpack. It's got a ton of great features – but the killer feature is the drop the top front. I feel like it's missing just another couple of pockets to be the 100% perfect backpack. But this is a solid, really good backpack.
If you're looking for a backpack to bring a change of clothes AND your work gear – either to work out or for a 1-2 day trip, the Stitch Traveler is a GREAT backpack. You probably can't fit more than 1-2 changes of clothes in the backpack, so it's probably better suited for a workout to work than overnight, but it could work for a quick trip.
The only other downside is that it is a bit expensive – it retails for $249. You can find the best price for the Stitch Traveler Backpack here. If they have another sale, we'll make sure to update this link.
Also, don't miss our review of Stitch Golf Clothes, including our Stitch Golf Polo Review.