Has Oliver Cabell made the perfect white leather shoe? Read on for our full Oliver Cabell Low 1 Review.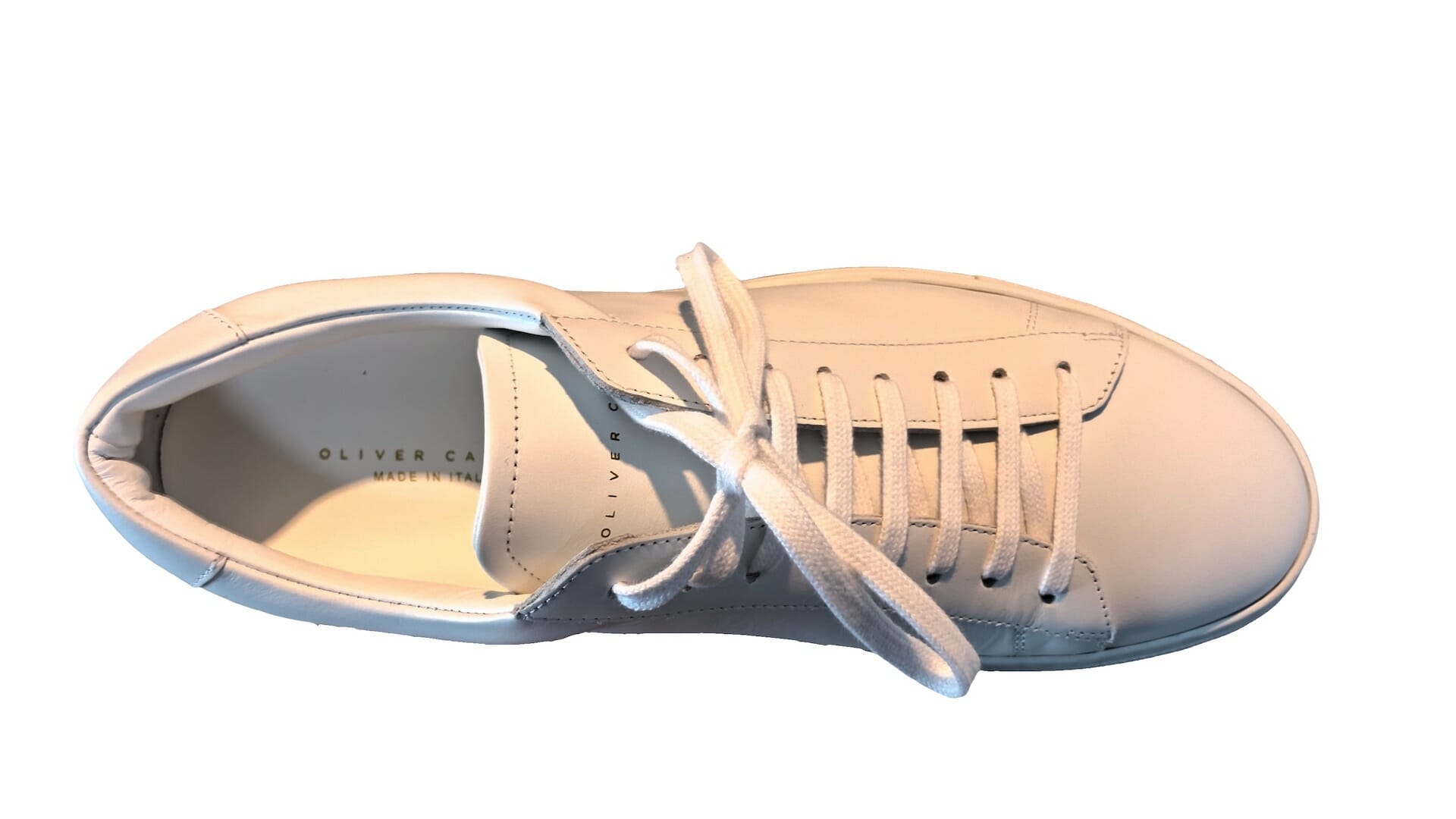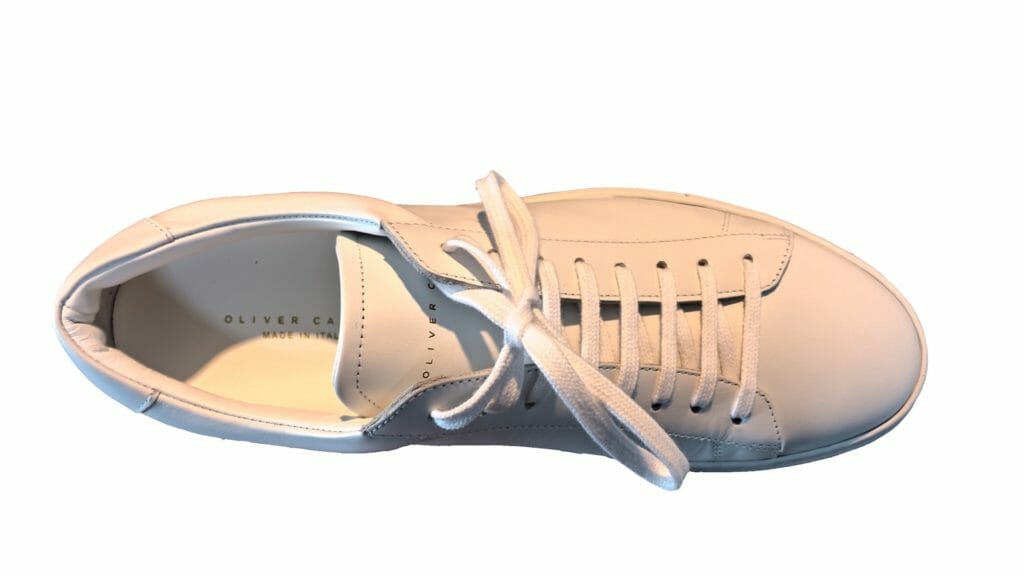 Oliver Cabell Low 1 Review: A quick forward
First things first, before I dive into the full Low 1 Review, let me tell you this: I am, by no means, a shoe aficionado. I like comfortable, low-maintenance shoes like Allbirds (read our Allbirds Review) and Cole Haan Zerogrand (read our Cole Haan Zerogrand Review).
To be honest, I didn't know what I was getting into when I decided to do the Oliver Cabell Low 1 review, but people on YouTube are big fans of Oliver Cabell. I've never heard of Oliver Cabell before I reviewed them, but had seen some of the brands that other people compared them to (like Common Projects).
Let me tell you a quick secret. All guys have these favorite pair of shoes, just like girls have their favorite pair of heels. And for me, that's this brand. You may not recognize the logo. It's not the Nike swish or Louis Vuitton. It's a brand called Oliver Cabell and they simply have some of the most beautiful shoes you've ever seen, especially for dudes.
Check out this beauty.
This is just an awesome looking shoe. It's super clean and it makes me feel a little fancy. So did Oliver Cabell make the best white shoe out there for guys? Let's dive into our full Low 1 review.
Read more about how Oliver Cabell compares to other shoes in our Summer Shoes Guide.
Oliver Cabell Low 1 Review
So when I got the chance to try out Oliver Cabell, I was super excited. However, being spoiled with the washable Allbirds, I was a little worried about how white these were, especially with two kids in the home.
But here's some really good news: Oliver Cabell also sells a great Refresh Kit ($42) that helps you keep your white shoes white for the long haul.
Obviously, you can't obviously machine wash the Oliver Cabell Low 1's like you can Allbirds or some of the other shoes that we've tried here (also see Rothy's for women), but they are simply beautiful shoes. When you put these shoes on, they give you some instant swagger. It's tough not to have that instant Swagger when you wear some really bright white shoes into a situation.
An aside: these shoes were so fancy, I couldn't figure out how to tie them correctly!

Want a classy white shoe that can be washed? Check out our Men's Rothy's Review for more!
Oliver Cabell Low 1 Review: The Fit
I typically wear a Men's Size 9.5 or 10. I also like to wear my shoes a little loose. The Oliver Cabell Low 1's I have are size 43 – if you ordered on the website they would be a Size 10. The website shoes American sizes (at least to me, I'm in the US).
They fit perfectly. I'd recommend sizing up half a size if you like your shoes a little looser, just because the Low 1's are fairly stiff – that's why they look so crisp and clean.
Low 1 Review: The Comfort
I'm not going to lie to you – these are not the most comfortable shoes that I own. But, I own some of the world's most comfortable shoes – like Allbirds. However, the Low 1's, are not uncomfortable, they are just aren't as comfortable as some other tennis shoes you may own.
As mentioned in the sizing, they are also just a little on the stiff side – part of that is because they are brand new and the other part is because they are made from high-quality leather. This is what helps them look so crisp and clean.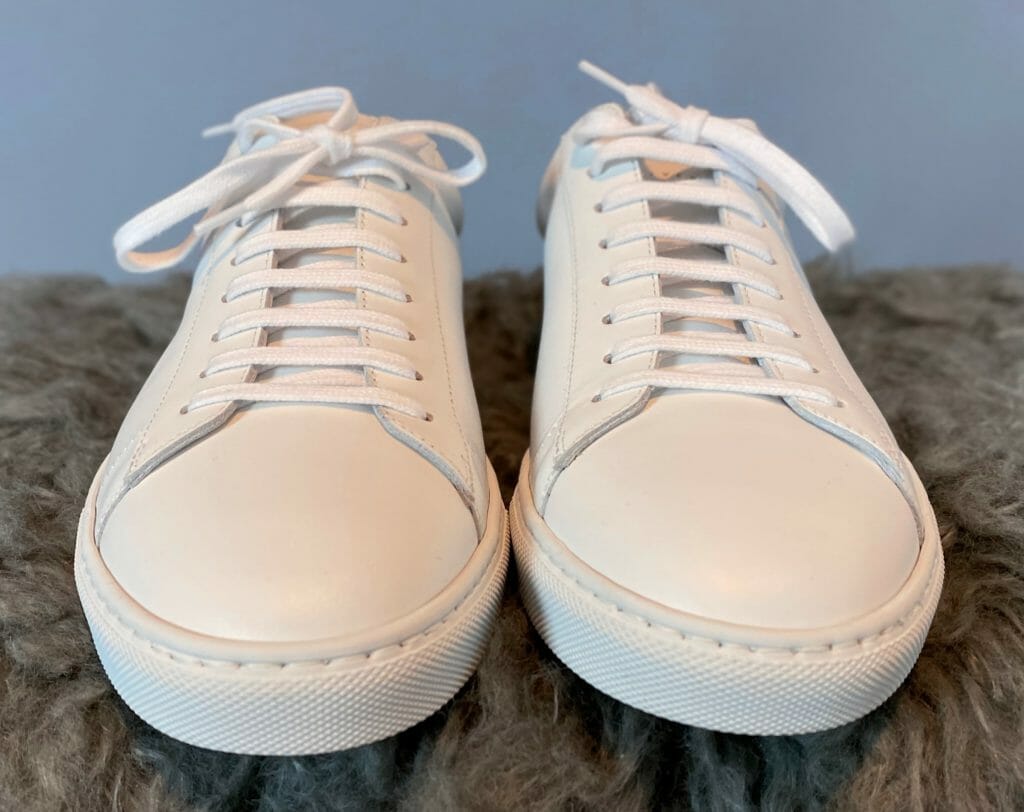 If Allbirds are a 10 on the comfort scale, most Nike's are a 9, I'd give the Oliver Cabell Low 1's a solid 8 in comfort. However, what the Low 1's lack in comfort, they sure make up for in style! They look MUCH better than Allbirds or Nike's, especially in person.
Oliver Cabell Low 1 Review: Socks or No Socks
And then of course you have the age old question, especially if you're wearing these white shoes with shorts, do you wear no show socks? The socks I tried were the Bombas No Show Socks (read our full Bombas Review and check out our Bombas Promo Code).
The verdict? Most No-show socks are hard to get to look just right, however, with a little testing, you can get no-show socks to work well with Oliver Cabell Low 1s. I'd recommend white socks to go with the white shoes.
Low 1's: The Real Question and Final Verdict
I'd love to see how these shoes hold up over time, but they are simply beautiful. Now I'm not going to be wearing these shoes every day. There's this whole trend right now of letting your white shoes become dirty and I'm not going to do that.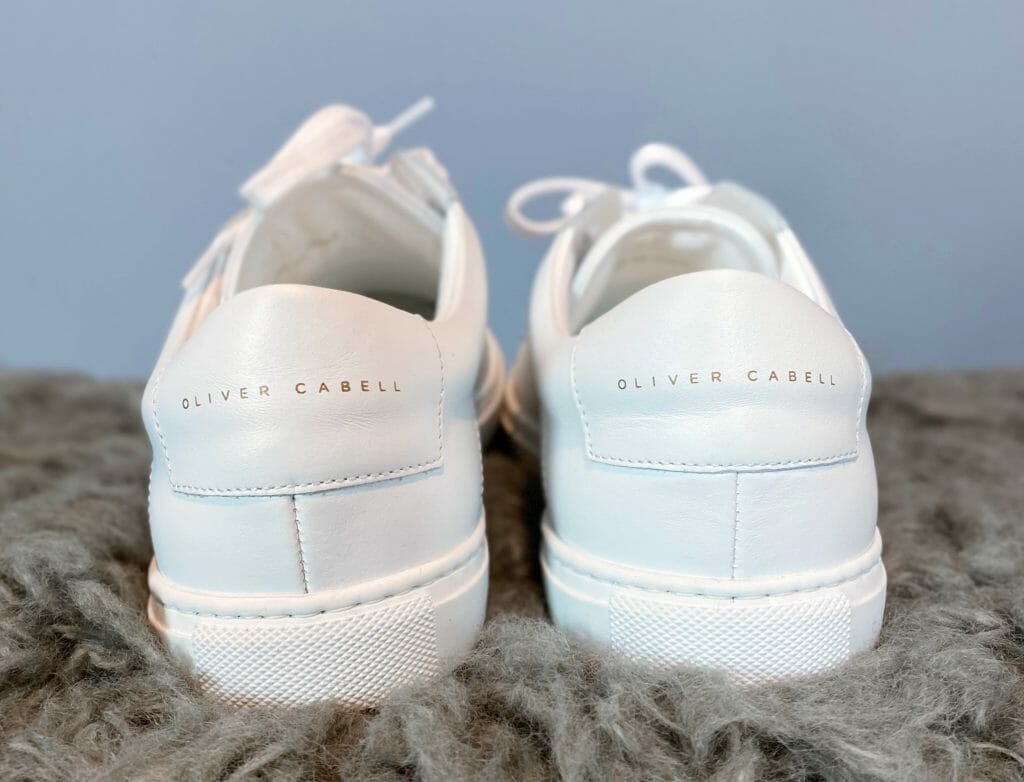 I just can't. They're too beautiful to wear them out NOT looking fresh and clean. So you know what? These probably are going to go in this special spot in my closet next to the other shoes, but probably still in the box. I'm not going to wear these around the kids. I've got plenty of other shoes they can destroy. But not my Oliver Cabell Low 1's.
If you want a great pair of high quality leather white shoes don't look any further than Oliver Cabell. They're great shoes. They're beautiful. You're going to get lots of compliments on them. Keep them clean. They're a little on the expensive side (at just over $200 retail), but you know what? You get what you pay for.
Oliver Cabell's website is the best place to buy Oliver Cabell shoes. They rarely have sales, but see what they are offering right now.
If you think that Oliver Cabell is expensive, then read on…
Oliver Cabell: Expensive is relative
I usually don't spent over $100 for shoes, I'll be honest. So $200 is on the high end for me. But after doing some more research on Oliver Cabell, I feel much better on spending my hard-earned dollar on a responsible brand. Here's a graph directly from their website:
Sure $200 sounds a lot, but you're getting a shoe worth well more than that. How do they do it? Here's what Oliver Cabell says on their website:
"To make luxury accessible, we've built relationships with the best manufacturers and sell directly to you. Basically, our shoes are handcrafted with the same top materials and quality craftsmanship as other luxury footwear brands but without the traditional markups."
That's pretty cool. It's also why we are proud to give Oliver Cabell our coveted We Tried It Seal of Approval.
Buy Oliver Cabell Low 1's Right Now
Have any questions or comments about Oliver Cabell? Leave them below!