Looking for the best hybrid shorts EVER? Check out our honest Faherty All Day Shorts Review and see if they are the best Hybrid Swim/Chino Shorts on the market.
Meet the Faherty All Day Shorts
The best hybrid shorts… or the best shorts… ever?!
Comfortable
Water repellent
Water-resistant
Look like actual chino shorts
Quick-drying
Expensive, but worth it!
What are hybrid shorts?
This might not be what you are thinking. These shorts have all the best qualities of boardshorts, swim trunks, and just regular chino shorts. Another great option at the lululemon swim shorts.
That's means they look and feel like regular shorts but are made out of quick-drying fabric (not just cotton).
That means you can wear hybrid shorts to a pool party where everyone is wearing chino shorts. But when you get there, there's no need to change into a pair of boardshorts or swim suit – you've already got your swimming trunks on!
In short (pun intended) you can wear these swimming and these are shorts you can wear out and about – and no one will know the difference.
Faherty All Day Shorts – What are they?
The Faherty All Day Shorts are a hybrid that looks like a regular pair. But the best news is that you can wear them like regular chino-style shorts AND you can wear them swimming.
They are incredibly quick-drying, but look just like normal shorts – oh, and they are super comfortable too. If you're looking for a pair of shorts you can literally wear All Day – including to the pool and out, check out our Faherty All Days Short Review.
Don't confuse these with the Myles Everyday Short (but do read our Myles Everyday Short Review) or the Olivers All Over Short (here's our Olivers All Over Short Review). There are different.
These were designed to look like chino shorts – down to the pockets and even the ability to get them with or without belt loops.
How we put these hybrid shorts to the test
We put these to the toughest test possible: surviving a day at a theme park and water park.
My son and I took these shorts down to Elitch Gardens in Denver, Colorado. It was a hot day – over 100 and even hotter in the asphalt jungle of a water park. We spent the first part of the day riding rides (dry) and then ventured into the water park.
I purposely wore these All Day Shorts because I wanted to see if they were comfortable enough to wear in the theme park for several hours, but versatile enough to also wear swimming.
I also didn't want to use the gross water park locker room. Do you blame me? EW!
So, when it was time to change, I took off my shirt and changed my kid's under a towel.
Did they stand up to the test? Watch our honest review to find out!
What is Faherty?
Before I get ahead of myself, let's first talk about the brand, Faherty. It's a funny name.
You probably noticed I didn't even attempt to pronounce the name in our video review, but Faherty is a family-run business fueled by purpose and optimism. Their goal: to build a new American legacy by creating high-quality, sustainably-minded, feel-good favorites that will bring you joy to wear.
They have a ton of great styles and we will be trying more of their great products soon.
Faherty All Day Short Review: The Features
The Faherty All Day Shorts are available in a ton of sizes, colors and features. I'll dive deep into them!
Faherty All Day Short Review: The Style
Obviously, you can't have a Faherty All Day Short Review without talking about the overall style.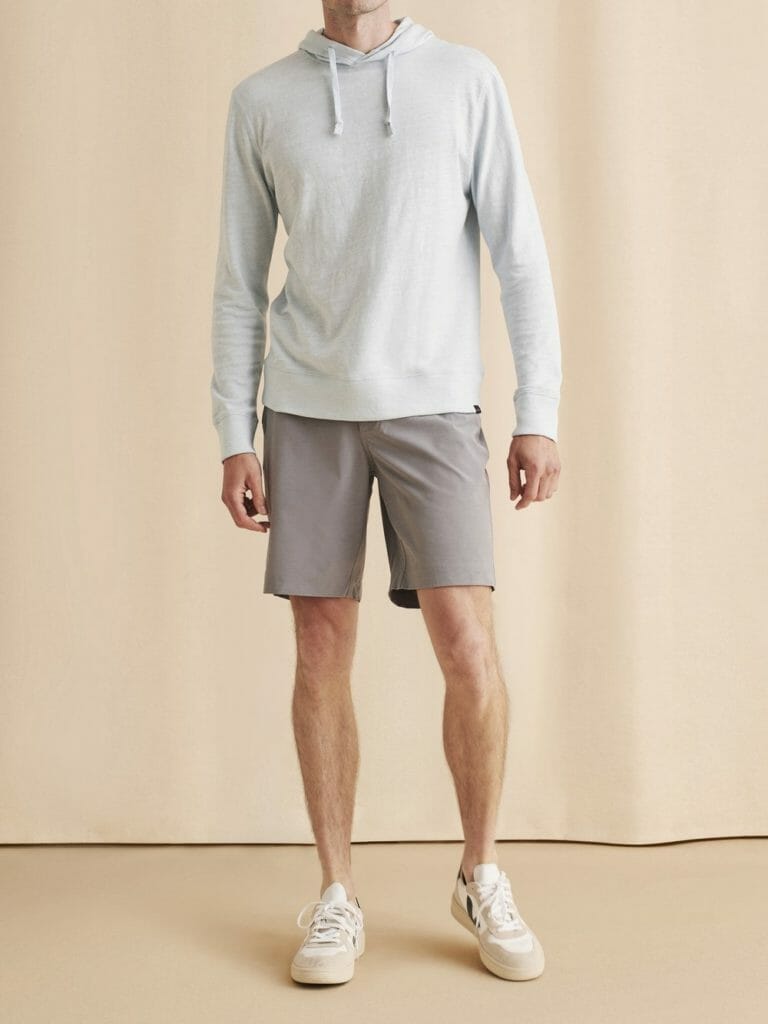 The first thing to know about these shorts is that they don't look like swim trunks at all. In fact, most folks won't even know they could double as swim trunks. That's because they have all the same looks – and features as chino shorts – a flat front, natural looking fabric, "real" pockets (you will know they are mesh-lined but no one else will) and is even available with belt loops.
The All Day Hybrid Shorts are available in 7″, 9″ and 11″ inseam lengths (I prefer the 9″ inseam on all shorts – see our summer short roundup) and available with or without a belt loop.
They even offer free tailoring for your pair of shorts with Hemster, which is pretty cool!
The overall fit is relaxed and features a straight leg.
The shorts also come in a variety of colors, from classic khaki, to navy to black and even a couple of patterns.
However, if you want them to NOT look like swim shorts for men and more like chino shorts for men – get them in Ice Grey, Coastal Blue or Khaki. Those are the colors that make this an awesome hybrid short.
The other colors, especially the patterns, look a lot like swim trunks.
How do they fit?
Overall, the fit is true to size. I wear a size 32 waist in almost everything (except the Perfect Jean – read our full Perfect Jean Review and Perfect Jean Promo Code for more information). I would say that the waist was about .25 inches off from other clothes that I've worn. However, the stretch fabric really helps.
I'd style this as true to your men's size and get the typical size for waist and inseam.
The Features of Faherty All Day Shorts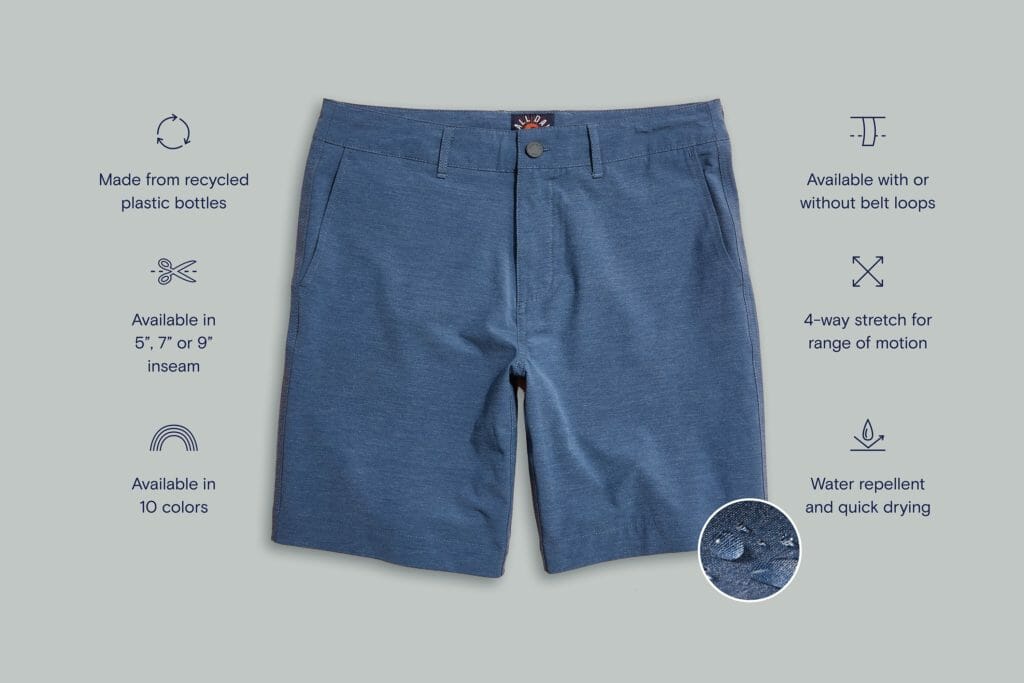 A couple of quick features of the All Day Shorts:
Obviously, it's moisture-wicking, water-repellent, quick-drying
They also are engineered with 4-way stretch, too
There is not an elastic waistband, but the stretchy fabric essentially makes it a like an elastic waistband – it's that stretchy.
There is a drawstring to keep your short on tight in the water.
There are two front mesh pockets
A back zipper pocket with mesh
A high-quality button closure
A zippered fly (I hate when these shorts are NOT zippered!)
The shorts are made from a recycled fabric that is mostly composed of plastic bottles. This material has been developed with moisture-wicking, water repellent, and quick drying properties to give you the best performance in any sporting activity – or simply lounging around the house!
Technically the fabric is 75% Recycled Polyester (the recycled water bottles), 17% Cotton, 8% Spandex (the stretch!). The fabric makes for a pair of shorts that are not only comfortable, but it's also durable.
Don't worry: this isn't your dad's ugly nylon convertible shorts or something like that. These aren't nylon at all – they are designed to give you the best hybrid gear known to man and add it to your wardrobe.
All Day Shorts – The results of our ultimate test
Were these shorts worth the hype?
In a word: yes. In two words: they're amazing.
I'm weird. For a lot of reasons, but one is: I don't wear or use anything that I'm going to review until I ACTUALLY am ready to do the review. That's because I don't want to ruin something and at least not provide you with what the product was supposed to look like before I ruined it.
It's never happened but knock on wood.
Theme Park Results
What I was looking for: comfort and versatility. Also, cool!
But the real moment to shine came when I work this hybrid short to the water park.
When I wore these to the Theme Park (water park coming up here in a second), there were no clues that these were actually swim trunks. They were lightweight, extremely comfortable and looked good.
Water Park Results
What I was looking for: performance of swim trunks, but faster drying.
First, as I mentioned, I didn't want to change in the locker room – I just knew it would be gross. And boy, was I right. There was a line to even enter the locker room and overall the water park was packed with wall-to-wall people. The weather was hot and everyone was trying to beat the heat, I guess in the water park that day.
The magic of these shorts came on the first ride: splash down. It was a giant raft ride that you would plummet into a giant pool of water, and naturally, the hybrid shorts were under water. But when I came out, something magical happened.
They were dry. Like right out of the washing machine-dry. I just wiped off some water that beaded up and BAM! The water was gone. Instantly dry shorts.
These hybrid shorts with stretch fabric kept me comfortable for hours.
It got better as the day wore on, too. The hybrid shorts performed so well during splash down that I put them to another test: an actual swim in them (which you're supposed to do with at a water park, naturally).
While I didn't have the same miraculous experience (these shorts aren't actually magic), the shorts got dry very quickly. After a dip in the wave pool, my son and I went to get a snow cone.
By the time we finish the snow cone, the shorts were dry again. Obviously, it was a hot day, which helped the shorts dry quickly.
Also, we live in the very dry heat of Colorado, not something where there is more humidity in the air (like the beach).
The shorts didn't FULLY dry in the 5 minute or so walk from the wave pool to the car at the end of the day, but that was OK – I was still hot and it felt good. The shorts were slightly wet in the car ride home, with air conditioning blasting full blast almost the entire hour drive home, but that just shows you how hot it was this summer day.
These shorts were some of the fastest drying shorts I've ever experienced.
A couple of small downsides to the All Day Shorts
I'm not going to lie. There is no perfect short. Two incredibly small downsides: I wish it had one smaller zipper pocket in the front pocket and I wish the back pocket was located on the other side.
I wish it had a small zipper pocket in one of the front pockets (like so many of my lululemon shorts do), just to store something like a pill or key.
I wish the back pocket was on the other "cheek," if you will, because that's just where I typically store my wallet.
Really not that big of a deal at all.
Other than that, I would recommend this hybrid short to everyone.
These hybrid shorts were comfortable, quick-drying and versatile- I honestly can't think of any situation where you wouldn't want these hybrid shorts in your life!
How to style the All Day Hybrid Shorts
The easiest way to style these is simple: however you would style chino shorts, swim trunks or even board shorts.
I know that's a simple answer to a much longer question, but it's true. These truly could act as chino shorts, swimming trunks or boardshorts. That's the honest truth.
I did wear my Exofficio Boxer Briefs under these shorts, see our full guide on what to wear under board shorts for a better idea of your options.
The Final Verdict on the Faherty All Day Shorts
The verdict on these Faherty All Days shorts is that they are one of the best hybrid shorts I've ever used. In fact, I would even say these are some of the best shorts that I've ever used – regardless of being the best hybrid short I've tried.
Meet the Faherty All Day Shorts
The best hybrid shorts… or the best shorts… ever?!
Comfortable
Water repellent
Water-resistant
Look like actual chino shorts
Quick-drying
Expensive, but worth it!
I've looked at shorts like Outlier before and thought, "As a dad, I'm never in the situation where I don't know if I'm going to go swimming… so there's no need for me to have hybrid shorts like these." Well, that all changed with going to the outdoor theme park and water park. This summer the weather has been hot. It doesn't matter if you are wearing these shorts to the beach, the bar or to fly somewhere. They are an amazing short from an amazing brand.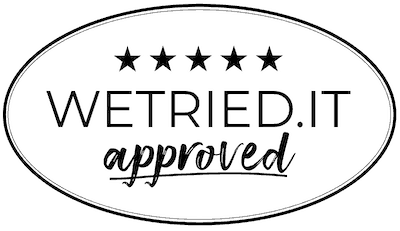 I'm incredibly proud to give the Faherty Shorts the We Tried It Seal of Approval and hope to continue to try more products from this amazing brand.