Caraway Cookware is quickly becoming one of the most popular cookware sets on the market. With its attractive design, non-stick properties, and even heating capabilities, it's no wonder why so many home cooks are turning to Caraway for their kitchen needs. In this blog post, we'll be take an in-depth look at Caraway Cookware and give you our honest Caraway Cookware review.
We'll discuss what makes it so special, how it performs in the kitchen, and whether or not it's worth the hype. So if you're looking for a new cookware set that will make cooking easier and more enjoyable, read on to find out if Caraway is right for you!
Our Top Non-stick Cookware
Caraway Cookware
Incredible cookware set that is as gorgeous as it functional. Currently on sale for $395. Get it now, while you can!
Buy Now
We might earn a commission if you make a purchase, at no additional cost to you.
What is Caraway?
Caraway is a clean kitchen brand.  Their mission is to make beautiful kitchen goods that make your life easier and healthier.  They claim to do this by making their products non-toxic, easy to cook with, and created with high design.  Let's see how they deliver.  
Why is Caraway Cookware so popular?
It's so popular because it checks all the boxes.  The cookware is non-toxic, PFOA and PTFE free, has an easy to use ceramic non-stick coating, and is designed to make cooking easier.
Plus, it looks great too! The design takes cues from Scandinavian aesthetics and comes in a range of colors that will suit any kitchen.
Caraway also provides great performance in the kitchen. Cooking is fast and easy, with no need for excessive oil or butter. What's more, Caraway cookware heats evenly across the pan so you won't get any hot spots. The quality of construction is also evident when you use it – it just feels heavy in an expensive way.
What we tested: The Cookware Set
We tested the Cookware Set in Black (and gold).
This sets comes with an organizer, 10.5" fry pan, 3 quart sauce pan, 4.5 quart sauté pan and 6.5 quart dutch oven that are all ceramic-coated for non-stick performance.
Our Caraway Cookware Review: Performance in the Kitchen
First up is performance — how does Caraway measure up in the kitchen? We found that this cookware was excellent at evenly heating food without burning it.
It's also great for releasing food easily when cooking thanks to its non-stick properties; you won't have to worry about your food sticking or being hard to clean off.
We also appreciate that Caraway cookware is designed with convenience in mind; we love that it comes with a pot and lid holders to help keep your kitchen organized. The design of the lids are also helpful (and stylish!) as they fit snugly around each pan to lock in moisture and flavor.
Overall, we think Caraway Cookware is a great option for those looking for an attractive, non-toxic cookware set that works well and helps keep your kitchen organized. We give it two thumbs up! Let's keep reading our review of Caraway Cookware!
Caraway Pan Review: We Test the Claims
Every brand these days seems to have some great marketing behind them. Are these really nonstick pans? Are they really the best nonstick cookware money can buy?
Let's test the Claims.
Caraway Cookware Claim #1: Non-toxic
Caraway products are without toxic materials such as PFAS, PTFE, PFOA, or any other hard-to-pronounce chemical found in traditional nonstick cookware.
Why PTFE is Harmful
PTFE is found in traditional nonstick cookware brands such as Teflon. While many of us had Teflon pans at one point because they are easy to use, studies (such as this one done at UCLA) have found that Teflon in woman's blood can lead to higher levels of infertility. Isn't this the craziest thing to not be common knowledge? 
When you are literally cooking your food on this potentially toxic chemical, your food can pick up amounts of the chemical that are then transitioned to your body. Other chemicals such as lead and cadmium, can do the same. 
Sustainable Manufacturing 
When cookware is manufactured, it lets off CO2 into the atmosphere, but Caraway Cookware lets off 60% less CO2 compared with other traditional non-stick cookware. 
This may not seem like a lot, but think about how many pots and pans are in each household across the globe.  It adds up quickly.  
Non-toxic Work Environment
Caraway Cookware also manufactures its cookware ethically, where employees are paid fairly, kept safe, given benefits, and work regulated hours. 
So the workplace is also non-toxic (see what I did there?), but I think this makes a difference in the quality of the product because a toxic work environment can lead to employees not caring about the product and letting things slide that shouldn't.  
Ships in recyclable boxes
Caraway Cookware also sends everything in recyclable boxes rather than any single-use plastic.
It is a lot of cardboard, so make sure you have plenty of room in your recycling. But we do like seeing companies stepping up their sustainability game.
Plus, ceramic coated cookware is supposed to last a long time (with proper care), so this nonstick cookware should last you a long time – leading to quality cookware you can use for years!
Claim #1: Final Verdict
Overall, I think Caraway is living up to this claim of non-toxic cookware. Non-toxic products are becoming more and more important to me as I learn more about diseases and want to protect my family and children in any way I can. 
Also, as someone who struggled with infertility while cooking on Teflon pans (who can ever say what the real cause is, but let's not make it harder), I respect Caraway's manufacturing approach that much more.  
Caraway Cookware Claim #2: Created with High Design
Let's be honest, this is what we are all here for: the kitchen porn.  When I opened this box, I squealed.
These pans are GORGEOUS. The Black and gold with gray interior is simply beautiful. I didn't even want to use these pots and pans at first because they looked too beautiful to use. After using them for a few weeks, the Caraway Cookware still looks brand new! 
Honestly, looking new after several weeks of use was a huge surprise because they are so shiny. They are still so shiny, and they make all of my meals feel a little bit elevated. 
Cooking is not my favorite chore, but I feel a little glam using these, and you know what – every bit helps get the job done.
But beyond looks, these pans have great weight, balance and heat distribution.  They feel substantial – like they are built to last.
Pots, Pans, and Lids in the Caraway Cookware Set
The pots, pans, and lids are substantial. 
You know when something feels heavy… in an expensive way? 
Yeah, that is how these feel. They aren't so heavy you can't use them easily, but they feel like they have a good amount of substance behind them. Kinda like a high-end car door – hefty and luxurious at the same time.
The pots are a good size that can fit several servings without feeling too big, and there is one lid to fit all of them. The lids also have a great latch feature to ensure your food won't fly out while cooking.
The quality makes me think of Le Creuset vs. Le Creuset dupes.  You know which one is the real deal, because it feels more substantial.
An organization system for the pans, lids, and trivets
Beyond cermaic coated cookware, this pan set also comes with an organization system for the pans, the lids, and trivets. It includes a canvas lid holder and uniquely designed pan racks.
Ok, but really. SOLD. No one loves an organizational system as much as I do, and this one was thought out and truly exceptional. 
When I saw it, I could picture everyone sitting around in the Caraway office saying, "how can we make this pan set exceptional?"
Um, make the pans amazing and then when you think they are perfect, blow everyone's mind by adding an organization system to boot.  
Claim #2: Final Verdict
Overall, Caraway hits this category out of the park.  As I said.  Kitchen Porn.  Pot Porn.  Organization Porn.  (I can't wait to see the searches people use to end up on this post-ha!) These pans are truly gorgeous, with a very high-end design and feel to them.  
Claim #3: Stovetop Agnostic
Caraway claims their pots and pans are Stovetop Agnostic, meaning they are Induction, Gas, & Electric Safe.
Carway says, "Yes, our cookware is induction compatible. The bases of our pans' diameters are 5.5″ for the Sauce Pan, 6″ Fry Pan, 6.5″ Dutch Oven, and 8″ for the Saute Pan. Although our cookware is compatible with induction stovetops, not all induction stovetops are compatible with us! We suggest reaching out to your manufacturer to confirm."
Claim #4: No need to butter or oil
The Caraway cookware set is ceramic-coated cookware, which offers a non-stick surface that requires minimal amounts of oil or butter to cook food.
To ensure you get the best results every time, we recommend coating the interior lightly with a paper towel or cloth before cooking – this will ensure everything stays silky smooth while cooking!
Caraway Cookware Set: What's Pots and Pans are Included
We tried the Caraway Nonstick Pots & Pans Cookware Set in the black iconics color. 
Iconics just means super premium materials in Caraway world.
There are so many good colorways in this set that you are bound to find one that matches your kitchen and your aesthetic. 
The Black iconics set was so beautiful; I have never seen anything like it. The sharp, black color with stainless steel handles makes you forget about the "good for you aspects" of these non-stick pans: the ceramic coating.
This set includes a 10.5" fry pan, three qt sauce pan, 4.5 qt saute pan, and a 6.5 qt Dutch Oven. 
They all have lids except for the fry pan.  The set also includes the storage and organization porn I mentioned above. This set retails for $745. 
When you start to look at other pan sets, $745 is a steal.
I think the 4 pans are really all you would ever need, too.  I have a 5-burner gas stove, but I don't know if five pans could fit on the stovetop.
I think this would be the perfect gift for a Newlywed couple or for an old 10-year married gal like me who needs a refresh from her registry goods.  
Alternatives to Caraway Cookware: A crowded space
We always like to present alternatives to the products we review with other products we have owned or reviewed.
The Always Pan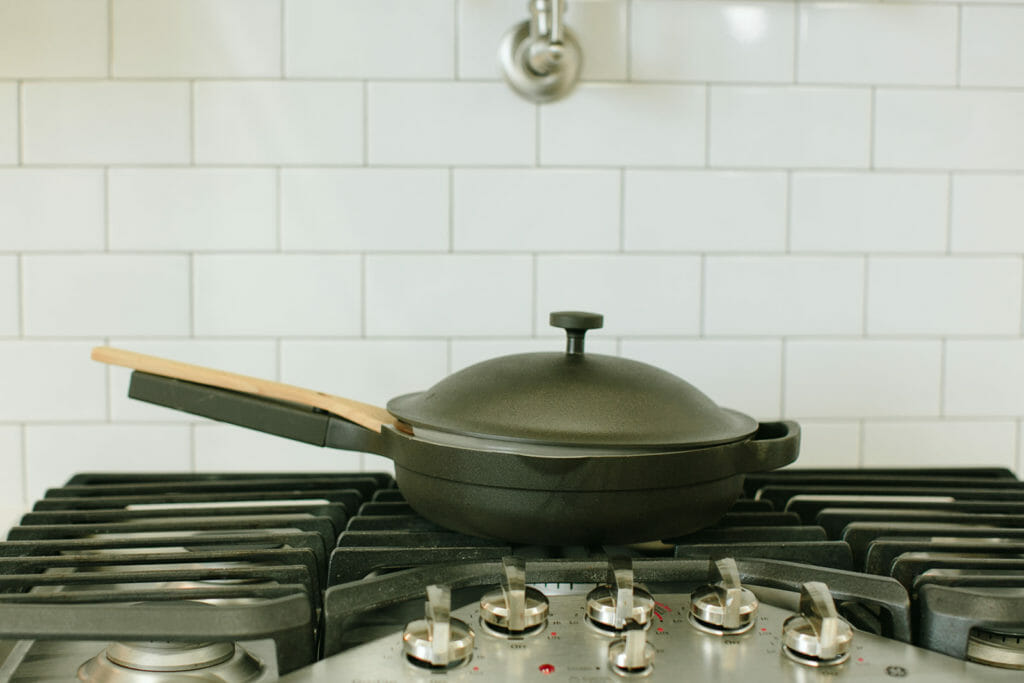 One alternative to this product would be The Always Pan, but that is not a set, and it is more difficult to wash. 
Read our Always Pan Review.
Stainless Steel Pants
Another alternative would be stainless steel pans, but those are so difficult to cook with that when I was getting rid of mine it was hard to find someone to take them.
Other Ceramic Cookware
Lastly, if you wanted a beautiful set like this, but wanted to save on the price tag, you could get a ceramic set from a place like Target. 
We had a Chrissy Teagan pan set from Target that was "ceramic." The reason this ceramic cookware in quotes is that the finish on the pan was peeling off. It's not a surprise it's no longer for sale on Target.
Maybe there was ceramic in the pan, and maybe it was a true ceramic nonstick coating, but what was the layer peeling off in my food?  I far prefer buying something from an ethical company that you know is dedicated to making non-toxic products. 
Also, once you factor in the fact that those pans lasted less than a year before we had to replace them due to the pealing, it really isn't money saved at all. 
Caraway Review: The Final Verdict
Our Top Non-stick Cookware
Caraway Cookware
Incredible cookware set that is as gorgeous as it functional. Currently on sale for $395. Get it now, while you can!
Buy Now
We might earn a commission if you make a purchase, at no additional cost to you.
Like I said, kitchen porn. These are some GORGEOUS pans. When I opened the box, they literally took my breath away.  I have felt a little glam every time I have pulled these out over the past couple of weeks to cook.  While the look of the Caraway pans is what sold me, I am sharing this purchase with our readers because I strongly believe in getting the word out about non-toxic cookware options. 
We're proud to give Caraway Cookware the coveted We Tried It Seal of Approval. We just love everything about this brand!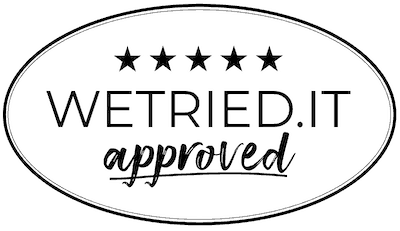 I think these would make a great gift for a wedding, birthday, Christmas, anniversary or even for yourself! Can we normalize doing a registry for your 10-year wedding anniversary? HA! But the Caraway pans- We Tried It Approved!
The Ultimate Face-Off: Caraway Pan vs. Always Pan Comparison Table
Ah, the Caraway Pan and the Always Pan. They're like the Batman and Superman of the non-stick pan world—each with their own set of superpowers, but who wins when they go head-to-head?
| Feature | Caraway Pan | Always Pan |
| --- | --- | --- |
| Look and Feel | Minimalist, effortlessly cool | Lifestyle-focused, Instagram-ready |
| Versatility | Good for frying, sautéing, baking | Aims to replace 8 pieces of cookware |
| Material | Ceramic non-stick | Ceramic non-stick |
| Eco-Friendly | No PTFE or PFOA | No PTFE or PFOA |
| Cooking Performance | Even heating, no hot spots | Even heating, multi-functional |
| Special Features | Comes with magnetic pan racks | Built-in spoon rest, steamer basket |
| Price | Mid-range, think investment | Similar, but replaces more items |
The Takeaway
So, what's the story, morning glory? If you're all about that minimalist life and just want a pan that does its job well, Caraway's your jam. But if you're the type who wants a pan that can multitask harder than a parent with three kids and a full-time job, then Always Pan is calling your name.
Choose wisely, my friends. Your future meals depend on it!
Do I need to season my pans?
No, you do not need to season your Caraway pans. Unlike cast iron cookware, these nonstick ceramic pans only require minial amounts of oil or butter for cooking.
Before cooking, make sure to give your nonstick surface of the pans a quick rinse with warm, soapy water and dry them off with a paper towel. You're ready to start cooking!
Does Caraway non-stick ceramic wear over time?
Of course, over time, all non-stick coatings will slowly wear off, given frequent use. But with delicate care and cleaning, Caraway cookware is designed to last years and stop food sticks from happening!
So if you take good care of your Caraway bakeware, they'll take good care of you.
Are Caraway Pots And Pans Oven Safe?
Absolutely! Every item of cookware is purposefully crafted to be used on all cooking surfaces and ovens. In addition, their products can withstand temperatures up to 550°F without any difficulty or breakdown.
Can I wash Caraway Cookware in the dishwasher?
To extend the life of your Caraway products, we recommend avoiding harsh detergents and abrasive methods like dishwashers. While they don't label caraway cookware diswasher safe, they simply don't recommend cleaning it in the dishwasher.
Dishwashers can cause cosmetic damage to your non-stick surfaces, reducing their lifespan. Instead, a gentle handwashing of your Caraway pots and pans will keep them looking brand new for years to come!
Who owns Caraway Cookware?
Caraway Cookware is independently owned but has raised over $70 million from Venture Capital firms, across three funding rounds.