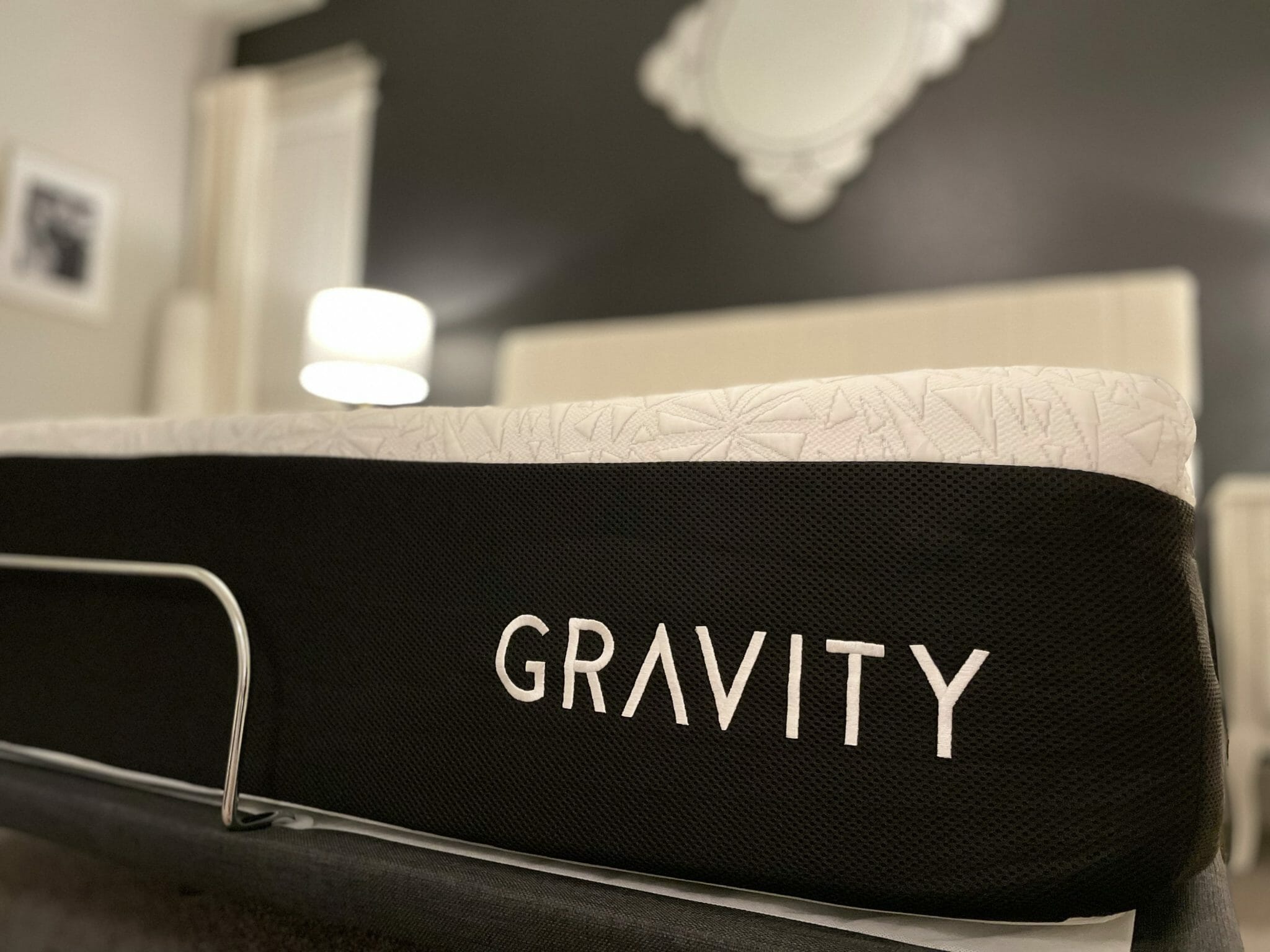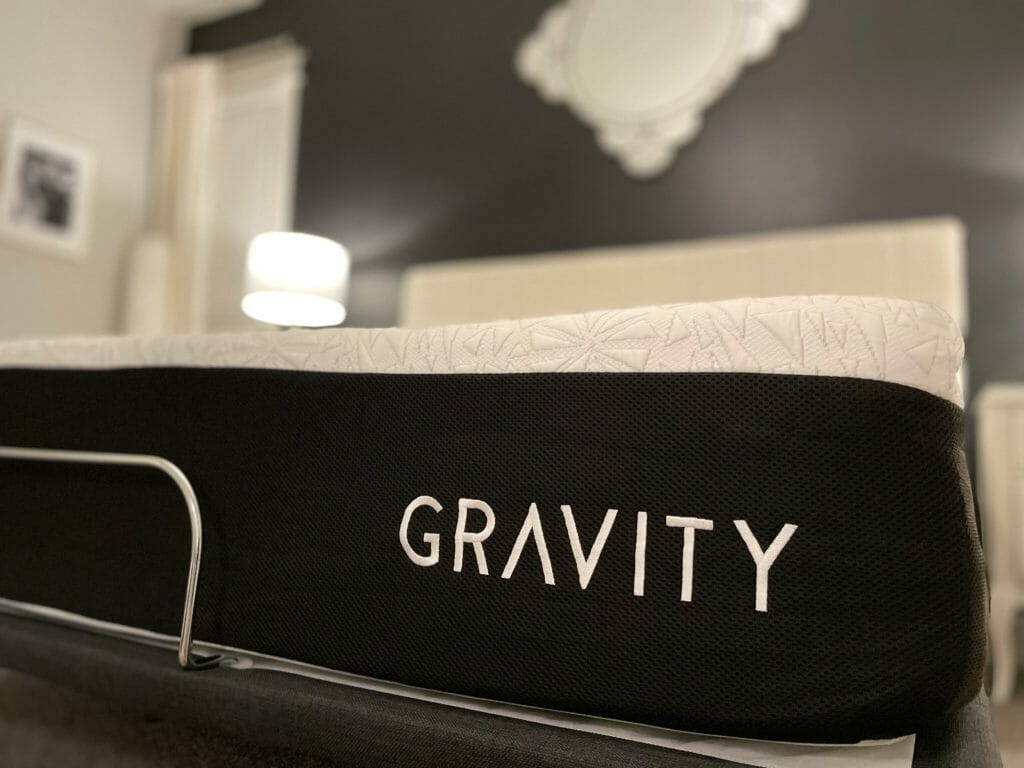 Gravity Mattress Review: Looking for the perfect mattress to pair with your weighted blanket (hopefully a Gravity Blanket?) or do you just want the best cooling bed, without the added technology, cords and hassle of something more complicated? Then keep reading out honest Gravity Mattress Review to see if it's the Best Cooling Bed on the market.
Meet the Gravity Ice Hybrid Mattress
Can the blanket company make a mattress?
Amazingly cool to the touch
Super comfortable
Provides support in all the right areas
Not too firm, not too soft
The perfect compliment to the Gravity Weighted Blanket
Currently on sale $875 (Full Size), $1,015 (Queen Size) or $1,225 (King Size)
Why did we pick the Gravity Mattress?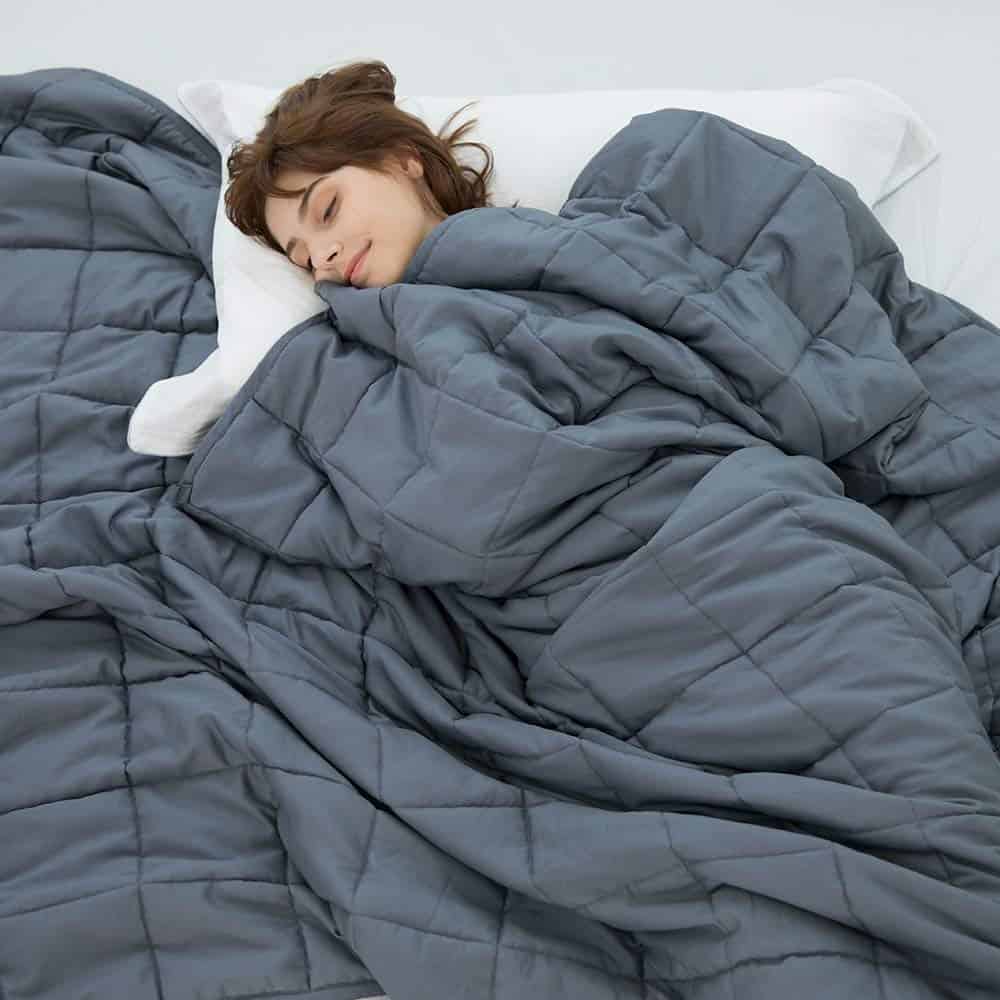 Gravity has been making weighted blankets for years, now. In fact, my husband got me one right after the company launched. 
They make luxury weighted blankets and were one of the first companies in this space. Gravity's slogan is "Better Rest to Get the Most Out of Your Day, Science-backed Solutions to Improve Sleep & Reduce Stress."
Mr. We Tried It bought me a Gravity Weighted blanket for Valentine's Day years ago and it is my favorite gift EVER (read our full Gravity Blanket Review). 
Why I love Gravity
In fact, you know that old question, "if your house was burning down and your family and pets were safe… what would you grab?"
My answer is easy: my Gravity Blanket! I know for a fact that it helps relax me and helps me have much less interrupted sleep. When I have been without it (traveling, etc), I sleep so much poorer.
We have a whole review of the blanket here, but the background is helpful because it helps you understand the excitement I had when I saw that they were making mattresses!!! 
The Gravity Weighted Blanket
Quick Review of the Gravity Weighted Blanket

The Gravity Weighted Blanket is simply one of my most prized possessions. I sleep with it every night and even miss it when I go on vacation. It's that amazing.
It's the best gift my husband ever got me. If you struggle falling asleep (or staying asleep), check out the Gravity Weighted Blanket.
Our Experience with Cooling Mattresses
We've tried tons of mattresses and almost all of them have been cooling mattresses,
The (no longer sold) holy grail of Mattresses
We first splurged and purchased the Sealy Optimum Radiance, which they no longer make. We went to one of those stores that are on every block and tested out probably 50+ mattresses, and this one was our favorite.
It featured all the buzz words about memory foam and even "gel memory foam" (or was it gel infused memory foam). They actually called it Opticool™ Gel Memory Foam, OptiSense™ Memory Foam and OptiCore™. Whew! I wish mattress companies didn't have to make everything so complicated.
It was over $2,000! But it is the high watermark for mattresses in our book. It was firm, yet comfortable, soft yet supportive, and kept us at the perfect temperature. We upgraded to a king-size bed (it was a queen) and thought we'd be able to simply replace it with a different mattress. Boy, were we wrong.
Our Search for the Perfect Mattress Continued
We then went through a long journey of trying to replace the best bed we've ever slept on… and it was a long one. We first tried to find something with the same material.
What we tried first: Yogabed
We first tried Yogabed by Yogasleep in an attempt to find something that was close to the Sealy Optimum Radiance but also wasn't as expensive (it was about half as much).
Our first tip in selecting a mattress is: don't try and decide on your forever mattress when you are pregnant. I didn't know if any mattress was going to live up to the Sealy Optimum Radiance, but none of them were going to be perfect when I was pregnant.
I don't know if I really just didn't like Yogabed or the fact that I had a little boy growing inside of me. But we returned this mattress quickly. Either way, I wasn't comfortable. But I still don't think the Yogabed was as comfortable as the previous mattress.
Leesa Mattress: Meh…
We have had the same mattress for about 5 years, a Leesa mattress. 
We tried the "bed in a box" type mattress from a popular online retailer, Leesa. The memory foam mattress is so hard and had very little give. It left us feeling like we were sleeping on the top in a board-like instead of sinking (or more accurately, floating) into the bed. 
We got it when I was pregnant with my son and I have always HATED it! I thought at the time we purchased it that it was uncomfortable because I was pregnant and everything was uncomfortable, but no it is just a horrible mattress. 
My husband didn't mind it, but he didn't love it like the way that he loved the Sealy Optimum Radiance.  
Then we tried Amerisleep
Since this mattress was so uncomfortable, I attempted to replace it with a mattress I got from a popular mall mattress store, Amerisleep. I went with a super soft mattress (the softest they had) because I felt like the "bed in a box" mattress' problem was that it was too firm.
Ha!
Well, about 3 days into having the "mall mattress" my husband and I both had horrible back and hip pain.  We realized it was because the "mall mattress" was too soft and did not offer enough support.  We returned that mattress and went back to the Leesa mattress because we are stuck with that one either way since we are well outside the return policy. 
A quick tip: take advantage of the sleep trials from these direct-to-consumer mattress companies. If you don't like the bed, don't feel like you have to sleep on it. Reading online reviews and everything are great – but you have to REALLY like what you sleep on.
Why I gave up on my mattress search (until now)
I basically just gave up on the idea of getting a new mattress because like Goldilocks- I had found one too firm, one too soft and I don't like the thought of trying too many different ones because recycling mattresses can be complicated and the environmental impact of trying different mattresses is troubling to me. 
BUT THEN!!!! But then I saw that Gravity was making mattresses and as I said I LOVE my Gravity Weighted Blanket, so I thought well maybe I'll try just one more.
Let's just say Goldilocks found the Mattress that is JUST RIGHT with the Gravity Ice Hybrid Mattress.
Read on to hear all about the Gravity Ice Hybrid Mattress. 
Meet the Gravity Ice Hybrid Mattress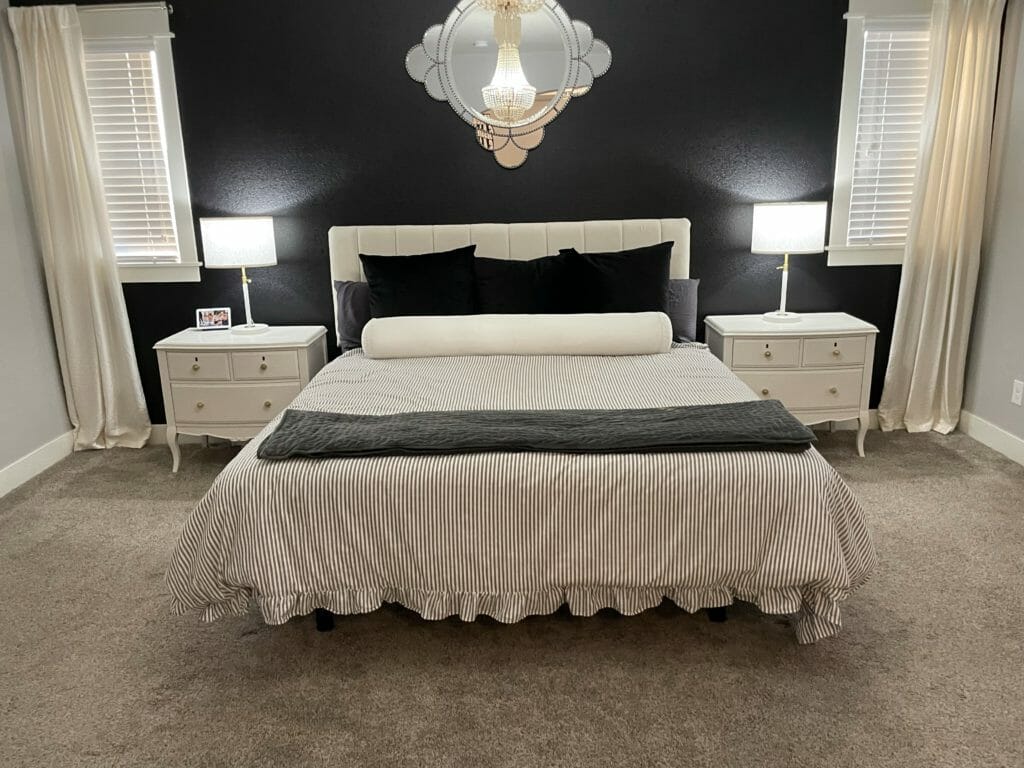 The mattress you have now is too hot, and it's also not comfortable enough. 
You want a mattress that will keep your body cool while providing the support you need to get a good night's sleep. But what if there was an option that could do both?
Introducing the Gravity Ice Hybrid Mattress. This new hybrid design combines coils with foam for optimal comfort and support – all without sacrificing cooling technology or durability. With this innovative combination of materials, you can finally enjoy a great night's sleep without having to worry about waking up drenched in sweat!
Here are the quick highlights:
The Gravity Ice Hybrid Mattress is a coil-foam combination mattress. This allows you to have support from the coils for your hips and spinal cord while at the same time remaining soft from the memory foam. 
The coil-foam combination also allows the Gravity Ice Hybrid Mattress to keep you much cooler because it has more airflow than a typical memory foam-only mattress. 
The Gravity Ice Hybrid Mattress also has a top cooling gel layer that helps you keep your body temperature down while you sleep.  This is especially important if you have a weighted blanket that can be a little warmer than a typical blanket. 
Gravity claims that the Gravity Ice Hybrid Mattress paired with the Gravity Weighted Blanket creates the trifecta of sleep excellence with deep touch pressure on top for increased relaxation and foam-coil combination mattress for gentle support with a cooling gel layer in between.  And after trying the "trifecta" I can say, yes absolutely, this is sleep excellence! I have never slept so well in my life as I did the night we set up the Gravity Ice Hybrid Mattress. 
You have a 100-day sleep trial (AKA return window) for the Gravity Ice Hybrid Mattress.
Gravity also offers free shipping, too!
Who is this Gravity Mattress for?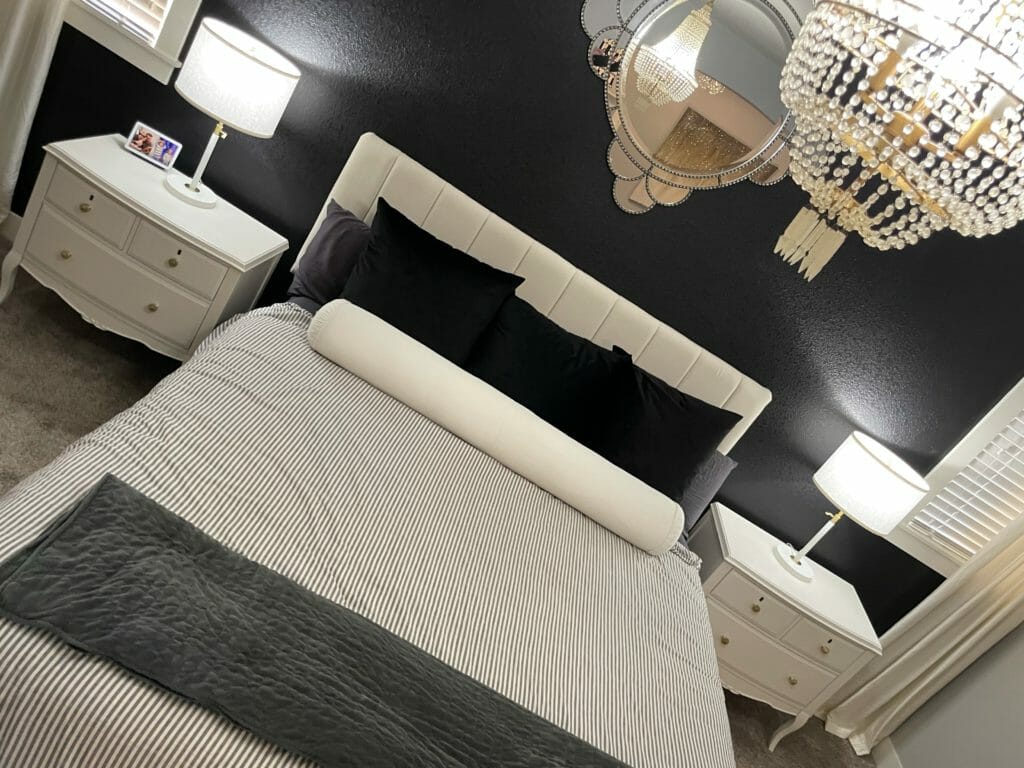 Anyone who sleeps? Ha! The Gravity Ice Hybrid Mattress is a great mattress for anyone who likes the softness of memory foam mattresses but is still looking for the support of a traditional coil mattress. 
The Gravity Ice Hybrid Mattress is also a great mattress for anyone who gets too warm while they sleep. 
Mr. We Tried It tends to get too warm while he sleeps and he likes the cooling function of this mattress. However, I tend to be too cold when I sleep and the cooling layer did not make me feel too cold. It almost seems like the cooling layer is like wool in that it helps regulate your body temperature to make it most comfortable. 
Paired with the Gravity weighted blanket, you get the cooling from the mattress and the warmth that can come from a Weighted Blanket.
The Gravity Ice Hybrid Mattress is also a great mattress for anyone who uses a Gravity Weighted Blanket.  It really is the trifecta and the ultimate sleep experience when used together. 
Mr We Tried It does not use a weighted blanket when he sleeps and he still loves the mattress, but I think the combo is the ultimate Goldilocks sweet spot!
Gravity Mattress – How does it arrive?
Link more "bed in a box" that are shipped directly to consumers, this arrives in a box much smaller than the actual mattress. The air is sucked out of the package to reduce space and allow for easier shipping. Our delivery person was a little lazy:
It is fairly heavy (about 125 pounds), so you'll need some help maneuvering it in your home. I simply rolled it up.
The mattress absorbs air quickly after you open it, just see this quick video when we opened it up!
Gravity says that it takes about 24 to 72 hours for your Mattress to regain its full shape after it is out of the box. We simply let the mattress sit on our floor for about a day before using it to sleep on.
Gravity Ice Hybrid Mattress: We test the claims
Mattress companies make 1,000 promises, it seems like – but how do they really stand up?
Let's test a couple of the claims of the Gravity Mattress and give you our honest opinion.
Pressure Relief: Just the right amount of cushion and support
Yes, yes, yes. This mattress is perfect for both of us in terms of cushion AND support. As we mentioned the Amerisleep Mattress was just too soft and it actually hurt our hips and back after sleeping on it for just a couple of nights.
The Gravity Mattress gives us just the right amount of pressure relief in the areas that we needed it the most.
Mr. We Tried It tends to sleep on his side (and back) more and I tend to be one of those stomach sleepers. This bed is great for side sleepers, back sleepers, and stomach sleepers – at least in our book! It's rare to find a mattress that is great for both back and stomach sleepers.
Black sleepers can be the hardest to please since they tend to snore when on their back.
Overall we'd say this is a bed with medium firmness. Unless you REALLY need something super hard, we will probably only buy medium firm mattresses in the future. That's because your mattress firmness can make all the difference in how you sleep. Too soft and it can actually hurt your body and make it sore.
Too firm and it's not comfortable at all.
High Durability
Gravity says, "The coil-foam hybrid design helps the mattress keep its shape over time for long-lasting durability."
The coals can be found throughout the mattress (underneath the comfort layers of gel memory foam)
We honestly can't give you an opinion on this yet, since we've only had it for a couple of weeks now.
Optimal Cooling
Gravity says, "From the coils that help with airflow to the cooling gel layer, this mattress is designed to ensure you're comfortable throughout the entire night of sleep."
I don't know how the Gravity Mattress does it, but it is cool to the touch, it is that comfortable. The layer of cooling gel must be something magic because it works incredibly well.
Mr. We Tried It has wanted to try an airconditioned system like Chilisleep before, but I just don't want to. This mattress was cool enough that he didn't want to try it anymore after sleeping in the Gravity Mattress for a couple of nights.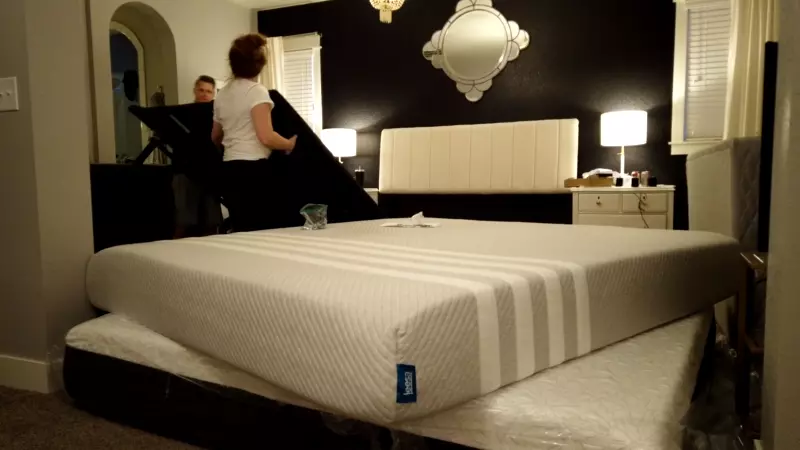 The airflow throughout the mattress and cooling gel really works well – no noisy fans or extra complicated technology is needed.
Goodbye, only memory foam
Traditional memory foam does not allow a lot of airflow through the mattress. The coil-foam combo in this mattress increases airflow, keeping you cooler than traditional memory foam.
The Hybrid Mattress
We've honestly never tested a hybrid mattress (one that has foam layers – memory foam, etc, gel AND hybrid pocketed coils) and so we didn't know what to expect.
We thought we might be able to feel the pocketed coils, but the layers of memory foam and gel really made a huge difference. We were pleasantly surprised with the coil system!
Gravity Mattress Review: What we don't love about the Gravity Ice Hybrid Mattress
You can't go "try before you buy" like you can other mattresses in a mattress store. This will be an automatic turn-off for some people. The tough thing is that I don't think you can really try a mattress in a matter of minutes anyways. We tried the "mall mattress" before we purchased it and it was incredibly comfortable in the store. It was only after a couple of nights that we realized the lack of support was wreaking havoc on our joints. The nice thing is that you can return the Gravity Ice Hybrid Mattress after you try it at home if it isn't for you and they do recycle them by donating them to charitable organizations. 
This may be just the new bed frame we are using, but the motion isolation isn't as great on this mattress as other mattresses we tried. Motion isolation is just keeping the movement in the area where it is happening (for example, if your husband rolls over, do you feel it?).
Alternatives to the Gravity Ice Hybrid Mattress
There are so many different direct-to-customer mattresses available. Having tried one before the Gravity Ice Hybrid Mattress and really disliking it, it is hard to say what makes them comfortable and comfort is going to range from person to person.
However, if you are a fan of Gravity Blankets, I think the Gravity Ice Hybrid Mattress is a really nice compliment to that product and will help your sleeping comfort.  If you haven't had the opportunity to try a Gravity Blanket, you can always get both the Gravity Blanket and the Gravity Ice Hybrid Mattress and give them a try together! 
Gravity Ice Hybrid Mattress Review: The Final Verdict
So I already liked to sleep. A lot.
I'm just one of those people who has always slept a lot. My 23andme DNA Report said I like to sleep until 8:30 am- which sounds about right!
The Gravity Blanket had given me even better sleep and quickly became one of my favorite things. When the Gravity Ice Hybrid Mattress came out, I had to give it a whirl. 
I was not disappointed in any way- the Gravity Ice Hybrid Mattress exceeded even my very lofty expectations of having the perfect night's sleep. The combination of the Gravity Blanket with the Gravity Ice Hybrid Mattress is really as they say the "trifecta of sleep excellence" and I would give it a full-hearted endorsement. 
If you are looking for a great mattress to complement your Gravity Blanket or just want an affordable cooling mattress – we have to say the Gravity Ice Hybrid Mattress is the best Cooling Mattress we've tried.
Yes, it's even better than the Sealy Optimum Radiance. And, we no longer have to sneak naps in the guest room (where we moved the Optimum Radiance to) to say hello.
What sizes can you get the Gravity Mattress in?
The Gravity Hybrid Ice Mattress comes in size Full, Queen or King.
Do you need a spring box for the Gravity Mattress?
The Gravity Hybrid Ice Mattress can sit on a platform bed or an adjustable base, which is how we have it. We really love the adjustable base and were able to get an inexpensive base on Amazon.