I've never been a great sleeper- but kids took a bad problem and made it even worse. But do you know what made the greatest difference? My Weighted Gravity Blanket! And that's why I'm so excited to give you my honest Gravity Blanket Review
After just one night using my weighted blanket, not only did I have better sleep than ever before, but also stopped having restless legs! It couldn't be just a coincidence – keep reading to see if the Gravity Weighted Blanket is right for you.
Meet the one and only Gravity Blanket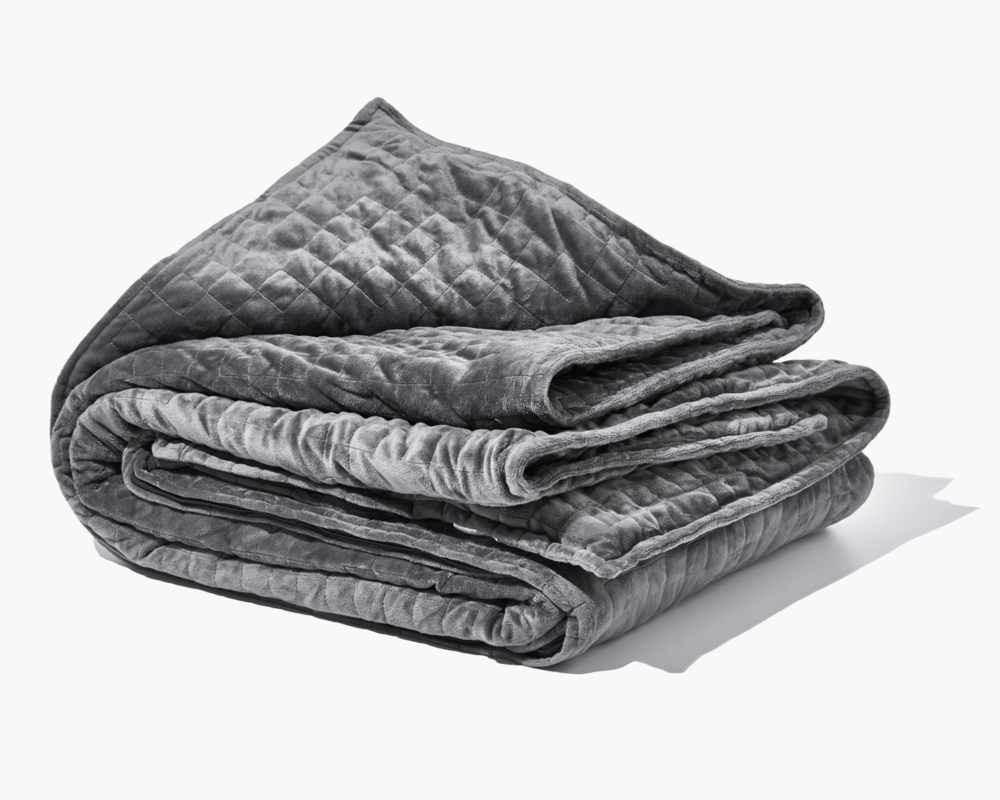 The original that started it all
An incredibly low-tech solution to a big problem
Anxious sleeper? Check this out
Great for anxiety, restless legs and much more!
Gravity Blanket Review: Watch the review or read on below!
Gravity Blanket Review: Let's set the scene
Let me set the scene… It was Valentine's Day and my husband was leaving on a trip. Before he heads out the door he gives me a gift. My husband is terrible at gifts: like really really terrible.
I didn't know what to expect. It could be anything really.
And then he hands me this thing wrapped in red and white paper with a heart sticker on it…
A new blanket? Really?! 🤨… um, thanks!
It's not a big deal because we really don't celebrate Valentine's Day, but I thought this is the weirdest gift ever.
So I threw it on the bed and didn't think much of it until that evening when I crawled underneath it. Queue the Hallelujah Chorus!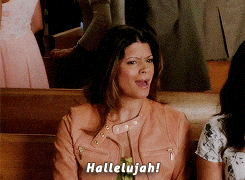 This blanket was SO luxe and SO soothing. So after a little research, I learned that this wasn't just any blanket… it was the Gravity Blanket (essentially a weighted blanket).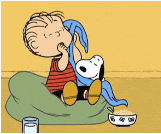 Before you think that a weighted blanket is all mumbo-jumbo, read on…
Gravity Blanket Review: What's so great about a weighted blanket?
So What Exactly Is a Gravity Blanket?
It's an enhanced weighted blanket. Putting the weight on your whole body while laying down will relax you as well as help you fall asleep faster and easier without tossing and turning. Gravity blankets come with 15 pound, 20 pound, 25, and 35-pound options.
Weighted blankets utilize the pressure put on you to calm your central nervous system. This is great news for me because it helps with things like reducing stress and anxiety. Weighted blankets also deepen your sleep.
Why I need a Gravity Blanket: Restless Legs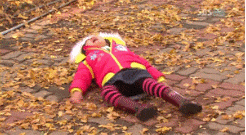 I have always had a hard time going to sleep and have suffered from restless leg syndrome since my pregnancies. Restless leg syndrome isn't one thing – but rather a collection of symptoms that people commonly have at night.
Or more commonly, when simply trying to rest.
Restless legs (and other RLS symptoms) are typically worse when sitting or lying down than when you're moving around. You may also feel better after getting up and walking for a few minutes. But what most people don't know is that there are many different causes! So I assumed it was due to hormonal changes during pregnancy… which my doctor agreed with too. But when I had my 2nd baby, nothing seemed to change and again I experienced terrible restless leg syndrome – and then some more.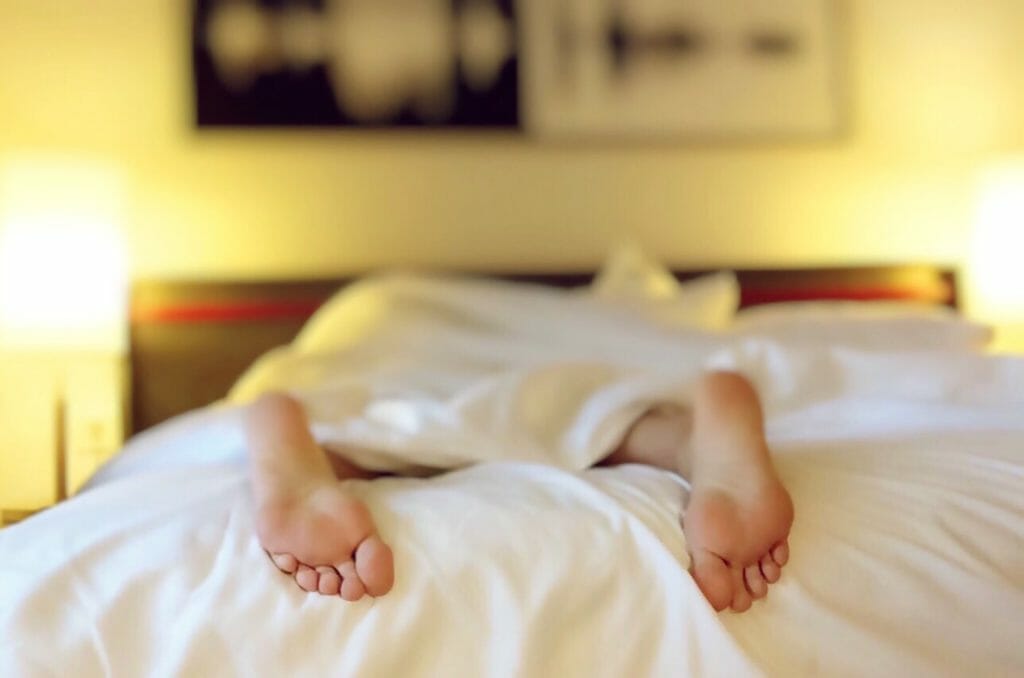 It's like your legs can't stop moving. Like there are ants crawling all over them and you just can't control it. You feel the urge to constantly shift around or move.
I was going crazy at night because my legs couldn't find any semblance of relief from this creeping, prickling feeling no matter what I did! I never felt like could get a good night's sleep – or even if I did, I was up every few hours with a restless leg or some other kind of interruption. Just when I thought it was getting better it would come back again, worse than before.
I simply could not go back to sleep until it went away. It was disruptive to our family schedule during the day (not to mention miserable for me!).
Night after night, I was getting less quality rest because of this… all because I couldn't fall asleep! Some days I laid awake in bed for hours with these horrible sensations – as a mom of two toddlers who needs a good night's sleep every night… that is no way to live! So I'm incredibly glad my husband got me the greatest valentine's gift ever: my weighted Gravity Blanket!
The best sleep of my life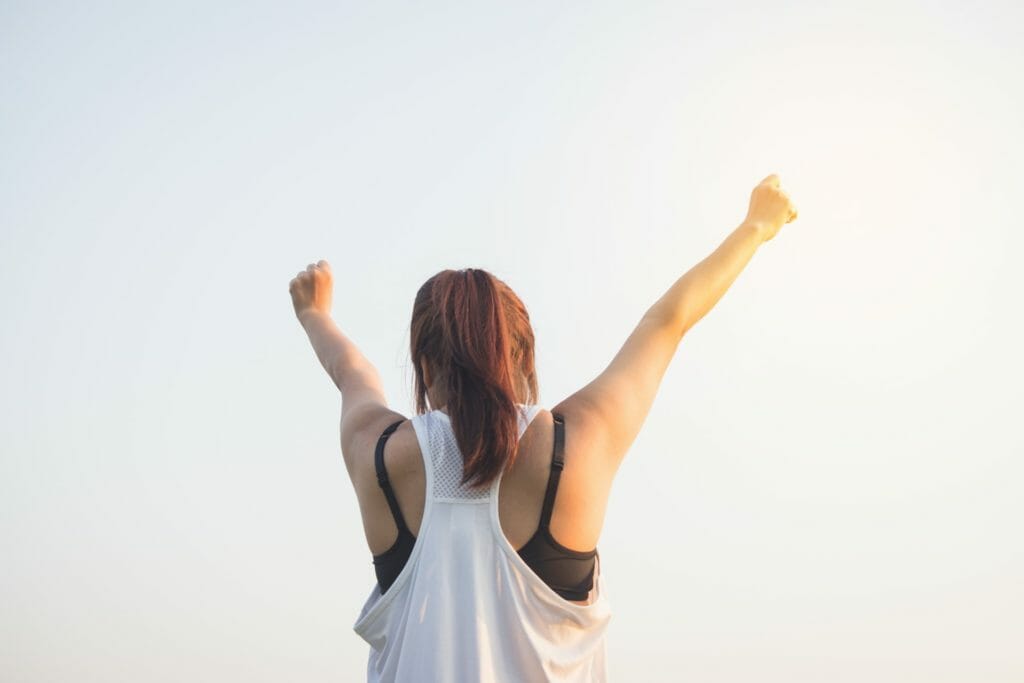 I kid you not, this blanket gives me the best sleep of my life! I got the 15 lb weighted Gravity Blanket with premium grey micro-fleece.
The blanket is actually two pieces. The internal blanket is the weighted part. This is the part that is heavy. The weighted inner blanket goes inside the duvet cover (can select the cover – the cover is also machine washable) and you place it on your bed.
That's exactly what I did…
And…
That night… I had the best sleep of my life. A whole eight hours in one stretch! There was no more restless leg syndrome either! So it seemed this Gravity Blanket was really doing its job. Since then, every night has been awesome.
I kid you not, this blanket gave me the best sleep of my life.

– ME!
Gravity Blanket Review: What we love about the Gravity Blanket
REVIEW UPDATE: Now it's been almost 2 years since we received our weighted blanket and let me tell you – We're still loving it!!! I sleep throughout the night now instead of tossing and turning… or getting up to walk around because I just can't fall asleep. It's one of my favorite things about our bedroom now.
Before we go any further, use our Gravity Blankets Discount Code to save even more!
We now have purchased an additional Gravity Blanket for the living room. If I want to take a quick nap why the kids are doing quiet time or taking a nap – I can squeeze under our living room gravity blanket and take a quick nap.
We also paired the Gravity Blanket with the… drum roll, please… Gravity Mattress!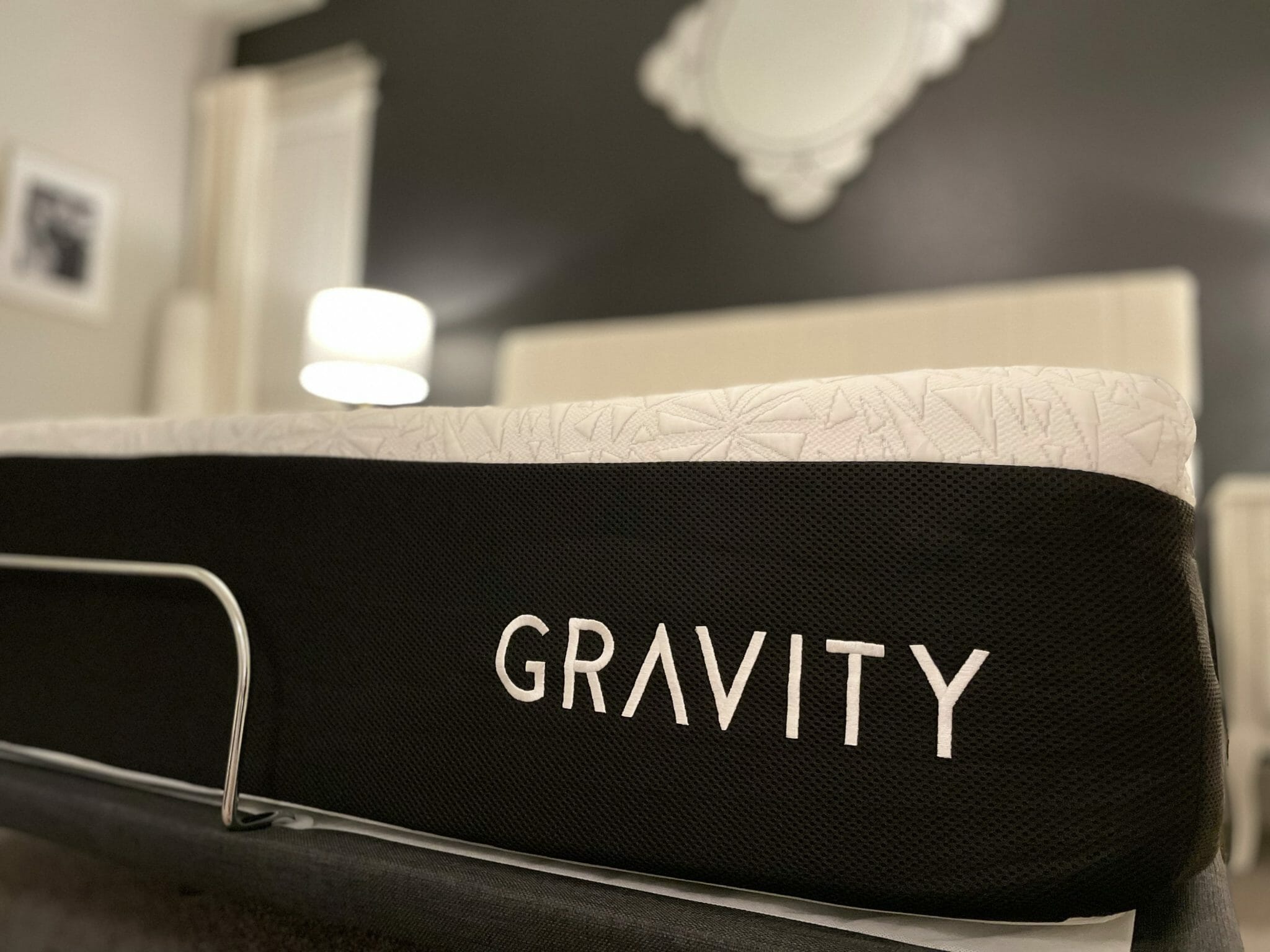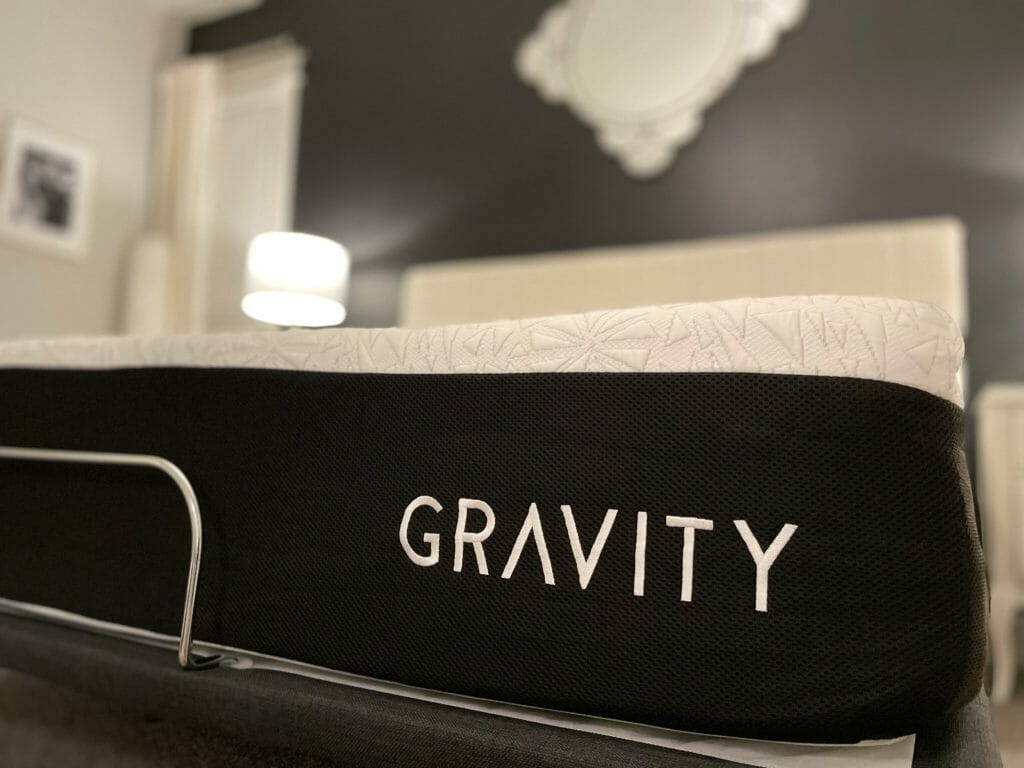 The Gravity Mattress, paired with the blanket, is what Gravity Calls "the trifecta of sleep."
We, 100%, agree. To find out more about the Gravity Mattress, read our Gravity Mattress Review. We even call it The Best Cooling Mattress.
Want to save even more? Don't miss our Gravity Blankets Discount Code, too.
What weight blanket should you get? It depends on body weight!
Gravity says to get a blanket that is about 10% of your body weight. I weight just over 100 pounds, so 15 pounds was the closest to my body weight.
The Gravity Blanket I use: the 15-pound Gravity inner weighted Blanket with Grey Premium Micro-Fleece Duvet Cover.
Why we love Gravity Blankets
What I love about this blanket!
Super soft premium micro-fleece duvet cover in a variety of neutral colors.
Ability to choose the weight of the Gravity Blanket. You can choose between 15 lbs, 20 lbs or 25 lbs. Typically you want to find a blanket that is about 10% of your own body weight.
The thing that sets the Gravity Blanket apart from other weighted blankets I have seen is the premium fine grade glass beads that create the weight. They are so incredibly small that you can not even tell they are in the blanket minus the additional weight. Other weighted blankets that I have felt when out shopping use plastic or larger glass beads to achieve that same weight and they are distracting to the overall comfort of the blanket. Trust me: you'll notice the difference fine grade glass beads make!
Sleep pressure stimulation is a real thing. It's been shown to help everything from ADHD to Depression to Anxiety and much more. We'll talk about sleep pressure stimulation more in this review.
Gravity's 30-day happiness guarantee where you can return your blanket for a refund if you are not loving it!oles
What we don't love about the Gravity Blanket
The cost: The Gravity Blanket costs $195.00 (however, here's where we found you can find the best deal). At first, when I saw that I thought, this baby is going back! Even if it was a gift, that's too much for a blanket. But I was wrong.
Lack of cuddles. The original Gravity Blanket is designed for one person so it isn't a cuddle-friendly blanket. Don't worry, they just released a full-size blanket we are testing!
A quick note from Mr. We Tried It: It is primarily Mrs. We Tried It who uses the Gravity Weighted Blanket. But I have to tell you one unfortunate side effect: you won't get as many cuddles at night (if you like that sort of thing). My wife is now 100% cuddled by her gravity blanket.
If that means she sleeps better at night, then I'm all for it.
But if you are a dude that needs tons of cuddles at night, then you're probably going to miss out on them if your wife has a Weighted Blanket.
Who is the Gravity Blanket designed for?
The Gravity Blanket is clinically proven to help improve sleep.
The Gravity Blanket is a great product for anyone who struggles to calm down and fall asleep at night. In fact, it's clinically proven to help deepen sleep!
Weighted Blankets are designed to help soothe anxiety and promote a night of deep sleep.
Weighted Blankets are also designed to help people who have autism relax, children with a sensory processing disorder, and people with PTSD. It sensitizes you to your body's natural sleep signals resulting in a sound and restful night's sleep.
Studies show that weighted blankets are especially helpful for adults with ADHD, anxiety disorders, autism spectrum disorder and those who have difficulty calming down before bedtime.
How does the Gravity Blanket work?
People who suffer from anxiety disorders often have a difficult time calming down and falling asleep at night. One way to make this process easier is by using a weighted blanket.
Weighted blankets are designed to help soothe anxiety and promote deep sleep. When your body is feeling safe and secure, it releases the hormone serotonin, which helps you relax, fall asleep, and stay asleep. For people with ADHD, autism spectrum disorder, or who struggle to calm down at night, weighted blankets can help relieve stress and promote relaxation.
The weight of the Gravity Blanket simulates the feeling of being hugged or cradled. Research shows that weight may activate the body's natural sleep signals such as muscle relaxation and reduction in heart rate. Many feel soothed by simply having something heavy around them, similar to swaddling an infant with a blanket made of a heavy fabric like flannel or fleece. When you're lying under one yourself, wrapped up in it, this is all quite noticeable!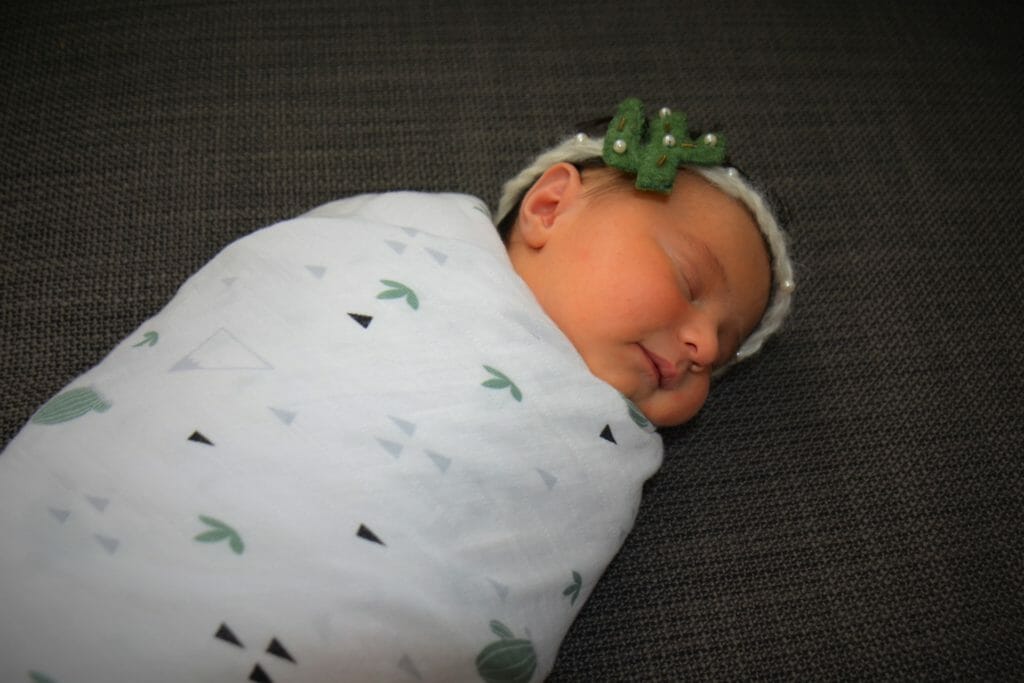 It really does help relax your central nervous system when you snuggle underneath it.
Can you travel with a Gravity Blanket?
Good question! I've actually thought about this before!
Now when we travel, I do not sleep nearly as well with a typical blanket. Gravity used to have a travel blanket, but it sadly is no longer available.
What if you sleep hot?
Mr. We Tried It runs hot. Like all the time. He is barely ever cold.
He also sleeps like a log – so he really didn't need a weighted blanket at all. But he wanted to try one.
So, he tried a cooling blanket that was weighted. He's tried several different brands – including the cooling weighted blanket from Gravity. He thought that may be the problem, so he even tried a Hush Weighted Blanket.
The truth is: a weighted blanket is going to be really tough to increase the sleep quality of someone who sleeps really hot. It doesn't matter how much the blanket has a "cooling cover" – hot sleepers are simply going to be hotter with a weighted blanket.
Why?
Why hot sleepers struggle with a weighted blanket
Why do weighted blankets not work for hot sleepers?
Weighted blankets are designed to help regulate sleep cycles and deep levels of rest. If you're one of those people who has a difficult time regulating your sleep cycles or need a little more help with falling asleep, using a weighted blanket can be helpful.
However, you have to consider which is the bigger issue: anxiety/restlessness or heat?
For some, weighted blankets just feel too hot and it's difficult to fall asleep under them no more, if you sleep hot and use a weighted blanket, once you wake up sweating in the middle of the night, it's much harder to go back to sleep.
You might fall asleep sooner, but even with the cooling duvet cover, Mr. We Tried It did not like the cooling blanket.
The blanket weight will simply make you move less, which will make you more likely to wake up in a puddle of sweat. This also stops you from being able to naturally cool yourself, since the one way you can cool yourself is by letting a foot or leg out of from under the duvet or blanket.
Mr. We Tried It actually uses these cooling sheets and loves them! Even better, use our Sijo Coupon Code code to save more!
A summer and winter weighted blanket?
However, if you like Gravity Products and do not sleep warm – but you are experiencing warmer weather, then it might make sense to get two gravity blankets – one for summer and one for winter.
I know that sounds like a luxury – but it's always funny when people won't spend money on their bed or sleeping – it's where you spend almost 50% of your time! You can get the Cooling Weighted Blanket for $205 from Gravity.
Final thoughts about hot sleepers + weighted blankets
But, if you are already a hot sleeper, then this product probably is not for you – especially if you are a REALLY hot sleeper. The cooling blankets do have some moisture wicking capabilities (and are obviously made from high quality materials), but moisture wicking isn't going to be enough.
What's included with the Gravity Blanket?
For $195 you will receive a single Gravity Blanket in the 15 lb, 20 lb or 25 lb size. You can choose between a grey, white or blue premium micro-fleece removable duvet cover.
Precise gridded stitching ensures that the glass beads remain uniformly distributed in the inner blanket, leading to a comfortable experience no matter how you use your weighted blanket.
Single or Queen/King size?
Unless you and your sleeping partner are the same size (weight wise), we recommend getting the single size over the queen size or king size.
Here's why: Gravity recommends you select the weight based on your own body weight. So, if you weigh 100 pounds and your sleeping partner weighs 250 pounds, you will need different weighted blankets. You want as close as you can get to 10% of your body weight.
It also would be really hard to make the bed with a king-size blanket. That's heavy!
Overview of features
The Gravity Blanket is a two-piece model that has the weighted portion inside made of premium glass beads to create the weight and a luxe premium micro-fleece removable duvet cover.
When you go to wash your duvet cover, you simply unzip the duvet cover and remove the anchors to the weighted blanket and put the outside duvet cover in the washer and dryer. It is easier to remove and replace than our traditional duvet cover and inserts.
The newer models of the Gravity Blanket have an upgraded zipper system which is AWESOME!
For clarity, it's the inner weighted blanket that is the heavy part (and has the glass beads inside). You wash the duvet cover (it's machine washable… don't you hate it when thing like this are NOT machine washable?!) – not the weighted part of the blanket. That would be bad.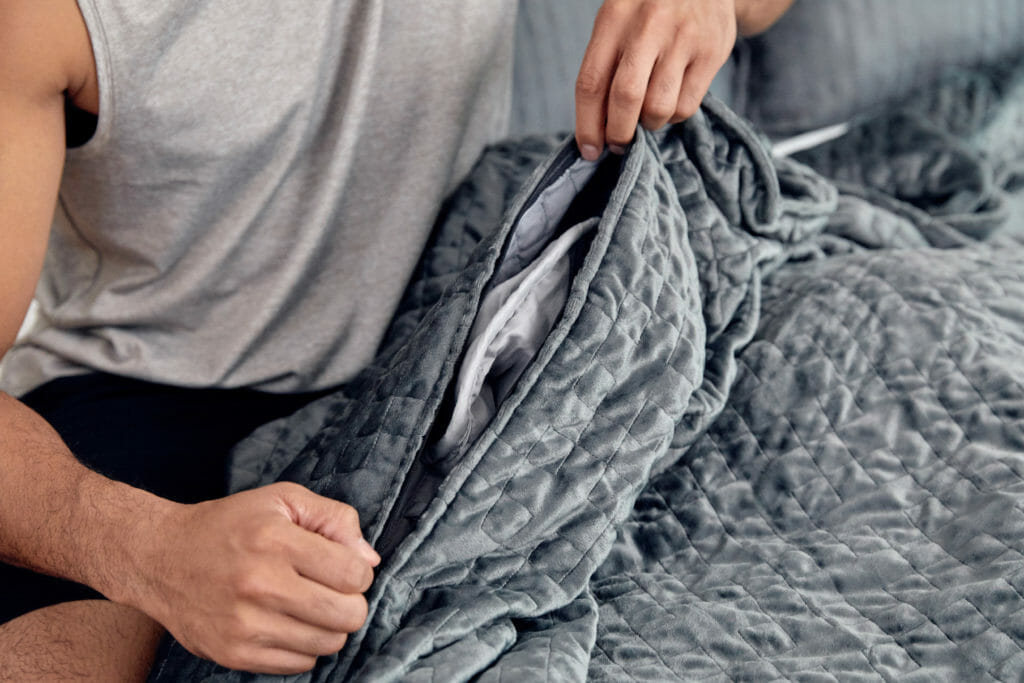 You can hand wash the actual inner blanket with cold water – but just keep the duvet cover on while it's being machine washed.
The therapeutic benefits are built-in. You'll get the deep pressure touch that provides equal weight distribution and improve sleep quality right away.
The new blankets (beyond the upgraded zipper fastening system) also feature precise gridded stitching. What is gridded stitching? Precisely mapped grid stitching guarantees the glass beads remain uniformly distributed, maintaining even weight distribution no matter how you use your weighted blanket – across the entire blanket.
Alternatives to Gravity Blankets
If you really want to try a weighted blanket, but maybe want a cheaper option the Gravity Blanket has spurred a nationwide explosion of the weighted blanket market. I even saw one at Costco the other day! There are also many versions on Amazon.
Amazon also has some competitors at a cheaper price. We still recommend the Gravity Blanket, however.
We simply think that Gravity makes the BEST weighted blanket on the market today.
Not only do they offer blankets, but they now have weighted sleep masks and even a mattress. We're going to be reviewing their mattress here very shortly!
Just make sure you feel the duvet cover and weighted component to make sure it is comfortable long-term.
Have you ever had a crappy sofa or seat that got all lumpy?
I've read that many other weighted blankets are not made as well as Gravity – the glass beads and the way that they've designed the Gravity weighted blanket ensures that it won't become lumpy over time. That's a big deal!
The last thing you want is to speed a ton of money on a blanket and it not be anygood several months later. We are going on 2+ years with this beautiful blanket.
What some of the other weighted blankets skimp on
One of the biggest things that makes a difference (beyond just high-quality materials) is how much Gravity is dedicated to research.
The CDC estimates that 50-70 million adults living in the US have chronic sleep and wakefulness disorders. But what can anyone do about it?
72% of Gravity users reported sleep improvement with enhanced feelings of relaxation and restfulness. What do some of the other brands cite? Generic studies.
We love that Gravity was started in a Kickstarter campaign and is bringing a low-tech solution to a very big product.
Gravity Blanket Review: The Final Verdict
The Gravity Blanket: one of my (now) most prized possessions. Whithout it, I simply can't get the restful sleep that I do with it.
I never thought something as simple as a weighted insert could make such a big impact on my life.
The Final Verdict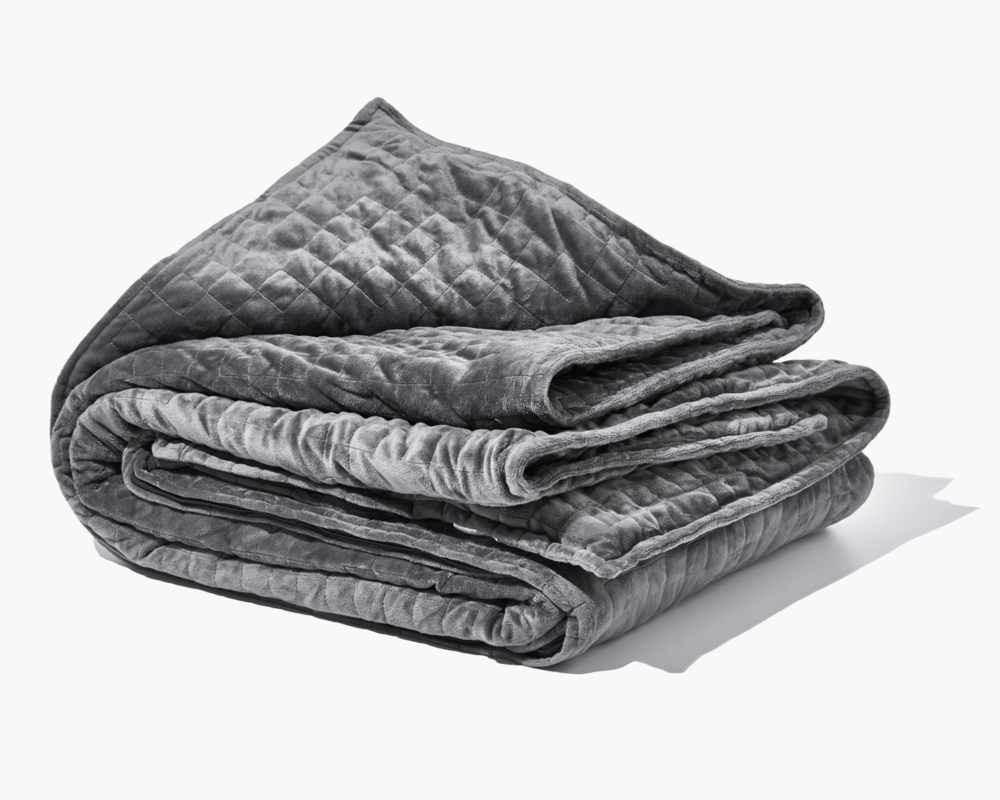 Gravity Mattress
An incredibly low-tech solution to a big problem
Anxious sleeper? Check this out
Great for anxiety, restless legs and much more!
A great value to improve your sleep!
Most weighted blankets (not Gravity Blankets) are simply trying to jump on the deep pressure stimulation train. But Gravity is the one that started it all. Gravity Blanket features some of the best reviews and provides the best weighted blankets on the market.
Do yourself a favor and buy one of these blankets for deeper sleep and improve your sleep quality – not in a couple of weeks – in 1 day.
So I told my husband recently that if I had to choose one of my material possessions to keep it would be this! It really has enhanced my life by allowing me to get better sleep. As a mom to two toddlers, more sleep is a gift that is worth its weight in gold! I would definitely encourage you to give the Gravity Blanket a try! 
Another great blanket this mamma swears by? Beddy's! Read our Beddy's Review to see why we love this for our kids!