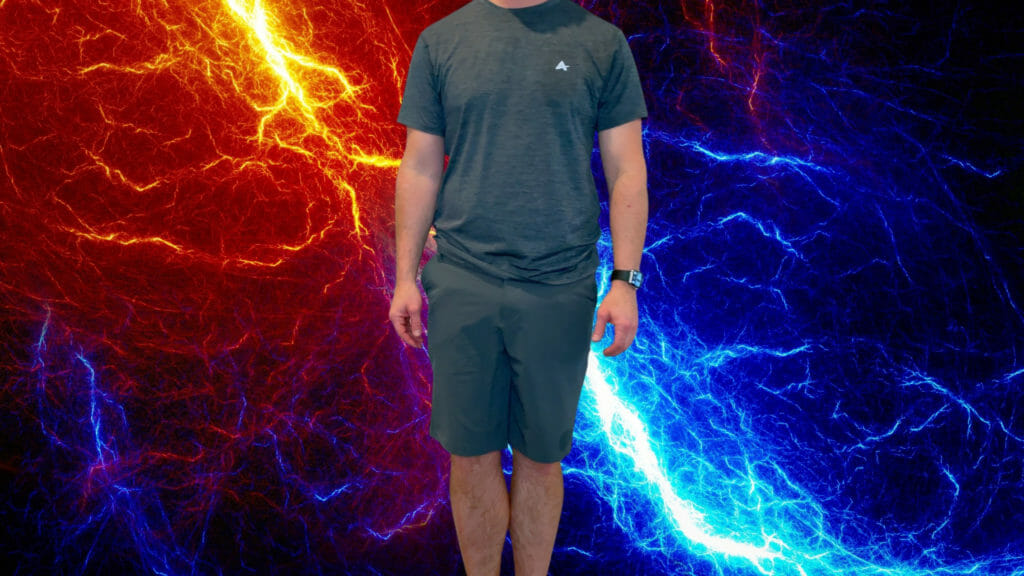 I run hot. All the time. It's even worse in the Colorado summers – the high elevation and bright sun make me sweat instantly. On top of that, I'm super pale. Can Arctic Cool clothes really keep you cool? Keep reading out Arctic Cool Review to find out if their clothes really do work – or if it's just a bunch of marketing hype.
Arctic Cool Review
Top Pick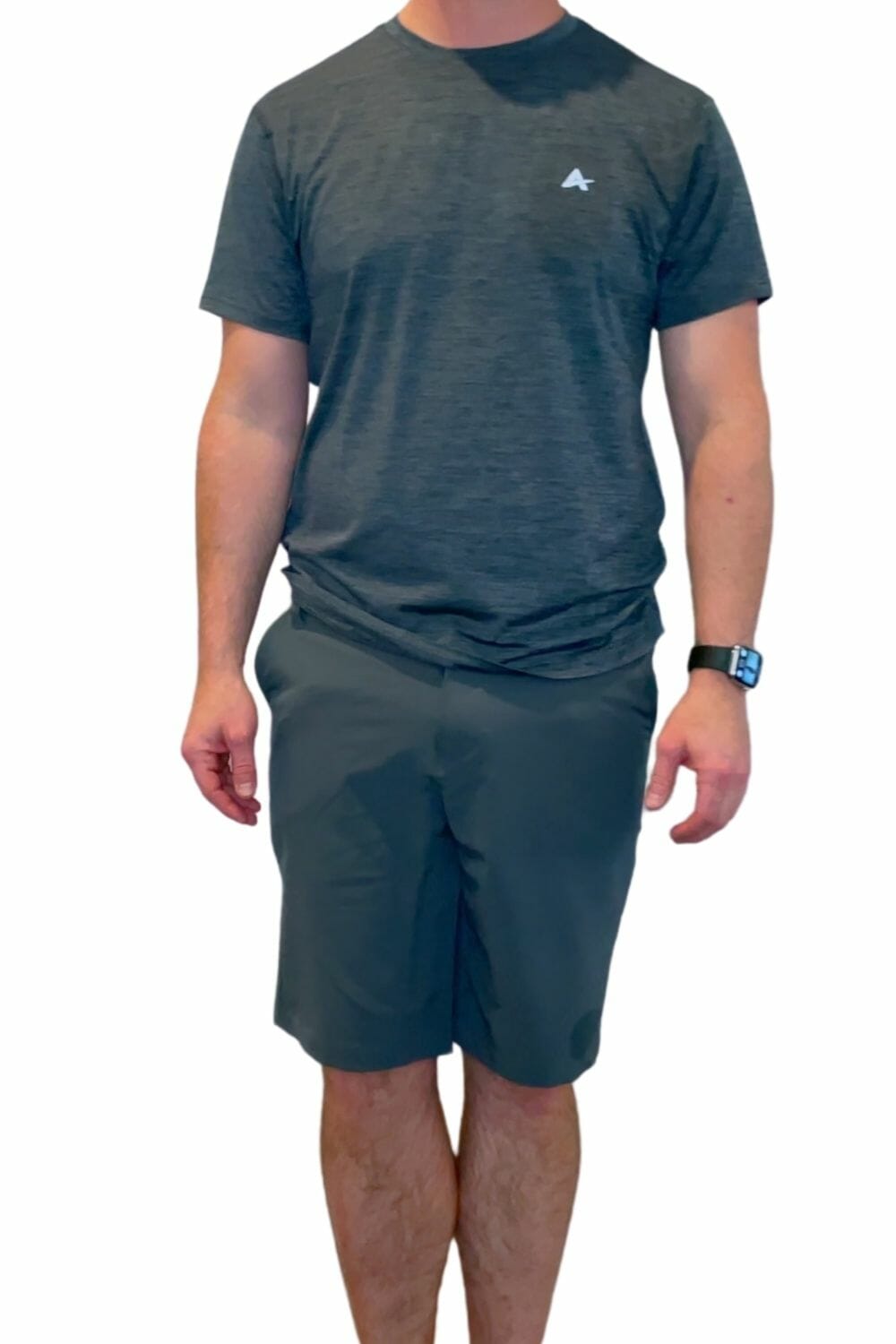 Always Hot? Check Out Arctic Cool
Incredible cooling management system
Works very well
Keeps you noticeably cooler on hot days
We wish the products were more simple, with less logos – but not a deal killer
Arctic Cool lives up to the name. It's not magic, but it will keep you noticeably cooler on hot days. They are so confident it will work – they guarantee it.
Arctic Cool is part of our best cooling clothes guide. Check it out!
If you are a person that runs run, especially outside, do yourself a favor and try out Arctic Cool. We were skeptical at first, too (but excited to try it out!) However, these clothes really do keep you cooler on hot days. They aren't magical and won't turn a 100-degree day into frostbite, but you will feel noticeably cooler.
Some clothes in this category depend on mesh and breathability only. Arctic Cool goes a step further with their HydroFreeze X Technology to keep your body noticeably cooler.
On hot days, it can be difficult to find clothes that keep you cool. Arctic Cool has made a line of clothing with HydroFreeze X Technology which keeps your body noticeably cooler on those long summer afternoons and scorching summer heat. Some items in this category rely solely on mesh for breathability but Arctic Cool adds HydroFreeze X technology to regulate temperature at its source-close to skin level!
If you're someone who always feels too warm outdoors, do yourself a favor and try out some Arctic Cool clothing! We were skeptical when we first heard about these garments as well but they really work – our bodies felt noticeable cooler during testing despite not being able to control the temperature outside!
Check out our video review of Arctic Cool:
The Arctic Cool Research
How Arctic Cool Works is not just an idea, it's been tested. Here are the two pieces of technology they use to cool your body – especially when you are sweating.
Why Arctic Cool Works When You Are Sweating
Feeling too warm? Your body naturally sweats. How does sweat work?
When the sweat hits the air, the air makes it evaporate (this means it turns from a liquid to a vapor). When the sweat evaporates, it doesn't just disappear – it turns into vapor which creates a small cloud of water vapor around your skin. This provides a cooling sensation for you.
Throughout the day, it's common to feel hot and sticky on humid days because of water vapor in the air. In this case, your body is less able to evaporate sweat which leads you to feel hotter and stickier than with dryer more arid conditions.
Thus, if your sweat isn't leading to cooling you off then the most effective way to cool yourself down would be by using an artificially cooled environment such as A/C (that will help let you release the water vapor). Interesting, isn't it?
The Arctic Cool Process
Arctic Cool clothes are scientifically designed to provide maximum temperature control and cooling. Their products have two main features which allow you to feel cooler.
HydroFreeze X
Arctic Cool's HydroFreeze X Instant Cooling Technology utilizes ActiveWick which pulls moisture away from your skin and disperses it throughout the fabric along channels on the surface of the threads. Moisture is moved away from your skin and circulates throughout the fabric while controlling the rate of natural evaporation.
This produces a cooling effect that can be felt instantly.
Can't wait for instant cooling when you start to sweat? Simply get one of the shirts wet before you start sweating. This will help you cool down quickly.
You'll feel the cooling sensation by simply getting the shirt (or tank) wet. Yes, you read that correctly: you can get the shirt wet FIRST.
Vortex Vent™
Vortex Vent™ uses Arctic Cool's HydroFreeze X Technology and adds even more airflow and more cooling! Their exclusive micro-ventilated fabric construction allows more air to circulate helping to keep you even cooler. Additional micro-ventilated panels in high heat areas ensure optimum airflow and cooling.
The Arctic Cool Gear We Tested
We tested several pieces of Arctic Cool Gear for our Arctic Cool Review. Here's what we thought of each item.
Arctic Cool Men's Performance Golf Shorts
What they say: Our performance golf short is packed with industry-leading cooling tech. But it doesn't sacrifice an ounce of soft, wearable comfort. Once you try it we know you'll agree — this takes the classic golf short to a whole new level.
What we say: I was incredibly impressed with these shorts. They don't look "dressy" at all and are fairly casual.
They were very casual and had a flexible waistband. But they were lightweight, breathable and when you put them on, it just feels great.
At $49.99, they were a little on the more expensive end, but not unreasonable. I can imagine wearing these on the putting green (that is, if I did golf at all).
Arctic Cool Men's Cooling Crew Neck T-Shirt
What they say about the Arctic Cool Shirt: Our crew neck t-shirt is packed with industry-leading cooling tech. But it doesn't sacrifice an ounce of soft, wearable comfort. Once you try it we know you'll agree — this takes the classic crew to a whole new level.
What we say about the Arctic Cool Shirt: We were pleasantly surprised that this shirt didn't feel scratch at all. It was super soft and felt like cotton, but cooler. In our test it helped me stay cool.
Our only pet peeve is the big logo on the front: we aren't huge fans of giant logos, but it wasn't unreasonable.
Arctic Cool Men's Vortex Vent™ Cooling Polo
What they say about the Polo: Our Vortex Vent polo delivers a refreshing blast of cool beyond your expectations — courtesy of our revolutionary Vortex Vent construction. This super breathable, micro-ventilated fabric allows more air movement than ever before — which means more cooling power than ever before.
What we say about the Polo: This is another great polo shirt that can keep you cooler. Our only complaint is the two-tone design. Once again, we like to wear clothes that are pretty plain and simple and would just like a solid black color.
Not a deal killer by any means, just a personal preference.
Gear we didn't try but would like to
There is a ton of gear available at Arctic Cool, ranging from workwear to headbands to even cooling socks!
Long Sleeve Shirts – Arctic Cool Shirt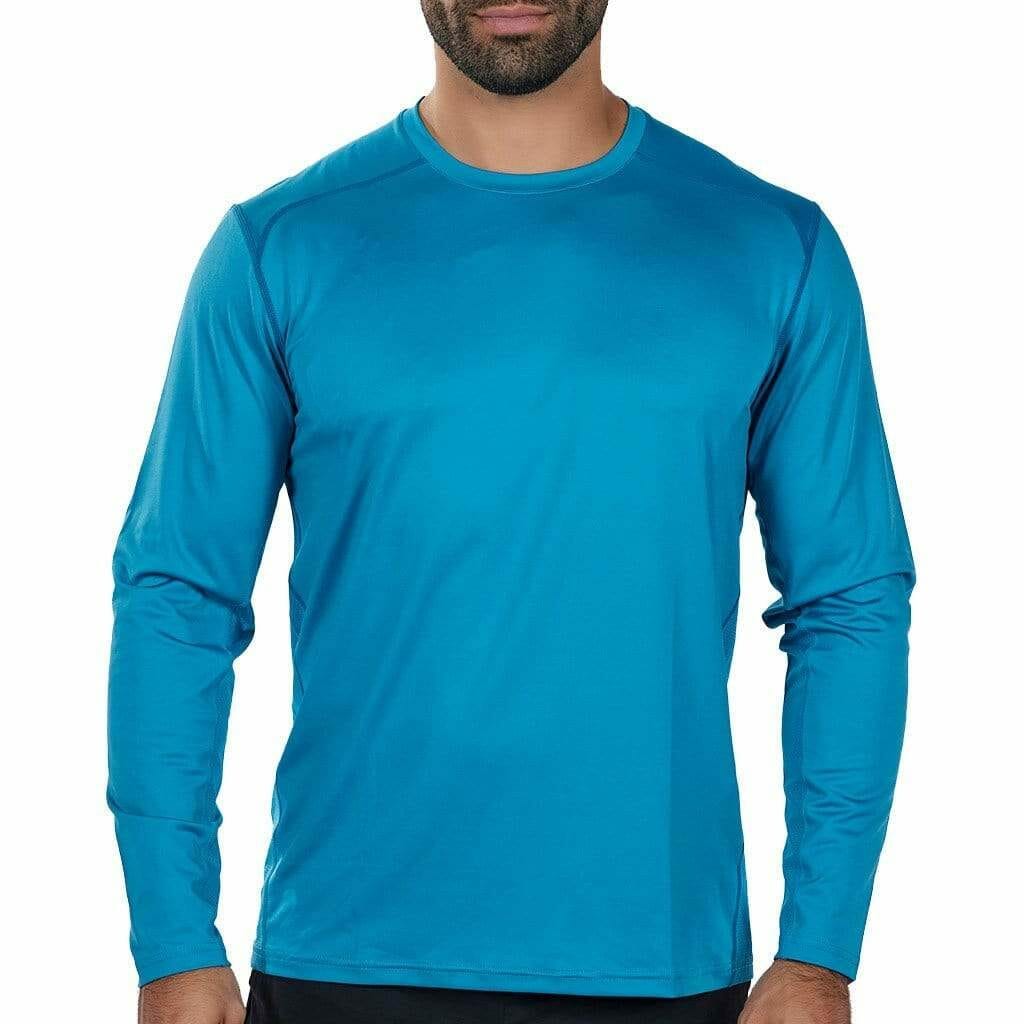 These would be perfect for the days you are going to be outside and are worried about sun exposure. Most of their clothing has UPF 50+, so not only will you be keeping cooler, you'll be protected from the sun.
It's amazing the material can feel soft (even when it's dry). That's something we didn't expect when we first reviewed these items.
Hats
My head doesn't necessarily get "hot" but I can swear on my forehead when I'm outside. This is one of their accessories that we'd like to try, too.
Cooling Towel
Want to cool down on your face? Just give this cooling towel a little spritz of water and wipe it across your face. You'll be instantly cooler!
Even better: get the towel a little wet and put it around your neck. You could even use it as a headband.
Socks
Honestly, we're typically not wearing socks (see why in our Allbirds Review), but they make cooling socks – pretty cool (pun intended). Even better, they are made in the USA.
Arctic Cool also makes women's clothing, but my wife is almost always cold – this would be her worst nightmare! If you. area woman that runs out, check out line for women here.
What we found using Arctic Cool Clothing
It actually works. You will stay cool.
Arctic's Cooling Management System actually works. The first time we tried it, it actually reminded me a bit of our new Gravity Mattress (read our full Gravity Mattress Review) – it almost feels cool to the touch.
If you can live with the styles (we just wish they had fewer logos and were a bit more plane-jane), Arctic Cool actually lives up to the claims.
Arctic Cool Review – The Final Verdict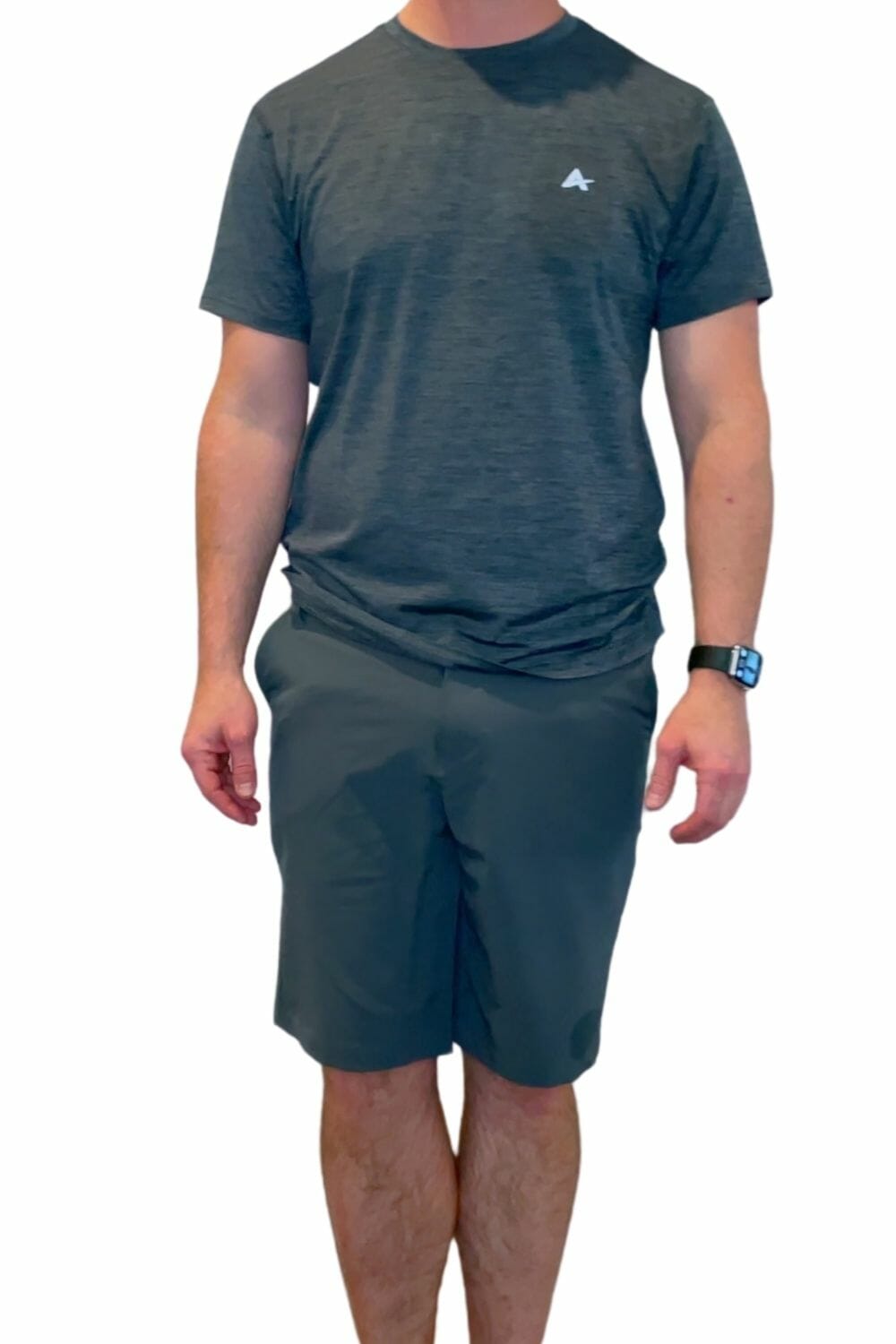 The Good
It works! It will keep you cool.
Can instantly cool by getting the shirts or shorts wet.
Feels great.
Comfortable.
Easy to wear.
Good value – especially if you run hot all the time.
The Bad
Logo on the front of shirt and polo.
Wish clothes came in less "loud" styles.
Some items a little expensive.
Arctic Cool has a wide variety of clothing for men and women that is designed to keep you cool on the hottest days. Their tech includes sweat-activated designs, which are made from micro-ventilated fabric that allows more air movement than ever before – resulting in higher levels of cooling power than ever before.
Arctic's well-crafted items offer UPF 50+, so not only will you be keeping cooler, but also protected from the sun. Their clothing is slightly more expensive than traditional athletic wear, but if you are the type of person who is always warmer, check out Arctic Cool's innovative clothes!
Have any other questions or comments? Let us know below!