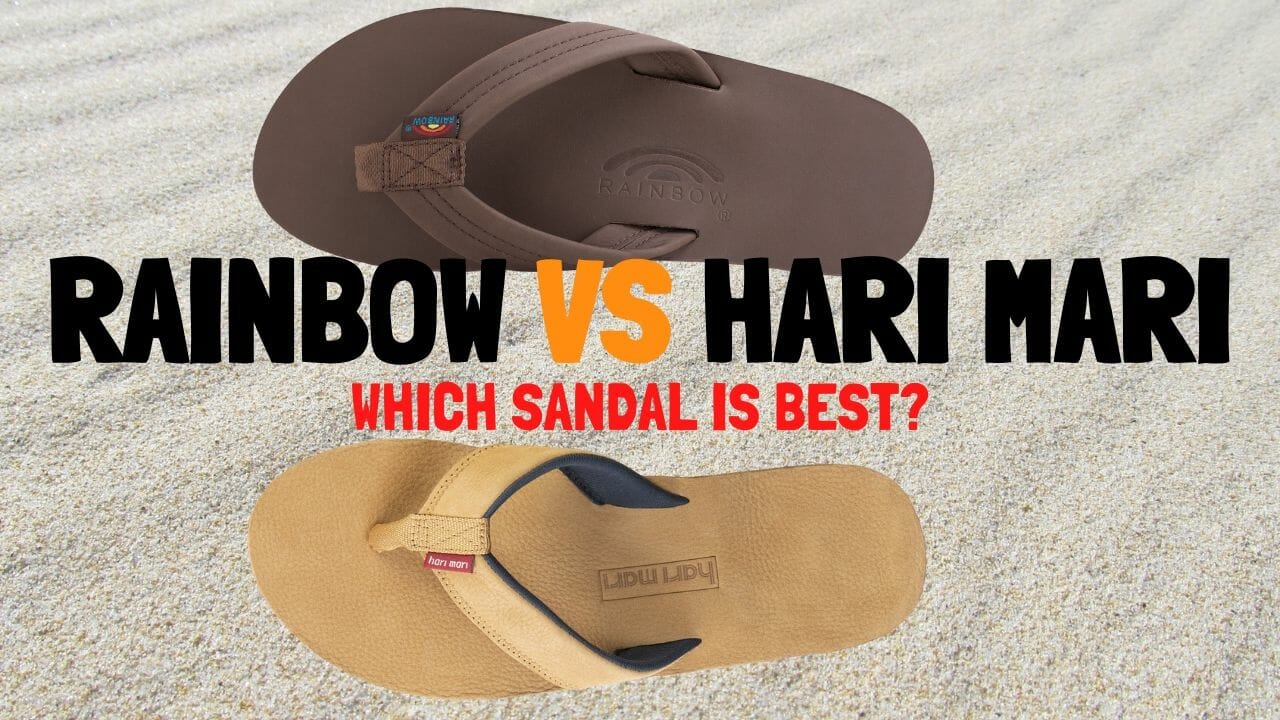 Hari Mari vs Rainbow Sandals – which one is a better sandal? Like so many things in life, the answer is: it depends. Are you looking for a more comfortable sandal or a more durable sandal?
Is it possible to have both?
Let's dive into our honest Hari Mari Comparison and see how it compares to Rainbows Sandals. Which is the best pair of flip flops? Don't miss our full Hari Mari Review, too.
Hari Mari Sandals with Rainbow Flip Flops: The video review
Hari Mari vs Rainbows: Why even try Hari Mari?
Rainbow sandals are considered a classic staple by many people. In fact, I had my Rainbows, pictured below for 5+ years. They were worthy Rainbow Warrior Flip Flops.
My Trusty Rainbow Warrior Flip Flops
I kept seeing ads for Hari Mari (including their new Nokona line – more on that in a second). I needed to replace my Rainbows. My pair started to crack (which voids the lifetime warranty) from wearing the sandals after going to the pool. 
So, for roughly $10/year, I wasn't going to be able to eek out any additional wear on the Rainbow Sandals, so I decided to try something new – a pair of Hari Mari Sandals. 
Here's why Hari Mari started with the husband and wife founders:
Hari Mari's roots were born out of a futile search for colorful & comfortable flip flops in a sea of black and brown, and mostly uncomfortable, options.
Since then, they searched for premium materials that are responsibly made and even created "Flops Fighting Cancer."
Hari Mari Sandals: what's the big idea?
Hari Mari is all about comfort. They say on their website that their sandals produce an "ahhh"-inducing feel. 
Is Hari Mari worth the price?
What did I think? Hari Mari has what is called MemoryFoamToe™️ (yes, that's what it's called) to make their shoes instantly comfortable. And guess what? They were instantly comfortable
In short, that's what makes all the difference with Hari Mari: instant comfort.
No break-in period, no waiting for the sandal to set. Just put them on and they feel like your favorite pair the instant your bare toes touch the sandals. 
That's not to say that these are weak sandals that fall apart instantly. I bought the water-friendly versions here and they've held up so far. More on Hari Mari's durability in just a second. 
Long story short: if you're looking for comfort, Hari Mari is your brand. 
Rainbow Sandals: the classic
Rainbows were started in 1972 in a California Garage. They set out to make Sandals that we're indestructible and stand by their Sandals with a lifetime warranty. Here's what they say on their website:
Our goal has always been to make a quality product that will not end up as landfill. Our commitment to that goal does not end when our sandals leave the store. When you are through with your Rainbows, if they are past warranty but still have life left, please return them. The layered construction allows us to repair where needed and instead of throwing them away, we will donate these sandals to protect the feet of the homeless, orphaned, and victims of natural disasters.
That's pretty cool! 
What's the difference between Hari Mari and Rainbows?
There are some slight differences, but many similarities between Rainbows and Hari Mari. 
Both are incredibly well made, using high-quality materials. Rainbow shows all of the unique parts of the construction on their website:
While Hari Mari doesn't go into the details as much as Rainbows, they are well made. The MemoryFoamToe™️ is a big difference with Hari Mari, but they don't go into a ton of detail about what exactly that means. 
One thing you'll come across when researching Rainbows is their "lifetime" warranty. I put "lifetime" in quotations on purpose. It's not like they will just last forever and look perfect. I think it's a super fair, above and beyond warranty, don't get me wrong. However, the sandals are only covered until
Any layer of the sole wears through – which was a couple of years for me. 
There is any other damage – like cracking from water damage. This can happen fairly soon depending upon when and how you wear the Rainbow Sandals.
Hari Mari also has a great warranty: however, it is only for 1 year. Similarly, the Hari Mari Sandal Warranty doesn't cover water damage or wear and tear. 
Long story, short: both companies make great products that they stand behind. 
The Break-in Period
One area that Rainbow Sandals and Hari Mari are very different in is the break-in period required. All this means is the time required for the shoe to fit your foot. Obviously, you can still wear the pair of sandals during that time period, but it will be slightly less comfortable.
Hari Mari Break in Period
This is one area where Hari Mari excels: the break-in period.
Here's what Hari Mari says about their break-in period:
NO BREAK-INS EVER – Patented MemoryFoamToe™, soft-squeeze midsole, memory foam lined straps & firm arch support mean they're comfortable day one, and every day after.
We have to agree. We were able wear the sandals right away, on the very first day that we got them without any issues whatsoever.
Rainbow Sandals Break In Period
In fact, here's what Rainbow Sandals says about the time it takes to break a pair in:
Rainbow Sandals take time to break in. Customers have reported wedging a tennis ball or water bottle under the straps overnight helps them stretch. This will give you a jump start on breaking in your sandals. Also, wearing a pair of socks with the sandals will help protect your skin while the straps mold to your foot. Once the sandals break in, they become very comfortable.
The break in period for Rainbows isn't the most comfortable, but it also isn't unbearable. They are both pretty good!
Hari Mari vs. Rainbows: The styles
We've established that both brands make a great product, something you'd be proud to put on your feet. What about how they look?
Rainbow Sandals Style
Rainbow sandals tend to focus on a classic style. You won't find any innovative collaborations or unique styles. Sure, some styles aren't really our style, but Rainbows doesn't stray far from their roots – and we really like that. For both men and women they have styles that are subtle (and not quite as subtle).
As you can see, most of the rainbows shown are pretty nondescript. Most of their styles are like the first style – once again, that's ok!
Hari Mari Flip Flops Design
Hari Mari has a wider variety of styles. If you want a pair of sandals that are unique, you can find them on Hari Mari. From crazier straps to brighter colors to soles that are not leather, they have an option for anyone – with different styles for both men and women.
Hari Mari vs Rainbow: What else should you know?
As I mentioned earlier in the post, one of the things that really caught my eye was the Hari Mari Nokona Collaboration. While expensive, at $125, the Nokona Collaboration is incredibly interesting. Nokona Baseball Gloves are some of the best baseball gloves in the world.
I have a close spot in my heart for Nokona because way back in the day, I covered the fire at the Nokona Baseball Glove factory when I was doing Advertising and Public Relations.
I got to know the family behind Nokona and they are truly incredible people that work very hard.
The Pete Millar Collaboration
Hari Mari also released a collaboration with Pete Millar that has some unique styles with a golf twist.
Hari Mari vs Rainbow: the final verdict
Rank
Picture
Name
Rating
Shops
#1

Hari Mari Sandals

The newcomer on the block
Super comfortable right out of the box
Easy to wear
No Break in Period

$75

#2

Rainbow Sandals

More durable than Hari Mari
Less Comfortable
Uncomfortable Break In Period

$69
You simply can't go wrong with either. If you want instant comfort: go for Hari Mari. If you want something more durable, go for Rainbow Sandals. 
If you want a pair to go to the beach, wear to the pool or just run errands, these flip flops are perfect for summer – and frankly any warm weather. They are both comfortable and built to last – from the straps to the sole. Check out our full Hari Mari Review, even check out the Hari Mari Boot Review.
Hari Mari's comparable sandals are slightly more expensive (about $75) compared to Rainbow ($55) – but you honestly will be happy with either brand. 
Here's where we've found the best deal on Hari Mari and the best deal on Rainbows. 
Have any questions or comments? Leave them below!