Hari Mari Sandals Review: Are these premium sandals really worth the price? We tried the best selling Hari Mari Pier Sandals (and more!) to give you our honest Hari Mari Flip Flops review.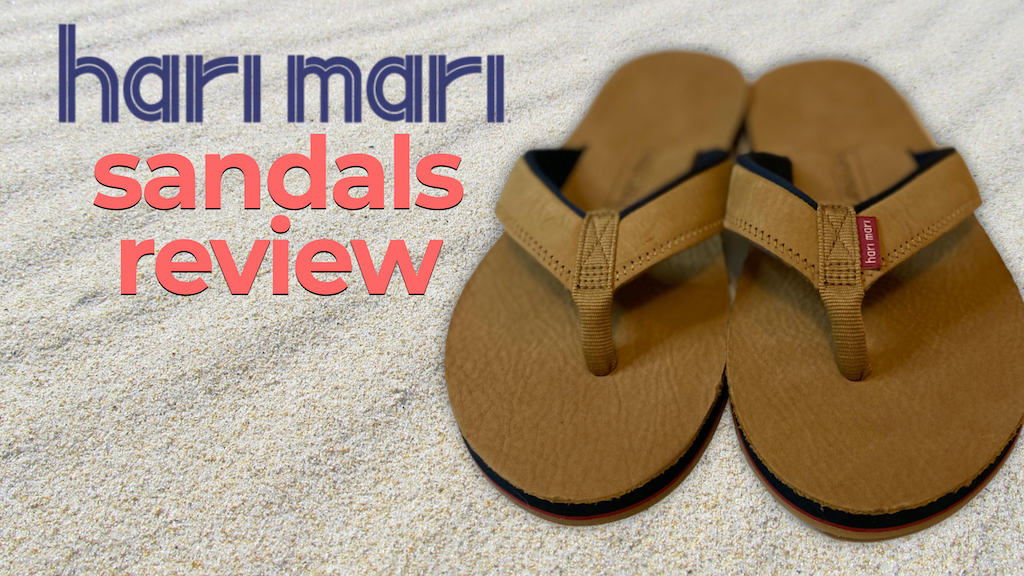 Our Top Pick
Har Mari Review: What is Hari Mari?
Hari Mari is taken from an indodesian word and a latin word.
Hari (indonesian) for "Of the Sun"
Mari (latin) for "of the sea."
Hari Mari = Of the Sun and Of The Sea.
It actually has a pretty great ring to it!
Hari Mari was started by a husband and wife team when they moved back to the United State after living in Indonesia for a couple years.
So, "after years of continuously disappointing our feet, we did what any normal couple with an unhealthy obsession for flip flops would do, we decided to build our own!"
And that's exactly what they did when they started Hari Mari. They decided to create the ultimate sandal (flip flop). Did they succeed? Keep reading our honest Hari Mari Review to find out.
What did we try?
Well, since we first wrote this review, we've had the chance to try a couple of different products from Hari Mari.
Let's start with what they are known for: flip flops.
Hari Mari Flip Flops we've tried
We tried two styles from Hari Mari: their best selling Pier Sandal ($75) and the Brazos Sandal (on sale for $36).
My wife (Mrs. We Tried it) immediately liked the classic-looks of the Pier Sandal, but didn't care for the Brazos style. I simply got two pairs to compare and the Brazos Sandal was on super sale. I don't know if you're like me, but I always have a "nicer" pair of flip flops and a pair that I wear around the house, playing with the kids, etc.
My wife had an invested relationship in the sandals, as I was finally replacing the Rainbow Sandals she bought me many years ago. For more information, see Rainbows vs. Hari Mari or watch our quick video comparison:
Peter Millar Collection
We also got the chance to try their Peter Millar collection, which is now missing on their website – but these high-end flip flops have an awesome look to them.
Hari Mari Boots
We also had the chance to try out the new Hari Mari Boots. Check out our full Hari Mari Boots Review to learn all about them.
But in short: they are one of our new favorite boot brands (also check out our Amberjack Boot Review and Lems Boot Review for a couple of other cool options). Hari Mari managed to make boots that are just as comfortable as their flip flops. True stroy.
Hari Mari Review: what we love
The one thing you need to know about Hari Mari is that they are instantly comfortable. Incredibly comfortable.
Some flip flops, like Rainbows have a bit of a break-in period. Hari Mari does not! Put them on and BAM! Instant comfort.
Hari Mari says the difference is in their Memory Foam Toe Post. It sounds like a funny name and their website doesn't explain a lot about it but here's what their website does say about Memory Foam Toe:
Each Hari Mari flip flop is built with our super comfortable & seamless Memory Foam Toe™, a formidable cylinder of memory foam encased in soft nylon to help grip toes, reduce abrasion & do away with painful break-in periods.
The straps also have memory foam in the straps. This makes them instantly comfortable, too! Hari Mari says that their straps are also moisture wicking, which is a bonus on hot days.
The sandals are also made with water-resistant leather.
This was a huge priority for me, as I frequently wear flip flops to and from the pool or while out in the yard. My original Rainbows cracked from too much moisture.
Do Hari Mari Flip Flops have a break-in period?
The short answer is no, they do not have a break-in period. However, over time each flip flop will mold slightly to your foot for a more comfortable fit.
A new pair will still be super comfortable, but wearing it a little longer will simply make it even more comfortable.
Hari Mari Review: Sizing and Fit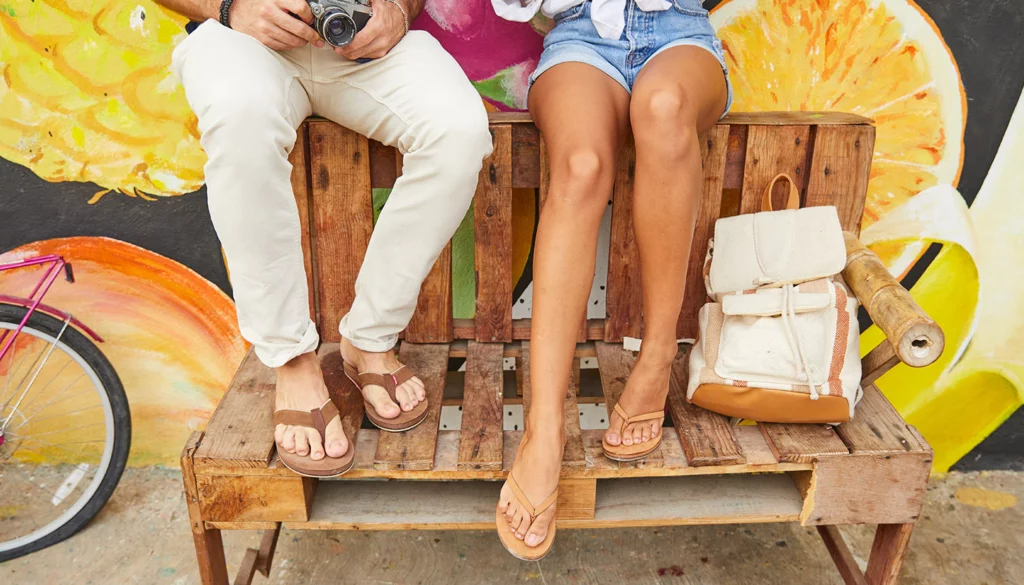 Overall, I'd size up a half size on Hari Mari Sandals. I typically wear a 9.5 size athletic shoe and a size 10 fits me perfectly in Hari Mari Sandals.
Many reviews on the website make the same point: round up your size to make sure they fit.
It's tough to have flip flops that are too small, and more common to have some that are slightly larger – and it's not that big of a deal.
Hari Mari also has a generous exchange policy, especially if you haven't worn them.
Flops fighting cancer
We are always looking for brands that do good: from giving back part of their profits to sustainable business practices. That's incredibly important to us. Hari Mari donates a portion of their proceeds to help pay for medical treatments for kids and teens fighting cancer. That's pretty cool and something you can feel good supporting!
What we hope to try: Kids flip flops
Frankly, Hari Mari has some super cute kids flip flop styles and sandal styles right now.
Seriously, just look at how cute these little flip flops are:

Hari Mari is excited to introduce their newest line of kid's flip flops perfect for any activity.
The non-marking rubber outsoles provide durability and traction while the genuine leather footbeds and water-friendly memory foam-lined straps offer comfortable all-day wear.
Whether your little one is running around the playground or playing in the sand at the beach, Hari Mari's kid flip flops are a versatile go-to for all their outdoor adventures.
The price, $38, may seem a little steep – but these are high-quality items. Check out our Smallbirds Review for another pair of shoes our kids love.
Hari Mari Review: What we didn't love
Hari Maris Sandals are premium products. They instantly feel more comfortable from the instant you put them on – and they support great causes. As a result: they are more expensive.
If you are looking for the best deal, check out their last chance page. They've got some great deals on high quality sandals. That's where I found the Brazos Sandals for $36 – a great price on a great pair of flip flops.
A quick word of warning: the final sale items are just that – final sale. No refunds or exchanges. So, make sure you know the sizing.
Hari Mari Warranty
We talked about this in great detail in our Hari Mari vs. Rainbows debate. The long story short: both Hari Mari and Rainbows make great products that they stand behind.
Here's what their website states as their 1-year warranty:
Hari Mari's one-year guarantee protects against any manufacturing defects in our footwear and gear, welcoming customers to return defective items for up to one-year from date of purchase for exchange.
Hari Mari's guarantee only covers manufacturing defects such as stitching, strap or material defects present at time of sale, and does not protect against normal wear & tear, or damage caused by weather, water, heat, animals, etc.
This is fairly similar to Rainbow's "Lifetime" Warranty in that it's not really a lifetime warranty. If your dog chews it or you wear them out, they aren't going to be accepted as a return – ever. Both basically say that their products won't crap out on you. 🙂
Hari Mari Review: The Final Verdict
Our Top Flip Flop Pick
Overall, we loved Hari Mari. Their products are incredibly well made and even more comfortable. If you're looking for a great pair of high quality, premium flip flops. Look no further than Hari Mari.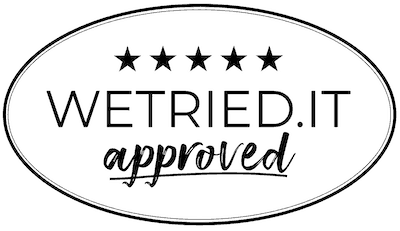 You can't go wrong with their flip flops (even if you call them sandals or thongs – I've never understood the later). But check out Hari Mari today.