Are you ready to take your shoe game to the next level without sacrificing your precious comfort? Say hello to Oaka Shoes in our Oaka Shoes Review! These bad boys have a sneaky faux heel design that screams classic dress shoe but whispers comfort of a flat shoe.
A great, zero-drop dress shoe!
Oaka Shoes
These are simply the best-looking pair of zero-drop shoes we've ever seen.
Buy Now
We might earn a commission if you make a purchase, at no additional cost to you.
Imagine, lightweight and flexible shoes that won't weigh you down or make you feel like you're walking on Lego bricks. Plus, they're as travel-friendly as your favorite carry-on – perfect for any and every occasion!
But wait, there's more! These shoes can take a spin in the washing machine and come out looking brand new. And if you're all about saving the planet (and who isn't?), you'll be glad to know they're made from sustainable materials.
In a nutshell, Oaka Shoes are like the Swiss Army knife of footwear. They're all about promoting health, mobility, and comfort, all while making sure you look drop-dead stylish. So, ready to dive deeper? Check out our review below and see if these puppies are the perfect fit for you!
Oaka Shoes: What's the big idea?
Oaka Shoes is a brand that's redefining the way we look at dress shoes. They're on a mission to make dress shoes healthier and more comfortable without compromising on style or professionalism.
Oaka began with the idea of fixing everything they disliked about traditional dress shoes. The result? A shoe designed from the ground up to enhance health, mobility, and comfort. Their shoes are lightweight, flexible, and most importantly, zero-drop, which means your foot remains flat on the ground, mimicking a barefoot walking experience.
The Unboxing Experience
The unboxing experience of this dress shoe was pretty typical, but a couple of features stuck out – this is not just dress shoes we're talking about here.
First impressions and packaging quality
The first time we saw the shoe, it looked very nice and special. We were surprised that it was so light and felt like it weighed almost nothing.
Initial thoughts on shoe design
Our first thoughts on the shoe design? We felt like the shoe was right up our alley. The sleek and stylish look combined with the comfortable and lightweight feel made these shoes perfect for everyday activities, whether you're going to a business meeting or out to dinner.
The zero-drop inner sole design was clever and unique, something we've never seen before. The zero-drop inner sole is pretty ingenious, actually. This Zero drop inner sole is just "cut" into the shoe. This allows it to lie flat to the ground, almost like the barefoot dress shoes you've dreamed of.
Deep Dive into Shoe Features
These shoes are full of features, more so than old school dress shoes, so let's look closer.
Material and build quality
Upper and Flyknit Technology: The upper of the shoe is made from flyknit technology, which gives it a lightweight feel while also reducing production waste. This makes it both sustainable and comfortable.
Faux Heel Design: One unique feature of this shoe is its faux heel design. It gives the illusion of a standard dress shoe, but with the comfort and flat foot posture of a zero-drop shoe.
Comfort: How do they feel when worn?
This was super interesting. It was incredibly just how light these shoes were – they felt like nothing on your feet! Despite the lightness, we found that these shoes still provided plenty of support and stability.
The faux heel design was a nice touch, giving the shoe a professional look while maintaining the comfort of a flat shoe. And although Oaka Shoes are marketed as zero-drop shoes, we could hardly feel any difference between them and regular dress shoes.
The insoles were also quite comfortable, providing the perfect amount of cushioning without feeling too stiff or restrictive. The perforated upper material also worked well to keep our feet cool and dry throughout the day.
Finally, the outsole flexibility was great for long days of walking around in them. We never felt any strain on our joints or feet, even after standing for hours. Durability: How well do they hold up over time?
Style: How versatile are they? Can they be worn for different occasions?
We found these shoes to complement the business-casual/athleisure movement perfectly.
/
You're not going to "trick" anyone into thinking these are tuxedo shoes; they are a great business casual look overall.
It's like if you took a classic dress shoe and swapped out the fabric for Allbirds or Rothy's. It's even lighter-weight than the Rothy's men's shoes we've tested. So, they look fancier than a sneaker, but still feel like one.
They're great for wearing to the office or to a date night. Essentially, if you want something that looks dressy without sacrificing comfort, these are the shoes for you!
The Look
Let's talk about the look of these shoes for a second. While I loved the idea of Birchbury Shoes, they looked more like toddler shoes to me.
In fact, most zero drop shoes look like that: clunky, thick soles with the outside edges rising up. But Oaka Shoes manage to blend a classic look with modern design and a lightweight feel.
The faux heel gives them an edge – they have that classic dress shoe shape but still maintain the lightweight comfort of zero-drop shoes.
The toe box is wider than the average shoe, but not so pronounced that it looks goofy. That's a huge plus in our book!
Fit and Sizing
Overall, Oaka Shoes fit as expected.
How true to size are Oaka Shoes?
I felt that Oaka Shoes were true to size. If you are a half size, Oaka recommends sizing down. That's mostly because the shoes are so lightweight and not restrictive at all.
Price and Value
Let's talk about the price of Oaka Shoes.
At $165, these shoes are by no means cheap. However, the quality and features of the shoes make them well worth the cost.
Are Oaka Shoes worth the investment?
The materials used are high-quality, and you can expect them to last for years if properly taken care of. The faux heel design is unique and gives you an edge over traditional dress shoes without compromising on comfort or style.
Comparison with other brands in the same price range
Other shoes like Lems Shoes (read our full Lems Shoe Review) and Birchbury (read our Birchbury Review) our also zero drop, they aren't as unique as the Oaka Shoes.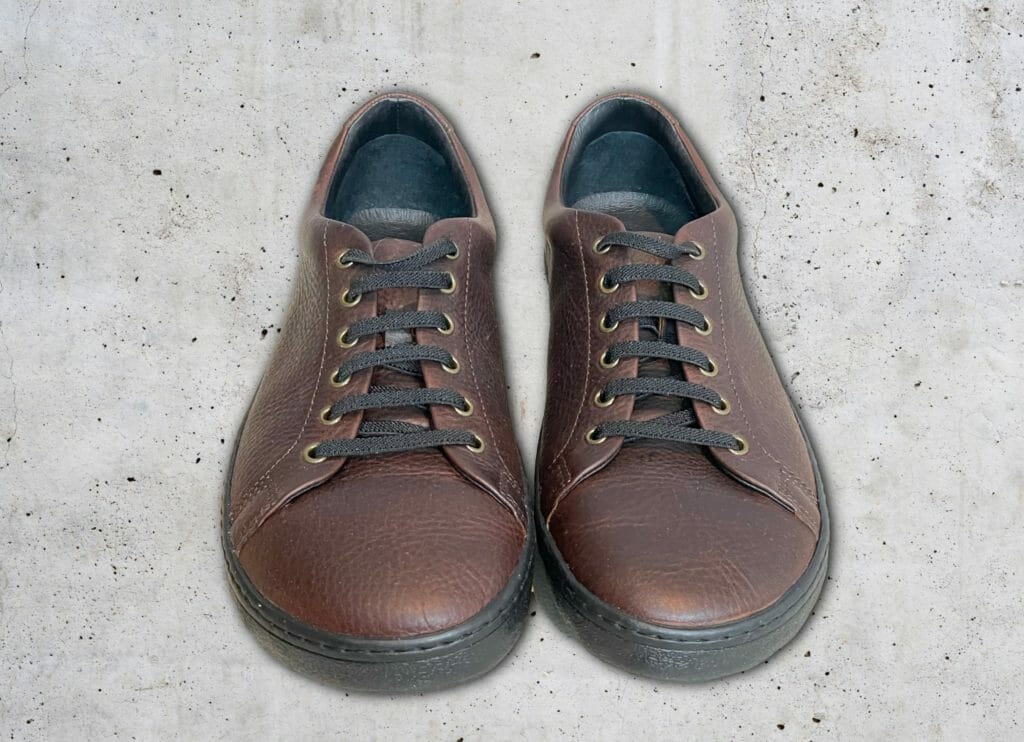 I also didn't care for the look of the Birchbury shoes, but they were incredibly comfortable.
While other shoes, like Cole Haan Zerogrand can be founded at cheaper prices, on sale, the Oaka Shoes are a great overall value because of the features that come with them.
They are also machine washable (just hang dry), which should drastically increase the lifespan of your shoes.
Pros and Cons
Here are the key advantages of Oaka Shoes:
Zero-Drop Design: The shoes are designed to keep your foot flat on the ground, mimicking a barefoot walking experience. This promotes healthier foot mechanics.
Stylish Appearance: Despite their unique design, Oaka Shoes maintain a sleek, professional look that's perfect for both formal and casual settings.
Lightweight and Flexible: These shoes are super flexible and light, making them comfortable for long periods of wear.
Faux Heel: The special shoe mold features a faux heel, giving the illusion of a typical dress shoe but offering the comfort of a flat shoe.
Sustainable Production: The upper part of the shoes is made from flyknit fibers, which help reduce production waste compared to traditional cut & sew manufacturing processes.
Travel Friendly: Given their lightweight and flexible design, Oaka Shoes make an excellent travel companion.
Innovative Approach: Oaka Shoes' redesign of the classic dress shoe demonstrates an innovative approach to footwear, focusing on health, mobility, and comfort.
Oaka Shoes: The Cons
While Oaka Shoes bring a lot of pros to the table, like all products, they may have some cons too. Please note that these potential drawbacks are based on general considerations and might not apply to everyone:
Not as Dressy: While Oaka Shoes are stylish in their own right, they may not look as dressy as traditional leather dress shoes. This might make them less suitable for very formal occasions.
Price Point: Given their innovative design and sustainable production methods, Oaka Shoes might be priced higher than some other shoe brands. This could be a deterrent for budget-conscious buyers.
Limited Styles: As a relatively new brand, Oaka might not offer as wide a variety of styles and colors compared to more established brands.
Sizing: As with any shoe brand, getting the perfect fit can sometimes be a challenge. Some customers may find the slightly wider toe box doesn't suit their foot shape.
Durability: While the shoes are designed to be flexible and light, some users might question their long-term durability compared to more robust, traditionally constructed shoes.
Remember, everyone's experience with a product can vary, so it's always a good idea to try things out for yourself.
Oaka Shoes Review: Final Thoughts
A great, zero-drop dress shoe!
Oaka Shoes
These are the first zero-drop shoes we've seen that we actually like the way they look!
Buy Now
We might earn a commission if you make a purchase, at no additional cost to you.
And there you have it, folks! We've taken a thorough look at Oaka Shoes, and I must say, they're truly redefining the game. If you're in the market for a machine-washable, lightweight, travel-friendly, business casual shoe, these might just be the pair for you.
Sure, they might not be your go-to for a black-tie event, but let's face it – how many of those do we really attend? For almost any other occasion, these shoes are a perfect fit. They're comfortable, stylish, and promote healthier foot mechanics with their zero-drop design. Plus, they're a more sustainable choice, which is always a win in my book!
So, if you're tired of lugging around heavy dress shoes, or if your feet are crying out for a change, give Oaka Shoes a try. They may not be the most formal shoes on the block, but when it comes to comfort, style, and versatility, they're hard to beat.
In conclusion, Oaka Shoes are definitely worth considering. They're a testament to the fact that comfort and style can coexist in a single pair of shoes. So why wait? Step into the world of comfort with Oaka Shoes. Happy walking!